In the depths of the Great Depression, while American families struggled to provide themselves with the bare necessities of life, many children went without new clothes much less toys or athletic equipment of any kind. During those difficult days, receiving a trading card from an uncle's cigarette pack was a big thrill, and getting a box of Cracker Jack with a coveted collectible card mixed in amongst the candy-coated popcorn was a major luxury. One can only imagine the thousands of young boys of that era who carefully squirreled away a card that held the image of a favorite player in cigar boxes and shared them with only their best friends in clandestine attic or basement showings.
Today, the hobby of collecting sportcards and all sorts of sports memorabilia can count amongst its ranks some of the world's most successful attorneys, athletes, doctors and entrepreneurs from every walk of life. Attorney Marshall Fogel of Denver has compiled what many experts consider to be the finest overall sports collection in existence and businessman Gary Cypress of Los Angeles has amassed such an extraordinary collection of sports memorabilia and artifacts that his collection is housed in a 30-thousand-square-foot museum that rivals the Smithsonian.
To the casual observer, the gap between those smudgy-faced depression kids of yesteryear and today's mega-collectors would seemingly have to be measured in light-years. But, according to Joe Orlando, the president of PSA and PSA/DNA who also serves as the editor-in-chief of "Sports Market Report," the differences between those who prize a single card and those who own collections that are of museum quality in both size and content are minimal. That observation became clear to him as he worked on his latest book, Collecting Sports Legends - The Ultimate Hobby Guide (Zyrus Press, 2008).
"Something that was highlighted to me in researching and writing this book was the fact that people who have multi-million dollar collections possess the same drive and a passion that the guy who has a collection worth a few hundred dollars does," said Orlando. "It really is amazing that no matter what financial situation one brings to the hobby, the challenges are often similar. Obviously, if you have unlimited amounts of money, it removes one challenge, but in terms of the approach of developing themes that suit their interests and finding creative ways to display or share their collections, the challenges are very similar."
Orlando said that while he has always believed that to be the case, his belief transitioned into cold hard fact as he came to the completion of Collecting Sports Legends, a beautifully presented coffee table-style book, in which he takes the reader on a historical journey that offers a look at the world's most iconic sports legends and the collectibles associated with them. A collaborative work that saw Orlando team up with some of the leading experts in the sports memorabilia hobby, this book is unprecedented in its coverage of a diverse range of sports collectibles ranging from sportscards and autographs to tickets and game-used bats to unopened packs.
Each genre offers magnificent images and insightful information designed to assist collectors in better understanding why these items are so desirable and how to go about assembling a world class sports collection. As each page is turned, sports fans, those who are new to the hobby, and established collectors alike will revel in the rich history of the athletic spirit. From the legendary hardballers such as Satchel, Babe and Mickey, whose first names alone stir the souls of fans, to the flamboyant superstars of the 1960s and 1970s that we knew as The Stilt, The Greatest and Broadway Joe, every major sport is covered in this exceptional guide that includes hundreds of images, including some of the finest examples of cards and other memorabilia known to exist.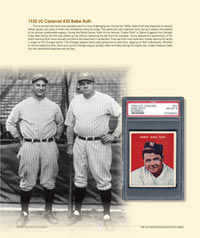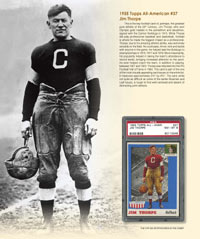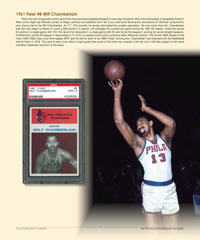 The man behind Collecting Sports Legends is uniquely qualified to have served as its author. Joe Orlando has been a lifelong and diverse sports memorabilia collector who currently presides over the hobby's largest and most respected sportscard and memorabilia authentication service. The author of hundreds of articles for Sports Market Report and several guides for Collectors Universe, Inc., Orlando's first book, The Top 200 Sportscards in the Hobby, was released in 2002. Tapped on a regular basis by both the local and national media to serve as a sportscard and memorabilia expert, Orlando has appeared as a featured guest on numerous radio and television programs including ESPN's Outside the Lines and HBO's Real Sports.
David Kohler, the president and CEO of SCP Auctions, is one of the country's best known dealers of rare sports collectibles. His company has handled some of the most historically significant sports artifacts ever offered including the signed bat that Babe Ruth used to hit the first home run in Yankee Stadium that sold for $1.265 million, and the T206 Honus Wagner PSA NM-MT 8 card that, at $2.8 million, set a record for being the highest price ever paid for a vintage sports collectible. A founding board member of the Sports Collectibles Association International (SCAI), which promoted ethics in the sports collectibles industry, Kohler said that he is very excited about Orlando's new book and feels that it will rapidly become one of the most significant guides in the hobby.
"Joe is a natural to have authored this book because of his direct experience with so many different types of collectibles and the passion that he brings to the table," said Kohler. "I believe it will become a tremendous resource within the sports collecting hobby. It will explain the market in a high-end manner, and anytime you can bring structure to a market it is a great thing."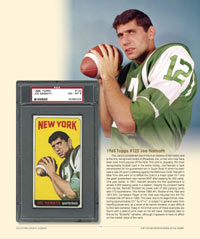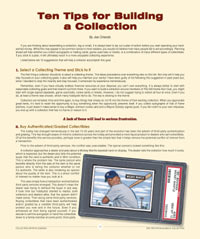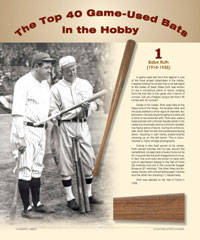 Kohler went on to say that while there are already some very good price guides available to collectors, this book will go far beyond anything that exists and offer valuable insight to new collectors. "It is sometimes hard for a collector who has recently come to the hobby to fully understand sports collecting," Kohler opined. "This book will provide them with a clear path on how to move forward from the interest stage to becoming a knowledgeable collector and putting together a fantastic collection."
Kohler said he is looking forward to being able to hand copies of Orlando's book to prospective clients so that they will have a better idea of what is available to them. "I will often see a new client who comes in, purchases an item or two at random, but beyond that has no real game plan or focus," said Kohler. "That is the kind of client you lose. You lose them because they don't fully understand how to collect with proper focus. Joe's book will help establish that focus. Some new collectors have just figured it out on their own by doing research, going to conventions and talking with dealers and other collectors. But this will give them a tremendous advantage on how to figure it out. It will be a guide on how to approach a high-end collection and the exciting thing, from my standpoint, is that I believe this book will serve as the impetus for people to put together incredible collections. People love sports, and our hobby is an extension of that love. For the people who have the means to put together a significant and important collection, this is a book that will be an invaluable resource and an inspiration. I had a client who, after reading Joe's first book, (was) inspired to put together a collection of those cards. That is what will happen with this book on a broader basis because it covers so many other categories."
AUTHOR! AUTHOR!
This spring, as copies of Collecting Sports Legends began rolling off the press, the book's author sat down in his Orange County office to reflect on why he wanted to do this book and what he hopes it will bring to the hobby.
SMR: What was the impetus for you put this book together?
JO: As a collector, who has been in this hobby his whole life, and as someone who works for PSA, it has been frustrating to see so few books written about collectibles over the years. Yes, there are price guides and checklists for those who are already involved with the hobby - we put out guides such as that ourselves - but they don't explain why these items are so fascinating to collectors. They don't get into the reason why hobbyists are so enamored by these things - why they buy and collect them.
Over the years, there haven't been too many books published with the idea of generating new interest in the hobby. That was my goal with this book. I wanted to express, in a very simple and visual format, why these collectibles are so fascinating. This book dwells on the excitement that these things generate and what new collectors should be looking for when they begin their collections. When you are looking for an exceptional Ty Cobb game-used bat, what are the characteristics you should be looking for? This book doesn't just give the reader a ballpark value for a Cobb bat; it offers insight as to what makes a Cobb bat a great example. If someone is looking for a Joe Namath rookie card, how tough is that card to find, what does the card look like and what exactly did Namath do in his career to make him so popular with collectors? This book will provide insight as to why items like that are rare and desirable, why the athletes are popular and why their collectibles command the prices they do in the marketplace.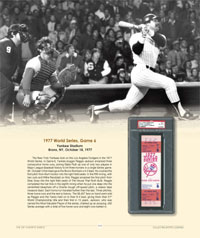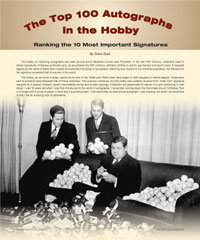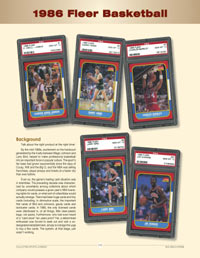 SMR: So, was your approach to make this an introductory guide to those who are just beginning their collections?
JO: There were several reasons why I wanted to put this book together. On one hand, it is a book that will hopefully make active collectors proud to be a part of the hobby. As a lifelong hobbyist, I know there are very few books that current collectors can show to non-collectors, books that may help explain what our hobby is about and why these things fascinate those of us who enjoy collecting them. That said, perhaps the more important reason behind the creation of this book is to appeal to those who are non-collectors. Our goal is to reach out to those who are not in the hobby and provide them with a base guide, to attract sports fans and collectors of other items such as coins or stamps.
Let's take the ticket section of the book as an example. We constructed a chapter on the top 15 sports tickets in the hobby. When a sports fan reads this chapter, it will give them the opportunity to relive great moments such as Super Bowl III or the 1977 World Series Game 6 in which Reggie Jackson clubbed three home runs and became Mr. October. You will see an actual ticket from that game and it will be accompanied by a photo of Jackson hitting that third home run. The images will help bring back memories and, perhaps, introduce people to a segment of the hobby that they would have never otherwise thought about. It may get them interested and help to grow and expand the hobby, which is something that helps everyone who is involved. It helps other collectors, dealers, auction companies, and third-party authentication and grading services like ours. It is a great thing whenever we have the opportunity to share what we do, as collectors, with people that are not familiar with the hobby.
SMR: David Kohler said he is looking forward to giving the book to prospective clients so that they will gain a better understanding of what is available for them to collect.
JO: That is also my hope. I want this book to be something that a prominent hobby figure like David Kohler can hand to a potential new client who is interested in building a fine collection of sports memorabilia. Of course, this book does not include everything available - you could never accomplish that in one book. But this is a solid base guide to help readers understand what to look for and what is out there. It is a starting point that will hopefully spark their interest and help them get excited about being a part of our community.
This book will combine the history of what the athletes accomplished in their careers with some of the most popular and desired collectibles that are associated with them. It's a blend of the hobby and sports history combined in one format. And the beauty of the book is that you don't have to be a collector to enjoy it. If you are simply a sports fan who wants to revisit the history of sports, I think you will enjoy this book. For example, in our trading card section, if you look at the Al Kaline 1954 Topps rookie card, you will find a summary on who Al Kaline was and what he accomplished in his career. As a result, the reader will know why the athlete is important and then be presented with an image of the card, a highly-desired collectible associated with that sports figure.
SMR: Joe, does the book deal with specific items or items in general?
JO: Well, let me explain how I handled that issue. Let's take the first chapter on the top 250 sportscards in the hobby. The way I approached this is that I don't represent THE T206 PSA NM-MT 8 example of the Honus Wagner card as being the most desirable card in the hobby, but rather ANY T206 Wagner card in any grade. When we assembled the list of top collectibles, we decided to present the item as it stands on its own, not specifically identifying any grade or individual example or unique autograph or game-used item. The message within is that a Babe Ruth autograph is a highly-sought after and valuable item no matter when it was signed or on what medium. Now, the fact of the matter is that there can be great differences in value as to what item has been signed or when something was signed or huge differences in significance and value when it comes to different game-used bats. That being said, since we purposefully used a simple approach, we evaluate each collectible in general terms.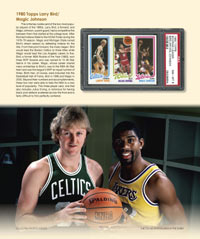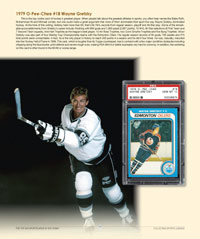 SMR: Is the book limited to items that are actually known to exist?
JO: Yes. We only covered items that are known exist. So, while collectors could theoretically come up with all sorts of Holy Grails, some dream collectibles may never be discovered. We only covered things that are in existence and that a collector, albeit one with significant financial resources in some cases, could actually purchase.
SMR: You said that one of the reasons you wanted to do this book is due to the lack of such material. In 2005, Stephen Wong put out a beautiful book about sports collectors. How does your book differ from Wong's?
JO: Stephen Wong's book, Smithsonian Baseball - Inside the World's Finest Private Collections, is magnificent and I am a big fan of his work. It focuses on the collectors themselves, where their interests lie and what drove them. Wong did such a great job with is book that there was no reason to try to duplicate his efforts.
My book takes a different approach. This book focuses solely on the items rather than the collectors. So, while many of the pictured items have been made available by the collectors who own them, this book is not so much about getting into the psyche of a collector as it is about evaluating the appeal of the collectibles. The focus in this book is not on the collector, but on the collectible, and the athlete that is associated with the item.
SMR: Does the book cover all the major sports?
JO: Yes. It has something for anyone who is a sports fan - baseball, football, basketball, hockey, boxing, golf, tennis, soccer and more. Also, when it comes to autographs, we have even included some important figures from the collegiate ranks. Now, that said, readers will find that the book is dominated by baseball simply because the hobby is dominated by baseball. It is a mere reflection of the market. We have not included some sports such as figure skating. This is not due to the fact that sports such as figure skating lack fan support, but simply because figure skating collectibles are not very popular compared to the more mainstream sports.
SMR: And what do you cover genre-wise?
JO: The largest section of the book is devoted to trading cards simply because cards are the most popular segment of our hobby but there are great collectibles in every section. The first part of the book offers tips on building a collection. Then the reader is taken into the top 250 sportscards. In the following chapters, we cover the top 30 compete sets of sportscards and then the top 100 autographs. There, we rank the top 10 autographs and then present the balance of the list in alphabetical order. Following autographs, we cover the top 40 game-used bats, the top 15 all-time tickets and the top 25 unopened packs of all time. I wanted it to be diverse enough that people with differing interests would find it appealing.
Due to a variety of reasons, we didn't included game-used jerseys and gloves, trophies, championship rings, advertising pieces or original photographs for example. Some of the most desirable and valuable items in the hobby fall into those categories but we simply couldn't cover it all and many of those items are so rare or so hard to rank that it would be virtually impossible to cover them in a sensible way. It should be made clear that the items covered in this book are, by no means, the be-all and end-all, but rather a base guide to sports collectibles. If anything, after being introduced to different genres in the book, we hope both current and future collectors expand their interests to all of the wonderful collectibles that are available, not just the ones discussed within.
SMR: You said that you specifically want to relay knowledge to the new collector or someone who perhaps knows nothing at all about the hobby. What is the bottom line of what you would like them to take way from this book?
JO: I want people to know that you can actually buy this stuff, that truly authentic pieces of sports history can be theirs to enjoy. There are vintage cards, some over 100 years old that have survived in beautiful condition. You can own a bat that was actually once used by great players like Roberto Clemente or Willie Mays. I want people to see that they can own the personal touch of an athlete's autograph on a ball, document or photo, that you can see the personality that comes through in the way someone signs their name. Babe Ruth's autograph is bold and flamboyant, just like he was.
I could go on and on but you would be surprised at the sheer number of people who don't even know that the high-end segment of the hobby even exists. I really believe that if more people knew what we know to be the truth, that there are so many fantastic items out there and that it can be a safe and rewarding endeavor if they do their homework, we can bring more and more people into the hobby. That is the ultimate goal.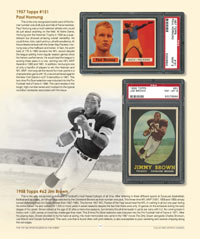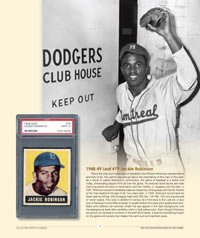 SMR: Anyone who knows you knows that you thoroughly enjoy sports memorabilia. Was there any part of the book that you enjoyed doing the most?
JO: (Laughs) All of it! Really, I find much of what our hobby has to offer interesting and this was a project that was a lot of fun to put together. If you press me, however, I would say one of the most fascinating sections in the book is the one on tickets. For me, I came away with a greater appreciation on the importance of tickets. It is the smallest section in the book but one that I think people will find very fascinating for many reasons.
Tickets are extraordinarily rare compared to trading cards and they were not designed to be collectibles, they were consumables. You went to the gate of a stadium and, in many cases, the attendant tore your ticket as you entered the event and then the ticket was discarded after the event. Few people thought twice about it. What is so great about tickets is that not only do they offer the inherent scarcity factor but they are also tied to a specific event - a specific moment in time. I think most sports fans, not just collectors, can relate to having watched a great Super Bowl or a World Series game. A ticket is not a general memory of an athlete or team, but a tangible item tied to a specific game or event. I think as more people learn about collectible tickets, the more they will find them interesting. It is unfortunate that so many of them are so scarce, that there are not too many to go around for collectors.
SMR: How did you do the research for the book?
JO: I had a great staff that helped me put this book together and I feel we accomplished what we set out to do. The book is simple and very visual. I feel we have produced something for active collectors that will make them proud about being a part of this hobby. I also feel strongly that this book will appeal to those who are curious about the hobby, the ones who are considering getting involved. With that in mind, we never wanted to get too bogged down in the minutia. It's easy for those of us who have been around the hobby forever to get into very unique, super detailed areas and aspects of the hobby such as minor variations on cards and the like. We wanted to stay away from that. That aspect of the hobby does not appeal to the masses and certainly not to most new collectors. We wanted to keep it simple so that it would maintain that appeal. I think if you present something in an overly complicated fashion, you will ultimately turn people off and they will lose interest. Once they become involved these collectors may choose to venture into some more advanced areas but that is not where the mainstream appeal lies.
SMR: What about the lists? As you know whenever someone comes out with any sort of a top list on anything it usually sparks controversy. How did you come up with the rankings?
JO: The lists were compiled by me and other hobby experts. It was a collaborative effort, and while I don't think there will be a ton of debate on what items were included versus those items that were not, some debate is a good thing. When it came to the autograph section, our lead autograph authenticator worked with me in putting the list together.
The experts' involvement brings great credibility to the book. When it came to the top 250 sports cards, we ranked what we felt were the top 20 in order of importance and the remainder of the cards were simply presented in chronological fashion within their respective sport. So, our final list is open to debate and, perhaps, it will inspire collectors to come up with their own lists and their own arguments for an inclusion of a specific card that didn't make the cut. I do feel this is an extremely representative and diverse list, but I also know that people collect what they love and everyone has an opinion, so it will be fun to let the debates begin.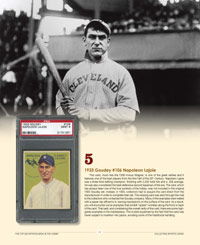 SMR: Can you tell us a bit about the actual layout and design of the book?
JO: It is a 376-page, 10-by-12 inch coffee table style book. It is hard bound with glossy, full-color visuals. The visuals were extremely important to me because it is the eye appeal of these items that often attracts collectors. The fact of the matter is that these items, especially in the case of trading cards, are not desirable simply because they are rare and feature the greatest all-time athletes, they are also desirable because they have a tremendous visual appeal. They are beautiful items that can only be fully appreciated if they are presented in a way that allows readers to see them as if they were actually holding them in their hands.
My favorite pages of the book include fantastic photos of the athletes coupled with the collectibles. We spent hours and hours selecting the photos that we used in the book, from a variety of tremendous sources like the MLB Hall of Fame archives, Getty Images and Icon Sports Media, Inc. In rare cases, we were able to locate the original photo used in the design of the actual card featured such as the photos used for the creation of Jim Brown's 1958 Topps card and Mickey Mantle's 1951 Bowman card.
SMR: Once this book has reached the readers, what do you hope to receive as far as feedback goes?
JO: My goal is that the non-collectors will read this book, get excited about starting a collection and want to become a part of this great hobby. For the established collector, I hope they will feel we did them proud - that they will want to show this book to friends, business associates, family members, and be able to say, with pride, this is what I do, this is the hobby I am a part of. I hope that readers will feel that we have captured the feeling, excitement and passion that make our hobby so rewarding.
SMR: Did a guy like you, who knows so much about the hobby, collectors and collectibles, learn anything new from doing this book?
JO: (Laughs) First of all, no one, not even the top experts in the industry, can know everything about everything. There is just so much to know in this hobby but expanding your horizons, whether you are an expert or a collector, can be a lot of fun. I think putting together this book helped confirm something that I have always believed - that no matter what level you collect on, every person who enters this hobby has a passion about what they collect and that the more knowledgeable and diverse they become in their collecting goals, the more enjoyment they find.
Most collectors start out by collecting cards as kids. I'm a prime example of that. And while some stick with cards or one particular type of collectible, which is fine, I believe the most rewarding aspect to collecting comes from becoming more diverse. That is what we wanted to do with this book - to ask the collector to consider reaching out and expanding their horizons. Let's say you collect one particular athlete's trading cards - wouldn't it be incredible to compliment your collection with a ticket from a memorable moment in their career or an autographed piece? Conversely, if you collect game-used bats - wouldn't it be great to have the rookie card of every player whose game-used bat you own? I have been in the hobby for a long time and what I have noticed is that the collectors who have expanded their horizons have taken their enjoyment to a much higher level.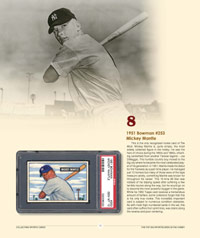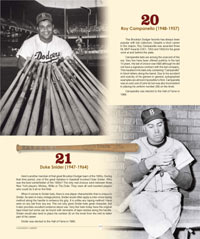 SMR: The book sounds like it will be a great addition to the hobby. How can folks get a copy?
JO: It will be available through all the major book sellers, at their retail stores and on their websites - Barnes and Noble, Borders, Amazon.com and others. You can also contact Zyrus Press (the publisher) directly at (888) 622-7823 for more information.
More importantly, we will also be giving the book away as a gift to everyone who signs up or renews their membership for the PSA Collectors Club once we have the book in hand. We really appreciate all the kind folks who support our club and feel including this book is one way to thank them.