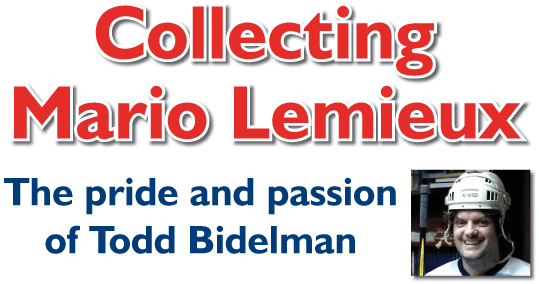 Widely considered to be one of the greatest stars in the history of the National Hockey League, there is no debating the fact that Mario Lemieux was the greatest player to ever take to the ice as a Pittsburgh Penguin. Drafted by Pittsburgh as the first overall pick in the 1984 NHL Draft , Lemieux chalked up a goal in his first outing as a Penguin. Lemieux went on to rack up 43 goals and 100 points during his rookie season, was awarded the Calder Trophy as the top rookie in the league and was also named to the NHL's All-Rookie Team. In 1985-86, his second season, Lemieux secured the spot as the Penguins star player as he turned in a 141 point total. That year also saw him win the first of what would be four Lester B. Pearson Awards as the NHL's Most Valuable Player and also be named to his first of four selections to the NHL Second All-Star Team.
He captured the first of three Hart Trophies as the NHL's MVP during the 1987-88 season and was also named the league's top scorer which earned him the first of six Art Ross Trophies. That year also saw him named to the first of five selections to the NHL First All-Star Team.
During the 1988-89 season, Lemieux turned in a career high total of 199 points, bringing Pittsburgh to within one game of reaching the Stanley Cup Finals. The following season, Lemieux's 84 point regular season helped the Penguins get to postseason play. They upset the Boston Bruins in the semifinals and then downed the Minnesota North Stars in the finals. Having scored 44 points in 23 playoff games, Lemieux earned the Conn Smythe Trophy as the top performer in the postseason. The next year, the Penguins once again bettered the Bruins and ultimately finished off the Chicago Blackhawks in the finals. Lemieux chalked up 34 points during that postseason and was again awarded the Conn Smythe Trophy.
During the Penguins 1992-93 seasons, Lemieux faced challenges that went way beyond those of his opponents on the ice. In early 1993, he was diagnosed with Hodgkins Disease. His doctors immediately began treatment and, while they were determined to effectively treat him, Mario was determined to return to active play. That in fact happened. Lemieux returned to the ice before the season was up and played a major role in leading the Penguins to an NHL record 17 consecutive victories. The following season, he only saw brief action and was then benched for the entire 1994-95 season due to a deteriorating back condition.
Lemieux once again suited up in 1995-96. That year saw him score 69 goals and 161 points during the regular season and another 27 points in 18 post-season games that helped Pittsburgh make it to the Eastern Conference Finals.
The Penguins 1996-97 campaign would prove to be what Lemieux, and everyone else, believed to be his last as an active player. He led the NHL in scoring for the sixth time with 122 points during that season. Assisting his team to move on to postseason play, Lemieux played and scored in the Penguins final playoff game on April 26, 1997, in which they were defeated by the Philadelphia Flyers.
When you look back at the feats Lemieux was able to accomplish, they are nothing short of amazing. However, they move well beyond any superlative, when you take in consideration the fact that Lemieux suffered numerous medical challenges including a battle with cancer and two back operations that led to his premature retirement in 1997, at the age of 31. With his playing days seemingly behind him, the Hockey Hall of Fame waived its policy of a three-year waiting period and enshrined Lemieux in November of 1997.
But, the Mario Lemieux playing days story doesn't end there.
Beginning in the late 1990s, the Pittsburgh Penguins were a franchise in disarray. Crumbling under the weight of huge debt, the team was forced into filing Chapter 11 bankruptcy protection in October of 1998. Realizing that the team was in critical condition, Lemieux agreed to defer the lion's share of the salary he was owed from his final contract. He also put together a group of investors who worked with him to buy the team out of bankruptcy and restore its financial solvency.
In March of 1999, the investment group submitted a reorganization plan to the United States Bankruptcy Court and, after six months of negotiations, received final approval on the plan in September of that year. This approval made Lemieux the first modern era former NHL player to own a professional team.
While the hockey world took for granted that Lemieux would don corporate garb and take his role behind the biggest desk in the Penguin's front office, Mario had other ideas – ideas that would stun NHL insiders and fans alike. In December of 2000, Lemieux announced he would be donning full protective gear and uniform and return to his role on the ice.
As a player-owner, Lemieux's comeback came on December 27, 2000. Within his first minute of comeback play, he recorded an assist and would go on to assist a second time and score a goal in a shutout win over the Toronto Maple Leafs. Lemieux's return to active play also saw him head up the 2002 Canada Olympic team in Salt Lake City. Teamed with Wayne Gretzky, Canada downed the USSR in three games to capture their first Gold Medal in half a century.
In early December of 2005, Lemieux's doctor detected an irregular heartbeat and sidelined him for four games. However, his return to active play after the four-game hiatus would be short-lived. On December 16, in a game against the Buffalo Sabres, his heart again registered an irregular beat and he was immediately sidelined. Over the following weeks, he went through a battery of tests and, by the following month, made the decision to once again retire.
With his playing days truly behind him, the hockey world was able to reflect on Lemieux's incredible career in full context. Widely respected as one of the most naturally gifted players in the history of the NHL, Lemieux had taken the lowly Pittsburgh Penguins to the pinnacle of the NHL. He left the ice for the last time having scored 690 career goals and 1,723 points in 915 games. He was also the undisputed driving force in taking the Penguins to back-to-back Stanley Cup Championships in 1991 and 1992.
Today, along with his position with the Penguins, Lemieux also oversees the Mario Lemieux Foundation for Cancer and Neo-Natal Research. He, his wife Nathalie, and their four children live in Sewickley, a suburb of Pittsburgh.
When it comes to collecting the cards and memorabilia of Mario Lemieux, few collectors have the passion, pride, and knowledge of Todd Bidelman. A product of Johnstown, Pennsylvania, Bidelman is not the typical collector who traces his desire to amass cards back to his childhood. "I never really collected much of anything as a kid," said Todd. "I was the type of kid who always kept my toys in their original box and neatly put them away. I never gave much thought to collecting anything or considering that there was any value associated with anything I had."
After graduating from Richland High school in Johnstown, Bidelman went on to work for various companies including Pepsi and Hershey before assuming his current position as a pharmaceutical operator with Bayer Healthcare. "I'm responsible for coating aspirin products with functional and non-functional coating solutions while monitoring recipe set points, batch records, and maintaining strict FDA guidelines," explained Todd.
Outside of his professional life, Todd considers himself to be an easy going person. "I have simple needs and a life with little stress," said Todd. "Back in high school, I used to play basketball and soccer, and I used to love to fish. I grew up being rather spoiled until my parents divorced and then I had to go out on my own and make a life for myself without my parents to fall back on."
Bidelman is quick to point out that he has become the person he is today with the help of Mimi, his wife of 8-years. "She has had the biggest impact on me," said Todd. "She always seems to have the right answers to everything while maintaining a dynamic presence." Todd and Mimi are the parents of five-year old twins, a boy named Jakey and a girl named Helena. "The kids make me feel so alive and put a smile on my face every day," said Todd. "One of the best experiences of my life was taking my family to Disney World where we had a great time making wonderful memories and having no worries. My kids still talk about that trip all the time."
As for Bidelman's daily routine, he said that he enjoys spending weekends with his family at Hershey Park or swimming at the kid's school. The twins, who have just begun kindergarten, have left Todd's mornings a little less hectic, but a bit lonelier. "For the last five years, I spent my mornings with the kids," said Todd. "Now that they are in school, I am all alone in the mornings. I was pretty lost and sad for a few days when they first stared school, but I know that it's all good and the best thing for them."
Today, Bidelman is one of the top Mario Lemieux card collectors in the world. SMR recently caught up with Todd to talk about his collecting passions.
SMR: When did you start collecting hockey cards?
TB: I really started enjoying hockey around 1989, when I watched my first Pittsburgh Penguins game on television in an old apartment I shared with my brother. I remember being amazed at the skills of Mario Lemieux. In the early 1990s, my brother opened a sportscard shop and, while I was not a card collector, I would stop in regularly to see what he was offering. One night, I stopped in just as an older gentleman was selling my brother some wax packs from his collection. After the man left, I looked through some of his stuff and ended up purchasing a few 1985 Topps Hockey packs. I ripped them open and was shocked to pull out a perfect Mario Lemieux rookie card. So, that was, to some extent, my start. However, about three months later, I was in need of some extra cash for bills and ended up selling my Lemieux rookie card at a local show. As the years went by, I continued to watch Lemieux play and became a huge hockey and Penguins fan, but I was still not into collecting cards. Then, in 2002, I decided to go online and look around for some hockey packs to buy. I found a Website called Dave and Adams Card World and noticed that they were offering one 1985 Topps Hockey pack. I bought it, along with a few other older hockey packs and then waited for their arrival. When they came, I sat back on the couch, opened the packs, I again pulled out another perfect Mario Lemieux rookie card! I was hooked forever! It had been 13 years since that same thing first happened. It was like I was in a time machine taken back to that night when I found that first card. So to answer your question, I really became a serious collector five years ago.
SMR: What is it that you specifically collect?
TB: I mostly collect rare Mario Lemieux cards and game-used memorabilia. I have a big interest in his Topps and OPC rookie cards in high grade and I also have some that are autographed. Lemieux's signature has changed quite dramatically throughout his career, from his rookie signature to his retirement signature. I have all of them. I like these items based on their rarity and the challenge involved in finding them. I also like the feeling I get knowing that there are only a few other collectors that might have these items besides me. These are tough finds. Some of his cards I have seen offered for sale only once or twice in the past two to three years.
SMR: What was it that attracted you to Lemieux and his cards?
TB: Besides the rarity and collectability of his cards, I think it is amazing what Mario has done for the City of Pittsburgh and the NHL – it really is unprecedented. His passion for the game and his determination to overcome illness and injuries and still compete on a high level is incredible. We here in Pennsylvania know that Mario saved hockey in Pittsburgh, not once, but twice. He was tough to beat on and off the ice. How often can you lose your favorite athlete once and then have him come back? I have never personally met Mario, but someday I hope to and when I do, I will thank him for all he has done.
SMR: What are you seeing as the most desirable items in sports memorabilia?
TB: With the current generation of collecting, I think most people seem to have a huge interest in anything to do with Babe Ruth and Mickey Mantle. Their cards and memorabilia are a way for collectors to own a little part of two of sports greatest icons. Ruth and Mantle have had a huge impact on the sports memorabilia hobby in so many ways. Beside things associated with them, I am also seeing a huge interest in unopened wax packs from all years and game-used memorabilia from all sports. I think game-used items have a huge future because they really put people closer to the athletes they admire.
SMR: Todd, we're going to ask that you take out your crystal ball and tell us what you think may be hot in the hockey genre in the next three to five years?
TB: I think that over the next five years we will see hockey cards and NHL memorabilia gain more interest. There is a lot of exceptional, young talent in the league right now and they will be getting a lot of exposure over the next few years as they come into their own. That will generate interest with a whole new generation of hockey fans that will result in new collecting trends. I think the hobby is only as strong as the collector's desire to grow with continually changing trends in sports.
SMR: How large is your personal collection?
TB: My collection is really not that large, but it is the size that suits my life style. I have three 1985 Topps Mario Lemieux PSA 10 rookies and one 1983 Canadian Juniors PSA in PSA Mint 9. That card is one of only two with none higher. I have one 1983 Canadian Juniors factory sealed team set of 21 cards that includes a Lemieux pre-rookie card. It is really impossible to find that set unopened and PSA can't encapsulate it due to its obscure size. I also have one 1985 OPC Box Bottoms Mario Lemieux. That is a rare card being as that only two have ever been graded.
I have one 1985 OPC PSA/DNA Autographed Lemieux rookie card that has graded PSA 8 – the highest grade of that card to date. I have two 1985 Topps PSA/DNA Autographed Lemieux rookies – one graded PSA 4 and another PSA 6, which are both the highest ever graded. I have a 1985 OPC PSA 9 Lemieux rookie card, 1988 and 1989 Topps #1 PSA 10 Mario Lemieux cards, and the only PSA graded set of Mario Lemieux Returns one through five cards numbered to 66. I have 2001 Topps MR1, MR2, MR3, MR4, MR5 that are all autographed and the only five that have ever been graded. I have two 1990 PSA 10 NHL All-Star Game full proof tickets autographed by Mario, who, by the way, was the MVP with four goals and two assists. I also have a 1990 Mario Lemieux autographed first day cover, a 1985 OPC wax pack graded at PSA 9 with Mario's rookie card on the back, a 2001 Nike Quest Lemieux game-used hockey stick from the season he returned to the league from retirement, a 1989-90 complete team signed CCM game-used helmet that is signed by Lemieux, Paul Coffey and 14 other players. So, as you can see, my collection isn't really that big, but I'm into quality rather than quantity.
SMR: What are some of your favorite items?
TB: My favorite items are pretty much everything I just mentioned. That said, I do have a real passion for Lemieux's 1985 Topps PSA 10 rookie cards. I am very proud to own those cards. I have pulled two of them from packs, I got one from Steve Hart's Baseball Card Exchange, another from eBay, and another from a friend at work who didn't want it. I bought that one from him raw and then sent it to PSA to have it graded.
SMR: Todd, how important do you feel PSA and PSA/DNA is to the collectibles hobby and business?
TB: Simply put, PSA is the best out there. They will always be the brand you can trust your entire collection to. I have an appreciation for that because I work for a company that has been around for over 100 years whose brand is trusted. I believe PSA will hit the century mark as well. I also love SMR because, to me, the stories about collectors and the acquiring of cards are just as important as knowing the value and population of them.