When Roberto Clemente's plane carrying relief supplies to Nicaragua crashed on New Year's Eve 35 years ago, down with it went the hearts and spirits of the thousands Clemente managed to touch during his short life.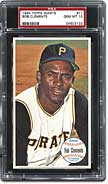 With his death, baseball lost a vibrant superstar. Teammates mourned a respected leader. A family tried to come to grips with the loss of a devoted husband, father and son. And the world was less a great humanitarian.
"I can't talk about him without crying," said the PSA Set Registry's No. 1 Clemente Master Set owner, Andy Skrabalak, who grew up in Monessen, Pa., idolizing the Bucs great. "I go to PNC Park and I see his statue and I break down."
Skrabalak's emotions are not uncommon. More than three decades after his passing, Clemente continues to have a deeply devoted fan base.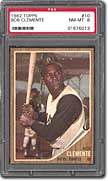 "I was too young to remember him playing but that's all the city (Pittsburgh) talked about for years," said former Steel City resident, Scott Mt. Joy, who possesses the Registry's No. 3 Master Clemente set. "Until the Steelers became big, Clemente was Pittsburgh."
Also raised in Pennsylvania, Wendell Smith, the No. 1 Basic Set proprietor, has not only assembled an impressive Registry set, but he's also amassed autographs, game-worn jerseys and game-used bats.
"Roberto Clemente was a great player, one of the greatest players of all-time," said Smith. "I mean his work ethic on the field, his ability and then his humanitarian efforts. He was a great guy off the field, helping those in need. So . . . I think all of those things really culminated into what really drew me to collecting Roberto."
It's this type of adulation that has made Clemente's Basic (20 cards) and Master (166) sets two of the most coveted player sets on the Registry.
Dubbed "The Great One" by Pirates' legendary broadcaster Bob Prince, Clemente recorded exactly 3,000 hits in an 18-year career. He was selected to 15 All-Star teams, won four batting titles and was the National League Most Valuable Player in 1966. A member of two World Championship-winning teams (1960 and 1971), Clemente played with unrivalled ferocity and all-out effort. His .414 average in the 1971 World Series earned him MVP honors.
Skrabalak, whose wife, Alynne, has helped him with his Registry set, vowed he would collect cards of his boyhood hero again after his six Clemente rookies were stolen from his desk at school when he was 12.
"I left my cards in my desk and I took off cave exploring. I fell in a cave, broke my hip and ended up in the hospital in traction," he recalled. "When I came to, I told my parents to please go to my desk at school where I left my baseball card collection, only to find that someone stole everything I had in my desk. So I vowed that one day, when I had the resources, I would put together as fine a Roberto Clemente baseball card collection as I could."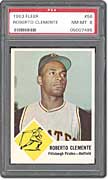 Unlike Skrabalak, Mt. Joy still has his cards from his childhood. The former Pittsburgh resident was inspired to collect Clemente by his family.
"Both my parents were from Pittsburgh, so that was the guy they talked about," he said.
Of course, the key to any Clemente collection is his rookie (1955 Topps, #164). Of the 2,142 graded, there has been just one PSA 10 and 11 PSA 9s.
"Centering is an issue with that card," explained Smith. "I've seen a lot more off-center than on center."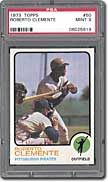 Another difficult issue is Clemente's 1958 Topps (#52) single. Two variations exist of this card: one showcases the team name in white and the other features it in yellow. The yellow variation is scarcer and commands a premium. So far, 635 copies of the yellow version have been submitted and there has yet to be a PSA 10. There are just five PSA 9s.
"The Topps yellow letter variation is really hard in high-grade... There's a lot of print snow on the card," said Smith.
Also tough to uncover in pristine condition are Clemente's Kahn's Wieners cards. The Bucs Hall of Famer has eight Kahn's cards (1957, 1959, 1960, 1961, 1962, 1963, 1964 and 1966) in the Master Set. Part of a 29-card set, the 1957 Clemente single is the most sought-after. It measures 3-1/4" by 4" and boasts a black and white photo and blank back. Just eight of these cards have been submitted to PSA and the highest grade doled out has been PSA 7.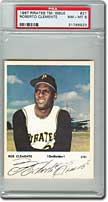 "I've seen one (1957 Kahn's Wieners Clemente) for sale in three and a half years and I, unfortunately, didn't have enough money to buy it," said Mt. Joy.
Skrabalak doesn't own the 1957 single either, but he did purchase a number of other Kahn's issues.
"To get six Roberto Clemente (Kahn's) cards, I bought almost eight complete sets," he said.
Skrabalak believes, however, that Clemente's Venezuelan Topps cards are his most difficult to track down. Clemente has 1962, 1964, 1966, 1967 and 1968 Venezuelan issues that are part of the Master Set. Poor card stock is one of the reasons these cards are difficult to find in high-grade. The albums created for these cards have also added to their condition woes.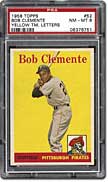 "They're a little different card stock than the standard Topps. They were only issued in Venezuela and they had a book that you could stick the whole collection in there, which most folks did," said Mt. Joy.
Skrabalak agrees.
"The Venezuelans seem to be impossible to find in any grade... I actually bought a (1966 Venezuelan Topps PSA) 1, miscut (MC) . . . not only is it miscut and it's dark, it has graffiti all over the card," he explained.
The 1968 Topps 3-D Clemente is also elusive. Part of a 12-card set that's considered one of the hobby's rarest and most coveted test issues, the Clemente is highly sought-after. In December 2006, a PSA 10 Clemente sold for $30,343 in a Mastro Auctions sale. Of the 29 Topps, 3-D Clementes graded by PSA, six have received a gem mint grade.
When another 1968 Topps 3-D example surfaces, the competition – as it is for all high-grade Clementes – will be heated.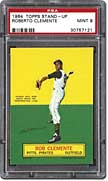 "I think there's a lot of pretty big Clemente followers. I know in the auctions there's a lot of activity on his stuff, especially the rare stuff," said Smith.
Mt. Joy agrees.
"He's extremely popular. He has a good following... He's got collectors all over," he said.
Clearly Clemente's spirit has lived on, not only in the hearts of these Set Registry enthusiasts, but in the conscience of the thousands of others he managed to influence. Major League Baseball presents an award in his name each year to the player who best exemplifies sportsmanship and is involved in their community.
Perhaps, Bruce Markusen, author of the Clemente biography, The Great One, summed the Pirates legend up best when he wrote, "There has been no other player in my lifetime who has played the game with more dynamism or passion. There has been no other player who exhibited more selfless concern for others – to the point of heroism – away from the field of play. If for no other reason than for those two, Clemente deserves to be remembered. In fact, we need to remember him – at a time when the actions of modern day athletes have often disappointed us."
---
Please feel free to contact Kevin Glew at [email protected] if you have any additional information or comments. Scott Mt. Joy and Mastro Auctions provided pictures for this article. Please note that the Population Report figures quoted are those as of press time.