It's hard not to like a set that features players named Rocket Richard, Boom Boom Geoffrion, Turk Broda and Teeder Kennedy.
Heck, the WWE pays someone thousands of dollars a year to invent such memorable monikers. But, perhaps the most intriguing aspect of the 1951-52 Parkhurst Hockey set is that its history is as colorful as the names of the players in it.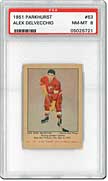 With a collation process that involved a cement mixer, this offering – which also includes rookies of Gordie Howe and Terry Sawchuk – boasts 105 cards. Printed on fragile paper stock, these singles showcase a color picture on the front, as well as the player's name, team, position, statistics, birth data and card number. The backs are blank.
Measuring 1-3/4" by 2-1/2", these cards are smaller than the standard-sized, modern cards. Bobby Burrell, author of Vintage Hockey Collector, points out that 25 million, 1951-52 cards were produced. Assuming that each of the set's cards were printed in equal quantities, this would mean that approximately 238,000 of each single were manufactured.
"They used a guillotine to cut the cards," explained Burrell. "That's why we have condition sensitive cards. What would happen is, they would put, let's say, 20 sheets on the guillotine and they would slice. They would slice down and then they would slice the other way."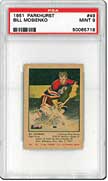 This process would result in a number of the same cards being stacked on top of each other, notes Burrell. And though it's hard to believe, the cards were then thrown into a cement mixer to be collated.
"It (the cement mixer) just mixed them up . . . There was somebody at the other end of the cement mixer. There was a girl who checked the cards for dings and if there were damaged cards, she would take them out," said Burrell.
Five cards at a time were then packaged by hand into small cardboard wrappers. Burrell points out that there are four colors of packs: green, light blue, red and purple.
"It's (the pack) about a sixth of an inch thick . . . and the packs just had a little tongue in the back that slipped in a groove," explained Tom Borawski, who owns the current No. 5 set on the PSA Set Registry.
An interesting side-note is that sheets from the 1951-52 series were employed for packs of the 1952-53 Parkhurst cards.
Borawski, a Detroit Red Wings season ticket holder, says he began pursuing this set after purchasing a Gordie Howe rookie.
"Once I got that one card in my hand, I started looking at the set and seeing how many rookies were included in it," he explained.
Along the way, Borawski would also convince his best friend, Ron Liedel, to enter the fray. Liedel now owns the third-ranked set on the Registry.
"Once you start with this set, you just get so obsessed with it," he said.
Aside from the Howe, Richard and Sawchuk rookies, this set also boasts the inaugural singles of legends Doug Harvey, Red Kelly, Alex Delvecchio, Ted Lindsay and Howie Meeker.
Pristine examples of these cards are in high demand. A PSA 8 Howe rookie fetched $8,383.63 (including the Buyer's Premium) in a Memory Lane auction that ended in April, while a PSA 9 Lindsay commanded $7,713.88 in another Memory Lane sale last December.
The majority of these cards, however, have not survived in high-grade. Aside from flaws that occurred during the production process, discoloration often plague these cards. They tend to brown over time.
"They've been fading over the years, and if they're kept under the lights, the colors dissipate," explained Tom Malito, whose set boasts an incredible 8.10 GPA and has been inducted into the PSA Set Hall of Fame.
Centering problems and soft corners also hinder these cards.
"Kids would play with them (the cards) and shoot marbles (with them). They'd create their own game," noted Borawski. "Back in the day, there wasn't Nintendo and PS2 and all that."
Another common flaw is glue residue or paper missing. People tended to stick these cards into albums.
"They were blank backs, so luckily they didn't make an album for '51-52," explained Gerry Chartrand, owner of Gerry's Sports Cards in Dorval, Quebec. "If they had've made an album, it would've made it even worse."
Burrell agrees.
"Being blank-backed, a lot of people never had questions about sticking them in albums," he said.
One of the most difficult cards to find in pristine condition is Turk Broda (#75). Of the 66 evaluated by PSA (as of press time), just one has been graded as high as a PSA 9.
"The Turk Broda is the most difficult in the set to obtain, especially in (PSA) 8," explained Malito.
"When you do see them (the Brodas), they're just beat up. The corners are all rounded or creased. You see very few really nice cards," noted Borawski.
Malito is not sure why Broda is so elusive in top condition. He speculates that it could be because the Leafs goalie was very popular and his cards were well-handled.
Elastic bands were often wrapped around these sets, and as a result, the first (Elmer Lach) and last cards (Jim Conacher) are frequently found damaged. Neither card has had one graded higher than PSA 8.
Another single that was harmed by the elastic bands is the set's second card, Paul Meger. Of the 39 examined (as of press time), the highest grade doled out has been a PSA 8. Liedel has only been able to track down a PSA 6 for his collection.
"I've seen three (PSA) 6s in four years. I've never seen a (PSA) 7. The only (PSA) 8 I've seen was one in a Memory Lane auction about a year and a half ago and right off the bat, with still two weeks to go, it was already around $2,000 and I thought, 'No way, he's a common,'" said Liedel.
Another tough card to find in top condition is Gerry McNeil (#15). Of the 71 submitted to PSA (as of press time), nothing has graded above a PSA 8.
"I noticed that Gerry McNeil is usually off-centered . . . I've seen a lot of nice off-centered cards on him," said Liedel.
Competition for cards like McNeil has driven the value of this set to new heights. Borawski says there has been a substantial increase in the number of sets on the PSA Registry in recent months.
So not only does this offering boast colorful players and a colorful history, it has become, perhaps, the hobby's most sought-after hockey set.
"It's the No. 1 (hockey) set of all-time, and it's going to stay there," said Chartrand.
This set's hallowed status would make the Rocket, Boom Boom, Turk and Teeder proud and make others feel nostalgic about a cement mixer.