In the same year that Upper Deck revolutionized the baseball card industry, Pinnacle changed the face of the football card hobby.
With its colorful design, firm stock and unparalleled rookie selection, the 1989 Score Football set is arguably the best modern gridiron issue.
"I think it's a landmark set," said Frank Massaro, who owns a complete PSA 10, 1989 Score Football set. "I think in every sport there are a few sets that will stand the test of time . . . and I think the '89 Football set is going to be one of those sets."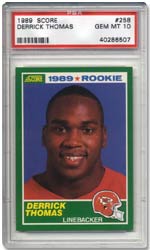 The 330 cards in the regular 1989 Score set showcase blue, red or green borders. The fronts boast a color photo, team helmet logo, the player's name and their position, while the backs include another photo, stats and a short biography.
A110-card supplemental, factory set was also issued in January 1990. The numbering on these purple-bordered cards was carried on from the regular series (331S to 440S).
Reportedly produced in smaller quantities than their Topps or Pro Set counterparts, the regular series cards were available in wax packs, factory sets and vending boxes. Tony Munich, proud proprietor of the registry's No. 6 set, owned a card shop when these were released.
"Everybody that came in wanted Score and it was kind of tough to get. . . . There was less Score product than Topps and it was just so much better and nicer," he said.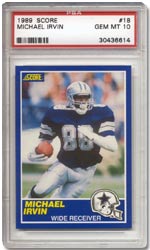 Dave Jacobs, who also owns a complete PSA 10 Registry set, agrees.
"It was a great product," he said.
The Score set is also lauded for its player selection. Rookie cards in this offering include Barry Sanders, Deion Sanders, Troy Aikman, Cris Carter, Michael Irvin, Bruce Matthews, Rod Woodson, Tim Brown and Thurman Thomas. Also featured are cards of Joe Montana, Jerry Rice, Steve Young and Dan Marino.
"It had some awesome rookies in it and this thing's littered with Hall of Famers," said Jacobs.
Score also beat its competitors to the punch with most of the rookies. The two biggest rookies – Sanders and Aikman – were in the regular Score set, but were not included in the initial Pro Set or Topps products.
A number of error cards also appeared in the Score set. The most renowned error is the Tim Brown All-Pro card (#305) that showcases a photo of James Lofton. There are generally no premiums for the error cards, though the corrected versions are reportedly rarer.
While this set is relatively easy to assemble in mint condition, the colored borders on these cards make them susceptible to chipping.
"You will catch a little bit of white on the corners," said Massaro.
Jacobs agrees.
"It (chipping) really shows up between the green (borders), the red and the blue," he said.
There are also some centering issues.
"To get a PSA 10 card, you need to have good centering, that's key. You'll see a lot of the cards, they might be just slightly off-center," said Massaro.
For example, poor centering often hampers the Aikman (#270). Despite being similar in value to the Sanders, the Dallas legend's single has been submitted to PSA less than half as many times as the Hall of Fame running back. Of the 6,750 Aikmans sent in (as of press time), there have been 324 PSA 10s and 2,639 PSA 9s.
"When I broke a factory set, I always pulled the Sanders and the Aikman. I usually ended up sending the Sanders in, but never the Aikman, because of the centering," said Jacobs.
The Barry Sanders (#257) is the most popular card in the set. A PSA 10 Sanders fetched $175 in an eBay auction in August. Of the 13,783 Sanders evaluated (as of press time), 546 have been deemed PSA 10s.
Hobbyists should note that counterfeits of Sanders and Aikman exist. To ensure the authenticity of your card, you should consider purchasing a card pre-graded by PSA. If you're sifting through raw examples, you should look for blurriness and color differences between fakes and originals.
Collectors insist, however, that it's not big names like Sanders that are difficult to track down in high-grade.
"It's the minor cards, the commons . . . (that) are hard to find," noted Munich.
Massaro's "white whale," for example, was John Taylor (#238), while Jacobs struggled to find Rodney Carter (#276).
"The Carter card and the Taylor, I think both had centering issues, if I remember correctly. I was fortunate enough that I got the Rodney Carter card through my own submission," said Massaro.
Jacobs couldn't pull a gem mint Carter. He eventually purchased his on eBay.
"I couldn't even get a (PSA) 9 on that thing. . . . I was getting chipped borders or fuzzy borders or on that particular card, centering (left to right) was a huge issue. I couldn't find them centered," he said.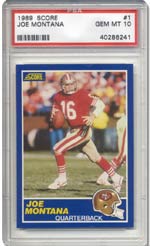 Carter and Taylor both only have six PSA 10 examples each. Even more elusive in gem mint condition, however, is Andre Tippett (#55). There are just three PSA 10s of this card and they belong to the three registry members who have complete PSA 10 sets.
"There's only three of them and nobody else can get a perfect set because they're not available," said Jacobs.
Jacobs believes that Tippett's location in the factory sets is one of the reasons it's tough to find in pristine condition.
"I think Tippett was where it fell in the factory set. For some reason, somewhere around that area in the 50s (card numbers) . . . they would run the cards in one direction and then they would flip them. The Tippett was somewhere right where the card was flipped," he said.
To track down singles like Tippett, collectors have to have a passion for the set.
"If you want to put a PSA 10 set together, you'll probably average $15 to $20 a card. You've got to love the set to want to do it. Like I said, I don't think you'll ever recoup the investment in this set, but you know what? It's my set. I love the set. I love the product. I like the players in the set and for me, that's what collecting's about," said Massaro.
But with the increasing number of players whose rookie cards are in this set being inducted into the Hall of Fame, there's a chance this set could reward hobbyists financially in the future.
"At one point, the '89 Score set was really popular. As new products started coming up, the popularity waned," explained Massaro. "But what we see now is that a lot of these players are either retiring or becoming eligible for the Hall of Fame. Now, it's starting to see renewed interest, whenever a new player makes it into the Hall."