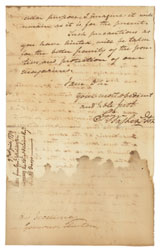 Significant Revolutionary War content related to the
consolidation of troops drove this 1779 Washington
letter to $32,701
AMHERST, N.H.-"Better security of the frontiers and protection of our magazines"-that was the rationale for General George Washington's move to consolidate army regiments as outlined in a 1779 letter to New York Governor George Clinton. The letter, one of more than 1,500 lots in R&R Enterprises' October auction, passed into the hands of a collector for the princely sum of $32,071, the sale's top result.
Similarly impressive was a handwritten letter from master of horror Edgar Allan Poe, whose autograph material has long been recognized as among the most elusive of any figure in American literature. The 1841 letter, related to Poe's groundbreaking article on ³autography²-a ³science² that later came to be known as graphology or handwriting analysis-sold for $30,512.
Presidential and historical items of special interest included a 1715 document approving a pay raise for officers, signed by Peter the Great, $10,152; a Civil War-date letter in which Sherman coordinates troop movements, $9,502; a Cecil Beaton photo of Elizabeth II signed by both photographer and monarch, $9,068; a Washington free frank on a mailing panel addressed to John Jay, $8,741; a letter from Einstein commenting on a correspondent's understanding of the Theory of Relativity, $8,638; a racially insensitive postcard from young Bill Clinton to his grandmother, the unusual nature of which prompted international media coverage in the days leading up to the auction, $6,812; a Theodore Roosevelt letter pledging to assure America's naval might, $6,812; a handwritten legal brief signed twice by Lincoln, $6,635; a letter from Horatio Nelson offering to pull strings for the son of a friend, $6,635; a diplomatic appointment signed by Lincoln during a bout with smallpox, $6,566; and a Nathanael Greene letter on the ³scarcity of wheet", $5,362.
Space and aviation items also yielded healthy results, led by a history of the Apollo 11 mission signed by all three crew members, $13,915; an Apollo
11 mission transcript, including Armstrong's famous "small step" quotation, $7,627; and an uninscribed photo signed by Neil Armstrong, $4,652.
Best known as a poet and horror writer, Poe also
pursued the study of "autography"-handwriting analysis.
This rare ALS related to his groundbreaking article on the
subject reached $30,512
Art and literature standouts included an extensive correspondence from Georgia O'Keeffe, $11,738; a signed first edition of Ian Fleming's On Her Majesty's Secret Service, $11,168; a Tolkien letter with content related to Pippin's ride with Gandalf in Return of the King, $6,032; a handwritten entry from Thoreau's iconic Journal, with a vivid description of fall foliage, $5,729; and a letter from Twain to his editor, referring to an enemy as an ³abscess² and a ³chancre,² $5,098.
Top performers in music and entertainment included a vintage photo of Audrey Hepburn whose modest size (4› x 5›) belied its appeal to dueling bidders, $8,996; a vintage photo signed by Elvis, $6,933; a print from Bambi signed by Walt Disney, $4,874; a signed photo of a young Charlie Chaplin, $4,430; a Fender Squier guitar signed by Paul McCartney, $4,303; and a signed photo with an amusing sentiment by Humphrey Bogart, $4,027.
America's favorite pastime is still tops among collectors, as evidenced by keen competition for a 1951 game-used bat signed by Ted Williams, $21,190; a baseball signed by Ruth, Gehrig, and DiMaggio, $9,140; and a Christmas card from Jackie Robinson to Gil Hodges, $5,117.
All prices above include the buyer's premium. R&R Enterprises' next auction begins on October 30 and ends on November 14. Bids are accepted online or via telephone, fax, or e-mail. For information or to consign to future auctions, visit the R&R web site at www.rrauction.com or contact Elizebeth Otto at [email protected].