Final Classic Collector auction of 2007 will feature broad assortment of high-quality Sports and Americana items
It's been a classic year for Mastro Auctions. The world's leading Sports and Americana auction house is winding down 2007 by gearing up for the company's third and final Classic Collector sale of the year. A vital part of the company's auction mix, Mastro Auction's Classic Collector sales have become widely anticipated industry events. "The input we have received indicates that these sales are looked forward to as much as our Premier sales," said Doug Allen, president of Mastro Auctions. "That feedback is further strengthened by consistently great auction results and a steady stream of top notch consignments." As a result, Allen says that collectors can expect more hobby excitement as Classic Collector auctions continue to bring more collecting opportunities to larger markets in the future.
Almost 1,800 lots in the October Classic Collector auction will open with a minimum bid of $100. Bidding, conducted entirely over the internet, will begin on October 8 and conclude on October 24 and 25. Specific highlights include:
SPORTS MEMORABILIA
BASEBALLS
Babe Ruth/Lou Gehrig Signed Ball
allAt 8-1/2"-diameter and 4-1/2 ounces, it is smaller than the average baseball. But make no mistake, the two signatures that decorate this baseball are as "Big Time" as you could hope for. The ball is signed by "Murderers Row" legends Babe Ruth and Lou Gehrig. This unofficial "Junior League" sphere features red-and-black alternating laces and black fountain tip pennings. Ruth occupies the sweet spot and his autograph projects "6-7" strength. On an adjacent panel, Gehrig's signature shows about "5-6" quality. LOA from Steve Grad & Zach Rullo/PSA DNA.
1956 Boston Red Sox Team Signed Ball
Offered here is an OAL (Harridge) ball signed by 22 members of the '56 Fenway squad. This
absolutely gorgeous white sphere is decorated with blue ballpoint pennings that project "9-10" (mostly "10") strength throughout. Includes: Bolling, Consolo, Dorish, Gernert, Goodman, Higgins (Mgr, sweet spot), Hurd, Jensen, Klaus, Lepcio, Mauch, Nixon, Owen (coach), Piersall, Sisler, Stephens, Sullivan, Susce, Vernon, White, Williams (s/s) and Zauchin. LOA from Steve Grad & Zach Rullo/PSA DNA.
1930 Chicago Cubs Team Signed Ball (26 Signatures) Including Cuyler, Hornsby and Hack Wilson
Offered here is an ONL (Heydler) ball signed by 26 members of the 1930 squad. Projecting about "7-9" overall strength, the pennings include: Beck, Bell, Blair (sweet spot), Blake, Burke (coach), Bush, Cuyler, English (surname enhanced), Farrell, Grimm (clubhouse), Heathcote, Hornsby (Player-Mgr, s/s), Kelly, Malone, Moss, Nelson, Osborn, Petty, Schalk (coach), Schulte, Shealy, Stephenson, D. Taylor, Z. Taylor, Teachout and Wilson. LOA from Steve Grad & Zach Rullo/PSA DNA.
1951 Multi Signed Old-Timers Ball (22 Signatures) Including Foxx, Grove and Frank Baker
Along the seams of the stamped side of this ONL (Frick) ball there appears the handwritten notation, "Old Timers Night Aug - 29 - 51 Phila Shibe Park." The ball was signed by 22 participants in that contest. One of the signatures is uncertain, but nearly all the others are "7-9" in quality. Includes: Huck Betts, Charlie Hargreaves, Charley Gelbert, Joe Bush, Bucky Walters, Howard Ehmke, John Ogden, Whitey Witt, Rabbit Maranville ("7"), Rip Collins, George Case, Lefty Grove ("8"), Ed Lafitte, Max Bishop, Rube Walberg, Jimmie Foxx ("8"), John Lavan, Chick Keating, Steve Yerkes, Hans Lobert and Frank Baker. LOA from Steve Grad & Zach Rullo/PSA DNA.
1956 New York Yankees World Champions Team Signed Ball (25 Signatures) Including Mantle, Dickey and Stengel
This OAL (Harridge) baseball projects 25 Yankee signatures in blue ballpoint and nearly all of them are "8" in strength. Mickey Mantle ("7-8") and Yogi Berra share the sweet spot. The remaining scriptings include: Bauer, Byrne, Carey, Cerv, J. Coleman, R. Coleman, Collins,
Crosetti, Dickey, Ford, Howard, Hunter, Kucks, Larsen, Martin ("8"), McDougald, Noren, Skowron, Slaughter, Stengel (Mgr., "8"), Sturdivant, Turley and Turner. LOA from Steve Grad
& Zach Rullo/PSA DNA.
Hall of Famers and Superstars Multi Signed Ball Featuring Ruth (Signed Twice!), Gehrig, DiMaggio and Aaron
The offered OAL (Johnson) ball was originally the canvas for the pennings of 1932 Yankees staples. While that squad regained its championship form, the ball's status elevated as it took on the autographs of subsequent Hall of Famers. This most unusual assortment of signatures has been gathered on a creamy sphere. The 19 scriptings mostly project "6-9" strength. Starting with the '32 world champs, the black fountain pen signatures include Walter Brown, Sammy Byrd, Charlie Devens, Eddie Farrell, Lou Gehrig ("6"), Lefty Gomez ("7-8"), Myril Hoag, Art Jorgens, Lyn Lary and Babe Ruth. Ruth, incidentally, has signed twice, his
side panel autograph showing "8" strength, and sweet spot penning reflecting about "5" quality. Already home to those coveted signatures, this keepsake gathered additional appeal at a 1972 Mets game, where Willie Mays ("7") and Yogi Berra complied. A local publication then ran a story on the well-spanned signatures, prompting Hank Aaron ("8") to sign. The keepsake's next stop was a New York golf outing, where Joe DiMaggio ("6-7"), Johnny Logan and Mickey Mantle ("9") added their own autographs. LOA from Steve Grad & Zach Rullo/PSA DNA.
2005 Chicago White Sox World Champions Team Signed Balls (72 Balls, Each With 26 Sigs.) - A Complete Case of Six Dozen Official W.S. Balls!
Each snow white sphere is decorated with the blue ballpoint signatures of 26 different players and coaches with strength and clarity warranting "10" assessment. Featured on
all 72 balls are the penmanship of Brian Anderson, Geoff Blum, Mark Buehrle, Don Cooper (coach), Neal Cotts, Joe Crede, Jermaine Dye, Freddie Garcia, Jon Garland, Ozzie Guillen (Mgr), Willie Harris, Dustin Hermanson, Tadahito Iguchi, Bobby Jenks, Paul Konerko, Damaso Marte, Pablo Ozuna, Timo Perez, A.J. Pierzynski, Scott Podsednik, Cliff Politte, Aaron Rowand, Frank Thomas, Juan Uribe, Luis Vizcaino and Greg Walker (coach). LOA from Steve Grad & Zach Rullo/PSA DNA and LOA from James Spence Authentication.
Hall of Famers and Stars Multi Signed Ball (15 Signatures) Including Ruth, Gehrig and DiMaggio!
A number of the hobby's most coveted autographs appear on the surface of this medium-toned OAL (Bernard) sphere. The sweet spot features the distinctive and flowing scripting of Babe Ruth ("8"), and other regions hold the penmanship of Lou Gehrig ("4"), Joe DiMaggio ("5"), Pee Wee Reese ("9") and Phil Rizzuto (8"). A total of 15 signatures are visible on the
ball. LOA from Steve Grad & Zach Rullo/PSA DNA.
BASEBALL CARDS
1956 Topps #135 Mickey Mantle - PSA NM-MT 8
The offered card reflects superb condition. It is amazingly free of any of the print defects. Mantle's portrait beams at the right as his smaller figure soars into the stands on the left, and both likenesses are seen through deep and lustrous original gloss. The card's coloration and projection qualities are spectacular. This is a highly praiseworthy example of one of Mantle's most celebrated baseball cards.
1961 Topps #300 Mickey Mantle - PSA NM-MT 8
The offered Mantle card carries an exceptionally fine likeness of its singular subject. Its overall appearance is vibrant, with tremendous color and optimal clarity. The card's corners are sharp and its gloss is faultless.
1952 Topps #407 Eddie Mathews Rookie Card - PSA EX 5
Although the #407 Mathews card has less notoriety as a condition rarity than the issue's #1 entry, Pafko, it's still a very elusive collectible for anyone putting together a quality 1952 Topps set. The image on the front of the offered Mathews is reasonably well-positioned for its type. Surprisingly nice, crisp edge cuts have favorably contributed to the integrity of this item's corners.
1911 T5 Pinkerton Cabinets #872 Honus Wagner
Pinkerton cabinets are among the rarest of all 20th Century tobacco issues and this example of Wagner is certainly one of the most sought-after entries. Offered is a very rare, 5" x 7-1/4" cabinet photograph depicting Hall of Fame shortstop Hans ("Honus") Wagner. This fascinating collectible's image of Wagner is very bright in appearance. It is a legitimate cornerstone for any vintage card or photograph collection!
1912 E300 Plow's Candy Johnny Bates - PSA EX 5
There is no equivalent counterpart known to exist. An exhibition-caliber memento of the Reds outfielder, the offered card will pose immeasurable temptation for the most advanced "type" card specialist, as well as the period enthusiast who understandably appreciates the hobby's greatest rarities.
1909-11 E90-1 American Caramel Eddie Collins - PSA EX 5
This is one of only four specimens at its tier with higher grades confirmed in just two copies. Here's a particularly clean E90-1 Hall of Famer example, which features brilliant colors and a boldly printed, unblemished reverse.
1909-11 T206 White Border Boss Schmidt, Throwing - PSA NM-MT 8
This is one of just six examples in the world at its tier with only one copy graded higher. A lovely illustration is this T206's highlight. Its "Piedmont - 150 Subjects" reverse is also bright and clean.
1963 Topps #340 Yogi Berra - PSA MINT 9 "1 of 1!"
A total of 336 examples of this Hall of Fame subject have been holdered by PSA. This is the only specimen placed at the MINT 9 tier with none graded higher.
1914 Cracker Jack #99 Frank Chance - PSA VG-EX 4
Just a half-dozen copies have received higher, unqualified grades. This is a sparkling portrayal of the Hall of Famer, with relatively faint vestiges of the product staining that's typically seen in depictions from Cracker Jack's 1914 release. The offered 1914 card of Chance is especially desirable, as he was one of only a few players from that first release who was not included in Cracker Jack's subsequent 1915 issue.
1954 Red Heart Mickey Mantle - PSA NM-MT 8
All of the Red Hearts' glorious attributes converge splendidly in this Mickey Mantle card. Its most salient features (beyond the central likeness of a smiling, vigorous Mantle) are found in its completely uninterrupted, characteristically "Red Heart" gloss and its sharp, barely touched corners.
1955-1971 Roberto Clemente Topps Collection (9) Including 1955 Topps Rookie Card Graded PSA NM 7!
Offered is a 9-card Roberto Clemente array that spans from the beginning of his career to almost the end of his career. In total, 3 cards have been graded by PSA. Includes: PSA NM 7: 2 cards; and PSA EX 5: 1 card.
1955 Topps #164 Roberto Clemente Rookie Card - PSA NM 7
This cherished Clemente collectible was included in the difficult "high number" segment of the 1955 Topps issue. The offered example's obverse features a bright white framing of Clemente's portrait and batting stance. His bold facsimile signature and the detailed Pirates logo enhance the item's favorable aesthetic. The corners form solid right angles culminating in admirable points.
1887 Gypsy Queen Cigarettes Proof - Bobby Mathews
Undoubtedly produced as part of the production stage for the Gypsy Queen set of Base Ball Subjects, this 4-1/4" x 5-5/8" proof appears to have been produced as a contact print that was mounted to a section of board. This image of junkballer extraordinaire Bobby Mathews likely does not exist as a finished card in the N175 Gypsy Queen set, despite the fact that the "Gypsy Queen Cigarettes" brand name still faintly appears in the upper area of this proof's image.
1940 Cincinnati Reds Team Issue PSA-Graded Near Set (31/35) Including Ten PSA MINT 9 or Better Examples!
Produced just prior to the 1940 World Series was a Cincinnati Reds card issue spotlighting that local nine as they'd just claimed their second consecutive pennant. The issue's promoter was an area sportswriter named Harry Hartman, and collectors generally refer to the
production by his identity. Though classified in the A.C.C. as W711-2, these are actually regionals. The new owner will have the prestigious "#1 Current Finest" set on the PSA
Set Registry.
1955 Bowman Complete Set (320) Including 44 Graded Cards Plus 2 Variations!
Includes: PSA NM 7: 10 cards; PSA EX-MT 6: 17 cards; SGC 80 EX/NM 6: 5 cards; SGC 70 EX+ 5.5: 3 cards; PSA EX 5: 4 cards; SGC 60 EX 5: 2 cards; and PSA VG-EX4: 1 card.
1952 Topps Near Set (398/407)
In total, 60 cards have been graded by PSA. Includes: Graded Cards - Graded PSA NM 7: 3
cards; PSA EX-MT 6: 19 cards; PSA EX 5: 29 cards; PSA VG-EX 4: 7 cards; PSA VG 3: 1 card; and PSA GD 2: 1 card.
BASEBALL BATS
Mickey Mantle Signed Louisville Slugger Bat
The offered Hillerich & Bradsby "K55" signature model weapon is signed by Hall of Famer switch-hitter Mickey Mantle. The store model example is an ideal display piece, as the Yankee icon's blue marker scripting shows "10" strength between the centerbrand and barrel stampings. LOA from Steve Grad & Zach Rullo/PSA DNA.
BASEBALL AUTOGRAPHS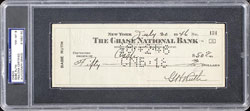 Babe Ruth 1946 Twice-Signed Personal Check - PSA/DNA NM-MT 8
Offered is the most desirable type of Ruth check, with his name largely pre-printed as "BABE RUTH" on the left of the front, and doubly signed "G. H. Ruth" in black fountain pen
by the former Yankee great, both on the front and as his endorsement on the reverse. The 8-1/2" 3-1/8" check is drawn on Ruth's personal account at the Chase National Bank's Broadway and 73rd St. branch in New York City. It is hand-dated "July 30, 1946," and made out by hand to "Cash" in the amount of "($) 50.00." LOA from Steve Grad & Zach Rullo/PSA DNA.
Jackie Robinson 1968 Signed Letter
This heartfelt letter thanks the addressee for support shown "at a time when we are facing a most serious family problem ... I have faith that with God's help we will come through this crisis." Typewritten on a single 7-1/4" x 10-1/2" sheet of Robinson's personal letterhead, the missive is dated March 15, 1968, and boldly signed "Jackie Robinson" in blue ballpoint
("10"). LOA from Steve Grad & Zach Rullo/PSA DNA.
Frank "Home Run" Baker Signed Black and White Hall of Fame Plaque Postcard - PSA/DNA MINT 9
Encapsulated and assessed "Authentic" by PSA/DNA, with signature graded MINT 9. The bottom-border signature "J. Franklin Baker" is in blue ballpoint. Artvue plaque 1953-55; apparent VG/EX condition with peripheral faults and a spot of mounting residue on the back. Baker, a 1955 inductee, passed away in 1963. LOA from Steve Grad & Zach Rullo/PSA DNA.
Mel Ott Signed 1939-46 "Salutation" Exhibit Card - PSA/DNA MINT 9
An obverse signature "Mel Ott," in vintage pencil, projects brilliant strength and clarity. The card reflects apparent VG/EX condition. Ott, a 1951 Hall of Fame inductee, passed away in 1958. LOA from Steve Grad & Zach Rullo/PSA DNA.
BASEBALL PHOTOGRAPHS
Circa 1930 Chicago Cubs Signed George Burke Photo (4 Signatures) Including Hack Wilson and "Gabby" Hartnett
This postcard sized photo by noted baseball photographer George C. Burke pictures four happy Cubs in the grass: Pat Malone, Hack Wilson, Dan Taylor and Leo "Gabby" Hartnett. While the photo is undated, its origin can be narrowed from 1929 to 1931, based on uniform style and the Cubs' team rosters for the years these four men played together. All four men have signed the image in a fountain pen ink that appears as a dark and rich purple. The signatures remain in phenomenal condition, minimally assessing at the "8" level for strength and completeness and averaging "8-9." LOA from Steve Grad & Zach Rullo/PSA DNA.
Circa 1925 Christy Mathewson News Service Photograph from the Jane Mathewson Archive
While Conlon is known to have begun his career as a baseball photographer in 1904, shooting Mathewson as his first subject, this photo was actually taken by George Bain and issued by his own news service group. The image's jersey and light colored cap argue against the photo's attribution to 1904. As a matter of fact, this variation of an early 20th Century Giants uniform does not match those found in the standard reference books for any of the uniforms from Mathewson's span of years with the team. It seems clear that this is either a custom modified uniform from sometime between 1900 and 1902, or an undocumented uniform from the same timeframe.
MISCELLANEOUS BASEBALL ITEMS
1924 "The Catcher" Spalding Baseball Trophy
There are certain pieces that can, literally, "make" a collection. This 18"-tall, 11-pound, 1920s Spalding figural trophy is one of those pieces. Meticulously detailed and marvelously cast, this item is not so much a trophy as it is an incredible work of sculptural art. The lifelike poised
catcher ready to spring into action is a generic figure and fits into any collection of sports memorabilia.
July 17, 1941 Framed Scored Program Ending Joe DiMaggio's 56 Game Hitting Streak!
For better than six decades, Joe DiMaggio's record 56-game hitting streak has stood virtually unchallenged. Offered here is a framed display showcasing the scorecard from that historic night. Purchased and scored (in pencil) by one of the 67,463 patrons that day, the guide features two scoring grids—one of which draws all attention, showing three ground outs (one for a double play) and a walk on the line of Yankee cleanup hitter DiMaggio.
April 30, 1939 Official Yankee Stadium Program from Lou Gehrig's 2,130th Consecutive Game - The Final Game of Gehrig's Career
There were 23,712 fans at Yankee Stadium on April 30, 1939 when the Washington Senators beat the New York Yankees, 3-2. Some fans left after a downpour in the bottom of the seventh with the Yanks, who had been held hitless until the sixth, ahead, 1-0. When play resumed, the Senators scored three times in the eighth to take a 3-1 lead. Lou Gehrig was up in the bottom of the eighth with one out and runners on first and second, but he made the second out. As he walked back to the Yankee dugout, with bat in hand, no one realized that the "Iron Horse," the Yankees first baseman in all 2,130 games the team had played since June 1, 1925, would never come to the plate again. Offered is a scorecard from that game, his last.
1919 Cincinnati Reds World Series Program - Game 1
A tangible memento of the infamous 1919 World Series is this 48-page, 9" x 12" program, dispensed at Game 1 in Cincinnati. A missing back cover (accompanied by some small edge tears on the front cover), a neatly detached centerspread, and lightly penciled scorecards are the item's condition issues. The neat penciling in the box scores indicates that this program was purchased at Game 1, when Cicotte struck Cincinnati's leadoff hitter to indicate to the gamblers that the series fix was on.
BASEBALL GAME GEAR
Bob Hale 1959 Baltimore Orioles Game Worn Home Jersey – MEARS A-10
Offered here is a Baltimore Orioles home jersey worn by the left-handed swinging Hale during the 1959 season—his fifth and final campaign at Memorial Stadium. This cream-colored flannel zippered garment features "Orioles" angled across the chest. Hale's number "10" is sewn to the back and left front. The garment features heavy wear. LOA from Dave Bushing & Troy Kinunen/MEARS.
Manny Mota 1975 Los Angeles Dodgers Signed Game Worn Home Jersey- MEARS A-10
Offered is an autographed Los Angeles Dodgers home jersey worn by pinch-hitter extraordinaire Manny Mota during the 1975 season. This white knit button-down garment features "Dodgers" angled across the chest. In like fashion, "11" is sewn to the back and "MOTA" is arched just above. On the left front, "11" is sewn in solid red twill. Between the number and the left tail, Mota's black marker signature and inscription of "#11" shows "9-10"
strength. Moderate wear is evident. LOAs from Dave Bushing & Troy Kinunen/MEARS, and Steve Grad & Zach Rullo/PSA DNA.
FOOTBALL
1961 Topps #166 Jack Kemp - PSA MINT 9
There isn't a card like this one graded higher. It represents a "key" depiction in '61Topps second-series run of AFL players.
1935 National Chicle #22 "Shipwreck" Kelley - PSA NM-MT 8
Just three specimens in the hobby have been graded higher. A work of art rather than a mere trading card, this eye-catching collectible reveals Brooklyn Dodgers running back "Shipwreck" Kelley in a splendid, lavishly hued card front portrayal.
NFL Hall of Famers Signed Displays Collection (36 Items) Including Grange and Nagurski
A collection of framed and unframed display pieces carrying the autographs of thirty-six NFL legends, most of who are deceased. Five of the scriptings were penned on photographs or prints, and thirty-two are of the "cut" variety and housed within wood frames. The potent examples of Hall of Fame penmanship, many of which are incredibly scarce, were added in blue or black ink ("8-10"), and include those of Cliff Battles, Paul Brown, Dick Butkus, Jack Christiansen, Earl Clark, "Paddy" Driscoll, Turk Edwards, Dan Fortmann, Bill George, Red Grange (2 different), Joe Guyon, George Halas, Ed Healey, Arnie Herber, Clarke Hinkle, Cal Hubbard, Frank Kinard, Bobby Layne, "Link" Lyman, John McNally, Mike Michalske, Wayne Millner, Bronko Nagurski (2 different), Ernie Nevers, Art Rooney, O.J. Simpson (Simpson's signature is featured twice in one display), Ken Strong(2 different),
Joe Stydahar, George Trafton, Emlen Tunnell and Bob Waterfield (2 different). LOA from Steve Grad & Zach Rullo/PSA DNA.
BASKETBALL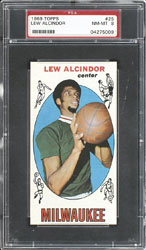 1969/70 Topps #25 Lew Alcindor Rookie Card - PSA NM-MT 8
Just over a dozen copies in the hobby have been awarded higher, unqualified assessments. Lew Alcindor, one of the most dominating players in basketball history, led UCLA's Bruins to three NCAA Championships and then, as Kareem Abdul-Jabbar, was the key to several titles in the NBA (most notably with the Los Angeles Lakers). His important rookie card can be said to have inspired the rebirth of enthusiasm for basketball cards.
Turn-of-the-Century Basketball
By the turn of the 20th Century, James Naismith's "Basket Ball" game had spread like wildfire across the American landscape. The easy-to-learn and easy-to-play, indoor game fast found a nationwide audience. Offered is an example of a rare, turn-of-the-century basketball. The dark brown, leather ball resembles an oversized football, complete with laces. It is a scarce find in
absolutely superb condition.
1962 Wilt Chamberlain 100-Point Game Program
On March 2, 1962, Chamberlain raised the bar by scoring 100 points in a single game. Ironically, most of the 4,124 people in that crowd had come to see a basketball match between the teammates of two football teams, the Eagles and the Colts. Little did any in attendance realize that they were about to see such an important event in the history of professional basketball!

BOXING
1979 "Marvelous" Marvin Hagler vs. Bob Patterson Fight Posters Collection (32) - Each with Special Billing of Muhammad Ali's "Last Ring Appearance"!
Offered are thirty-two of the same fight posters billing not only a "Farewell to a Legend - Muhammad Ali," but also the March 12, 1979 bout between "Marvelous" Marvin Hagler and Bob Patterson. The brightly colored, 17-1/4" x 22-1/4" survivors were apparently never used for their public advertisement purposes, as each one demonstrates impressive NM condition.
1930-1940s "Significant Fights" Tickets Collection (5 Different) Including 1953 Rocky Marciano vs. Roland LaStarza
Offered are five full tickets for significant bouts during the 1930s and 1940s. Includes:
1) 5/26/1938 Barney Ross vs. Henry Armstrong.
2) 8/10/1938 Lou Ambers vs. Henry Armstrong.
3) 2/24/1939 Lou Ambers vs. Alberto "Baby" Arizmendi.
4) 6/9/1948 Rocky Graziano vs. Tony Zale.
5) 9/24/1953 Rocky Marciano vs. Roland LaStarza.
1910 T220 Mecca "Champions" John L. Sullivan - PSA EX-MT 6
This is one of less then ten examples at its level with a mere two graded higher. A bonafide Champion's portrayal from a famously delicate insert series, this impeccably clean card carries a freshly minted appearance and white borders.
HOCKEY
1911/12 C55 Hockey Players Complete PSA-Graded Set (45)
The hockey version of "Willie, Mickey and The Duke" reads, "Vezina, Lalonde and (the) Ross." While the names lack the rhythmic charm of their baseball counterparts, they hold an equal amount of reverence and respect among ice hockey fans. The anonymously produced 1911 C55 series is comprised of those legendary names and over forty additional subjects, all playing contemporaries. Includes: PSA NM 7: 2 cards; PSA EX-MT 6: 8 cards; PSA EX 5: 3 cards; PSA VG-EX 4: 1 card; and PSA Authentic: 31 cards.
Hockey Superstars Signed Pucks Collection (4) Including Gretzky, Howe, Hull and Mikita
A quartet of commemorative hockey pucks signed by four of the sport's greatest stars. Featured are the signatures of hockey legends Wayne Gretzky, Gordie Howe, Bobby Hull and Stan Mikita, and the Hall of Famers' silver, gold and black marker autographs project "10" strength. LOA from Steve Grad & Zach Rullo/PSA DNA.
1969/70 Topps PSA-Graded Partial Set (63/132) Including Orr, Howe and Hull!
This quality, star-packed array from the popular 1969/70 Topps release includes: PSA MINT 9: 6 cards; PSA NM-MT 8: 32 cards; PSA NM-MT 8 (OC): 1 card; PSA NM 7: 15 cards; PSA NM 7 (OC): 1 card; and PSA EX-MT 6: 6 cards.

AMERICANA HIGHLIGHTS

COMICS
1953 "Captain Marvel Adventures" #150 CGC Grade VF 7.5 - Scarce Low Distribution Final Issue for the Classic Title - Tied with One Other as the Highest Graded Example
This offered issue of Captain Marvel Adventures, the last in the run, is listed in The Overstreet Comic Book Price Guide as "low distribution" and is priced at double the level of the issues immediately preceding it. The notoriety of being a hard-to-find piece often results in the submission of any known copy. But despite this characteristic, only five copies of Captain Marvel Adventures #150 have ever been submitted to CGC for grading. This copy was submitted for grading in 2001. In the ensuing six years, none have surpassed it in grade.

NON-SPORTS CARDS

1966 Topps "Batman - Riddler Back" PSA-Graded Complete Set (38)
By the time these "Riddler Backs" were issued, the Batman television franchise was well established and Topps was winding down its show-related card production. This was, in retrospect, a premature move. Batman fans were as eager for these novel, black-bordered pieces (featuring the likes of Adam West, Lee Meriwether, Burgess Meredith, and Cesar Romero) as they'd been for the first, "cartoonish" releases. The set includes: Graded PSA NM-MT 8: 13 cards; PSA NM 7: 21 cards; and PSA EX 5: 4 cards.
1940s Wildman Uncataloged "Navy Ships & Airplanes" Complete Set (36) - In Original 4-Card Panels with Cover Sheet!
These pastel-hued depictions of 1940s U.S. Navy ships and planes are still attached in their original 4-card panel configuration, and still accompanied by the promotional cover sheet that announced the set's content to prospective buyers. It is an interesting and rare new "find" for the non-sports card collecting specialty.
1938 R69 Gum, Inc. "Horrors of War" #138 "Bombed Church Dome Crushes War Orphans" - PSA NM-MT 8
The offered item is one of just four copies holdered at its tier; none has been graded higher. Near Mint to Mint condition.
1910s H574 Wilson Packing "Don Quixote" Complete Set (20)
This colorful release is rarely (if ever) offered as a complete set. Each collectible displays staining and residue from adhesive affecting a notable portion of the reverse (blank backed) side of the card. Otherwise, the set presents at the EX/MT level with a few slightly lesser.
1941 R157 "Uncle Sam" and R158 "Uncle Sam's Home Defense" Uncut Sheets (2)
These two different 18-3/4" x 10" uncut card sheets are printed on both sides on thin paper stock. One sheet contains the front and back designs for card #'s 25-48 of the 1941 R157 Gum Inc. Uncle Sam set, while the other similarly displays the designs for card #'s 97-120 from the R158 Gum Inc. Uncle Sam's Home Defense follow-up set.
POLITICAL/PRESIDENTIAL
William McKinley 1880 Signed Check as Ohio Congressman
Dated October 14, 1880, this brilliant bank check pays $15.60 to the "Western Union Telegraph Company" on behalf of our future 25th U.S. President. Congressman McKinley signs, "Wm. McKinley Jr." (he would drop the "Jr." from his signature after his father's death in 1892). LOA from Steve Grad & Zach Rullo and John Reznikoff/PSA DNA.
May 6, 1850 Abraham Lincoln Signed Legal Pleading
The delicate, very lightly toned 7-3/4" x 7-1/2" page showcases Lincoln's black ink penmanship with an attractive "Lincoln" signature at bottom right ("10"). This document is a
response by the future President of the United States that his client, the defendant, paid a certain amount of money, and that it was in fact the plaintiff who failed to perform the obligations to which he agreed. LOA from Steve Grad & Zach Rullo and John Reznikoff/PSA DNA.
ENTERTAINMENT ITEMS

1950s-1960s Hollywood and Westerns Non-Sports Exhibit Cards Hoard (2,027)
This is an outstanding collection of Hollywood movie stars, cowboys and cowgirls Exhibit cards, featuring big screen and TV greats of the 1950s and 1960s. A high percentage of the cards grade EX to NM condition. Includes: Hollywood Actors and Actresses Exhibits: 271 black-and-white cards w/Abbott and Costello (3), Martin and Lewis, Frank Sinatra, Bing Crosby, Bob Hope (4), Groucho Marx (4), Jackie Gleason (3), Milton Berle (4), Jimmy Durante (3), Sid Caesar (5), Danny Thomas (5) and Red Skelton (5). Purple Tint Cowboy Exhibits: 825 cards w/Roy Rogers (58), Gabby Hayes (23 ), Tex Ritter (24), Ken Maynard (25), Johnny Mack Brown (50), Bob Steele (89) and "Wild" Bill Elliott (49). Blue Tint Cowgirl Exhibits: 470 cards w/Dale Evans (26), Jane Russell (28) and Betty Hutton (14). Sepia Four-on-One Western Exhibits: 464 cards w/multiples of Gary Cooper, John Wayne, Roy Rogers, Gene Autry, The Lone Ranger, Bill Boyd, Ken Maynard and Tim Holt.

FOR MORE INFORMATION
To register for Mastro Auctions' October 2007 Classic Collector auction or to get more information, go to www.mastroauctions.com or call 630-472,1200. Bidding begins on October 8 and ends October 24 and 25.

About Mastro Auctions, Inc.
Mastro Auctions of Burr Ridge, Ill., is part of the Silkroad Equity family of companies. It is the leading high value collectibles auction company. The company has sold many of the most famous and valuable sports and Americana collectibles ever offered to the public, including the most expensive baseball card in history, the T206 Honus Wagner which sold for nearly $1.3 million, Norman Rockwell's "The Dugout" for $355,000, Roger Maris' 1961 jersey he wore when he hit home run #61 for $302,000, the bus Rosa Parks rode on when she refused to stand for segregation for nearly $500,000 and the famous Steve Bartman Cubs foul ball for over $100,000.