Mastro Auctions, the world's leading Sports and Americana auction house, has announced that it intends to bring the house down – the House of Blues in Cleveland, that is – when the auction powerhouse hosts its first live auction event at the venue on Friday, August 3. The historic auction will include 80 items of the world's most coveted pieces of current and vintage sports memorabilia including several that have never been available before to the public. Collectively, the auction items represent the most unprecedented assembly of valuable, high-end sports memorabilia ever offered in one sale. A few of the items available include: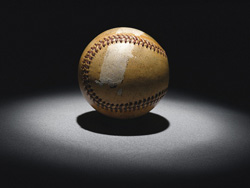 Mickey Mantle's 500th home run baseball
• Mickey Mantle's 500th home run baseball
• Casey Stengel's 1958 World Series ring
• Jim "Catfish" Hunter's 1978 New York Yankees World Championship ring
• The 1915 contract for Rupert's purchase of the Yankees
• Thurman Munson's first pilot's license
• Miller Huggin's 1927 Yankees Championship ring
• A Michael Jordan UNC shooting shirt
• Barry Bonds' 70th home run ball from 1998
• A 1921-23 Babe Ruth game used bat
• An early 80s Wayne Gretzky Edmonton jersey with pants
• A Christy Mathewson signed baseball.
Other baseball items include:
Baseball Bats
• A circa 1907-08 Ty Cobb game used bat – MEARS A-8, PSA 7
• A rookie era Joe DiMaggio game used bat – MEARS A-8
• A 1961 Mickey Mantle bat – MEARS A-10
• A "Momen" Clemente rookie era game used bat – MEARS A-8, PSA 9
• A Mike Schmidt 2 home run game used bat – MEARS A-9, PSA 9.5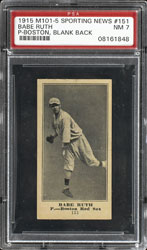 1915 Babe Ruth M101-5 Sporting News rookie #151 – PSA NM 7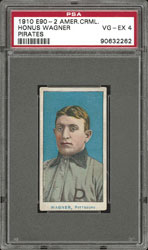 1910 E90-2 American Caramel Honus Wagner – PSA VG-EX 4

Baseball Cards and Sets
• A 1911 T205 Gold Border Ty Cobb – PSA NM/MT 8
• An E-90-I Joe Jackson – PSA 4
• A T3 Turkey Red Cabinets PSA Graded complete set
• A Glendale Meats PSA Graded complete set
• A 1911 T217 PSA Graded complete set
• A 1915 Babe Ruth M101-5 Sporting News rookie #151 – PSA NM 7
• A 1952 Topps #407 Eddie Mathews rookie – PSA NM-MT 8
• A 1951 Bowman #253 Mickey Mantle rookie – PSA NM-MT 8
• A 1954 Topps #128 Hank Aaron rookie – PSA MINT 9
• A 1911 T3 Turkey Red Cabinets #9 Ty Cobb – PSA EX 5
• An 1887 N28 Allen and Ginter PSA Graded complete set
• A 1934 Goudey set – Housed in Lionel Carter's original scrapbooks
• A 1910 E99 PSA Graded complete set
• A 1910 E90-2 American Caramel Honus Wagner – PSA VG-EX 4
• An 1911 E100 PSA Graded complete set
• A PCL Exhibit set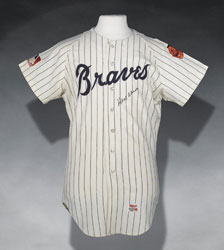 1969 Hank Aaron home game used jersey – MEARS A-10

Baseball Jerseys/Uniforms/Game Gear
• A 1969 Hank Aaron home game used jersey – MEARS A-10
• A Ted Williams uniform
• A 1969 Frank Robinson road jersey – MEARS A-10
• A Dutch Reuther 1927 Yankees World Series uniform

Baseball Memorabilia
• A complete 1952 Bowman set on uncut sheets
• A Ty Cobb tobacco tin
• A 1960 Topps Baseball wax box
• A 1934 Diamond Stars Manush original artwork
• A 1920's silver baseball music box
• A 1910 Jay Meyers "Baseball Snap Shots" uncut box with four W555 cards
• A Circa 1910 Charles Comiskey Port White Sox pennant
Baseball Photographs
• Ty Cobb sliding photo by Charles Conlon
• A 1928 Yankees panorama
• A Boston Grounds panorama – featuring Boston and Washington
Baseball Autographs
• A Babe Ruth/Lou Gehrig signed baseball
• A Babe Ruth single signed baseball
• A Lou Gehrig signed check
• Hank Aaron's 1954 rookie contract
• A Christy Mathewson handwritten letter
• C. Williams & Ed Cicotte payroll checks
• A 1955 Hall of Fame induction baseball
• A Johnny Evers letter with 1908 Merkle content
• A Grover Cleveland Alexander 1944 handwritten letter
• A 1938 Walter Johnson holographic letter
• A 1938 Bid McPhee handwritten letter
Other football items include:
• A 1971/72 Dick Butkus game used helmet
• A 1937 Mayfair Candies complete set - #2 on the PSA Registry
• A 1955 Topps #16 All American Knute Rockne card – PSA GEM MT 10
• A 1940 College Football All-Star signed ball with Kinnick
Other basketball items:

• A mid 1970s "Pistol" Pete Maravich Jazz game used jersey
• A 1970 Topps #123 Pete Maravich – PSA 10 GEM MT
• A Gail Goodrich 1968/69 Phoenix Suns game worn home jersey
Other hockey items include:
• Henri Richard Montreal Canadians home jersey
• A 1980 Olympic "Miracle on Ice" collection.
Doug Allen, president of Mastro Auctions expects that bidding on a number of the auction items will go well into the six-figure range. More importantly, Allen anticipates that the average selling price per lot will exceed $25,000, more than five times what an average top sports lot generates. "This isn't just an auction, it is a major sports event," said Allen. "It's unlikely we'll see this much fresh, high caliber sports history offered together again any time in near future."
Increasing the excitement of the sale is the fact that it marks Mastro Auction's entry into the Live Auctions arena. Allen admits the creation of a Live Auctions division wasn't on the top of his priorities list upon assuming the lead at Mastro Auctions. "Going once, going twice, sold aren't words I thought would be associated with Mastro Auctions," said Allen.
But with the company's continued success at expanding into other collecting markets, especially in Fine Arts and Americana, and its emergence as a major auction source, the need for a Live Auction component became obvious. "The elite nature and high quality inherent in the items we consistently offer will periodically warrant a live auction environment," said Allen. "And in true Mastro Auction's fashion, we plan to do it right from the beginning with an unforgettable inaugural event." In addition to the rare, possibly once in a lifetime opportunity for collectors to own some of the best sports memorabilia in existence, the Mastro Auctions' Live Sports sale will also offer hope to individuals battling cancer. Mastro Auctions is teaming up with avid sports memorabilia collector and cancer survivor, Jeff Rosenberg of Tri Star Productions, to raise money for LIVESTRONG, the Lance Armstrong Foundation. Rosenberg will be donating some of his personal sports memorabilia for auction. The proceeds of this portion of the auction as well as 100% of the $100 Live Auction entrance fee will be donated to LIVESTRONG.
Rosenberg was diagnosed with testicular cancer on January 9, 2006. After discovering the cancer had spread, Rosenberg was treated and given a very good prognosis. "There is nothing like surviving cancer to make you realize the most important things in life are those closest to you and doing the things you love," said Rosenberg. Passionate about sports collecting most of his life, Rosenberg has embraced the opportunity to raise funds through his beloved hobby to assist others battling cancer. "Collecting while contributing to a greater good," said Rosenberg. "This is the kind of evening I live for."
Prior to the auction on the evening of Friday, August 3, all items to be auctioned will be on display at the Mastro Auctions booth at the National Sports Convention at Cleveland's International Exposition Center. The Mastro Auctions Live Sports Auction will begin at 8:30 p.m. at Cleveland's House of Blues located at 30 Euclid Ave. For more information or to purchase the advance charity admission to the event, call Mastro Auctions at 630-472-1200 or go to www.mastroauctions.com for additional details.

About Mastro Auctions
Mastro Auctions, Burr Ridge, Ill., is part of the Silkroad Equity family of companies. It is the leading high value collectibles auction company. The company has involved in the sale of many of the most famous and valuable Sports and Americana collectibles ever publicly offered, including the most expensive baseball card, the T206 Honus Wagner which sold for nearly $1.3 million, the bat Babe Ruth used to hit his first home run in Yankee Stadium that sold for $1.2 million, the most expensive baseball card set that sold for $800,00, Norman Rockwell's "The Dugout" for $355,000, Roger Maris' 1961 jersey he wore when he hit home run #61 for $302,000, the bus Rosa Parks rode on when she refused to stand for segregation that sold for nearly $500,000 and the famous Steve Bartman Cubs foul ball for over $100,000.
About the Lance Armstrong Foundation
The Lance Armstrong Foundation (LAF) inspires and empowers people affected by cancer. We help people with cancer focus on living; we believe that unity is strength, knowledge is power and attitude is everything. From the moment of diagnosis, the LAF provides the practical information and tools people with cancer need to live life on their own terms. The LAF serves its mission through advocacy, public health and research. Founded in 1997 by cancer survivor and champion cyclist Lance Armstrong, the LAF is located in Austin, Texas. For more information, visit livestrong.org.