Mastro Auctions, the world's leading Sports and Americana auction house is preparing for another one its increasingly popular Classic Collector events. Since they were first introduced, the Classic Collector auctions have continually grown in terms of bidding action, the actual number of lots and the sheer quality of the material being offered. According to Doug Allen, president of Mastro Auctions, the Classic Collector events are experiencing expansion into markets outside the sports collecting arena. "Originally our Classic Collector auctions were very much a sports oriented offering," said Allen. "But they now seem to following suit with our Premier auctions by attracting increasingly diverse items, especially in the comics market and other Americana collecting genres."
Over 1,800 lots in the June Classic Collector auction will open with a minimum bid of $100. Bidding, conducted entirely over the internet, will begin on June 4 and conclude on June 20 and 21. Specific highlights include:
SPORTS MEMORABILIA
BASEBALLS
Circa 1930 New York Yankees Multi-Signed Ball Featuring Ruth and Gehrig
With its red and black stitching, the specie of the ball defies conclusive identity because its surface is heavily soiled. Specifically, Babe Ruth has signed singularly on the sweet spot, and his penning projects at a quality of "7". Lou Gehrig appears on the south panel, and his signature merits an "8". Also discernible on the ball are the autographs of Benny Bengough, Sam Byrd, Bots Nekola, and Roy Sherid.
Dizzy Dean Signed Baseball
This ONL (Giles) ball was signed by the "Gashouse Gang" great. The near white sphere's stampings date it to 1958-1969 and it is home to Dean's side-panel scripting. In black ink, the former Cardinal's staccato-like characters combine to resonate about "8" in strength.
1954 New York Giants World Champions Team Signed Ball
This 1954 New York Giants team signed ball is a rare treat. Projecting strongly from the surface of a near white ONL (Giles) ball, there are 26 signatures. Bill Taylor and Alex Konikowski have signed the ball –an important fact since 1954 was their only common season in the Polo Grounds. Other autographs include: Joe Amalfitano, Johnny Antonelli, Al Corwin, Alvin Dark, Paul Giel, Ruben Gomez, Marv Grissom, Larry Jansen, Ray Katt, Sal Maglie, Willie Mays, Windy McCall,Don Mueller, Dusty Rhodes, and Al Worthington.

Roger Maris Single Signed Ball
Roger Maris employed vivid blue ink to script his name on the sweet spot of this OAL (MacPhail) ball. The Yankees' signature projects "10" in strength.

BASEBALL CARDS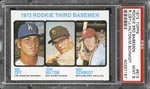 1973 Topps #615 Mike Schmidt Rookie Card – PSA MINT 9
Just three copies of this card have been graded higher than this one. Here's where it all started for the athlete universally regarded as one of the best third basemen of all time. This scarce 1973 Topps "high number," with just one-third of its pictorial content devoted to the Phillies' Hall of Famer, is a fairly recent classic for which many collectors are seeking an upgrade. The offered specimen is noteworthy for its photographic clarity, its bright white borders and its super-sharp corners.

1965 Topps #477 Steve Carlton Rookie Card – PSA MINT 9
This gorgeous Carlton rookie card will suitably represent the incomparable lefthander in the finest assembly of Hall of Fame debut collectibles. Just five copies in the world have been awarded a higher tier.
1934 R309-1 Goudey Cardboard Stand-up Premiums Team Photos (2 Different) with Original Mailing Envelopes
In a creative and ambitious 1934 promotion, Goudey Gum Co. released a selection of four delectable premiums that were available only by mail in exchange for Goudey baseball wrappers. Two of those 5-1/2" x 9" showpieces are here offered. Includes: National League All-Star Team and 1933 World Champion New York Giants. The seldom-seen "Goudey Gum Co." letterhead mailers are unaddressed.
1911 E94 Close Candy Ty Cobb
Detroit Tigers Hall of Famer Ty Cobb is captured in an action pose on this scarce caramel insert. The Close Candy Company used a multitude of background colors for its E94 cards, and chose a rich, dark green as the backdrop for this brilliant piece. The item's bright white borders afford beautiful contrast with the central illustration.
1967 Topps #581 Tom Seaver Rookie Card – PSA NM-MT 8
This always-challenging "high number" entry showcases the youthful likeness of one of the game's greats! It is a nicely centered, glossy example.
1954 Topps #94 Ernie Banks Rookie Card – PSA NM-MT 8
Just fifteen copies of this debut-year Hall of Famer depiction have achieved a higher, unqualified tier.
1952 Bowman #217 Casey Stengel – PSA MINT 9 – "1 of 1"
The finest of its kind that's been confirmed in the industry! This thrilling Hall of Famer depiction is the lone example at its tier, and none has been graded higher.
1952 Topps #155 Frank Overmire – SGC 96 MINT 9 – "1 of 1"
This is another card that represents the lone example at its tier with none graded higher. The item's closest competition on SCD's population report is a pair of counterparts graded SGC 86 NM+ 7.5.
1962 Topps #544 Willie McCovey Short Print – PSA MINT 9
A dominating presence at the plate from 1959 until his retirement in 1980, McCovey is featured in a portrait likeness on this sought-after and glittering memento from its production's scarce "high number" series. This attractive "Short Print" card of the great hitter is always a keeper,
but the extremely high condition level of the offered example makes it all the more special! Only one 1962 Topps McCovey card has ever been graded higher by PSA.
1911 T201 Mecca Double Folders Near Set (45/50)
The T201 Mecca "Double Folders" fold-over configuration allows each card to picture two ballplayers. Because this 1911 release was intended to be repeatedly folded and unfolded, they are among the most condition-sensitive of all tobacco issues. A total of six cards have been graded by SGC.
1951 Bowman Near Set (316/324)
With beautifully painted images, an abundance of HOFer superstars highlighted by the true rookies of Mickey Mantle and Willie Mays, the 1951 Bowman issue is one of the hobby's all-time classics. A total of eight cards have been graded by SGC.
1952 Bowman High Grade Collection (1,000+ Cards) Including 27 Different Players
Offered is a substantial, high-grade collection of 1952 Bowman baseball cards from a recent find. There are 36 cards each of 27 different players. Overall grade of the lot is EX/MT to NM with many higher and almost none lesser!
1952 Bowman Complete Set
Their large-size Topps counterparts have often unfairly overshadowed the brightly colored small cards of the 1952 Bowman issue. During this set's production, however, Bowman still ruled the baseball card world, and it took several decades of secondary collector interest to bring about the deserved shift in attention. A total of 27 cards have been graded. Includes: SGC 96 MINT 9: 1 card; SGC 92 NM/MT+ 8.5: 3 cards; PSA NM-MT 8: 1 card; SGC 88 NM/MT 8: 19 cards; SGC 84 NM 7: 1 card; PSA EX-MT 6: 1 card; SGC 60 EX 5: 1 card.
UNOPENED PACKS, CASES AND BOXES
1979 Topps Baseball Unopened 3-Box Rack Case
This sealed, factory case contains three 24-count rack-pack boxes, with each pack holding 39 factory-fresh cards: a total of 2,808 cards. Key items include the rookie card of Ozzie Smith.
1980 Topps Baseball Unopened Wax Boxes (13) and 1981 Topps Baseball "Super Pack" Boxes (3)
Includes: 1980 Topps Baseball 36-Ct. Wax Boxes (13) - containing 25¢, 15-card packs. Boxes are about EX to EX/MT, packs inside are overwhelmingly EX/MT or better; 1981 Topps Baseball 24-Ct. "Super Pack" Boxes (3) - containing 59¢, 28-card packs, which each include a separately wrapped large package of gum. Boxes are about VG to EX, packs inside are mostly EX/MT or better.
1955 Bowman Baseball Unopened Five-Cent Wax Pack – GAI NM-MT 8
This exceptionally scarce, unopened relic of Bowman's last baseball card production is thrilling to view—and its possible contents are exciting to contemplate! Within the pack, such star subjects from the '55 Bowman series as Mickey Mantle, Willie Mays or Ernie Banks could be residing!
MORE FROM THE LIONEL CARTER COLLECTION…
1959 Kahn's Wieners Collection (17 Different) Including Clemente
This elusive edition consists of subjects from the Cincinnati Reds, Cleveland Indians and the Pittsburgh Pirates. Due to being packed in close proximity to a food product, cards were highly susceptible to damage, making even mid-grade examples difficult to find. These 3-1/4" x 4" collectibles are in far better condition than generally encountered.
1938 Goudey Heads-Up #250 Joe DiMaggio Signed Card
This iconic and desirable piece displays an obverse signature of its famed subject, Joe DiMaggio (vintage blue fountain pen, "9"). The item presents EX/MT to NM condition in visual terms.
BASEBALL BATS
William McCovey H&B Game Used Bat Including 8 HOF Signatures Including Williams – PSA GU 7
Turned during Stretch's second go-'round in Frisco, this 34-1/2", 31-oz. "M110L" signature model
weapon has a handwritten notation of "4-13-78" between the centerbrand and pronounced barrel stampings. The bat is even more alluring because it is decorated with prominent black- and blue-marker pennings that show about "9-10" overall strength. Included are Happy Chandler, Lefty Gomez, Bob Lemon, McCovey, Johnny Mize, Stan Musial, Pee Wee Reese and Ted Williams. The bat shows moderate use.
Pete Rose 1970-1972 H&B Signed Game Used Bat – MEARS A-4, PSA GU 7
Ably employed by Cincinnati's favorite son, this autographed Hillerich & Bradsby "S222" signature model lumber hails from a span (1969-1972 labeling period) during which the ageless "Charlie Hustle" eclipsed the 100-career home run plateau and approached 2,000 lifetime hits. The white ash weapon measures 36" and carries a 32-1/2-oz. weight. Sporting a rich brown patina, the uncracked item boasts a well-defined center brand and barrel stampings. Just below the latter feature, Rose's blue marker signature and inscription of "Good Luck" shows about "8" in strength. Moderate to heavy use is evident.
Bill Mazeroski 1961-1964 H&B Game Used Bat – MEARS A-7, PSA GU 6
Best remembered for the walk-off homer that felled the mighty Yankees in the 1960 Fall Classic, Bill Mazeroski finally earned Cooperstown residency on the strength of his fielding prowess This Hillerich & Bradsby "S2" signature model bat was used by the five-time All-Star during the peak of his 17-year career with the Bucs. This 35", 32-oz. white ash lumber was turned during the 1961-1964 labeling period—a span during which Mazeroski launched 45 of his 138 career round-trippers. The item exhibits heavy use.
BASEBALL PHOTOGRAPHS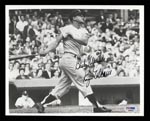 Roger Maris Signed Vintage Photograph
A bold, "perfect 10" black Sharpie scripting of "Best Wishes / Roger Maris" graces this 8" x 10" photograph. The black-and-white image, taken as Maris blasts a pitch out of the ballpark, carries a strong EX/MT.
Iconic Joe DiMaggio 1940s Batting Photo from his Personal Collection
This black-and-white photograph represents one of the most recognizable images of Joe DiMaggio. Joltin' Joe's classic swing—and the beauty and raw power behind it—practically comes to life in the 8" x 10" image. Perhaps more incredible than the actual moment captured in this compelling image is the fact that this item was once held by the one-and-only "Yankee Clipper" and became a part of his personal archive for more than 50 years!
Chief Bender Circa 1910 News Service Photograph by George Bain
Chief Bender was an integral element of the formidable Athletics dynasty that manhandled the American League from 1910 through 1914. This George Bain original news service photograph depicts the Native American hurler during the height of his and the Athletics' diamond prowess. This 3-7/16" x 5" sepia-toned photo shows a portrait image of Bender, whose striped pillbox A's cap dates the likeness to sometime between 1909 and 1914.
Christy Mathewson Hand Circa 1911 Original Paul Thompson Photograph
Giants in their respective crafts, Christy Mathewson and Paul Thompson occupied newspaper space more so than did their contemporaries. In anticipation of an early World Series showdown, the latter figure captured this telling image of the Hall of Famer's valuable pitching hand. Obviously captured after a full day's mound chores, the likeness shows a palm and the accompanying digits covered in a dark soot-like substance. On the reverse, a grease pencil notation of "Christy Mathewson B.B.P" accompanies a "Paul Thompson" stamping.
Babe Ruth 1924 "Signing for the Troops" News Service Photograph
In this original photograph from the archives of Culver Pictures a nattily attired Babe Ruth wields his fountain pen to the tune of autographed mementos for all 28 U.S. training camps from Puerto Rico to California—among them Camp Knox, Fort Scott, and Camp Meade. The signing session came as part of a morale-boosting tour in which the Babe and General John J. Pershing toured training bases around the country during the 1920s. On its Culver-stamped reverse, the photo's original paper caption states that Ruth would hit several dozen autographed balls into the audience for "the boys to scramble for."
Ted Williams & Joe DiMaggio Signed Vintage Photograph
This 8" x 10" sepia image has been boldly signed in blue Sharpie by Joe DiMaggio ("10") and Ted Williams ("10"). The photo exhibits at NM.
MISCELLANEOUS BASEBALL ITEMS
1951 New York Yankees World Champions Salesman's Sample Ring
The Balfour jewelry company used the offered 14K gold, 1951 New York Yankees championship ring as a salesman's sample. A very clean-looking cubic zirconium rests at the center of the ring's face, surrounded by a baseball-diamond design and an oval border with raised lettering proclaiming, "NEW YORK YANKEES - WORLD CHAMPIONS." Displayed on both shanks are the Yankees "top hat" logo with the year "1951," and engraved within the size 10 ring's band is "Balfour 14K." Salesman's samples for the 1951 Yankees are quite rare and this one is a beauty.
Cal Ripken Jr. 1991 Baltimore Orioles Game Worn Jersey – MVP Season – MEARS A-6.5
Cal Ripken Jr. wore this Orioles road jersey during the '91 campaign. This gray knit button-down garment features "Orioles" sewn across the chest. The legend's since-retired number "8" is sewn to the back and left front. "RIPKEN" is arched in block letters to a nameplate atop the number on the back. Moderate wear is evident.
The Rarest Mickey Mantle Postcard – The 1954 Dormand "Jumbo"
Louis Dormand's most impressive postcard was a huge (9" x 12") version of his 1954 regular-sized pose of Mickey Mantle with a bat on his shoulder. Few have survived the perils of time in collectable condition. The offered card is in miraculous condition within the context of its scarcity and vulnerability.
BASEBALL ADVERTISING DISPLAYS
1950s Leo Durocher "Sugar Crisp" Die-Cut Advertising Display
From "Sugar Crisp" to "Super Sugar Crisp" to its current "Golden Crisp" name, the tasty breakfast treat has undergone several identity changes since hitting the grocery store shelves. This near pristine, in-store display ad features Hall of Famer Leo Durocher endorsing the product. Measuring approximately 31" x 20", this sturdy die-cut sign promises: "Get this Great BASEBALL BOOK - Only 15¢ - and 2 box tops from SUGAR CRISP." To the left of that proclamation, an image of Leo Durocher clad in his Giants apparel, highlights the display.
1953 New York Yankees World Champions "Ballantine Beer" Team Photographic Display
Ballantine & Sons produced this ad sign in 1954 to capitalize on the Yanks unbelievable run, and it is the 1953 Yankees that are pictured. Thirty-six individuals are included in the team shot, all but one in full pinstripes. Hall of Famers in this image include Berra, Ford, Mantle, Mize, Rizzuto, and Stengel.
FOOTBALL
1965 Topps #122 Joe Namath Rookie Card – PSA NM-MT 8
This short-printed card constitutes one of the football collecting specialty's greatest challenges. The Namath rookie is widely regarded as a "budget-buster" for those pursuing a 1965 set, and it's a condition scarcity to those who insist on the highest standard of quality.
1969 Topps 4-in-1 PSA Graded Complete Set (66)
Building on the concept begun with the baseball sticker series of the same year, this elusive series derives its name from the four mini-portraits offered on each standard size 2-1/2" x 3-1/2" card. A highlight among the "4-in-1" subject roster is the second, and sadly last, appearance by Chicago Bears running back Brian Piccolo before his untimely death in the spring of 1970. The set includes: PSA MINT 9: 10 cards; PSA NM/MT 8: 52 cards; and PSA NM 7: 4 cards.

BASKETBALL
Shaquille O'Neal 1994/1995 Orlando Magic Game Worn Road Jersey
With just four seasons under his (sizable) belt, Shaquille O'Neal was lauded as one of the 50 Greatest Players in NBA History—an assemblage of hardwood greats selected in celebration of the League's 50th Anniversary. At 7-foot-1, 325 pounds, O'Neal is arguably the most dominating force in the game's history. O'Neal wore this jersey during the run to his first NBA Finals. This black mesh pullover garment features white pinstripes and boasts "Orlando" across the chest. Applied to both the back and front in royal blue-on-white tackle twill is O'Neal's number "32" and arched above the number on the back, "O'NEAL" is sewn in white tackle twill.
1970/71 Topps PSA-Graded Collection (81)
This quality collection of Topps Basketball "Tall Boys" carries pack-fresh character throughout and features several of the 1970/71 issue's most sought-after star players. Includes: Graded PSA MINT 9: 7 cards; PSA MINT 9 (OC): 5 cards; PSA NM-MT 8: 48 cards; PSA NM 7: 16 cards; and PSA EX-MT 6: 5 cards.
1948 Bowman #16 Sid Hertzberg – PSA MINT 9
This is one of just three copies graded at this level with none graded higher. The offered collectible, depicting Washington Capitols guard Sid Hertzberg, carries a magnificent, bountiful aesthetic. Here's the ideal card for the skeptic, who can spend hours trying to locate a fault in the lovely piece—where virtually none exist.
1957/58 Topps #56 Bob Houbregs – PSA MINT 9
Here's the very best of its kind, from a particularly important and condition-sensitive release! The dazzling collectible is the lone specimen of this depiction at its tier, and none has been graded higher.
BOXING
1911 T9 Turkey Red Boxers Partial Set (21/26)
In addition to the 100 baseball players that Turkey Red issued as part of the brand's tobacco cabinet series, the makers also offered a selection of 26 boxers in the same promotion. Presented is a 21-card partial set of T9 Turkey Red boxing cards that are every bit as breathtaking as their baseball counterparts. In total, ten cards have been graded by PSA. Includes: PSA EX 5: 7 cards; PSA VG-EX 4: 2 cards; and PSA VG 3: 1 card.
1948 Leaf Uncut Factory Sheet panel (21 cards) including Sullivan, Tunney and Lewis
Twenty-one full subjects featured in Leaf's scarce, one-year-only boxing release are proudly displayed on this incredible factory relic. The cards are situated in a 3-by-7 arrangement on a single panel. The stars include Joe Louis, Gene Tunney, James J. Corbett, John L.Sullivan and Jake LaMotta.
HOCKEY
1911/1912 C55 Hockey Players Partial Set (28/45)
The delicate masterpieces from this vintage issue always test the limits of temptation. Long assumed to have had their origins as the Imperial Tobacco Company's Canadian version of baseball's T206, the splendid collectibles known as "C55" convey an incomparable sense of the early game. Includes: #'s 20 Taylor and 24 Cleghorn.
Jeremy Roenick 1991/92 Chicago Blackhawks Signed Game Worn Throwback Jersey
Jeremy Roenick wore this wildly striped throwback style Chicago Blackhawks jersey during the 1991-92 NHL season. The pullover item boasts a 75th Anniversary patch at the left chest. Red shoulder yokes along with a two-color number "#27" is sewn on the back. The name-on-back is featured in single-color white, and the "CCM" and "NHL" emblems are stitched to the left
back tail. Minimal to light use. Roenick's black Sharpie signature was added to the left chest
area, and demonstrates "10" in strength.
AMERICANA HIGHLIGHTS

COMICS
1963-1975 "X-Men" Near Complete Run of Earliest Issues #2-#93 (92 Issues)
This offering is comprised of all but #1 of the title's first 93 issues. There are some very memorable story lines included in these numbers, as well as the efforts of some of the best talents to ever work for Marvel. In addition to Lee and Kirby, there is also quality art and stories by Alex Toth, Werner Roth, Jim Steranko, Neal Adams, Roy Thomas, even the earliest published comic book work of a very young Barry Smith. The title is also important for its introduction of quite a few new characters for the Marvel Universe, particularly those characters of the mutant variety—Sunfire, Banshee, Polaris and Havok.
1955 "Detective Comics" #225 – CGC 4.0 – The First Appearance of J'onn J'onzz, the Martian Manhunter Comics
Off-white to white pages (story by Edmond Hamilton, cover by Win Mortimer and interior art by Moldoff and Certa).
In an attempt to revitalize their line after the comics code had killed the industry's sales, DC overhauled some of their older creations that were no longer being published. One of these targeted properties was altered so drastically in his recreation that even his name of "Paul Kirk, Manhunter" was affected. Manhunter was not so much "revamped" as recreated from whole cloth. The most drastic change to his character was that he became a green extraterrestrial with a full arsenal of super powers, with no relation to the human detective we once knew. This new version was called the Martian Manhunter, and he made his debut in Detective Comics #225. The issue of Detective Comics is still accepted by some fans as the starting point of the Silver Age.
1946-1948 "Planet Comics" Middle Period Issues
Before Will Eisner dissolved his partnership with Jerry Iger (to start work on his Spirit Sunday comics section), their shop produced some of the most outstanding work that the comics have ever seen, with their work on Fiction House's Planet Comics being among their finest. By the time issue #6 of that sci-fi title was in production, Eisner and Fine were gone and already working on the Spirit, but Planet Comics kept on rolling along without them. It didn't take long for Jerry Iger to firmly guide Planet Comics to a winning format, one that propelled it through its 73-issue run. It was the first of the comics that was dedicated solely to science fiction features.

1958 "Adventure Comics" #247 – CGC 5.5 – The First Appearance of the Legion of Super-Heroes
Off-white pages (story by Binder, cover by Swan and Kaye, and interior art by Swan and Plastino).
As the long-time editor for DC's line of superhero titles, Mort Weisinger oversaw the mid-1950s expansion and redefinition of the Superman universe of characters and concepts. The lion's share of the changes that Weisinger brought about was first introduced in the two books he edited that dealt with Superman's younger years—Superboy and Adventure Comics. By introducing a story element within the main character's youthful period, it could be referenced again in stories of Superman's adult life. Weisinger also did the reverse of this, introducing Superboy to younger versions of Green Arrow, Robin, Supergirl, Lori Lemaris and other established DC characters.) The Phantom Zone, Bizarro, various forms of Kryptonite, Krypto and numerous other supporting cast members all made their debut in the Superboy stories. The most successful and far-reaching of these newer creations was the superhero team of the future, the Legion of Super-Heroes, first introduced in the Superboy story in Adventure Comics #247. The Legion started in this issue with just three members, with Superboy becoming the fourth in the same story. But over the ensuing years the team's membership grew and grew.

NON-SPORTS CARDS

1950 Topps "Bring Em Back Alive" Original Artworks (2)
Each of these two artworks is an original gouache painting on thin card stock that roughly measures 3" x 3-3/4". These are the one-of-a-kind design inspirations for their respective trading cards from Topps' early Frank Buck adventure set of 1950. The two paintings originally graced card #'s 8 "Deadly Darts" and 47 "Jungle Drums."
R1930s R36 Fleer "Cops and Robbers" Complete Set
Each card has had the "evidence tab" removed. These tabs were once attached to the top border of each card and could be redeemed for prizes, resulting in cards with tabs being a challenge to obtain for modern hobbyists. Each subject can be found with one of five different background colors and this edition is rarely offered as a complete set. This representation not only holds "complete" status but also almost exclusively offers orange as the background color (the lone holdout is a red #22). Subjects include such colorful characters as Pinto Pete, Shifty Sam, Bruiser Bill, Terry the Terror, Gaston-the Gorilla, Dead Eye Dick and Hong Kong Wow.

1922 Max B. Sheffer "Kings & Queens Movie Series" Silent Film Stars Postcards Complete Set (50)
These attractively designed, black-and-white photo postcards chronicle the major "players" of the Silent Film Era. Each illustration—capturing its subject, in costume, during the enactment of one of his or her signature roles—is surrounded by a wide, grey margin with a caption block that notes the title and studio associated with the respective, depicted production. Highlights include: Irene Castle, Charles Chaplin (2 poses), Jackie Coogan, Bebe Daniels, Hoot Gibson, William S. Hart, Buster Keaton, Harold Lloyd, Bert Lytell, Conrad Nagel, Pola Negri, Will Rogers, Gloria Swanson, Norma Talmadge, and Rudolph Valentino.
1967 Topps "Who Am I" High Grade Complete Set (44)
Veteran hobbyists know the difficulty of finding this set in high grade. The presented set is extremely well centered for the issue. Images are crisp and fresh, and every card retains its original scratch-off disguises. Sixteen cards have been graded by PSA. Includes: Graded Cards - PSA MINT 9: 2 cards; PSA NM-MT 8: 13 cards; and PSA NM 7: 1 card.
1964 Topps "Outer Limits" Complete Set (50)
As the chief competitor for viewer ratings with Rod Serling's Twilight Zone, the television show Outer Limits brought frightful space beings into living rooms during the mid-1960s. These cards were every bit as popular as the TV show, and they remain favorites among today's collectors.
POLITICAL/PRESIDENTIAL
1848 Zachary Taylor Campaign Snuff Box
This dynamic campaign piece heralds Whig presidential candidate Zachary Taylor, whose engaging profile likeness is complemented by text that reads "OLD ROUGH AND READY...THE HERO OF THE WAR WITH MEXICO" and the legend "GEN'l ZACH's TAYLOR." Taylor's image is impressively intact. Only the second U.S. Chief Executive to die in office, Taylor served as president a mere thirteen months before perishing from natural causes.
Ronald Reagan Signed Photo
Offered is a gorgeous black-and-white photo inscribed by Ronald Reagan. This attractive bust-length portrait image captures "the great communicator" in a familiar pose as he smiles for the camera. Reagan has beautifully inscribed the piece in black felt tip, "To James Gougales/With Every Good Wish/Ronald Reagan." Both the inscription and signature contrast exceptionally well against the light background and project "10" in strength.
Exceptional Circa 1880 Garfield "Wide Awake" Campaign Torch
The Wide Awakes were a grassroots alliance that helped tip the scales for Lincoln's Republican victory in 1860. The Wide Awakes movement is said to have been born in Hartford, Connecticut, about a week before Lincoln arrived there for a campaign speech. When Kentucky abolitionist (and Republican ally) Cassius M. Clay spoke in Hartford on February 25, 1860, he was escorted to the meeting hall by a torchlight procession. Soon, Republican clubs nationwide renamed themselves Wide Awakes, and the movement became one of the most powerful campaign organizations in American political history. This is one of the lights that shined the way in later Republican presidential campaigns: a 4-foot-tall campaign torch once held aloft by a dutiful member of the Wide Awakes. The beacon consists of a lengthy wooden handle crowned with a metal fixture that supports an aluminum canister. Projecting from the top of the canister is a wick that was fueled by kerosene, and "WIDE AWAKE" is stenciled twice on the band of paper that wraps around the canister. The last presidential election during which the Wide Awakes were active Republican marchers was 1880 so it is most likely that this torch was used in James A. Garfield's 1880 presidential campaign.
Harry S. Truman Signed Photo – The Image Used on the 1933 Truman Memorial U.S. Postage Stamp
Harry S. Truman (1884-1972) served as 33rd President of the United States from 1945-1953. On May 8, 1973, the U.S. Post Office issued the 8-cent "Harry S. Truman Memorial Stamp" picturing the offered photograph. The photo has been boldly inscribed and signed in black ink "To Carl G Wennesten/from/Harry S Truman." His signature presents at the "8" level.
Superb 1900 McKinley/T. Roosevelt Jugate Campaign Advertising Pinback – PSA NM/MT 8
A patriotic design, featuring stars and stripes bordering crystal-clear jugate portraits, distinguishes this exceptional 7/8"-diameter campaign pinback from 1900. Its very scarce motif has been employed to highlight the likenesses of William McKinley and Theodore Roosevelt on behalf of a "Wholesale Dry Goods - Republican Club" slogan. The incumbent McKinley, aided by his popular, war-hero running mate, handily rebuffed the attempt by Democrat William Jennings Bryan to displace him from the White House. The item's "Whitehead & Hoag" backpaper remains neatly in place.
HISTORICAL VALUE
Early 1900s "Buffalo Bills Wild West Show" Tickets Collection
While known for the daring exploits of his younger years, William F. Cody(1846-1917), a.k.a. "Buffalo Bill," spent most of his life as a performer, beginning as far back as 1872. He was as popular a personage as any actor of the American stage, and to many he was the very personification of the vanishing American West. These 19 "tickets" to one of his shows are really little more than unmarked envelopes. Each contains a 3-7/9" x 5-3/4" image of Buffalo Bill above his facsimile autograph as a keepsake for each show attendee.

Exceedingly Rare 1930s "Scottsboro Boys" Pinback – The Only Version Picturing the Nine Young Black Men
On March 25, 1931, nine young black men, aged 13-21, riding in an open freight car through rural Alabama, were charged with raping two white women. The accused were taken to Scottsboro, Alabama, the Jackson County seat. They were indicted by a grand jury on March 30 and eight of the nine were tried, convicted, and sentenced to death in trials that took place from April 6-9,1931, despite the weak and contradictory testimonies of the witnesses. The ninth trial of a 13-year-old boy ended in a hung jury with 11 jurors voting for a death sentence, and one for life imprisonment. Outraged by what was called the "Alabama frame-up," the National Association for the Advancement of Colored People (NAACP) and the International Labor Defense (ILD), the legal arm of the Communist Party, sought to defend the "Scottsboro Boys"; the NAACP withdrew from the case in January 1932. All Scottsboro buttons are extremely desirable and bring high prices. This 1-1/4"-diameter pinback is the only known Scottsboro button picturing the nine young men and is exceedingly rare. The case of the Scottsboro Boys v. the State of Alabama was a major precursor of the U.S. Civil Rights Movement and led to two landmark U.S. Supreme Court rulings that enhanced fundamental rights for all Americans.
The Declaration of Independence – Arthur Szyk Illuminated Copy
Arthur Szyk is considered to be the greatest 20th Century illuminator working in the style of the 16th Century miniaturist painters. Offered here is one of his masterpieces, the Declaration of Independence. Upon its completion, it was dedicated in his town of residence, New Canaan, Connecticut, on July 4, 1950. The text of the Declaration of Independence and the names of the signers are featured along with scenes of the American Revolution, early American flags and the state flags or seals of the 48 states (as of 1950) and the territories of Alaska and Hawaii as well as Puerto Rico, the Virgin Islands, and the Panama Canal Zone.
ENTERTAINMENT ITEMS
Laurel and Hardy Signed Photograph
Stan Laurel and Oliver Hardy were the most successful comedy team in motion picture history. They began working together in the late 1920s, appearing in more than 100 films together. Their short, The Music Box, was awarded the 1932 Academy Award for Short Films (Comedy). This 6-7/8" x 4-7/8" photograph was inscribed and signed, "Hello Butch! Stan Laurel" ("8") in blue ink and "Oliver Hardy" ("7-8") in black ink.
Hollywood Signed Bank Checks Collection (7) Including Clark Gale and Lucille Ball
From a $12 doctor payment to a $1,000 birthday gift, this collection of Hollywood bank checks is truly fascinating. They each present at the EX to EX/MT level with customary bank cancellation marks, stamps, or perforations not touching the mostly "9-10" signatures. Includes: 1) Lucille Ball - $75 payable to "Cash", signed "Lucille Ball Arnaz" and "Andrew G. Hickox"; 2) Charles Bronson - $12 payable to "Mt. Ascutney Physician, signed "Charles Bronson" and filled out by Bronson; 3) Yul Brynner - $738.84 payable to "Jurgensen's." Jurgensen's is a Pasadena grocery. 4) Cecil B. deMille - $336.82 payable to "Colburn's"; 5) Clark Gable - $49 payable to "Juanita Bills"; 6) Dean Martin - $1,000 payable to "Ricci Martin"; and 7) Mae West - $90 payable to "Cash."
1964 Rare Vintage Beatles Large Salesman's Sample Calendar
There are only seven days each week, not "Eight Days a Week," in this enormous cardboard Beatles calendar picturing the Fab Four in a 1964 photograph copyrighted by NEMS Enterprises, the management company owned by Brian Epstein. This salesman's sample calendar was carried around and shown to businesses that might want to get in on the Beatles' craze.
Lucille Ball and Desi Arnaz Circa 1951 Signed Document Display
For six televised seasons, I Love Lucy commanded the ratings. Columbia Broadcasting aired the sitcom which first appeared in October 1951. Two weeks after the show debuted, however, the producers found themselves in short supply of working capital. To address this pinch, two of Desilu's officers convened to agree that CBS be approached to advance them an interest-free
loan of $25,000 to keep the show afloat. The minutes of that corporate meeting are expressed in this original two-page referendum. As the principals in this decision, both Arnaz and Ball have signed the resolution in ballpoint to a quality of "10".
Scarce 1963 Beatles Gaumont Christmas Show Ticket Stub
In 1963 the Beatles played the Gaumont Threatre on a number of occasions, including performing at two events called "The Beatles Christmas Show" on Saturday, December 21st. This is the 2-1/2" x 2-3/8" ticket stub from the second of those two shows.
1966 Mattel's "The Monkees Talking Hand Puppet" – Near Mint to Mint in Original Unopened Box
This Mattel talking hand puppet put a member of the Monkees on each of the fingers of your hand. This toy incorporates little vinyl portrait heads atop each of the four-digits of a cloth "glove" that is printed with colorfully illustrated suits for each of the boys. The familiar Monkees guitar logo appears on the front and a small plastic circle dangles from a string below. Pull the string and let go and the toy loudly and clearly reproduces a number of pre-recorded Monkee-isms. This toy represents a very early toy for the franchise, evidenced by the fact that the boys are listed on the toy as Mickey, Davy, Peter and" Wool Hat" (instead of Mike).

FOR MORE INFORMATION
To register for Mastro Auctions' June 2007 Classic Collector auction or to get more information, go to www.mastroauctions.com or call 630-472,1200. Bidding begins on June 4 and ends June 20 and 21.

About Mastro Auctions, Inc.
Mastro Auctions of Burr Ridge, Ill., is part of the Silkroad Equity family of companies. It is the leading high value collectibles auction company. The company has sold many of the most famous and valuable sports and Americana collectibles ever offered to the public, including the most expensive baseball card in history, the T206 Honus Wagner which sold for nearly $1.3 million, Norman Rockwell's "The Dugout" for $355,000, Roger Maris' 1961 jersey he wore when he hit home run #61 for $302,000, the bus Rosa Parks rode on when she refused to stand for segregation for nearly $500,000 and the famous Steve Bartman Cubs foul ball for over $100,000.