Tustin, CA - Great auctions boils down to great consignments which have high collectible value. The Memory Lane Inc.'s April 12th auction offers collectors the best in classic rarities!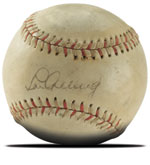 RARE
From one IRONHORSE to another!
This rare "sweet spot" single signed Lou Gehrig ball was given by Lou as a special award in 1937 to a young 15 year old Boy Scout Ed Stark for "perfect scout meeting attendance" for 3 years in a row! (Young Ed went on to make it 6 years perfect attendance in a row after being inspired by Lou Gehrig). Click here to see the video.
HISTORICALLY
Significant
With war clouds building, Babe Ruth led an All American All-star team on a 1934 Tour of Japan. Millions of Japanese turned out to see the Babe! Also on the tour (and signed on the ball) is catcher Moe Berg, who working for the U.S. government. He took movie and still pictures of Tokyo landmarks which later guided Col. Doolittle on his famous WWII bombing raid. The ball is a Japanese made ball complete with its original box! On the ball are Babe Ruth and Jimmie Foxx and others.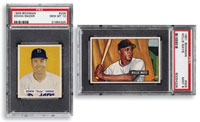 DESIREABLE!
Two highly desirable Rookie cards in ultra high PSA grade. A 1951 Bowman Mays "Rookie" PSA 9 -"the highest nine we've ever seen" Truly the BEST in CLASS! A 1949 Bowman Duke Snider "Rookie" in a PSA 10 -the only 10 out there!
VINTAGE n' Special
An 1894 N302 Mayo Plug, A PSA 8 NM-MT T206 Billy Sullivan - rich color! A T206 Cy Young PSA 7 NM! A 1911 M110 Ty Cobb -the only PSA graded Cobb! A 1912 E300 Plow's Candy, Mowrey in a PSA 8! A 1928 Yuengling Ice Cream, Lou Gehrig - a very special treat in a PSA 8! A 1911 Sporting Life, Honus Wagner - in a PSA 8! A 1916 Tango Eggs Hughie Jennings in a PSA 8! This auction is busting with early vintage. See the largest selection of Turkeys (T-3's!) ever at auction including Walter Johnson in a PSA grade! And dozens of T201 Mecca's Double Folders, and T202 Hassan Triple Folders!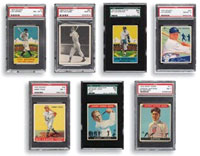 THE THIRTIES Reign SUPREME!
1933 Delong Lou Gehrig in a PSA 8! A 1939 Playball Ted Williams "Rookie" Card in a PSA 9 MINT! 17 of the 24 1933 DeLongs as a group -all graded! A key 1934 Goudey Lou Gehrig # 61 - a masterpiece in PSA 8! A 1933 Goudey Jimmie Foxx PSA 7 NM! A 1933 Sport King Bobby Jones SCG 7 NM, A 1933 Sport King Charles Jewtraw -you just don't see them -in a PSA 7NM! Plus Batter ups! Diamond Stars, Tattoo Orbits, and boat loads of high end Goudeys!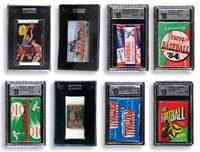 EXCITING Finds!
A rare auction offering a 1969 Topps Basketball wax box with 24 graded packs - mostly all Gem 10's and Mint 9's - when is the last time you saw this at auction! A fantastic 1956 Topps Football complete Box with 24 graded packs -an outstanding find! A 1952 Berk Ross Baseball 1¢ Wax pack in a GAI Perfect 10! A 1953 Topps Baseball 5¢ Wax pack in a PSA 5 EX!; A rare 1954 Topps Baseball 5¢ Wax pack GAI 6.5; A 1954 Bowman Baseball 5¢ Wax pack GAI 8 NM-MT; 1954 Red Man Tobacco Pack V. GAI 5 EX -ultra rare!; 1955 Topps All American Football 1¢ Wax Pack GAI 8 NM-MT! A 1971 Topps Football Wax Pack GAI Perfect 10!
WE INVITE YOU to Visit MLI's Auction. This Auction is loaded with hard to find classic vintage collectibles and cards. See the auction online at www.memorylaneinc.com You may also call MLI for personal assistance at 877-606-LANE 9 a.m. -5 p.m. PST Monday - Friday. The Auction closes 11 p.m. EST on Thursday, April 12th. MLI is also accepting consignments for their Summer '07 Auction! CALL them to discuss your collectible's market value!