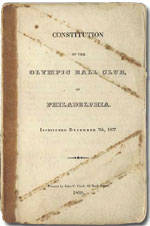 The very first Robert Edward Auctions catalog off the presses in early April will be presented to The National Baseball Hall of Fame and Museum in Cooperstown, New York, for their library, as is the longstanding tradition. The following day, however, Ten-Thousand 600-page catalogs will be sent to collectors all over the country and the world who have anxiously been waiting all year for the collecting world's most exciting and highly-anticipated auction, the annual sale by Robert Edward Auctions. Inside the auction catalog will be hundreds of items worthy of Cooperstown, many of which will ultimately find their way into the most prestigious collections, both private and public, in the world.
The final date of bidding is April 28. Bidding starts April 9 by FAX, phone, or the Internet via the Robert Edward's site. Robert Lifson, president of the Watchung, New Jersey, auction house, expects the total sales for the event to exceed $5-million. Coming to the block will be over 1500 lots of baseball collectibles covering the entire history of the game from 1838 to the present. Of special note is the unveiling of the recently discovered 1838 Philadelphia Olympics Constitution, the earliest relic of organized baseball from the first organized baseball team in existence. Referred to by some as the "Magna Carta" of the game of baseball, this item is arguably the most historically significant item relating to the origins of the National Pastime in existence. This is the document that records the birth of organized baseball.
The auction will include many remarkable discoveries and extraordinary rarities in all areas and from all eras, including: over 200 lots of pre-1900 baseball cards and memorabilia; display pieces; original art; rare pinbacks; autographs; graded cards; tobacco cards; caramel cards; regionals; 1930s gum cards; Topps and Bowman sets; bats, gloves, uniforms, and other equipment.
"This is one of the best auctions we've ever put together," says REA president Robert Lifson. "The highlight section in my eyes is The Barry Halper Collection. It would be impossible for us to put into words the positive impact he had on the entire field of collecting and on me personally. It's a special privilege and honor for Robert Edward Auctions to be chosen by the Halper family to present the balance of the Barry Halper Collection in this auction." Robert Edward Auctions oversaw the sale of the legendary Halper Collection in 1999, which realized over $26 Million. When he sold his collection, Barry kept a significant selection of items. It was a modest collection to Barry - but that was only in comparison to the extraordinary magnitude of the Halper Collection intact. In fact, the "modest" collection he kept was itself larger than most advanced collectors could ever hope to assemble in a lifetime. The Barry Halper Collection, comprised of those items that Barry Halper particularly enjoyed and personally held back from his famous sale for display during his "retirement from collecting," will be presented in over 200 lots in this sale.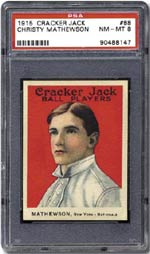 PSA-graded cards are a special strength of the auction. Included are many of the highest-graded cards and finest baseball card sets ever assembled. Among the items of special interest will be: one of the finest 1952 Topps sets ever assembled, all PSA-graded, with an average grade of 7.5; the set includes 228 NM-MT 8, 164 NM 7, and seventeen cards EX-MT 6, (the SMR value is $163,000, the reserve is $50,000); one of the finest 1953 Bowman Color sets ever assembled, with 159 cards graded NM-MT 8 and one NM 7 (Reserve $25,000; est. $50,000+); the #1 PSA Registry set of 1916 M101-4 Sporting News Complete Set (198 cards are offered as one lot, reserve $10,000; Ruth and Jackson, each graded PSA NM 7, will be offered as separate lots); the #1 PSA Registry Collection of 1916 Tango Brand Eggs cards (16 of 18 cards known, reserve $10,000); the #1 PSA 1956 Registry 1956 Topps pins complete set (Reserve $2,000, est. $5,000+); the #2 PSA Registry set of 1909-1911 E90-1 American Caramel Near-Complete Set (112 of 120 cards, reserve $10,000): the #7 PSA Registry set of 1941 Play Ball (average grade 7.19, reserve $10,000); the #9 PSA Registry set of 1954 Bowman (average grade 7.05, reserve $2,500, est. $5,00/$10,000+); the #11 PSA Registry set of 1959 Topps (average grade 8, reserve $10,000, est. $20,000+); plus numerous other completely PSA-graded sets and key single cards.
The newly discovered 1914 Baltimore News team card of Babe Ruth (encapsulated as "Authentic" by PSA due to its clipped corners), and the newly-discovered individual 1914 Baltimore News card of Babe Ruth (graded PSA 2), each carry a reserve of $10,000 and are expected to sell for considerably more than their modest minimums. The last 1914 Baltimore News Ruth card offered to the collecting world at auction was graded PSA 1 PR-FR and sold for $150,800 at Robert Edward Auctions in 2006. Additional highlights include: the largest collection of E125 American Caramel Die-Cuts to ever be assembled, let alone come to auction (37 of the 42 cards which theoretically exist); complete sets of T204 Ramly, T205 Gold Borders, and T206 White Borders; complete or near-complete sets of E93, E94, E95, and E97 caramel cards; over 200 PSA-graded T202 Hassan Triple Folder cards; two rare T206 Eddie Planks; an extremely rare 1869 Peck & Snyder advertising trade card featuring baseball's first professional team, the Cincinnati Red Stockings (est. $10,000+, reserve $5,000); an 1864 Brooklyn Resolutes Carte-de-Visite including Henry Chadwick, one of the most important of all pre-1900 cards and one of only two examples known (reserve $5,000, est. $10,000/$20,000); an extraordinary array of rare nineteenth-century baseball cards including examples issued by Kalamazoo Bats, Yum-Yum Tobacco, and G & B Gum, as well as many rare nineteenth-century baseball cabinet cards; Cracker Jack baseball cards issued in 1914 and 1915; literally thousands of 1910-era baseball tobacco cards, one the largest selections to ever be offered at auction; a collection of over 400 N172 1887 to 1890 Old Judge baseball cards issued by Goodwin & Co.; complete Topps and Bowman sets from virtually every year including two complete sets of 1952 Topps with the rare high-numbers.
The auction also features one of the finest selections of game-used bats to ever come to auction, including Babe Ruth, Ty Cobb, Willie Mays, Roberto Clemente, Ted Williams, Hank Aaron, Jimmie Foxx, one of only two known signature model bats dating from Joe Jackson's playing days (reserve $10,000); and two extraordinary Mickey Mantle bats including one dating from 1956, his triple crown year (reserve $5,000; est. $10,000/$15,000). Also included is a 1927 Jim Bottomley St. Louis Cardinals Jersey, the only example known for this Hall of Famer (reserve $5,000; est. $10,000/$15,000); a 1937 Rock-Ola World Series Arcade electronic game, 53" x 41" x 29", (est. $20,000+, reserve $10,000); Mickey Mantle's game-used cap (reserve $5,000, est. $10,000+); a Christy Mathewson studio portrait photograph signed by Mathewson to legendary baseball photographer Louis Van Oeyen, originating from his estate (reserve $10,000, est. $20,000+); and an extraordinary original photograph of Babe Ruth and Lou Gehrig together, taken on July 4, 1939, the day of Lou Gehrig's famous farewell speech, signed by both Ruth and Gehrig. This is one of baseball's most famous photographs, and one of only two signed examples known to exist (reserve $10,000; est. $20,000+).
Additional items of special note include: the #1 PSA Registry complete set of 1936 Gum, Inc. "G-Men & Heroes of the Law" (reserve $2,500, est. $5,000/$7,500); an extraordinary example of the 1933 Goudey #106 Nap Lajoie, one of the most celebrated of all baseball card rarities, graded PSA NM 7 (est. $20,000/30,000, reserve $10,000); a 1952 Mickey Mantle PSA EX-MT 6 (reserve $5,000, est. $10,000/$15,000); a large selection of high-grade low population report cards from key sets such as 1933 Goudey and T206 (including examples from the Harris Collection); a completely PSA-graded 1933 DeLong Gum set; a 1955 Topps complete set of 206 cards with every card PSA graded NM 7; a complete set of 1933 Goudey "Big League" bubble-gum cards; 1914 WG4 Polo Grounds game cards of Ty Cobb and Joe Jackson - both graded PSA GEM MINT 10 (reserve $2,000 and $3,000, respectively), 1949 Bowman PCL Complete PSA-Graded Set; one of the largest collections ever assembled of the rare 1898 Cameo Pepsin Gum baseball pins (59 different); single-signed baseballs of Babe Ruth, Roberto Clemente, Jackie Robinson, and Ty Cobb (graded PSA NM-MT 8); a 1911 Boston Red Sox jersey; the earliest known Yankee jersey dating from 1915; 1911 M116 Sporting Life Walter Johnson PSA MINT 9 (reserve $5,000, est. $10,000+), an extraordinary selection of 1934 R304 Al Demaree Die-Cuts issued by Dietz Gum Company, many of which are the highest or only examples to ever be graded by PSA, Brooks Robinson's 1962 game-used Baltimore Orioles home jersey (reserve $1,000, est. $4,000+); items originating from the estates of Alexander Cartwright, Henry Chadwick, Tim Murnane, George Wright, Paul Krichell (the Yankee scout who discovered Lou Gehrig); material relating to Boston's legendary "3rd Base" tavern-owner Michael "Nuf Ced" McGreevey and the legendary Royal Rooters, and the first ball ever thrown out at Fenway Park in 1912 (reserve $85,000).
Sports other than baseball are also represented by a small selection of extremely high quality items, including Michael Jordan's 1984-85 Rookie Uniform; and 1992 Michael Jordan Signed Game-Used Olympic "Dream Team" Jersey.
The auction also includes an incredible selection of very high quality Comic, Pop Culture, and Americana related items. In addition to thousands of nonsport cards dating from the 1880s to the 1960s, the Americana section is highlighted by The National Biscuit Collection, representing an extraordinary collection of items from the company's archives, including the original 1900 painting of the Uneeda Biscuit Boy, the corporate symbol of the company and at one time the single most famous advertising icon in the world; the largest collection of original artworks by Charles Addams to ever come to auction (21 original artworks, including many published in the New Yorker); and two original Peanuts comic strip artworks by Charles Schulz including an extraordinary Baseball Sunday comic strip (reserve $5,000, est. $10,000).
For over 30 years Robert Edward Auctions has specialized in all areas of historic baseball collectibles, as well other sport, non-sport, and Americana collectibles including political and campaign memorabilia, autographs and manuscripts, and original illustration art. Robert Edward Auctions has been responsible for many of the most important baseball memorabilia sales including overseeing the sale of the $26-million Barry Halper baseball collection, universally recognized as the best and largest in the world; the legendary "Gretzky-McNail" T206 Honus Wagner card, $1.3-million; the uniform Yankee legend Lou Gehrig was wearing in 1939 when he gave his famous farewell speech, saying "Today, I consider myself to be the luckiest man on the face of the earth", $306,000; and the 1854 Knickerbocker Trophy baseball, now on permanent exhibit at the Baseball Hall of Fame, Cooperstown, New York, at a then-record $72,000.
Copies of the 600-page full-color premium catalog (shipping April 7) are available free. To review the catalog on-line, to learn more about Robert Edward Auctions, or to receive a complimentary copy of the catalog, visit www.RobertEdwardAuctions.com. Robert Edward Auctions is currently assembling their next sale. For further information contact: Robert Edward Auctions, PO Box 7256, Watchung, NJ or call (908)-226-9900.