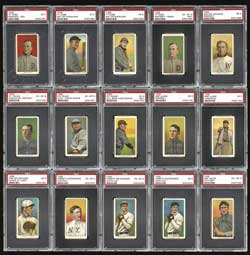 For Mastro Auctions, offering the best there is in Sports and Americana memorabilia is nothing new. In fact, the auction powerhouse is ready to let loose its April Premier Auction on an eager collecting public and it is chock-full of the normal selection of outstanding, high-end items. Among the usual offering of the best hobby collectibles in the business is some significant material that is either completely fresh or might as well be because it has been out of circulation for so long.
According to Doug Allen, president of Mastro Auctions, one of the most exciting things the company will be bringing to the auction block in April is the initial installment of the Lionel Carter Collection. "Lionel Carter is one of the original baseball card collecting pioneers," explained Allen. "His collection is like nothing that I have ever seen. It is as though the cards he collected have been transported in time. They look as good as they did the day they came out of the packs."
Allen acknowledges that due to the extensive nature of Carter's collection it will require several Mastro Auctions events in 2007 to present it properly to the collecting public. "This first offering is just the beginning of what we anticipate to be a major hobby event each time some of these cards become available," said Allen. "I can't imagine interest to be anything less than overwhelming."
Another item fresh to the collecting market is an unrestored copy of Action Comics #1. While the comic book was sold in 1971, it has virtually disappeared since then. Chris Porter, head of Mastro Auctions comic books and comic art division, says the reemergence of this legendary item represents another significant happening in the collecting world.
"Action Comics #1 is such a key piece among comic collectors, any reintroduction such as this one is bound to capture considerable attention in the industry and during bidding," said Porter. In addition, Porter says the rediscovered copy of the comic book will be accompanied by the offering of other noteworthy items such as Superman #1 and Detective Comics #27. "Mastro Auctions' comic division continues to expand," said Porter. "With each sale we attract a wider selection of quality material."
Allen also alludes to the fact that fresh material isn't the only "new" thing collectors will be treated to as 2007 unfolds. "We have some surprises in-store that we are extremely excited about," said Allen. "What we have planned will not only function to expand our brand in the market but open a whole new door for collectors as far as the Mastro Auctions experience." Allen said details on the company's plans will be forthcoming in the next month.
Bidding in the massive 1,800 lot phone/internet auction event will begin on Monday, April 9 and conclude on Friday, April 27. In addition to the items already mentioned, the sale will include a huge assortment of other valuable sports collectibles and highly desirable items from a variety of collecting genres including Hollywood memorabilia, historical and Presidential collectibles, non-sports cards and coins. Specific highlights include:
SPORTS MEMORABILIA
The Lionel Carter Collection
It all started with one simple, seemingly unimportant decision. A 15-year old kid in the rural town of Kolfax, Illinois went into the local drugstore with a nickel to spend on a candy bar to enjoy at the movies. This day however, something else caught his eye. It was a pack of 1932 DeLong baseball cards. He passed on the candy bar and bought the cards instead. In that instant, the "collector" in Lionel Carter was unleashed and a hobby pioneer was born.
What happened over the next 70 years or so is the stuff of which hobby legends are made. During that time, Lionel Carter not only amassed a spectacular, mint condition baseball card collection but also greatly contributed to the hobby that exists today.
Doug Allen likens his first impression of the cards to the transition in the Wizard of Oz, when everything goes from black and white to color. "It was if a window from the past was thrown open on each issue and the cards jumped off the page in their original bright, vivid light," explains Allen. "One page after another it was 'boom!' - color right in your face."
But the exemplary condition of the cards is just one part of the story. The other is the man behind the collection. Lionel Carter started collecting baseball cards when there really was only one reason to do it. "I just loved them," said Carter. "That's all there was to it." Along the way, Carter became a frequent, trusted and respected writing contributor to many of the hobby's early trade publications.
Through it all, it has been the condition of the cards that has been the hallmark of Lionel Carter's treasured collection. What is more astonishing in today's high priced world of baseball cards is that for Carter, the monetary value of the cards has never, even remotely, been an issue. He took such good care of the cards because he loved them. The real value to him was in the fact that the cards were part of his heart and soul. "It's something that money can't buy," said Carter.
That's why it came as such shock a month or so ago when during one of Doug Allen's frequent visits to the Carter's, Lionel asked unceremoniously if Allen wanted to take the cards. Although Lionel never concerned himself with what the cards were worth in terms of dollars, he knew that others did - and some of those people might not have the best intentions. Ultimately, the Carters determined it was no longer safe to keep the cards in their home. "They felt it was time for other collectors to safeguard Lionel's legacy and passion," said Allen.
A few of the highlights from the Lionel Carter Collection being offered in Mastro Auctions' April sale include:
Baseball Cards
Graded Single Cards and Sets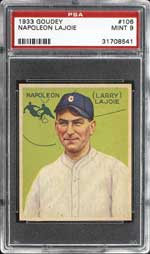 1933 Goudey #106 Napoleon Lajoie - PSA MINT 9
Only seven copies of this card are assessed at this magnificent tier with none graded higher. This high-profile collectible was produced in a miniscule quantity. Just over sixty specimens, in total, have been holdered by the industry's premier grading service. The essence of this collectible, the most widely coveted gum card ever made, is fully realized in this gorgeous example. Evidence of handling is entirely absent. Minimum bid $25,000.
1952 Topps #311 Mickey Mantle - PSA NM-MT 8
No longer an idle reverie on the vast shopping lists in the industry, the '52 Topps Mantle has evolved to become the hobby's most broadly and intensely pursued card. This Topps #311 Mickey Mantle exhibits vibrantly rich color. Minimum bid $10,000.
1909-11 T206 White Border Near Set (485/521) - #12 on the PSA Set Registry!
T206's account for many hobbyists' first experience with pose variations, brand distinctions, condition assessments and checklist building. Included in this assembly are the great names of Cobb, Johnson, Young, Lajoie and a significant number of their contemporaries. The set includes: MAJOR & MINOR LEAGUERS: Highlighted by: Graded PSA NM-MT 8: 2 cards; PSA NM 7: 55 cards; PSA EX-MT 6: 127 cards; PSA EX 5: 167 cards; PSA VG-EX 4: 79 cards; PSA VG 3: 3 cards; PSA GD 2: 6 cards. SOUTHERN LEAGUERS: Includes: Graded PSA NM 7: 4 cards; PSA EX-MT 6: 9 cards; PSA EX 5: 18 cards; PSA VG-EX 4: 10 cards; PSA VG 3: 3 cards; PSA GD 2: 2 cards. Minimum bid $10,000.
1933 Goudey #106 Napoleon Lajoie - PSA NM 7
When the 1933 Goudey set was originally issued, the company failed to include an item bearing #106. A very few dedicated collectors of the day took the time to mail direct complaints to the Goudey Gum Company. Goudey received enough letters to prompt the manufacturer to arrange for a special design and printing of card #106, Napoleon Lajoie. This special piece allowed the most loyal of enthusiasts to complete their 1933 Goudey sets. The #106 Lajoie card was actually printed in 1934, and was only sent by mail directly from Goudey to those who had complained to the company in writing. Minimum bid $5,000.
1952 Topps #311 Mickey Mantle - PSA NM 7
The prospect of taking possession of this much-coveted '52 Topps "high number" inspires sheer exhilaration in the mind of the fortunate enthusiast. Although a small population of Mantle rookies (38 to be exact) holds nominally higher grades, very few specimens evoke gratification at the level triggered by the example presented here. Minimum bid $5,000.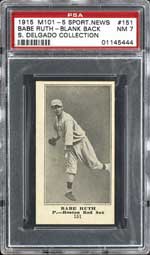 1915 M101-5 Sporting News #151 Babe Ruth - PSA NM 7
Of the blank back variety, this card is one of two graded at this level with only two graded higher. In 1915, Babe Ruth was little more than another face in the broad composite of Major League ballplayers. He was, upon this card's unveiling, a touted rookie. Today, Ruth's rookie card is among the all-time card collecting greats. Minimum bid $5,000.
1952 Topps #407 Ed Mathews - PSA NM-MT 8
As a condition rarity, the scarce Mathews high number is second in demand only to the number one card of Andy Pafko in the quest to enhance the hobby's most advanced collections. This card will help hurdle that obstacle. Minimum bid $5,000.
1953 Topps PSA-Graded Complete Set (274)
Topps' second-year effort saw the company taking a distinct fork in the road relative to the course of its competitor, Bowman. The 1953 Topps cards present an individually painted portrait for each player subject, and the full set acts in concert as an astoundingly vivid gallery of these handcrafted images. The set includes: Graded PSA NM-MT 8: 86 cards; PSA NM 7: 178 cards; PSA EX-MT 6: 7 cards; PSA EX 5: 3 cards. Minimum bid $5,000.
1911 T3 Turkey Red Ty Cobb - PSA EX 5
Just eight copies of this card exist at this tier with less than half a dozen graded higher. The undisputed "key" figure in T3 is seen here in a fully detailed, impressive rendering. Minimum bid $2,500.
1952 Topps #311 Mickey Mantle - PSA EX-MT 6
This example reveals splendid coloration in every aspect of the all-important player illustration: the great Hall of Famer's likeness is flawless. The card's reverse is fundamentally pristine. This is a very tempting and attractive piece that's ideal for the upper-middle-grade 1952 Topps set. Minimum bid $2,500.
1939 Play Ball #92 Ted Williams - PSA MINT 9
Other memorabilia pieces are available to recall Ted's rookie year, but no other baseball cards picture Ted in 1939. In the realm of card collecting, this one is it! Gum, Incorporated has given the hobby this lucid black-and-white recreation of Williams' sweet swing. Minimum bid $2,500.
1911 T205 Gold Border Cy Young - PSA NM-MT 8
There are just four examples confirmed at this tier with none graded higher. The insert cards issued in 1911 by the American Tobacco Trust are among the most sublime collectibles ever created. The fronts of these items reflect three different and distinct styles, one each for the National, American and Minor Leagues. The American League version is generally considered to be the most stylish of the three. The offered card appeared in cigarette packages during the same season that Cy Young's legendary career came to an end. Minimum bid $2,500.
1952 Topps #311 Mickey Mantle - PSA EX-MT 6
The exceptionally deep coloration of this card, especially its familiar aqua-hued background, retains a large measure of its brightness. The slugger's bat is an almost luminescent yellow, and the white interlocking "NY" on the front of Mickey's cap contrasts sharply against dark navy blue. The central image enjoys nicely balanced centering within an attractively white framework. Minimum bid $2,500.
1955 Topps #123 Sandy Koufax - PSA MINT 9
Only two examples of this card exist that are graded higher. Sandy Koufax is one of baseball's most intriguing and respected figures. His level of ability on the mound secured his permanent placement in Cooperstown, and his gentlemanly bearing earned a special place for him in our hearts. The rookie card embodies the legendary pitcher whose name became synonymous with excellence and domination. Minimum bid $2,500.
1952 Topps #261 Willie Mays - PSA MINT 9
Less than 10 examples in the world hold PSA MINT 9 status, and only one copy has ever been graded higher. The distinguishing features of this incredible Mays second-year card are found in its origin as well as its preservation. Minimum bid $2,500.
1950 Toleteros Josh Gibson - PSA VG 3
The most exclusive card to appear in the issue expanse of Toleteros was this one, Josh Gibson. Toleteros was thrice issued in Puerto Rico from 1948 to 1951, and it's thought that the cards were initially elements of a table game ... and then by this issue, simply a freestanding collectible. Few authorities would dispute that Gibson was the greatest legend ever to perform in the Winter Leagues circuit. Minimum bid $2,500.
1949 Bowman Complete Set (240)
For its 1949 issue, Bowman made two major changes from the preceding year's black-and-white production. The company added color to team uniforms and expanded the set to 240 cards. The attractive 1949 Bowman product has always been a monumental challenge for collectors to assemble. Highlights include: Graded Cards - SGC 96 MINT 9: 1 card; SGC 92 NM/MT+ 8.5: 13 cards; SGC 88 NM/MT 8: 51 cards; SGC 86 NM+ 7.5: 17 cards; SGC 84 NM 7: 33 cards; SGC 80 EX/NM 6: 13 cards; and PSA EX 5: 1 card. Minimum bid $2,500.
1963 Topps PSA-Graded Complete Set (576) - #10 on the PSA Set Registry
The offered representation was pieced together in a card-by-card manner with full, youthful exuberance but with an added emphasis on quality. This outstanding selection would be an ideal initial acquisition for the enthusiast who's been entertaining the goal of someday assembling a complete, high end set. Includes: Graded PSA MINT 9: 5 cards; PSA NM/MT 8: 571 cards. Minimum bid $2,500.
1961 Topps Complete Set (587) - PSA NM-MT 8
Every card in this offering displays deep, rich colors, bright borders, unqualified centering, and four quality corners. Highlights include: #'s 2 Maris, 10 Robinson, 120 Mathews, 150 Mays, 160 Ford, 287 Yastrzemski, 290 Musial, 300 Mantle, 344 Koufax, 350 Banks, 388 Clemente, 401 Ruth, 406 Mantle HR, 415 Aaron, 425 Berra, 443 Snider, 472 Berra MVP, 480 Campanella MVP, 482 Mays MVP, 484 Aaron MVP, 485 Banks MVP, 575 Banks AS, 576 Maris AS, 579 Mays AS, 580 Kaline AS, and 589 Spahn AS. Minimum bid $2,500.
1954 Topps PSA Mint 9 Collection (31 Different)
Such a wide-reaching, phenomenally high-grade gathering of special collectibles from a single 1950s Topps production is seldom seen in the industry. These ultra-elite items are members of single-digit census totals at their tier, in most cases, and no higher-graded examples have been confirmed in 26 of the offered subjects. Includes: Graded PSA MINT 9: 31 cards w/#'s 15 Rosen, 137 Moon, and 187 Manush. Minimum bid $2,500.
1909-11 T206 White Border PSA Graded Collection (82 Different) Including Cobb (2), Lajoie, Mathewson, and Young
Here is a fabulous group to begin constructing a solid T206 set. Most of the cards feature Piedmont or Sweet Caporal reverse-side advertising designs. The gallery includes: Graded PSA NM 7: 1 card; PSA EX-MT 6: 34 cards; PSA EX 5: 47 cards. Minimum bid $2,500.
1957 Topps High Grade Complete Set (407) Plus Checklists (4) and Contest Cards (4)
Topps cards underwent a metamorphosis in which the long, bright caterpillars of 1956 gave way to the beautiful butterflies of 1957. Includes: Graded Cards - PSA NM-MT 8: 109 cards; SGC 88 NM/MT 8: 1 card; PSA MINT 9 (OC): 1 card; PSA MINT 9 (PD): 1 card; PSA NM-MT 8 (OC): 10 cards; PSA NM 7: 68 cards; PSA EX-MT 6: 6 cards; BVG EX/MT 6: 1 card; PSA EX 5: 4 cards. Minimum bid $2,500.
Ungraded Single Cards and Sets
1887-88 N173 Old Judge Cabinet World Champions New York Giants Team Set (20)
The "Old Judge" series of baseball cards issued by Goodwin & Co. is the most popular and widely collected of all 19th Century issues. While the N172 "small" cards are extremely popular with collectors, it is the N173 Old Judge "Cabinets" that are considered Goodwin & Co.'s crown jewel. Each card features a member from the New York Giants, the greatest team of the day. Minimum bid is $10,000.
N173 Dogs Head Cabinet Cap Anson
While N173 Old Judge cabinets are held in very high esteem by advanced collectors, those that carry a Dogs Head advertisement are held on another level. On this beautiful card, Anson is pictured in a stoic portrait, a pose that is instantly recognizable to all advanced collectors. Minimum bid $5,000.
Extraordinary Collection of Eighteen N172 Old Judge Hall of Famers (18)
The offered group of 1887-89 N172 Old Judge Hall of Famers was meticulously pieced together by an advanced collector over a period of many years. The cards were chosen according to the years that they were issued. This collection is composed with the player's first card within the Old Judge issue, with most of the poses representing the player's rookie appearance. Minimum bid $5,000.
1887 N693 Kalamazoo Bats Large Cabinet - Detroit B.B.C.
The offered cabinet of the elite N690-1 type could be the only surviving example commemorating the Detroit (Wolverines) Base Ball Club, the World Champions of the 1887 season. The beautifully preserved antique is highlighted by a spectacular photograph attributable to the A.N. Tomlinson studio of Detroit and reveals crystal-clear likenesses of 16 team members, including manager W.H. Watkins. Minimum bid $5,000.
1952 Topps Complete Set (407)
A total of 37 cards have been graded or assessed by PSA. The set includes: PSA EX-MT 6: 5 cards; PSA EX 5: 16 cards; PSA VG-EX 4: 12 cards; PSA VG 3: 1 card; PSA PR-FR 1: 1 card; PSA Authentic: 2 cards. Minimum bid $2,500.
1948/49 Leaf Complete Set (98)
Skip-numbered throughout (possibly to confound young collectors into buying more cards), the set is replete with 49 difficult single-prints, comprising half the basic 98-card set. Fifty-three cards have been graded by PSA. Includes: Graded Cards - Graded PSA NM-MT 8: 2 cards; PSA NM 7: 3 cards; PSA EX-MT 6: 7 cards; PSA EX 5: 5 cards; PSA VG-EX 4: 13 cards; PSA VG 3: 11 cards; PSA GD 2: 8 cards; PSA PR-FR 1: 4 cards. Minimum bid $2,500.
1934 Goudey Uncut Sheet Featuring Gehrig
This complete, 24-card uncut final production sheet of 1934 Goudey baseball cards features an exceptional lineup of stars, including the set's centerpiece athlete, Lou Gehrig. Of the twenty-four cards on the sheet, four men are Hall of Famers including Luke Appling, Chick Hafey, Ernie Lombardi, and Gehrig. Minimum bid $2,500.
1909-11 T206 PSA NM-MT 8 White Border Collection (19)
All of these attractive subjects are members of single-digit census totals at their tier. Includes: Graded PSA NM-MT 8: 19 cards w/ Bell/Hands Above Head, Bliss, Brain ("El Principe de Gales" reverse), Burch/Batting, Coveleski/Covaleski, Criger, H. Davis/Davis, Dubuc, Evans, Groom, Hahn, I. Hoffman ("El Principe de Gales" reverse), Hulswitt, F. Jones/Hands At Hips, Killian/Portrait, Lindaman, Mattern, Purtell and Stone. Minimum bid $1,500.
1910 E93 Standard Caramel Complete Set (30) on Two Uncut Panels!
With content that includes many stars of the 1910-era, and tinted black-and-white photos placed against bold, colorful backgrounds, the E93 Standard Caramel set is considered by many to be one of the most attractive early caramel issues. This very rare, complete 30-subject presentation is in the form of two uncut panels of 12 and 18 cards, respectively. Minimum bid $1,500.
1922 E120 American Caramel Near Set (204/240)
The 1922 E120 American Caramel issue was to the young collector of the 1920s what the T206 White Border issue meant to youngsters of the previous generation. Produced in two distinct color motifs, sepia-tone cards portray American League players while the cards of a greenish-blue hue were reserved for National League representatives. A total of 66 cards have been graded by PSA. Includes: Graded Cards - Graded PSA NM 7: 2 cards; PSA EX-MT 6: 13 cards; PSA EX 5: 33 cards; PSA VG-EX 4: 11 cards; PSA VG 3: 1 card; PSA GD 2: 6 cards. Minimum bid $1,500.
.
1960 Topps Complete Set (572)
The offered complete set of 572 cards deftly captures the flavor of the innovative series and, with its spectacular level of condition, displays its bright colors and attractive photographs to optimal advantage. In total, 69 cards have been graded by PSA. Includes: Graded Cards - PSA MINT 9: 43 cards; PSA NM-MT 8: 25 cards; PSA NM 7: 1 card. Minimum bid $1,500.
Baseballs
1923 Opening Day Signed Baseball Featuring Christy Mathewson and Babe Ruth - PSA/DNA EX 5
For the Boston Braves, the 1923 season opened on April 17. In attendance that day were Babe Ruth, Waite Hoyt, Judge Landis, Christy Mathewson, and an obscure figure named James MacDonough, who was one of Mathewson's backers in the purchase of the Braves two months earlier. All five of these gentlemen signed this offered ONL baseball. Minimum bid $5,000.
Exceptional 1934 Tour of Japan Team Signed Ball with Ruth, Gehrig, Foxx and Moe Berg!
There was keen interest in the highly successful 1934 Tour of Japan. From cheering Oriental throngs to our government's State Department, this journey of American ballplayers was a landmark event. From time to time, an autographed ball will emerge from this historic event but they are usually in poor condition or are missing signatures. This OAL (Harridge) baseball holds the autographs of the full contingent of the Tour's famed participants and all 20 of them are strongly legible. Minimum bid $5,000.
Incredible 1928 New York Yankees Team Signed Ball - PSA/DNA NM 7
With a roster utterly pulsating with Hall of Fame talent, the Yankees of 1928 vanquished all adversaries in the American League. Twenty bold, crisp signatures accentuate this OAL (Barnard) ball's red and blue stitching. Signatures include: Earle Combs, Stan Coveleski, Leo Durocher, Lou Gehrig ("8-9"), Waite Hoyt ("8"), Tony Lazzeri ("8"), Herb Pennock ("5"), and "Babe" Ruth ("8"), sweet spot. LOA from Steve Grad/PSA DNA. Minimum bid $2,500.
Baseball Bats
Ted Williams' 400th Home Run Game Used Bat - MEARS A-10, TAUBE GU 10
This Hillerich & Bradsby "W183" signature model bat was employed by Williams in launching the historic 400th circuit clout. In doing so, the Fenway icon lengthened the achievers' list to five. The home run put him alongside Ruth, Foxx, Ott and Gehrig as the only players with at least 400 home runs. The offered bat that delivered the damage is accompanied by impeccable provenance. A signed LOA from the 1956 Red Sox batboy, John Orlando, attests to the bat's use and subsequent demise. LOAs from Dave Bushing & Troy Kinunen/MEARS, John Taube/PSA DNA. Minimum bid $10,000.
1932 H&B Louisville Slugger 125 Babe Ruth Game Used Bat - MEARS A-8, Taube GU 8
This Hillerich & Bradsby signature model war club was employed by the Sultan of Swat during the 1932 season. The white ash relic can be dated via its "Powerized" stamping just to the right of the center brand. In 1932 only, this detail appeared in conjunction with an additional stamping of "BONE RUBBED." With this weapon, Ruth was able to post awe-inspiring numbers. The uncracked, Kentucky-turned treasure boasts Ruth-esque characteristics in terms of its use. LOAs from Dave Bushing & Troy Kinunen/MEARS, John Taube/PSA DNA. Minimum bid $10,000.
Baseball Game Gear
Warren Spahn 1953 Milwaukee Braves Game Worn Road Jersey - MEARS A-9
While military duty prevented Spahn from logging his first Big League win until the age of 25, he still went on to register 363 mound triumphs-a record for left-handers, as well as for pitchers in the post-1920 live ball era. Spahn wore this Milwaukee Braves road jersey during the 1953 season-arguably his finest ever. Tailored from gray flannel, the zippered uniform top features "Braves" angled across the chest. On the back, Spahn's since-retired number "21" is sewn in red-on-black felt numerals. Within the collar, Spahn's blue Sharpie signature shows about "9" strength. LOAs from Dave Bushing & Troy Kinunen/MEARS, Steve Grad/PSA DNA. Minimum bid $5,000.
Pete Rose 1971 Cincinnati Reds Signed Game Worn Home Jersey - MEARS A-9.5
Rose's cream-colored flannel, button-down garment features the club's familiar embroidered "C-REDS" logo patch sewn to the left breast, Rose's number "14" is sewn to the back and right front and "ROSE" is arched atop the number on the back. On the left front tail, Rose's black marker signature resonates about "8-9" strength and clarity. The unaltered diamond wear shows moderate use. LOAs from Dave Bushing & Troy Kinunen/MEARS, Steve Grad/PSA DNA. Minimum bid $1,500.
Philadelphia Phillies 1926 Game Worn Road Jersey - MEARS A-5.5
This Phillies road jersey was worn during the team's woeful 1926 campaign. Introduced in 1925, this particular style was the club's fifth different version over a six-year span (1920-1925). An extensive search of multiple records reveals this to be the earliest Philadelphia Phillies jersey ever offered at auction. LOA from Dave Bushing & Troy Kinunen/MEARS. Minimum bid $1,500.
Baseball Autographs
1931 Harrison Studios Signed Josh Gibson Photo Postcard - PSA/DNA "Authentic"
This is the only card known of Gibson shown alone during his playing days. The postcard is a marvel in scarcity. But this one is elevated to the summit in that Gibson signed it. The signature is a "7". Gibson's autograph appears on the reverse as well. This one is personalized "To my pal Joe Lewis From Joshua Gibson." Minimum bid $5,000.
1931 Signed Jud Wilson Photo Postcard - PSA/DNA "Authentic"
Jud Wilson had an aptitude to put the bat on the ball like few of his peers-doing so with magnificent efficiency through 24 years as a professional. He retired in 1945 with a lifetime .347 to his credit. This is not only the rookie card of Jud Wilson but currently the only known card of that player! Penned simply "J. Wilson," it is a splendid autograph projecting at a magnitude of "9". Minimum bid $2,500.
1919 Chicago White Sox Ed Cicotte Payroll Check - PSA/DNA Mint+ 9.5
Two months prior to the Black Sox Scandal, Ed Cicotte was issued this White Sox payroll check. It is a green-hued voucher drawn on Comiskey's account at Chicago's "DROVERS BANK" on "8/1 - 1919." Cicotte's intake of "$476.25" is inscribed and stamped in the appropriate spots. Comiskey's regal scripting indicates his approval at the lower right. On the reverse, Cicotte has endorsed the check. LOA from Steve Grad & Zach Rullo/PSA DNA. Minimum bid $1,000.
Exceptional Signed Business Card Collection Which Includes Ruth, Foxx, and Wagner (14 Different)
A New York businessman once put together a small (but quality) collection of autographs from celebrities he met through his business of public address system rentals. His collecting appears to have been during the late 1940s to the 1950s. All but a few of the signatures are baseball related. Most signatures minimally assess at the "9" level. Includes: Babe Ruth, Tris Speaker, Jimmy Foxx, Honus Wagner, Joe DiMaggio, Casey Stengel, and Joe Louis. LOA from Steve Grad & Zach Rullo/PSA DNA. Minimum bid $1,000.
Baseball Photographs
1915 World Champion Boston Red Sox Team Photo with Rookie Pitcher Babe Ruth
In his first full season, Red Sox hurler Babe Ruth posted an 18-8 mark and 2.44 ERA, leading his team to a 1915 championship. The future Sultan of Swat poses here in the top row with a boyish smile on his face, arms folded across his svelte frame. Tris Speaker, Harry Hooper and Carl Mays also appear in the sepia. Minimum bid $1,000.
Incredible Studio Photo of Ty Cobb in Uniform
The offered photograph captures a youthful Cobb away from the playing field-where he appears somewhat docile, but serious, nonetheless. Taken in a studio sometime prior to 1914 (as evidenced by Cobb's uniform), this vintage, 4-5/8" x 7" sepia-toned photograph depicts the hitting great in Tigers garb. On the reverse, a "UNION PHOTO CO." stamping includes a listing of the company's New York address. Minimum bid $1,000.
Carl Horner Studios Original Cabinet Photo Joe Tinker
In the year of this cabinet photo, 1903, sophomore shortstop Joe Tinker may have appeared more of an offensive threat than a defensive one. Indeed, it took time for Tinker to hone his skills and develop into a legendary cog in the "Tinker to Evers to Chance" double-play combo. Authenticated by PSA/DNA. Minimum bid $1,000.
Carl Horner Studios Original Cabinet Photo Napolean Lajoie
After the 1901 season, renowned photographer Carl Horner captured the former Philadelphia Athletics star in his brand-new threads for the Cleveland Bronchos. Horner's charismatic 1902 portrait was then employed in two of the card-collecting hobby's most revered sets: 1903-04 E107 Breisch-Williams and 1909-11 T206 White Border. Today, the masterful rendering remains Lajoie's most recognized and famous likeness. Authenticated by PSA/DNA. Minimum bid $1,000.
Baseball Memorabilia
1920's - 2000 World Series Press Pin Collection (124 Different)
Here is an outstanding collection characterized by high quality pieces that, almost thoroughly, are according to their respective standards-threaded posts with original nuts, or conventional needle posts in the more recent pins. Most pins are NM/MT. Minimum bid $5,000.
Early Reach Tin Advertising Sign
This Reach advertising sign carries the manufacturer's frontal credit line for The Meek Company of Coshocton, Ohio and a back imprint for its successor, The American Art Works. This firmly dates the sign to either late 1909 or early 1910, as the Meeks Company's doors were only open from 1901 to 1909 before the firm sold out to American Art Works. This 13-3/16" x 6" example is from the set of six signs produced for Reach, but this one advertises the company's Patented Moulded Catchers Mitts. Minimum bid $2,500.
1894 Temple Cup Print
The precursor to the World Series, baseball's Temple Cup was introduced with the same purpose that underlies the current-day Fall Classic: to lure fans-and their wallets-to the diamond for postseason play. The brainchild of one-time Pittsburgh Pirates President William Temple, the October event called for a best-of-seven series between the first and second place clubs in the National League. This vintage print depicts the historic event's inaugural run. Composed by renowned artist Hy Sandham, the detailed work reveals a double-deck venue and on-field action showing the host Giants at bat with the rough-and-tumble Birds manning their defensive spots. Minimum bid $2,500.
Basketball Memorabilia
George "Ice Man" Gervin 1999 San Antonio Spurs Championship Ring
Championship rings eluded this graceful legend. Fourteen years after Gervin relinquished his 12-season post with the San Antonio Spurs, the club won its first NBA Championship, and to honor Gervin's legacy, the Spurs awarded him his very own championship ring. This is the ring that was presented to Gervin by the 1998/1999 San Antonio Spurs. Seventeen diamonds sit on the top of the piece and display the club's emblem. Encircling this arrangement are 24 shimmering diamonds. On the sides, one shank displays "WORLD CHAMPIONS SPURS" with a championship trophy motif, and the opposing shank exhibits "GERVIN" and "ICE." Minimum bid $2,500.
Wilt Chamberlain 1971-72 Los Angeles Lakers Signed Game Used Road Jersey - MEARS A-9
Wilt Chamberlain wore and signed this Lakers road jersey during his 13th of 14 NBA seasons. This purple knit pullover apparel features "LAKERS" across the chest and the Hall of Famer's since-retired number "13" sewn to the front and back. "CHAMBERLAIN" is arched atop the number on the back. Chamberlain's black marker signature and inscription of "13" projects "9-10" strength. LOAs from Dave Bushing & Troy Kinunen/MEARS, Steve Grad/PSA DNA. LOA from Lou Lampson. Minimum bid $2,500.
Football Memorabilia
1985 Chicago Bears William "The Refrigerator" Perry's Super Bowl Ring
The Fridge. When he wasn't throwing his weight around for the team's impenetrable 46 Defense, the 6-foot-2, 370-pound behemoth could be seen galumphing into the end zone for a rushing TD. When the '85 Bears capped off their 15-1 regular season with a blowout Super Bowl XX victory, jewelry manufacturer Jostens crafted him the largest championship ring in NFL history-a whopping size 23. Fridge's diamond-encrusted, 10-karat-gold Super Bowl keepsake has a band that is large enough to pass a half-dollar coin through. A glittering array of genuine diamonds forms the Bears logo while the perimeter reads "Chicago Bears 1985 World Champions." The shanks are anchored with the words "Attitude" and "Team" and carry Perry's name, a Bears helmet, a Super Bowl XX logo, an NFC insignia, the Lombardi Trophy, the Bears' complete record ("18-1"), and the score of the game ("Bears 46/Patriots 10"). Minimum bid $5,000.
Gale Sayers 1971 Chicago Bears Signed Game Worn Road Jersey
This autographed Chicago Bears road jersey was worn by Sayers during his unparalleled tenure. The white mesh pullover garment features the Hall of Famer's since-retired number "40" on the front, back and shoulders. In navy-blue tackle twill, "SAYERS" is sewn to a nameplate atop the number on the back. Just below the numeric identifier on the back, Sayers' blue marker signature shows "9-10" strength. Moderate wear is evident. LOA from Lou Lampson. LOA from Steve Grad & Zach Rullo/PSA DNA. Minimum bid $1,500.
1976 Oakland Raiders Super Bowl XI Trainers Ring (George Anderson)
Coached by John Madden, the '76 Raiders overpowered its NFC opponent, the Fran Tarkenton-led Minnesota Vikings, by a score of 32-14 in Super Bowl XI. This is the championship ring that was given to Raiders trainer George Anderson. A dazzling array of diamonds makes up the central football, as well as constitutes two of the four borders, with the other two reading "OAKLAND RAIDERS - WORLD CHAMPIONS." Its shanks display Anderson's name and title, along with the year "1976" and various Super Bowl-related designs. EX/MT condition. Minimum bid $1,500.
Hockey Memorabilia
1979 Topps #18 Wayne Gretzky - PSA GEM MT 10
This treasure is the finest rookie card in existence. The item's brilliant blue borders are amazingly well aligned, the surrounding corners betray no hint of circulation, and the card's likeness of the youthful Oilers superstar displays impeccable focus. Minimum bid $2,500.
1911/12 C55 Hockey Players Complete Set (45) - #1 on the PSA Set Registry!
These fragile, finely detailed masterpieces appeal to hockey enthusiasts on the same level baseball card collectors desire T206 White Border baseball cards of the same era. The sponsor of this edition is yet unknown, but it has long been assumed to have its origin with the Imperial Tobacco Company. Includes: Graded PSA NM-MT 8: 1 card; PSA NM 7: 3 cards; PSA EX-MT 6: 31 cards; PSA EX 5: 8 cards; PSA VG-EX 4: 1 card; PSA VG 3: 1 card. Minimum bid $2,500.
1912/13 C57 Hockey Series PSA-Graded Near Set (49/50) - #5 on PSA Set Registry
By far the rarest of the three 1910-era hockey issues, the desirable "C57" black-and-white set of 50 cards has the player photo with name and team on the front, along with the "Hockey Series" banner, card number and a short player bio on the reverse. Highlights include: PSA EX 5: 4 cards; PSA VG-EX 4: 17 cards; PSA VG 3: 14 cards; PSA GOOD 2: 5 cards; PSA PR-FR 1: 9 cards. Minimum bid $1,500.
1924/25 C144 Champ's Cigarettes PSA-Graded Near Set (56/60) - #1 on PSA Set Registry
For the 1924-1925 hockey season the Tobacco Products Corporation of Canada, Ltd. issued a set of sixty, sepia-tone cards under their "Champ's Cigarettes" brand name. This offering consists of 56 different cards, including the extremely rare "The Stanley Cup" card. Includes: Graded PSA NM-MT 8: 9 cards; PSA NM 7: 14 cards; PSA EX-MT 6: 9 cards; PSA EX 5: 6 cards; PSA VG-EX 4: 3 cards; PSA VG 3: 8 cards; PSA GD 2: 5 cards; PSA PR-FR 1: 2 cards. Minimum bid $1,500.
Golf Memorabilia
Fascinating 1955 Babe Didrikson Zaharias Archive Relating to the Contract for Her Autobiography "This Life I've Led" Including Three Full Signatures!
Babe Didrikson Zaharias (1911-1956) is considered the greatest female athlete and trails only Jack Nicklaus as the greatest golfer. Offered is an archive of over 150 pages relating to her 1955 autobiography, This Life I've Led. All signatures rate a strong "9-10". LOA from Steve Grad & Zach Rullo and John Reznikoff/PSA DNA. Minimum bid $500.
Tiger Woods Signed "Majors" Golf Flags Plus Signed "2000 The Open" Marshal's Jacket
Each of the pieces in this collection boasts a fine example of the golf phenom's penmanship, and one of the flags was also signed by Mark O'Meara. Includes: 1) Tiger Woods Signed "100th U.S. Open" Flag; 2) Tiger Woods Signed Limited Edition Upper Deck Authenticated "2000 PGA Valhalla" Flag; 3) Tiger Woods Signed "The Open Championship" Flag ; 4) Tiger Woods and Mark O'Meara Signed "2005 Masters" Flag; 5) Tiger Woods Signed "2000 The Open" Marshal's Jacket; and 6) Tiger Woods Signed Shirt. LOA from Steve Grad & Zach Rullo/PSA DNA. Minimum bid $300.
Horton Smith Vintage Signed 6" x 8" Photo
Golfer Horton Smith (1908-1963) was the first winner of the Masters in 1934, winning again in 1936. One of golf's first "boy wonders," he was only 21 when he played a PGA Tour in 1929 and won eight of 22 events, finishing second six times. This rare vintage sepia photograph signed "Best to Jimmy/Sincerely/Horton Smith" ("9") measures 6" x 8." LOA from Steve Grad & Zach Rullo/PSA DNA. Minimum bid $300.
Horseracing Memorabilia
1986 Kentucky Derby Winner Ferdinand's Saddle Ridden and Signed by Willie Shoemaker
Aboard chestnut colt Ferdinand, 54-year-old Willie Shoemaker bucked 17-1 odds in guiding his equine prize to a first-place finish in the Run for the Roses. The oldest jockey to triumph in the prestigious race, Shoemaker was no stranger to the Churchill winner's circle, having won the Derby three times prior. This is the actual saddle worn by Ferdinand on that fateful Saturday in 1986. The saddle is signed on each of the side flaps, Shoemaker's black marker signature projecting "7-8" strength in each instance. Accompanying is an LOA signed by Shoemaker Foundation Executive Director Rodney Pitts. LOA from Steve Grad/PSA DNA. Minimum bid $2,500.
Jockey William Walker Collection (14 items) - Winner of 3rd Kentucky Derby in 1877!
Born into slavery in Woodford County, Kentucky in 1860, William Walker saw fit to blend the perfect circumstances into gaining notoriety as one of thoroughbred racing's most important figures. Walker began riding at the age of 11 at Jerome Park-and visited the winner's circle in Lexington later that same year. Just six years later, Walker, dubbed "Uncle Bill," was the leading rider at the famed Churchill Downs oval. The items include a 1st-race tintype, a trophy cup, a Baden Baden oil painting and various personal articles. Minimum bid $2,500.
2006 Kentucky Derby Winner Barbaro Derby Worn Horseshoe
On October 4, 2005, 2-year old colt Barbaro was unveiled at Delaware Park for a maiden race. Just seven months and five races later, the prized horse was being rightfully compared to the greatest thoroughbreds in racing annals. This horseshoe was actually along for the storied ride. This rounded metal accessory was attached to the Kentucky-bred champion for each of his last three starts, including the Kentucky Derby and that fateful day at Pimlico. Originally given to Barbaro's groom, Eduardo Hernandez, the horseshoe was later given to Hernandez' brother, Rafael Orozco. Accompanying is an LOA signed by the latter party. Minimum bid $500.
AMERICANA COLLECTIBLES
Comics
Action Comics #1 (June 1938) - CGC Universal Grade 1.8
Moderate amounts of tape on cover, one piece of tape on the first page and brittle pages (stories by Siegel and Guardineer, cover by Shuster and interior art by Shuster, Guardineer and Baily; origin and first appearance of Superman and first appearances of Lois Lane and Zatara the Magician). This comic comes through vintage hobby channels. It was first purchased at the 1971 New York Comic Art Convention. After having disappeared into a collection for three and a half decades, this example became one of the largely "forgotten" copies of Action Comics #1. As copies in the Good grading range go this one is exceptional. Minimum bid $10,000.
"Detective Comics" #27 (5/39) - CGC Restored Grade Apparent 7.0
Off-white to white pages and moderate professional restoration, including color touch, pieces added, tear seals, cover cleaned, and reinforced (stories by Finger, Siegel and Chambers, cover by Kane, and interior art by Kane, Shuster, Chambers and Guardineer; first appearances of the Batman and Commissioner Gordon). Only 32 copies of Detective Comics #27 have been graded and just under half of those have been restored. This is one of the top 11 graded copies of which only three have never received a restorer's touch (one at 8.0, one at 7.5, and one at 7.0). While Bob Kane's art frequently appeared as if it were the creation of an inspired 10-year-old, it was so bizarrely stylized that it worked quite well. This classic cover provides the first glimpse that the world ever had of what would be recognized as one of the top two comic creations of all time, "The Batman." Minimum bid $5,000.
"Detective Comics" #33 (11/39) - CGC Restored Grade Apparent 7.5
Cream to off-white pages and extensive professional restoration that includes: color touch, pieces added, tear seals, cover cleaned, reinforced, re-glossed, and a tape stain on the interior cover (stories by Fox and Siegel, cover by Kane, and interior art by Kane, Moldoff, and Guardineer; origin of the Batman; Batman carries a gun on the cover). The character of the Batman had been in existence for over a half a year's time before the public learned what made him choose to be a masked crime fighter. This is the issue that first printed that classic two-page origin tale. The book's classic cover is also the only time that the Batman was ever shown with a holstered handgun hanging from his utility belt. Minimum bid $5,000.
"Superman" #1 (Summer 1939) - CGC Restored Grade Apparent VF- 7.5
Cream to off-white pages and extensive professional restoration, including: color touch, pieces added, tear seals, cleaned, and reinforced (stories by Siegel and cover and interior art by Shuster; origin of Superman; pin-up on back cover). At the time of this writing, the CGC Census reports that 60 copies of this book have been submitted for their review. Of those 60, only 19 examples have not experienced some level of restorative work. Of those 19, only one has been graded as appearing more attractive than this example, with another being judged as comparable. Minimum bid $5,000.
Comic Art
Mad Magazine October 1960 Issue #58 Cover Art by Kelly Freas
Frank Kelly Freas (1922-2005) was persuaded by a friend in 1950 to submit some of his more interesting artworks to the science-fiction pulps for consideration. The prestigious Weird Tales was where he made his first sale. But Freas wasn't easy to pigeonhole as strictly a "science-fiction" artist. He had no trouble handling assignments for Mad, beginning by producing interior features for issue #31 (Feb., 1957). He received the position as featured cover artist after Mingo's temporary departure from the magazine, starting with issue #40 (July, 1958). From this point he produced almost all of the covers until #74 (Oct. 1962). This painting was produced by Freas as the cover for Mad #58 (October 1960). Minimum bid $1,500.
Mad Magazine "A Crockwork Lemon" June 1973 Issue #159 Cover Art by Norman Mingo
It took almost two years for Mad to get around to doing it, but in their June 1973 issue they finally created their parody of A Clockwork Orange, Stanley Kubrick's highly controversial film. Norman Mingo (1896-1980), the first Mad artist to ever paint Alfred E. Neuman, was selected for the cover interpretation of the parody, which the usual gang of idiots entitled, "A Crockwork Lemon." The master has signed his effort in the original painting's lower right corner. Minimum bid $1,500.
Non-Sports Cards
Truly Spectacular 1935 R89 Gum, Inc. "Mickey Mouse" Complete PSA Graded Set (96) - #1 on the PSA Set Registry!
This is an unbelievably colorful and classy array of Gum, Inc.'s enchanting Mickey Mouse cards. The production features the entire roster of Walt Disney's cartoon characters in amusing and engaging scenes, with each image accompanied by a light-hearted riddle. The set includes: Graded PSA NM-MT 8: 54 cards; PSA NM 7: 33 cards; PSA EX-MT 6: 7 cards; PSA EX 5: 2 cards. Minimum bid $5,000.
Exceptional 1940 R83 "Lone Ranger" Chewing Gum Completely Graded Set (48) - #1 on the PSA Set Registry
Today, the Lone Ranger Gum card series is still one of the most popular issues of its type ever released. The offered full set of 48 pieces, which includes all of the production's scarce high numbers in particularly admirable condition, delivers the action, color, and overall charm that have made the issue so famous. Includes: Graded PSA NM-MT 8: 26 cards; PSA NM 7: 20 cards; PSA EX-MT 6: 2 cards. Minimum bid is $2,500.
1938 R69 Gum, Inc. "Horrors of War" Complete Set (288) - #3 on the PSA Set Registry!
Here is wartime propaganda at its most tempting form! Horrors of War brought the sordid details of overseas conflict to American shores, allowing young consumers of gum to view an amazing chronicle of events and atrocities. Illustrations along with well-written narrative explanations have made this edition a hobby classic. The set includes: Graded PSA NM-MT 8: 33 cards; PSA NM 7: 89 cards; PSA EX-MT 6: 59 cards; PSA EX 5: 76 cards); PSA VG-EX 4: 26 cards; PSA VG 3: 5 cards. Minimum bid $2,500.
Presidential Items
Extremely Rare March 25, 1841 William Henry Harrison as President Signed Appointment
Of all our 43 U.S. Presidents, William Henry Harrison held the shortest tenure: just 31 days. This brief window of time has resulted in an unprecedented paucity of Harrison's signed documents "as President." This document is one of the small number that have survived and that remain in private hands today. Dated March 25, 1841, just two days before Harrison took to his White House bed and nine days before his death, the appointment names a certain Thomas B. Johnson to be "Marshal of the United States for the Territory of Iowa." Harrison's brown ink signature rates an impressive "9" in strength. LOA from Steve Grad & Zach Rullo and John Reznikoff/PSA DNA. Minimum bid $10,000.
1820 Signed John Adams Letter Extols His Love of American Indian Corn
John Adams wrote this letter at age 84 from "Montezillo" ("little hill"), the whimsical name he decided to name his small farm in Quincy, Massachusetts. Dated August 7, 1820, and signed "John Adams" ("9"), the letter is written to Samuel Wyllys Pomeroy (1765-1841), owner of the Bull's Head Tavern. The contents of the letter extol Adam's appreciation of American Indian corn as a source of "nourishment of inestimable value to both men and animals." LOA from Steve Grad & Zach Rullo and John Reznikoff/PSA DNA. Minimum bid $2,500.
Pristine 1861 Abraham Lincoln Handwritten Letter Appointing An Inspector of Steamboats
Widely regarded as one of the best, if not the greatest U.S. President, Lincoln letters always perform well at auction. The letter, drafted while Lincoln was in the Executive Mansion, is a handwritten beauty. It makes clear his desire for Arthur Edwards to be appointed to the mentioned post by stating the appointment should "be made at once." LOA from Steve Grad & Zach Rullo and John Reznikoff/PSA DNA. Minimum bid $2,500.
Entertainment Memorabilia
Elvis Presley's Diamond, Black Star Sapphire and Gold Pendant Necklace
The medallion is a 14K white and yellow gold stippled disk, accented by a yellow gold TCB with lightning bolt, a 14K yellow gold cross (12 round diamonds flanked by two oval shaped black star sapphires), a 14K yellow gold angel holding one ruby, a 14K yellow and a white gold Star of David (18 round diamonds with a larger round diamond in the center). Total diamond weight is approximately 1.35 carats. Letter of Authenticity from Ableser's Fine Jewelry and Certificate of Authenticity from Jimmy Velvet, President and Chairman, Elvis Presley Museum, Memphis, Tennessee. Minimum bid $2,500.
Large Quantity of Elvis Presley's Hair Saved by His Personal Barber
Contained within a 3-1/4"-tall plastic canister sealed with Mastro Auctions hologram tape, the ball of hair constitutes thousands of individual strands once shorn by Homer "Gill" Gilleland, Presley's personal barber. While locks or strands of Elvis' hair have been sold in the past, this offering presents not just well-documented provenance, but also an extraordinary quantity, which offers an unlimited potential for marketing possibilities. LOA from expert hair authenticator John Reznikoff. Minimum bid $1,000.
1963 "The Beatles and Roy Orbison" British Tour Program Signed by All Four Beatles
On Saturday, May 18, 1963, Roy Orbison began a three week tour in England with The Beatles as his opening act. After the first week of the tour, it became evident that The Beatles were dominating the show and the programs were hurriedly reprinted with "The Beatles/Roy Orbison" now on the cover. Offered is one of those soft cover programs. The program features four unidentified bust photographs of The Beatles. Each has clearly signed in black ink next to his portrait. LOA from noted Beatles expert Frank Caiazzo and LOA from Steve Grad & Zach Rullo/PSA DNA. Minimum bid $1,000.
Marilyn Monroe Gold Metallic Cocktail Dress
This gold metallic cocktail dress was bought and worn by Marilyn Monroe. It is accompanied by a partly printed, 8-1/2" x 11" letter of authenticity signed "Elaine Barrie Barrymore." Elaine Barrie Barrymore (1915-2003) was 21 when she married 54-year-old John Barrymore in 1936. After six separations during their four-year marriage, they were divorced in 1940. When Barrymore died in 1942, Elaine was the only one of his three living ex-wives to attend his funeral. In her later years, Elaine became good friends with Monroe. Minimum bid $500.
Large Lock of 1957 Elizabeth Taylor Hair with Signed Shampooing Photo!
A few years before Elizabeth Taylor won her Oscars (1961 Best Actress for Butterfield 8, 1967 Best Actress for Who's Afraid of Virginia Woolf), she became a client of Robert Champion, hair stylist to the stars at Bergdorf Goodman's "Coiffures Americana Beauty Salon," in New York City. Offered are six items pertaining to the award-winning performer and her magnificent coiffure. Includes: Hair - Housed within a Tiffany & Co. sterling silver box is a large lock from Taylor's trademark coiffure. The lock was originally offered in 2005 by Willis Henry Auctions as part of the "Robert Champion Collection." LOA from Steve Grad/PSA DNA. LOA from expert celebrity hair authenticator John Reznikoff. Minimum bid $500.
Coins
1907 St. Gaudens High Relief $20 Gold - PCGS MS66
One of Teddy Roosevelt's lasting legacies is the coinage designs he actually commissioned or inspired. After a tour of the Smithsonian Institute early in his first elected term in office, he adopted a new "pet" project, the redesign of all US coinage. Roosevelt cajoled his friend, the pre-eminent sculptor of the era, Augustus Saint-Gaudens, to help. Saint-Gaudens was to create new designs for all denominations after the fashion of the classic Greek artisans. Although suffering from cancer, he started creating new designs, in high relief, for the current $10 and $20 gold pieces. By early 1907 some 2 dozen trial pieces for the $20 design were struck in ultra high relief, but proved too impractical for general production. Saint-Gaudens died in August of that year, but his design was slightly reworked and put into production in November of 1907. Due to the impracticability of their production, the coins were struck for only a very short time. Minimum bid $10,000.
For More Information
To pre-register for Mastro Auctions' 2007 April Premier Auction and receive auction catalogs, call 630-472-1200 or go to www.mastroauctions.com.
About Mastro Auctions
Mastro Auctions of Burr Ridge, Ill., is part of the Silkroad Equity family of companies. It is the leading high value collectibles auction company. The company has sold many of the most famous and valuable sports and Americana collectibles ever offered to the public, including the most expensive baseball card in history, the T206 Honus Wagner which sold for nearly $1.3 million, Norman Rockwell's "The Dugout" for $355,000, Roger Maris' 1961 jersey he wore when he hit home run #61 for $302,000, the bus Rosa Parks rode on when she refused to stand for segregation for nearly $500,000 and the famous Steve Bartman Cubs foul ball for over $100,000.