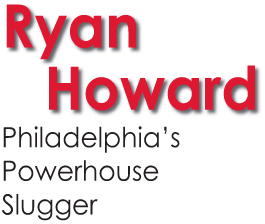 When a standout Minor Leaguer gets the nod and is called up to baseball's Major League, the expectations are that the young buck is ready to hit the ground running. In the case of Ryan Howard of the Philadelphia Phillies, things turned out to be a bit different. Howard hit the ground hitting. In his first full Major League season, Howard earned what players spend years trying to attain – having the word "powerhouse slugger" preface the mention of their name.
This past season, after breezing past Mike Schmidt's team home run record of 48, Howard blew past 50 and ended up with 58 homeruns.
Along with Ruth and Foxx, Howard also found himself in a class with the likes of Roger Maris, Barry Bonds, Mark McGwire and Sammy Sosa for single season home run smacks. It started with Babe Ruth, who hit 60 homers in 1927. That record stood for 34 years until, in 1961, Roger Maris bested The Babe by one. While Sosa never held the record, he did chalk up outstanding home run seasons by hitting 63, 64, and 66. Today, it is Bonds that (controversially) holds the record of 73 out-of-the-park smacks, which he set in 2001. McGwire places second with the 70 horsehides he sent screaming in 1998. And while those record shattering numbers are incredibly impressive, they will most likely always include an asterisk in the hearts and minds of fans and statisticians alike, due to the alleged benefit of performance enhancements that may forever be associated with the names of Bonds and McGwire.
Ryan's Road To Philly
Born in St. Louis, Missouri on November 19, 1979, Ryan James Howard went on to attend Lafayette High School and Southwest Missouri State University. An impressive athlete throughout high school and college, Howard was tapped by the Phillies Minor League scouts in the 2001 draft. A fifth-round selection, he exceeded expectations by wrangling consecutive MVP awards in the Florida State and Eastern Leagues.
By the end of the 2004 season, Howard had turned in a .282 batting avearage with two home runs and five RBIs. Those stats jump significantly when you consider that, during that same season, he also played for the Double-A Reading and Triple-A Scranton/Wilkes-Barre teams. Coupling those performances with his stats with the Phillies, Howard smacked a total of 48 home runs – the highest total in organized baseball during the '04 season.
Howard received an invitation to play with the "big boys" in 2005. His first appearance at the plate as a Major Leaguer was far from being an indicator that he was a power hitter in the making. Facing Atlanta Braves picther Jaret Wright, Howard, who was pinch-hitting for Vicente Padilla, was struck out. Five days later, he chalked up his first Major League hit followed, two days later, by his first multi-hit game. Two more days would pass before Howard hit his first homer.
The Power Begins
In May of his first full Major League season, Howard scored his first three-hit game. Two months later, he was named the Phillies primary first baseman when starter Jim Thome was sidelined with an injury. By mid-season, Howard had turned in his first four-hit game, going 4-for-5 with a double, a home run, two singles, three RBIs, and three runs-scored. That season saw Howard lead all Major League rookies with 22 homers. He turned in a .288 average with 63 RBIs.
Howard's impressive rookie season presented the Phillies front office and management with a difficult decision during the off-season. With Thome patched up and ready for the 06' season, who would they give starter status to at first base? Howard and Thome were both revered for their power at the plate. Thome had been brought in to the Phillies tent with great fanfare as a free agent in 2003 and now Howard was the current Rookie of the Year. Local Philly sportswriters prognosticated that the Phillies were looking to trade Thome during the offseason. Those predictions came to fruition just before the regular season began. Thome was sent packing to the Chicago White Sox for $22,000,000 dollars, outfielder Aaron Rowand, and two Minor League pitchers – Gio Gonzalez and Daniel Haigwood.
Getting the nod as the Phillies starting first baseman, Howard began the 06' campaign with a blast – literally. On April 23, he smacked a Sergio Mitre pitch into Ashburn Alley at Citizens Bank Park. The ball landed 496-feet from Howard's bat, distinguishing it as the longest home run ever hit at the park. Then, to cap off that monster hit, Howard came back with a second homer giving him the first multi-home run game of his career.
Within two months, Howard proved he was not a one-trick pony when it came to hitting the long ball. He became the first player to send a ball into the park's right field third deck. To honor and memorialize that 461-foot shipment, the Phillies painted a big "H" on the seat where the ball landed (Section 304, Row 1, Seat 8). For good measure, Howard also hit a 465-footer on August 19 that hit a sign over the visitor's bullpen.
Named to his first All-Star Game, Howard participated in the Century 21 Home Run Derby prior to the game. He won the contest by smacking a total of 23 homers. By early August, Howard had turned in 40 homers. His bat continued to stay hot throughout the month and between August 25 and 29, he sent balls out of parks in four consecutive games culminating with a smack that gave him his 48th homer of the season and tied him with Mike Schmidt for the Phillies single-season home run record. That record was short-lived. Within 48 hours, Howard smashed a ball into the upper deck of Robert F. Kennedy Memorial Stadium to become his team's single-season home run king.
By early September, Howard had become the first Phillies player, and the 24th Major Leaguer, to hit 50 home runs in a single season. He also tied and then broke Ralph Kiner's 1947 record for home runs in a player's second season. September also saw Howard become the ninth batter to hit three home runs in a game in 2006 and he was named the NL Player of the Month.
"(Ryan is) every bit as good a hitter as Barry Bonds was in the middle of his 73-home run season (in 2001)," Mike Schmidt told a Philadelphia sportswriter in mid-September. "It will take a little longer (for people) to be convinced of that because of Bonds' history of being a great hitter for many, many years."
Collecting Ryan Howard Cards
The future value of Ryan Howard cards may be tempered by the fact that he has broken out of the gate as a power hitter and future Hall of Fame prospect. A player who achieves that sort of attention so early in his career has cards that are, of course, produced and collected in mass.
Realizing that Howard's rookie cards are being tucked away by the thousands even as you read this, perhaps a smart strategy for collectors to consider would be to assemble a compilation of the Howard cards that are the most popular and desirable.
Although the following list is not scientific, over a two-week period in September of 2006, we tracked the selling of Howard cards on various Internet sites to see what was generating the most interest.
The Howard card that appears to be the best seller is the 2003 Bowman Draft Picks card. Bowman's other Howard offerings that are popular are the 2006 Bowman Chrome Refractor, the 2003 Bowman's Best Autographed card, and the 2003 Bowman's Best card that includes a piece of authentic game-used bat.
Popular offerings from Upper Deck include the 2001 Upper Deck Prospect Premieres, the 2006 Upper Deck #352, and the 2005 Upper Deck Trilogy Future Signatures SP.
From Topps, there is interest in various cards including the 2005 Topps Total Prospect Used Printing Press Plate, the 2005 Topps #689 Ryan Howard / Cole Hamels, the 2006 Topps #265, the 2006 Topps Heritage #219, the 2005 Topps Heritage #89, the 2003 Topps Pristine #188, the 2006 Topps Chrome #204, the 2006 Topps Chrome #275, the 2006 Topps Allen and Ginter #79, the 2005 Topps Cracker Jack Mini Red #182, and the 2003 Topps Pristine #190.
Other Howard cards that have been selling well are the 2006 Fleer #268, the 2005 Bazooka #180, the 2003 Donruss Elite Extra Edition Turn of Century Autographs #47, and the 2004 Classic Clippings Phenom Lineup Autograph Red #PLA-RH2.