Just imagine a hot fudge sundae with four cherries! That's what Memory Lane Inc. is offering in their remarkable Holy Grail Auction on December 14th.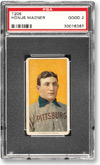 The headliner is a rare auction appearance by a T206 Honus Wagner card graded PSA 2. "In all my years in the hobby, this Wagner card ranks right up there with the best for eye appeal I've ever seen," noted JP Cohen, Memory Lane Inc.'s Director of Auction Consignments. "This card's image is phenomenal."
"We titled this auction The Holy Grail Auction because of the three very significant cards, and a very important and significant autographed photo," noted Roger Cameron, Director of Auction Marketing. "A Wagner, a '52 Topps Mantle, a '35 National Chicle Nagurski, and a rare, fully autographed 1927 Yankee Team Photo -- that's a Holy Grail line up, a collector's dream."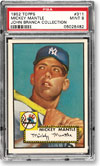 Besides the T206 Honus Wagner card -- the most prized of all hobby cards -- the auction also offers a 1952 Topps #311 Mickey Mantle in PSA 9 MINT. This card came from the collection of well-known collector John Branca, who is known for collecting only the highest of high-end cards. The copy offered in this auction is true mint. This card is considered the Holy Grail of post-WWII cards and is the most recognized card in the hobby.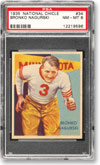 Rounding out the triumvirate of hobby Holy Grail cards is a 1935 National Chicle #34 Bronko Nagurski (his rookie card) in PSA 8 NM-MT. This premier copy from the granddaddy of all football set issues is of stellar condition. "This has been buried in a collection for years. It's a tough card in high grade, and when they do surface they bring top dollar," indicated Mr. Cohen. He added that the last high-end Nagurski card he knows of in mint condition sold for over $240,000.
The grand finale Holy Grail piece is a 1927 Yankee Team photo from the estate of George Pipgras, a pitcher and member of the '27 team. This famed Murderer's Row team was judged in 1969 during baseball's 100 year centennial to be the Greatest Team ever in baseball. Pipgras did a service for all collectors by taking this rare team photo and getting every one of his teammates, coaches and even the batboy to sign it! The autographs are graded a high 8 by PSA/DNA.
There are other gems in this auction too, like a 1956 Ray Gallo lithograph portrait of Mickey Mantle in his Triple Crown year. The Mantle autograph was signed by Mantle in the presence of Upper Deck. There's a rare Christy Mathewson check with a mint condition signature so fresh it looks like it was signed yesterday. There's an excellent selection of Babe Ruth cards and memorabilia too, especially a double-signed check mounted in a special frame that lets you see Ruth's check endorsement on the back as well as on the front. Also, for the card purist, there are a number of vending boxes and unopened boxes of factory-fresh, pristine packs included in the auction. In all, there are over 900 high quality card and collectible lots in the Holy Grail Auction. Look for the MLI Holy Grail Auction catalog, which has been mailed to registrants. Call to register for the auction and receive your free catalog! Call 877-606-LANE, or email [email protected]. See all the lots online at www.memorylaneinc.com.