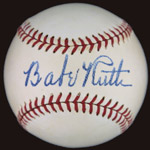 (Newport Beach, California) - Professional Sports Authenticator (PSA) has launched a major new category of its immensely popular PSA Set Registry (SM) program: autographs.
"The tremendous responses to the earlier launches of the trading card and ticket registries have produced huge, positive effects on the entire market. There already are more than 22,000 card sets in the PSA Set Registry, and I believe an autograph registry will bring the same level of excitement and energy to that market," said Joe Orlando, President of PSA, the world's largest, independent certification service for sports collectibles and autographs.
"We've seen that combing grading with authentication can enhance the value and desirability of a specific item, whether it's a trading card, a game-used bat, or a ticket. Now add the competition and camaraderie of the interactive online registry to certified autographs and you have another winning combination," explained Orlando.
The autograph registry is evolving and can encompass virtually any and all autographs from sports, entertainment and history.
"I encourage collectors to be creative and set up categories of their choice. We could have sets devoted to Academy Award winners, astronauts, Presidents, or Chicago Black Sox scandal players. The idea is to improve collectors' experiences by bringing the collecting community closer together and enhancing the market."
"The PSA Set Registry is home to many of the finest trading card and ticket collections in the hobby. We invite those collectors who focus on autographs to participate and showcase their fine collections as well. The concept of autograph grading already has affected the value of autographs, but we think that creating a registry for these collectibles will further enhance the collector experience, and ultimately, reshape the market," predicted Orlando.
For additional information and to register, go to www.PSAcard.com and click on the navigation bar, "PSA Set Registry," on the upper left side of the home page.
PSA is a division of Collectors Universe, Inc. (NASDAQ: CLCT).