Mastro Auctions, the world's leading Sports and Americana collectibles source continues to bring unprecedented quality and service to the collecting world while expanding and reinforcing its reach in new collecting markets. Mastro Auctions' August 2006 Premier event will be one of the most diverse the auction power house has ever conducted. Bidding in the massive 2,500 lot phone/internet auction event will begin on Monday, July 31 and conclude on Friday, August 18. The sale will include items from an increasing number of collecting genres including the rapidly expanding Fine Arts division and the newly created Comic Books and Comic Art division. Of course, the company's established and renowned Americana and Sports divisions will be aptly represented by some of the most amazing items ever offered to the collecting public.
According to Doug Allen, president of Mastro Auctions, the diversity of the August 2006 Premier Auction is a clear indication that the company is on target with its plans for expansion to better service its customers. "The results of our April 2006 sale were encouraging. Both new and existing customers reacted positively to the event and its new facets, most notably the Fine Arts component of the sale," said Allen. "The August auction will include our second Fine Arts event and introduce our inaugural Comic Books and Comic Art effort. The quality and quantity of the consignments we've been attracting in new areas and our consistent ability to deliver the best Sports and Americana material available to the public indicates to us we are definitely on the right track."
Top Sports memorabilia items or collections include:
The most significant trio of bats ever brought to public auction at one time including a Babe Ruth bat given to Buck Weaver, a 1927 side-written Lou Gehrig bat and the only documented Walter Johnson bat known to exist.
An incredible offering of high-end uniforms/jerseys representing all major sports;
The usual fabulous and extensive complement of high grade baseball cards;
The Mark Friedland collection of autographed baseball cards;
A selection of vintage baseball photographs, and;
A very rare PGA trophy.
Top Americana, Comic Books and Comic Art and Fine Arts items include:
A large collection of oil paintings;
A considerable selection of decorative glass and lamps;
All the original comic artwork for Spiderman #31 and over 200 other high grade comic books;
Historical and presidential items of significance, and;
A variety of entertainment items including an Oscar, an Emmy, a Grammy and a Tony.
Specific highlights include:
BASEBALL BATS
The Most Significant Trio of Bats Ever Offered At One Time to the Public
1920 Babe Ruth Inscribed Game Used Bat - Originally Given to Buck Weaver Undoubtedly one of the finest and most historically significant Ruth gamers extant, this Hillerich & Bradsby signature model weapon was personally passed on by Ruth to fallen hero Buck Weaver in 1920. The beautiful dark wood flaunts a perfect finish. Specially turned for the Yankee legend during the 1916-1917 labeling period, the 36", 41-oz. bat exhibits a dash-dot-dash centerbrand and lathe marks on both the knob and barrel end. Additionally, the barrel stampings reveal Ruth's "small-R" facsimile signature-a feature present only on bats issued during his first contract agreement with Hillerich & Bradsby. Just below this sacred detail, Ruth has penned: "To My Friend Eddie Maier - "Babe" Ruth - 1920." The black, steel-tip fountain pen inscription trumpets "5-6" strength. Eddie Maier obtained the bat from Buck Weaver. LOA signed by Maier's grandson, Edward B. Maier, as well as Steve Grad/PSA DNA and John Taube/PSA DNA. Minimum bid $25,000.
Historically Significant 1927 Lou Gehrig Side-Written Bat
To this day, the 1927 New York Yankees are considered the greatest baseball team of all-time. This side-written, Hillerich & Bradsby signature model bat was used by Gehrig during that fabled season. It is the ONLY bat that can definitively be placed in Gehrig's hands during what many consider his most prolific season. The 35-1/2". 35-oz. hickory bat was, indeed, among Columbia Lou's most prized. That fact is evidenced by the side-written detail, a grease-pencil inscription of "Louis Ge - 6-13-27," which was executed by H&B employee Bill Morrow just above the prominent centerbrand. The bat exhibits evidence of tremendous use. LOA from John Taube/PSA DNA. Minimum bid $25,000.
Rare 1920 Walter Johnson Side Written Bat - The Only Documented Example in Existence!
This side-written weapon was wielded by Johnson, -and its every detail makes it one of the most enticing pieces in the hobby. The presented hitting relic hails from the 1917-1921 labeling period, and its side-writing pinpoints its use to the 1920 spring training session. At 34-3/4", 37-oz., this sizable weapon flaunts a deep brown patina with a pronounced, legible centerbrand and an equally defined, block-letter (last name only) barrel stamping. A grease pencil notation of "3-13-20 - 39 oz - Walter Johnson - 3-13-20" places the item directly in The Big Train's hands. Phenomenal game use is evident. LOA from John Taube/PSA DNA. Minimum bid $10,000.
Other Notable Bats
1921-31 Ty Cobb Game Used Bat
This Hillerich & Bradsby signature model bat was brandished by the Georgia Peach during the latter portion of his Hall of Fame career. This 35", 39-oz. white ash weapon was turned during the 1921-1931 labeling period and was wielded by Cobb during the final eight summers (1921-1928) of his big league tenure. The item reveals evidence of tremendous use. Without a doubt, this is one of the finest Cobb gamers in existence. LOA from John Taube/PSA DNA. Minimum bid $10,000.
1905 Napoleon Lajoie Game Used Bat
Napoleon Lajoie used this Wright & Ditson bat during his dominant years in the upstart American League. This 33-3/4", 40-1/2-oz. block-letter model hails from the turn of the 20th century. That fact is readily revealed by the Boston-based manufacturer's centerbrand. "LAJOIE" appears just above in upper case characters. Shows significant use. LOA from John Taube/PSA DNA. Minimum bid $5,000.
1921-31 Tris Speaker Game Used Bat
This Tris Speaker signature model weapon is not only one of a few known examples, but its condition and qualities make it all the more alluring. The bat measures 36" and weighs 39 ounces. The pronounced centerbrand and sizable facsimile signature highlight the incredibly smooth, brown surface. Hailing from the 1921-1931 labeling period, the Hillerich & Bradsby bat can be narrowed to '21-'28, the final eight seasons of the Hall of Famer's unparalleled career. The uncracked item reveals evidence of medium use. LOA from John Taube/PSA DNA. Minimum bid $2,500.
Jimmie Foxx 1930's Game Used Bat
This Hillerich & Bradsby signature model bat was used by "The Beast" during the latter portion of his 20-year career. Turned during the 1934-1944 labeling period (the final 11 years of Foxx's Hall of Fame career), the offered weapon measures 35" and weighs 33-oz. The uncracked white ash item exhibits tremendous game use. LOA from John Taube/PSA DNA. Minimum bid $2,500.
Joe Jackson 1914-15 Pro Model Cork Handle 40K Game Used Bat
The respective fortunes of hitting star Joe Jackson and the Hillerich & Bradsby sporting goods company rose in meteoric fashion. Presented here is a bat that hails from the emergence of both. The offered, hand-turned "40K - KORK GRIP" signature model bat is an unusual weapon in a number of regards. First, the 36", 39-1/2-oz. lumber is light brown rather than Jackson's customary black. Then there's the "KORK GRIP" handle. A thin layer of cork was adhered to the handle to facilitate a secure grip. A unique feature on the centerbrand is the stamping of "40K"-which was usually found on store-model bats. The uncracked item reveals evidence of significant use. LOA from John Taube/PSA DNA. Minimum bid $2,500.
JERSEYS/UNIFORMS/GAME GEAR FROM ALL SPORTS
1957 Ted Williams Game Worn Complete Uniform with LOA from Williams!
This autographed Red Sox home uniform was donned by "The Splendid Splinter" during the 1957 campaign. The cream-colored flannel jersey and pants were tailored for Williams' use. Includes: 1) Game Worn Jersey - the button-down jersey features "RED SOX" arched across the chest and the Hall of Famer's familiar number "9" sewn to the back. In blue marker, Williams' flowing signature is executed just below the team name. The bold scripting shows "9" strength; 2) Game Worn Pants - Williams' uniform pants feature a zippered fly (with a plastic button at the top), and six belt loops along the cotton-lined waistband. The items reveal evidence of phenomenal wear. LOA signed by Williams. Minimum bid $10,000.
Wayne Gretzky 1981/82 Edmonton Oilers Game Worn Road Jersey
Wayne Gretzky wore this Edmonton Oilers road jersey during his unparalleled 1981/82 record season. This white mesh pullover garment boasts an "OILERS" team logo patch and the Hall of Famer's familiar number "99" sewn to the back and both shoulders. "GRETZKY" is sewn to a nameplate above the number on the back. A 3"-diameter "International Year of Disabled Persons - 1981" patch adorns the right sleeve. LOA from Brad Moore and LOA from Lou Lampson. Minimum bid $5,000.
Brooks Robinson 1963 Baltimore Orioles Game Worn Home Jersey
A gifted-yet approachable-icon, B. Robby was without peer at the hot corner for 23 amazing seasons. This is an autographed Orioles home jersey donned by the Hall of Famer during the 1963 campaign. The garment is a cream-colored flannel, button-down jersey with "ORIOLES" arched across the chest and the legend's since-retired number "5" sewn to the back. Just above the tagging, Robinson's black marker signature projects "9-10" strength. Moderate wear is evident. Minimum bid $3,500.
Kareem Abdul-Jabbar 1980's Los Angeles Lakers Signed Game Worn Home Jersey
This signed Los Angeles Lakers home jersey was worn by the HOFer during the team's run of glory in the 1980's. The gold-colored mesh pullover garment features "LAKERS" angled across the chest and the legend's since-retired number "33" sewn to the front and back. In purple-on-white block characters, "ABDUL-JABBAR" is arched atop the number on the back. On the right front "3," Jabbar's black marker autograph (signed "ABDUL-JABBAR") shows "9" strength. Light wear is evident. LOA from Steve Grad/PSA DNA and LOA from Lou Lampson. Minimum bid $1,500.
Lou Boudreau 1949 Cleveland Indians Game Worn Home Uniform
This Cleveland Indians home uniform was worn by Boudreau as he defended his MVP laurel and World Series title during the 1949 campaign. The ensemble includes: Jersey - the cream-colored flannel, button-down jersey boasts "Indians" (in cursive) sewn across the chest and Boudreau's since-retired number "5" applied to the back. A "Chief Wahoo" logo patch is sewn upon the left sleeve; Pants - the flannel pants feature three plastic buttons, five belt hoops and red piping down the outside of each leg. Minimum bid $1,500.
Link Lyman #12 Chicago Bears Game Worn Road Uniform
This Chicago Bears road uniform was worn by the Hall of Famer during his 1933 or 1934 season with the Monsters of the Midway. This vintage Sunday apparel hails from Lyman's third tour of duty with his fourth pro football franchise. Lyman's orange pullover jersey is a long-sleeved, heavy wool garment with three stripes on the middle portion of each sleeve and elbow pads embedded within the sleeve's interiors. The Canton enshrinee's number "12" is chain-stitched in black felt numerals to both the front and back. Phenomenal wear is evident. LOA from Lou Lampson. Minimum bid $1,000.
Walter Payton 1984-86 Chicago Bears Game Worn Home Jersey
This Chicago Bears home jersey was donned by "Sweetness" during his team's run of dominance in the mid-1980's. This navy-blue mesh pullover garment features the Hall of Famer's since-retired number "34" appliquéd to the front, back and shoulders in white numerals with overlapping orange trim, and "PAYTON" screened on a name plate above the number on the back. Light game wear is evident. LOA from Lou Lampson. Minimum bid $1,000.
Tony Dorsett 1976 Pitt Home Jersey
The primary force in improving the gridiron fortunes of the University of Pittsburgh, tailback Tony Dorsett capped his unparalleled collegiate career with an NCAA-record 1,948 rushing yards and 23 touchdowns in 1976. The recipient of that year's Heisman Trophy, Dorsett helped guide the Panthers to their first unbeaten season in 58 years. Offered is a signed Pitt home jersey worn by the college and NFL Hall of Famer during a 1976 contest against Syracuse. This blue cotton half-shirt (cut at the midriff) features the legend's since-retired (a rare honor at the college level) number "33" heat transferred to the front, back and sleeves with "DORSETT" appliquéd in white characters above the number on the back. Dorsett's black marker signature and inscription of "33" show "8-9" strength against the stark white background of the second "3" on the back. Significant wear is evident. LOA from Lou Lampson. LOA from Steve Grad/PSADNA. Minimum bid $500.
BASEBALL CARDS
Single Cards
1952 Topps #311 Mickey Mantle - PSA NM-MT 8
There will never be enough 1952 Mantles in the hobby to satisfy collector demand for what is arguably the most desirable baseball card ever made. The 1952 Topps Mickey Mantle has always been a key card in any collection. The offered card will immediately assume its place as the cornerstone of the winning bidder's collection. Minimum bid $10,000.
1941 Play Ball Joe DiMaggio - PSA MINT 9
This splendid, high-end example of Joe DiMaggio's most popular card pictures its subject in a follow-through batting pose against a shocking purple background. In 1941, DiMaggio had his 56-game hitting streak, carried the Yankees to the World Series, and won the League's MVP Award! That year is considered by many as one of the greatest seasons in Major League history. Minimum bid $10,000.
1911 T5 Pinkerton Tobacco Joe Jackson
By far, the large majority of tobacco cards -- inserts and premiums alike -- were proliferated under the aegis of American Tobacco - a syndicate of sorts packaging cigarettes under a broad array of brand names. Outside this sphere, however, was a small Ohio-based tobacco company called Pinkerton. But, only retailers receiving Pinkerton's catalog knew of their availability. Minimum bid $5,000.
1933 Goudey #53 Babe Ruth - PSA NM-MT 8
Just two examples of this card have ever been graded higher. It is the ultimate '33 Goudey Ruth, a card acknowledged as more challenging to obtain in high grade than any of its three, same-set contemporaries. Minimum bid $5,000.
1954 Topps #128 Henry Aaron - PSA MINT 9
Just two copies of this centerpiece memento have ever been graded higher. On the front of this card, Topps captured the graceful rookie gobbling up a ground ball in the action shot that accompanies a color portrait of the player who was to become the greatest career home run hitter ever to play in the Majors. Minimum bid $2,500.
1911 T207 Brown Background Loudermilk - PSA NM 7
This is one of one graded at this level with none graded higher. The most elusive card in the issue is Louis Loudermilk, and the value of his card in this production is driven exclusively by its scarcity. The card bears a Cycle ad. Most captivating in this card is its positively perfect surface and remarkably crisp register. Near Mint condition. Minimum bid $2,500.
1952 Topps #311 Mickey Mantle - PSA EX-MT 6
The exceptionally deep coloration of this card, especially its familiar aqua-hued background, retains a large measure of its brightness. The central image enjoys nicely balanced centering within an attractively white framework. All four corners are solidly defined. Minimum bid $2,500.
1911 T3 Turkey Red #9 Ty Cobb - PSA EX-MT 6
Only two copies of this card have been graded higher than this one. This 1911 T3 premium card of Cobb presents a near-perfect picture of the baseball great. The collectible is a visually captivating example of its sought-after type. Minimum bid $2,500.
1911 T205 Gold Border Walter Johnson - PSA NM-MT 8
This is one of just four examples at this tier with none graded higher. At the time this card was produced, Johnson was just starting to get into his groove. All four of the card's corners are sharp. A solidly inked, grey-toned "Sweet Caporal" advertisement adorns the reverse. Minimum bid $2,500.
1934 Goudey #61 Lou Gehrig - PSA NM-MT 8
Every feature of the card's design and presentation is as inspiring today as it must have been when the card was issued. Every intricate detail remains crisp and attractive. Colors front and back are pure and distinct, and print quality is superb. Minimum bid $2,500.
1933 Goudey #181 Babe Ruth - PSA NM-MT 8
Of the Babe Ruth quartet contained within the 1933Goudey series, this is the one with the largest and most dramatic, full-face illustration of the Bambino. The bold, vibrant palette of colors and fantastic clarity in this superior example appear unaffected by time. This is a splendid example of one of the great Ruth's most coveted cards. Minimum bid $2,500.
1955 Topps #123 Sandy Koufax - PSA MT 9
A showpiece 1955 Topps collectible! Just two examples of this debut-year Hall of Fame depiction have received a higher PSA grade. Minimum bid $2,500.
Sets and Near/Partial Sets
1954 Topps Complete PSA Grade Set (250) - #8 on the PSA Set Registry!
The series is widely appreciated in the hobby for its sharp colors, large player portraits, smaller "action" photos, and extraordinarily bright graphics. With one exception, all MINT 9 subjects have populations of 10 or fewer. Highlights include: Graded PSA MINT 9: 8 cards w/#'s 10 Robinson, 20 Spahn, and 50 Berra; PSA NM-MT 8: 242 cards w/#'s 1 Williams, 3 Irvin, 13 Martin, 17 Rizzuto, 30 Mathews, 32 Snider, 37 Ford, 45 Ashburn, 70 Doby, 85 Turley, 90 Mays, 94 Banks, 102 Hodges, 128 Aaron, 132 Lasorda, 201 Kaline, and 250 Williams. Minimum bid $5,000.
1959 Topps PSA Graded Complete Set
The 1959 Topps set embodied the spirit of the day, as it included multiple cards of the game's favorite players. Highlights: PSA MINT 9: 3 cards; PSA NM-MT 8: 567 cards w/star card #'s 1 Frick, 10 Mantle, 20 Snider, 50 Mays, 150 Musial, 163 Koufax, 180 Berra, 202 Maris, 300 Ashburn, 350 Banks, 380 Aaron, 430 Ford, 435 Robinson, 439 Robinson, 450 Mathews, 416 Mantle HR, 464 Mays Catch, 467 Aaron HR, 514 Gibson, 515 Killebrew, 550 Campanella, 559 Banks AS, 561 Aaron AS, 562 Kaline AS, 563 Mays AS, 564 Mantle AS and 571 Spahn AS; PSA NM 7: 2 cards. Minimum bid $5,000.
1962 Topps PSA NM-MT 8 Partial Set (523/598)
The 1962 Topps baseball card set is the firm's 10th Anniversary edition. This high-grade gallery includes each of the Hall of Famers represented in the release, as well as a complete NM-MT run of the scarce "high number" series (#'s 523-598). Includes: PSA NM-MT 8: 523 cards w/#'s 1 Maris, 5 Koufax, 10 Clemente, 18 Mantle/Mays, 25 Banks, 29 Stengel, 30 Mathews, 45 Robinson, 50 Musial, 53 Maris/Mantle LL, 60 Koufax/Drysdale LL, 70 Killebrew, 200 Mantle, 213 Ashburn, 300 Mays, 310 Ford, 317 Musial IA, 318 Mantle IA, 320 Aaron, 350 F. Robinson, 360 Berra, 387 Brock, 394 Aaron AS, 395 Mays AS, 425 Yastrzemski, 471 Mantle AS, 500 Snider, 505 Marichal, 530 Gibson (SP), and 544 McCovey (SP). Minimum bid $5,000.
1911 T3 Turkey Red Cabinets PSA Graded Collection (28) Including 6 Hall of Famers
The 28 items-constituting more than one-fourth of a complete, 100-card set-range between PSA's EX-MT 6 and VG-EX 4 tiers. Most of the items carry the issue's Checklist-style back design. Includes: PSA EX-MT 6 (MK): 2 cards; PSA EX 5 (MK): 4 cards; PSA VG-EX 4: 19 cards w/#'s 16 Evers, 35 Tinker, 40 Willis/Pittsburg & St. Louis, and 87 Collins; PSA VG-EX 4 (MK): 3 cards. Minimum bid $2,500.
1911 T3 Turkey Red Cabinets PSA EX 5 Collection (20)
This exceptional array-comprising exactly one-fifth of a complete, 100-card set-exhibits a consistent and uniform quality of preservation. Most of the impressive, sought-after premiums carry the issue's Checklist-style back design. Includes: Graded PSA EX 5: 20 cards w/#'s 12 Donovan, 15 Elberfeld, 20 Jordan, 29 McConnell, 41 Wiltse, 77 Ames (Turkey Red back), 79 Bell, 81 Bescher, 83 Bridwell (Turkey Red back), 84 Browne, 85 Burns, 86 Carrigan (Turkey Redback), 88 Coveleski, 92 Dygert (Turkey Red back), 95 Graham, 96 Groom (Turkey Red back), 97 Hoblitzell (Turkey Red back), 102 Kling (Turkey Redback), 104 Lennox, and 113 Raymond (Turkey Red back). Minimum bid $2,500.
1911 T205 Gold Border Card Complete Set Plus Variations
This 208-card complete set of 1911 T205 Gold Border tobacco insert cards includes Dougherty and Hoblitzell variations. A cornerstone to many vintage tobacco collections, the T205 release is a virtual feast for the eyes. Sixty-six cards have been graded by PSA. Includes: Graded PSA NM 7: 2 cards w/ Collins/Mouth Closed and Dunn-Minor League; PSA EX-MT 6: 17 cards w/Baker, Bender, Duffy, Griffith, Speaker, and Walsh; PSA EX-MT 6 (MC): 1 card, Jennings; PSA EX 5: 19 cards w/Joss, Tinker, and Wallace/With Cap, Wheat; PSA VG-EX 4: 14 cards w/Brown, Chance, and Young; PSA VG 3: 3 cards w/Evers, and Wallace/No Cap/One Line of 1910 Stats and Wiltse/Right Ear; PSA VG 3 (MC): 1 card, Huggins; PSA GD 2: 4 cards; PSA PR-FR 1: 5 cards w/ Cobb, and Collins/Mouth Open. Minimum bid $2,500.
1912 T207 Brown Background Near Master Set (205/206) With Recruit Cigarette Box
This collection contains a complete set of 200 cards plus variations of Austin, Fisher, Livingston (2) and Mullin. The solo holdout variation is the extremely rare Irving Lewis card that is missing the red emblem on his sleeve. This offering features "Anonymous" (12), Broadleaf (38), Cycle (7) and Napoleon (2) brand advertising backs. Fifty-five cards have been garded by PSA. Includes: Graded Cards - Graded PSA NM 7: 5 cards; PSA NM 7 (OC): 1 card; PSA EX-MT 6: 11 cards; PSA EX-MT 6 (OC): 1 card; PSA EX 5: 21 cards; PSA VG-EX 4: 12 cards; PSA VG 3: 2 cards; PSA GD 2: 2 cards. A 1910-era Recruit Little Cigars slide-tray box that presents at the VG level is also included. Minimum bid $2,500.
1965 Topps NM-MT 8 and MINT 9 Near Set (566)
This is one of the company's more popular 60's issues, featuring a clean design that is complemented with bright colors and sharp photography. Highlights include: Graded PSA MINT 9: 28 cards w/# 500 Mathews; PSA NM-MT 8: 538 cards w/#'s 2 Clemente/Aaron LL, 3 Mantle LL, 5 Mantle LL, 15 Roberts, 16 Morgan, 95 Mazeroski, 120 Robinson, 130 Kaline, 134 Mantle WS, 250 Mays, 260 Drysdale, 300 Koufax, 320 Gibson, 330 Ford, 350 Mantle, 377 Stargell, 385 Yastrzemski, 400 Killebrew, 403 Red Sox, 410 Aparicio, 414 Lopez, 470 Berra, and 510 Banks. Minimum bid $2,500.
1963 Topps High Grade Near Set - All Graded PSA NM-MT 8
This gallery of 555 cards features numerous, genuinely "pack-fresh" cards in its composition-including many of the superstars and Hall of Famers. Graded PSA NM-MT 8: 561 cards w/#'s 1 Aaron LL, 2 Mantle LL, 25 Kaline, 120 Maris, 138 Mays/Musial, 169 Perry, 173 Bombers' Best, 200 Mantle, 205 Aparicio, 210 Koufax, 233 Stengel, 242 Banks/Aaron, 275 Mathews, 320 Spahn, 345 Robinson, 353 B. Williams, 360 Drysdale, 390 Aaron, 400 F. Robinson, 415 Gibson, 446 Ford, 472 Brock, 490 McCovey, 500 Killebrew, 520 Cepeda, 525 Fox, 540 Clemente, and 550 Snider. Minimum bid $2,500.
1909/1910 E97 C.A. Briggs Co. Complete Set on Uncut Sheets
One of the most mysterious releases is the E97 C.A. Briggs Lozenge edition of 30 cards which were sold sometime around 1910. This quite possibly unique 30-subject presentation is in the form of three uncut panels of 12- or 6-card each. The uncut panels include: 1) two rows of 6 players each, 12 total players - Row 1: Kelly, Schlei, Cy. Young/Cleveland, Murray, Sullivan/Chicago and Davis. Row 2 : Camnitz, Rossman, Bransfield, Steinfeldt/"Steinfeldt" and McConnell; 2) two rows of 6 players each, 12 total players Row 1: McIntyre, Mullin, Devore, Birmingham, Hartsel/Hartsel/Phila Amer and Bradley. Row 2: Keeler, Heinchman, Kroh, Moore, Hemphill and Doolan/"Doolan; 3) one row of 6 players Kleinow, Austin, Dygert, Nichols/Cleveland (Nicholls), Carrigan and Meyers. Minimum bid $2,500.
1910 E93 Standard Caramel Complete Set on Uncut Sheets
The E93 Standard Caramel set features many stars of the 1910-era. With black-and-white photos and bold, colorful backgrounds, the set is considered by many to be one of the most attractive early caramel issues. The uncut panels include: 1) one row of 6 players - Evers, Jennings, Plank, Lajoie, Joss and Donovan; 2) two rows of 6 players each, 12 total players - Row 1: Wiltse, Tinker, Phillippi, Cobb, Chase and Brown; Row 2: Dooin, Collins, Wagner, Young, McGraw, and Griffith; 3) two rows of 6 players each, 12 total players - Row 1: Bender, Delehanty, Gibson, Leach, Ames and Waddell; Row 2: Chance, Jones, Coveleskie, Mathewson, Clarke, and Pastorious. Minimum bid $2,500.
1909-11 T206 White Border Near Set (519)
T206's account for many hobbyists' first experience with pose variations, brand distinctions, condition assessments and checklist building. Eighty-four cards have been graded by PSA. Includes: Major Leaguers: Graded PSA EX 5: 10 cards; PSA EX 5 (MC): 2 cards; PSA VG-EX 4: 29 cards; PSA VG-EX 4 (MK): 4 cards; PSA VG 3: 10 cards; PSA VG 3 (MC): 1 card; PSA GD 2: 17 cards; PSA GD 2 (MK): 1 card; PSA PR-FR 1: 4 cards; Minor Leaguers: Graded PSA EX 5: 1 card; PSA VG-EX 4: 3 cards; PSA VG 3: 2 cards. Southern Leaguers: Graded PSA VG-EX 4 (MK): 1 card; PSA GD 2: 1 card. Minimum bid $2,500.
1956 Topps Complete Set (340) Plus Checklists (2)
This 1956 Topps complete set is clearly the product of a long series of very careful selections. A total of 125 cards have been graded and encapsulated by PSA. Includes: PSA MINT 9: 32 cards w/#'s 10 Spahn, and 180 Roberts; PSA NM-MT 8: 86 cards w/#'s 5 Williams, 30 Robinson, 79 Koufax, 107 Mathews, 110 Berra, 120 Ashburn, 130 Mays, 135 Mantle, 145 Hodges, and 150 Snider; PSA NM 7: 7 cards w/#'s 20 Kaline, 31 Aaron, 33 Clemente, and 240 Ford. Minimum bid $2,500.
1960 Topps PSA-Graded Complete Set
With a commendable 7.52 GPA, this quality offering ranks in 12th place on the PSA Set Registry's "Current Finest" list. The offered complete set of 572 cards deftly captures the flavor of the innovative series. Includes: PSA NM/MT 8: 317 cards w/#'s 7 Mays/Rigney, 10 Banks, 28 B. Robinson, 35 Ford, 100 Fox, 210 Killebrew, 250 Musial, 326 Clemente, 343 Koufax, 350 Mantle, 377 Maris, 420 Mathews, 445 Spahn, 475 Drysdale, 560 Banks AS, 561 Kaline AS, 563 Mantle AS, and 564 Mays AS; PSA NM 7: 249 cards w/#'s 1 Wynn, 50 Kaline, 73 Gibson, 148 Yastrzemski, 160 Mantle/Boyer, 200 Mays, 300 Aaron, 316 McCovey, 480 Berra, 490 F. Robinson, 493 Snider, 554 McCovey AS, 558 Mathews AS, 566 Aaron AS and 570 Drysdale AS; PSA EX-MT 6: 2 cards; PSA EX 5: 2 cards; PSA VG-EX 4: 2 cards. Minimum bid $2,500.
THE MARK FRIEDLAND AUTOGRAPHED CARD COLLECTION
A few highlights include:
Autographed 1953 Topps PSA-Authenticated Near Set (271 Different Signatures)
This near set is 99% complete. All of the signatures are ballpoint signed and 97% display "7-10" in strength. The condition of the cards is 81% VG-NM. The only missing signatures are those of Mantle, Fusselman and Paige. Minimum bid $7,500.
Autographed 1955 Bowman PSA Authenticated Near Set (300/320)
This near set is 94% complete. There are 301 signatures, 300 of them different. Eighty percent of the signatures are ballpoint signed and 98% display "7-10" in strength. The condition of the cards is 98% VG-NM. Missing signatures include: Campanella, Mantle, and others. Minimum bid $2,500.
Autographed 1956 Topps PSA Authenticated Near Set (325 Signatures)
This near set is 95% complete. There are 323 signatures, 311 of them different. Ninety percent of the signatures are ballpoint signed and 98% display "7-10" in strength. The condition of the cards is 87% VG-NM. Missing signatures include Clemente, Campanella, Kinder and more. Minimum bid $2,500.
AUTOGRAPHED BASEBALLS
Babe Ruth Single Signed Ball
The strongest indications suggest that this Babe Ruth autograph was penned late in his career, or very shortly after his retirement. The medium is an unofficial ball (but a high-quality Spalding). The signature itself, about "8" in quality, is typically Ruthian in confident strength and glorious flow. LOA from Steve Grad/PSA DNA. Minimum bid $5,000.
Exceptional Ty Cobb Single Signed Ball - PSA NM-MT 8
Ty Cobb penned his magnificent identity to this baseball to fulfill an admirer's request. The inscription reads, "To Barbara Burns From Ty Cobb 3/22/61." The dating on this ball (placed in Cobb's hand) is immensely significant -- history's premier hitter died four months later. The medium bearing this autograph is an OAL (Cronin) baseball. LOA from Steve Grad/PSA DNA. Minimum bid $2,500.
Superb Circa 1930 Babe Ruth and Lou Gehrig Signed Baseball
Arguably the most desired signature combination in the hobby, the scriptings of New York Yankee legends Babe Ruth and Lou Gehrig have been executed prominently on this unofficial sphere. Late in their careers as teammates, their bond was severed to the point of zero communication. But early on-and very likely at the time of this keepsake's signing-the Ruth/Gehrig relationship was decidedly amiable. On the sweet spot, Ruth's blue ink signature shows "7" strength. Gehrig has signed in the identical medium, his scripting projecting "9" strength. LOA from Steve Grad/PSA DNA. Minimum bid $1,500.
BASEBALL PHOTOGRAPHY
Vintage Lou Gehrig Rookie Era Photograph by Charles Conlon Beyond Gehrig's youthful appearance, there is another detail that ties this photograph to the very earliest days of Gehrig's career - Charles Conlon's handwritten notation on the reverse, "Henry L. GEHRIG (Yankees)." It wasn't long before newcomer Henry Louis Gehrig started making headlines and the more familiar, shortened form of his name, Lou Gehrig, gained nationwide renown. Conlon's Evening Telegram stamping appears above his distinctive pencil script on the otherwise blank reverse. The glossy, 6-1/2" x 8-1/2" photo displays in EX to EX/MT condition. LOA from PSA/DNA. Minimum bid $1,000.
Circa 1912 Ty Cobb Portrait Photo by Charles Conlon
The legendary Charles Conlon snapped photographs that saw straight into the souls of his subjects, and this masterpiece is no exception. Conlon's penciled caption, "Ty COBB (Detroit)," is situated on the reverse. LOA from PSA/DNA. Minimum bid $1,000.
Vintage Babe Ruth Rookie Era Photograph by Paul Thompson
Back when Babe Ruth was hurling more baseballs over the plate than he was clouting over the outfield fence, photographer Paul Thompson captured this serene shot of the Red Sox ace completing his delivery. Thompson's copyright stamp is on the reverse, below an unassuming pencil notation, "Ruth - Boston Americans." LOA from PSA/DNA. Minimum bid $1,000.
BASEBALL SIGNATURES
Christy Mathewson 1925 Signed Personal Check - PSA/DNA MINT 9
Autographs from the five inaugural inductees to the Baseball Hall of Fame are highly sought after by a wide spectrum of collectors. Hobbyists are well aware that the most difficult of that 1936 quintet is Christy Mathewson. This is an original signed personal check of Matty drawn on his personal account at the Adirondack National Bank in Saranac Lake, New York. The check is dated September 20, 1924, and is payable to "G.A. Latour" in the amount of $6.00. It is signed at the bottom "Christy Mathewson" in a bold black fountain pen script. Minimum bid $1,500.
August 2006 Premier Auction Preview
Babe Ruth Merry Christmas Personalized Ball and Santa Photo
These items celebrate Ruth's love of children. Included is an OAL (Harridge) baseball signed and inscribed by Ruth, as well as an original black-and-white news service photograph depicting an event from which the ball likely hails. The remarkable clean and creamy sphere is home to Ruth's heartfelt sentiments, which, on a side panel, read: "Merry Xmas to Tommy Wilson - From Babe Ruth - 1947." The accompanying 8-3/8" x 8-1/8" photo reveals Ruth in a Santa Claus suit, embracing one youngster on his lap. LOA from Steve Grad/PSA DNA. Minimum bid $1,000.
BASEBALL AWARDS/TROPHIES
Bill Stafford's 1961 New York Yankees World Championship Player's Ring
Here is the quintessential piece of memorabilia from the magical season of the 1961 Yankees - Bill Stafford's 1961 New York Yankees World Championship player's ring. An authentic diamond placed within a baseball diamond-like setting is surrounded by the raised "New York Yankees World Champions" designation. Also in raised fashion is the year "1961" and the Yankees' stars and stripes emblem. The inside of the size 8 ring's band exhibits engravings of "William C. Stafford" and "Balfour 14K." Minimum bid $2,500.
1977 New York Yankees World Champions Front Office Ring
Genuine diamonds adorn the interlacing "NY" insignia on this 14-karat-gold championship ring, manufactured by Balfour. "YANKEES WORLD CHAMPIONS" encircles the face of the size "11" ring. The shank displays the year ("1977"), a montage of the World Series Trophy and Yankee Stadium, the words "Pride" and "Tradition," a "Yankees 21st World Championship" logo, and the front-office staff member's name "VALDESPINO." Minimum bid $2,500.
UNOPENED WAX BOXES/CASES
1975 Topps Cello Case
This sealed case contains fifteen 24-count boxes of 25¢ cello packs. The factory-fresh items inside could include rookie-year collectibles of George Brett, Robin Yount and Gary Carter. Minimum bid $2,500.
BASKETBALL ITEMS
1961 Fleer Basketball #8 Wilt Chamberlain - PSA GEM MT 10
The Philadelphia Warriors' young center, Wilt Chamberlain, is fittingly showcased in the perfectly developed, black-and-white photo displayed on this spectacular collectible. A flawlessly distributed and fully intact surface gloss on its front, and impeccable printing on both sides additionally distinguish the extraordinary, seemingly never-touched card. Only three copies exist at this grade. Minimum bid $5,000.
1986 Fleer Basketball Graded - GEM MT 10 Set
This gallery of extreme quality is non-improvable. Certainly, card #57 Michael Jordan is the centerpiece of this enticing assembly. The tenacity in capturing all GEM MT quality specimens was most certainly a crusade of epic magnitude. Minimum bid $5,000.
James Naismith Archive Including 20 Complete Or Partial Signatures!
The game of basketball was the brainchild of Dr. James Naismith (1861-1939). In 1891 Naismith was studying at Springfield College in Massachusetts and was asked by his instructor in physical education to develop an indoor activity that would keep the students active and provide a more exciting alternative to calisthenics. The game Naismith devised was basketball. Though he was wholly responsible for its invention, Naismith never sought to capitalize on its success or bask in the glory of fame. His only reward was the enjoyment of those playing and watching the game. This collection of 27 items originating from the estate of Naismith's son includes 20 full and partial signatures. Each example is penned entirely in Naismith's hand, and rate "8-10." Includes: postal used signed envelopes (14); postcards (3); a letter; a signed card; one pen from the Naismith Memorial Basketball Hall of Fame in Springfield, Massachusetts, featuring the sport's centennial logo; a telegram inviting Naismith to a dinner in his honor; publications (5); and a signed publication - The Basis of Clean Living (1918) signed "Compliments of Jas. Naismith" on the inside cover in black ink. LOA from Steve Grad/PSA DNA. Minimum bid $2,500.
FOOTBALL COLLECTIBLES
Warren McVea 1969 Kansas City Chiefs World Champions Super Bowl IV Player's Ring
This is the actual 1969 Super Bowl IV ring that was presented to Kansas City Chiefs running back Warren McVea for his role in the franchise's first, and only, Super Bowl-winning season. The ring has one large diamond, which is encircled by ten smaller diamonds. That glimmering presentation is set atop a red stone, and the bordering relief reveals "KANSAS CITY CHIEFS 1969 WORLD CHAMPIONS." Surrounding the AFL logo on one shank is "McVEA / CHIEFS 17 RAIDERS 7 / CONFIDENCE," and the opposing shank exhibits a very detailed Super Bowl trophy motif with "CHIEFS 23-7 VIKINGS / POISE." Minimum bid $2,500.
1983 Oakland Raiders World Champions Super Bowl XVIII Player's Ring
Aside from the Lombardi Trophy itself, player rings are the most impressive of all Super Bowl collectibles. Offered is the Super Bowl XVIII ring that was presented to Los Angeles Raiders linebacker Stanley Adams following the club's 1983 championship victory. Thirteen authentic diamonds on the face of this Lenox production form three shimmering football motifs (symbolizing the team's three Super Bowl victories). The design is bordered with five small diamonds on each side. Raised relief lettering reads, "LOS ANGELES RAIDERS / WORLD CHAMPIONS." One shank displays "SUPER BOWL XVIII," and includes the AFL logo and a Super Bowl trophy portrayal. The opposing shank features a Raiders logo, which is surrounded by "S.ADAMS / D LINEBACKER 58 / POISE / 1983." Minimum bid $2,500.
1935 National Chicle PSA Graded Complete Set (36) - #8 on the PSA Set Registry
This issue is the cornerstone of football card collecting. The Professional League, as football's top level was named at the time, was still in its infancy when these cards were released. Includes: PSA NM-MT 8: 1 card; PSA NM 7: 11 cards w/#'s 1 Clark; PSA EX-MT 6: 14 cards w/#'s 37 Strong, 9 Rockne, 10 Battles, 11 Edwards, and 24 Hinkle; PSA EX 5: 7 cards w/# 34 Nagurski; PSA VG-EX 4: 2 cards; and PSA VG 3: 1 card. Minimum bid $2,500.
HOCKEY MEMORABILIA
1941 Chicago Coin All-Star Hockey Pinball Machine
Only three of these machines are known to exist, and the item presented is the finest example. One of the most sought-after hockey-themed machines in existence, this wonderful, pinball-style game pits the player against the oh-so-challenging machine itself. Minimum bid $2,500.
1911/12 C55 PSA Graded Set (45)
These collectibles' classic, painted illustrations showcase members of the League's early teams, and every piece is packed with hockey history. Although the delicate C55's are very seldom found in a creditable state of preservation, the offered assembly successfully projects the release's inherent beauty. With the majority of its contents grading EX or better (and an overall GPA of 5.01) this array stands as the 3rd Finest of its kind on PSA's Set Registry. The set includes: Graded PSA NM 7: 1 card, #35 Russell; PSA EX-MT 6: 12 cards w/#'s 25 O. Cleghorn, and 42 Lalonde; PSA EX 5: 22 cards w/#'s 1 Moran, 4 Malone, 20 Taylor, 31 Ross, and 45 Laviolette; PSA VG-EX 4: 8 cards w/# 38 Vezina; PSA VG 3: 2 cards w/#'s 24 S. Cleghorn and 26 Ronan. Minimum bid $900.
BOXING MEMENTOES
Holmes Cooney Fight Original Oil Painting By Leroy Neiman
Don King pulled out all the stops to promote this bout, and even hired renowned sports lithographer LeRoy Neiman to design an official fight poster. Offered is the original oil painting from which the "Holmes vs. Cooney" advertisements were produced, accompanied by a vintage on-site example signed by Neiman. Minimum bid $2,500.
Muhammad Ali 1971 Double-Signed Handwritten Quotations
"The Greatest" penned this pair of quotations in bright-red ink while training for his bout with Jurgen Blin in Zurich, Switzerland. Ali's sentiments express tolerance and respect for all religious peoples, regardless of their faith. The 8-1/4" x 11-3/4" page, with letterhead for Zurich's Atlantis Hotel, exhibits clean EX/MT condition. Ali's flowing script and two stunning signatures grade "10". LOA from Steve Grad/PSA DNA. Minimum bid $500.
GOLF HIGHLIGHTS
Walter Burkemo's Personal 1953 PGA Championship Trophy and State of MI HOF Plaque
Offered is a phenomenal and extremely rare player's victory trophy from the 1953 PGA Championship won by Walter Burkemo. Originally conceived as a match play event, pitting one golfer against another in a single elimination competition, the PGA Championship has evolved into one of the greatest stroke play tournaments. In 1958, the match play event switched to stroke play due to the exploits and the skills which players such as Walter Burkemo displayed. Often credited as a factor in the Professional Golf Association's decision to change to stroke play, Walter Burkemo sustained a record of 27-6 in the championship throughout his years playing, winning in 1953, and posting runner-up status in 1951 and 1954. This beautiful piece is engraved with "Annual Championship of the Professional Golfers Association of America - Rodman Wanamaker Trophy." Etched in the silver ring that encircles the base is "Walter Burkemo - 1953." Accompanying this highly coveted piece is Walter Burkemo's "State of Michigan Sports Hall of Fame" induction plaque. Minimum bid $2,500. 1998 Ryder Cup Championship Team Signed Official Scorecards with Tiger Woods and Payne Stewart This 1999 American Ryder Cup team framed display features the signed scorecards of each member of that triumphant squad. Who could forget the legend-like scenario in which the only possible way for the Americans to win was for a struggling Justin Leonard to sink a 45-foot bender? Indeed, Leonard's polished stroke, and the dimpled-sphere's 45-foot trip to the hole, was followed by an immense eruption of sheer joy and disbelief by the American faithful. The display includes the official scorecards of superstars Tiger Woods, Ben Crenshaw, Justin Leonard, Phil Mickelson, and Payne Stewart. Each golfer's card is tallied in full, and the penciled signatures all reflect "10" strength. LOA from Steve Grad/PSA DNA. Minimum bid $1,000.
FINE ARTS - DECORATIVE GLASS
Among the impressive offerings in the Mastro Auctions August 2006 Premier sale is a substantial assembly of high quality Lalique and Tiffany items. Selected pieces include:
Circa 1900 Tiffany & Co. "Geranium" Lamp
Floral design leaded glass lamps by Louis Comfort Tiffany are considered the ultimate expression of the American Art Nouveau movement. This example draws artistic inspiration from nature and the popularity of "Japonisme," in which western designers interpreted Japanese aesthetic principles of art. The shade and base are in fully original condition. Shade and base stamped "Tiffany Studios." Estimated Value: $50,000-$60,000.
1926 R. Lalique Tourbillons Art Deco Vase
Tourbillons, or "Whirlwinds" is widely considered one of Rene Lalique's finest designs, produced at the pinnacle of his career as a glassmaker. It ranks alongside the most progressive design of the 20th Century in execution and form, and has been chosen to represent the spirit of the Art Deco age in several museum exhibitions. Examples of this version of Tourbillons in clear glass, hand-painted with black enamel, are in several international museum collections. Tourbillons, which is extremely heavy and deeply molded, is a technical as well as an artistic Tour de Force. It was made using highly sophisticated hot press molding techniques, developed and patented by Rene Lalique in the early 1920's. Wheel-cut "R. LALIQUE FRANCE." Lalique design #973. Estimated Value: $30,000-$45,000.
1925 R. Lalique "Susanne" Statuette
René Lalique is widely considered the best sculptor in the history of glass making. In recent years, several collectors have focused on his small range of statuettes, produced mainly in the 1920's. This magnificent figure of a nude with diaphanous gown demonstrates his extraordinary understanding of the female form. It was first shown at the 1925 Paris International Exposition. It is in superb original condition and is presented on an authentically made French bronze illuminating base. Lalique design #833. Molded signature "R. LALIQUE" with engraved "FRANCE." Estimated Value: $18,000-$24,000.
FINE ARTS - PAINTINGS
Walter Emerson Baum 1925 "The Creek Sellersville" Oil on Canvas
This tranquil scene is quite representative of Walter Emerson Baum's oeuvre. Baum often worked en plein air as he rendered the picturesque landscapes in and around his native Sellersville, Pennsylvania. Here, Baum provides a graceful combination of his two specialties, nature and civilization. The reflective Sellersville Creek and its sloping banks are the central focus, while the homes in the distance suggest a human intimacy with the natural world. Estimated Value: $20,000-$25,000.
Eric Sloane "Windy Morning" Oil on Masonite
In addition to being a prolific painter, writer and historian, Eric Sloane was also an amateur meteorologist with a fascination for the ability of early American farmers to accurately forecast the weather. Doubtless, Sloane's interest in weather patterns informed his approach to this artwork, "Windy Morning," in which strong gales ripple the water and sway the reeds, underscoring a vast sky of brewing clouds. Estimated Value: $15,000-$20,000.
COMIC BOOKS AND COMIC ART
The August 2006 Mastro Auctions' Premier event will include the company's full-scale entry into the comic books and comic art market with the roll-out of over 200 quality lots. The Mastro Auctions comic books and comic art division, headed by Chris Porter, was formed in early 2006 and is on schedule to become a major force in this specialized collecting genre.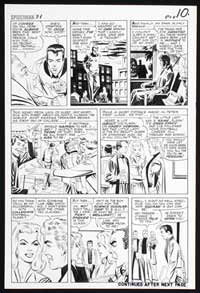 Complete 20 Page Original Art - Spider-Man #31
Every now and then original comic art surfaces in the market and it is always notable because of its intrinsic rarity and substantial value. But to secure the original art for an entire comic book, especially of a popular issue like Spider-Man, especially from Marvel, especially from the Ditko-Lee team, that can only by classified as an industry event. The comic book for which the artwork was created was the first installment of the three-part Spider-Man story that still stands as the true classic of the Ditko-Lee collaboration. This Spider-Man trilogy began with #31, "If This Be My Destiny…!" (December, 1965), continuing into issue #32's "Man on a Rampage!" (January, 1966) and culminating with the unforgettable "Final Chapter!," in issue #33 (February, 1966). The collection of artwork includes the splash page. The minimum bid is $25,000.
Captain America Comics #1 (3/41) - CGC 8.0 VF
This book provides the origin and first appearances of Captain America and Bucky and an intro to the Red Skull. The stories are by Simon, Kirby and Heron, the interior art by Simon, Kirby and Liederman, and the cover art by Kirby. An immediate hit when it first appeared, this comic became a best seller and a Golden Age great. Minimum bid $10,000.
Green Lantern #1 (Fall, 1941) - CGC 7.0 FN/VF
The story is by Bill Finger, the cover by Howard Purcell and the art by Martin Nodell. This example represents the origin of the Green Lantern retold and includes bios and photos of Finger and Nodell. The book was issued at the peak of the character's popularity. Minimum bid $5,000.
Daredevil #1 (April, 1964) - CGC 9.4 NM - Pacific Coast Pedigree
The book has the added distinction of Pacific Coast pedigree which is one of the three most respected in all of the Silver Age collections. It represents the origin and first appearance of Daredevil, Matt Murdock, Karen Page and Foggy Nelson. The story is by Stan Lee, the art by Bill Everett and the cover by Jack Kirby and Bill Everett. Born out of the success of Spider-Man, Daredevil became one of Marvel's most endearing heroes. The minimum bid is $5,000.
Detective Comics #1 (March, 1937) - CGC Restored Grade Apparent 4.0 VG
This amazing book features a Fu Manchu cover by Vincent Sullivan and represents the first issue of the title that would give the company its name. Siegel and Schuster are credited with the story. Only thirteen similar books have been submitted for grading and the top three graded copies have all experienced restoration. The minimum bid is $5,000.
"The Amazing Spider-Man" #1 CGC 9.0 VF/NM
If there is a single character that reigns as the King of the Silver Age, then it has to be Spiderman. No other title has rocketed in value like he has, nor has any other been as consistent in sales. The book features a Kirby/Ditko cover and Ditko interior art. It also includes the first appearance of the man who was to become the greatest thorn ever in Spiderman's side, the bigger-than-life J. Jonah Jameson, and his first "continuing" villain (albeit not continuing very often), the Chameleon. Minimum bid $5,000.
OBJECTS OF ENTERTAINMENT
1944 "Going My Way" Oscar Award Presented to Best Director
Toward the end of World War II, Going My Way swept the Academy Awards in nine categories as Leo McCarey became the first director to win three major honors: Best Picture, Best Director and Best Original Story. Presented here is McCarey's genuine Best Director Oscar for the heartwarming film, which starred Bing Crosby and featured Crosby's famous song "Swinging on a Star." McCarey, whose directing credits also include Duck Soup (1933), The Awful Truth (1937) and An Affair to Remember (1957), enjoyed a 40-year career spanning the mid-1920's to early 1960's. Going My Way was perhaps McCarey's crowning achievement. The award stands approximately 13" tall and its engraved plaque reads "ACADEMY FIRST AWARD TO LEO McCAREY FOR DIRECTION OF 'GOING MY WAY' 1944." As Hollywood collectors are well aware, Oscar statues remain a highly coveted and immensely valuable commodity due to an unusual set of regulations by the Academy of Motion Picture Arts and Sciences. In 1950, the Academy began contractually obligating Oscar winners to retain personal possession of their awards. Pre-1950 Oscars are the only Academy Awards that are legitimately available on the open market. Minimum bid $25,000.
"Tonight Show" 1975-76 Emmy Award
During his long reign as TV's late night king Johnny Carson's efforts earned him 42 Emmy nominations and six awards; one of which is being offered in Mastro Auctions' August sale. Standing 15" tall overall, the familiar-looking trophy showcases a winged woman, head to the heavens, as she hoists a globe-like figure with both arms. The award is engraved, "1975-1976 Television Academy Awards - Special Classification of Outstanding Program and Individual Achievement - The Tonight Show - Starring - JOHNNY CARSON - Fred De Cordova, Producer - Johnny Carson Star - NBC." Minimum bid $5,000.
Issac Hayes' 1972 "Grammy Award"
This is the 1972 Grammy Award bestowed upon the Tennessee-born music mogul for his efforts on the Black Moses LP. An accomplished singer, songwriter and saxophone player, Hayes inked a deal with Stax records in 1967. Although he had already penned "Soul Man" and "Hold on I'm Comin'" for R&B duo Sam and Dave, Hayes' real commercial breakthrough didn't occur until his release of Hot Buttered Soul in 1969. The offered trophy was presented to Hayes at the 1972 Grammy ceremonies. The award stands 6-1/2" tall, with a gold-colored Victrola phonograph and an engraved plaque that reads: "NATIONAL ACADEMY OF RECORDING ARTS & SCIENCES - ISAAC HAYES - BEST POP INSTRUMENTAL WITH VOCAL COLORING - 1972 - "BLACK MOSES" ALBUM." Minimum bid $2,500.
Hirschfeld "Bruce Springsteen" Original Illustration
As a teenager, Hirschfeld lived in New York City and studied art. During the 30's, as theater in America grew and matured, Hirschfeld's job was to capture the essence of each play on opening night. In 1945, his daughter, Nina, was born and Hirschfeld soon started to work the flowing lines of her name into some of his newest works. Hirschfeld did covers for TV Guide, Time, and in 1998 (at the age of 95) an image of Madonna for Rolling Stone. He died during his 100th year. This fabulous original captures "The Boss," Bruce Springsteen, hard at work/play. The famous "NINA Number" which follows his equally famous signature, indicates there are three NINAs hidden in the piece. Minimum bid $2,500.
"I Love Lucy" Original Production Contract Signed by Desi Arnaz
More than 50 years after its inception, I Love Lucy remains one of the greatest situation comedies of all time. This is the original 10-page agreement that essentially established I Love Lucy. The document, typed on Desilu Productions, Inc. letterhead, has been addressed to longtime show producer Jess Oppenheimer by Desi Arnaz (representing Desilu). "Desi Arnaz" and "Jess Oppenheimer" have signed the document on the last page. Both black ink signatures project "10" strength. LOA from Steve Grad/PSA DNA. Minimum bid $1,000.
1990-91 "Fiddler on the Roof" Tony Award for Best Revival Show
This is the actual Tony Award that was presented to producers Barry and Fran Weissler for their revival of the iconic Fiddler on Broadway. This 8"-tall statue features a black base with a small silver plaque on the front which reads, "AMERICAN THEATRE WING - TONY AWARD." Atop the base is affixed a 3"-diameter medallion-one side of which features the Greek masks of comedy and tragedy as well as the raised lettering, "ANTOINETTE PERRY AWARD." It is inscribed, "Presents The American Theatre Wing's Tony Award to Barry and Fran Weissler Best Revival of a Play or Musical - Producer Fiddler on the Roof 1990-91." Inexplicably, the producers' last name is misspelled "Wweissler" on the award! Minimum bid $1,000.
Elvis Presley's 1st William Morris Contract
In late January, on the heels of Elvis's first national television appearance (The Dorsey Brothers Stage Show) and his new contract with RCA, Colonel Tom Parker could see that 1956 would be a watershed year for his young star. On January 31, a day after recording his legendary version of "Blue Suede Shoes," Elvis signed this three-year agreement with the reputable William Morris Agency. Presley's name appears twice on the two-page, 8-1/2" x 11" document. The rocker endorsed the contract with a crisp blue ink signature, "Elvis Presley" ("10") on the appropriate line. The agreement grants 10 percent of Presley's earnings to the William Morris Agency. LOA from Steve Grad/PSA DNA. Minimum bid $1,000.
PRESIDENTIAL PEDIGREE
Superlative Thomas Jefferson 1802 Signed Handwritten Letter As President with Incredible Historical Content
President Thomas Jefferson dispatched this important letter on New Year's Eve in 1802, a mere four months before the fulfillment of his crowning achievement in office, the Louisiana Purchase. This letter actually relates to the historic Louisiana Purchase. In his letter, Jefferson writes an extraordinary line about the Mississippi Territory-and, by extension, about the entire Louisiana Purchase-and discusses his other personal aims to energize Congress on the subject of commerce and to strengthen the Navy, noting that, beyond these three objectives, there is "little interesting proposed". The one-page missive is addressed to Caesar Augustus Rodney. Jefferson's signature rates "8-9" in strength and the letter is in overall EX/MT condition. LOAs from Steve Grad and John Reznikoff/PSA DNA. Minimum bid $10,000.
Superb John Adams 1819 Signed Letter with Significant Historical Content
In this extraordinary two-page letter, John Adams waxes poetic on the nature of democracy, invokes biblical imagery, references his fellow forefather Thomas Jefferson and revisits the worldwide success of his 1787 pamphlet A Defence of the Constitutions of Government of the United States of America. The former President strives to educate his unidentified correspondent-whom Adams notes demonstrates "an inquiring mind"-on a number of subjects, in what appears to resemble a mentoring relationship between the two men. Adams' characteristically shaky signature, a sign of his 80-plus years of age, evaluates as "10" in strength. LOAs from Steve Grad and John Reznikoff/PSA DNA. Minimum bid $5,000.
George Washington Handwritten Signed Letter
With this discharge, General George Washington relieved injured soldier Robert Hargrove of his service in the Revolutionary War. Washington's large and dramatic signature rates "8" in strength. LOAs from Steve Grad and John Reznikoff/PSA DNA. Minimum bid $2,500.
POLITICAL CAMPAIGN ITEMS
Magnificent Pair of the "Winners" Pin from the 1912 Presidential Campaign
Hope springs eternal, as the saying goes. But when the dust finally settled after the contentious 1912 election, only one of the four main slates-Taft/Sherman (Republican), Wilson/Marshall (Democrat), Roosevelt/Johnson (Progressive) and Debs/Seidel (Socialist)-could rightfully declare itself victorious. Woodrow Wilson and Thomas Marshall ultimately triumphed at the polls, as their "Winners" pins had predicted. William Taft and James Sherman's matching design proved false. Consequently, Taft/Sherman "Winners" pins are virtually impossible to obtain, with only a scant few examples thought to exist. This offered Taft/Sherman specimen is a top-grade survivor. It exhibits astonishing Near Mint condition, as does its extremely bright Wilson/Marshall counterpart. Minimum bid $2,500.
Extremely Rare Classic 1908 Taft "Steamroller" Pin
Truly a classic Taft pin! The crowded 1908 campaign generated an amazing array of collectable items, none more desirable than this fabulous "Steamroller" pinback. Its priceless caricature design depicts Taft on the bow of a clearly unstoppable, forward-moving piece of heavy industrial equipment, with Teddy Roosevelt at the wheel-steering, cheering and pressing the throttle to the fullest! This pin is among the scarcest and most valuable of all 1908 Taft pins. Minimum bid $2,500.
NON-SPORTS CARDS
"Horrors of War" Original Artwork Collection of 135 Different - PSA Authenticated
Presented is a collection of 135 pieces of original art created for the R68 Horrors of War series for Gum Inc. to debut in 1938. This gallery of graphic depictions of war-inflicted fatalities is reflected in the images revealing the bloody conflict that surrounded the events of World War II. The collection originates from the family of Charles Steinbacher, who was the Art Director for the George Moll Agency, which secured Gum Inc. as a client. Minimum bid $10,000.
1940 R145 Gum Inc. "Superman" PSA-Graded Complete Set (72) #1 on PSA Set Registry!
These wonderful collectibles feature artistic cardfront "action" illustrations and detailed text on the reverse. The "Man of Steel" never looked better than on these patriotic, multi-colored cards dominated by neon-like red-white-and-blue tones. Among the most popular of all the 1930's-1940's pre-war gumcard issues, the Superman set is particularly difficult to complete due to its very scarce high series cards (numbers 49-72). The collection includes: Graded PSA NM-MT 8: 27 cards; PSA NM-MT 8 (OC): 1 card; PSA NM 7: 28 cards; PSA EX-MT 6: 8 cards; PSA EX 5: 7 cards; and PSA VG-EX 4: 1 card. Minimum bid $5,000.
1965 Topps "King Kong" Test Set (55)
The offered assembly holds the #1 ranking on the "Current" and "All-Time" Finest lists on the PSA Set Registry with a stellar 8.38 rating. This remarkably pure set is a one-of-a-kind offering of seldom-seen test issue pieces. Includes: Graded PSA GEM MT 10: 9 cards; PSA MINT 9: 20 cards; PSA MINT 9 (OC): 14 cards; PSA NM-MT 8: 10 cards; PSA NM 7: 1 card, #14; and PSA EX-MT 6: 1 card. Minimum bid $2,500.
COINS/CURRENCY
1907 St. Gaudens High Relief Wire Edge PCGS MS66
Simply stated - this is perhaps the most beautiful coin ever designed in the U.S. or any other country for that matter. The pristine beauty of the offered specimen could make it a work of fine art. Minimum bid $10,000.
Silver Dollar Collection (129)
More popular today than when originally minted, silver dollars were routinely delivered directly from the Mint to the Treasury where they were sat for almost a century as backing for paper silver certificates. During the Nixon administration, the General Services Administration offered these coins for sale to the public in special holders with Certificates of Authenticity. Minimum bid $5,000.
For More Information
To pre-register for Mastro Auctions August 2006 Premier Auction and receive auction catalogs, call 630-472-1200 or go to www.mastroauctions.com.
About Mastro Auctions
Mastro Auctions of Burr Ridge, Ill., is part of the Silkroad Equity family of companies. It is the leading high value collectibles auction company. The company has sold many of the most famous and valuable sports and Americana collectibles ever offered to the public, including the most expensive baseball card in history, the T206 Honus Wagner which sold for nearly $1.3 million, Norman Rockwell's "The Dugout" for $355,000, Roger Maris' 1961 jersey he wore when he hit home run #61 for $302,000, the bus Rosa Parks rode on when she refused to stand for segregation for nearly $500,000 and the famous Steve Bartman Cubs foul ball for over $100,000.