Dallas, TX - Heritage Auction Galleries' Sports Collectibles division will present a fabulous array of vintage sports memorabilia and trading cards in their upcoming May 6, 2006 Signature Auction to be held in Dallas, Texas.
"This figures to be one of the most exciting auction events of the year," said Chris Ivy, Director of Heritage Sports. "A very large percentage of the material we've located is fresh to the hobby, and often one-of-a-kind."
"This is certainly true of the personal collection of sporting legend Jim Thorpe, which came to us from a close friend of the Thorpe family. One incredible lot features the only known game worn Carlisle equipment, a helmet and pair of cleats, worn by the school's greatest legend."
(LOT 19381)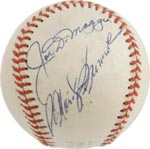 "Fresh to the collecting hobby and clearly the finest of its kind is a remarkable signed baseball bearing the autographs of the most famous celebrity couple of all time, Joe DiMaggio and Marilyn Monroe," said Ivy. "It ranks as one of the most appealing signed baseballs in the hobby."
(LOT 19023)
"Just in time for the fortieth anniversary of the most historic game in college basketball history comes a jersey worn by star guard Willie Worsley in the 1966 NCAA Finals. The heroic victory of five African-American starters over all-white powerhouse Kentucky was the subject of the 2006 Disney blockbuster film Glory Road."
(Lot 19210)
"Hardcourt fans will also fall in love with one of the finest Wilt Chamberlain game worn jerseys ever place upon the auction block, showing heavy wear from the end of the Stilt's Hall of Fame career with the Los Angeles Lakers."
(Lot 19211)
"Game worn jersey collectors who focus on baseball won't want to miss the incredible pinstriped New York Yankees flannel worn by Hall of Famer Phil Rizzuto during his second season in the Majors," Ivy noted. "The rare WWII "Health" patch on the sleeve is worth a fortune on its own."
(LOT 19657)
"The earliest known Ty Cobb game used bat, dating from the 1906 to 1907 era, is certainly one of the most remarkable offerings of vintage lumber to reach the auction block in some time."
(LOT 19631)
"We're also thrilled to present an exceptionally rare game used baseball that saw action during the notorious Black Sox World Series of 1919." Ivy said. "Vintage notations on the baseball leave no doubt as to the sphere's brush with baseball infamy."
(LOT 19652)
"Happier World Series days are recalled with the presentation of the 1924 World Series victor's pendant presented to Washington Senators catcher Muddy Ruel, whose footprint on home plate in the bottom of Game Seven's twelfth inning sealed the team's sole Championship.
(LOT 19511)
"High-quality baseball photography is a solid theme in this auction, with an even finer example of the 1911 Addie Joss benefit game panoramic photograph that set a record price in our October 2005 auction being made available to the collecting public for the first time."
(LOT 19433)
"We believe that the 1928 New York Yankees panoramic photo we located in St. Petersburg, Florida, less than one mile from the spring training grounds where it was shot, is the only such example ever seen within the hobby. And the condition is simply phenomenal," Ivy said.
(LOT 19447)
"Also surviving many decades in magnificent condition is a phenomenal 1914 large studio photograph of Hall of Fame pitcher Christy Mathewson, inscribed and signed to a fraternity brother in strong vintage ink. It certainly ranks as one of the most appealing Mathewson signed artifacts on earth."
(LOT 19050)
"There's something for collectors of every discipline in this auction," said Ivy, "and this is only a preview of the treasures it holds. We also have a large and beautiful run of early New York Yankees World Series press pins acquired from the estate of the team treasurer, and a collection of eight 19th century tobacco card advertising posters we located on the Baltic coast of Sweden. And, of course, there are scores of quality offerings of autographs, game used pieces and trading cards here as well. I'd invite every sports fan to take a look at www.HeritageAuctions.com/Sports to see the rest of the marvels offered in this exciting event."
Heritage Auction Galleries' Sports division specializes in rare and collectible sports cards, as well as uniforms, equipment, and related vintage sports memorabilia. Consignments for future Signature Sports Auctions are currently being accepted. Prospective consignors or sellers of quality vintage sports cards and sports memorabilia are encouraged to contact:
Chris Ivy at 800-872-6467 Ext. 319 or email: [email protected]
Stephen Carlisle at 800-872-6467 Ext. 292 or email: [email protected]
Jonathan Scheier at 800-872-6467 Ext 314 or email [email protected]
Sam Foose at 800-872-6467 Ext. 227 or email: [email protected]

To order the next Heritage Sports Collectibles Signature catalog, contact Nicole Jewell at 800-872-6467, ext. 272, or write c/o Heritage Sports Collectibles, 3500 Maple Avenue, 17th Floor, Dallas, TX 75219.