During the summer of 1955, mothers in NYC and other cities across the North East and mid-West were being coerced into buying Armour hot dogs so their sons could get the plastic baseball player coins inside each package. The gimmick worked! I can remember that at the age of six, I couldn't wait for Wednesday night, franks and beans night, because it meant I would get a colorful baseball coin. My eyes were closed tight as I held my hand out hoping to receive Yogi Berra, Whitey Ford or "the Mick" Mickey Mantle.
There were 24 different players in the set representing the 8 American League and 8 National League teams. NYC got 10 players, including 5 Yankees, 3 Dodgers and 2 Giants while all the other teams had to settle for 1 or 2 players, and the Orioles had none. When I finally got an orange Mantle coin, my father laughed and told me that they had spelled his name incorrectly (Mantel instead of the correct Mantle).
1955
1959
1960
Player
Team
Player
Team
Player
Team
Antonelli
Giants
Aaron
Braves
Aaron
Braves
Berra
Yankees
Antonelli
Giants
Allison
Senators
Crandall
Braves
Ashburn
Phillies
Banks
Cubs
Doby
Indians
Banks
Cubs
Boyer
Cardinals
Finigan
Athletics
Blasingame
Cardinals
Colavito
Indians
Ford
Yankees
Cerv
Athletics
Conley
Phillies
Gilliam
Dodgers
Crandall
Braves
Crandall
Braves
Haddix
Cardinals
Ford
Yankees
Daley
Athletics
Jackson
Cubs
Fox
White Sox
Drysdale
Dodgers
Jensen
Red Sox
Jensen
Red Sox
Ford
Yankees
Kluszewski
Redlegs
Kuenn
Tigers
Fox
White Sox
Kuenn
Tigers
Malzone
Red Sox
Kaline
Tigers
Mantle
Yankees
Podres
Dodgers
Malzone
Red Sox
Mueller
Giants
Robinson
Redlegs
Mantle
Yankees
Reese
Dodgers
Sievers
Senators
Matthews
Braves
Reynolds
Yankees
Skinner
Pirates
Mays
Giants
Rosen
Indians
Thomas
Pirates
Pinson
Redlegs
Simmons
Phillies
Triandos
Orioles
Stuart
Pirates
Snider
Dodgers
Turley
Yankees
Triandos
Orioles
Spahn
Braves
Vernon
Senators
Wynn
White Sox
Thomas
Pirates
Trucks
White Sox
Turley
Yankees
Vernon
Senators
There were no coin giveaways in 56-58, but they came back in 1959, and then again in 1960. By 1959, I was 10 years old and could read the coins myself. My father had me keep my '55 Armours in a cigar box with my Yankee baseball cards. In 1959, the Dodgers and Giants moved to California and the Armour coins had only Ford and Turley (both Yankee pitchers) as NY players. I was not too happy about that. What about the hitters like Yogi and Moose, Hank Bauer and Tony Kubek and where, oh where, was the Mick who had hit 42 dingers in 1958!
I did not spend too much time on the 1959 coins, just tossing them in to the cigar box as my mom gave them to me. In 1960, my attention was revived when I got my first Mantle coin, a red beauty, a few weeks into the summer. I also got several lime green Mantels that summer of 1960 and a yellow Whitey Ford who, along with Del Crandall, are the only players to show up in all 3 years.
After the summer of 1960, Armour terminated the giveaway and my few dozen coins lay dormant in my cigar box till the late 80's. In 1987, my 15 year old son and I were reading the latest copy of Sports Collectors Digest, when I came upon an article on Armour coins. Not only did they checklist the sets and point out several '55 and '60 variations, but they also detailed the multitude of colors that existed. I recall telling my son, "Hey I've got some of those in the old cigar box." Sure enough they were still there. In the next several years, I was able to nearly complete the 1960 set relatively economically by attending several card shows in the Boston suburbs, where we lived.
With my introduction to eBay in 1999, I found that several Armour coins appeared up for sale every week. At first $3 - 5 would buy you most of the common players in most of the common colors. As I began to accumulate these coins, I decided that my quest would become completing the '55, '59 and '60 sets in all available colors.
As I have communicated with other buyers and sellers out there in eBay land over the last half dozen years, some things became very clear……
For Armour Coins, COLOR is the Key
While the available price guides pointed out that there were common and rare colors, not too many people really understood which ones were rare. Together with some of the other expert collectors, including 3546Doug and sflayank here is what we've come up with:
1955
common: red, orange, aqua, navy blue, pale green
tougher: 4 shades of yellow including a chalky yellow and a dark yellow
rare: dark red, dark red (transparent), pale orange, navy blue (transparent), dark green, lime green, black
very rare: pale blue, tan, gold, silver

1959
common: 4 shades of red / red orange in opaque to translucent variations, orange, navy blue, royal blue, medium green (near transparent)
rare: pale yellow, opaque dark green, opaque pale green, pale blue, grey/green, pale pink, pink
very rare: cream, light blue with colored speckles, aqua with colored speckles, yellow

1960
common: red, red/orange, yellow, lime green, dark green, pale blue, royal blue
rare: light yellow, mustard yellow, aqua, grey/blue, navy blue, salmon

While it appears that all players are available in all colors in 1955, 1959 coins were divided into two groups. The Antonelli group (highlighted in yellow) were the only coins available in opaque light green and the two shades of pink, while the Aaron group were the only ones available in pale blue and grey/green and the speckled varieties.
In 1960, the Allison group (highlighted in blue) were available only in red/orange and yellow and the rare mustard yellow and salmon. The Aaron group, which includes stars Mantle, Aaron and Banks, were available in all the listed colors except mustard yellow.
The Ultra Rare 1960 Daley
The collector with casual knowledge about Armour coins will tell you that the Daley 1960 is the key coin of the set. The catalogs will tell you it is worth $1200+. In ungraded form, it has sold for $500+ on eBay, I have never seen a graded one for sale (only 3 have been graded; (2) 9's and (1) 8 as of this writing).
While the price guides indicate that "rare colors can bring 2x the common color prices" rare colors such as 1955 black or 1959 pink bring the real collectors out of the woodwork and routinely garner $100 for ungraded coins or 10X their common color prices.
| | | |
| --- | --- | --- |
| | | |
| The Infamous 1960 Daley Mint | | 1955 Doby Gem Mint 1955 "Mantel" |
Recent Variations
It may be hard to believe that 50 year old coins could continue to have variations show up but that is the case for Armour coins. In 1987, (2) 1955 variations were documented - the 1955 Mantle coin spelled both as Mantel and Mantle ( the correct spelling is the ultra rare coin) and the Harvey Kuenn coin whose name at the top front of the coin is either "condensed" or "spread out" from the normal printing on the coins.
In the 1960 set, two variations were noticeable when the coins came out. Aaron was available with both "Braves" and "Milwaukee Braves" on the front of the coin and Malzone was likewise available with both "Red Sox" and "Boston Red Sox" (the longer full team names being rarer). Soon thereafter, the Drysdale coin was found to have both "L.A." normal and "L. A." spread variations with the occurrence of both being about equal.
In the last few years, by comparing collections, "doug" "south florida" and I have come up with several more '55 variations. Antonelli with New York Giants on the reverse is significantly rarer than the common N.Y. Giants variation and Virgil Trucks with "White Sox" two words on the front is significantly rarer than the common one word "Whitesox" variation. These have been accepted by Bob Lemke in the 2004 Standard Catalog of BB Cards. Several more variations we have found involving Gilliam, Jensen, Randy Jackson, a third variation of Kuenn and an additional Mantle variation will be listed in the 2006 Standard catalog.
Bust Tilts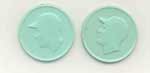 Another, though much more obscure variation is "bust tilts". In the pair of aqua Berra's that are shown, the tip of the brim of the cap or the point of the neck point to two distinctly different areas on the periphery of the coin. This is not random. Only two different tilts occur for Berra and the rest of the '55 coins. So far no such consistent pattern has been observed in the 1959 or1960 coins. It is assumed that this occurred from production of the coins from two distinctly different molds.
Swirls
Most collectors love the coins that are one color with a "swirl" of another color in the plastic. We assume this phenomenon was caused when the colors were changed and the mold was not cleaned out. Shown is a 1959 Turley where blue plastic has been mixed with a swirl of red.
Opacity
You will also find hardcore collectors talking about the "opacity" of the coins. In all 3 years, there are coins that are nearly transparent, translucent and completely opaque. That is shown in the medium green and the light green (with a swirl) 1959 Jensen coins. You can see when they are backlit that the medium green coin is transparent (you can see the letters on the back of the coin) while the lighter green coin is completely opaque.
Grading Armour Coins
Before PSA started grading Armour coins, ascertaining condition from the seller was like pulling teeth. Did the coin have chips or nicks on the front or back rims? Does the coin have scratches that the eBay scan does not show, are the raised letters, the rims or the facial features worn. Many of the coins listed as Near Mint were in reality VG or less.
As of this writing, there are (172) 1955's, (142) 1959's and (376) 1960 coins graded and listed in the PSA Population Report. This number appears to be growing monthly both in the PSA Population Report and with more graded coins appearing on eBay. As you might expect, Mantle is the most graded coin.
Having compiled pricing from eBay auctions of these coins for the last 6 years I thought it might be interesting to compare buy/sell prices for graded vs. ungraded coins. For instance for 1955 coins, I have data for 67 eBay sales vs. the 172 coins that have been graded. So far very, very few rare colors have been graded and auctioned off. Since PSA does not track color in the population report, the number of different colors graded is unknown. In terms of perceived value, the table shows that "good looking ", ungraded coins (no obvious flaws when viewing the auction) overlap the PSA 8 value range whereas PSA 10 coins bring a 2X - 4X premium.
| | | |
| --- | --- | --- |
| | 1955 Berra (red) ($ at auction population) | 1960 Banks (pale green) ($ at auction; population) |
| Ungraded (appear nm on EBay) | 18 - 34 (4) | 9 - 25 (6) |
| Graded PSA 8 | 22 - 46 (2) | 22 - 44 (2) |
| Graded PSA 10 | 100 - 300 (2) | 102 - 105 (4) |
What started out with a six year old in Hell's Kitchen hoping to see Mickey Mantle appear from a package of hot dogs has evolved through the years into an enjoyable hobby that will take me into retirement. With variations, colors and bust tilts I have calculated that there are well over 1000 different Armour coins out there, more than any one collector can ever hope to assemble - but I'll be trying !.
The author would love to hear about your rare Armour coins and can be reached at [email protected]