Last December, MastroNet, Inc., the world's leading Sports and Americana auction house closed its largest sale of all time which set a new record for an event of its kind. On the heels of this $13.5 million December sale, MastroNet is already prepared to hit the block running in 2006 with one of its Classic Collector events. MastroNet's Classic Collector auctions, created to appeal to a wider collecting audience, are conducted entirely over the internet. The auctions are industry favorite's due to their diversity, quality and ease of participation.
The February MastroNet Classic Collector auction will include over 1,500 lots of phenomenal Sports and Americana items. All of the lots will open with a minimum bid of $100.00. Bidding will begin on February 13 and conclude on March 2. Specific highlights include:
SPORTS MEMORABILIA
BASEBALL CARDS
The John Branca Collection - PSA Beauties
The MastroNet February Classic Collector auction will feature yet another installment of the John Branca Collection. This represents the sixth installment of the collection. This immense collection has required more auctions than any other collection MastroNet has ever offered to properly auction the cards to the collecting public. Most of the cards in the Branca collection have been made even more valuable by PSA grading. For a complete look at the cards from the Branca collection being offered go to www.mastronet.com.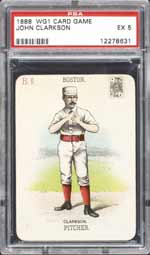 1888 WG1 Base Ball Playing Cards with John Clarkson - PSA EX 5
No cards like this one are graded higher. The offered card's subject is the slight-statured Hall of Fame hurler John Clarkson, who at the time was approaching the pinnacle of his fame. Clarkson is presented in a ready-to-throw pose in the series' unique line-drawing illustration format.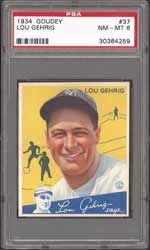 1934 Goudey #37 Lou Gehrig - PSA NM-MT 8
Only two examples of this card are graded higher than this one. A treasure of a Goudey collectible, this item features striking and brightly colored artwork, and showcases an illustration that is among the most enduring and recognizable images of "The Iron Horse."
1933 R333 Delong Complete Set (24)
This 1933 set was DeLong's only baseball card effort, after which the manufacturer was never heard from again. DeLong's have always been revered by advanced collectors. Complete sets are rarely offered and include: 5 Gehringer (VG/EX), 6 Cochrane (FR), 7 Gehrig (GD), 8 Cuyler (GD), 12 Traynor (GD), 13 Maranville (FR), 14 Gomez (VG), 19 Hafey (FR/GD), 21 Foxx (FR), 22 Klein (FR) and 23 Grove (VG).
1930/31 Blue Ribbon Malt Premium Collection - Chicago Cubs (21) & White Sox (14)
In 1930, the Chicago-based Blue Ribbon Malt sponsored a production of photo premiums heralding the Cubs and White Sox. They're quite scarce because the product didn't directly appeal to kids and the redemption method was inconvenient. Includes: 1930 Cubs (19 diff., 5" x 7", mounted to leather-textured paper backings) includes: Gabby Hartnett, Ki Ki Cuyler, Rogers Hornsby, Joe McCarthy and Hack Wilson. 1930 White Sox (11 diff., format and condition same as '30 Cubs) includes: Red Faber and Ted Lyons. 1931 Cubs and White Sox (6 diff., 4¾" x 6 7/8", unmounted, but all with caption "Compliments of Blue Ribbon Malt - America's Biggest Seller."
1951-1959 Topps Complete Set (2) and Partial/Near Set Collection
This is a tremendous chance for a collector to get a huge start toward assembling complete sets of every major Topps issue (minus 1951 Blue backs) from 1951 through 1959. Included among the 2,912 collectibles are: 1951 Red Backs - partial set - 29/52 cards; 1952 Topps - partial set - 357/407 cards; 1953 Topps - near set - 271/274 cards; 1954 Topps - near set - 246/250 cards; 1955 Topps - near set - 201/206 cards; 1956 Topps - near set - 334/340 cards plus two checklists; 1957 Topps - near set - 403/407 cards plus two checklists; 1958 Topps - complete set of 494 cards; 1959 Topps - complete set of 572 cards.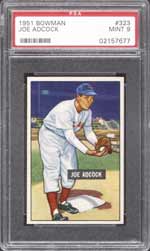 1947-1955 Bowman Baseball Run of Near or Partial Sets (8)
Bowman Gum ushered in the modern age of baseball trading cards and left an indelible mark on hobby history. This content-inspired assortment displays the evolution in design and quality Bowman attained in its battle for dominance in the market against Topps. Includes: 1948 Bowman - near set - 44/48 cards; 1949 Bowman - partial set - 123/240 cards; 1950 Bowman - partial set - 196/252 cards; 1951 Bowman - partial set - 196/324 cards; 1952 Bowman - partial set - 224/252 cards; 1953 Bowman Color - partial set - 124/160 cards; 1953 Bowman Black and White - partial set - 19/64 cards; 1954 Bowman - near set - 221/224 cards; 1955 - near set - 315/320 cards.
Unique 1939 Play Ball Collection (66 Different) with Many Overprinted Ad Backs Including Joe DiMaggio
What makes this assembly unique is the fact that 35 cards have the "FREE Sample Card" overprint stamp including Joe DiMaggio. To date only cards #'s 1-115 have been found with this promotional stamp. This collection of cards includes: 1939 Play Ball (31 cards without overprint stamps) - includes #'s 52 Henrich and 143 Averill; 1939 Play Ball (35 cards with overprint stamp) - includes #'s 3 Ruffing, 4 Manush, 5 Sewell, 7 Doerr, 26 DiMaggio (PSA EX-MT 6), 30 Dickey, 48 Gomez, 53 Hubbell, and 82 Klein.
BASEBALLS
Large Single Signed Baseball Collection (252) with Mantle (3), Williams (2) and DiMaggio
The autographs of Hall of Famers, superstars, key talents and role players and even those of entertainment personalities have been scripted on these OAL, ONL and unofficial spheres. The inked signatures average "7-10." Highlights include: Hank Aaron, Ernie Banks, Johnny Bench, Joe DiMaggio, Bob Feller, Carlton Fisk, Mickey Mantle, Eddie Mathews, Stan Musial, Jim Palmer, Pee Wee Reese, Pete Rose, Duke Snider, Ted Williams and Carl Yastrzemski. LOA from Steve Grad/PSA DNA.
Multi-Signed Baseball From 1951 Shibe Park Old Timers Game with Jimmie Foxx, Lefty Grove and Frank Baker
This ONL (Frick) ball was signed by 22 participants during an Old Timers Night Game played on August 29, 1951 in Philadelphia. Most signatures are "7-9" and include: Rabbit Maranville ("7"), Lefty Grove ("8"), Jimmie Foxx ("8"), and Frank Baker. LOA from Steve Grad/PSA DNA.
1935 Chicago White Sox Autographed Baseball with Appling, Conlan, Lyons and Simmons (20 Signatures)
Jocko Conlan earned his Cooperstown niche on the strength of his umpiring career. Jocko did actually make it to the majors in the mid 30's as a White Sox centerfielder. It didn't last long, just spot assignments in 1934 and 1935. His autograph as a rostered player is a profound novelty. Conlan signed this OAL (Harridge) ball along with 19 others as just one of the guys on the team in 1935. The autographs average "6-7" and include: Jocko Conlan ("6"), Luke Appling, Al Simmons ("8") and Ted Lyons. LOA from Steve Grad/PSA DNA.
Babe Ruth/Lou Gehrig Signed Baseball
This medium-toned ONL ball features Babe Ruth's signature ("7") on the sweet spot. On the adjacent panel is Lou Gehrig's autograph ("5"). Both signatures are in blue ink. LOA from Steve Grad/PSA DNA.
Ty Cobb Signed Baseball - Presents As A Single
This Official California League (Donovan) ball, signed by Hall of Fame immortal Ty Cobb ("7-8") shares the side panel with the League President's stamping. The offered ball is commendably white and very lightly toned. Another individual's signature on the opposing side panel is completely invisible when viewing the Cobb inscription. LOA from Steve Grad/PSA DNA.
Willie Mays Baseball - PSA 10 GEM MINT
The collector demanding the ultimate in perfection will appreciate this Willie Mays sweet spot signing. The signature and the ball are flawless, grading "10." LOA from Steve Grad/PSA DNA.
BASEBALL BATS
Ken Hubbs 1962-1963 H&B Game Used Bat
Hubbs wielded this H&B "S2" signature model bat during his limited - but spectacular - days on the diamond. This 34½", 31½ oz. white ash weapon hails from the 1961-1964 labeling period and can be narrowed to 1962-1963, as Hubbs met with an untimely death in February, 1964.
Nellie Fox 1961-1964 H&B Game Used Bat - MEARS A-6
This H&B "C12" signature model bat was employed by Fox during the twilight of his career. This 34½", 33 ½ oz. white ash piece of lumber is from the 1961-1964 labeling period and features a legible centerbrand and barrel stampings.
JERSEYS UNIFORMS
Carlton Fisk 1991 Chicago White Sox Game Worn Jersey
Legendary backstop Carlton Fisk wore this Chicago White Sox home jersey during the 1991 season. Remarkably durable at the age of 43, Fisk performed to the tune of 18 homers and 74 RBI that year. This uniform's particular style made its debut that year. The item reveals light wear. LOA from Chicago White Sox team.
Paul Konerko 2002 Chicago White Sox Game Worn Road Jersey
Paul Konerko wore this White Sox road jersey during the 2002 season. The gray knit garment features "Chicago" angled across the chest and the slugger's number "14" sewn to the back and lower left. "KONERKO" is arched above the number on the back. The jersey has light game wear. LOA from Chicago White Sox team.
Matt Karchner 1997 "Turn Back the Clock" Signed Game Worn Jersey
Offered is the complete uniform donned by Chicago White Sox reliever Matt Karchner during a "Turn Back the Clock" interleague contest with the visiting Chicago Cubs on June 16, 1997. Made to resemble the team's 1917 uniforms, the signed white knit button-down jersey features "Sox" sewn to the left breast and Karchner's number "47" sewn to the back. Karchner's black sharpie signature ("9-10") lies just above the logo on the left breast. The items reveal evidence of minimal wear. LOA by White Sox Charities President Robert Gallas and Steve Grad/PSA DNA.
Tony LaRussa Chicago White Sox 1982-1986 Signed Game Worn Batting Practice Jersey
Offered is a signed Chicago White Sox batting practice jersey worn by manager Tony LaRussa during the last five seasons (1982-1986) of his tenure in the Windy City. This red mesh pullover garment features "SOX" sewn in white on blue double tackle twill across the chest and the skipper's number "10" applied to the back. Signed twice, both "9-10" in strength. LOA from Steve Grad/PSA DNA.
BASEBALL AUTOGRAPHS
Eddie Mathews 1959 Signed Player Contract
This 1959 contract was signed by Hall of Fame slugger Eddie Mathews. Contents of the contract include the date and the promised stipend of $50,000.00. In addition to Mathews' signature, National League president Warren Giles and Braves general manager John Quinn have signed the document. All autographs grade "10." NM condition. LOA from Steve Grad/PSA DNA.
Hank Aaron 1959 Signed Player Contract
This is the actual contract signed by Aaron to remain the property of the Milwaukee Braves in 1959. The details include Aaron's salary of $35,000.00. Aaron has signed the contract ("9-10") along with Braves executive vice president George Tebbets and National League president Warren Giles. All signatures grade "10." EX/MT condition. LOA from Steve Grad/PSA DNA.
Ty Cobb 1949 Signed Personal Check - PSA 10 GEM MINT
Cobb filled out and signed this First National Bank of Nevada check in his familiar green ink to "Rotary Oil and Burner Co." in the amount of $90.67 on May 31, 1949. LOA from Steve Grad/PSA/DNA.
1933 Goudey #127 Mel Ott Autographed Card
The offered card conveys a dramatic image of Giants slugger and 500 HR Club member Mel Ott. The singular autograph, "Mel Ott," grades "8" and provides the ultimate enhancement to this memento. LOA from Steve Grand/PSA DNA.
1975 SSPC "Superstars" Completely Signed Set (42)
Each entry in this beautifully designed collector issue has been front-signed by its subject. Among the many stars and Hall of Famers included in the series of photographic color cards are: 5 Palmer, 6 B. Robinson, 8 F. Robinson, 10 Ryan, 11 R. Jackson, 15 Seaver, 19 T. Williams, 23 Yastrzemski, 34 Kaline, 35 Mays, 37 Mantle and 40 Berra. The signatures all fall between "9-10" and the cards grade overall EX/MT to NM.
Extremely Rare Pete Rose/Bart Giamatti Signed 1983 All-Star Game First Day Cover
This item was produced to commemorate the 50th Anniversary of the All-Star Game. It features the autograph of Hits King Pete Rose and the former baseball commissioner A. Bartlett Giamatti. Both blue ballpoint signatures are "9-10" in boldness. Rose's lifetime ban from baseball occurred under Giamatti's command. LOA from Steve Grad/PSA DNA.
MEMORABILIA
1929-1957 "Baseball Magazine" Collection (24 Volumes) Hardbound by Year!
When it came to early and mid-20th Century baseball news, few did it better than Baseball Magazine. Presented is the opportunity to catch up on all your reading from the late 1920's through the 1950's - missing only the years 1930 and 1931. The magazines hold a wealth of articles, news reports and statistics, as well as a ton of black and white photographs. Includes coverage on: Appling, Bottomley, Carey, Cochrane, Cronin, Foxx, Gehrig, DiMaggio, Mantle, Mize, Musial, Newhouser, Stengel and Young.
1924 "Ty Cobb's Own Game of Baseball"
The National Novelty Company of Detroit, Michigan, had a winner on their hands when they produced "Ty Cobb's Own Game of Baseball" in 1924. Here offered are two elements of the board game that turned every player into the Georgia Peach.
Nelson Fox "Foxy" Stadium Pin
Fans adored Nellie Fox. And for a brief time, this 1¾" diameter creation with his photo image was the rage in Comiskey souvenir stands. EX/MT-NM condition.
1956 World Series "Don Larsen Perfect Game" Full, Unused Ticket
This full, unused "Bleacher " ticket measures 7 3/8" x 2¼" and has "Bleacher Admission" printed on both ends. Costing a mere $2.10 back in the day, the ticket also sports the New York Yankees logo plus the words "1956 World Series." It is in EX condition.
1920's Royal Tailors Clothing Page with Colorful Ad Featuring Babe Ruth
The colorful insert has a hand-tinted image of a smiling Ruth wearing a magnificent Royal Tailor overcoat with a lush fur collar. Below his image is captioned, "Babe Ruth Pays No Tax on His Size," followed by the company's explanation that larger customers do not bear the cost of extra material. NM condition.
1934 "World Series" Rockola PInball Machine
David C. Rockola was known for his patents covering inventions of mechanically operated pinball machines. "World Series" pinball machines are mechanical marvels with animated playfield action. This particular example is one of Rockola's best.
Original Novelty Christmas Stocking Including 1923 W515-1 Baseball Strip Cards
This 11" long, mesh stocking was made to hang by a chimney during the 1920's holiday season. The contents of the stocking include many items including toy spyglasses and a boxed game. Most importantly, the stocking still holds an intact strip of 1923 W515-1 baseball cards with #11 Sisler and #14 Frisch.
FOOTBALL
Bill Bergey 1970's Philadelphia Eagles Game Worn Jersey
Bill Bergey wore this jersey during the 1970's. This white mesh pullover garment displays "BERGEY" heat transferred in green lettering on the nameplate at the back of the jersey. The player's number "66" has been applied on the front and back. The Eagles' green and silver stripe design is featured at both sleeve openings. Great game use is evident.
Steve McMichael Signed 1990 Chicago Bears Game Worn Home Jersey
Steve "Mongo" McMichael wore this jersey as a member of the 1990 Chicago Bears. The navy blue mesh pullover garment displays "McMICHAEL" heat transferred in white on orange lettering on the nameplate on the item's back. The player's number "76" has been applied in like fashion on the front, back and sleeves. The two-time Pro Bowler inscribed "Steve McMichael/76 Bears" in black marker which grades a "10." LOA from Steve Grad/PSA DNA.
December 12, 1937 Chicago Bears vs. Washington Redskins NFL Championship Program
The program hails from the Redskins first NFL Championship and among the names listed in the interior lineups are Sammy Baugh for Washington and Bronko Nagurski for Chicago. NM condition.
1940's Granger Tobacco Cardboard Counter Sign with Sammy Baugh
This Granger Tobacco counter sign features NFL quarterback legend Sammy Baugh. A smiling Baugh image is seen hoisting a package of "GRANGER PIPE TOBACCO", in lieu of a football urging the onlooker to give it a try. EX/MT condition.
1948 Leaf Complete Set
This issue is one of the most vibrant and attractive football sets ever produced. Loaded with Hall of Fame rookie cards, the issue includes: 4 Walker (VG/EX), 6 Layne (EX), 16 Pihos (EX), 19 McAfee (EX), 26 Waterfield (EX/MT), 29 Trippi (EX), and 34 Baugh (VG/EX.).
1947 Through 1970 Collection of "Bear News" Chicago Bears Newsletters (87 Different)
This gathering of publications is one of the largest, if not the largest of these newsletters ever assembled. These official issues are only distributed to season ticket holders and team officials. The two-page items are mostly EX condition.
"All America Team" Signed Photo with Grange, Nagurski, Baugh, Berwanger, Hein, Hutson (9 Autographs)
The eleven college gridiron immortals featured in this composite were the best at their mastered positions and nine of them penned their autographs to the EX/MT photo. All signatures grade "9" and include: Sammy Baugh, Jay Berwanger, Red Grange, Mel Hein, Don Hutson, Bruiser Kinard, Bronko Nagurski, Bernie Oosterbaan and Jim Parker.
BASKETBALL
Shaquille O'Neal Signed 1995-1996 Orlando Magic Game Worn Road Jersey
Shaquille O'Neal wore this Orlando Magic road jersey during the 1995-1996 NBA season. This blue mesh, white-pinstriped pullover garment displays "O'NEAL" arched atop the back of the jersey in white-on-black tackle twill. Shaq's old number "32" has been applied in like fashion to the front and back. The front of the jersey also features the word "Orlando." Shaq has signed the jersey on the back in black marker and the faded 10-year old signature projects "4" in strength. Displays light use. LOA from Steve Grad/PSA DNA.
Michael Jordan Signed Chicago Bulls Home Jersey
This Michael Jordan Chicago Bulls home jersey is signed by "His Airness." "JORDAN" has been arched on the back of this white mesh pullover garment below the neck in red lettering and the legend's number "23" is applied in red-on-black characters on the front and back. Jordan signed the authentic jersey below the "23" on the front in black sharpie. The signature grades "9." LOA from Steve Grad/PSA DNA.
HOCKEY
1911-12 C55 Hockey Set (45)
It has long been thought that the Imperial Tobacco Company was the sponsor of this set, the hockey version of baseball's T206 White Border series, but that has yet to be confirmed. These splendid collectibles known as "C55" convey an incomparable sense of the vintage game. The cards' classic mini-sized painted masterpieces showcase members of the league's early teams. Key cards include: 31 Ross (VG), 38 Vezina (VG) and 42 Lalonde (VG).
Hall of Famers Signed Pro-Model CCM Hockey Skate with Signatures from Phil Esposito, Bobby Hull and Stan Mikita (20 Signatures Total)
This pro-model CCM hockey skate bears the autographs of twenty hockey Hall of Famers. Each signature has been applied in silver marker and the autographs project "9-10." Included are the signatures of: Johnny Bower, Johnny Bucyk, Yvan Courmoyer, Woody Dumart, Phil Esposito, Tony Esposito, "Boom Boom" Geofrion, Glenn Hall, Harry Howell, Bobby Hull, Stan Mikita and Gump Worsley. LOA from Steve Grad/PSA DNA.
GOLF
2001 Ryder Cup Team Autographed Poster (13 Signatures) Including Tiger Woods
This poster acknowledged the golf event that was postponed in the wake of the 9/11 attacks. It is signed by each member of the American Ryder Cup Team. In addition to its athlete images, the advertisement shows a depiction of the trophy and a faint view of the American Flag. Signatures include: Paul Azinger, David Duval, Davis Love III, Phil Mickelson and Tiger Woods. All signatures are "10's." LOA from Steve Grad/PSA DNA.
1948 "Babe" Didrikson Zaharias Signed "Championship Golf" Hardcover with Dust Jacket
The author has signed and inscribed the book on the flyleaf, "Best Wishes to Florence - 'Babe' Didrickson Zaharias" ("9-10"). The book grades about EX and the dust jacket is FR/GD. LOA from Steve Grad/PSA DNA.
AMERICANA HIGHLIGHTS
NON-SPORTS CARDS
Turn of the Century Cabinet Card Collection (24) This collection of vintage cabinet cards is characterized by uniformly splendid condition. There are 34 different in all, and most of them project photo images of then-renowned stage and operatic stars. All but six of them have captioned identities. Among the more familiar images are those of John L. Sullivan, Queen Victoria, Lillian Russell, King Oskar II (Sweden) and Jenny Lind. Nearly all are Near Mint.
POLITICAL/PRESIDENTIAL
Historically Significant John Adams Handwritten Document Pertaining to the 1792 Presidential Election
In 1792, George Washington was reelected to a second term. He won 132 of the 264 electoral votes. John Adams, capturing 77 electoral votes retained the office of Vice President. This is the receipt, signed by Adams, for the packet of electoral votes received from the state of Georgia. The receipt presents at NM level. LOAs Steve Grad and John Reznikoff/PSA DNA.
1920 Harding/Coolidge Presidential Campaign Advertising Broadside
Offered is a 25" x 35½" advertising broadside promoting the D.C. Humphreys Co. of Philadelphia. One of their claims to fame according to the advertising rhetoric was creating the campaign banners for the 1920 Republican Presidential slate of Warren Harding and Calvin Coolidge. The crisp-looking poster presents at EX/MT.
1902 Theodore Roosevelt Signed Military Appointment
The document, naming Francis F. Longley a second Lieutenant in the Corps of Engineers, is dated June 12, 1902. It features two military engravings and a 2½" official seal of the United States. The appointment has been stamped and endorsed by Major General H. C. Conlin of the U.S. Army's Adjutant General's Office and that of Secretary of War Eihu Root. LOAs from Steve Grad and John Reznikoff/PSA DNA.
HISTORICAL
Extremely Rare 1939 Japanese Emperor Hirohito Signed Letter of State
Emperor Hirohito's jet-black signature, grading "10", appears on this official Letter of State dated May 16, 1939. The document has a large crimson stamp complementing its Japanese characters, which are framed by gold-embossed borders. Its condition is Near Mint. LOAs from Steve Grad and John Reznikoff/PSA DNA.
Circa 2000 Heartwarming Pope John Paul II Signed Photo
The warm manner of Pope John Paul II shines through this photo of the Holy Father as he raises his cane in salute to well-wishers. The image features an embossed Vatican seal of the "Secreteria Particolare di Sua Santita" that is only affixed to photos authentically signed by the Holy Father. The Pope's signature is a "10." LOA from Steve Grad and John Reznikoff/PSA DNA.
1933 Chicago World's Fair "Mickey Mouse Bank" in Original Box
This charming souvenir from the "Century of Progress" is a well-preserved character bank picturing raised images of Mickey and Minnie atop the keepsake's domed lid. The top also features raised lettering which reads, "Mickey and Minnie/At The World's Fair" plus "1933/Chicago/1934" (signifying the event's run). Manufactured by Zell Products of New York, the bank resembles a treasure chest and accepts coin and paper money. The bank is in EX/MT condition. The box grades VG/EX.
ROCK N' ROLL
1966 The Beatles "Yesterday and Today" Butcher Album Cover Poster
Feast your eyes on the infamous "Butcher Cover" variation of the Fab Four release. Capitol Records released a limited few of these promo posters and albums before quickly changing to a more conservative cover of the lads posing around a white steamer trunk. The colorful poster presents at EX condition.
1960's-1970's Psychedelic Rock Poster Collection (16) Including Grateful Dead and Jimi Hendrix
The striking visual appeal of psychedelic rock returns via this assortment of sixteen promotional concert posters. The colorful advertisements beckon fans to the Grate Dead (11), Jerry Garcia Band, Jimi Hendrix, Sam the Sham and the Pharaohs, the Young Rascals and "An Aquarian Exposition." The posters average EX/MT in appearance.
FOR MORE INFORMATION

To register for MastroNet's February Classic Collector auction or to get more information, go to www.mastronet.com. Bidding begins on February 13 and ends March 2.
About MastroNet, Inc.
MastroNet, Inc. of Willowbrook, Ill., is part of the Silkroad Equity family of companies. It is the leading high value collectibles auction company. The company has sold many of the most famous and valuable sports and Americana collectibles ever offered to the public, including the most expensive baseball card in history, the T206 Honus Wagner which sold for nearly $1.3 million, Norman Rockwell's "The Dugout" for $355,000, Roger Maris' 1961 jersey he wore when he hit home run #61 for $302,000, the bus Rosa Parks rode on when she refused to stand for segregation for nearly $500,000 and the famous Steve Bartman Cubs foul ball for over $100,000.