In today's sports memorabilia market, where items routinely sell from hundreds of dollars well into the six and even seven-figure range, it is paramount that counterfeits, forgeries and frauds be ferreted out and eliminated. Whether you collect cards, original photographs, autographs, game-used equipment, championship rings, trophies or any other items of memorabilia, knowing that you are in fact buying what you believe you are buying is the single most important factor in keeping the business and hobby of sports collecting strong and enjoyable.
In their commitment to build unwavering consumer confidence into the collecting market, PSA/DNA of Newport Beach, California, stands alone as the world's leading authority on autograph and memorabilia authentication. They have done this by building an unparalleled team of staff experts and top-notch professional authentication consultants from around the nation, who work together to examine and certify autographed items, game-used equipment and all matter of sports memorabilia.
"What PSA/DNA and its team of experts do is of benefit to everyone associated with the hobby," said the company's president Joe Orlando. "If consumers feel more confident in what they are purchasing, they are willing to pay more for that item. That helps increase market values for genuine material and, in turn, more items will be sold. The collector is benefited by being able to buy with the assurance that 3rd party experts have reviewed the item. And, it increases the overall participation in the hobby by encouraging new collectors, and bringing back those who have been discouraged in the past because of the fraud that has worked its way into the hobby."
Along with their impressive team of experts, PSA/DNA also relies on state of the art technology to protect and trace genuine collectibles. Once they have deemed an item to be genuine, it is marked with an invisible, synthetic DNA-laced ink that is naked to the human eye but verifiable through a specially calibrated infrared laser. The chance of duplicating their DNA strand is 1 in 33 trillion.
While PSA/DNA prides itself on their technology and their brand, the strongest brand in autograph authentication, it's the experts that are the backbone of the service and the focus of this article.
"Authentication is only as good as the brand strength, expertise, and integrity behind it," said Orlando. "Our consultant authenticators are not only amongst the top experts in their field, they each have a track record and a reputation that compliments their particular skill set."
One key point that Orlando wanted to make clear is that the consultant authenticators, while they are full-time dealers, are not allowed to authenticate items for PSA/DNA on their own. "Each item certified by PSA/DNA must pass our in-house experts and the letters are generated in-house," said Orlando. "To preserve the integrity of the process, these controls must be in place. It is impossible for anyone outside of our corporate office to generate valid certificates or letters of authentication."
That is why PSA/DNA is proud of the team they have assembled which includes the five men you will meet in the following pages – T. J. Kaye, John Reznikoff, Mike Gutierrez, Robert Eaton and Roger Epperson. And while PSA/DNA does employ full-time autograph experts, these five consultant authenticators take center stage here.
"No other third part authenticator is so widely accepted as PSA/DNA", said Orlando. "That is due in large part to the incredible team of respected experts we have working with us. T.J, John, Mike, Bob and Roger all bring their own expertise to the table. Each of our consultant authenticators adds a degree of depth and enhancement to our outstanding in-house team. What makes this group special is that each one of them has the commitment and dedication to work together as a team towards one goal – to strengthen the hobby by offering a respected brand of authentication. Each one of them is just a tremendous addition."
The T. J. Kaye File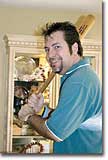 T.J. Kaye is the president and CEO of T.J.'s Collectibles, Inc. of Boca Raton, Florida.
He is a consultant with PSA/DNA Authentication Services whose expertise is in sports autographs, jewelry and trophies.
One of the nation's leading authorities on championship rings and awards, T.J. is also the "go to" guy when it comes to authenticating items signed by Mickey Mantle.
T.J.'s Collectibles Inc. hosts private signings, and auctions on a regular basis. Recent signings have included such legends as Bob Feller, Lou Boudreau, Duke Snider, Bob Griese, Brian Griese, Eddie Mathews, Moose Skowron, Whitey Ford, Enos Slaughter, Stan Musial, Brooks Robinson and Warren Spahn.
The company guarantees that every item they handle will pass as genuine by PSA/DNA.
T.J. Kaye – The Ring King and Mantle Man
As a young boy growing up in Long Island, New York in the late 1970s, T.J. Kaye split his allegiance between the Big Apple's two Major League Baseball teams. While he joined his father, a solid Yankee fan who idolized Mickey Mantle, in cheering on the Bronx Bombers, T.J. was also enamored by the National League's New York franchise whose roster boasted names such as Seaver, Harrelson, Kranepool and Kingman.
Although he had never been much of a collector of any kind as a kid, the autograph bug gave T.J. a good bite in the early 1980s. "I had never collected cards," said Kaye. "But I did get interested in autographs shortly before the market began to take off."


When it comes to authenticating items signed by Mickey Mantle, Kaye is a "go to" guy.
After completing college with a BA in accounting, Kaye continued to collect autographs as a hobby while pursuing a full time career in real estate. Having relocated to Boca Raton, Florida, he established himself as a successful realtor through the 1980s while still dabbling in autographs as a sideline. "In the early '90s, I had made the decision to start my own autograph company," said Kaye. "It was just a part time thing at first – a way to generate extra income – and, by 1996, I had opened a gallery."
T.J. Collectibles continued to be Kaye's moonlighting gig until 1998 when his father passed away. "Our real estate work had been a family business," said Kaye. "After my father passed away, I really began to want to do something more with T.J.'s Collectibles, so I wrapped up all of our real estate dealings and started working as a full time dealer."
Rapidly establishing himself as a highly respected authority on sports autographs and jewelry, Kaye never lost sight of his father's love for "The Mick" and devoted himself to an intensive study on Mantle signed items. "Mantle is my expertise," Kaye said matter-of-factly. "He was my father's hero and my study of Mantle has been a tribute to my father."
Today, Kaye is known throughout the hobby and business of sports collecting as one of the nation's leading Mantle autograph experts. He is quick to point out to anyone on the search for Mantle signed memorabilia that they be extremely cautious before shelling out their hard earned bucks. "When it comes to Mickey Mantle, signed baseballs and 8x10 photos are by far the most commonly forged items," said Kaye. "You should never purchase anything that has not been authenticated by someone who is knowledgeable of how he signed and what he signed."
Kaye is one of the
country's top authorities
on championship rings.
Along with helping collectors procure the real deal when it comes to Mantle items, Kaye himself has a collection of very special things that his father had gotten signed my Mickey. "Those things are the things that I most treasure," he said.
Along with handling Mantle signed items, Kaye has presented numerous private and public in-person signings with Hall of Famers and legendary athletes from baseball, football, basketball, hockey and boxing. He is also one of the country's top purveyors and authenticators of professional and collegiate championship trophies and rings.
"The market for trophies and jewelry is very strong," said Kaye. "I believe these items are some of the best investments in sports collecting." Kaye went on to point out that one of the reasons these items are so coveted among collectors is that they are not easy to come by. "Authentic World Series and Super Bowl rings rarely come to the market," he said. "They usually only come into the public marketplace directly from a player or a player's family who have decided to sell the ring because they are in need of the money."
Kaye said that because collectors are so fascinated with the rarity of championship rings, illegal copies have begun to crop up. "When a player or a coach receives a World Series or Super Bowl ring, they have something that is highly unique and of great value," said Kaye. "If they lose them or if they are stolen they can't just go back to the company who manufactured the ring and get a replacement. They have to go through the team's front office and prove that the ring has been lost or stolen by showing police and insurance reports. I have been seeing more and more illegally made rings show up. Most are of poor quality but some are actually of very good quality and that's why no championship ring should ever be purchased unless it has been authenticated."
Along with illegally made copies, Kaye also pointed out that Salesman Sample rings are another thing to take into consideration if a collector is thinking of purchasing a championship ring. "The Salesman Samples are high quality, exact replicas of the actual ring that was presented to a player," he said. "These rings are made by the same companies and in the same way, with the exception of the stones in some cases, as the real rings and are then used by the company's sales staff." Kaye said that authentic Salesman Sample rings are also highly desirable although they will fetch a much lower price than the real deal.
Along with his father's Mickey Mantle signed items, Kaye also has a highly impressive collection of championship rings that are some of his favorite treasures. "My favorite is my 1999 New York Yankees World Series ring," he said. "I've handled every World Series and Super Bowl ring ever made and as far as I'm concerned, the '99 Yankee ring is far and away the most spectacular."
Kaye said that he considers it a great honor to have been named as one of the expert consulting authenticators on the PSA/DNA team. "My first experience with PSA/DNA came when I hired their experts to come down and authenticate items for me," said Kaye. "After using them myself on a regular basis, with a very high rate of autographs being certified, they began to see that I had a good eye for authentic items. It really is an honor for me to be associated with PSA/DNA because of what they have done for the hobby and the business of collecting. They have increased the awareness of how important it is to have things authenticated by a professional who really knows what they are doing. Any item that has been authenticated by PSA/DNA will jump in price. That certificate means consumer confidence and that is why I recommend them to everyone."
You can visit T.J.'s Collectibles on line at www.tjscollectiblesinc.com. Along with offering high quality sports collectables the company is also always interested in purchasing great collections and items. You can contact T.J Kaye by phone at (561) 756-7500 or by e-mail at: [email protected]
The Mike Gutierrez File

Mike Gutierrez is the president of Mike Gutierrez Auctions of Phoenix, Arizona.
He is a consultant with PSA/DNA Authentication Services whose expertise is in sports autographs.
An appraiser for "The Antiques Roadshow" on PBS, Mike has authenticated for some of the biggest sports memorabilia companies in the world including Sotheby's, Butterfield & Butterfield, R & R Enterprises, Robert Edward Auctions, Heritage Galleries, Online Authentics, EAC Galleries, American Memorabilia, Phil Weiss Auctions, Collectors Source, and Superior Galleries of Beverly Hills.
Mike has authenticated many of the autographed items from the Barry Halper Collection. He handled all of the memorabilia from the estates of Bruce Lee and Pete Rozelle and appraised the Mark McGwire 70th Home Run Baseball for the Fireman's Fund Insurance Company.
Mike Guitierrez Auctions can be accessed my logging on to www.mgauction.net
Along with their offerings, MGA also accepts consignments and full collections with lots that have a value of at least $350.
Mike Gutierrez – The Source on Sports Signatures
Raised in Long Beach, California, Mike Gutierrez was a dedicated baseball card collector from 1958 until 1967. "When I was a kid, card collecting wasn't cool – at least not where I grew up," laughed Mike. "But I always liked them and had a pretty good collection until I started high school and my parents threw them all away."
After finishing high school, Mike went on to UCLA and then to serve as a page for CBS at their famed Television City faculty in Hollywood. "During that time, I started to feel the collecting bug again," said Mike. "I became interested in autographs. I had always wondered how people got autographs and had no idea."
The first clue Mike got as to how an autograph is secured came when he read that Hank Aaron was signing at a sports convention near his home. "Going to that convention was an incredible experience for me," said Mike. "I saw all these baseball cards that I had as a kid and people were selling them for stunning prices."


The respect and influence that Gutierrez brings to PSA/DNA is best measured by the added value his endorsement brings to the items he authenticates.
After getting Hammerin' Hank's autograph Mike was hooked. "I was very excited about it," he said. "I learned everything I could about prices and I wanted Babe Ruth's autograph and the signatures of all of the Hall of Fame players."
Rapidly becoming immersed in the autograph hobby, Mike was soon buying, trading and selling with people from all over the country. He was also climbing the ladder of success in the entertainment world, moving on from his page position to work at Universal Studios and ultimately being named the director of dramatic series development for ABC.
By the time the autograph hobby exploded in the 1980s, Mike was a well-established player who was becoming more and more recognized for his authenticating knowledge. "As a collector, I had always had a good sense of what was good and what was bad," said Mike. "So, when the hobby began to take off, people saw me as someone who had longstanding experience in authenticating. I had been collecting vintage signatures during that time and had begun to do some work with auction houses."
Today, Mike Gutierrez is the president of Mike Gutierrez Auctions of Scottsdale, Arizona. He serves as an appraiser on the popular PBS television series, Antiques Roadshow and is widely considered to be one of the top sports autograph authenticators in the memorabilia business. He has authenticated for some of the biggest sports memorabilia companies and auction houses in the world and regularly reviews material for dozens of individual collectors. And, while his passion has become his business, it is clearly evident that it is the passion for the hobby that still fuels him.
"I love autographs," he said. "To me they are something that is so directly linked to the person. A signature comes right from a person's mind and hand."


Along with his professional expertise, Gutierrez is widely known as one of the nicest and most enthusiastic guys in the sports memorabilia hobby.
Mike is also more than just optimistic when it comes to the future of the autograph hobby and business. "The hobby is in very good shape," he said. "And one of the main reasons for that is PSA/DNA. In the early 1990s, the hobby was really suffering because of all the fakes and they helped increase confidence in collecting autographs. Back then, the only place you could go to have something authenticated was to a dealer. PSA came in as a third party. They established high confidence in the otherwise troubled marketplace of autograph collecting, and the public has enthusiastically responded. With the current team of PSA/DNA authenticators, forgers and charlatans will have to find another business to make money."
Mike went on to say that he has seen the nature of the autograph hobby change dramatically in the three decades of his involvement. "It has changed and it is still changing," he said. "The serious part of the hobby is leaning towards the collector who has the financial wherewithal to be involved. Frankly, it's gotten out of reach for many people. Items that were selling for fifteen hundred dollars in the 1970s are now selling for fifty thousand dollars. So while the future does look good for the hobby, it's not necessarily good for those who are not the big money collectors. I always tell people to collect what they like. But, if they like Babe Ruth and Lou Gherig – well, they better be ready to pay the price. Still, there is a lot to collect that is in more moderate price ranges such as the athletes who do the shows."
From a personal collecting standpoint, Mike is fond of autographs and items that pertain to the glory days of Rock & Roll. "I collect autographs of 1960's Rock bands," he said. "Not that these are incredibly rare or of great monetary value, but because they mean something to me. It's an emotional attachment."
Mike also collects vintage guitars. He said he especially enjoys collecting these instruments because he is not an expert in the field. I have a 1978 Wall bass guitar that belonged to John Entwistle of The Who. I got it at an auction in London where I had the greatest time. I enjoy collecting guitars because it takes me out of the realm of my expertise and the things that I deal with on a regular basis. When I go to a music convention or auction I'm not the expert. No one comes up to me to ask me my opinion on anything. I'm just there as a collector – for the pure enjoyment of it."
Mike's recommendation to anyone who is interested in collecting autographed material, or anything for that matter, is to collect things that you have a personal connection to. "You've got to find you inner niche," he said "And you have got to have the hunter in you. The hunt is what keeps the passion alive. You've got to love the prowl."
Mike Gutierrez has certainly loved the prowl that has taken him to the top of his game. And while he has always been at the forefront of every new twist and turn the hobby and business of autograph collecting has taken, he still enjoys doing business the way he did at the start. "I love the buying and selling. That's what really fuels me. I have gotten to know so many great people. I learn about them – what they collect – about their families. Today the buying and selling of autographs has become a situation where people are just a user name and a password, but what I love is the direct connection with people."
It is impossible to find any person who has experienced that direct contact with Mike who doesn't agree that, along with his professional expertise, he is one of the nicest and most enthusiastic guys in the hobby.
"I'm really amazed how this has all worked out for me," Mike said. "I've turned a love and a passion into a career. I've had people who have told me they have bought things from me just because I've been so enthusiastic about the piece. I can't help it. I just love to be a part of it."
You can write to Mike in care of Mike Gutierrez Auctions, 8150 E. Raintree Drive, Suite A, Scottsdale, AZ 85260 or call him at (480) 991-8060. You can also e-mail him at [email protected] and visit MGA's site by logging on to www.mgauction.net
The John Reznikoff File
John Reznikoff is the founder of University Archives in Westport, Connecticut, a leading document and manuscript firm specializing in the appraisal and authentication of historical material.
He is a consultant with PSA/DNA Authentication Services whose expertise is in historical and political autographs and documents.
John served as both vice president and president of the International Autograph Dealers Association and founded the Professional Autograph Dealers Association.
The author of many published articles for "Manuscripts"," Pen and Quill", "Linn's", and "American Philatelist", Reznikoff has been tapped by "Good Morning America", "The New York Times", "Smithsonian", "Newsweek", CNN, ESPN, "The Boston Herald", "The St. Petersburg Times" and many other national media outlets for his expertise and experience.
An expert witness in numerous criminal and civil trials, John served as an expert witness for the United States Department of Justice in one of the largest civil actions ever filed against the government.
John Reznikoff – The University's Dean of Determination
The word prodigy is usually reserved for young people who show an amazingly advanced talent in music, math or technology. That is why the prodigious young John Reznikoff was unique even within the world of the unique. John was a collecting prodigy.
"I started collecting when I was 8-years old," said Reznikoff who grew up in West Hartford, Connecticut. "Sportscards, stamps, autographs – all sorts of things. And by the time I was 13, I had become a dealer."
By the late 1970s, when he began his collegiate study of political science and anthropology at Fordham University, John had already chalked up over five years of experience in the collectibles business. So, while most Fordham freshman were flippin' burgers or flying pies to earn a little extra cash, John was heading up his own business – the University Stamp Company.


John Reznikoff's expertise is in material pertaining to the Revolutionary War, U.S. presidents, vintage entertainment, literature, science, the Civil War, Western and the space program.
"The company really took off and grew and, after about 7 or 8 years of dealing in stamps, I bought a very large autograph collection," John recalled. "That started us off with a new, separate division – selling autographs, historical documents and rare manuscripts. I had a partner – Bryan Camarda, who ran the stamp business and I ran University Archives."
Today, almost two decades later, University Archives is one of the nation's leading document and manuscript firms specializing in the appraisal and authentication of historic texts, and John, through his experience and expertise in identifying historical items of merit, has become a renowned authenticator who is highly respected within the industry.
"While I deal in all genres, with the exception of modern sports and entertainment, my real specially is with items pertaining to the Revolutionary War, U.S. presidents, vintage entertainment, literature, science, the Civil War and Western," Reznikoff said pragmatically. "I also have a lot of expertise in material related to the space program – both Russian and NASA."
Asked to shed some insight on some of the high profile material he has handled over the years, Reznikoff almost doesn't know where to start. However, once he does begin, he rattles off name after name of some of the most legendary individuals to have ever roamed the planet. Names such as baseball Hall of Famer Ted Williams. When Williams died in 2002, John was tapped to authenticate the note he supposedly left suggesting he would liked to be cryogenically frozen for a possible future thaw out.


Reznikoff uses sophisticated items such as a Pro Scope to aid him in the authentication process.
Reznikoff was also engaged by The Albert Schweitzer Institute for Humanities in 2001 to value and market their archive of material that sold for a hefty six-figure sum. He served as an expert for the United States Department of Justice in one of the largest civil actions ever filed against the government, in which the family of President Richard M. Nixon sought $210 million in compensation for the taking of his presidential papers. In John's report, he appraised the Nixon archive at $1.5 million, which became a key element in reaching a settlement figure of $18 million that saved U.S. taxpayers $190 million.
An authenticator and consultant for MastroNet, Inc., one of the nation's most respected sports memorabilia auctioneers, Reznikoff also served as the agent and spokesperson for Peggy Davis, who owns a moon rock valued at over $1 million. John successfully challenged NASA, who had seized the artifact, and helped secure its return to Davis.
He has appraised an important historical archive containing multiple letters of Abigail and John Adams for IRS donation purposes; authenticated and appraised the Ernest Hemingway papers of A.E. Hotchner and Hemingway's first book, signed and inscribed to his first wife, on behalf of Jack Hemingway and the Library of Congress; and appraised a check written by Charles A. Lindbergh for the purchase the "Spirit of St. Louis".
His service as an expert witness for Historical Documents, Inc. regarding the diaries of John Paul Getty resulted in appraising the archives value at approximately $2 million, a report that became instrumental in causing the Getty family to settle before trial.
The owner of the largest presidential bill-signing pen collection in private hands, John has writing instruments that were used by Abraham Lincoln, Franklin D. Roosevelt, John F. Kennedy and Lyndon B. Johnson. He also purchased and marketed the papers of U.S. Constitution signer John Langdon, which realized $700,000 dollars in sales and the papers of U.S. Congressmen Neal Smith, Robert Bauman, Albert Quie, Sam Devine and several others.
"One of my greatest finds was a letter that had been written by Wild Bill Hickok which sold for over $150,000," said Reznikoff who has also handled a 100 piece Lincoln collection, three extremely rare William H. Harrison presidential documents, and two items revered as the Holy Grail within the autograph hobby – signatures of the elusive Georgia Governor Button Gwinnet who signed the Declaration of Independence but scant little else.
John has also accumulated an extremely unique collection of hair from well over 100 celebrities and historical figures that includes tresses from the heads of Napoleon, Abraham Lincoln, Charles Dickens, King Charles I, John F. Kennedy, Marilyn Monroe, Albert Einstein and Elvis Presley. He is currently on the lookout for the locks of Mark Twain, Shakespeare, and any U.S. president. And while we're on the subject of unique presidential items, Reznikoff also owns two cars that John F. Kennedy rode in on the morning of the fateful November 22, 1963. "One of those cars is the one he rode in from Fort Worth to the airport," said John. "It's an amazing piece of history being as that it was the last car he would ever get out of alive."
Asked to do a bit of prognosticating on what current material he believes might be of great historical significance and value in the future, he tops his list with any signed items generated by President George W. Bush or former New York Mayor Rudy Giuliani relating to the terrorist attacks of September 11, 2001. "I also think authentic Marlon Brando items will become even more desirable than they already are, and Clinton impeachment material will be significant," John opined. "But, I think the real sleeper stuff will be technology related material. I own the very first e-mail ever generated by a president (Bill Clinton to John Glenn) and I believe the time will come when material generated by Bill Gates will be right up there with the Thomas Edison and Wright brothers stuff."
Reznikoff said that the one question he has been asked more than any other during his career is how one can be assured that a piece is authentic. "Authenticity is the one thing I am questioned on the most," said John. "That's where PSA/DNA comes in. They have done more than anyone else to address the forgeries that have plagued the business."
John, who uses sophisticated items right out of CSI to aid him in the authentication process, said he is very proud to have been asked to serve on the PSA/DNA team. His recommendation to collectors is to concentrate on acquiring a few very significant items rather than amassing a huge collection. "I always tell people not to buy a lot of decent items but rather to buy one really great item. I also highly recommend that items only be purchased through a dealer who will stand behind the item for life and to have them authenticated by PSA/DNA. But whatever you collect, buy what you enjoy. That way, along with your investment, you will also have something you get pleasure from."
For further information about University Archives or to contact John Reznikoff you can write to him at 49 Richmondville Ave., Westport, CT 06880, phone him at (203) 454-0111 or (800) 237-5692, e-mail him at: [email protected] and visit the company's Web site at: www.universityarchives.com
The Bob Eaton File
Bob Eaton is the sole proprietor of R&R Enterprises of Amherst, New Hampshire that has grown from a one-room operation into a professionally staffed company that has published over 270 consecutive monthly catalogues.
He is a consultant with PSA/DNA Authentication Services whose expertise is in vintage entertainment, military, space, art, animation and political material.
With over 25 years in business, Bob is well established as one of the foremost authenticators in the autograph industry.
With just $1800, Bob took his passion for history and fascination with autographs and grew it into a highly successful and respected business.
Along with his beloved Boston Red Sox memorabilia, Bob also collects material signed by Thomas Edison, Harry Houdini, the Wright brothers, P.T. Barnum, Ronald Reagan and Walt Disney.
Bob Eaton – The New England Expert
As a young boy growing up in Boston, Massachusetts, Bob Eaton had three passions – studying history, the Boston Red Sox, and collecting autographs. As the years went by, Bob's fascination and respect for history became a perfect compliment to his interest in autographs and, by the time he was in his late teens, his study of historical signatures had gone from a hobby to a career. In 1976, at the age of 19, Bob invested $1800 to transform his passions into what would become one of the most successful autograph businesses in the United States – R&R Enterprises.
"I bought a sports collection advertised in a local newspaper," Bob recalled. "The seller was a coin dealer who had this collection that included a Babe Ruth signed baseball, old yearbooks, magazines and Spalding guides – some from as far back as the 1800s. I decided to buy the collection and then sell it. I ran ads in Sports Collectors Digest and The Trader Speaks – people started calling, I sold the stuff, and that was the way it all started."
While the buying and selling of sportscards represented the lion's share of Eaton's business for the first few years, America was on the verge of being hit by the autograph and memorabilia boom, and Eaton found himself perfectly positioned for the hit. The company published its first catalogue in the Fall of 1980. Produced on a typewriter, that first catalogue was only eight pages long, with three illustrations, offering only a few hundred items. By 1995, R&R changed direction, going from straight sales to auctions. Their catalogue had grown 300% in size and their mailing list had more than doubled.

Over the past three decades Bob Eaton has seen his one-man, one room operation blossom into a company with a staff of over twenty people and twelve full time employees.
Today, with the exception of the actual printing, every element of their catalogue, including the purchasing, consignments, authentication, description writing, layout, advertising, computer programming, and web design is done in-house. Each catalogue is fully illustrated, contains over 1500 autographed items and is sent to over 3000 autograph collectors in every corner of the world. From its humble beginnings, the company's monthly auction catalogue has risen to such a high level that it has even been named Best Catalogue in New Hampshire by New Hampshire Magazine.
As the founder and sole proprietor of R&R Enterprises, Eaton has seen his one-man, one room operation blossom into a company with a staff of over twenty people and twelve full time employees, which, to date, has published over 270 consecutive monthly catalogues. With a quarter of a century of experience and expertise behind him, he has clearly established himself as one of the foremost authenticators in the autograph industry and has been tapped by PSA/DNA to serve as a consultant on vintage entertainment signatures as well as military, space, art, animation and political material.
One of the reasons why Eaton and R&R have become such trusted names in the autograph world is due to the company's dedicated committed to offering authentic autographs. They have built a reputation as a responsible, respectable auctioneer and they back their commitment to authenticity with a 100% Lifetime Guarantee on every signed item they sell.


"(Babe) Ruth is clearly the most desired of all athletes when it comes to signatures," Eaton opined. "Then comes Lou Gehrig."
Among some of the incredible items of memorabilia that R&R has handled over the years are a Hofner bass guitar signed by Paul McCartney, a Levi Strauss jacket screen worn by Elvis Presley in Loving You, a Walt Disney signed vintage photograph, a costume worn by Barbara Streisand as Fanny Brice in Funny Lady, a rare Bert Lahr signed photograph as the Cowardly Lion from The Wizard of Oz, a uniform worn by Madonna in A League of Their Own, and a Peter Tchaikovsky signed Sleeping Beauty program.
R&R has also become a tremendous source for collectors who are looking for items signed by U. S. presidents, Marilyn Monroe, Babe Ruth, The Beatles, George A. Custer, Louis Pasteur, Vivien Leigh, Lord Byron and numerous other luminaries that have graced the pages of history.
Every month R&R auctions offers close to 2000 items of celebrity memorabilia, autographs and ephemera. The company's Web site provides a full description and illustration of every item and can be found at www.rrauction.com. To register to bid, collectors must contact the office, or apply on-line, to gain an R&R bidder number. The company accepts consignments for each auction, and while they are especially interested in handling large collections, they are also interested in working with collectors who are looking to part with even just one quality autograph.
Eaton said that he is honored to be in the company of the esteemed experts PSA/DNA has assembled and believes that PSA/DNA has brought magnificent benefit to the collector and dealer alike. "They have brought a high level of confidence into the business by giving the collector a third party expert who has no vested interest other than to say if something is good or bad," said Bob. "That is great for me as a dealer. I see PSA/DNA as the stamp of approval for prospective buyers."
Eaton said that he believes as time goes buy savvy collectors will only be interested in purchasing items that have passed muster with PSA/DNA. "They have set the industry standard," he said. "They have brought back a market that was rapidly becoming destroyed by forgeries."
As a case in point, Eaton referenced items supposedly signed by legendary sports stars that had flooded the market due to their intense desirability. "Items signed by Michael Jordan, Tiger Woods, Mickey Mantle and Ted Williams have been extremely hot," said Eaton. "Because of that a lot of bad stuff has found its way into the market and eventually collectors started to back away because they had no confidence in what they were buying. PSA/DNA put a stop to that and I believe they are solely responsible for bringing back the market for items signed by those individuals."
As a lifelong, diehard Boston Red Sox fan, Eaton loves the fact that the signature of Beantown's Ted Williams is so desirable with collectors, However, as difficult as it may be for a Red Sox fan to admit, he comes clean by saying there is no doubting that, in his experience as a dealer, the most desirable sports signature came from the hand of the man who cursed his team for so many years – Babe Ruth. "Ruth is clearly the most desired of all athletes when it comes to signatures," Eaton opined. "Then comes Lou Gehrig and Ty Cobb."
As for the future of the autograph and memorabilia business, Eaton believes the hobby is strong and growing. He is also quick to point out that there is only one thing that will keep that strength and growth alive. "Authentication – I get more comments on authenticating than anything else," he said. "That is the most important thing to people."
And as for advise to collectors, Bob sums it up succinctly: "Buy what you like. Buy quality things. If they increase in value – great - but no matter what, always buy things that you enjoy."
You may contact Bob Eaton through the mail at R&R Enterprises, 5 Route 101A, Suite 5, Amherst, NH 03031, by phone at (800) 937-3880 or via e-mail at [email protected] or visit them online at www.rrauction.com
The Roger Epperson File

Roger Epperson is the owner of Roger Epperson's Signed, Sealed & Delivered Autograph Memorabilia of Houston, Texas.
He is a consultant with PSA/DNA Authentication Services whose expertise is in music and movie autographs and memorabilia.
One of the top experts on music autographs, collectors from all over the world rely on Epperson as a valued and trusted authenticator for all genres of contemporary music.
Signed, Sealed & Delivered's online catalogue offers collectors a "Who's Who" from the world of Rock & Roll and a 100% money back lifetime guarantee of authenticity on every item they sell.
Born and raised in a poor, working class family, Roger is keenly aware of how important it is to make sure collectors are spending their money on only authentic autographs and memorabilia. He is a high-energy guy with a great sense of humor and great fun to talk to.
Roger Epperson – PSA/DNA's Music Man
Believe it or not, Flint, Michigan native Roger Epperson had no interest in autographs as a kid and most likely would still not have any interest in them today had it not been for a serendipitous event that occurred when he was in the eighth grade.
"I wasn't into autographs at all," said Roger. "But I was really into music and, in 1977, when Led Zeppelin came to town, I had a friend whose father worked at the airport where the band was scheduled to arrive. He arranged for us to meet the band and when Jimmy Page asked us if we were going to the concert I said 'Hey, I'm in eighth grade! Where am I going to get $10.50 for a ticket?'"
That blunt response earned Roger tickets to the show and the signatures of Page and his band mates – John Paul Jones, Robert Plant and John Bonham on his copy of their Presence album.
While this might have provided the spark to turn young Roger's life into one of quixotic autograph hunting, the spark never ignited.


A high energy guy with a great sense of humor, Roger Epperson is nothing other than serious when it comes to authenticating the icons of Rock.
"Autograph collecting wasn't that big in the United Sates back then," said Roger. "I certainly had no interest in autographs, and before I met Led Zeppelin, I had never asked anyone for an autograph."
Oddly enough, while Roger never actively sought autographs, they just managed to come his way. In 1982, he decided to leave Michigan to find his niche in the world. "I moved to Houston for one reason," he said with a laugh. "I had heard that there was three girls to every guy there."
Having come from a family where money was always tight, Roger decided he would be able to make a good living by going to a trade school and learning the printing business. That training led to a job with a company that that did a lot of work for various musicians and, as time went by, Roger had accumulated signed material from Peter Frampton, REO Speedwagon and Stevie Ray Vaughan. "I started getting offered a lot of money for the signed items I had," said Roger. "I even had dealers calling me. Things just took off from there, and, in 1991, I started my company, Signed, Sealed & Delivered."
As a young novice in the autograph biz, Roger was fascinated by how things were authenticated and before long he was learning from such luminaries as George Sanders and Charles Hamilton. "I learned that knowing the history of a person is a very important part of authenticating their signature," said Roger. "How they historically signed. For instance. Jimi Hendrix would have never signed "Stay Groovy". It just wouldn't have happened. So when I see something like that, I know it's not in line historically."


"A vintage guitar still has value even if it's in poor condition," says Roger. "But with an autograph, it's either real and worth something or it's worth zero."
While Roger freely admits to having a rather limited understanding about political and American history, he stands his ground as one of the nation's foremost authorities on the history of the men and women of Rock & Roll. "I know where many Rock stars were practically every day of their life," he stated proudly. "That's important because if someone tells me they have something that was signed on such and such a date in San Francisco, I can check to see if that could have actually happened."
Today, Roger is recognized as one of the top experts on music autographs. Collectors from all over the world rely on him as a valued, and trusted authenticator for all genres of contemporary music from Elvis and Pink Floyd to Springsteen and The Stones.
When it comes to offering advice to his clients, Roger says there are a few rules that should always be adhered to. "If something looks too good to be true – it's bad!" he said matter-of-factly. "I buy authentic Beatles signed albums for $10,000-$15,000. So, if someone is offering you a signed Beatles album for $1,000, believe me, they're not your friend. Remember, autographs are different than any other collectible – they are either worth something or absolutely nothing, There's no in-between. A vintage car still has value even if all the original parts have been changed out. A vintage guitar still has value even if it's in poor condition. But with an autograph, it's either real and worth something or it's worth zero."
Roger also suggests that collectors really get to know reputable dealers and experts. "That's how I learned," he said. "And don't get fooled into thinking that a dealer is reputable just because they have the biggest, flashiest add. Ask around. Get to know who the good people are. This is a relatively small business and the good people are the good people – the bad ones are the bad ones – and the people who are involved with this business know who is who."
While Roger is clearly "The Man" when it comes to authenticating the signatures of singers and musicians, even he says there are some that are just too difficult to judge. "I will not authenticate any Bob Dylan material from after 1985," he said. "From '85 on, his signature has become far too inconsistent. It's just impossible to authenticate a scribble. It's the same thing with recent Madonna autographs – it's not an autograph at all – it's just a squiggly line."
He said that, by far, the signatures of Elvis Presley and Jimi Hendrix are the most desired of all Rock stars. "Elvis was the king," he said. "He had an appeal to everyone – kids, old people, music people, movie people, men and women alike. There's a lot of good Elvis material out there – but there's a lot of bad stuff out there too."
When it comes to Hendrix, Roger pointed out that collectors should be extremely leery if they are ever offered a Hendrix signed album. "In all my years in the business, I have never seen one," he said. "Hendrix generally only signed for people he knew so virtually everything that is authentic is going to be inscribed to someone."
Roger also pointed out that just because a Rock signature is very rare doesn't necessarily mean it is greatly desired. "Janis Joplin's autograph is extremely rare," he said. "There's just not much of a supply of it. However, just like the Big Bopper, or Ritchie Valens or Jim Morrison, there is also not much of a demand for it. To a serious Joplin or Morrison fan, their signature would be extremely valuable, but at the prices they command no casual collector is ever going to be interested."
As for what he suggests clients to always be on the lookout for, Roger said performance contracts, handwritten lyrics, notes and letters are the most desirable. "I always tell people to collect the icons not the pop stars. Elvis, The Beatles, The Stones – they will always be desired. On the other hand, I just don't see material signed by Michael Jackson as ever being greatly valued."
When asked for his feelings on the state of the autograph hobby, he quickly responded that it is strong and getting stronger. "PSA/DNA is responsible for that," he said. "They have brought regulation and a standard to the business. Autographs and memorabilia never had a standard until PSA/DNA came along. They have brought in the best of the best to do their authenticating – the upper echelon of people who really know what they are doing and who have incredible reputations. Guys like John Reznikoff. That guy is incredible. I bow down in front of him when I'm in his presence. PSA/DNA really went the extra mile to clean up this business and make it as strong as it can be. They did it by putting together a team of people who both know what they are doing and who really care. Believe me, I really care. I'm from a poor family so I know what it means when people are spending their hard earned money!"
You can contact Roger Epperson by mail at Roger Epperson's Signed, Sealed & Delivered Autograph Memorabilia, 6025-B Edgemoor, Houston, Texas 77081, by phone at (713) 664-7498, or via e-mail at [email protected] You can also visit him online www.signedsealeddel.com