Lot 1. 1927 New York Yankees Original Photo Signed by Entire Team - Ruth, Gehrig (Graded PSA 8)
Able devotees of the game's heritage generally agree that the mightiest team ever rostered was the 1927 Yankees. Even if we acknowledge arguments advanced on the merits of the '75 Reds, 1961 Yankees or any of several champion nines engineered by Connie Mack, the standard by which all are measured is this squad of 1927 Pinstripers. In the course of that watershed season, their entirety posed for the lens to yield this 8" x 10" glossy rendering. It's an original photograph which has endured well over these many decades, however, we must detail its several qualifications. Early on, the photograph was permanently applied to a reinforcing board - presumably to accomodate secure display. And with time, the dynamics of conflicting expansion and contraction of the photo (in relation to the mounting support) have induced minorly perceptible deformities in the photograph's surface - evident as a series of uneven anomalies along the bottom border. And finally in this regard, we report the presence of a 1/4"-diameter black dot situated adjacent to the left leg of Ben Paschal (seated in the front row, third from the left). The lineage of this masterpiece traces to the estate of contemporary Yankee hurler, George Pipgras. Such is affirmed by the inclusion of a letter furnished by his daughter, Ms. LeMorn Pipgras Simpson. Thus is explained the accomplishment of capturing all of these signatures, which simply wouldn't have been available on a whim (even in 1927). The magnitude of this signed composite can't be overstated. PSA has granted an aggregate evaluation of NM-MT 8 to its signatures, and their principal authority in determining veracity, Steve Grad, has recently remarked that this one is the finest of its kind that he's ever reviewed. Certainly PSA's assessment is welcomed. However, this remarkable photograph similarly transcends all subjective requisites. Aside from the immediately legible quality of each signature, there looms the challenge in sheer accessibility in attaining these autographs. Elements on any baseball team are constantly in motion, and the '27 Yankees were no exception. Players and staff simply weren't idling time in front of their lockers, queued to provide their identities upon request. For that matter, roster modifications shortly took their toll on this team as well. And so, by his dogged tenacity, George Pipgras secured all these signatures. Placed in fountain pen, not a one of them is remotely defiled by damp ink, or any other disappointment. In their glorious detailing, these itemize - Dutch Ruether, Joe Dugan, Ben Paschal, Benny Bengough, Myles Thomas, Mike Gazella, Ray Morehart, Eddie Bennett (batboy/mascot), Bob Shawkey, Joe Giard, John Grabowski, Charlie O'Leary (coach), Miller Huggins, Art Fletcher, Herb Pennock, Julie Wera, Pat Collins, Doc Woods (trainer), Lou Gehrig, Bob Meusel, Babe Ruth, Wilcy Moore (signed "W Moore), George Pipgras, Earle Combs, Don Miller, Waite Hoyt, Tony Lazzeri, Mark Koenig, Urban Shocker and Cedric Durst. A few summary thoughts are in order here. Though the photograph is uncaptioned, it's clearly from 1927 by virtue of its featuring one-year Yankees Morehart, Giard and Julie Wera. Further, the appearance (and autograph) of "Don Miller" is a bit mysterious. Miller wasn't a coach, nor did he ever record any major league experience. Most of these players continued to enjoy a full life, but of course, all are now committed to eternity. Certainly, there were tragedies in pre-mature demises though. Quite obviously, Gehrig and Miller Huggins are the most notable. However, several other signatures in this composite are virtually extinct - especially as Yankees. Among these are Charlie O'Leary, Art Fletcher, Johnny Grabowski, and the intensely rare Urban Shocker, and that of the handicapped mascot, Eddie Bennett. Finally, we must emphasize the Gehrig autograph. By inadvertent fortuity, he posed for this photograph standing at the far left, thus affording an absolutely uncorrupted expanse for his bold and familiarly flowing signature.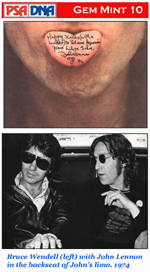 Lot 1306. John Lennon Hand-Made, Signed, Dated, and Inscribed Christmas Card *One-Of-A-Kind* (PSA Graded Gem Mint 10)
American Memorabilia is delighted to present the personal collection of Mr. Bruce Wendell. Mr. Wendell was the former Senior Vice President of Promotions for Capitol Records in Hollywood, California. For fifteen years, Bruce worked directly with, John Lennon, Paul McCartney, George Harrison, Ringo Starr, Neil Diamond, and a selection of Capitol's top recording artists. Of all the superstars that Bruce worked with professionally, he became particularly close to John Lennon and Neil Diamond. His relationship with the two mega stars would often include his accompanying them to events and dining out. This premier collection consists of many unpublished and never-before seen photographs, and other highly collectable promotional pieces directly from the inner sanctum of the Capitol Tower.
John Lennon is regarded as one of the most creative musicians and songwriters to have ever lived. The public persona of Lennon is very different compared to the private Lennon. Not everyone who had worked with him got to know him. Bruce Wendell was one of the few charmed individuals who had the good fortune to know John and associate with him, more than any other record company executive had ever done, with the exception of Neil Aspinall. When John left Yoko in 1973, he and May Pang set up house in the hills above Los Angeles. With this event, all eyes were on John and his teenage-like antics with his good friend Harry Neilson, were reported, exploited, and blown out of proportion in all of the super market tabloids. It's true that John was doing a lot of drinking, but he was also trying to record a 1950's rock 'n' roll album, producing an album for Neilson, and write some new songs for a scheduled solo album. When John and May moved back to New York in 1974, he quickly wrote, recorded and produced a new album. The album was completed in a mere four weeks and John titled the album, "Walls and Bridges." Lennon explained the title as "Walls you walk into and bridges you walk across." At Capitol Records, Bruce Wendell and John Lennon developed the most amusing and creative promotional campaign. Thus the birth of the famous "Listen To This..." campaign was born. Every item imaginable from "Listen To This Cash Register" to buses rolling down New York City streets posted with signs "Listen To This Bus" all bore a cut section of John Lennon's face with the words in bold type. John also sported a button on his overcoat that read "Listen To This Button." John was traveling from New York to L.A. pretty regularly to promote the album. This promotional campaign was extremely successful and John scored with his first number one single, "Whatever Gets You Through The Night." Bruce began traveling with John and accompanied him to all of his public appearances, in both Los Angeles and in New York. John and May became close friends with Bruce and the three often dined together. The success of the album was immediate and it shot straight up the charts. Offered is an amazing creation made by John himself, using a cut section of the "Walls and Bridges." The always creative Lennon cut down one of the flaps of the album cover that features him sticking out his tongue. When it was trimmed to the size of a greeting card, Lennon carefully penned in his own hand the inscription, "Happy Xmas (with a bullet) to Bruce Aquarian from Libra John" and signed his name "John Lennon" with his typical face sketch and dated "74." The reference to "with a bullet" is a record industry term used for a record placing in a high position on Billboard Magazine's charts. This is not only an enormous and personal message from John but it was his idea to hand-craft a Christmas card using a cut section of the album cover. This creation by John Lennon is virtually a one-of-a-kind, signed, John Lennon original piece of art. Both the inscription and signature were penned in black felt tip. This extraordinary piece received PSA/DNA's highest rating of Gem Mint 10. Perfection!