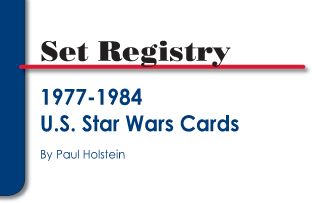 Back in 1977, I was only 10 years old. I can still vividly remember going to see "Star Wars" with my father. It was the most amazing experience of my life, inspiring an awe that can never be recreated or forgotten. For years after that, and through the later releases of "The Empire Strikes Back" and "Return of the Jedi", I saved my nickels and dimes to buy pack after pack of Topps trading cards that could be found at the local dime store. Unfortunately, the cards were eventually forgotten and then thrown away.
Back then, and even when I started collecting the cards again as an adult, I had no idea how many Star Wars related sets had been printed. Regardless, I have set a goal to collect them all. Although there are undoubtedly going to be more sets discovered, the currently known sets were printed in Argentina, Australia, Canada, France, Italy, Japan, Mexico, New Zealand, Spain, United Kingdom and United States.
Every set from every country has its own nuances, and many are vastly different from what I had available as a kid. Some of them are incredibly rare, and others are fairly common. Some are expensive and sought after, and others are so obscure that it's hard to tell what they are worth. They all mesmerize me to this day and there isn't a single set that doesn't deserve to be preserved by collectors for future generations to enjoy. The following is an overview of the U.S. sets.
Part One: Star Wars (1977 – 1979)
Cereal premium sets are one of the hardest types of sets to complete in good condition, for many reasons. One of the biggest obstacles is that unopened product is usually non-existent and all sets/singles must be obtained from collectors that have previously handled them. This first set of 16 stickers falls into that category. These stickers were printed by the company ADPAC for General Mills. There are 4 subsets of 4 stickers, each with a different color background (green, orange, yellow, purple) that varied by the brand of cereal that was purchased. The stickers could be found in various sized boxes of Boo Berry, Count Chocula, Frankenberry, Trix, Cocoa Puffs and Lucky Charms.
One interesting fact is that the original uncut sheets contained 25 stickers, all from one subset of 4. This meant that there was not an equal number of each sticker on the sheets, so some of the stickers were printed in larger quantities than others. Also, since the subsets were distributed in specific brands of cereal, the subsets that were in the more popular cereals are more common than those in the less popular cereals.
During the printing process some sheets of these stickers were removed after the background and photos were printed, but before the text was printed. Although rare, you may occasionally be able to find "test" versions of these stickers missing the captions.
A very similar set of stickers was also manufactured by General Mills. This is a set of 18, made up of 3 subsets of 6 stickers varying by text color (red, blue, yellow) with the subsets also distributed in different types of cereal. For this set, there was a mail-in offer for a plastic folder and factory set (the folder had plastic pages for 16 of the cards and the last two would have been placed into pockets in the folder itself). The factory sets are common enough today that the cards are generally not collected individually, and hence none are considered to be more scarce than others. These are also commonly found in NM/MT condition, as many of the factory sets were untouched in their holders. The cards could be found in various sized boxes of Boo Berry, Count Chocula, Frankenberry, Chocolate and Strawberry Crazy Cow, and Cocoa Puffs.
Collectors may come across a set of small cards with perforations around the edges that were produced in 1977 and, if separated into singles, are not easily identified. A fast-food restaurant called Burger Chef (now out of business) issued a set of cards on their cardboard meal trays that actually made up a children's game (Darth Vader Card Game). Each tray would have contained 23 total cards, 2 each of 11different characters and 1 of Darth Vader. The cards would be punched out and shuffled, then dealt 5 to a player. Each player would then set down pairs, drawing from the deck and then from the other player's hand, until all possible pairs had been exhausted. The player left holding the Darth Vader card was the loser.
Another food premium set done for Star Wars, and rumored to be the first ever Star Wars set on the market, is the 16-card set made as a promotion for Wonder Bread. These cards have black borders and are extremely condition sensitive. High grade examples are rare, partially because there are no "unopened packs" of these. In addition to the cards themselves, several promotional items that would have advertised the cards in grocery stores can also be found to display with the cards.
One of the more interesting sets is the Sugar Free Gum wrapper set. George Lucas wanted to make something available without the sugar found in the gum sold with the Topps cards, and this was the answer. The gum was sold as single sticks, 20 cents each, in 36 count boxes. The boxes were foil wrapped, with a great C-3PO design on the foil. The original foil wrappers are tough to find in nice condition, as they tore very easily when the boxes were opened – and were frequently discarded.
The complete Sugar Free Gum set is 56 wrappers, made up of 7 subsets of 8 wrappers each. Each box would contain 36 wrappers from the same subset, so collating a complete set of 56 would require a minimum of 7 boxes. The wrappers had 4 different fronts, although the 56 different backs were actually collected. Since the wrappers were wrapped around the gum, a small tear was factory added to each wrapper when it was put on the gum, to facilitate opening the gum. Each wrapper would also have two folds. Some wrappers, however, were distributed (source unknown) without the tears and folds, and are slightly more sought after.
Topps also produced the common cards and stickers that we all collected as kids. There were 330 total cards, and 55 stickers. The first series had a blue border, the second series a red border, the third series a yellow border, the fourth series a green border, and the fifth series an orange (or sometimes considered brown) border. The cards were sold in packs, 36 packs to a box, 7 cards and 1 sticker to a pack. The packs also contained a stick of gum. If you are buying packs today, 28 years after they were produced, you can expect that the gum has ruined the sticker and the wax wrapper ruined one of the cards. Back in 1977, the quality control was relatively poor compared to today – so you can expect the great majority of the cards to be off-center, have print defects, or even to be out of focus. The "perfect" card from this set is a rarity, even straight from wax packs.
Some collectors will want to collect the original empty 36 count wax pack boxes and the original wax wrappers. When the 5th series was first introduced, Topps used the 4th series box with a sticker indicating that it was a new series with Cantina scenes, and that box variation is collectable (for a total of 6 different wax boxes). Also, the 5th series had two different wax wrapper variations (one showed an ad for Kenner toys and the other a mail-in offer for an uncut sheet of the Topps cards) – all of the other series had only a single wrapper type. So there are a total of 6 wrapper variations. When Topps printed the wax wrappers, they were on large rolls that had to be cut down and folded onto the packs. Although rare, rolls of uncut wrappers occasionally come up for sale by private collectors.
No article on Star Wars cards would be complete without mentioning the error with card #207 in the Topps set. Although several rumors exist, the most common explanation is that a disgruntled Topps employee airbrushed an extra appendage on C-3PO before his employment was terminated. The change was not caught until many cases of the cards had already been distributed. Although Topps did correct the cards, and attempt to recall and replace the cards with "errors", many got out. The errors are more uncommon than the corrected version, but still not extremely hard to find.

Part Two: The Empire Strikes Back (1980-1982)
With the huge success of Star Wars, the sequel was greatly anticipated by fans and many more trading cards were to be produced.
Burger King did two promotions, the first being the "Everybody Wins" game. With each meal purchase, a scratch off card was given out. The customer would scratch off the spots until a prize was uncovered – which was usually a trading card set but could also have been Star Wars flying saucer sets or hand-held electronic games. The cards were in perforated panels of three, although they can sometimes be found in panels of 6, and made up a complete set of 36. They were on very heavy cardboard, and are still common due to the print run of 21,328,887!
The second Burger King promotion was a poster that included a 48 sticker set, in 4 strips of 12 stickers. The stickers would be stuck to the poster to fill in various scenes. It was called the "Super Scene Collection" and again is common today.
Dixie Cups also did two promotions. The first was a set of 24 small paper "cards" that came in Dixie cup refill boxes, made to be cut out and inserted into a die-cut poster. The cards came in strips of 4, and the numbers varied on the different strips so there were quite a few strip variations.
The second Dixie Cup promotion was a mail-in offer, also advertised on the refill boxes. This one was a set of 4 oversized "Rebel" cards and 4 oversized "Empire" cards, in full color with card numbers and descriptions of the cards on the backs. These were titled "Collector's Kit".
My favorite Empire Strikes Back set was made by Hershey's. Oversized trading cards were printed on cardboard trays that held six candy bars (not numbered, blank backs, no perforations). The candy bars were Hershey's with almonds (Chewbacca), Hershey's (R2-D2 and C-3PO), Rolos (Luke on TaunTaun), Mr. Goodbar (Darth Vader), Reese's Peanut Butter Cups (Boba Fett), Crunchy Reese's Peanut Butter Cups (Darth Vader), Kit Kat (Luke on TaunTaun) and Whatchamacallit (Darth Vader). There are a total of 8 different product variations, for 5 different cards. Not surprisingly, the Mr. Goodbar trays are the hardest to find, since not as many of those candy bars were sold. Whatchamacallit and Rolos are also a bit harder to find than the others. These cards would be hand cut by the collector to collate a set.
Topps did a couple of sets as well, to follow-up the very successful Star Wars sets. The "Giant Full Color Photocards" is an extremely nice set of 30 5 x 7 full color glossy cards. This set was initially packaged in a plain yellow box (no writing), in actual wax wrappers, with the reverse of each card describing the scene in detail with drawings of 16 characters surrounding the text. These test sets are very rare, and command several hundred dollars when they come up for sale. By the time of the final release, the box was reworked to be a punch out display, the wax wrappers were converted to crimped paper, and the reverse of the cards were modified to be checklists (the first 15 cards have a checklist for #1-15, the second 15 cards have a checklist for #16-30).
Topps also did the standard trading card sets in three series. The first set had a red border and contained 132 cards with 33 stickers. The second set had a blue border and contained 132 cards and 33 stickers. The third set had a yellow border and contained 88 cards and 22 stickers. Each series came in wax packs, and wax boxes, that depicted the evil Darth Vader, along with various types of rack packs and even cello packs with special collector boxes. For the complete 352 card set, there are a total of 11 different wax wrapper variations showing ads for various Empire Strikes Back products.
Part Three: Return of the Jedi (1983-1984)
The most unique set done for Return of the Jedi was by Kellogg's, for distribution in their "C3PO's" brand cereal. Although it says Star Wars on the cards, the images are actually from "Return of the Jedi". This is a set of 10 stickers on top of 10 cards. The kids would peel the stickers off to stick on their folders or beds, and then be left with standard trading cards to be collected. Since the stickers and cards are bonded together, this is technically a set of 10, but could be collected as 10 stickers/cards and then again as 10 cards without the stickers. These came 2 to a pack, in a crimped paper packet (inside the cereal boxes).
Topps started off with a set of 180 small panini-style stickers, to be stuck in an album. There were 60 packs of 5 stickers each, in a box, and the collation is good enough that a full box would give you a complete set to fill the album.
Finally, Topps finished off the Star Wars era with the standard trading card set in two series. The first had a red border and contained 132 cards with 33 stickers. The second had a blue border and contained 88 cards and 22 stickers. For the first time, the pictures on the individual wax packs varied; series 1 had four different wax pack types (Jabba The Hutt, Ewok, Darth Vader and Luke Skywalker with a yellow background) and series 2 had four different wax pack types (Baby Ewok, Guard, Princess Leia and C-3PO with a red background). The first series was also sold in rack packs.
Part Four: Actor Autographs
Today, you can find actor autograph cards in many of the Star Wars card sets that are released, including Topps Heritage and Topps Evolution. In addition to the actors from the new movies (The Phantom Menace, Attack of the Clones, and Revenge of the Sith) they have even included autographs from the actors in the original movies. But there is nothing that compares to meeting the actors in person and getting autographs on the original vintage cards.
Over the years, I have had the pleasure of meeting many of the actors at various comic conventions, and getting cards signed. They are always happy to talk with fans, and many of them took more time than I would have expected to add their own flair to the signatures. David Prowse always writes "David Prowse IS Darth Vader", Warwicke Davis usually adds the character name that the card depicts and the year of the signing, and Billy Dee Williams personalizes the cards. These are without a doubt the most important cards in my collection.
May The Force Be With You!

Paul Holstein
www.transparentrecords.com
---
1977 Topps Star Wars Cards
| | | | |
| --- | --- | --- | --- |
| Complete Set 330 | NM MT 8 | MT 9 | GEM MT 10 |
| Unlisted Singles | 6 | 15 | 60 |
| 1 | 15 | 50 | 300 |
| 2-66 | 8 | 20 | 100 |
| 207 (error) | 75 | 150 | 500 |
---
1977 Topps Star Wars Stickers
| | | | |
| --- | --- | --- | --- |
| Complete set 55 | NM MT 8 | MT 9 | GEM MT 10 |
| Unlisted Singles | 8 | 15 | 50 |
| 1-11 | 12 | 40 | 100 |
| 12-22 | 10 | 25 | 80 |
---
1977 Wonder Bread Star Wars Cards
| | | | |
| --- | --- | --- | --- |
| Complete Set 16 | NM MT 8 | MT 9 | GEM MT 10 |
| Unlisted Singles | 6 | 40 | 75 |
| 1 | 10 | 75 | 200 |
| 2 | 8 | 60 | 100 |
| 3 | 8 | 60 | 100 |
---
1977 Star Wars ADPAC Stickers
| | | | |
| --- | --- | --- | --- |
| Complete Set 16 | NM MT 8 | MT 9 | GEM MT 10 |
| Unlisted Singles | 5 | 15 | 50 |
---
1977 Star Wars General Mills Cards
| | | | |
| --- | --- | --- | --- |
| Complete Set 16 | NM MT 8 | MT 9 | GEM MT 10 |
| Unlisted Singles | 5 | 10 | 25 |
---
1978 Star Wars Sugar Free Gum Wrappers
| | | | |
| --- | --- | --- | --- |
| Complete Set 56 | NM MT 8 | MT 9 | GEM MT 10 |
| Unlisted Singles | 8 | 15 | 40 |
| Unlisted singles (factory mint, no tear or folds) | 10 | 20 | 60 |
---
1980 Topps Empire Strikes Back Cards
| | | | |
| --- | --- | --- | --- |
| Complete Set 352 cards 88 stickers | NM MT 8 | MT 9 | GEM MT 10 |
| Unlisted Singles | 5 | 10 | 25 |
---
1983 Topps Return of the Jedi Cards
| | | | |
| --- | --- | --- | --- |
| Complete Set 220 cards 55 stickers | NM MT 8 | MT 9 | GEM MT 10 |
| Unlisted Singles | 5 | 10 | 25 |
---
1984 Kellogg's Return of the Jedi Stick'R Cards
| | | | |
| --- | --- | --- | --- |
| Complete Set 10 | NM MT 8 | MT 9 | GEM MT 10 |
| Unlisted Singles | 6 | 20 | 50 |
---