Las Vegas – American Memorabilia is an auction house that shoots straight from the hip, so it's fitting that the company will be represented by two of the greatest "shooters" in history later this month at the 26th Annual National Sports Collectors Convention at the Donald E. Stephens Convention Center in Rosemont, Ill.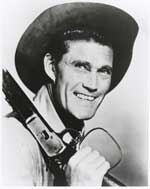 The gun that former Chicago Cubs first baseman Chuck Connors used during the popular television series "The Rifleman" – as well as a number of Connors' personal effects – will be exhibited at the American Memorabilia booth (925 and 1024) from Thursday, July 28, through Sunday, July 31. And, former NBA star Dominique Wilkins will be at the booth on Saturday, July 30, along with a number of memorabilia items from his illustrious career.
Las Vegas-based American Memorabilia has recently acquired the collections of Connors and Wilkins, and will be offering items from those collections this year at auction.
Multi-Talented Connors Will Always Be Remembered as The Rifleman.
Chuck Connors, who also played with the Brooklyn Dodgers of Major League Baseball and the Boston Celtics of the National Basketball Association, appeared in a number of movies and TV series before and after "The Rifleman." But his role as rancher Lucas McCain, who lived with his son Mark (Johnny Crawford) outside North Fork, New Mexico, in "The Rifleman" is what he's remembered for best. The series ran on ABC-TV from September 1958 to April 1963, grabbing the No. 4 spot in the Nielsen ratings in its first season.
The Connors rifle that will be on exhibit at the show is a 37-inch Winchester 44-40 caliber with a large loop lever. Imprinted on the top of the barrel is "Manufactured by the Winchester Repeating Arms Co., New Haven, Conn. USA" and imprinted on the stock above the lever handle is "Model 1892 Winchester Pat. Oct. 14, 1884." The Serial Number is 138350. Also on display at the American Memorabilia booth will be Chuck Connors' star presented to him in 1985 when his star was placed on the Hollywood Walk of Fame, as well as personal effects including his driver's license, passport, sheriff's badge, and photo collection with correspondence from Presidents Nixon and Reagan. The entire Connors Collection was consigned to American Memorabilia by the Estate of Chuck Connors.
Connors, who was able to fire a round from his specially modified Winchester rifle in only three-tenths of a second, played 66 games for the Cubs in 1951, batting .239 with five doubles, one triple, two home runs, 18 RBI and four stolen bases. Hitting and throwing left-handed, he stood 6-foot-5 and weighed 215 pounds. Connors played one game for the Brooklyn Dodgers in 1949 after having played center for the Boston Celtics during the 1946-47 season.
Dominique Wilkins Was a Human Highlight Film.
Dominique Wilkins, a 6-foot-8, 224-pound forward, electrified every arena in which he performed with his acrobatic plays and vicious dunks. The Atlanta Hawks all-time franchise leader in most offensive categories, Wilkins is one of only 12 NBA players to score more than 25,000 points (26,534), posting a magnificent 25.3 points per game average. The Hawks retired his uniform No. 21. A limited edition of 100 autographed photos of Wilkins will be available for $40 each for anyone coming to the American Memorabilia booth on Saturday, July 30.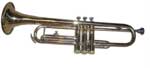 The enormous Wilkins Collection includes his jerseys from high school all the way through his last professional jersey. Many of the awards Wilkins earned throughout his career are included in the collection, including the 1990 NBA Slam Dunk Contest trophy, as well as his most significant game basketballs.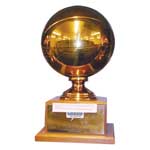 One of the most interesting items in the Wilkins Collection is a trumpet used by Miles Davis, one of the world's greatest trumpeters, composers and bandleaders. Dominique acquired the trumpet shortly after Davis' death on September 28, 1991. This trumpet will also be on display at the American Memorabilia booth.
Other items in the September 29 auction include game-used bats from Mickey Mantle, Roberto Clemente (rookie era), Willie Mays (1960s) and Eddie Mathews (1960s); a Pete Maravich-autographed basketball used during his days with the New Orleans Jazz; a Fred Biletnikoff Super Bowl XI MVP trophy; and a Chet Walker milestone basketball and uniforms.
The current America Memorabilia auction that will include a number of the Connors and Wilkins items will close on September 29, and those interested in the bidding may visit www.americanmemorabilia.com.
As the West Coast's premiere sports and celebrity auction house, American Memorabilia strives to lead the memorabilia industry by creating memories for generations, while providing the highest quality authentic memorabilia, client satisfaction, industry integrity and trust, and sharing a portion of its success with the community. Among the items that American Memorabilia has auctioned off are Mickey Mantle's first home run baseball for approximately $200,000, a 1955 Mantle game-worn jersey for $100,000 and Babe Ruth's 702nd Home Run Bat signed by the 1934 Yankees team for more than $99,000.
Chuck Connors Trivia
Was born Kevin Joseph Aloysius Connors on April 10, 1921. Died November 10, 1992.
Acquired the nickname "Chuck" as a Seton Hall College first baseman who was fond of saying "Chuck it to me."
Starred in screen Westerns such as The Big Country (1958), Geronimo (1962) and Ride Beyond Vengeance (1966).
Also appeared in Old Yeller (1957), Captain Nemo and the Underwater City (1969), Support Your Local Gunfighter (1971), Soylent Green (1973) and Airplane II: The Sequel (1982).
Also appeared in the "Roots" television series (1977).
His tombstone in the San Fernando Mission Cemetery reads "The Rifleman" and includes Cubs, Dodgers and Celtics logos.
A total of 168 episodes of "The Rifleman" were aired.
"The Rifleman" was nominated for an Emmy as the Best Western Series for 1958-59.
Was elected to the Cowboy Hall of Fame in 1991.
Is the first NBA player to shatter a backboard (1946).
Former NBA player Chuck Connors Person was nicknamed "The Rifleman" because his mother enjoyed the television show.
Dominique Wilkins Trivia
Was selected in the first round of the 1982 NBA Draft out of the University of Georgia by the Utah Jazz, and traded to the Atlanta Hawks.
As a rookie, he averaged 17.5 points per game and was named to the All-NBA Rookie Team.
In his second year in the NBA, he began a streak of 11 consecutive seasons of averaging 20+ points per game.
Won the NBA Slam Dunk competition in both 1985 and 1990.
In 1986, he won the NBA scoring title with a 30.3 points per game average, was named to the All-NBA First Team and was an All-Star selection for one of nine times.
Was named to the All-NBA Second Team in 1987, 1988, 1991 and 1993.
Was named to the All-NBA Third Team in 1989 and 1994.
Set an NBA record in 1992 by making 23 free throws in one game without a miss.
Also played for the Los Angeles Clippers, Boston Celtics, San Antonio Spurs and Orlando Magic, as well as for several European teams.