It may be the dog days of summer everywhere else, but at MastroNet, Inc. it's when the auction action really heats up. That's because MastroNet, Inc., the leading Sports and Americana auction house will offer a massive assembly of high-end collectibles. Bidding is expected to soar on items from all collecting genres including sports, comic books and comic art, historical milestones, Hollywood, music, political campaigns and more.
According to Doug Allen, president of MastroNet, the August auction represents one of the company's most impressive Americana line-ups in addition to its always-spectacular sports items. "Our reputation in the sports collectibles industry is well-known and unmatched," said Allen. "But now our success in Americana is well on its way to reaching the same level. We are able to consistently offer the best Americana available which is evident in our August material."
A notable change to MastroNet's Premier August auction event will be the adoption of new closing rules that have been extremely well received in the firm's Classic Collector auctions. The rules for getting initial bids in will remain the same. Only bidders who have already bid on an item will be able to continue to bid on it after the initial cut-off time of 9 p.m. CT on an item's closing day. Then, after 11 p.m. CT, each item will close individually after it has not received a bid for 10 minutes.
"The result of individual lot closings is that our auctions tend to close much earlier than before," said Allen. "Earlier auction closings is something that our buyers and sellers have asked for. Our unique ability to offer real time internet auction action has made everyone comfortable with the process. Bidders can watch what is happening with a particular lot as it occurs and know after 10 minutes whether they have won the item. Feedback has been extremely positive regarding the fact that our auctions may no longer be all-night events." Bidding will begin on August 1 and conclude on August 17, 18 and 19. Some of the items offered will include:
A selection of bats from Babe Ruth, Ted Williams, Mel Ott and Mickey Mantle
An impressive array of baseball cards
Rare one-of-a-kind game worn baseball jerseys
Incredible Titanic items
A variety of entertainment treasures including rare Beatles and Elvis items
An assortment of historical documents/items
A collection of comic art
Over 1,800 lots of memorabilia will be included in the massive internet/phone auction.
Specific details and highlights include:
SPORTS HIGHLIGHTS
SPECTACULAR SLUGGERS - BASEBALL BATS
Babe Ruth 1931 H&B Signed and Inscribed Game Used Bat
As if his fence-clearing abilities weren't entertainment enough, Babe Ruth graced the silver screen, as well. A box-office home run in several productions, Ruth was said to be a natural on the movie set. The Sultan's film credits include lead roles in Heading Home (1924); Babe Comes Home (1927, a production in which Ruth portrays a slugger named Babe Dugan); Speedy (1928) and the 1942 classic, Pride of the Yankees. Simultaneously plying his craft in the entertainment world, renowned screenwriter Louis Bresnow shone during Ruth's baseball tenure, having written screenplays for stars such as the Marx Brothers, Three Stooges, Laurel and Hardy and Abbott and Costello. Arguably Bresnow's famous work, Bed Time for Bonzo was to become the production for which Ronald Reagan became most famous. Obviously in demand within his own trade, Bresnow-like the rest of the world-had a longing of his own: to work with Babe Ruth. In 1931, Bresnow's wish was granted, as he worked with Ruth in directing six short films in a series entitled Babe Ruth. Ruth and Bresnow became close personal friends.
Proudly presented here is a token of that friendship: a baseball bat used, signed and inscribed by Ruth. This Hillerich & Bradsby 35", 36-1/2-oz. signature model weapon dates from the 1921-1931 labeling period and has hand turned lathe marks at each end. The uncracked white ash item has retained a deep, dark and well-defined centerbrand and barrel stampings and reveals evidence of moderate use. Highlighting the bat's original brown hue is Ruth's signature ("10") and inscription of "To My Pal Lou Bresnow, From Babe Ruth - Nov 21st 1931." Included is a notarized LOA attesting to the bat's provenance, signed by Bresnow's son, Lawrence, as well as LOA from PSA DNA. Minimum bid $25,000.00.
Babe Ruth 1917-19 H&B Game Used Bat
Upon completing the 1919 season, Babe Ruth-before he ever donned the New York Yankee pinstripes-was deemed the greatest home run hitter that baseball had ever seen. Babe Ruth used this Hillerich & Bradsby signature model bat during his groundbreaking days in Boston. Sizable like its original owner, the 36" weapon weighs in at a hefty 37 ounces. The brown-hued, white ash bat hails from the 1917-1919 labeling period and has retained its remarkably deep and defined centerbrand and barrel stampings, as well as its smooth, radiant finish. The item reveals evidence of picture perfect game use, with a tremendous amount of ball impressions, scattered cleat and surface marks and grain swelling that borders on checking. Minimum bid $25,000.00.
Mickey Mantle 1958 H&B World Series Game Used Bat - SCD A-10
This bat was brandished by Mantle during the '58 World Series. It is one of two bats manufactured for the slugger specifically for the '58 Fall Classic. This Hillerich & Bradsby "T89" signature model weapon bears a defined centerbrand and barrel stampings that denote "WORLD SERIES 1958" and "NEW YORK YANKEES." The 34-1/2", 30-1/2-oz. lumber reveals evidence of significant use and a black-marker inscription of Mantle's famed number "7" upon the knob. Minimum bid $10,000.00.
Ted Williams 1948 H&B Vault Marked Bat - SCD A-10
Ted Williams used this Hillerich & Bradsby vault-marked bat during the 1948 season. The 35", 32-oz. white ash, signature model lumber bears vault engravings of the weapon's "W155" model number on both the knob and end. Factory records indicate that this wooden relic was returned to its Kentucky-based manufacturer in August 1948 to be used in patterning additions to Williams' arsenal. The item's centerbrand and barrel stampings remain deep and legible and evidence of significant use is present. The bat also displays a few light pencil marks and notations along its length. Minimum bid $7,500.00.
CARDBOARD DREAMS - BASEBALL CARDS/SETS
1933 Goudey Uncut Sheet with Five Hall of Famers Including Babe Ruth
This is an extremely rare-and likely unique-wide-bordered, final production uncut sheet containing 24 fully printed 1933 Goudey baseball cards. Among its two dozen subjects, the sheet's format includes the completely rendered designs of card #'s 53 Babe Ruth, 89 Tris Speaker, 56 Red Ruffing, 74 Eppa Rixey and 73 Jesse Haines. Although 1933 Goudey uncut sheets are made available in the hobby from time to time, most are of the less-desirable Canadian variety, and very few American-issue sheets have been confirmed. The offered sheet, probably employed as an in-house proofing specimen, reveals marginal alignment marks illustrating the points at which more routinely encountered examples have already been cut. This sheet is bursting with color, and its attractive array of poses exhibits truly remarkable preservation. The front of the Ruth card has been well protected over the years by the other cards surrounding it. Minimum bid $10,000.00.
1951 Bowman High-Grade Complete Set (324)
A crescendo of design and substance was reached in 1951, as the evolution of Bowman cards saw all previous innovations maintained, along with greater physical size and the best-yet player content. This supremely gratifying 1951 Bowman set imbues a comparable enfolding in priceless nostalgia. The set was assembled carefully and meticulously, and demonstrates the benefit of constant and critically based upgrading. A total of 117 cards have been graded by PSA. Includes: Graded Cards - PSA NM-MT 8: 111 cards w/#2 Berra, 3 Roberts, 7 Hodges, 26 Rizzuto, 31 Campanella, 32 Snider, 46 Kell, 50 Mize, 53 Lemon, 80 Reese, 134 Spahn, 151 Doby, 165 Williams, 186 Ashburn, 232 Fox, 233 Durocher, 254 Jensen, 275 Harris, 290 Dickey, 291 Heinrich, 295 Lopez, 305 Mays, and 306 Piersall; PSA NM 7: 6 cards w/# 253 Mantle. Ungraded Cards - grades 65% NM to NM/MT, 25% EX/MT, 7% EX, 3% lesser. Minimum bid $10,000.00.
1952 Bowman High-Grade Complete Set (252)
For the 1952 Bowman series, Ted Williams' inclusion was thwarted by contractual difficulties, but Stan Musial returned after a three-year hiatus. All of the day's other significant stars are present, including the second-year Bowman cards of Mickey Mantle and Willie Mays. Within this especially noteworthy, offered set, 116 cards have been graded by PSA. Includes: Graded Cards - PSA MINT 9: 1 card, #65 Bauer; PSA NM-MT 8: 115 cards w/#'s 1 Berra, 4 Roberts, 5 Minoso, 8 Reese, 11 Kiner, 21 Fox, 23 Lemon, 30 Schoendienst, 43 Feller, 44 Campanella, 52 Rizzuto, 53 Ashburn, 80 Hodges, 101 Mantle, 115 Doby, 116 Snider, 142 Wynn, 145 Mize, 146 Durocher, 156 Spahn, 162 Irvin, 196 Musial, 218 Mays, and 232 Slaughter. Ungraded Cards - grades 55% NM to NM/MT, 25% EX/MT, 20% EX (a few lesser). Minimum bid $5,000.00.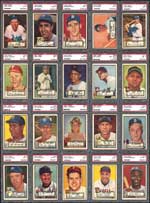 PSA Graded 1952 Topps Complete Set Plus Variations (486)
This is one of those can't believe-it-until-you-see-it types of offerings that include all but two variations known bringing the total number of cards in this offering to 486. Only #48 Page and #49 Sain error cards with Black Backs keep this premier issue from "master set" acclaim. Includes: Graded PSA NM-MT 8: 1 card, #159; PSA NM-MT 8 (OC): 29 cards w/#'s 268 Lemon and 333 Reese; PSA NM 7: 257 cards w/#'s 26 Irvin 33 Spahn (Red Back), 37 Snider (Red Back), 37 Snider (Black Back), 59 Roberts (Red Back), 59 Roberts 65 Slaughter (Black Back), 88 Feller, 195 Minoso, 216 Ashburn, 243 Doby, 245, 246 Kell, 277 Wynn, 314 Campanella, 392 Wilhelm, and 400 Dickey; PSA NM 7 (OC): 1 card; PSA EX-MT 6: 162 cards w/#'s 11 Rizzuto (Black Back), 26 Irvin (Red Back), 33 Spahn (Black Back), 91 Schoendienst, 129 Mize, 191 Berra, 261 Mays, 311 Mantle, 312 Robinson, and 315 Durocher,; PSA EX-MT 6 (MC): 1 card; PSA EX 5: 19 cards w/#'s 11 Rizzuto (Red Back), 36 Hodges (Red Back), and 36 Hodges (Black Back); PSA VG-EX 4: 11 cards w/#'s 65 Slaughter (Red Back), and 407 Mathews; PSA VG 3: 1 card. Minimum bid $10,000.00.
High Grade 1904 WG2 American League "Fan Craze" Set (52)
Every card in this set has been graded by PSA, with an overwhelming majority grading PSA MINT 9 or PSA GEM MT 10. It is one of the finest WG2 Fan Craze American League sets known to the industry. This near-pristine set looks as though it has never seen the light of day. Between the monumental 1887 N172 Old Judge set and the 1909-11 T206 White Border issue, there was a lack of significant baseball card sets produced. The 1904 WG2 Fan Craze set helped to bridge that gap, and it features some of the earliest collectibles known for many of its subjects. All of the American League's prominent stars are featured in the set, including 15 Hall of Famers. Includes: PSA GEM MT 10: 9 cards w/ J.Collins, Flick and Plank; PSA MINT 9: 32 cards w/ Bender, Crawford, Griffith, Joss, Keeler, Lajoie, Mack, Waddell and Young; PSA NM-MT 8: 8 cards w/ Chesbro, Ban Johnson and Wallace; PSA NM 7: 3 cards. Minimum bid $5,000.00.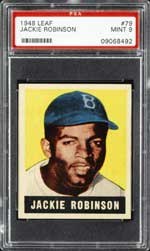 1948 Leaf #79 Jackie Robinson - PSA MINT 9
Barely a half-dozen copies in the hobby have been deemed worthy to share this superior assessment with none graded higher. Jackie Robinson was one of the most memorable figures ever associated with the game. The Hall of Famer's rookie cards are viewed as important cornerstones in any accomplished card collection. Robinson's debut card is among the undisputed "key" items in the intriguing baseball series produced by Leaf Gum Co. in 1948, a notably scarce post-war issue. This is one of the industry's finest examples of a significant, sought-after card. Minimum bid $5,000.00.
1952 Topps #311 Mickey Mantle Rookie - PSA NM-MT 8
The 1952 Topps Mickey Mantle has always been a key card in any collection. Even during the mid-1960's, at the very beginning of the organized hobby, the '52 Mantle card carried a premium when star cards from other prominent sets (like Cobb and Ruth!) cost the same as a common. This outstanding card delivers condition to match its mystique. Its corners are solid right angles and its rich portrait colors blaze against an intense and lustrous azure background. The image boasts perfect registration, and the black-line frame containing it is well centered. Minimum bid $5,000.00.
1934 R320 Goudey Completely PSA Graded Set (96)
Every one of the 96 cards in this set has been graded by PSA. The success Goudey experienced with its 1933 Big League Chewing Gum production was a tough act to follow. But the company pulled it off with style! The 1934 Goudey series-the firm's second color-filled production-features a comprehensive lineup of the period's stars that begins with the set's first-card portrayal of Jimmy Foxx. Twenty-five of the cards have less than a dozen counterparts known in higher grade. This assembly is ranked as the 12th Finest on the PSA Set Registry. Includes: Graded PSA NM 7: 41 cards w/#'s 18 Manush, and 27 Appling; PSA EX-MT 6: 39 cards w/#'s 6 Dean, 7 Durocher, 10 Klein, 11 Waner, 12 Hubbell, 13 Frisch, 19 Grove, 21 Terry, 22 Vaughan, 23 Gehringer, 34 Hafey, 35 Lombardi, 61 Gehrig, and 90 Cuyler; PSA EX 5: 13 cards w/#'s 2 Cochrane, 37 Gehrig, and 62 Greenberg; PSA VG-EX 4: 3 cards w/#'s 1 Foxx. Minimum bid $5,000.00.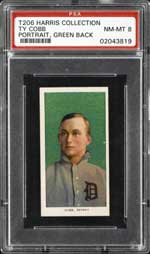 1933 Goudey Sport Kings #1 Ty Cobb - PSA NM-MT 8
Just four examples in the hobby have been graded higher than this card. It's the first card in the 1933 Goudey Sport Kings set, featuring the legendary Ty Cobb. Although Cobb had been retired for several years at the time this piece was released, Goudey still decided to include him in the company's star-packed multi-sport set. The image of Cobb is bold, perfectly in focus, and the corners are well shaped. Minimum bid $2,500.00.
THE BRANCA COLLECTION
Worth special note in the baseball card section is the third installment of the John Branca collection. This extraordinary PSA graded card collection has been setting record numbers for star cards and commons alike. A few of the highlights from the current installment include:
1909-11 T206 White Border Ty Cobb Portrait Green Background - PSA NM-MT 8
This is one of a mere half-dozen in the world assessed at this level with none graded higher. The legendary Cobb endures what was surely a short-lived moment of quietude on the face of this classic T206 tobacco insert card. On the offered example's card front, the likeness of the Hall of Famer is refined in all its aspects, and precise focus and lush green back grounding enhance its character. It would be nearly impossible for a T206 to exhibit greater depth and clarity in printing. Cobb's penetrating gaze comes through with almost inconceivable strength, and even the pupils in his eyes are perfectly centered. The item's "Piedmont - 150 Subjects" reverse displays bright blue print and each corner demonstrates solid integrity. The card originates from the Branca Collection. Minimum bid $5,000.00.
1933 R333 DeLong #7 Lou Gehrig - PSA NM-MT 8
The offered card is just about as nice as any DeLong can be. There are none like it graded higher. It has four stellar corners, nearly flawless colors and excellent centering. The overall visual appeal is outstanding. This card originates from the Branca Collection. Minimum bid is $5,000.00.
1940 Play Ball #1 Joe DiMaggio - PSA NM-MT 8
Only eight copies of this coveted series opening collectible exist at the offered tier, and a mere two examples have been graded higher. Joe DiMaggio posted tremendous numbers the year before this piece was issued, finishing the 1939 season with 30 home runs and a .381 batting average. The successful campaign culminated in his team's four-game sweep of the Cincinnati Reds in the World Series. The offered card chronicles and commemorates that historic "coming of age" campaign for DiMaggio, and reflects an integrity equal to "Joltin Joe's" performance. Its centering displays clean white borders. The card front surface is fabulously clean and all four corners are sharp. The card originates from the Branca Collection. Minimum bid $2,500.00 .
1932 R328 U.S. Caramel #32 Babe Ruth - PSA NM-MT 8
Only two copies of this card in the world are graded higher. Before Goudey splashed Babe Ruth's likeness with color in 1933, the provincial artists of the U.S. Caramel Co. elected to frame the future Hall of Famer's image in regal red, which had a tendency to fade. This superb specimen is an exception to that standard rule. A crisp illustration on the front is matched by vividly printed freshness on the back. The card originates from the Branca Collection. Minimum bid $2,500.00.
ITEMS THAT GOT GAME - BASEBALL UNIFORMS
Grover Cleveland Alexander 1926 St. Louis Cardinals Game Used World Series Jersey
An absolute rarity, this is the only known example of a Grover Cleveland Alexander game-used jersey outside the hallowed wings of Cooperstown. More amazingly, it is a St. Louis Cardinals road jersey donned by Alexander during the World Series clinching game in October 1926. This gray, blue-pinstriped, heavy flannel pullover garment features "Cardinals" embroidered across the chest in red characters, above which, a team logo of a brown bat on which Cardinal birds are perched at each end has been applied in like fashion. Red piping surrounds the neck, sleeve endings and button path, which consist of four white plastic buttons. Sewn within the sun collar are "Leacock" and "Rawlings" manufacturer's tags. "E.H. Dyer" is chain stitched (in cursive) upon the left front tail in pink-hued characters, under which, "ALEX" is inscribed in faded black ink. The jersey was issued to Alexander upon his mid-season arrival. The item reveals evidence of heavy use. Minimum bid $10,000.00.
Bob Feller Signed 1951 Cleveland Indians Game Used Home Uniform
Bob Feller wore this signed Indians home uniform during his stellar 1951 season. The cream-colored flannel, button-down jersey boasts "Indians" (in cursive) sewn across the chest in red-on-blue felt lettering and Feller's since-retired number "19" applied to the back in like fashion. Respectively adorning the left and right sleeves are an Indians "Chief Wahoo" logo patch (a replacement) and an American League "GOLDEN ANNIVERSARY" commemorative patch. Situated upon the left front tail, a "Wilson" manufacturer's label is accompanied by a size "44" tag and an embroidered notation of "1951." A strip tag within the collar reads "Feller," which is chain stitched in black cursive. Feller has signed the garment twice (both "10"). The cream-colored flannel pants feature a zipper, white plastic button and 10 belt hoops. Properly tagged, the item bears a "Wilson" manufacturer's label on the waistline's interior and accompanying is a flop tag denoting size "36," a laundering instructions tag and a strip tag on which "Feller" has been chain stitched in black cursive. "1951" is chain stitched in black numerals upon the fly's interior. Feller has signed the waistband's interior in blue marker ("10") and upon the upper right leg in black marker ("10"). PSA DNA LOA. Minimum bid $10,000.00.
Dizzy Dean 1938 Chicago Cubs Home Jersey
It's the only one known to exist! Dizzy Dean wore this Cubs home jersey his first two seasons in the Windy City! The thick wool, cream-colored, zippered garment boasts the team's red-and-blue "CUBS" logo patch sewn to the left breast and Dean's number "22" applied to the back in blue felt characters. The design, which was donned by Cubs players for the second of just two seasons, features blue piping around the neck and zipper path, as well as down the length of each shoulder. Adorning the left sleeve is an "1839 1939 baseball Centennial" patch, indicating that Dean wore the uniform top the following season, as well. Chain stitched just above the manufacturer's tag in red cursive is "Dean." Chain stitched in red upon the back tail's interior, "38" dates the jersey to Dean's inaugural Cub campaign. This vintage relic reveals evidence of light wear. Minimum bid $5,000.00.
BEAUTY IN THE ROUND - BASEBALLS
Hank Aaron Home Run #733 Record Setting Baseball
Hank Aaron wound down his National League career in typical power-laden fashion. Twenty home runs in 1974 gave him at least that many for a remarkable 20th consecutive season. The last blast came, fittingly, in his final N.L. at bat on October 2 off of Cincinnati pitcher Rawley Eastwick. It was No. 733 for his career. Aaron was subsequently dealt to the Milwaukee Brewers, for whom he'd deliver 22 more home runs in closing out his career. Offered here is the ball sent into orbit by the All-Time Home Run King for his final circuit clout as a Brave. This ONL (Feeney) ball shows expected soiling and bears a blue-ballpoint notation of "733" upon a ball image on the lower portion of its stampings. The inscription was made by the (then) Braves Equipment Manager, who in turn gave the ball to the Fulton County Recreation Authority-where it remained until Fulton County Stadium's 1997 demolition. Letters accompany the item from the former Stadium Manager and a former Recreation Authority employee. Minimum bid $5,000.00.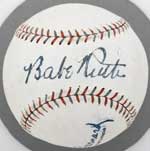 Ruth/Gehrig/Huggins Signed Baseball
This baseball symbolizes the best of the Yankees dynasties. It is delivered on an Official American League baseball from the administration of E. S. Barnard. It's universally applauded that the principal engines of those 1920's Yankees were Ruth and Gehrig. The splendid mystique of this ball is its third signing. Miller Huggins signature - at any level of condition - is painfully infrequent. Ruth's signature one the sweet spot is a "9", Gehrig's is an "8-9" and Huggin's is an "8." The ball is accompanied by a corresponding Reach box, which might be this ball's original. LOA from PSA/DNA. Minimum bid $5,000.00.
1928 New York Yankees Team Signed Baseball
All 17 of the pinstriped celebrities appearing on this signed ball were on the Yankee payroll in both 1927 and 1928. Its vintage, however, may be isolated in that it is an OAL ball holding the simulated autograph of E. S. Barnard. Highlights include: Babe Ruth "8" and Lou Gehrig "6-7." Other great signatures include: Waite Hoyt, Tony Lazzeri, and Earle Combs. LOA from PSA/DNA. Minimum bid $2,500.00.
BASEBALL TRIUMPHS AND TROPHIES
Mickey Lolich Full Size 1968 World Series Trophy
The 1968 Fall Classic featured one of the most anticipated World Series pitching duels in history. Games 1 and 4 matched the Detroit Tigers 31-game winner Denny McLain against St. Louis Cardinals ace Bob Gibson. Unfortunately, the games failed to live up to expectations-as Gibson defeated McLain by scores of 4-0 and 10-1, respectively. McLain's poor performance allowed teammate Mickey Lolich to shine. The lefthander won three games in the World Series and smacked his only major league home run. At the end of the Series, Lolich requested a full-size replica of the Tigers' team trophy. Representatives of Major League Baseball, the St. Louis Cardinals, and the Detroit Cardinals had to approve his request. This is the 1968 World Series trophy commemorating the memorable Detroit World Championship created just for Lolich. LOA from Lolich. Minimum bid $5,000.00.
Earle Combs 1932 New York Yankees World Series Ring
This ring was gifted to Hall of Famer Earle Combs for his contributions to the World Champion 1932 New York Yankees. A fixture in centerfield through a decade-long career, Earle Combs registered a predictable .321 that season, and even stroked a home run in the decisive Game 4 of the '32 Series. As an abundantly deserving recipient, he accepted this enduring and intensely personal memento. Showcasing the ring's face is a large diamond. The shanks are identical, one to another, distinctly illustrating the logo of the American League, which, in turn, is underwritten "1932." Fitted to size "11," the inner band holds the engraved script, "Earle Combs," and the printed identity of the maker, "D&C" (Dieges & Clust). The base is 14k gold. Minimum bid $2,500.00.
974 World Champion Oakland Athletics Owner's Trophy in Original Shipping Box!
As far as baseball goes, this is a prize among prizes: an Oakland A's 1974 World Series trophy issued to the team owners. Included is the item's original housing crate, a thick wooden box with a hinged, locking door. This gorgeous award remains mounted within the shipping container. A 4"-tall, round marble base is wrapped by a 2"-tall gold-colored panel that boasts engravings of names of the team's players and personnel, as well as "OAKLAND A's - 1974 WORLD CHAMPIONS." Proudly resting upon the base's center is a vertically placed, 11"-diameter ring, atop of which lies a gold-colored crown. Symmetrically surrounding the base are gold-colored flags that respectively bear the names of all 24 Major League teams. MT condition. Minimum bid $2,500.00.
MORE BASEBALL MEMENTOES
Rare 1863 "Union Prisoners at Salisbury" Civil War Baseball Print
Here is the genesis of full-color baseball lithography. In 1863, Otto Boetticher's painting "Union Prisoners at Salisbury, N.C." saw publication by the printing firm Sarony, Major & Knapp and distribution by Goupil & Co. in New York, Paris and London. The Civil War-era print remains universally recognized as the premier baseball lithograph of its period. Union prisoners take to the diamond under the watchful eye of Confederate guards. Surrounding the ballplayers is their fellow POWs, intrigued by this newfangled sport. Interestingly, the Civil War had a great impact on the popularity of baseball. Soldiers from rural and urban areas, from neighboring and faraway states, in the South and in the North, played the sport together during lulls in war action. They taught the rules to one another, and then brought the game home with them when the war was over. This extraordinary lithograph from that seminal period is one of approximately a dozen examples known to exist in private hands. Minimum bid $5,000.00.
1909-2003 World Series Ticket Collection (412)
Here is one of the industry's largest holdings in World Series tickets. There are over 400 different tickets in this collection. Most of these are stubs, but there's a generous representation of full tickets as well. Sixty-four of them have been graded by PSA, while a few others are PSA-authenticated. The collection's earliest piece dates to the 1909 tilt - its original customer witnessing the Wagner-Cobb confrontation. Minimum bid $5,000.00.
Thurman Munson's 1978 New York Yankees Team Signed Original Oil Painting
This painting is a splendid remembrance of one very special player, an unforgettable Yankees season and a year when the "Curse" was never more prevalent. The 1978 original oil painting was presented to Thurman Munson by his friend and teammate, Goose Gossage. Munson was the undisputed leader and most respected player on the Yankee squad that won three consecutive pennants (1976 to 1978), and two World Championships (1977, 1978). His tremendous presence as a Yankees figurehead and symbol came to a tragic end as a result of a fatal plane crash in 1979.Twenty-five of Munson's teammates, coaches and friends inscribed their careful, silver paint pen signatures, each of which are "9-10" in strength, throughout the lower half of this immensely desirable and fabulous work. The autographs include those of "Catfish" Hunter, Reggie Jackson, and Bob Lemon. LOA from PSA/DNA. Minimum bid $2,500.00.
HOOP HIGHLIGHTS - BASKETBALL
Kareem Abdul-Jabbar's NBA "50 Greatest Players" Signed Lithograph
In celebration of the NBA's Golden Anniversary in 1996, the League selected its 50 greatest players of all-time. The honored hardwood gurus included 41 Basketball Hall of Famers and 9 (then) current stars (one selection, Pete Maravich, was deceased and another, Shaquille O'Neal, remains active in the NBA). A lithograph was created to commemorate these 50 great players. The lithograph was limited to 250 pieces with 50 of them being issued to the players themselves. Each honored player respectively signed each lithograph in pencil (grading "9-10" overall). This is the print that was issued to Kareem Abdul-Jabbar himself ("1/1"). It bears 50 signatures, including those of: Kareem Abdul-Jabbar ("Abdul-Jabbar"), Nate Archibald, Paul Arazin, Rick Barry, Elgin Baylor, Dave Bing, Larry Bird, Wilt Chamberlain, Bob Cousy, Dave Cowens, Billy Cunningham, Dave DeBusschere, Clyde Drexler, Julius Erving, Walt Frazier, George Gervin ("Ice #44"), Hal Greer, John Havlicek, Elvin Hayes, Magic Johnson, Sam Jones, Jerry Lucas, Moses Malone, Kevin McHale, George Mikan, Earl Monroe, Robert Parish, Bob Pettit, Willis Reed, Oscar Robertson, ("2 COR 5:7"), Bill Russell, Dolph Schayes, Bill Sharman, , Isiah Thomas, Nate Thurmond, Wes Unseld, Bill Walton, Jerry West, Lenny Wilkens, and James. LOA from PSA DNA. Minimum bid $10,000.00.
Julius Erving 1980/81 Philadelphia 76ers Game Used Road Uniform
Julius Erving wore this full Sixers road uniform during the defining '80/'81 season. The red mesh pullover jersey boasts "SIXERS" arched across the chest in white-on-blue double tackle twill and Erving's since-retired (by both the Nets and 76ers) number "6" applied to the front and back in like fashion. Arched above the number on the back, "ERVING" is sewn in white characters. The accompanying red mesh shorts bear a red-white-and-blue, vertically striped elastic waistband. Respectively adorning the left and right legs are an "NBA 35th ANNIVERSARY" patch and a "76ers" team logo patch. An interior "Wilson" size "34" tag is accompanied by a flop tag whose contents have faded and a red strip tag on which "80 6" has been chain stitched in white numerals, denoting the year and player's number. The ensemble reveals evidence of moderate wear. Minimum bid $1,500.00.
Michael Jordan 1997/1998 Chicago Bulls Road Uniform
This Jordan uniform is one of two or three ensembles issued to the hoops icon that season. The road attire consists of red mesh shorts and a like-colored pullover jersey, which boasts "BULLS" and "JORDAN" respectively arched across the front and back in black-on-white tackle twill. Jordan's famed number "23" is applied to both sides in like fashion. Properly tagged, the garment features a "NIKE" (size) "48" label on the left front tail, flanking "NBA" and "BULLS" tags and a flop tag denoting "LENGTH +4." The shorts feature a red-white-and-black elastic waistband and the team's snarling bull logo sewn to the side of each leg. The "NIKE" (size) "42" tag within the waistband has a black-marker inscription of "23" and accompanying flop tags respectively reading "INSEAM +2," and "1997-98." The uniform reveals evidence of light game use. Minimum bid $1,000.00.
FOOTBALL - COLLECTING GOALS
1952 Bowman Large High-Grade Complete Set (144)
This set contains all of the 144 cards included in the 1952 Bowman Large football release-a production whose surviving elements are rare in the marvelous state of preservation seen in the offered assembly. A total of 94 cards have been graded (93 by PSA and one by SGC). Includes: Graded Cards - Graded PSA NM-MT 8: 81 cards w/#'s 1 Van Brocklin SP, 2 Graham, 10 Bednarik, 12 Trippi, 16 Gifford, 17 Tittle,, 19 Connor, SP, 23 Marchetti,, 28 Rote , SP, 29 McElhenny, 30 Baugh, 37 Hirsch SP, 48 Halas, 63 Conerly SP, 85 Robustelli, 99 Stydahar SP, 101 Weinmeister, 105 Groza, 125 Nomellini, 127 Matson SP, 128 Lavelli, 129 Christiansen, and 142 Landry; PSA NM 7: 12 cards w/#'s 13 Fears, 14 Brown, 18 Justice SP, 27 Miller SP, 45 Van Buren SP, 46 Donovan SP, 56 Rote, 83 Perry, and 135 Ronzani SP; SGC 84 NM 7: 1 card, #72 Schweder SP. Ungraded Cards grades 70% NM to NM/MT, 25% EX to EX/MT, 5% lesser. Minimum bid $5,000.00.
Emmitt Smith 1992 Dallas Cowboys Game Used Home Jersey
Emmitt Smith wore this Cowboys home jersey during his first title season. This white mesh pullover garment features Smith's number "22" heat transferred to the front, back and shoulders in blue numerals. "E. SMITH" is applied to a panel above the number on the back in like fashion. Black-outlined blue stripes adorn the sleeve endings-which have been customized for Smith with elastic lining. An NFL logo patch (first used in 1991) is situated at the base of the V-neck and a Russell Athletic trademark "R" is sewn upon the right sleeve. The item reveals evidence of heavy use. Minimum bid $900.00.
HOCKEY
Gem Mint 1979/80 O-Pee-Chee #18 Wayne Gretzky Rookie Card - PSA GEM MT 10
This one-of-a-kind item is absolutely the very finest Wayne Gretzky rookie card in existence. The mesmerizing attributes of the most valuable hockey card on the planet are properly realized, at last, in this beyond spectacular collectible. Here is an item that transcends its sport, in the sense that it stands as arguably the most valuable modern trading card of any kind. This incomparable showpiece features sublime distribution of its colors beneath starkly apparent, super-bright gloss. The item's brilliant blue borders are amazingly well aligned; the surrounding corners betray no hint of circulation, and the card's central likeness of the youthful Oilers superstar displays impeccable focus. Finally, the distinctive O-Pee-Chee "rough-cut" edges, a pitfall aspect in many of the industry's lesser copies, reveal breathtaking, never-touched perfection. Minimum bid $10,000.00.
Autographed Hockey Card Collection (35,000+)
It's impossible to look at this staggering assembly of autographed hockey cards, and imagine that there actually could be a single hoard that's this large and impressive. This gargantuan collection of hockey-themed trading cards, each one signed by its subject (or multiple subjects) exceeds 35,000 pieces. The majority of the items are sorted, alphabetically by name, within eight 5,000-count boxes; there are also a couple of binders-full, as well as a few smaller boxes. Hall of Famers, everyday players, minor leaguers and local Canadian favorites...are all here-in bulk! The signatures within the collection (most of which were penned in Sharpie and present minimally "8-9" strength) were gathered over the course of a number of years by a devoted, lucky hobbyist who had an "in" with one of the NHL teams. The cards range in age from the 1970's through the 1990's, and in condition from about EX to NM. Highlights include: Phil Esposito (13), Tony Esposito (22), Wayne Gretzky (62), Gordie Howe (10), Bobby Hull (23), Brett Hull (94), Jaromir Jagr (16), Mario Lemieux (27), Denis Potvin (14) and Steve Yzerman (29). LOA from PSA/DNA. Minimum bid $5,000.00.
RACING RELICS
Bill Vukovich's 1953 "Indianapolis 500" Winner's Trophy!
In the 95-year history of "The Greatest Spectacle in Racing," only five drivers have captured the checkered flag in two consecutive years. One member of that elite quintet is Bill Vukovich, the Indy 500 winner in 1953 and 1954. In the first of his commanding victories, Vukovich led for 195 of 200 laps. In both, he lapped the entire competition. He was the favorite in 1955 as well, and even led the field before perishing in a deadly multi-car collision.
This is Bill Vukovich's 1953 Indy 500 winner's trophy, presented to the fallen legend following his first victory at Indianapolis Motor Speedway. The elegant 26"-tall award has a three-dimensional silver replica of The Borg-Warner Trophy, the permanent, monumental, 68-year-old showpiece to which each winner's sculpted portrait is added every year. Vukovich's silver portrait and his name and race details ("1953 - 128.740 M.P.H.") adorn the bronze base just as they grace the respective 1953 square on the facing of the actual Borg-Warner. At the upper portion of the bronze mount, wreathed in golden leaves, is the engraved title: "BORG-WARNER TROPHY - THE INDIANAPOLIS 500 MILE RACE."
For most of Indy 500 history, the champion alone took home this prestigious bronze-and-silver award. Starting in 1991, the winning driver was instead presented with an 18"-tall replica Borg-Warner Trophy, known as the "Baby Borg," and in 1997, team owners began receiving their own Baby Borgs, too. Any Indianapolis 500 winner's trophy to surface on the open market is a rare boon for racing enthusiasts. This is the ultimate racing trophy-a once-in-a-lifetime offering for the advanced Indy Car collector. Minimum bid $7,500.00.
Bill Holland and Wife 1949 "Indianapolis 500" Winner's Rings
Indianapolis 500 winner's rings are not like the championship rings of other major sports. Only the winning driver is bestowed with the hard-earned bejeweled keepsake-not the team owner(s) or crewmembers. In fact, the only other person privy to an Indy 500 ring is the winning driver's spouse, who may or may not decide to exercise that option. MastroNet is offering both rings from the year 1949, when Bill Holland captured the checkered flag after leading the field for 146 of 200 laps. The 14-karat gold rings share an identical design, with the surface area of the driver's example (size "9-1/2") measuring about three times that of the spouse's ring (size "4-1/2"). On the face, five genuine diamonds border the left side of a checkered flag, decorated in black and white enamel (some of which has rubbed off on the driver's ring). Raised lettering of "1949" and "500" appears on the shanks, and "Ringmaster - 14K" is engraved inside the band. Minimum bid $2,500.00.
AMERCIANA HIGHLIGHTS
HISTORY IN THE MAKING - HISTORICAL ITEMS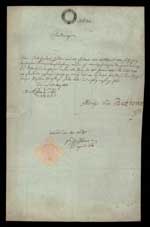 1824 Beethoven Document with Full Signature!
Ludwig van Beethoven (1770-1827) endorsed this certificate of receipt on March 30, 1824, acknowledging the royal patronage paid to him for his preceding six months of musical composition. Remarkably, it was precisely during this half-year span in Beethoven's career that the musical virtuoso completed his magnum opus, Symphony No. 9 in D Minor. Renowned throughout the world, Beethoven's Ninth was his final symphony and featured the extended variation-finale of Freidrich Schiller's "Ode to Joy" (An die Freude), which has since become the official anthem of the European Union. Beethoven was fully deaf by the time of its composition. As recorded in this official receipt, an heir to Prince Kinsky, one of his wealthiest patrons, financially supported Beethoven's completion of the Ninth Symphony. Fifteen years earlier, Kinsky, along with Archduke Rudolph and Prince Lobkowitz, had endowed Beethoven with an annuity that helped ease the great composer's life-long monetary problems. Here, for the period of September 31, 1823 through April 1, 1824, he received 600 florin, half of the 1,200 florin promised to him for the year. Beethoven's flawless, full signature dated March 30, 1824 from Vienna, spans 4" in length. LOA from PSA/DNA. Minimum bid $10,000.00.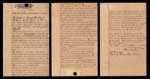 1878 Patent Application for the Phonograph Signed by Thomas Edison
In 1877, thirty-year-old Thomas Edison was trying to perfect the telegraph, a machine that he hoped would transcribe words from an encoded system of indentations on paper tape. Then he had an epiphany. What if a person could talk into a mouthpiece that would then impress the sounds onto a permanent surface? Edison realized the implications would be revolutionary. Edison saw modest success using wax paper, but soon replaced it with a metal cylinder wrapped in tin foil. He recorded the children's nursery rhyme "Mary Had a Little Lamb," and then played it back for himself. It worked. Just before filing a patent for the cylinder phonograph, Edison is said to have brought his invention to the office of a New York science magazine, which reported it in its next issue. Word spread throughout the land. Edison's U.S. patent was approved in early 1878. The inventor then set his sights on the world.
This is Thomas Alva Edison's actual patent application for the phonograph in India! The unique specimen, dated October 12, 1878, is titled "The Petition of Thomas Alva Edison of Menlo Park, New Jersey, United States of America for leave to file a specification under Act No 15 of 1859 of the Legislative Council of India." The document is flamboyantly signed in black fountain pen, "Thomas Alva Edison." The handwritten text states that this is not only the first patent application for the phonograph in India, but the first in the entire British Empire. The two-page document goes on to describe the phonographic process in great detail, and then concludes with Edison's charismatic signature, which grades a "10." LOA from PSA/DNA. Minimum bid $10,000.00.
Spectacular Amelia Earhart Flight Ensemble with Leather Jacket, Cap and Goggles
Amelia Earhart did so much to advance the lives of women by being the first person, male or female, to fly solo across both the Atlantic and Pacific Oceans. Earhart always showed an individual sense of style and a never-ending supply of moxie. In addition to her flying career, Earhart was the aviation editor for Cosmopolitan Magazine and a women's career consultant at Purdue University. The girls of the campus followed her around and mimicked her style. Offered here are three extraordinary items that were actually owned and worn by the famed aviatrix. The trio includes:
Flight Jacket - This thigh-length jacket is made of soft sienna-brown leather. Below the label is the important rubber-stamping, "Amelia Earhart."
Flight Helmet - The helmet matches the companion jacket. Inside the helmet, where the "Amelia Earhart" name stamping appears, a wool lining is still attached.
Flight Goggles - This eyewear was custom-made for Earhart's small, strong face. Each well-preserved, squared lens carries the proper shade of green tint.
Less than three flight-jacket-and-helmet ensembles worn by Amelia Earhart exist in the world's private or museum collections. The Smithsonian Institute owns one jacket. Another outfit, on display at Purdue University, consists of a flight suit and a suede jacket of Amelia's that were donated by her husband. Minimum bid $10,000.00.
"The Iwo Jima Monument" Mid-1960's Felix de Weldon Authorized Limited Edition Bronze Casting
Hundreds of thousands of people from around the world converge on Arlington National Cemetery every year to view The Marine Corps War Memorial, otherwise known as sculptor Felix de Weldon's "Iwo Jima Monument." De Weldon began work on his epic project immediately upon seeing Joe Rosenthal's Pulitzer Prize-winning photograph of the flag raising, published in Sunday newspapers on February 25, 1945. The Austrian-born sculptor first created a scale model, which met with approval by President Harry S. Truman in June of 1945. He then undertook the painstaking detail required for his immense masterpiece. De Weldon handcrafted and oversaw every aspect throughout the plaster creation and bronze casting processes. This bronze-cast artist's proof was one of only 8 to 10 produced by a foundry in the mid-1960's as part of a signed limited-edition issue authorized by de Weldon himself. The sculpture weighs roughly 115 pounds. It measures 22" in height (47" with its 48-star flag), 24" in length, and 15" in width. The carved signature and limited-edition number are located near the back of the depiction, on one side of the base: "Felix de Weldon - 5." Minimum bid $10,000.00.
ENTERTAINMENT SENSATIONS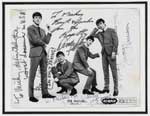 Phenomenal 1961 Beatles Signed Liverpool Photo with Pete Best!
Beatles fans don't need the lecture, but for those who may be uninformed, Ringo Starr was not the Beatles original drummer. That honor falls to Pete Best. Starr replaced Best in 1962 and the rest, as they say, is history. Presented is a rare 8-1/2" x 6-5/8" black-and-white photo with Best as part of the line-up. An "Albert Marrion Photography" stamping is visible on the reverse. Marrion was one of the Beatles' early photographers, and this shot is believed to be from a photo session conducted in December of 1961. All four band members have signed the reverse in red ballpoint. All four signatures average "9-10." LOA from noted Beatles expert Frank Caiazzo. LOA from PSA/DNA. Minimum bid $5,000.00.
1957 Elvis Presley Personally Owned and Signed Phonograph
This vintage phonograph, once personally owned by the "King" himself, is among the finest Elvis Presley signed display pieces in existence. The red-and-white portable record player, manufactured by "Symphonic," has been signed on the interior of the lid, "To George from Elvis Presley - The year '57'" ("9-10") in greenish ink. The phonograph was given as a Christmas gift to one of Presley's closest friends, George Klein, and is accompanied by a signed letter of authenticity from Klein. At the time of its presentation, this turntable was one of the finest "state of the art" record players on the market and is a significant collectible in its own right. Two photos picturing Elvis and Klein together accompany the phonograph. The first is of the two posing together at Klein's radio studio and the second is them together at Klein's wedding. LOA from PSA/DNA. Minimum bid $2,500.00.
Historically Significant 1933 "Marx Bros., Inc." Minutes of First Corporate Meeting - Signed by All Four Brothers with Their Real and Stage Names!
There was no love lost when the Marx Brothers fulfilled their five-picture contract with Paramount and decided to strike out on their own, forming "Marx Bros. Inc." Artistic and financial differences raged in pre-production for their final Paramount film, Duck Soup (1933), and both parties knew that their imminent split was long overdue. The Marxes continued making madcap comedies like A Night at the Opera and A Day at the Races, but most aficionados agree that those first five films-The Cocoanuts, Animal Crackers, Monkey Business, Horse Feathers, and Duck Soup-showcased the Marx fraternity at its zany pinnacle. The offered item is a seminal document in the second phase of Marx movie madness: the actual typewritten minutes from the first meeting in the history of the newly minted corporation, Marx Bros., Inc. The two-page document is signed twice by Harpo (company chairman) and Chico (company secretary) and once by Zeppo and Groucho. Each scripting contains the comedian's real and stage name: Arthur Harpo Marx, Herbert Zeppo Marx, Leo Chico Marx, and Julius Groucho Marx. The beautifully penned brown-ink signatures grade "9-10." LOA from PSA/DNA. Minimum bid $2,500.00.
TITANIC TREASURES
Of all the stories of drama on the high seas, none looms larger or carries as much drama as the maiden voyage of the star-crossed Titanic. No matter how many times one revisits the tragedy it remains unfathomable how a 45,000-ton luxury passenger ship deemed "unsinkable" could collide with an iceberg and sink within two hours. More than 1,500 people died, including some of the era's wealthiest individuals, leaving a mere 700 survivors to watch the nightmare unfold in lifeboats until rescue arrived. There are many reasons why the ill-fated voyage of the Titanic continues to fascinate collectors and the general populace. First, it represents the ageless attributes of class struggle. It also showcases the worst and the best of human character - cowardice vs. dignity, courage and grace. The legend also tosses in a major dose of arrogance and shortsightedness. How could the company that created the most luxurious ocean liner sacrifice safety for sophistication by removing lifeboats that would have saved hundreds of more people? All these aspects culminate in the obsession that remains today regarding everything Titanic.
Titanic Original Deck Chair
Of all the flotsam recovered from the open sea after Titanic's sinking, deck chairs are arguably the most revered. Their significance stems from the fact that they concurrently symbolize the elegance of the ship and the last desperate struggle of victims in the sea. After the ship sank, deck chairs popped to the surface and individuals tossed into the sea clutched them in a vain attempt to stay alive. Of course help was hours away and the fight for life was lost to the frigid sea. Very few Titanic deck chairs are known to exist. The one being offered in the MastroNet auction was formerly housed in Canada's Manitoba Museum of the Titanic. The minimum bid is $10,000.00.
Titanic Deck Bench
Another piece of this maritime history in MastroNet's August auction is an original Titanic deck bench. Titanic arrived in Southampton on April 4, 1912 to receive finishing touches six days before her launch to New York. Workers rushed to lay carpet and apply layers of paint, load crates and fuel. Room was needed on deck to load heavy machinery which explains how this 8-foot long teak deck bench survived. It is one of what is thought to be three benches that were removed to make way for more indispensable equipment. After many decades at the White Star Line's office, the bench was given to an English vicar whose family sold it in 1988 through a London auction house. The minimum bid is $5,000.00.
PRESIDENTS AND POLITICS
Extremely Desirable Circa 1876 Baron Von Steuben/George and Martha Washington Inlaid Marquetry Tilt Table
Baron von Steuben (1730-1794) was a prominent Prussian officer and statesman by the time he traveled to Paris in 1777 for a meeting with America's Commissioner in France, Benjamin Franklin. Von Steuben offered his services in the Revolutionary War and refused any remuneration. Von Steuben's military acumen greatly impacted the Continental Army's ultimate success. In honor of Baron von Steuben's legacy, and that of our first President George Washington and First Lady Martha Washington, a master woodworker in the late-nineteenth century created this breathtaking marquetry-style table. Inlaid on the 28"-diameter surface are delicate portraits of the three iconic figures. Minimum bid $7,500.00.
Mammoth 1840 William Henry Harrison Six-Sided Campaign Jug
This is the finest known example of the few Harrison hexagonal campaign jugs that have ever surfaced. Soon-to-be President William Henry Harrison is prominently pictured on four of the jug's six sides, with each depiction bordered top to bottom by a log cabin and a U.S. Eagle seal, respectively. The cabin imagery was intended to invoke Harrison's reputation as an agrarian everyman, in contrast to his opponent Martin Van Buren who, according to the prevalent perception, was busy sipping champagne in his lavish mansion at 1600 Pennsylvania Avenue. Although Harrison and Van Buren were equally aristocratic by the standards of the period, the public view of Harrison as a cider drinking, modest-living, Indian fighter from Ohio proved a success, if a short lived one. President Harrison caught a cold on Inauguration Day, March 4, 1841. One month to the day later, he succumbed to pneumonia-the first Chief Executive ever to die in office. Near Mint to Mint condition. Minimum bid $5,000.00.
Extremely Rare 1864 Abraham Lincoln Campaign Bandana
Although it may be hard to fathom today, Abraham Lincoln's bid for a second presidential term was in dire jeopardy just a few months before Election Day. War-weary Union supporters questioned his leadership, radical Republicans were dismayed by his soft policies on Reconstruction and Lincoln himself had doubts. Ultimately, it was probably the momentum of General William Sherman's March to the Sea campaign that secured voters' faith in a Union victory, and thus, to President Lincoln's ability to bring the Civil War to closure. Of the 25 states that participated in the 1864 election, Lincoln carried 22 of them, though McClellan and running mate George H. Pendleton managed to garner more than 40% of the popular vote.
This campaign bandana served Lincoln's determined cause during the uncertain period leading up to Election Day. The large 7"-tall portrait is based on an engraving by J. C. Buttre after a photograph by Mathew Brady. In the corners of the elaborate, patriotic perimeter are clasped hands, symbolizing Lincoln's efforts toward national unity. The bandana measures 26" x 22", its colors are radiant, and its presentation quality is splendid. Near Mint overall appearance. Minimum bid $5,000.00.
Extremely Rare 1868 Alaska Purchase Era Document Signed by President Andrew Johnson
The decision by the United States to purchase Alaska from Russia is widely considered one of the most important land acquisitions in American history-second only to the Louisiana Purchase. It was also received with a fair amount of debate-both in the U.S. Congress and on the street. Andrew Johnson, the 17th President of the United States, and his Secretary of State, William H. Seward, disagreed with the naysayers. Though many people immediately associate Johnson with the process of impeachment (he was ultimately acquitted), scholars cite his administration's acquisition of Alaska as being among his most significant historic contributions. In October 1867, Russia formally transferred the territory of Alaska to the United States for $7.2 million-less than 2 cents an acre. The purchase led to various agreements between the U.S. and Russia, including this one dated August 18, 1868, which detailed the formalization of U.S. sanctions with respect to Russian commerce. The document is signed "Andrew Johnson" (grading "10"). LOA from PSA/DNA. Minimum bid $2,500.00.
COMIC CREATIONS
1963 "Mad" #79 - Original "Whistler's Mother" Cover Painting by Norman Mingo
Norman Theodore Mingo was born in 1896. Deciding at a young age that serious art was the career he wanted to pursue, he had no idea the curve life was going to throw his way - that he would become the ultimate Mad magazine cover artist. More than any other artist, Mingo is most closely aligned with the Alfred E. Neuman image. He was the first to capture him in a painted portrait (Mad #30, 1956), and he produced many of the most classic covers the magazine featured during its 2.4 million-copies-per-issue sales era. This is one of his many exceptional Mad covers, an early one that he produced for issue #79 (June, 1963; "Mad's Special Mother's Day Issue"). It celebrated the icon of "Whistler's Mother." The original painting is done in mixed media, using masthead stats for the lettering. Minimum bid $5,000.00.
August, 1940 "Famous Fantastic Mysteries" Original Cover Oil Painting by Virgil Finlay
Virgil Finlay is recognized as one of the true masters of science fiction and fantasy illustration. His works, particularly his far rarer cover paintings, are actively pursued by a broad collecting base. This very attractive cover work was produced as the first of his classic 1940's run of cover paintings for Famous Fantastic Mysteries. The 15-5/16" x 15-3/8" painting features the main characters from the issue's featured novella, George Allan England's "Darkness and Dawn." Executed in oils on #4 Murillo illustration board, the original has an additional section of board that is taped to the reverse that carries a written presentation message that reads, "To Chicon, 1940 - Compliments of Mary Gnacdringer (sp?) and Virgil Finlay - The Frank A. Munsey Company." A standard pre-printed and typed Munsey editorial label is also still mounted to the reverse, designating the cover's use for issue #9 (August, 1940) and containing instructions for the engraver. Minimum bid $2,500.00.
CLASSIC AUTO MEMORABILIA
Exceptionally Rare 1936 Mercedes-Benz "540K Special Coupe" Advertising Figure
This outstanding example of Mercedes-Benz advertising was displayed at the 1936 Berlin Auto Show to promote the 1936 Mercedes Special Coupe. The colorful art deco plaster statue is unsigned, stands 18" tall and pictures a tuxedoed gentleman of the day holding a model of the Mercedes coupe above his head for the world to see. The base features the company's famous three-star logo with adjacent "Mercedes-Benz" in raised blue lettering. Research indicates that this is one of only two existing survivors, with the other example on display at the Dutch National Heritage Museum in the Netherlands. Minimum bid $2,500.00.
Circa 1920 "Austro Daimler" One-of-a-Kind Solid Silver Factory Model Automobile
This early 1920's masterwork is an extremely detailed four-door "Phaeton" factory model that might have been awarded to an important company executive or master designer as a token of appreciation. The car is 13" long and weighs in at a hefty 6.5 pounds. The entire upper body of the car is formed of solid silver, while the undercarriage, running boards and other parts are made of heavy metal plate. The impeccable attention to detail is what makes this so much more than just a model. This is a museum quality example of 1920's automotive design, produced with the infinite care and attention to detail that was the benchmark of the legendary Austro-Daimler Company. Minimum bid $2,500.00.
ORIGINAL ART/ILLUSTRATION
"Battle of Bunker Hill" Large Oil on Canvas by Darius Cobb (1834-1919)
In the first major skirmish of the Revolutionary War, American colonists, undermanned and ill-equipped, face the charge of the mighty British forces. The entire movement for independence hinged on the Battle at Bunker Hill. Nearly half of the more than 2,000 British soldiers were killed or wounded on June 17, 1775, sending a clear message to the Mother Country that these colonists were of no ordinary mettle, and would fight to the death for their freedom. It is this battle scene that painter Darius Cobb (1834-1919) chose for his monumental work "The Battle of Bunker Hill." Bayonet-wielding Lobsterbacks swarm toward the American colonists, who fire their first shots by order of a central figure with a sword. This is most likely a depiction of General Warren, a martyr of Bunker Hill and one of the first patriot heroes to fall during the Revolutionary War.
Darius Cobb, born in Malden, Massachusetts, was a well-known painter and portraitist in the Boston area during the late 19th and and early-20th Centuries. His works currently are housed at the Peabody Essex Museum in Salem, Massachusetts and the Butler Institute of American Art in Youngstown, Ohio, as well as the State House in Concord, New Hampshire. His valiant oil-on-canvas work offered here measures approximately 3 feet x 5 feet and is signed by the artist at lower left. On the reverse of the canvas, a stamping for conservation work done during the 1970's is faintly visible. Minimum bid $2,500.00.
"Evacuation of Boston Harbor" Large Oil on Canvas by Darius Cobb (1834-1919)
In this painting, noted American artist Darius Cobb (1834-1919) captures a vital scene from the early stages of the Revolution: the British evacuation of Boston on March 4, 1776. The "Evacuation of Boston" measures approximately 3 feet x 5 feet, and is housed in an incredibly ornate, thick, gold-toned frame. Along the bottom of the frame, a plaque reads "EVACUATION OF BOSTON." Minimum bid $2,500.00.
Mid-19th Century George and Martha Washington Large Oil Paintings After Gilbert Stuart (2)
This monumental matching pair depicts our first President and First Lady as they appeared in the mid-1790's. The oil-on-canvas portraits, achieved in 1865 and 1871, respectively, measure 25" x 30". The likeness of George Washington is based on Gilbert Stuart's so-called "Athenaeum" portrait seen on U.S. one-dollar bills. When Washington sat for Stuart in 1796, the master artist knew he had created, arguably, the finest portrait of the President to date. But he could not have known then that the rendering would come to define how future generations would picture Washington in our collective mind's eye. In addition to the dollar bill, Stuart's likeness has also graced postage stamps and, now, the best-selling biography His Excellency: George Washington by Joseph J. Ellis. Martha Washington sat for Stuart during the same period, and her portrait is also based on the artist's benchmark work. Minimum bid $2,500.00.
For More Information
To register for the MastroNet August auction and receive an auction catalog, call 630-472-1200 or go to www.mastronet.com. Bidding for the auction begins August 1, 2005.