On June 13, 2005, MastroNet, the world's leading Sports and Americana auction house will open the collecting floodgates with the latest installment of its Classic Collector auction event. MastroNet Classic Collector auctions, which are internet-only events have continued to generate industry buzz and increasing results each time one has been held.
The upcoming MastroNet June Classic Collector auction will feature many lots of quality Sports and Americana items that appeal to a wide collecting audience. All lots will open with a $100 minimum bid. Bidding will begin on June 13 and conclude on June 23. Specific highlights include:
SPORTS MEMORABILIA
Sports Cards - A MastroNet Specialty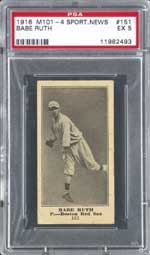 1916 M101-4 Herpolsheimer Co. - Babe Ruth - PSA EX 5
Only five cards like this one have ever graded higher. It displays Ruth's photo image from 1916-arguably his finest season as a moundsman. The parent sponsor for this issue was The Sporting News, and several regionalized licensees adopted the photography-this one being Herpolsheimer (a clothier in Grand Rapids) whose authorization was exclusive to M101-4.
1952 Topps #312 Jackie Robinson - PSA NM-MT 8
Less than ten copies of this card have received a higher, unqualified grade. The classic portrait of the Dodgers' Hall of Fame second baseman is presented magnificently on this 1952 Topps high number showpiece.
1951 Bowman #165 Ted Williams - PSA NM-MT 8
This classic collectible of Ted Williams features a superb illustration of its subject, placed against a sparkling, filled-stadium background. The card's essentially "brand-new" appearance is derived from the harmony of strong, vivid hues, with perfect registration, and bright, uninterrupted original gloss. Barely a dozen copies in the industry have earned higher grades.
1952 Red Man Tobacco #14 Gil McDougald - PSA MINT 9
There isn't a card like it graded higher. The offered card's oversized dimensions serve to accentuate its beautifully colored portrayal of the Yankees infielder and the visual impact of its extraordinarily fine quality of preservation.
1966 Topps #50 Mickey Mantle - PSA MINT 9
This card displays unimprovable visual harmony through a combination of bright photographic fidelity, untouched surface gloss and sharp corners. Not only is the left-handed batting likeness of the Hall of Famer splendidly presented, the surrounding bright-red graphics display perfect quality in printing with no spots or interruptions.
1957 Topps #55 Ernie Banks - PSA MINT 9
This 500 Home Run Club member is the most beloved player in Chicago's baseball history, and his 1957 Topps card is a favorite among collectors. Banks' batting posture dominates the collectible's design, and a glistening, pristine surface reinforces its visual impact. The likeness's bold detail and superior registration, as seen in this example, are enhanced by their placement against an actual stadium background.
1950 W576 B.E. Callahan Hall of Fame Completely Graded Set (86)
Each card has been graded by PSA. The offered set includes 82 different subjects, plus four scarce variation cards. Many of these pieces, which were available at the time of issue only by visiting baseball's shrine at Cooperstown, are placed at or near the highest grading tier enjoyed by an example of their subjects. They include: PSA MINT 9: 6 cards; PSA NM-MT 8: 52 cards PSA NM 7: 27 cards and PSA EX-MT 6: 1 card.
1928 "Star Player" Candy Card Babe Ruth
To date, the likenesses of 72 different baseball players have been discovered appearing in the 1928 "Star Player" candy card issue. Among the subjects is this photo image of Babe Ruth - presented in a pose unique to the issue. It is an extremely rare card and one of the very few that appeared when Ruth was in his prime.
1915 Cracker Jack #103 Joe Jackson - PSA EX 5
The legend of Joe Jackson is widely known to all baseball enthusiasts. Unfortunately for modern collectors, the great player's career was abbreviated by scandal, and his inclusion in contemporary card sets was correspondingly limited. Fortunately, Cracker Jack decided to include Joe Jackson in the company's 1915 offering. This example's design provides the classic, colorful batting pose of Jackson, placed against the brightest-imaginable background. The back carries a biography of Shoeless Joe, along with instructions explaining how to obtain a full set of 1915 Cracker Jack cards by mail.
1913 Voskamp's Coffee Pittsburgh Pirates Cards (6)
Many of the hobby's most sophisticated collections are awaiting the opportunity to add a "type" card from this fascinating series that was released only in the Pittsburgh region and includes only the members of the hometown Pirates. Each of these 2-1/4" x 3-5/8" items features a black-and-white photograph of an individual player. Includes: Ham Hyatt and Marty O'Toole.
1933 R319 Goudey #160 Lou Gehrig - PSA NM 7
Lou Gehrig's determination has become synonymous with Yankee greatness. The light, sometimes subtle colors of the 1933 Goudey issue are seen to the full realization of their visual appeal in the offered example, which depicts Gehrig in a kinetic batting portrayal. This is a commendable specimen of one of the hobby's most widely coveted cards.
1935 National Chicle #9 Knute Rockne - PSA EX-MT 6
One of football's greatest personalities, Rockne was honored on very few period collectibles, and his National Chicle football card is by far the most famous such artifact. Offered is a deservedly cherished vintage card of the celebrated Notre Dame coach, with an obverse illustration of the esteemed Rockne that is extraordinarily bright and well focused for the softly hued issue. The card's corners remain nicely preserved.
1966 Topps #96 Joe Namath - PSA MINT 9
Looking for a truly elite second-year card of "Broadway Joe?" This is one of just four examples in the hobby to merit its unqualified tier-from more than 340 copies residing in PSA holders. The card's centering is impeccable and its brown borders are essentially perfect.
1951 Topps "Connie Mack's All-Stars" Lou Gehrig - PSA EX 5
This is one of only two examples of this card graded at this level with just three copies graded higher. Topps first "serious" effort to produce baseball cards combined a number of novel features to create collectibles that readily transformed from flat items into intriguing, stand-up display pieces. This amazing survivor depicts baseball immortal Lou Gehrig. The card's ambitious and innovative design is nicely preserved in the offered Gehrig example, with clean front and back surfaces allowing full appreciation of its delightfully eye-catching presence. This is a commendable "key" card from a super-desirable issue.
1911 T3 Turkey Red Ty Cobb w/Rare "Advertisement" Reverse
This 1911 T3 premium card of Cobb presents a near-perfect picture of the baseball great. The collectible is a visually captivating example of its sought-after type. Its colors leap forth from the figure of Cobb, from the background, from the caption block and the border, and impeccable resolution of those hues allows the design to project like no other baseball card of any kind, or any size. The series' much more difficult "Turkey Red" advertisement back is remarkable in its cleanliness.
1960's Sandy Koufax Insert and Specialty Card Collection (6)
Each of these scarce items has been graded and encapsulated by PSA. These coveted pieces honor Dodgers Hall of Famer Sandy Koufax from the onset to the height of his stellar career. Three of the outstanding collectibles presented (1963 Topps Peel-Offs, 1964 Topps Photo Tattoos and 1965 Topps Embossed) occupy the highest grading tier known in their subject-types. Includes: Graded PSA MINT 9: 2 items w/1963 Topps Peel-Offs Koufax and 1965 Bazooka Hand Cut #32 Koufax; PSA NM-MT 8: 4 items w/1955 Golden Stamps Koufax/Brooklyn Dodgers, 1964 Topps Photo Tattoos Koufax/Diagonal Band, 1964 Topps Stand- Up Koufax and 1965 Topps Embossed #8 Koufax.
1890's N269 Lorillard's "Mechanic's Delight" Boxing Card Collection
These very scarce 19th Century boxing items are much larger than most pugilistic-themed cards from the period. Distributed with Lorillard's "Mechanic's Delight" brand, and lithographed by Ballin & Liebler of New York, the cards feature clear, sepia-toned likenesses of their champion subjects. An in-depth biography of each fighter appears on his card back. Includes: #'s 6 John Flood (FR/GD), 11 Billy Edwards (FR/GD), 13 Jem Mace (FR), 21 Arthur Chambers (GD), 24 Pete McCoy (PR) and 32 Geo. La Blanche (FR).
1921 Koesters Bread World Series Issue Collection (15) with Babe Ruth
Each card has been graded by PSA. These fantastic individual pieces are essentially one-of-a-kind. A regionally distributed effort, the series highlighted only the 1921 World Series participants, the Giants and Yankees of New York, with the latter squad forming the entire roster of this amazing offering. The card of Babe Ruth, in particular-with his Boston Red Sox uniform silently contradicting the updated, "New York Americans" bottom-caption-is especially fascinating. The collection includes: Graded PSA GD 2: 15 cards w/Baker, Hoyt, Huggins, and Ruth.
1933/36 Zeenut Joe DiMaggio/Throwing Candy Card
Among the most desirable of all Zeenut collectibles are the rare "pre-rookie" portrayals of future Yankee Clipper Joe DiMaggio. Offered is a DiMaggio "throwing" pose card (featuring the standard Zeenut spelling, "DeMaggio." This extraordinarily presentable P.C.L. regional carries a strong measure of eye appeal, and it would distinguish itself as a mark of achievement in any advanced Joe DiMaggio collection.
More Sports Memorabilia
Spectacular Babe Ruth Single Signed Ball - PSA NM-MT+ 8.5
This near-white OAL (Barnard) ball showcases a blue-ink sweet spot signature, wonderfully executed and complete with the quotation marks indicative of Ruth's earlier autographs. The dynamic scripting captures the Bambino's vivacious personality and signature style to the maximum. Radiant stampings grace the red-and-blue-seamed ball, which comes with its colorful original box. LOA from Steve Grad/PSA DNA and LOA from James Spence.
Lou Gehrig Single Signed Baseball
The personification of the American work ethic, Henry Louis Gehrig was well deserving of his "Iron Horse" moniker. Playing in 2,130 consecutive games for the Bronx Bombers, Gehrig earned his 1939 Hall of Fame induction with a record 23 grand slams. Offered is an OAL (Harridge) ball signed on the sweet spot by Gehrig. This medium-toned sphere's stamping dates it to 1934-1939 and is graced by Gehrig's black-ink signature (grading "4"). LOA from Steve Grad/PSA DNA and LOA from James Spence.
Huge "Larry Lajoie" Autographed Note with Cy Young Content
If, in 1936, the question arose as to whom the greatest pitcher in baseball history was, one would think that there would be room for debate. But, not in the mind of Hall of Famer Larry Lajoie. On this small autograph book sheet, Lajoie casts his vote for none other than the legendary Cy Young. Penned in bold blue fountain pen, Lajoie has both signed his name and lauded his famous contemporary: "Larry Lajoie 12-2-36 Cy Young greatest pitcher of all times Won 511 Games." Both the signature and inscription grade "10". LOA from James Spence & Steve Grad/PSA DNA.
Rare 1930 Philadelphia Athletics World Series Press Pin
This artistically unassuming piece from 1930 is the bane of determined collectors. The opportunity is extended here, however, to attain this trophy. This pin's enameling is absolutely magnificent with not a crack or chip to be found. The pin, including its original threaded post and nut, is unaltered.
Roger Maris 1950-60 H & B Block Letter Game Used Bat
Roger Maris administered damage in the early days of his storied career with this Hillerich & Bradsby "O16" model bat. A sizable weapon at 35", 34-1/2 oz., the white ash lumber dates from the 1950-1960 manufacturing period and bears Maris' block-letter (last name only) stamping on the barrel. A decidedly weathered item, the bat shows evidence of heavy use. LOA from Dan Knoll & Dave Bushing/SCD Authentic.
Thurman Munson 1974 Game Used Pants
In 1976, New York Yankees catcher Thurman Munson became just the sixth player in team history to hold the prestigious title of NY Yankees team captain-the first since Lou Gehrig in 1941. Additional laurels that followed that year included a Gold Glove Award and the American League's Most Valuable Player honors. Three years later, at the age of 32, Munson was tragically killed in a plane crash near his Akron, Ohio home. Offered here is a pair of uniform pants worn by the backstop during the 1974 season. LOA from Dan Knoll & Dave Bushing/SCD Authentic.
1920's Jose Mendez Original Photo
Cuban Negro League star Jose Mendez, nicknamed "The Black Diamond," was one of the greatest pitchers of his era. Playing both in his Cuban homeland and in the United States, Mendez earned a reputation as one of the game's top hurlers between the years 1908 and 1914. Presented is an extremely rare original photo of the famed Negro League star. The 8" x 10" photo, which originates from his Cuban homeland, captures Mendez in a bust length pose and appears to date from his tenure with the Monarchs in the 1920's. A period pencil notation on the reverse reads "El Diamante Negro" - Jose Mendez." EX condition overall.
Muhammad Ali Signed Boxing Gloves (12 Pairs)
It is a splendid "tools of the trade" collection autographed by the sport's biggest icon-with tremendous commercial possibilities! Offered are a dozen pairs of gloves with each pair single signed by boxing history's only three-time Heavyweight Champion. These unused, red "Everlast" pairs feature Ali's black Sharpie signature (grading "10") on the padded backhand side of each set's right glove. LOA from Steve Grad/PSA DNA and LOA from James Spence.
Rare 1927 Chicago Bears Football Contract Executed and Signed by George Halas
This one-page NFL document is an agreement between the "Chicago Bears Football Club, Inc." and the "Duluth Eskimos Football Club with Ernie Nevers" to play a game on December 11, 1927 in Chicago. The contract, dated December 7, 1927, is signed in blue ink ("8-9") by both George Halas and Ed "Dutch" Sternaman for the Bears and a representative of the Duluth Eskimos. Among the provisions provided for in the agreement is a guaranteed sum of $4,000 for the Eskimos and that all rules shall be governed by Spalding's Official Football Guide. GD/VG condition overall. LOA from James Spence & Steve Grad/PSA DNA.
AMERICANA HIGHLIGHTS
1862 Abraham Lincoln Presidential Appointment
On February 26, 1862, President Lincoln and Secretary of War Edwin Stanton approved the appointment of A.J. Powell to "Commissary of Subsistence of Volunteers with the rank of Captain." The President's full-name signature, "Abraham Lincoln," appears in brown ink and grades "10." The attractive document itself, whose matte border defines the visible area at 14" x 19-1/4", is in apparent EX/MT. LOAs from Steve Grad and John Reznikoff/PSA DNA.
Rare Civil War Dated 1863 Jefferson Davis Signed Check
Considered by some regionalists to be the "George Washington of the South," Jefferson Davis occupies a truly unique niche in American lore. Hailing from the height of the American Civil War, this official bank check is dated March 17, 1863, and has been crisply signed, "Jefferson Davis" (grading "9"). Pencil calculations appear on the reverse of the piece, which displays at the apparent EX level. LOAs from James Spence & Steve Grad and John Reznikoff/PSA DNA.
Land Grant Signed by Thomas Jefferson and James Madison
This darkly printed and legibly handwritten land grant, dated July 9, 1807, represents an appealing combination of official endorsements by both our 3rd and 4th U.S. Presidents The partly printed land grant entitled William Nevin to "One Hundred acres situate between the Little Miami and Sciota Rivers, north-west of the River Ohio." It bears the faint brown-ink signatures of Thomas Jefferson, as President, and James Madison, as Secretary of State, both of which grade "3-4". EX condition overall. LOAs from Steve Grad and John Reznikoff/PSA DNA.
1916 Charles Evans Hughes Celluloid "For President" Campaign Flag Pin
Consisting of a wonderfully preserved celluloid flag and a 2-7/16"-long pin, the offered 1916 campaign item showcases impeccable Near Mint condition. Its flag component measures 1" x 1-1/4", displays a staid oval portrait of Hughes flanked by patriotic Stars and Stripes imagery, and bears fine print on the reverse that reads, "THE AMERICAN ART WORK, CONSHOCTON, O[HIO]."
1959 Marilyn Monroe Signed Check Display
This spectacular wall display is comprised of a Marilyn Monroe signed check matted and framed together with a biographical plaque and four recent color glamour. The check, issued by Monroe's production company (Marilyn Monroe Productions, Inc.) is dated July 3, 1959 and made out to "Hedda Rosten" in the amount of $66.12. Monroe has signed the check in blue ink (grading "10"). LOA from James Spence & Steve Grad/PSA DNA.
1st Issue of Playboy Signed by Hugh Hefner
It is the magazine that launched an empire: the first issue of Playboy, published in 1953. The magazine has been inscribed in black felt tip pen ("grading "10") on the cover by its creator, "Best Wishes, Hugh Hefner." An ink notation in the upper right corner of the cover reads "No. 1 1953 Dec." LOA from James Spence & Steve Grad/PSA DNA.
Fantastic Four #'s 1-60 Complete Run with 1st Four Annuals
The role played by The Fantastic Four in comic book history cannot be underestimated. An industry on the brink of extinction was brought back to life in November of 1961 when Marvel introduced comic book characters the likes of which had never been seen before. With stories written by Stan Lee and the art of the great Jack Kirby, the title was truly worthy of its self-proclaimed status, "The World's Greatest Comic Magazine!" This history-making collection consists of 64 different books (#'s 1 through 60 plus Annuals #1/1963 through #4/1966) with two key issues graded by CGC as noted below. Graded highlights include: #1 11/61 Origin and 1st App. of The Fantastic Four, Origin & 1st app. Mole Man (Apparent VG+ CGC 4.5, Restoration and trimming); and #48 - 1st app. The Silver Surfer & Galactus 3/66 (VF/NM CGC 9.0, white pages.
"The Amazing Spider-Man" #'s 1-50 Complete Run Plus 1st Three Annuals
Marvel could not have predicted the intense response that their arachnid-based character received in 1963. What first grabs one's attention in these books is the beautiful art work of Steve Ditko, and what keeps the reader's interest is the writing style of Stan Lee. This collection features the entire scope of work by Steve Ditko and the debut of John Romita on this title concluding with the 50th issue featuring Romita's classic "Spider-man, No More" cover. Two issues have been encapsulated by CGC.
John Lennon Autograph
Even casual music fans recognize Lennon and the Beatles. They would likely even be able to identify the Sgt. Pepper's Lonely Hearts Club Band-era cover image portrayed in this copy of the book, The Beatles: An Illustrated Record, by Roy Carr and Tony Tyler, which sports a sprawling blue ballpoint signature of Lennon (grading "9"). The soft cover book, published in 1975, includes Beatles photographs, reprints of album covers, biographies, and information on assorted Beatles items. LOA from noted Beatles expert Frank Caiazzo. LOAs from Steve Grad and Roger Epperson/PSA DNA.
FOR MORE INFORMATION
To register for MastroNet's Classic Collector auction or to get more information, go to www.mastronet.com. Bidding begins on June 13 and ends June 23.