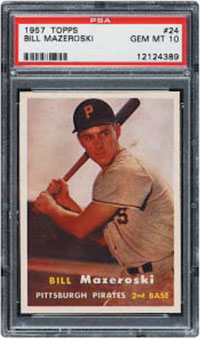 "Our auction is a Collector's dream come true" states R. Cameron, Memory Lane, Inc. Auction Marketing Director. "The whole auction is just full of hard to find high-grade cards" Cameron continued. "Our primary business is vintage card brokering and our auction reflects our broad base of collectors who trust ML to auction off their collectibles. These customers are the reason why ML's auction is so unique!"
Memory Lane Inc. is holding its Buried Treasures II Card and Memorabilia auction on Thursday, April 28th and it's a blockbuster! A continuation of their successful November 2004 Auction. The core of the auction continues to be high-grade, low population cards. The appeal is aimed directly at the collectors and set builders looking for quality cards and this auction delivers!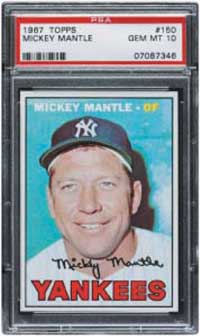 Among the over 250 Lots offered are tough issues like '48's,'49's and '50's Bowmans in high-grade such as a 1949 Bowman #36 Pee Wee Reese in a PSA 10 GEM MINT and a 1948 Bowman #4 Johnny Mize in a PSA 10 GEM MINT! And that's just a taste! Try a couple of 1933 Goudey Sport King Ruth and Cobb cards, both in PSA NM-MT 8's and a large array of PSA 9 commons from the 50's. Also offered is the one and only 1957 Topps #24 Bill Mazeroski Rookie in a PSA 10 GEM MINT! As well as a '65 Topps #250 Mays in a PSA 10 GEM MINT. It just doesn't stop!
This auction is full of Sport Kings, Leafs, Play Balls, Bowmans, Cracker Jacks, Topps even a jewel National Chicle #1 Dutch Clark football card and a Topps Lew Alcindor Rookie Card!
As a special bonus, the auction has added a fantastic memorabilia section featuring an absolutely spectacular autographed Ruth ball! See this gorgeous black/bold signature up close on Memory Lane's website... it's an unbelievable must-see!
Also featured in the auction are DiMaggio, Williams and McGwire PSA graded baseballs, and a wonderfully supreme 3/10 Stephen Holland lithograph featuring Muhammad Ali. It's all here in this very selective auction; sports art, tough cards, balls, HOF tribute pieces and more.
Check it out online at www.memorylaneinc.com. Order your catalog - it's free! Just EMAIL [email protected] or call M-F 8:30-5 pm (PST) toll free at 877-606-LANE (5263).
Memory Lane Inc., one of the hobby's leading high-grade card brokers is now the up and coming auction house for top quality cards! Don't miss this auction event April 28th online. Register and view the lots after March 28, 2005.