It's about to start pouring opportunity - collecting opportunities, that is. MastroNet, Inc., the world's leading Sports and Americana auction house is forecasting that its colossal spring event will offer one of the most extensive assemblies of fine collectibles to date. Collectors of all genres will find themselves drenched in an unprecedented amount of high-end items representing all types of sports, comic books and comic art, historical milestones, Hollywood, music, political campaigns and more with a fair amount of material never before offered publicly.
"The range and quality of items we offer seems to escalate with every auction," said William Mastro, CEO of MastroNet. "It's amazing what collectibles continue to be found in terms of value, history and condition."
Bidding will begin on March 28 and conclude on April 13, 14 and 15. Some of the items/collections offered will include:
The John Branca PSA Collection
An incredible Babe Ruth bat and Willie Mays Uniform
A 1909-11 T206 Honus Wagner Card
A variety of entertainment treasures including Johnny Carson's Microphone
An assortment of historical and presidential documents
Valuable coin and currency collectibles
A phenomenal assortment of comic art
Over 1,800 lots of memorabilia will be included in the massive internet/phone auction.
Specific details and highlights include:
SPORTS HIGHLIGHTS
The John Branca PSA Collection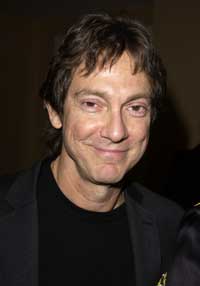 For collectors of the best baseball cards in existence, this is PSA heaven. MastroNet has announced that it will auction portions of the John Branca Collection in several of its upcoming auctions. The first offering of Branca cards will be available in MastroNet's April 2005 Premier Auction. John Branca has chosen to part with many of his treasured cards after deciding to refocus the content of his collection to acquire the top 200 cards in the hobby. According to Doug Allen, president of MastroNet, the release of these cards back into the collecting world is extremely significant. "For years, one of the obstacles many collectors experienced in upgrading their own collections has been the John Branca collection. John has had some of the best cards locked up," said Allen.
John Branca is well-known in the card collecting industry but has made a name in the legal world as well, representing some of the top music celebrities of our time including Michael Jackson, Carlos Santana, The Beach Boys, The Doors and The Rolling Stones. His early love of music, which led to his current profession as an entertainment lawyer, was matched only by his obsession with baseball. Born into a baseball family, Branca is the nephew and godson of All-Star Dodger pitcher, Ralph Branca. If that name doesn't ring a bell here's a little help. Branca delivered the pitch that Bobby Thomson hit into baseball history - the famous "shot heard round the world."
As a kid, Branca was a devoted baseball card collector. While Branca was away at law school his beloved collection, tucked away in an attic, was the victim of a home burglary. For the next two decades, Branca couldn't bring himself to even look at a baseball card.
Then came the Barry Halper auction. Branca attended the auction in hopes of winning his uncle's, 1951 Dodger uniform. Branca walked away with the uniform, and quite a bit more. While he was there, Branca was reintroduced to his childhood hobby of card collecting.
Allen believes the Branca cards will be a hobby happening. "We're anticipating fierce bidding and record-setting prices, " Allen said. "Card collectors everywhere have been waiting for this opportunity. My guess is they'll jump at it."
A few of the Branca cards available in MastroNet's April auction include: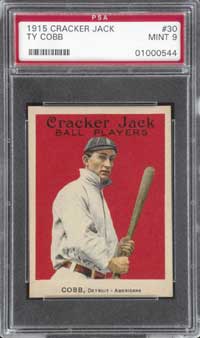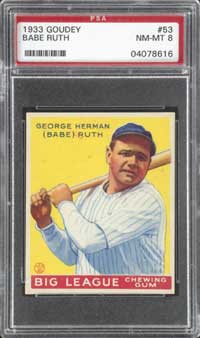 A 1915 Cracker Jack #30 Ty Cobb PSA Mint 9 - minimum bid $10,000.00
A 1933 R319 Goudey #53 Babe Ruth PSA 8 NM-MT - minimum bid $7,500.00
A E300 Plows Candy Christy Mathewson PSA 8 NM-MT- minimum bid $5,000.00
A 1933 Goudey Sport Kings #2 Babe Ruth PSA 8 NM-MT- minimum bid $5,000.00
A 1933 R319 Goudey #29 Jimmy Foxx PSA 8 NM-MT - minimum bid $2,500.00
Excellence Personified - Babe Ruth Bat and Willie Mays Minor League Uniform
On a short list of baseball's greatest players you'd find Babe Ruth and Willie Mays. Items associated with these gems of the diamond - especially those associated with actual game use - continue to intrigue and inspire collectors and non-collectors alike. Two items that are sure to be hits are described in the following.
Early 1920s Babe Ruth Side Written Game Used Bat
In December 2004, the most valuable Babe Ruth bat known to exist sold for over $1 million. That bat, used to hit Ruth's first home run in Yankee Stadium is among the most valuable pieces of sports memorabilia in existence. Now, what is considered to be the second most significant Babe Ruth bat will be heading to auction. The early 1920's Babe Ruth side written bat was returned to the H & B bat factory by Babe Ruth on March 27, 1923 - just three weeks before the opening of the new Yankees stadium. Side written bats are bats that the players used as a model for future bats to be produced. The existence of side writing on a bat acts as an indisputable measure of authenticity - actually placing the bat in the player's hands. This extraordinary bat is perfect in every way. The uncracked bat shows game use and is an ideal collection centerpiece traceable directly to the great Sultan of Swat. The minimum bid is $25,000.00.
Willie Mays Minneapolis Millers Minor League Jersey
This is one of the most incredible Hall of Fame jerseys known to exist. In the spring of 1951, baseball fans in Minneapolis, Minnesota were afforded a once in a lifetime opportunity to witness baseball history in the making. It was during that time that a young 20-year-old center fielder by the name of Willie Mays joined the roster of the Minneapolis Millers, the New York Giants AAA affiliate. Mays' stay in Minneapolis was brief, yet spectacular. Mays entered the May 1st home opener already on a rampage, compiling a .359 average with five doubles, one triple and two home runs over the course of the first 10 games. By the time Mays was called up to the Giants on May 25th he was batting .477 with eight homers and 30 RBI. While most minor league jerseys from that era are quite difficult to attribute to specific players (due to the normal lack of name and year tags in the garment), this particular jersey is accompanied by irrefutable photographicevidence regarding its provenance. The white flannel jersey is lettered" Millers" across the front and features the number "28" on the reverse. All letters and numbers are appliquéd in blue on orange felt. The jersey displays moderate game wear. The minimum bid is $20,000.00.
MORE SPORTS CARDS
1909-11 T206 White Border Honus Wagner PSA 2 GOOD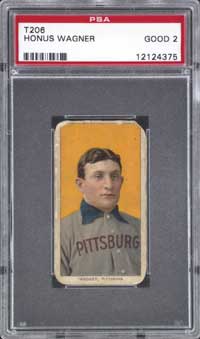 This is one of the very few collectibles on earth for which added explanation is unnecessary. The mere sight of a T206 Wagner is sufficient to collectors from all genres. Wagner's legend is well-traveled-particularly as it relates to this small but majestic printed piece with the distinctive orange background. Whether the Flying Dutchman objected to having his card used to promote tobacco or whether he wanted to get paid for his image, really doesn't matter. The end result is the same - enviable rarity and unending demand. Viewed casually, this card works its magic with time-tested effectiveness and power, and, studied closely, its evidence of handling testifies to its endurance. The reverse's advertisement marks the card's long-ago embarkation into the world as a Sweet Caporal Cigarettes promotional giveaway. The minimum bid is $50,000.00.
1948 Leaf Short Print #8 Satchel Paige PSA NM-MT 8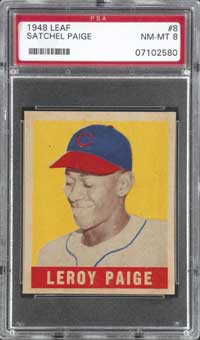 Only four others of its kind at this level of perfection exist. One other superlative of note is that this may well be the oldest rookie-featured baseball card in the industry. Hobbyists loosely categorize this as the 'single' or 'short' print. One source of information, however, suggests that the disparity between the two series is acute. Of the issue's 18 Hall of Famers (12 in the 'common' series, and 6 in the 'short print' series), the average number of cards submitted to PSA - regardless of condition - is about 245 of the former; the average of the latter is about 44. So sparsely retailed and so primitively engineered were '48 Leaf that few of their 'short prints' (less than 10 altogether) have met PSA standards warranting evaluations to exceed "8". In terms of condition, the quality of this presented Satchel Paige card is the exception, and not the rule. The minimum bid $10,000.00.
The Highest Graded 1948 Leaf Baseball - #1 Joe DiMaggio PSA MINT 9
Leaf introduced themselves to the baseball card industry by assigning its first image to DiMaggio. But thereafter, this card producer's fortunes went awry. Had the company created cards with the appeal of the offered #1 Joe DiMaggio, it would have commanded decades of hobby interest. But impurities of stock, complete departures in acceptable centeredness and, image registry ranging from marginally focused to humorously embarrassing, led to the company's demise. This DiMaggio is an exception to the standard '48 Leaf fare. It has earned the highest mark ever awarded by PSA for the species. The minimum bid is $10,000.00.
1951 Bowman High Grade Complete Set (324)
This set marks Bowman's last year of generally unchallenged dominance in the baseball card market. The nostalgic issue features the "true" rookie cards of Mickey Mantle and Willie Mays. A total of 180 cards in this high-quality set have been graded by PSA. Highlights include: Graded Cards - PSA NM-MT 8: 174 cards w/#'s 1 Ford, 2 Berra, 7 Hodges, 26 Rizzuto, 31 Campanella, 32 Snider, 46 Kell, 80 Reese, 134 Spahn, 165 Williams, 181 Stengel, 186 Ashburn, 233 Durocher, 305 Mays, and 324 Pramesa; PSA NM 7: 6 cards w/# 253 Mantle. Ungraded Cards - include #'s 30 Feller (NM), 58 Slaughter (EX/MT), 62 Boudreau (EX/MT), 122 Garagiola (NM), 198 Irvin (NM), 232 Fox (EX) and 317 Burgess (NM). Grades 75% NM to NM/MT, 20% EX/MT, 5% EX. The minimum bid is $10,000.00.
1888 WG1 Base Ball Playing Cards Complete Set (72)
It is the finest complete, 72-card set of WG1 Base Ball Playing Cards in existence - period. In addition, many collectors consider it to be the present-day industry's flagship production. The issue's players, including the period's superstars, are surrounded by stunning graphics. Featured among this collection is a sizable cadre of individuals whose special efforts helped baseball's seed take root. These individuals include: Cap Anson (EX), Dan Brouthers (NM), John Clarkson (VG/EX), Roger Connor (EX/MT), Buck Ewing (EX), Pud Galvin (EX), Ned Hanlon (EX/MT), Tim Keefe (EX), King Kelly (EX/MT), Connie Mack (EX/MT), Orator Jim O'Rourke (NM), Billy Sunday (EX), Big Sam Thompson (NM) and Monte Ward (NM). The blue-backed cards carry obverse printing that's startlingly fresh in overall appearance. The cards grade 37% NM to NM/MT, 54% EX to EX/MT, 8% VG to VG/EX, 1% lesser. Minimum bid $10,000.00.
1934 Goudey Completely Graded Set
They had a tough act to follow, but Goudey pulled it off with style! After the "splash" of the company's 1933 Big League Chewing Gum production, the pressure for continued success was enormous. The solution was relying on the charisma of Lou Gehrig, and the 96 incredible subjects the offered set. The 1934 Goudey series features a comprehensive lineup of the period's stars-hardly missing a beat in the absence of the Bambino-beginning with the set's very first card's portrayal of Jimmy Foxx. Each of the cards has been graded by PSA, and the set occupies the "8th Current Finest" position on the PSA Set Registry. Includes: Graded PSA NM-MT 8: 1 card; PSA NM 7: 72 cards w/#'s 1 Foxx, 6 Dean, 7 Durocher, 810 Klein, 13 Frisch, 14, 15, 17, 18 Manush, 19 Grove, 21 Terry, 27 Appling, 34 Hafey, 35 Lombardi, 37 Gehrig, 61 Gehrig, 62 Greenberg, 90 Cuyler, 94 Rolfe, 96 DeShong; PSA EX-MT 6: 20 cards w/#'s 2 Cochrane, 11 Waner, 12 Hubbell, 22 Vaughan, 23 Gehringer,; PSA EX 5: 3 cards. The minimum bid is $7,500.00.
1911 M116 Sporting Life Near Complete Set (287 DIFF.)
This near set of M116 baseball cards consists of 287 different players and variations. The group displays the best of baseball in 1910, as discerned by the editors of "Sporting Life." These 1-1/2" x 2-3/4" cards are not nearly as widely known as their tobacco competitors, but more than compensate in terms of player selection and eye appeal. There are 93 PSA-graded cards which break down as follows: PSA MINT 9 -2 cards. PSA NM-MT 8 - 28 cards w/ Bresnahan, Johnson, and Plank. PSA NM 7 -27 cards w/ Hooper, Waddell (black back) and Wallace. PSA EX-MT 6 - 20 cards w/ Baker, Bender, Brown, Brown (blue), Cobb, Collins, Lajoie (blue), Mathewson, Tinker, and Ed Walsh. PSA EX 5 - 11 cards w/Baker (Chance, Clarke, Crawford (blue), Duffy, Evers, Huggins, and Young. PSA VG-EX 4 - 5 cards w/Crawford, Griffith, Jennings, McGraw and Wagner. In addition, there are 194 ungraded cards, including 5 Hall of Famers: Flick (EX/MT), Joss (VG), Mack (VG), Speaker (VG/EX) and Waddell (VG/EX). The grading composite for the entire near complete set plus variations (287 cards) is 20% NM to NM/MT (plus the two PSA MINT 9 cards), 60% EX to EX/MT, 20% VG to VG/EX. The minimum bid is $7,500.00.
1948 Leaf #79 Jackie Robinson PSA MINT 9
Not just another high-profile baseball card - this is truly a milestone. It is one of only seven graded at this level with none graded higher. The card is virtually void of all the nuisances so prevalent in the issue. The surfaces, on both sides, are as should be expected for the lofty assessment; the corners are absolutely above reproach and the image register is utterly precise. This is the consummate highest-condition Robinson rookie card available. The minimum bid is $5,000.00.
1911 T3 Turkey Red Complete Set (100)
Collectors have long gravitated to that tobacco premium issue known as Turkey Reds. There were, in the baseball segment, 100 different available, and the ease of their redemption in the 1911 era was reasonable. Worthy of note in this set is the generous representation of 'Turkey Red' ad backs, which appear in the production's second series. Of that variety, there are included in this collection #'s 82, 83, 86, 87 (Eddie Collins), 88, 90, 92, 93, 100, 101 (Keeler), 102, 103, 106, 108, 109, 110, 111, 113, 118, 119, 124 (Wallace), 125 (Walsh) and 126. Other highlights include: EX/better - #8 Clarke, 40 Willis ('Pitts. and St. Louis'), 78 Baker, 87 Collins, and 99 Walter Johnson (EX/MT). VG/EX - #'s 16 Evers, 18 Jennings, 19 Joss, 23 Lajoie, and 124 Wallace. VG - #'s 26 McGraw, 35 Tinker, 39 Waddell, and 80 Bender. GD/VG - #'s 5 Crawford, 9 Cobb, 17 Griffith, 27 Mathewson, 42 Young, and 101 Keeler. GD - #'s 4 Bresnahan, and 36 Speaker. FR-FR/GD - #1 Brown. PR - #125 Walsh. The minimum bid is $5,000.00.
1906 WG2 Fan Craze American League Complete Set (52) with Original Box - Finest Set Known
A decade would elapse following the demise of the 19th Century's American Association, and for all recognized purposes, there remained but one Major League, with its complement of eight teams. By 1901, Ban Johnson had summoned financial energy from well-heeled investors and the "American League" arrived. In this era, Americans had little access in appreciating the daily activities of either Major League players. One enterprise in Cincinnati devised a table game that aimed to gratify that need to see images of the era's ballplayers. This venture called itself Fan Craze, and shortly after their encouraging success with a National League version, a companion American League game was produced. This extraordinary set includes all the accessories originally sold with the unit. Each of the 52 different cards has been PSA-evaluated to render the highest-graded set in their registry. Highlights include: PSA GEM MT 10: Jack Chesbro, Jimmy Collins, Sam Crawford, Elmer Flick, Clark Griffith, Nap Lajoie, Connie Mack, Eddie Plank, Rube Waddell, and Cy Young. PSA MINT 9: Chief Bender, Ban Johnson, Addie Joss, Willie Keeler, and Bobby Wallace. The minimum bid is $5,000.00.
Amazing 1911 T217 Mono Cigarettes Collection (13)
These cards are among the rarest of all tobacco cards with its 23 different subjects heralding from the PCL. Advanced collectors have resigned themselves to accept these cards in disappointing condition. In fact, most condition-conscious type collectors would be ecstatic with a single Very Good condition example. The offered collection is certainly the finest unit ever offered publicly, both in terms of quantity and quality - and all have been graded by SGC.. Includes: Aiken (SGC 50 VG/EX 4), Bernard (SGC 60 EX 5), Burrell (SGC 30 GOOD 2), Couchman (SGC 50 VG/EX 4), Daley (SGC 60 EX 5), Delhi (SGC 50 VG/EX 4), Knapp (SGC 60 EX 5), Metzger (SGC 60 EX 5), Peckinpaugh (SGC 40 VG 3), Schmidt (SGC 60 EX 5), Smith (SGC 60 EX 5), Vitt (SGC 50 VG/EX 4), and Wares (SGC 60 EX 5). The minimum bid is $5,000.00.
Outstanding 1887-90 N172 Old Judge Collection (117)
This collection was assembled to include as many different poses of Chicago players as could be found. It consists of 116 different poses of 34 different players, including Chicago greats such as Anson, Duffy, Kelly and Van Haltren. Of special note is the abundance of the very desirable 1890 cards. More than a dozen of these cards (generally noted by their pinkish hue) can be found in this collection, including two Players League cards (Darling and Duffy) and five National League cards (Carroll, Cooney, Hutchinson and two of Wilmot). The collection includes (with number of poses in parentheses): (1) Anson (VG), (7) Clarkson (2-VG/EX, 2-VG, 1-GD, 2-PR), (5) Darling (incl. Players League VG/EX), (4) Duffy (2-EX, 2-VG incl. Players League), ( (2) Kelly (1-GD, 1-PR), (3) Sunday (1-EX, 1-VG/EX, 1-PR), and (3) Van Haltren (3-EX). Grades: 15% EX or better, 50% VG to VG/EX, 35% GD or less. The minimum bid is $5,000.00.
1934-36 Diamond Stars High Grade Complete Set (108) Plus Lombardi and Greenberg Variations
These colorful, beautifully designed Diamond Stars were produced to give Goudey a run for its money. Unfortunately, the Diamond Stars' lineup failed to include the two biggest names in the sport, Babe Ruth and Lou Gehrig-both Yankees giants who were still bound by their contracts with Goudey. The set fell far short of its early, 240-card goal. By 1935, with Goudey losing steam, National Chicle's Diamond Stars were starting to emerge as the most popular issue in circulation. Unfortunately, National Chicle faced its own reversal of fortune during this time and early demise. Seventy-three cards are PSA graded with nearly half the cards (54 cards) grading at PSA NM-MT 8. Graded Cards - PSA NM-MT 8: 54 cards w/#'s 2 Simmons, 79 Cochrane, Terry, 30 Manush, 36 "Ernie" Lombardi, 44 Hornsby, 54 Greenberg, 64 Foxx, 74 Lazzeri, 83 Waner, and 108 Berger; PSA NM 7: 15 cards w/#'s 454 "Greenburg", 66 Medwick, and 105 Lombardi; PSA EX-MT 6: 4 cards w/#'s 39 Hubbell, and 50 Ott. Ungraded Cards - #'s 1 Grove (TRIMMED), 3 Maranville (VG), 11 Dickey (EX), 16 Waner (EX/MT), 17 Frisch (TRIMMED), 32 Rice (VG), 77 Gehringer (EX/MT), 86 Crosetti (NM), 91 Harris (EX), 95 Appling (EX), 103 Dickey (EX) and 104 Rolfe (EX/MT). Grades 60% NM to NM/MT, 30% EX to EX/MT and 10% lesser. The minimum bid is $5,000.00.
1933 Goudey PSA NM-MT 8 Collection (46) with Hartnett and Ruffing
No higher-graded example exists for 27 of these remarkable items. (Eleven others have just one nominally superior copy extant.) For 9 of the offered subjects, less than ten specimens in the world have attained the PSA NM-MT 8 tier; one card (#118) is among a population of just six exemplars-in total-at its level with none graded higher. Highlights include: Graded PSA NM-MT 8: 51 different cards w/#'s 56 Ruffing, and 202 Hartnett. The cards' aggregate SMR value is almost $22,000.00. The minimum bid is $5,000.00.
1953 Topps High Grade Complete Set (274)
Topps' second-year effort saw the company taking a distinct fork in the road relative to the course of its competitor, Bowman. The 1953 Topps cards present an individual painted portrait for each player. Prior to this series' creation, Bowman had been the gum maker best known for commissioning such artwork. The 1953 season, however, witnessed a reversal of the arch-rivals' roles. The offered set is comprised of cards worthy of placement within the NM to NM/MT range. Noteworthy items include: GRADED CARDS - Graded PSA NM-MT 8: 111 cards w/#'s 27 Campanella, 37 Mathews, 86 Martin, 104 Berra, 114 Rizzuto, 207 Ford, 220 Paige, 228 Newhouser, and 244 Mays; PSA NM 7: 18 cards w/#'s 1 Robinson, and 82 Mantle. UNGRADED CARDS - include #'s 54 Feller (NM), 147 Spahn (EX/MT), and 149 DiMaggio (EX/MT. Grades 65% NM to NM/MT, 25% EX/MT, 10% EX (a few lesser). Minimum bid $5,000.00.
1909 E90-1 American Caramel Joe Jackson PSA EX 5
This very scarce caramel card of "Shoeless" Joe Jackson portrays the great hitter with his first Major League team is commendably well-focused for the issue. The ballplayer's likeness is complete, as is all of the card's print on both front and back sides. It is one of just two examples at this PSA level. The minimum bid is $2,500.00.
1933 Goudey #106 Napoleon Lajoie PSA EX-MT 6
This example, of one of the hobby's pair of most sought-after baseball cards (the other, of course, being the famous T206 Honus Wagner), stands ready to fill a 70-year-old omission in a thoroughly supreme '33 Goudey set. The card colors are bold and bright. All aspects of the card are legible, and the card's eye appeal is quite favorable. The minimum bid is $2,500.00.
1968 Topps 3-D Bob Clemente PSA GEM MT 10
Here is a superb specimen of what is not only Roberto Clemente's most sought-after card, but also the key to the rare and popular 1968 Topps "3-D" test set. The condition of the offered card is nothing less than outstanding. This exceptional collectible was obviously tucked away for safekeeping in 1968 and not brought out again until the moment of its submission to PSA for protection and authentication. The minimum bid is $2,500.00.
MORE BASEBALL BATS
Ty Cobb Circa 1925 H&B Game Used Bat - A Gift from Ty to Joe Sewell
This incredible bat was used by Ty Cobb in the mid-1920's and was then later presented by him to his friend and fellow Hall of Famer Joe Sewell in 1925. Sewell later recorded that token of Cobb's friendship by inscribing the barrel in white ink ("10"), "Given to me in 1925 by Ty Cobb, Joe Sewell." Originally obtained directly from Joe Sewell's family, this bat represents one of the finest Cobb gamers extant. The 34-1/2", 41-oz. H&B signature-model bat is composed of top-quality white ash and features Cobb's facsimile signature deeply stamped along the barrel. What distinguishes this Cobb bat from other surviving examples is the fact that all of his trademark customizations are beautifully displayed along its entire length, including his unique wood treatment process involving "chew." The bat is uncracked and displays heavy game use. LOAs from Dan Knoll & Dave Bushing/SCD Authentic, and James Spence & Steve Grad/PSA DNA. The minimum bid is $25,000.00.
Tony Lazzeri 1928 Louisville Slugger Side Written Game Used Bat
Considered one of the most dangerous hitters of his era, Tony Lazzeri retired in 1939 with nearly 1,200 RBI and a .292 career average. This Tony Lazzeri side-written game bat was returned to the H&B factory in August of 1928. The 35", 35-oz. H&B signature model bat (pre-dating model numbers) is composed of top quality white ash and features bold and legible manufacturer's stampings. The bat displays heavy use, including both grain swelling and scoring, as well as 6" repaired crack in the handle. The bat's faint side writing which reads "8-29-28 36oz Tony Lazzeri 8-29-28" is tantamount to a personal LOA from Lazzeri himself and places this bat directly in his hands the summer of 1928. LOA from Dan Knoll & Dave Bushing/SCD Authentic. The minimum bid is $5,000.00.
1910's Black Sox Era Joe Jackson Model Professional Game Bat
Offered is an exceptional H&B "Black Betsy" professional model bat, the likes of which was made famous by the legendary Joe Jackson. This 36-3/8", 38-oz example features a two-tone "Black Betsy" finish with no barrel stampings. The center brand label includes the "dash-dot-dash" pattern, thus dating the time of the bat's manufacture to the years 1917-21. This particular bat was returned to the H&B factory on March 7, 1922 as noted by the side writing which reads: "3-7-22 37 oz. Texas Sptg. Goods. Co. 3-7-22 Houston Tex." Remnants of the original shipping label remain visible on the front of the barrel. The bat displays heavy use including ball marks, deeply embedded stitch marks, cleat marks, grain swelling and a 5" crack in the handle. Graded A9.5 (as a Black Betsy Professional Model Bat, not as a Joe Jackson game used bat) by SCD Authentic. LOA from Dan Knoll & Dave Bushing/SCD Authentic. The minimum bid is $5,000.00.
Lou Gehrig 1932 "Batrite" (Hanna Mfg. CO.) Side Written Game Used Bat
Gehrig, who normally received his bats from H&B, switched over to "Batrite" model bats for approximately a two year period in the early 1930's. The reason for the change, according to testimony he later gave in a legal dispute between H&B and Hanna Manufacturing, was that he became dissatisfied with H&B bats due to their frequent grain separation. When, in 1931, H&B formulated a new treatment process to correct the problem (marking the newly conditioned bats as "Powerized"), Gehrig abandoned the other models and began, once again, using H&B bats. This particular example, measuring 34-3/4" and weighing 34-oz., is composed of top grade white ash and features the company's patented center brand "Bat" logo and the name "Gehrig" stamped in block letters on the barrel. The patent date, "July 15 1930," appears on the knob. This bat, which matches all known factory records for Gehrig game bats and displays heavy game use. LOA from Dan Knoll & Dave Bushing/SCD Authentic. The minimum bid is $5,000.00.
BASEBALLS
Babe Ruth Single Signed Baseball NM-MT+ 8.5 by PSA/DNA
Babe Ruth is one of the most dominant figures not just in sports history, but in all of American history. The matchless and enduring treasure of the man, his era and his magnificent gift to a damaged game and a despairing nation is expressed in his signature. The Official American League (Will Harridge) baseball, is the perfect vehicle to hold that singular autograph. The minimum bid is $5,000.00.
Jimmie Foxx Single Signed Ball
Here is a fabulous keepsake signed by the owner of 534 career home runs and a lifetime .325 average - Jimmie Foxx. The lightly toned OAL (Harridge) ball has been signed by Foxx on the sweet spot (black ink, grading "9"). The sphere-which remains in remarkable display quality with none of the expected age spots-is inscribed on a side panel "9-25-1938 - RED SOX 7-11-0 - YANKEES 6-10-0 - HOME RUNS - DiCKEY - FOXX." LOA from James Spence & Steve Grad/PSA DNA. The minimum bid $2,500.00.
Babe Ruth and Lou Gehrig Signed Baseball
What makes these signatures even more special than they already are is their existence on a rare brand of baseball. "Tober" baseballs were once crafted by a now forgotten sporting goods company. Babe signed the sweet spot ("10") while the more subdued Gehrig penned a side panel ("8-9"). LOA from James Spence & Steve Grad/PSA DNA. Minimum bid $2,500.00.
Incredible 1922 World Champion New York Giants Team Signed Baseball
It's hard to imagine a time when any team other than the Yankees was baseball's dominating force. But in 1921 and 1922, it was the New York Giants. The Giants won the '21 Series. Then, the team started off the 1922 season with a loss but went on to win 18 of their first 21 games and another World Series title in the fall. This ONL (Heydler) ball showcases 29 black-ink signatures (grading "4-6" overall) of the '22 World Champs, including: Dave Bancroft, Frankie Frisch, Hughie Jennings (coach, s/s), George Kelly, John McGraw (Mgr, signed "J.J."), and Ross Youngs (s/s). LOA from James Spence & Steve Grad/PSA DNA. The minimum bid is $2,500.00.
BASEBALL GAME USED GEAR
Babe Ruth's Last Glove
The bigger-than-life figure that dominated baseball from 1920 through 1935, finished his active career as a coach/drawing card for the Brooklyn Dodgers in 1938. Ruth held out hope that the mentor position with the Dodgers would lead to the position of manager, the single aspiration in baseball he would never realize. This is a glove manufactured for Ruth and used by him in that final active season. It was given by Ruth to Forest "Tot" Pressnell, a pitcher for the Dodgers from 1938 to 1940. It is accompanied by a notarized letter from Pressnell in 1993, when he was 83 years old, providing the detailed provenance. The fabulous mitt shows obvious use. The back strap displays a period red fabric Spalding label and button. The impressed signature is still bold. LOA from Dan Knoll & Dave Bushing/SCD Authentic. The minimum bid is $10,000.00.
Willie Mays 1969 San Francisco Giants Uniform Graded A10 SCD Authentic
Opportunities to acquire Willie Mays game worn jersey's are few and far between. This immaculate San Francisco Giants home flannel was worn by the legendary "Say Hey Kid" in 1969 and is accompanied by a non-matching pair of Willie Mays Giants pants dating from the same decade. The white flannel jersey is lettered "Giants" across the front and features the number "24" on the reverse. All letters and numbers are appliquéd in black felt on orange twill. A Major League Baseball 100 Anniversary patch remains on the left sleeve. The name "Mays" is chain-stitched in black upon a white felt strip tag in the collar. Mays has inscribed the jersey, "Willie Mays 24" in blue Sharpie (grading "9") along the front. Original and unaltered, the jersey displays moderate wear throughout. The white flannel pants feature Mays' name, uniform number, pant size and inseam measurement ("Mays 24 32 26 ins") chain-stitched in black upon a white felt strip tag in the waist. The pants have been Graded A8.5 by SCD Authentic. LOAs from Dan Knoll & Dave Bushing/SCD Authentic, and James Spence & Steve Grad/PSA DNA. The minimum bid is $5,000.00.
Ty Cobb Signed Oversized Photo and Two Page Letter
Ty Cobb was arguably the greatest hitter who ever lived and one of the most ornery. However, this letter and autographed photo testify to the fact that the "Georgia Peach" did have a heart. The correspondence is dated "3/23/50" and is addressed to "Mr. & Mrs. Scott." According to the letter's content, the Scotts had written to Cobb nearly four years earlier, informing him that they had named their son after him and requesting an autographed photo. By his own admission, Cobb had only recently discovered the Scotts' letter, and through some source was made aware that the Scott infant had since passed away. In his letter Cobb expresses his sympathies and forwards a signed photo as a tribute to their deceased son. The signature on the letter grades "10." On the accompanying photo, a portrait of the baseball immortal in a Philadelphia Athletics uniform (1927-28), Cobb inscribed in black fountain pen: "This is for Ty Cobb Scott - I feel greatly honored - From, Ty Cobb" ("8-9"). LOA from James Spence & Steve Grad/PSA DNA. The minimum bid is $1,500.00.
Magnificent Lou Gehrig 1938 Signed Wire Photo
This signed, original wire photograph of the Iron Horse was taken during his final season of glory. This 6" x 8" black-and-white image features Gehrig posing with his left arm resting on one knee and his other arm to the side, gripping the handle of a baseball bat. Inscribed over the white background of his jersey, Gehrig writes "To My 'Fan' With Kindest Personal Regards - Lou Gehrig" (grading "9"). The uniform Gehrig is wearing dates the photo to 1938-as evidenced by the New York World's Fair commemorative patch on the left sleeve. The photo's reverse bears a purple-ink stamping of "WIDE WORLD PHOTOS, Inc." as well as a handwritten notation of the photo's date ("5/27/38"). LOA from James Spence & Steve Grad/PSA DNA. The minimum bid $1,000.00.
Incredible Signed 8" X 10" Photos Collection (127) with Mantle (22), DiMaggio (17) and Williams (10)
The "break" value of this lot is well over $10,000.00! All of the 8" x 10" color photos are in NM/MT condition with perfect "10" sharpie signatures. They include: Mantle (22), DiMaggio (17), Williams (10), Aaron (8), Mays (13), and Rose (19). LOA from James Spence & Steve Grad/PSA DNA. The minimum bid $900.00.
BASEBALL TRIUMPHS AND TROPHIES
Lamar Hoyt's 1983 Cy Young Award
For every incredible "high" experienced by Dewey Lamar Hoyt, a crashing "low" of equal or bigger proportions inevitably seemed to follow. Originally the property of the New York Yankees, Hoyt was dealt to the Chicago White Sox in April of 1977 as part of the four-player trade. Hoyt toiled in his team's Minor League system before finally debuting with the big club in September of 1979. Hoyt broke into the Sox starting rotation in 1982. During the 1983 season, everything seemed to fall into place. Hoyt's 24-10 mark easily won him the coveted Cy Young Award, his 17 first-place votes besting Dan Quisenberry's nine. The ultimate pitching laurel, this 13-1/4" x 16-3/8" black-wood plaque features a brilliant, silver-colored metal component that reveals a detailed legend of the famed annual hurling award. Centered upon the plaque is a three-dimensional rendition of a right hand is gripping a baseball. Above, the impressive title "CY YOUNG AWARD" is arched upon a shiny metal panel. At the base of the award in raised lettering, a thick, eight-sided panel reveals "PRESENTED TO LAMARR HOYT - MOST VALUABLE PITCHER - AMERICAN LEAGUE - 1983." EX/MT condition. A handwritten letter penned entirely by Lamar Hoyt attests to his recent sale of the item. The minimum bid is $7,500.00.
Fred Clarke 1909 Pittsburgh Pirates World Championship Solid Gold Pin
In his day, Fred Clarke was one of the game's most well-known stars. He was a fearless hitter, a speedster on the bases, and a ferocious competitor, as well as a highly respected player-manager. Clarke's skill was evident from the start, as the Louisville Colonels outfielder set a Major League record by going 5-for-5 in his professional debut. He began coaching the team just three years later. The turn of the 20th Century brought a change in uniform: Clarke and his Louisville teammate Honus Wagner became Pittsburgh Pirates. Over the next three years, with Clarke at the helm, the Pirates would win a trio of NL pennants, culminating in a losing effort against the Boston Pilgrims in the first-ever World Series. Clarke's Pirates returned to the World Series in 1909 and won the title. This is Clarke's World Series solid-gold keepsake from that pinnacle year. The 3/4"-diameter pin, which originates from one of Clarke's family members, has a round diamond set within a baseball-diamond border, which is centered inside the circling title "WORLD'S CHAMPIONS 1909." A laurel-leaf perimeter encloses the striking jewel of an item. Atop the pin is a period 1910-era loop addition for the purpose of wearing it on a chain. The reverse is deeply and resolutely engraved, "Fred C. Clarke." Near Mint condition. The minimum bid is $5,000.00.
Frankie Frisch 1922 New York Giants World Series Ring
Inaugurating a tradition that continues to this day, the 1922 New York Giants bypassed the customary presentation of pendants, fobs, or watches in favor of championship rings. This Dieges & Clust 14K gold, size "9-1/2" keepsake was given to the "Fordham Flash," Hall of Famer Frankie Frisch. Atop the ring's face is a round diamond mounted within a silver setting, which is bordered by a baseball-diamond design. The shanks display the raised words, "GIANTS WORLD'S CHAMPIONS 1922," accented by floral and baseball imagery. Engraved inside the band in script style is: "Frankie F. Frisch." The minimum bid is $2,500.00.
BOBBLE HEAD BEAUTIES
1961-62 White Base Miniatures Bobbin' Head Collection (22)
Only two of these miniature issues ever produced (hockey is the sport represented in the other). Most have the circular factory magnet still embedded into the base. Includes: Baltimore Orioles, Boston Red Sox, Chicago Cubs, Chicago White Sox, Cleveland Indians, Houston Colts, Houston Colt .45's, Kansas City A's, Los Angeles Angels, Los Angeles Dodgers, Milwaukee Braves, Minnesota Twins ("Minneapolis" on base), New York Mets (blue shoes), New York Yankees (2 diff.), Philadelphia Phillies, Pittsburgh Pirates, St. Louis Cardinals (scarce) and Washington Senators. A very strong EX/MT to NM condition assemblage. The minimum bid is $1,000.00.
1963-65 Black Players Bobbin' Head Collection (13)
These green based dolls feature African-American players with "1962" stamped on the bottom. They were produced in very small numbers and are quite difficult to acquire. Includes: Type 1: "Regular Face" - Baltimore Orioles, Boston Red Sox, Chicago Cubs (square base variation), Chicago White Sox, Cincinnati Reds, Detroit Tigers, Los Angeles Dodgers, Philadelphia Phillies, St. Louis Cardinals and Washington Senators. Type 2: "Realistic Face" - Chicago Cubs, Los Angeles Dodgers and Washington Senators. The minimum bid is $500.00.
1961-63 White Base Bobbin' Head Collection (17)
This substantial grouping features the scarce and desirable Houston Colt .45's "blue uniform" variation doll. Includes: Boston Red Sox, Chicago Cubs, Cleveland Indians, Detroit Tigers, Houston Colt .45's (blue uniform - a NM beauty!), Houston Colt .45's (white uniform), Kansas City A's, Los Angeles Angels, Los Angeles Dodgers (2 diff.), New York Mets, New York Yankees, Philadelphia Phillies, San Francisco Giants and Washington Senators. The minimum bid is $500.00.
SOMETHING TO JUMP ON- BASKETBALL
NBA 50 Greatest Players Signed Lithograph
In celebration of the NBA's Golden Anniversary in 1996, the League selected its 50 greatest players of all-time and immortalized them in a lithograph. The so-honored hardwood gurus included 41 Basketball Hall of Famers and 9 (then) current stars (one selection, Pete Maravich, is deceased and another, Shaquille O'Neal, remains active in the NBA). The keepsake features color composites of the lauded players, respectively signed by each in pencil (grading "9-10" overall). The edition of this historical lithograph was limited to 250 pieces, with 50 of them being issued to the players themselves. The offered lot is the print that was issued to Sam Jones (1/250). It bears 50 signatures, including those of: Kareem Abdul-Jabbar, Charles Barkley, Rick Barry, Elgin Baylor, Larry Bird, Wilt Chamberlain, Bob Cousy, Julius Erving, Walt Frazier, George Gervin, Hal Greer, John Havlicek, Elvin Hayes, Magic Johnson, Sam Jones, Michael Jordan, Jerry Lucas, Karl Malone. Moses Malone, George Mikan, Hakeem Olajuwon, Shaquille O'Neal ("34"), Robert Parish, Bob Pettit, Scottie Pippen, Willis Reed, Oscar Robertson, , Bill Russell, Dolph Schayes. LOA from James Spence & Steve Grad/PSA DNA. The minimum bid is $5,000.00.
1970/71 Topps Basketball Completely Graded Set
Each of the 175 large-sized cards comprising this set has been graded at a NM-MT 8 or MINT 9 by PSA. The collection currently enjoys hobby acclaim as the 3rd All Time Finest Set on that company's Registry. The array boasts a stratospheric 8.74 numerical rating, and 108 of its subjects are placed at the highest tier ever awarded for their numbers. The set includes: Graded PSA MINT 9: 130 cards /w#'s 7 Bradley, 50 Chamberlain, 70 Hayes, 100 Robertson,112 Havlicek 120 Frazier, 123 Maravich, and 160 West,; PSA NM-MT 8: 45 cards w/#'s 10 Havlicek, 13 Riley, 65 Baylor, 75 Alcindor, and 137 Murphy. The minimum bid is $2,500.00.
Andy Phillip's 1957 Boston Celtics NBA World Champions Ring
Choosing to defer retirement for two years at the behest of Red Auerbach, Andy Phillip joined the 1956/57 NBA Champion Boston Celtics as they began a string of championships and appearances. Phillip's leadership and passing ability were legendary and earned him the distinction of becoming the first player in NBA history to record 500 assists in a single season in 1951/52 with the Chicago Stags. He inducted into the Basketball Hall of Fame in 1961. Phillip's 1956/57 Boston Celtics championship 10K gold ring has "World Champions" encircling a 1/4"-diameter diamond on the face. Each shank has the trademark shamrock of the Boston Celtics and the word "Celtics" below each image. "A. PHILLIP" is inscribed on the inner ring. A signed LOA from Bill Tosheff, President of the pre-1965 NBA Players' Association is included. The minimum bid is $1,500.00.
FOOTBALL - TOUCHDOWN TREASURES
Joe Namath Early 1970's New York Jets Road Jersey Graded A4.5 SCD Authentic
Joe Namath wore this New York Jets road jersey during the early 1970's. The white dureen jersey features the number "12" on the front, reverse and each sleeve. "Namath" is lettered on the reverse above the number. All letters, and front and reverse numerals, are appliquéd in green tackle twill. All sleeve numerals are appliquéd in white tackle twill. The jersey displays light wear and was originally obtained as one of the grand prizes in an Upper Deck giveaway contest. It is accompanied by an LOA from Upper Deck. Additional LOA from Lou Lampson, Dan Knoll & Dave Bushing/SCD Authentic. The minimum bid is $2,500.00.
Dick Butkus Circa 1970/71 Chicago Bears Game Used Helmet
Dick Butkus' name today still conjures up fear in the hearts and minds of all those who bore personal witness to his ferocity on the gridiron. This Chicago Bears game helmet was worn by the club's most famous "Monster of the Midway" during the early 1970's. The black Riddell helmet, with grey interior, displays the club's white "C" logo on each side and features a 12-point suspension system atop the inner shell. The factory stamp "11 69 CPCA" appears along the inner shell as does a Riddell "TK2" sticker, labeled "D-70". Those markings, respectively, indicate that the shell was made in late 1969 and was shipped from the factory in 1970. Butkus' uniform number, "51," appears along the interior in vintage black marker. LOA from Lou Lampson, Dan Knoll & Dave Bushing/SCD Authentic. The minimum bid is $1,500.00.
HOCKEY - SLAPSHOT
1936-37 V304D O-Pee-Chee Completely PSA Graded Set (36)
Mirroring their American counterparts, these PSA graded cards were virtually identical in design to National Chicle's 1934-36 "Batter-Up" cards. They featured hockey players rather than baseball players but had the same die-cut backgrounds to facilitate stand-up display. The offered set of this desirable issue holds distinction as the "Number 1 All-Time Finest Set" of its type on the PSA Set Registry. With its 6.97 Set Rating-and its status as the only complete such assembly on the Registry-this set's superiority within the industry is immune to challenge. Highlights include: PSA NM-MT 8: 20 cards w/#'s 97 Broda, 98 Schriner, 102 Conacher, 123 Conacher, 125 Clancy, 128 Patrick, 129 Joliat, and 132 Smith; PSA NM 7: 2 cards w/#'s 101 Apps and 124 Jackson; PSA EX-MT 6: 11 cards w/#'s 118 Shore, and 121 Morenz; PSA EX 5: 1 card; PSA VG-EX 4: 1 card; PSA GD 2: 1 card. The minimum bid is $2,500.00.
1933-34 V357 Ice Kings High Grade Completely PSA Graded Set (72)
The impressive and desirable "Ice Kings," with their tremendous star content and magnetic period flavor, are elemental to any serious hockey collection. The scarce and avidly collected items, released by World Wide Gum Co., Ltd. of Montreal and printed (in most cases) in both English and French, feature tinted poses of their uniformed subjects. It's important to recognize that the offered assembly holds #1 ranking on PSA's Set Registry (by a decisive margin, with an incredible 7.32 rating), and that it is the only set on the Registry able to boast 100% completion. The set includes: PSA NM-MT 8: 40 cards w/#'s 1 Clapper, 11 Worters, 13 Clancy, 16 Horner, 30 Cook, 31 Smith, 36 Morenz, 40 Primeau, 42 Mantha, 57 Thompson; PSA NM 7: 27 cards w/#'s 8 Siebert, 12 Stewart, 22 Bailey, 23 Oliver, 65 Weiland, 66 Cook, 70 and 71 Chabot; PSA EX-MT 6: 2 cards w/#'s 72 Howe; PSA EX 5: 2 cards w/#'s 3 Joliat and 27 Barry; PSA VG-EX 4: 1 card, #25 Dutton. The minimum bid is $2,500.00.
BOXING
Tyson Trunks and Robe (Amateur)
Before Mike Tyson entered the professional ranks in 1984, he had an unsuccessful effort to capture a berth with the U.S. Olympic boxing team. To that point, he was under the tutelage of Cus D'Amato, a trainer who operated a gym in Catskill, New York. In the bouts that determined who would go to the Olympics, Tyson was matched against Henry Tillman who vanquished the 20-year-old in the third round, thus dashing Tyson's hope of Olympic glory. For his ring appearance in that pivotal event, Tyson wore this offered ensemble. The trunks and the robe are satin, the latter with terry cloth lining. LOA from boxing expert Craig Hamilton and a 1992 LOA signed by boxing specialist Frank McLain and noted boxing photographer Tom Casino. The minimum bid is $2,500.00.
1911 T9 Turkey Red Cabinets Complete Boxing Set (26) with Original Mailing Envelope
In addition to the 100 baseball players produced as large-sized premiums for the Turkey Red Cigarettes brand, the American Tobacco Company also released a sub-set of 26 boxing subjects (numbered 51-76, inclusive) as part of the same promotion. Many regard the T3 "Turkey Red" baseball cards as the most beautiful series of sportscard issues ever created. The T9 Turkey Red boxing cards, with their ornate gold borders and lush background designs, are every bit as striking as their more famous counterparts. The offered set-still accompanied by its original, printed mailing envelope-is easily among the finest of its kind in the hobby. Highlights include: NM - 3 cards; EX/MT - 13 cards w/#'s 52 Abe Attell, 65 Sam Langford, 68 Joe Jeannette; EX - 8 cards w/#'s 55 James Jeffries, 67 Stanley Ketchel; VG/EX - 1 card, #76 Jack Johnson; VG - 1 card. Grades 12% NM, 50% EX/MT, 30% EX, 8% lesser. The minimum bid is $2,500.00.
Ali Prophecy Glove
In the months leading up to that Ali's championship victory on February 25, 1964, Cassius Clay trained in Miami. It was there that he acknowledged one of his admirers with this glove. It's not widely realized, but behind all the arrogant pretenses, Clay (and later, Ali) was genuinely responsive to his fans. In acknowledging one recipient, Clay signed this glove in ballpoint. Precisely, it declares "From Cassius Clay Next Heavyweight Champion of the World 19 - 63." The autograph and inscription are about "5-6." LOA from James Spence & Steve Grad/PSA DNA. The minimum bid is $900.00.
AMERICANA HIGHLIGHTS
ENTERTAINMENT SENSATIONS
Music, movies and television. It's the stage where the world's celebrities play out to an adoring public. Some come and go. And, some become stars that never burn out even after they're gone. Collectibles associated with these legendary few only get more valuable and popular as time goes by. Here's just a couple of the highlights.
Johnny Carson's Microphone
When Johnny Carson took over The Tonight Show from Jack Parr in 1962, nobody could have imagined that he would rule late night for the next 30 years. The Tonight Show became an American institution-in large part due to Carson's comic genius. It has been estimated that Johnny interviewed over 20,000 guests. Everyone who was anyone in the world of celebrity clamored for a shot at a few minutes on The Tonight Show couch. And, amazingly, in all that time, during all those interviews, Johnny Carson used very few of his trademark microphones.
MastroNet is auctioning one of these astounding treasures. The offered microphone was used by Carson during the 1970's-the Golden Era of Carson's reign.
Guests who occupied the coveted spot next to Johnny during this period included everyone from Presidents to the royalty of Hollywood. Shure Brothers, Inc. manufactured the circa-1960's microphone. The front facing was endearingly engraved to Carson, "JOHNNY CARSON...THE GREATEST KNIGHT OF THEM ALL IN NIGHTTIME TV JOUSTING." Carson inscribed the microphone base in black Sharpie, "To Harlan, Johnny Carson" (grading "10"). The minimum bid is $25,000.00.
The Beatles "Please Please Me" Signed Album
Any item signed by the entire Fab Four is one thing; an album cover with all four signatures is another-but their actual debut album completely signed? Now that's amazing! This is the band's first LP release on Parlophone Records, Please Please Me, signed radiantly on the reverse to an adoring female fan by John, Paul, George, and Ringo. The strong "9-10" signatures are extremely consistent. Each comes complete with kisses in the form of three X's, and they read as follows: "love to JANE from the Beatles - John Lennon XXX"; "love Paul McCartney XXX"; "love from George Harrison XXX"; and "Ringo Starr XXX." Please Please Me signaled the advent of Beatlemania. With such McCartney/Lennon classics as "I Saw Her Standing There," "Please Please Me," "Love Me Do," "P.S. I Love You," and "Do You Want to Know a Secret," the album would reach number 1 in the UK and stay there for 30 weeks. The minimum bid is $5,000.00.
Frank Sinatra's Driver's License
While Frank Sinatra didn't need a license to get away with much, he did need one to drive. MastroNet is offering Sinatra's very first driver's license. The 4" x 2-3/8" thick paper document notes (among other things) a detail that the entire world was soon to know: the hue of the soon-to-be famous star's eyes. Numbered "549631" and bearing a large red, centered stamping of "1934," the license is issued to "FRANCIS SINATRA - 841 GARDEN ST. - HOBOKEN, N.J." Sinatra's physical specifications read: "Age 19, Weight 130, Color W, Color Hair BRN, Sex M, Color Eyes BLUE, Height 5.8." The identification card is signed in black ink by Sinatra (grading "9-10") and has a December 31, 1934 expiration date. A letter accompanies the license on "Armstrong and Mullen, Counselors at Law" letterhead, dated "March 12th, 1940" and is addressed to the "Commissioner of Motor Vehicles." In its content, Mullen states that following a previous accident involving Sinatra and a Mullen client, judgment was awarded to his client, yet Sinatra had failed to make a payment after his initial, July 17, 1939 remittance of $7.50. Mullen proceeded to ask that Sinatra's driving privileges be revoked until the judgment has been paid. The minimum bid is $2,500.00.
Presidential In Nature
While Johnny Carson and Frank Sinatra ruled entertainment, MastroNet's auction also offers items associated with the few select men who helped rule the world - U.S. Presidents. A few of these include the following. The Finest William Henry Harrison As President Signed Document! Of all the 43 United States Presidents, William Henry Harrison held the shortest tenure: just 31 days. This brief window of time has resulted in an unprecedented lack of Harrison's signed documents as President. And among the very few that have survived, MastroNet is offering one of the finest. Dated March 26, 1841 (the day before Harrison finally took to his bed in the White House; eight days before his death), the appointment document names Edgar Snowden to be one of Alexandria County's Justices of the Peace. Harrison's black signature grades "9-10". Secretary of State Daniel Webster's accompanying endorsement evaluates at the grading tier of "8". The full document, measuring approximately 15-1/2" x 10", clearly endured its 165 years of existence under ideal conditions. The minimum bid is $25,000.00.
1860 Lincoln/Hamlin "Wide Awakes" Banner
This1860 Lincoln/Hamlin "Wide Awakes" banner is the only one known of its style. The "Wide Awakes" was a grassroots organization that helped tip the scales in favor of Republican candidate, Abraham Lincoln during the 1860 presidential contest. The "Wide Awakes" movement started in Hartford, CT just prior to Lincoln's arrival in the area for a campaign speech. On February 25, 1860, Cassius M. Clay, an abolitionist and Republican ally, was escorted to a town meeting by a torchlight procession. Following the meeting, Clay and his supporters emerged with pieces of black cloth that they draped over their heads and shoulders to protect them from the oil dripping off the overhead torches. This led to the organization's official manner of dress, which included black caps and capes. A Hartford newspaper editor coined the group's nickname in an attempt to describe the organization's demeanor.
Throughout the country, Republican clubs soon began calling themselves "Wide Awakes." The movement became one of the most powerful in American political history and proved instrumental to Lincoln's successful presidential bid. In gratitude, Lincoln invited the original Hartford "Wide Awakes" to march with him in his inauguration parade.
The banner being auctioned embodies the legacy of the spirited "Wide Awakes." The eye-catching cloth measures 23" H x 45" W. It features stenciled characters and a radiant eye. Eleven sequin designs, decorative ribbon borders and fringe composed of tassels provide the details that make this impeccably preserved banner absolutely stunning. The colors are vivid and the fabric surface remains clean. The minimum bid is $10,000.00.
Abraham Lincoln Foot Tracings
Also available in MastroNet's April 2005 auction are incredibly rare Abraham Lincoln 1864 twice-signed foot tracings. Abraham Lincoln's shoes were hard to fill-and not just because of his presidential legacy. The man had enormous feet! Size 13, to be exact. Having seen outlines of Lincoln's feet in an old book, Lincoln specialist, Gabor S. Boritt made it his personal quest to track down the documented tracings in the late 1980's. Boritt found the tracings and the story behind these one-of-a-kind impressions.
A shoemaker named Peter Kahler, living in Scranton, PA, had read in a newspaper that Lincoln suffered sore feet, so he sent the President a letter offering his expert services. Kahler was invited to the White House on December 13, 1864 and made tracings of Lincoln's feet (reportedly while Lincoln was addressing his Cabinet). Kahler then cobbled a pair of calfskin boots for President Lincoln, as well as a pair of slippers for Mrs. Lincoln. They were received on March 2, 1865-six weeks before the assassination-as acknowledged by the President's personal secretary, John G. Nicolay. The pencil outlines of Abraham Lincoln's feet appear on a brown page measuring 9" x 13-3/4". Lincoln's signature, dated from Washington on December 13, 1864, appears horizontally between the two tracings. A second signature resides on a handwritten note scripted by Lincoln in preparation for Kahler's arrival, at which point it was handed to Kahler's greeter and then retained in Kahler's possession. The minimum bid is $5,000.00.
To Coin A Collectible
1907 St. Gaudens $20 High Relief-Wire Edge PCGS MS63
Widely acknowledged to be the most beautiful coin ever designed, the St.Gaudens Double Eagle is one of the most popular coins with collectors worldwide. Most, however, never get to see this coin as its designer originally intended it, as the design was changed from the high relief offered in the MastroNet auction, to the more common low relief, almost immediately. When originally struck and released in December of 1907, banks complained because the coins would not lay flat or and could not be stacked due to their high relief design. In mid-December, 1907, the dies were changed to the low relief version to be more acceptable to businesses. The minimum bid is $5,000.00.
Comic Art Treasures
All 7 Pages of the Most Outstanding of the Williamson/Frazetta EC Story Collaborations - "50 Girls, 50" Williamson and Frazetta are revered names to fans of science fiction and heroic fantasy art-each a recognized giant in his field. More than a half-century ago, these two giants walked together. During their short time together, Williamson and Frazetta produced both solo and jointly produced works for several different publishers. All of their works stand heads above the works of their contemporaries, and each of these originals is highly prized by collectors of quality comic book art. Of all their jointly produced efforts, their work for Bill Gaines' EC line is the most respected. Of the number of stories that the team co-produced for EC, the "50 Girls, 50" story is considered to be their best. Many collectors feel that only Frazetta's solitary EC solo story ("Squeeze Play") compares to it in quality of draftsmanship. "50 Girls, 50" is the ultimate male fantasy sci-fi tale, produced for the final issue of EC's premiere science fiction comic, Weird Science (#22; 11-12/53). It is a story of a single man, alone on a ship with 50 beautiful women who are preserved in suspended animation. MastroNet is offering the original artworks for all seven story pages. To the best of our knowledge, the seven pages of original Williamson/Frazetta/Krenkel artwork for this story have been kept together since it was first sold as part of the Bill Gaines' EC art auctions, more than 30 years ago. All of the pages are flawlessly preserved. Al Williamson has added his signature below the right hand panel of both page one and seven, with an added notation on page one that reads, "with help from Roy G. Krenkel and Frank Frazetta." The minimum bid is $7,500.00. The Original Barry Smith Art for the Splash Page from "Conan" #1
Teen humor titles, war books, western hero titles, all had their own starting point. For the sword-and-sorcery titles that dominated the 1970's comic market, Conan the Barbarian #1 was their genesis. Offered is the highly desirable Barry Smith original art for the splash page from Conan the Barbarian #1 (October, 1970), the story entitled "The Coming of Conan." The large original is flawlessly preserved and still possesses its original indicia attachment. The minimum bid is $2,500.00. Ten Full Double-Tier Wally Wood Original Pages from "Sally Forth"
While Wood's "Cannon" pages have been showing up over the years, there is no listing for any "Sally Forth" piece in any of the big comic art auctions of the last ten years. Here's an opportunity to pick up ten! This offering contains 20 art sections, making up ten full pages of Wally Wood's "Sally Forth" strip. The pages are an almost uninterrupted sequence from late 1972 to early 1973, beginning in the middle of Sally and the commandos' attempt to thwart the plans of evil dictator Juan Peon, and ending in the beginning of the strip's "women's lib" sequence. There's some great pages full of everything from World War I bombers to Snorky the Martian! The minimum bid is $2,000.00.
NON-SPORTS CARDS
1962 Topps "Civil War News" Unopened Ten-Cent Cello Box (36)
These famous and highly collectable cards were created to enlighten youngsters about the events surrounding America's momentous 19th Century conflict. This complete, unopened cello box of Topps' 1962 Civil War News cards has been beautifully preserved for more than four decades, and remains it its original 12-card packs. These tightly sealed, cellophane-covered packages each display a Mint card, still reposing at the head of a factory-fresh assembly, along with a Currency insert item viewable from the underside. The 36 packs contain 432 pristine Civil War News cards, along with 36 Mint Currency inserts. The minimum bid is $1,500.00.
1938 R69 Gum, Inc. "Horrors of War" Graded Collection
If you've been looking to build on a Horrors of War set, here are some key blocks. Every one of these 176 different Horror of Wars cards has been graded by PSA. Highlights include: PSA NM-MT 8: 14 cards; PSA NM 7: 26 cards; PSA EX-MT 6: 86 cards"; PSA EX 5: 47 cards; and PSA VG-EX 4: 3 cards. Twenty of these cards occupy the highest PSA grading tier ever awarded for an example of their number. The minimum bid is $1,000.00.
For More Information
To register for the MastroNet April auction and receive an auction catalog, call 630-472-1200 or go to www.mastronet.com. Bidding for the auction begins March 28, 2005.