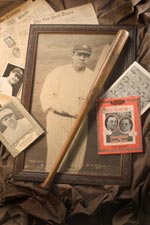 PSA Authenticated Babe Ruth Bat Used to Knock Out the First Home Run in Yankee Stadium Sells for Record $1.265 Million
New York, New York, December 2, 2004 - This afternoon, in an overflowing salesroom, Sportscards Plus and Sotheby's sold Babe Ruth's signed bat used to slam the first home run in Yankee Stadium for $1,265,000, a record for a baseball bat at auction. Applause erupted in the room when the hammer finally fell, and "The Holy Grail" of sports memorabilia was purchased by a prominent East Coast collector.
The bat now stands as one of only three pieces of sports memorabilia to eclipse the $1 million mark. It was included in a sale of 311 lots of Important Baseball Memorabilia which brought a total of $4,687,486. Remarkably, the average price per lot in this unprecedented event was $15,072.
"We are thrilled with the overall results of this auction, and are pleased that the Ruth bat, along with its accompanying documentation will now be the centerpiece in the most comprehensive private collection of Babe Ruth memorabilia known' said SportsCards Plus Auction Director Dan Imler. 'Since the bat was first made public and authenticated by all of the industry's leading experts in 2002, this individual has repeatedly expressed his intense desire to acquire this treasure." Imler said.
Other record setting highlights of the day included Mickey Mantle's First Major League Home Run Ball, which sold for $189,750, Sandy Koufax's 1963 No-Hitter Game Worn Spalding Frank Bolling Model 42-212 Glove, which brought $126,500, Home Plate from Yankee Stadium circa 1923-1973, which sold for $115,000, a Giant 1920 Babe Ruth Signed Display Photograph, which sold for $149,500, Babe Ruth's New York Yankees Flannel Road Pants, circa 1933, which soared past a pre-sale estimate of $15/25,000 to sell for $109,250, and Lou Gehrig's 1936 New York Yankees Signed Contract (MVP Season), which sold for $115,000 against a high estimate of $65,000.
Lee Dunbar, Director of Sotheby's Collectibles Department and David Kohler, President of SportsCards Plus, said, "The sale was a home run. This bat has the distinction of being the second most valuable piece of sport memorabilia ever sold, tying the price achieved for Honus Wagner T206 Baseball Card PSA 8. The success of the sale reinforces the fact that baseball is still America's national pastime."
Babe Ruth's Bat Used To Hit the First Home Run at Yankee Stadium - April 18, 1923
The Babe's spectacular home run in Yankee Stadium's first game is often recalled as one of the most dramatic moments in sports history. After his home run, Ruth, always supportive of kids and young ball players, donated the bat to The Los Angeles Evening Herald newspaper to be awarded as the top prize in a high school home run hitting contest.
On the bat, the Babe inscribed, "To the Boy Home Run King of Los Angeles "Babe" Ruth, N.Y. May 7, 1923." The bat was awarded to Victor Orsatti by the Herald on June 7, 1923. Upon his death in 1984, Mr. Orsatti willed the bat, along with all of his personal effects, to his caretaker. She kept it in her possession, under her bed, until now. In honor of Victor Orsatti, and in the spirit of Babe Ruth's inclination towards helping children, she intends to use a portion of her proceeds from the sale of this bat to fund a baseball program at an orphanage in Mexico, where she now spends a great deal of her time. Together with the bat is a telegram from Ruth congratulating Orsatti on his win as well as an album of newspaper cuttings and other mementoes relating to the contest.
Since the bat made its first public debut at the Chicago National Sports Collector's Convention in 2002, it has been unanimously heralded as the greatest discovery in the field of Sports Memorabilia by leading industry experts. Joe Orlando, President of PSA (Professional Sports Authenticator), whose firm was among the first to examine the piece, stated, "This Babe Ruth bat, in my opinion, is the most historically significant item we have authenticated to date and I cannot imagine the existence of another item on par with this one. The provenance, quality, and the story behind this bat make it one of the hobby's most captivating treasures."
Other Highlights
Among the other highlights of today's sale was Mickey Mantle's First Major League Home Run Ball which brought $189,750. On May 1, 1951, while facing one of the most imposing pitching veterans (Chicago White Sox Randy Gumpert), Mantle hit his first homer. A Yankee pitcher warming up in the bullpen retrieved the ball for his young teammate and Mantle inscribed it: "My first H.R. in the Majors, May 1, 1951, 4:50 p.m. Chicago…6th inning off Randy Gumpert."
Sandy Koufax's 1963 No-Hitter Game Worn Spalding Frank Bolling Model 42-212 Glove brought an outstanding $126,500. Koufax earned his place among baseball's greatest pitchers with his dominating performance between 1962 and 1966. Perhaps his greatest performance from his greatest season came on May 11, 1963. In a masterful outing he baffled the Giants at Dodger Stadium pitching his second career no-hitter in the 8-0 victory. This glove, which was presented immediately following the game to legendary sports photographer Herb Scarfman, a good friend of Koufax, was estimated to sell for $50/75,000.
The sale also included a number of items from the estate of former Brooklyn Dodger captain Pee Wee Reese. Several of the Reese items from the Dodgers magical 1955 season were purchased by Travis McCourt, son of Frank McCourt, owner of the Los Angeles Dodgers. Regarding his purchases, Travis McCourt stated, that the goal of the Dodgers organization is to "bring as much of the heritage of the team to the fans," noting that they plan to exhibit the items at the stadium in anticipation of 50th anniversary of the Dodgers first World Series victory over the Yankees in 1955. Among the items they purchased was Pee Wee's 1955 Brooklyn Dodgers National League Championship Ring with Box and Team Photograph Plaque for $69,000.
Other prominent Reese items sold include Pee Wee's Signed Brooklyn Dodgers Game Worn Cap, Circa 1955 for $16,100, his Engraved Silver Platter Presented to Pee Wee Reese by his 1955 Brooklyn Teammates for $12,650, Pee Wee Reese's Personal Baseball Hall of Fame Induction Plaque for $17,250, a Jackie Robinson Inscribed First Edition Copy of "Wait Till Next Year" to Pee Wee Reese for $25,875, and Pee Wee's Personal Photograph of Himself with Jackie Robinson for $18,400.
Throughout the sale, the invigorated crowd that packed the house consistently pushed prices to staggering levels in every category, but there was no question that the day belonged to the Sultan of Swat. In addition to the bat, Babe Ruth related items from the collection of hobby veteran Mark Lewis performed exceptionally well. A number of records fell and many of the prices were hammered down well above their catalogue estimates.
Highlights from the Mark Lewis Collection included a Babe Ruth Handwritten Letter to his Mistress, Circa 1922 for $86,250 (est. $30/50,000), Babe Ruth's Inscribed Ball Hit for His 48th Home Run of the 1927 Season for $51,750, Babe Ruth's 1927 Saxophone from Paul Whiteman for $27,600 (est. $10/15,000), and a Babe Ruth Handwritten Letter Regarding 'Babe Comes Home,' Circa 1927 for $29,900 (est. $8/12,000).
Baseball card aficionados competed for a noteworthy selection of rarities including a 1933 Goudey #144 Babe Ruth PSA 9 MT that sold for $74,750.
More Results
1900 Christy Mathewson Six Page Handwritten Letter - $37,375
Pair of Fingerless Baseball Gloves, Circa 1870's - $21,850
Boston Red Stockings Cigar Label Display Featuring 16 Progressive Proofs,
Circa 1880's - $57,500
Exceptional 1920's Ty Cobb Game Used Bat - $103,500
Ebbets Field Original Stadium Seat - $9,200
Jackie Robinson Single Signed Baseball - $14,950
1986 New York Mets Full-Size World Series Trophy - $34,500
April 18, 1923 Yankee Stadium Opening Day Program - $18,400
1927 Babe Ruth and Lou Gehrig Signed Photograph - $31,050
1928 Signed Limited Edition Copy Of Babe Ruth's Own Book Of Baseball - $13,800
Superb Babe Ruth Single Signed Bat, Circa 1933 - $25,300
1934 New York Yankees Team Signed Baseball - $21,850
1934 Tour of Japan Team Signed Baseball - $25,300
Gem Mint Babe Ruth Single Signed Baseball - $63,250
1958 Mickey Mantle Signed Game Used Bat - $48,875
1961 New York Yankees Team Signed Baseball - $16,100
Mickey Mantle/Roger Maris Autographed Baseball - $11,500
Derek Jeter's Inscribed 2001 World Series Game 4 Walk-Off Homer Bat - $26,450
Sotheby's and SportsCards Plus are planning a sale for Spring, 2005 and are currently accepting quality consignments. For more information please contact Sotheby's Collectibles Department at 212.606.7910 or SportsCards Plus at 1-800-350-2273.
* * * * *
There's a First Time for Everything -- Babe Ruth's Pre-Rookie Card to be Sold
By Joe Orlando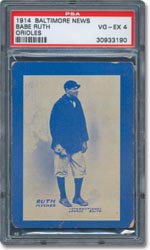 The word "rare" is used often in our hobby, sometimes appropriately and sometimes not. Some people consider one of 500 to be rare, others say the number of known examples must be lower to fit that description, yet others say a higher number may be all right. When it comes to the ultra-rarities, there is no dispute.
Here is one such example; a PSA graded VG-EX 4.
The 1914 Baltimore News Babe Ruth card is a card that is, without question, scarce by anyone's standards. With only a handful known to exist, this Ruth card is rarely offered to collectors. In fact, the last time one was offered publicly was in the late-1990's, in ungraded form. In the fall of 2004, after nearly 8,000,000 cards graded, this exact example became the first copy to be graded by PSA. It will be offered in 2005 at auction and collectors should take note because this is a card that does not come around often.
Here are excerpts from the lot description by Robert Edward Auctions:
1914 "Baltimore News" Babe Ruth Card
The 1914 Baltimore News card of Babe Ruth is perhaps the single most miraculous baseball card in the entire world of collecting. This card features Babe Ruth as an unknown minor league rookie straight out of St. Mary's Industrial School for Boys. One of approximately seven examples known to exist, this card is part of a 1914 set issued in Baltimore featuring stars of the city's two professional baseball teams, the Terrapins of the Federal League and the Orioles of the International League. Cards were issued in red-and-white and blue-and-white.
The reverse features the "At Home" and "Abroad" schedules of the Orioles team beneath the headline 'Compliments of the Baltimore International League.' Cards from this set were also issued with 'Read the Baltimore News' printed at the top of the reverse. This 1914 Babe Ruth card has never received the notoriety it deserves, which ironically, in our opinion, is due entirely to its extreme rarity. Few collectors are even aware of its existence.
The most sophisticated collectors and scholars of baseball cards appreciate the 1914 Babe Ruth rookie as one of the most profoundly important baseball cards that could possibly exist. It is a miracle that it does exist. It is simply incredible that a baseball card was even issued of Babe Ruth as a rookie with Baltimore in 1914, let alone that that the card should be from such a substantial and high-quality set. Even sample cards of common players from this issue are highly sought-after. Robert Edward Auctions last offered a common player from this set, pitcher George Suggs of the Baltimore Terrapins, as Lot #87 in our May 2004 auction. That common player sample card sold for $4,600.
The card is graded PSA 4, in very solid Very Good to Excellent condition. Bright and clean, both front and back. Centered 62/38 top to bottom, 47/53 side to side. The card has a single very small, light hairline crease in the bottom border, and lightly rounded corners.
* * * * *
Thurman Munson's Last Catcher's Mitt Draws $51,518 in Inaugural Auction from Memorabilia Road Show
$31,987 FOR A '79 Munson Road Jersey
Record prices were realized in the inaugural auction of Memorabilia Road Show Hosted by Ed Kranepool, with much attention focused on items consigned by the widow of Thurman Munson, the great Yankees captain who died in a tragic plane crash in 1979.
The online auction ended early Thursday morning.
Munson's last catcher's mitt sold for $51,518, believed to be the highest price ever paid for a glove from a modern player not in the Hall of Fame. (All prices include the buyer's premium). His road uniform jersey from his final season went for $31,987. His pilot's license went for $7,938. And the bat used by Bobby Murcer to drive in 5 runs and win the game on the night of Thurman's funeral (at which Murcer was a eulogist), went for $16,827. Murcer, who is an officer in Memorabilia Road Show, later gave Diana Munson the bat, and 25 years later, his blessing to put it in the auction.
Other highlights of the auction included the sale of a 1951 Yogi Berra road jersey for $38,705, a signed 1960 Whitey Ford home jersey for $31,987, a Joe DiMaggio game used cap from the 1947-49 period ($29,078), and a game used Henry Aaron bat from the 1955-57 period, which went for $26,806. That is believed to be the highest price ever paid for a non-special event Aaron bat.
An early 1960s Mickey Mantle game used bat, a Ted Williams bat from the 1948-49 period, and a DiMaggio game used bat from 1950-51, all went for $16,002. A Stan Musial bat from 1949 brought $5,299, and an Ernie Banks bat from the 1950s brought $10,330.
An 1866 "Trophy Ball" won by the Brooklyn Excelsiors and likely handled by Hall of Famer Candy Cummings, went for $24,031. A pair of spikes worn by base stealing legend Maury Wills brought $6,898, and a team signed 1955 Brooklyn Dodgers baseball drew $24,031, as the 50th anniversary of that storied club approaches. A Lou Brock game-worn Chicago Cubs cap brought $2,880.
Brooks Robinson's locker, as presented to him by his teammates when he retired, went for $4,281. His 1964 All-Star bat brought $6,898, and his first Orioles cap went for $3,891.
The auction's lone foray outside of sports saw John F. Kennedy's Inauguration Day shirt being sold for $28,750, with proceeds to go to Anthony Shriver's "Best Buddies" organization.
"This was a remarkable, first-time out performance for us," noted Russell Friedman, the company President. "The auction brought in approximately $900,000 although limited to 477 lots. We will always have auctions of a comparatively small number of lots because we are strict about taking consignments only from players or their families. It's clear from the response we received that the collecting community appreciated the authenticity that this policy provides, and that the word got out in the months leading to this auction, that we had some remarkable consignments."
Memorabilia Road Show™ is an auction company, specializing in sports, and guaranteeing the highest standard of authenticity by acquiring its offerings exclusively from athletes or from their families or estates. Russell C. Friedman is president, The Memorabilia Road Show with headquarters at 3000 Marcus Avenue, Ste. 3E6, Lake Success, NY 11042.
* * * * *
1916-17 Jim Thorpe Canton Bulldogs Jersey Sets New Standard By Selling for $284,350 in Lelands.com December Auction
Lelands.com Sets New Record with $6.2 Million in Sales
SEAFORD, DEC. 11, 2004 - As anticipated, the finest sports jersey to ever be offered at auction set a new standard for "non-baseball" jerseys, as the only know Jim Thorpe Canton Bulldogs football sweater (circa 1916-17) sold for a whopping $284,350 as part of the Lelands.com 2004 auction. The Sports and Americana auction generated a Lelands.com record $6.2 million in sales.
This unimaginably precious football sweater worn by the "greatest athlete of all time" is inarguably the finest antique sports jersey extant. Not even the Pro Football Hall of Fame has one like it.. This sweater only exists because his third wife, Patricia Thorpe, took possession of it and preserved it with great care. The black sweater is in beautiful display condition with a tan Canton "C" knit into the fabric and tan and red trimming on each sleeve. Obtained directly from Patricia Thorpe.
"We were proud to offer this unique piece of sports history and are just delighted that it's record sale price honors Jim Thorpe for his monumental achievements," said Josh Evans, Founder and Chairman of Lelands.com. "Our record $6.2 million in sales coupled with the many other recent high-profile sales proves that the collectibles industry is as hot as ever."
Touching all the Bases
Although the rare piece of football history took top billing, it was baseball items recording many of the highest bids. Two items from baseball immortals Mickey Mantle and Honus Wagner also sold for over $100,000. A 1951 Mickey Mantle World Series bat, uncovered in the closet of a Tulsa, OK. family's home earlier this year, sold for $111,551.49. It is the only certified bat from 'The Mick's' rookie season. A T206 Wagner card, graded PSA 1 sold for $101.410.44.
Three items commemorating the "Reverse of the Curse" -- the 2004 Boston Red Sox World Championship - also combined to sell for nearly $100,000. The items were all used during games three and four at St. Louis' Busch Stadium, included: Home Plate ($47,824.05); the Pitching Rubber ($21,042.58); and Three Bases ($25,461.52).
Other unique baseball items included:
1933-34 Babe Ruth Game Used Bat Signed by Lou Gehrig -- $57,243.56
Andrew 'Rube Foster' Autographed Photo (Negro League Pioneer) -- $31,223.77
1910 Ty Cobb Tobacco Tin -- $26,995.44
Trophy Presented to Tony Mullane (1882) to Commemorate the First No-Hitter -- $26,303.33
Harry Wright Hall of Fame Plaque -- $24,541.31
Johnny Podres 1955 World Series MVP Trophy -- $17,203.18
1964 NY Yankees Team Signed Photo -- $9,816.53
Some of the other prominent items included:
Seabiscuit Race Worn Shoes vs War Admiral -- $46,212.68
Joe Frazier's WBC Championship Belt -- $41,125
Smokin' Joe's Boxing Glove from the Thrilla in Manilla -- $30,476.48
Cassius Clay vs Sonny Liston Fight Poster -- $16,762.04
'The Battoir' 18th Century Tennis Racquet -- $37,780.76
Bobby Hull's Last NHL Game Worn Jersey (Hartford Whalers) -- $17,965.53
1979-80 Phil Esposito NY Rangers Jersey -- $10,057.22
1969-70 Bobby Orr Game Used Stick -- $7,702.24
* * * * *
MastroNet Tops Off Record Year with Phenomenal $11.1 Million Sale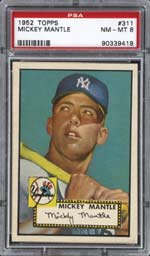 It's been quite a year for MastroNet, Inc. The premier Sports and Americana auction house recorded one record-breaking auction after another.
"We had just enough time to catch our breath as we gear up for 2005," said William Mastro, CEO of MastroNet. "It's critical in this industry to keep moving forward. As great as this past year has been, our intent is to make 2005 a better one for our consignors and buyers."
Mastro says the key to his company's success is simple. "We have the best people and can secure the best items, so we attract the best prices," said Mastro. "We understand the business side of the auction industry better than anyone and the results clearly speak for themselves."
One of MastroNet's recent responses to the industry it serves so well, was the introduction of its Classic Collector auctions. Geared to appeal to wider collecting audience, the first Classic Collector auction closed in October 2004 and preparation for the February 2005 event is nearly complete. 'The addition of these auction events opens up a quality, positive collecting experience for more people and benefits the industry as a whole,' said Mastro.
Overall, Mastro says his company's success confirms that the collectible industry remains strong. The results of MastroNet's December 2004 premier auction serve to punctuate Mastro's comments. A combination of top Sports and Americana items proved extremely popular across the collecting board. Specific highlights of the auction include:
TOP ITEMS OVERALL - SPORTS AND AMERICANA
Collection of 1887-90 N172 Old Judges with Nine Hall of Famers
A collection of the popular Old Judge cards ruled MastroNet's December auction. A significant assembly of 116 different 1887-90 N172 Old Judge baseball cards included Clarkson (VG/EX), Connor (wavy bottom, o/w GD), Crogan/Maroons, Fessenden/Umpire, Galvin (EX), Kelly/Bost. (VG/EX), Kelly/Bost. (VG), Kelly/port. Kelly/Umpire, Mack/Wash. (VG), Radbourn (NM), Ward (VG). The collection sold for $136,088.00.
1904 WG2 Fan Craze American League Complete Set with Original Box - Highest on PSA Set Registry!
All 52 cards of this set are graded by PSA with over half achieving GEM MT 10 status. Also included are the original box, game board, instructions, scorecard and pieces, all of which are in Near Mint condition. It sold for $68,729.00.
Josh Gibson and Satchel Paige Signed Baseball
Josh Gibson and Satchel Paige left behind the largest legacies of the Negro Leagues. This ball serves as testimony to their greatness. The autographed baseball sold for $61,047.00.
Lou Gehrig 1932 "Batrite" Side Written Game Used Bat
Gehrig didn't use this bat manufacturer for long, but his period of experimentation is highly valued today. This bat from the brief time period when he left H&B behind commanded $58,139.00.
Original Charles Conlon Photos - All Notated on Reverse in Conlon's Hand
It is rare that a cache of superb original photographs by Conlon becomes available to collectors. Collectors wasted no time snapping up this lot of 234 different photos that included significant 1919 White Sox images. The collection sold for $56,671.00.
1952 Topps #311 Mickey Mantle Rookie Card- PSA NM/MT 8
It's the card to have. But this one is in the top 6% of all cards of its kind making it an auction magnet for serious bidders. The extraordinary card attracted a final price of $56,671.00.
1966/67-1985/86 O-Pee-Chee and Topps Hockey Uncut Sheet Collection
Three decades of hockey history are represented in this lot with each component presented in factory-original, uncut-sheet form. Hall of Famers, stars, rookies, award cards, checklists and even inserts are displayed on 38 complete, uncut O-Pee-Chee card sets (plus 4 early Topps sets which were also printed in Canada). The final price was $53,439.00.
1986/87 Fleer PSA GEM MT 10 Graded Set
No other set of these cards tops this one! The perfect #57 Jordan provides the centerpiece. The other 131 pristine cards, the ultimate icing. The price for perfection was $52,854.00.
Joe DiMaggio 1949 H&B All-Star Game Used Bat
Joe DiMaggio was the only player in history to be selected to the All-Star team in every season of his career. This bat was issued to and used by DiMaggio during the memorable 1949 mid-summer classic. It was an auction hit, selling for $52,774.00.
"The Book of Presidents" - Autographs of Presidents, Washington - FDR
Each of the 25 presidential signatures in this impressive volume is preceded by a photogravure portrait of the respective President, as well as an onion-skin page that has his name, his birth and death dates, a credit line for the original artist whose work was reproduced in photogravure, and two engravings of relevant landmarks (typically, the President's birthplace and his home). Following each entry is a biographical sketch taken from Ohio Senator Charles H. Grosvenor's published work, The Book of the Presidents (Washington D.C.: The Continental Press, 1902). It's a historical time capsule that commanded $51,519.00.
Non-Sports Cards - Excellence in the Deck
1962 Topps "Mars Attacks" Original Artwork for Card #10 "The Skyscraper Tumbles"
"Mars Attacks" was a true phenomenon that was hugely popular with kids and highly condemned by parents, educators, and press. This original painting for card #10 remains popular today as evidenced by a final price of $23,431.00.
1962 Topps "Civil War News" Rack Pack 36-Count Case
This full rack pack case of Topps' 1962 Civil War News cards is perhaps the only such relic of its kind remaining on earth. The cards, beautifully preserved for more than four decades, are still held in their original 12-card packs secured in three-pack rows with decorative cardboard headers. The treasure sold for $19,860.00.
Other items in this category include:
A 1962 Topps "Civil War News" completely graded pack collection with Five-Cent display box sold for $16,002.00; a 1938 R69 Gum Inc. "Horrors of War" complete set with wrapper went for $11,244.00; a 1950 Topps "Hopalong Cassidy" complete set plus "Foil Cards" set commanded $10,793.00; a 1962 Topps "Mars Attacks" SGC graded complete set sold for $10,330.00; a 1936-37 R60 "G-Men & Heroes of the Law" complete set went for $9,292.00; a 1965 Topps Test "Bewitched" complete set on 28-card uncut sheet sold for $7,216.00; and a 1940 R83 Gum, Inc. "Lone Ranger" original artwork for card #43 "The Bank Bandits" sold for $6,271.00.
MORE TOP SPORTS HIGHLIGHTS
1933 Goudey #106 Napoleon Lajoie - PSA NM-MT 8
This is a truly important example of a hobby legend and one of just seven copies in the world assessed at this level. The card went for $48,048.00.
Huge Collection of NM/MT Graded 1951 Bowman Baseball Cards
Once in a great while, a truly memorable assembly of cards materializes. This was one of them and one collector snapped up the 252 different cards for $46,835.00.
1934-36 R327 National Chicle 'Diamond Stars' PSA Graded Complete Set
"Diamond Stars" -- the colorful, pre-war baseball series produced by the National Chicle Company-graced store shelves at intervals between 1934 and 1936. This is the 4th highest graded set on the PSA Set Registry. The set commanded $42,576.00.
The Finest Collection of Hall of Fame Photographs Ever Auctioned!
This collection of 151 different Hall of Fame Player original photographs includes: Aaron, Bench, Berra, Cobb, Gehrig, Lajoie, B. Williams, and T. Williams. The collection went for $41,515.00.
FDR Signed Baseball and Autographed Opening Day Photo
A tradition begun by President Taft in 1910, the tossing of the first baseball pitch of the season, continued to be embraced by the Executive Branch for many successive years, and found yet another devoted supporter in Franklin Delano Roosevelt -- who took office in 1933. This autographed ball from 1940 and the photo showing FDR throwing it went for $41,515.00.
Circa 1911 Frank Chance Chicago Cubs Home Uniform
Frank Leroy Chance was the embodiment of Cubs fans' hopes and aspirations. Accompanied by teammates Joe Tinker and Johnny Evers, Chance helped to form what was arguably the greatest double-play combination of all time. The uniform of this classic Hall of Famer sold for $39,649.00.
Roger Maris 1961 H&B Game Used Bat - Home Run #49
Maris used this bat in 1961 to hit his 49th home run. Maris' 49th home run occurred at Cleveland Stadium on August 20th. The bat sold for $38,706.00.
AND MORE SPORTS HIGHLIGHTS BY CATEGORY...
More Baseball Cards
A 1953 Bowman Color high-grade set sold for $35,187.00; a 1909-11 T206 White Border near set with Magie Error sold for $35,187.00; a 1937 V300 Canadian Batter Ups graded complete set went for $34,209.00; an 1888 Joseph Hall Cabinet - Chicago Ball Club commanded $33,179.00; a 1948 Leaf #93 Bob Feller PSA NM-MT 8 short print sold for $33,179.00; a rare 1961 Topps Dice Game Mickey Mantle went for $31,987.00; a 1952 Topps Collection including 49 'high numbers' went for $31,189.00; a 1913 WG5 National Game complete set with Rules Cards and original box commanded $31,189.00; a 1915 M101-5 Famous and Barr #151 PSA graded Babe Ruth realized $31,189.00; a 1909-11 T206 White Border near set commanded $28,353.00; a 1953 Stahl-Meyer Franks highest PSA graded complete set went for $28,353.00; a 1933 R333 DeLong #7 Lou Gehrig sold for $26,435.00; a 1949 Bowman PCL high grade PSA complete set commanded $25,775.00; a 1969 Topps Super completely graded set with 50 PSA GEM MINT 10s sold for $25,775.00; an 1886 N167 Old Judge John Montgomery Ward went for $23,827.00; 1952 Topps Baseball unopened five-cent wax packs sold for $23,431.00; a 1952 Topps #311 Mickey Mantle graded PSA NM 7 went for $22,152.00; a 1910 T209 Contentnea photo series collection went for $21,660.00; a 1960-69 Topps complete set run sold for $21,300.00; a 1932 U.S. Caramel PSA NM-MT 8 #32 Babe Ruth went for $21,300.00; a 1933 Goudey PSA NM-MT 8 #144 Babe Ruth sold for $21,300.00; a 1914 E145-1 Cracker Jack graded collection with Ty Cobb went for $20,138.00; an 1895 N300 Mayo's Cut Plug Cap Anson sold for $20,138.00; a 1940 R335 Play Ball complete set realized a final price of $20,138.00; a high grade 1948 Bowman graded set went for $19,861.00; and a 1951 Bowman #253 Mickey Mantle went for $19,364.00.
Batting Above Average - Bats
A Ty Cobb 1921-28 H&B game bat sold for $36,099.00; a Mickey Mantle 1964 H&B game used bat signed by both Mantle and Roger Maris went for $26,435.00; a Mickey Mantle 1964-67 Adirondack signed game used bat went for $23,431.00; a Mickey Mantle1965-66 H&B game used bat commanded $19,634.00; a Honus Wagner 1920's H&B Coaches bat sold for $16,002.00; an Al Simmons 1939-40 H&B side written and double vault marked game used bat went for $15,474.00; a Hank Aaron 1973 H&B game used 704th home run bat sold for $12,788.00; a Ted Williams 1939-43 H&B game used bat realized a final price of $10,928.00; and a Duke Snider 1950-60 H&B signed game used bat sold for $10,569.00.
Baseballs - Spheres of Perfection
A Babe Ruth single signed baseball sold for $38,706.00; a 1961 New York Yankees World Champions team signed baseball went for $25,775.00; a 1923 World Champion New York Yankees team signed ball commanded $23,431.00; a 1945 Homestead Grays Negro League team signed ball with Josh Gibson went for $19,861.00; a Mickey Mantle inscribed 534th home run ball went for $19,364.00; 1934 American League All-Star team ball with Ruth, Gehrig went for $15,128.00; a 1922 signed Hall of Famers and Stars signed baseball went for $14,972.00; a Tris Speaker single signed baseball sold for $13,447.00; and a Don Larsen 1956 World Series Perfect Game used team signed baseball went for $12,329.00.
Signing Bonuses - Baseball Autographs
A huge signed index card collection (2,895) with 887 Hall of Famers sold for $24,107.00; a 1933 "Who's Who in Baseball" with Ruth, Gehrig and 32 other Hall of Famers went for $20,138.00; a multi-signed 8" x 10" photo collection (438 signatures) with 123 Hall of Famers sold for $16,272.00; Joe DiMaggio 1995 "Signature Rookies" signed baseball cards (100) went for $13,447.00; an autographed Perez Steele postcard collection (69) with Satchel Paige and Lloyd Waner went for $10,102.00; and a large collection of 576 signed photos with over 675 signatures including 200+ Hall of Famers went for $10,102.00.
Snapped Up - Baseball Photographs
A gigantic 1918 Boston Red Sox team photo with Babe Ruth by Carl Horner sold for $35,187.00; a Van Oeyen original photograph treasure trove with Cobb, Jackson and Baker went for $18,307.00; a 1940s -'70s vintage wire photo collection went for $15,474.00; an incredible Mickey Mantle photo collection sold for $15,128.00; and the ultimate collection of 1940s-'50s Brooklyn Dodgers photos commanded $13,606.00.
Treasures from the Trenches - Football
A Nebraska program, ticket, media guide and pass collection sold for $28,832.00; Emmitt Smith's Dallas Cowboys jersey from his record breaking game sold for $28,353.00; a 1960's Johnny Unitas Baltimore Colts game used helmet sold for $25,775.00; a Walter Payton signed game used helmet went for $21,847.00; a 1968 Super Bowl II at Miami full unused PSA graded ticket sold for $19,923.00; a Larry Brown Super Bowl XXVII Lombardi Trophy commanded $19,364.00; a Joe Namath early 1970's New York Jets road jersey commanded $19,364.00; a 1962 Topps unopened wax box sold for $18,307.00; a 1935 National Chicle #34 Bronko Nagurski went for $18,055.00; a 1978 Super Bowl XXII at New Orleans full unused PSA graded ticket sold for $16,465.00; and a Roger Staubauch 1970's Dallas Cowboys jersey went for $12,022.00.
Skating Excellence - Hockey
A 1954/55 Topps PSA MINT 9 collection sold for $30,162.00; 1951/52 Parkhurst high grade complete set went for $18,725.00; a 1954/55 Topps high grade collection commanded $13,606.00; a 1966/67 Topps high grade complete set realized $11,364.00; and a 1936/37 V365 Worldwide Gum complete set sold for $10,928.00.
Up to Par - Golf
A 1932 U.S. Caramel #3 Bobby Jones sold for $13,753.00; a 'World of Golf' hardcover book signed by over 225 golf greats from the 1920's-1970's went for $7,589.00; a golf ball autographed by Bobby Jones went for $3,827.00; and a 1953 USGA Dinner Program honoring Ben Hogan -- signed by Hogan, Bobby Jones, Sarazen and Ouimet commanded $3,215.00.
Auction Knockouts - Boxing
A collection of 1890s N269 Lorillard's "Mechanic's Delight" Boxing Cards sold for $10,102.00; an 1892 Corbett vs. Sullivan program and tickets went for $8,536.00; an 1890's/early 20th Century boxing letters collection went for $8,348.00; and a 1932 U.S. Caramel #15 Gene Tunney commanded $4,086.00.
For More Information
MastroNet's next premier auction is scheduled for April 2005. Consignments are currently being accepted. For more information or for consignment details, call 630-472-1200 or visit www.mastronet.com.