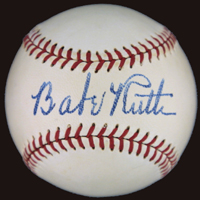 (Newport Beach, CA) -- The record price for an autographed Babe Ruth baseball has been smashed out of the park with the help of a Reno, Nevada sports collectibles dealer. The record-breaking sale underscores the market strength for third-party authenticated and graded, historic sports collectibles.
The finest known Babe Ruth signed ball, graded 9.5 out of 10 by Professional Sports Authenticator (PSA), privately traded hands for $115,000, according to PSA President Joe Orlando. The price is nearly $39,000 over the previous record for an autographed Ruth ball.
Sports memorabilia dealer, Rob Rodriguez of Reno, Nevada, brokered the sale between two collectors: the owner, Joe Verno of Colorado, and a buyer in the Southeastern United States who wants to remain anonymous.
"The ball brought so much money because it's the best of the best," said Rodriquez.
"I've been professionally buying and selling sports memorabilia for 30 years, and this is absolutely the finest-known Babe Ruth autographed baseball in existence. Ruth's name still carries a mystical attachment, and I don't think there's any question that the PSA certification added a tremendous amount of credibility."
Orlando agreed that this particular ball is widely regarded by most hobby experts to be the finest single-signature Ruth ball known, and described it as "the ultimate prize" for many collectors.
"The eye appeal is simply outstanding. Ruth's big, bold signature is spectacularly vivid in blue ink. The overall grade for the signature and the condition of the ball is 9.5, and that's the highest PSA grade to date for a Ruth-signed baseball," said Orlando.
The previous record price for an autographed Ruth baseball was $76,020 set in July 2000 in a sale conducted by Robert Edward Auctions, then a division of MastroNet.
"This sale for $115,000 is clear evidence of the market's acceptance of PSA's single-signed baseball grading service. I thought it might take more time for the recently launched service to settle in with the hobby, but the power of PSA is evident. We do not have a financial interest in the items we evaluate, and buyers will pay significant premiums associated with high-end collectibles if PSA certifies the authenticity and quality of the items," said Orlando.
"The peace of mind factor that PSA offers cannot be underestimated."
PSA also certified the authenticity of the bat used by Ruth to hit the first homerun in Yankee Stadium in 1923. That bat and other sports memorabilia items certified by PSA will be sold in an auction by Sotheby's and SportsCards Plus in New York City on December 2.
PSA of Newport Beach, California, the world's largest sports memorabilia authentication company, is a division of Collectors Universe, Inc. (NASDAQ: CLCT).
For additional information, contact PSA at P.O. Box 6180, Newport Beach, CA 92658. Phone: (800) 325-1121. Web: www.PSAcard.com. E-mail: [email protected].