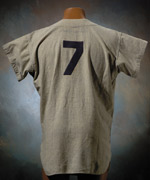 GREAT NECK, N.Y. - Grey Flannel Auctions' Fall Classic auction grossed $2.4 million, boasting robust prices for historic jerseys worn by Mickey Mantle, Wilt Chamberlain, George Mikan, Michael Jordan and Maurice Richard, among others. A total of 93 percent of the 952 were hammered sold in the wee hours of the morning on Thursday, November 18.
Mickey Mantle's game-used road jersey from the 1954 season sold for $78,446. As anticipated, it was one of numerous legendary figures to fetch top dollar.
The most abundant wardrobe of high-dollar historic jerseys was in basketball. Wilt Chamberlain's circa 1970 road Lakers jersey sold for $48,042. Michael Jordan's road rookie Bulls jersey, signed, sold for $46,302; George Mikan's 1952 All-Star Game jersey, signed, sold for $46,302; Oscar Robertson's Cincinnati Royals gamer from the late 1960s, signed, sold for $37,288; an Elgin Baylor Lakers gamer sold for $36,094; a Lew Alcindor UCLA jersey sold for $34,500; A Bob Cousy road Celtics jersey from the 1950s sold for $26,098; and Bill Russell's All-Star Game jersey and shorts from 1962 sold for $22,138.
The list of legends and top prices continued in other sports like jaw-dropping slam dunk highlights. "This sale was nothing short of spectacular," said Howard Rosenkrantz, CEO of Grey Flannel Auctions. "We anticipated extraordinary performances by the extraordinary pieces, but the drama of furious bidding toward the end of the auction was more intense than we usually see."
A home Johnny Unitas Baltimore Colts jersey from the early 1970s sold for $44,389. Joe Namath's 1968 home Jets jersey sold for $32,200. Roger Staubach Cowboys gamer was won for $18,975; and Terry Bradshaw's 1980 home Steelers jersey sold for $24,059.
Pele's New York Cosmos No. 10 jersey started at $2,500 and ended the night at $16,837.
In hockey, Eddie Shore's Howie Morenz Memorial Game jersey sold for $27,830. At one point, the bidding on this item jumped from $9,000 to $22,000. A Maurice Richard Montreal Canadiens game-used sweater from the 1950s sold for $38,266; and Bobby Orr's Boston Bruins game-used road jersey from the 1980s sold for $34,440.
"The classic jerseys don't surface often and when quality pieces like these come to our auctions, a lot of people are going to pursue them," Rosenkrantz said. "It's not quite a once-in-a-lifetime experience, but it's close."

A single-signed Babe Ruth ball fetched $44,438.
In addition to the Mantle jersey, baseball memorabilia made its normally strong showing. A 1956 Stan Musial Cardinals home jersey sold for $43,601. Jim Thorpe's New York Giants game-used New York Giants jersey, one of the most historic pieces in the auction, sold for $59,542. Dizzy Dean's rookie contract sold for $20,664.
Two magnificent Babe Ruth balls sold. A single-signed ball fetched $44,438; and a ball signed by Ruth and Lou Gehrig sold for $40,250. A 1932 team-signed baseball sold for $12,650. A Gil Hodges, Los Angeles Dodgers jersey sold for $15,918.
Rosenkrantz believes collectors are turning their attention to today's great players who are more than sure-fire Hall of Famers. They are players who dominated their position during their playing careers and earn comparisons with all-time greats. Based on prices paid for jerseys worn by players of a generation ago, collectors are realizing the value of jerseys worn by certain modern players. A Brett Favre Packers jersey sold for $6,780; John Elway's jersey brought $7,285 and bad boy linebacker Ray Lewis's jersey sold for $9,095. A 2002 Randy Johnson Diamondbacks jersey sold for $4,263; a Curt Schilling Red Sox jersey sold for $4,685; and a game-used bat from single-season hit king Ichiro Suzuki sold for $4,462.
Among other interesting results:
A George Brett game-used jersey sold for $6,785;
A 1972 home Cubs jersey worn by Billy Williams sold for $8,349;
A 1965 single-signed baseball by Sandy Koufax sold for $2,711
A Rollie Fingers game-used jersey sold for $8,404; and
A replica jersey signed by the late Pat Tillman sold for $1,581.
The auction also had its share of stellar Americana items. A $10,000 bill sold for $63,250. Coca-Cola memorabilia sold for over $20,000; a vintage Dow-Jones stock ticker from the 1940s sold for $15,073; a 1937 poster of the movie "Snow White and the Seven Dwarfs" sold for $7,653; and a rifle used in the television classic "Bonanza" sold for $4,025.
Grey Flannel Auctions already is looking ahead to June for its next blockbuster auction. First, it will ring in the new year by moving in January from its current Great Neck, N.Y., location to a fabulous gallery space in West Hampton Beach, N.Y.