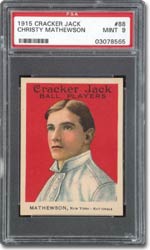 In April 2004, MastroNet, Inc., the world's leading Sports and Americana auction house conducted the largest auction of its kind. The sale, which generated over $11 million, resulted in an influx of amazing consignments that will be available in the company's August event.
"The response from the industry was immediate and impressive after the results of our last auction," says William Mastro, CEO of MastroNet, Inc. As a result, Mastro says his company's upcoming phone/internet auction, scheduled to close August 11, 12, and 13, will feature consignments representative of a wide range of collecting genres.
Some of the auction highlights include:
The jersey worn by Roger Maris when he hit his historic home run #61
A collection of rare Harry Houdini items
The Richard Egan Collection - a treasure trove of turn-of-the-century baseball cards
U.S. Revolutionary War collectibles - documents and items representing notable patriots
"There are over 2,000 lots," says Mastro. "The extensive variety of this auction truly promises to have something for every collector."
While it would be impossible to highlight every auction category, the above listed ones and a few more are detailed on the following pages.
SPORTS HIGHLIGHTS
JERSEY WORN BY ROGER MARIS FOR HISTORIC #61 HOME RUN
As far as game worn jerseys are considered, this is perhaps the Holy Grail. It is the actual jersey worn by Roger Maris in 1961 when he hit his historic home run #61.
It was the home run race that captured the country's fascination. Roger Maris and New York Yankees teammate Mickey Mantle chased the single season home run record of 60 set in1927 by Babe Ruth throughout the summer of 1961. Although Maris got off to a slow start, he had hit 50 home runs by the end of August - the first player in history to do so. Maris tied Ruth's record on September 26. On October 1, the final day of the season, Maris hammered #61. This jersey, kept safe for over 40 years and extensively authenticated, serves as testimony to one of the greatest events in baseball history. Minimum bid $50,000.00.
THE EGAN COLLECTION
Richard Egan is one of the true pioneers of baseball card collecting. He bought his first pack of baseball cards in 1949 and was among the first to explore mail order card collecting during the 1960s. Over the years, Egan became enamored with cards from the late 19th and early 20th centuries. Egan built a massive collection of early tobacco and candy cards of extreme rarity. In the early 1970s, Egan was a fixture at the organized hobby's newly formed trade shows. During that time, Egan was also a regular writing contributor to a variety of hobby publications. Then, for a variety of reasons, Egan dropped from the hobby scene, moving on to other things but keeping his treasured collection to enjoy.
Now, newly retired, Egan is selling his incredible card collection through MastroNet. "The amount of quality material is so extensive we will need at least two major auctions to sell it all," says Mastro. The second installment is scheduled for MastroNet's December 2004 auction.
The Egan collection in the August auction will include over 135 lots and feature items such as an 1887-1890 N172 Old Judge Collection of over 100 cards including 8 Hall of Famers with a minimum bid of $5,000.00; a 1912 T202 Hassan Triple Folders set with a minimum bid of $2,500.00; a 1909-11 T206 White Border Ty Cobb with Ty Cobb reverse with a minimum bid of $2,500.00; a 1932 U.S. Caramel graded collection with a minimum bid of $2,500.00; and an 1887-90 N172 Old Judge P.C.L. Charlie Dooley Oakland with a minimum bid of $1,000.00.
"The thrilling thing about this collection is that it has been off the market for 30 years," says Mastro. "The cards will be seen through fresh new collecting eyes and cause a great deal of hobby excitement."
BASEBALL CARDS
Ultra-Rare 1951 Bowman Uncut Sheet with Mickey Mantle Rookie!
The amazing sheet contains 4 nine-card rows of fully-printed collectibles. Among the players included on this fabulous sheet are Hall of Famers Mickey Mantle, Bucky Harris and Frank Frisch. The sheet measures approximately 18-1/2" x 12-1/2", and exhibits almost no surface wear or age-related toning. The Mickey Mantle card, itself, is a singular marvel of survivorship. Its position as the third card from the top on the left side has insulated the item's pristine aesthetics. Minimum bid $25,000.00.
1909-11 T206 White Border Completely Graded Set (520) Minus the Big Three
The offered set has been completely graded by PSA. Every card has achieved a grade ranging from PSA NM-MT 8 to PSA VG-EX 4! This has earned the set a weighted overall grade of 5.26 currently ranking it as the 3rd finest set in existence. Includes: Graded PSA NM-MT 8 - 2 cards; PSA NM 7 - 20 cards; PSA EX-MT 6 - 186 cards; PSA EX 5 - 258 cards; PSA VG-EX 4 - 54 cards. For details, the set can be viewed at the PSA Set registry entitled "MastroNet Aug04." Minimum bid $15,000.00.
Topps #128 Hank Aaron Rookie PSA Gem MT 10!
Only one other card in the hobby is assessed at this level. The Topps card portrays the slender rookie trapping a ground ball. Aaron became the greatest career home run hitter ever to play in the Major Leagues, and a man who remains a figure of unparalleled distinction in his sport. The offered card exhibits just the right depth of color and detail. Particularly unusual in a 1954 Topps card is this specimen's perfect balance of design and border. Minimum bid $10,000.00.
1933 Goudey #149 Babe Ruth PSA NM-MT 8
This card is the cream of its crop - no examples have ever been graded higher. The first succinct line of the card back's biography summarizes its subject's greatness: "Home run king of the big leagues." Ruth's likeness was featured on four different 1933 Goudey cards. This 1933 Goudey, the "red background," is among the scarcest and most hotly pursued of the coveted quartet. Minimum bid $7,500.00.
1915 Cracker Jack #88 Christy Mathewson PSA MINT 9
Here is one of just five copies in the world to be graded at this level with none graded higher. By 1915, the manufacturers of Cracker Jack recognized that collectors were anxious to obtain complete sets. As a result, the mail-order, "factory set" was born. Although expanded to 176 cards from the144 of the 1914 series, the 1915 release utilized most of the illustrations already tested in '14. Presented is one of the very few exceptions to that strategy. Christy Mathewson was created for 1915 only. This is a gorgeous Mint card, and a prime representative of one of the series' most revered athletes. Corners, centering, and registration are superb on this card. It is the perfect item to grace an advanced Hall of Fame collection. Minimum bid $7,500.00.
1951 Bowman #253 Mickey Mantle PSA MINT 9
Only a single example of this cherished collectible has ever been graded higher. The Philadelphia-based confectioner's number 253 in its '51 production, depicting the up-and-coming Yankee slugger, is among the hobby's universally prized centerpieces. This is an incomparably appealing card due to its phenomenal color, extremely sharp focus, and, of course, its subject. Minimum bid $5,000.00.
1933 Goudey #106 Napoleon Lajoie PSA NM 7
Goudey intended to revolutionize the market with its 1933 set of baseball cards. The company planned to market a series of 240 insert items, and the new collectibles were designed to be the best gum cards ever seen. Multiple cards of key players such as Ruth and Gehrig were created in order to capitalize on those athletes' popularity, and the Giants and Senators were issued largely en masse as the World Series approached. The set had only one "minor" flaw: the company neglected to print card number 106. To appease its clientele, Goudey printed #106, complete with a1933-style reverse, on the high-number sheet of its '34's. Stacks of the card #106 were mailed to each concerned customer, along with a letter of apology. The essence of this collectible, the most widely coveted bubblegum card ever made, is fully realized in this gorgeous example. The card features precise centering and nicely formed corners. Minimum bid $5,000.00.
1909-11 T206 White Border Honus Wagner PSA "Authentic"
So maddeningly few of these cards reside among us that their small number tweaks the hobby's frustrations while simultaneously igniting its passion. This properly authenticated specimen of the famous card had its borders carefully removed many years ago and adhesive traces on its reverse supply testimony of inclusion in a scrapbook. No one-word description can adequately describe the magic inherent in the Wagner portrait's gaze or the mystique of its overall appearance. While the card does have its faults, the item's intangibles are completely unbothered. Minimum bid $5,000.00.
1909-11 T206 White Border Eddie Plank PSA EX 5
There has never been a definitive reason for why this card is so rare. Speculation has led to the theory that when the legendary T206 Wagner was pulled from production, Plank's also had to go for some reason. Regardless, the absence of Plank's card remains evident in sophisticated hobby circles. The offered card is framed in commendably clean white borders, and the reverse ("Sweet Caporal - 350 Subjects") is dead-on in its clarity. Minimum bid $5,000.00.
1952 Topps #261 Willie Mays PSA MINT 9
Less than 10 examples in the world hold PSA MINT 9 status, and only one has ever been graded higher. The distinguishing features of this incredible Mays second-year card have survived beautifully for more than five decades. The card displays faultless distribution of color, impeccable border elements, pinpoint corners and quality centering. Minimum bid $5,000.00.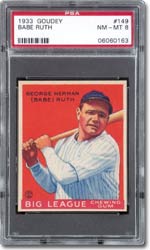 1933 Goudey #144 Babe Ruth PSA NM-MT 8
The offered card showcases one of the most recognizable images of Babe Ruth ever produced. Intense, vivid color coupled with flawless registration give this card uncommon and tremendous eye appeal. The image is a delightfully crisp and perfectly focused illustration and is framed by proportioned white borders. The reverse is bright and clean, with top-notch print clarity. Minimum bid $2,500.00.
1933 Goudey #181 Babe Ruth PSA NM-MT 8
Just seven copies in the world have been graded higher than this card. Of the Babe Ruth quartet contained within the 1933 Goudey series, this is the one with the largest and most dramatic, full-face illustration of the Bambino. Ruth's confidence, shines in this superb collectible. The bold, vibrant palette of colors and fantastic clarity of the card have not been affected by time. Clean white borders frame a vivid, perfectly focused image. Minimum bid $2,500.00.
1933 Goudey #92 Lou Gehrig PSA NM-MT 8
Number 92 of Lou Gehrig is one of the most widely coveted cards in the revered 1933 Goudey issue. Gehrig's gentle smile is easily discernible on this remarkable card front, and his impossibly fine Yankee pinstripes are bold and fully resolved. Centering is well-proportioned and the pristine card back displays bright, precise inking of each character. Minimum bid $2,500.00
1888 N29 Allen & Ginter Buck Ewing PSA MINT 9
Only one other card has been graded at this level with none graded higher. The offered card is the unrivaled "key" piece in Allen & Ginter's Second Series of The World's Champions. "Buck" Ewing, the only Hall of Famer selected for inclusion in the 50-card production, was considered one of the finest all-around players of his day. The great catcher, shown here in a very desirable portrait pose, was captain of the legendary New York Giants teams of the late 1880s. A marvel of period lithography, this special card features superb, delicate shading to complement the perfect detail in Ewing's likeness. The corners are sharp especially when considering the item's heritage as a hand-packaged tobacco insert. The card back presents a crisp list of the Series' subjects. Minimum bid $1,500.00.
BASEBALL BATS
Ty Cobb Game Used Bat - a Gift from Ty to Joe Sewell
This incredible bat was used by Ty Cobb in the mid-1920s and later presented by him to friend and fellow Hall of Famer Joe Sewell in 1925. Sewell later recorded this token of Cobb's friendship by inscribing the barrel in white ink ("10"), "Given to me in 1925 by Ty Cobb, Joe Sewell." Originally obtained directly from Joe Sewell's family, the bat represents one of the finest Cobb gamers known to exist. The 34-1/2", 41-oz. H&B signature-model bat is composed of top-quality white ash and features Cobb's facsimile signature. What distinguishes this Cobb bat from other surviving examples is the fact that all of his trademark customizations are displayed along its entire length, including his unique wood treatment process involving "chew." The bat appears to have been boned and features Cobb's customary spiral wrap of white tape along the handle. The bat is uncracked and displays heavy game use throughout. James Spence & Steve Grad/PSA DNA. Minimum bid $25,000.00.
Mickey Mantle 1950s H&B Signed Game Used Bat
Mickey Mantle used this bat during his glory years with the New York Yankees. The 35", 33.5 oz. H&B signature model "M110" bat is composed of top quality white ash and features deep and well defined manufacturer's stampings throughout. Mantle inscribed the bat in black Sharpie directly above the barrel stamping, "Mickey Mantle, No. 7, 536 HRs." It was signed in the presence of Upper Deck officials while he was under contract with them and still bears their company's hologram serial number on the knob. The signature is an absolute "10." James Spence & Steve Grad/PSA DNA. Minimum bid $10,000.00.
Ted Williams 1950s H&B Signed Game Used Bat
According to H&B shipping records this signature model "W183" game bat (35", 32 oz.) was ordered by Ted Williams each season between the years 1955 and 1960. The bat appears to be uncracked and features deep and pronounced manufacturer's stampings throughout, especially with regard to Williams' facsimile signature on the barrel. Williams' uniform number ("9") is written on the knob in black marker over what appears to be a faded representation of the same number underneath. Williams has signed the bat in black Sharpie ("10"). James Spence & Steve Grad/PSA DNA. Minimum bid $2,500.00.
BASEBALLS
Gem Babe Ruth Single Signed Baseball
There is a certain aura about a Ruth ball. This OAL (Harridge) ball is one of the finest renditions of Ruth's scripted name one could ever hope to find. Ruth penned his name in bold blue fountain pen ink across the sweet spot, with each letter and stroke grading a glorious "10". The ball is lightly toned and features faint, but legible, manufacturer's stampings along the front. LOA from James Spence & Steve Grad/PSA DNA. Minimum bid $5,000.00.
Barry Bonds's 661st Home Run Baseball
This is the actual Rawlings OML (Selig) baseball that Bonds rocketed out of SBC Park on April 13, 2004 to surpass Willie Mays for third place on the all-time home run list. A hologram sticker of Major League Baseball Authenticated appears just above the Rawlings stamping and carries the identification code, "MR 426771" (verifiable on the Authentication Program page of MLB's website). Barry Bonds also added another special marking on the ball: a visible imprint of the contact that catapulted him into the record books. This amazing baseball marks Bonds' crowning career achievement to date, a testament to 19 seasons of slugging greatness. Minimum bid $5,000.00.
Gorgeous Lou Gehrig Single Signed Baseball
This Lou Gehrig ball will fulfill the fantasy of anyone who has sought a strong, outstanding example on a period official ball. This OAL (Barnard) baseball has dark, strong stampings adjunct to the tight blue and red stitches. A classic, nearly perfect "9-10" autograph of Lou Gehrig adorns the side panel. The few light spots on the ball do not detract from its appearance. LOA from James Spence & Steve Grad/PSA DNA. Minimum bid $5,000.00.
Incredible 1951 New York Yankees Team Signed Baseball
The attraction of having both Joe DiMaggio (in his final season) and Mickey Mantle (in his rookie year) on the same ball is something no true Yankee fan can resist. This creamy toned OAL (Harridge) ball has been signed by 32 members of that historic club. The signatures of Joe DiMaggio and Mickey Mantle sit alone, respectively on the sweet spot and ball label. DiMaggio's signature has been scripted on the sweet spot in blue ink (grading "9") while Mantle's is displayed in bold black ink (grading "9-10") across the ball label (opposite sweet spot). The remaining signatures on the ball include: Berra, Dickey (coach), Mize, Rizzuto, and Stengel (Mgr). This ball was obviously signed during spring training as it also includes the signatures of Joe Page and Max Peterson, each of whom failed to make the club that year. All of the player's names have been boldly signed, averaging "9-10". LOA from James Spence & Steve Grad/PSA DNA. Minimum bid $2,500.00.
BASEBALL GEAR AND WEAR
Roberto Clemente 1962 Pittsburgh Pirates Home Jersey
Early Pittsburgh Pirates home flannel jerseys worn by Roberto Clemente remain high on the "wish list" of nearly every uniform collector. Offered is one such scarce garment worn by Clemente in 1962. The creamy-toned flannel "vest-style" jersey is lettered "Pirates" across the front and features the number "21" on the left breast and reverse. All letters and numbers are in black felt with gold trim. "Clemente" is chain-stitched in black on the left front tail, directly above which is a "Wilson" label. Located on the interior left front tail are a wash tag and adjacent flag tag reading "Set 1 1962." The jersey displays heavy game wear throughout. Minimum bid $2,500.00.
1915-18 Ruth Rookie-Era Boston Red Sox Jersey
Babe Ruth made his Major League debut as a pitcher with the Boston Red Sox in 1914. Between 1915 and 1917 Ruth won 65 games. In 1918, he embarked upon the transition from pitcher to outfielder. This Boston Red Sox road jersey dates to Ruth's 1915-18 tenure with the club. The grey pinstripe flannel jersey is lettered "Red Sox" across the front in red felt letters and features a "Horace Partridge" manufacturer's label in the collar. The jersey retains its "sun collar." Minimum bid $1,500.00.
Pete Rose's Game-Worn Jersey from the 1975 World Championship Season
Pete Rose wore this Cincinnati Reds road jersey during the memorable summer of '75. The grey knit jersey is lettered "Cincinnati" across the front and features Rose's uniform number, "14," on both the left breast and reverse. "Rose" is lettered on the reverse above the number. Rose has inscribed the jersey in blue Sharpie ("10") on the right breast, "Pete Rose/#4256." Original and unaltered, the jersey displays moderate game use. This jersey was originally purchased at the Cincinnati Reds official gift shop in May of 1976 and is accompanied by both a COA from the store and a copy of the original register receipt from that purchase. James Spence & Steve Grad/PSA DNA. Minimum bid $1,500.00.
Johnny Bench 1977 Game Used Catchers Mitt with Handwritten Letter
Johnny Bench had few equals behind the plate. This extremely rare game used catcher's mitt was worn by Johnny Bench in 1977. The Rawlings right-handed "RL" catcher's glove features both Bench's uniform number, "5" (twice, once on the thumb and again on the webbing), and his signature (grading "9") written on the reverse in vintage black marker. The glove features a heavily "broken in" pocket and displays tremendous game wear. The glove originally obtained at a charity auction, came with a handwritten signed LOA from Bench attesting to their provenance. That original letter is included with this lot. James Spence & Steve Grad/PSA DNA. Minimum bid $1,500.00.
OTHER BASEBALL MEMENTOES
Mark McGwire Original Painting by Leroy Neiman
LeRoy Neiman is one of the most famous sports artist in the world. This original 1999 oil on board painting captures St. Louis Cardinals slugger Mark McGwire shortly after "Big Mac" shocked the world by hitting 70 home runs in a season. Neiman, who has portrayed the future Hall of Fame great in mid-swing, captured the essence of McGwire's power in a splendid combination of color and contrast. The painting measures 8" x 10" and has been signed and dated in the lower left corner, "LeRoy Neiman '99." Minimum bid $3,500.00.
1935 "All-American Baseball Award" Certificate and Original Photo, Both Signed by Babe Ruth
The All-American Baseball award-annually bestowed upon the best players in the game following the regular season-were the most prominent means of recognition in the sport before the Hall of Fame inducted its original class in 1936. The recipient of the offered, 11" x 15" certificate, Charlie Gehringer, was one of the finest second basemen in baseball history. Babe Ruth was Chairman of the All-America Board of Baseball during the early and mid-1930s. Ruth has signed his name to this award in black fountain pen, "George H Babe Ruth" (grading "9". Additionally, the signature of Christy Walsh (black fountain pen, "9-10") can be seen below the standard sportswriters' endorsements. Accompanying the award is a large-size, original photograph of Ruth presenting the award to Gehringer. The Babe has signed and inscribed the photograph, "To My Friend Charlie Gehringer From Babe Ruth" ("9"). LOA from James Spence & Steve Grad/PSA DNA. Minimum bid $2,500.00.
"Henry Louis Gehrig" 1930 New York Yankees Signed Payroll Check
Gehrig was well compensated for his efforts during the 1930 season, as evidenced by this extremely rare payroll check issued to baseball's legendary "Iron Horse." The check, issued by "The American League Base Ball Club of New York, Inc." and drawn on the "Manufacturer's Trust Company," is dated August 15, 1930 and made out to "Henry Louis Gehrig" in the amount of "$2,289.87." It has been signed on the front in black fountain pen by team owner "Jacob Ruppert" ("10") and countersigned by team president "E.G. Barrow" ("9"). Gehrig has beautifully endorsed the check, "Henry Louis Gehrig," in black fountain pen ("8-9") on the reverse. LOA from James Spence & Steve Grad/PSA DNA. Minimum bid $1,500.00.
1956 World Series Game 5 at New York Full Ticket - Don Larsen's Perfect Game!
Among the rarest and most desirable of all World Series full tickets is the one from Don Larsen's 1956 Game 5 perfect game, still the only one in World Series history. This "Upper Stand Box Seat" full ticket has "1-1B-5" printed on both ends, grades EX. Minimum bid $500.00.
HORSERACING WINNERS
Ever since Seabiscuit burst back into the American psyche, thanks to a best-selling book and a blockbuster movie, interest in horseracing memorabilia has been on the rise. MastroNet is offering its most extensive collection of significant horseracing collectibles in the August auction. Several items from Seabiscuit and from Triple Crown contenders will be offered. Highlights are:
Saddle Used by Jockey Stewart Elliott During All Three of Smarty Jones' 2004 Triple Crown Races
This is the actual saddle used by jockey Stewart Elliot on Smarty Jones for all three legs of the 2004 Triple Crown. The Smarty Jones story was, to many, reminiscent of the Seabiscuit legend. Like Seabiscuit, Smarty's owner, trainer and jockey all had interesting side stories and all faced unusual challenges in their lives. After Smarty won the derby as a 4-1 shot on a sloppy track, he scored an impressive win in the Preakness. Smarty gave it his all in the Belmont but got caught in the stretch. Any winning Derby saddle constitutes an important artifact of horse racing. This magnificent saddle wasn't just used in the Derby, but in all three Triple Crown races. LOA from Stewart Elliot, Smarty's only jockey. Minimum bid $1,500.00.
Horseshoe Worn by 1978 Triple Crown Winner "Affirmed"
It has now been more than 25 years since horseracing's last Triple Crown winner and even longer than that between Citation and Secretariat. The last super horse to accomplish the feat was Affirmed in 1978. Affirmed was ridden by Steve Cauthen and trained by Lazaro Barrera, Sr. This is an original horseshoe worn by Affirmed during the Belmont Stakes, the race that completed his Triple Crown. The shoe has been mounted on a plaque with a photo of Affirmed and the 1978 Belmont Stakes results. It is offered with an LOA from Lazero Barrera, Jr. and Carmen Barrera, the trainer's son and wife. Minimum bid $1,000.00.
1937 Seabiscuit "Horse of the Year" Award
In 1937 Seabiscuit won ten major races and tied five track records while becoming the leading money winner for that year. However, he was not named Horse of the Year. That honor went to 3-year old, Triple Crown winner War Admiral. While the Horse of the Year title in 1937 went to War Admiral, the editors of the sport's bible "The Daily Racing Form" named Seabiscuit as their choice for the 1937 Handicap Champion. This is the original award presented to Seabicuit's owners. It is hand painted and hand lettered. The 12 1/2" x 9 1/2" award is ornately framed and survives in EX/MT condition. Minimum bid $500.00.
1957/58 Topps Basketball Completely Graded Set (80)
The complete set is presented with each item graded and encapsulated by PSA. Bowman had already tested the market and given up after only one issue, but Topps was not deterred. The gum card giant ventured cautiously into the basketball card realm with this 1957/58 set, containing only 80 images. Includes: PSA NM-MT 8: 6 cards; PSA NM 7: 74 cards. Minimum bid $1,500.00.
1994 Houston Rockets World Champions Ring - Honorary Recipient
Only 26 of these spectacular handcrafted rings were created (15 team members and 11 honorary recipients), and the offered size "9-1/2" example was an honorary presentation to "George Brown." Brown is the son of the deceased, former Mayor of Houston. The distinctive design has a large diamond-studded basketball beside a cityscape, above which shine 6 diamond stars in the night sky. The engraved text in this image proclaims, "Houston - Champ City!" The perimeter, which has a diamond set at each of the four corners, reads, "George Brown - 1994 World Champions." Minimum bid $1,500.00.
FOOTBALL
Charles White 1977 USC Rose Bowl Championship Ring
In 1977, Charles White owned the Rose Bowl. In his freshman year, the USC player filled in for an injured Ricky Bell. He ran for 122 yards and a touchdown to lift the Trojans to a 14-6 win over Michigan. This is the 10K gold ring that was awarded to White after his breakout Rose Bowl performance. Manufactured by Jostens, it features a round red stone inlaid with the letters "USC," around which a beveled perimeter reads, "TROJANS CHAMPIONS - ROSE BOWL.". Minimum bid $1,500.00.
Billy Sims 1978 Heisman Trophy Ring
1978 was an easy year for Heisman voters. University of Oklahoma running back Billy Sims averaged 160 yards per game and 7.6 yards per carry. He also became the first player in Big Eight history to rush for more than 300 yards in three straight games. Offered here is Sims' actual Heisman Trophy ring, the one awarded to him as the most outstanding player in America for 1978. The 14-Karat gold piece features the legendary Heisman figure set upon a bed of 19 diamonds. Four more diamonds reside on two sides as part of a border that reads, "HEISMAN MEMORIAL TROPHY." The trophy figure appears again on one of the shanks, along with the text: "SIMS - OKLAHOMA 1978 - THE HEISMAN - SINCE 1935." Engraved inside the band is "BILLY SIMS." LOA from Sims. Minimum bid $1,000.00.
HOCKEY
1966 Thru 1985 O-Pee-Chee Hockey Uncut Sheet Collection
The magnitude of this offering, in terms of its star content as well as the physical size of its items, is difficult to put into words. Hockey cards from three decades are included, with each component presented in factory-original, uncut-sheet form. Many of these Canadian-issue hockey cards are tough to find in any configuration, yet here they are in row after row of luscious collectibles. Naturally, Hall of Famers, stars, rookies, award cards, checklists and even inserts spill in abundance from this cornucopia of fully printed, production-line treasures. Among the assembly's features are 27 complete, uncut O-Pee-Chee card sets (plus 4 early Topps sets which were also printed in Canada). All of the sheets measure about 28" x 43", with 132 cards in an 11-card-by-12-card layout, unless noted. Most sheets grade EX to EX/MT. Minimum bid $1,500.00.
1954/55 Topps Hockey High Grade Complete Set (60)
Artistically speaking, the 1954/55 Topps red, white and blue themed hockey issue, is without rival. Twenty-one cards have been graded by PSA. Includes: Graded Cards - PSA NM-MT 8: 11 cards; PSA NM 7: 9 cards; and PSA EX-MT 6: 1 card. Grades 55% NM to NM/MT, 30% EX/MT, 15% lesser.
1964/65 Topps Hockey High Grade Complete Set (110)
One of the more difficult Topps hockey sets to complete in high grade is the "Tall Boys" set from 1964/65. Seventeen cards have been graded by PSA. Includes: Graded Cards - PSA MINT 9: 1 card; PSA NM-MT 8: 12 cards; PSA NM 7: 2 cards; and PSA EX-MT 6: 2 cards. Grades 45% NM to NM/MT, 45% EX/MT, 10% EX (a few lesser). Minimum bid $1,000.00.
OTHER SPORTS
1948 Olympic Torch
The 1948 Summer Olympics, held in London, marked a historic return of the games after a 12-year hiatus due to World War II. Germany and Japan did not receive invitations from the IOC that year. Also missing from the 1948 Olympiad was the Soviet Union, who was invited but chose not to participate. With most of their major competition removed, the United States easily won the most medals. The star of the American team that year was 17-year-old Bob Mathias who won the first of his two consecutive Gold Medals for the Decathlon. This 16" Olympic Torch from those memorable 1948 games features a cylindrical top (5-1/2" diameter) upon which is written, in raised relief, "XIVth Olympiad 1948: Olympia to London With Thanks To The Bearer." Minimum bid $900.00.
1890 N266 Lorillard Boxing Complete Set (25)
The P. Lorillard Co. produced this rare complete set of 25 "Boxing Positions and Boxers" cards from 1890-1892. Each card features a different boxing maneuver and a pair of boxers. Among the pairs are: Sullivan-Corbett; Ryan-McAuliffe; Fitzsimmons- Dempsey and Murphy-Weir. Also appearing are Peter Jackson, Choynshi, Godfrey, Mitchell, Kilrain, McCoy and Edwards. The cards average a solid VG/EX. Minimum bid $500.00.
Palmer, Nicklaus and Woods Signed Masters Display
Arnie, Nicklaus and Tiger truly are the masters of the Masters, having donned the esteemed Green Jacket 13 times between them. The triumphant trio's signatures adorn this display piece. Measuring 27-1/2" x 39", the display is anchored by a 16" x 20" photo of Tiger taking practice swings on the teebox. Above the photo is a Mint condition, yellow replica Masters flag, signed boldly ("10") in black Sharpie. LOA from James Spence & Steve Grad/PSA DNA. Minimum bid $500.00.
AMERICANA HIGHLIGHTS
REVOLUTIONARY RELICS
The passion of patriotism has always fueled collectors' interest in items associated with the U.S. Revolutionary War and the corresponding years of 1775 to 1793. One of the key individuals from this historic era is George Washington. The MastroNet auction includes numerous items directly tied to the great General who would become the first President of the fledgling new democracy. Items from other great patriots are available as well. A few include: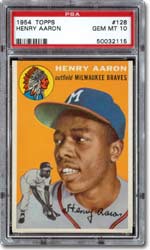 1870 Edward A. Howell "Washington Crossing the Delaware" Original Oil Painting
Edward A. Howell's "Washington Crossing the Delaware" (after Emanuel Leutze's 1851 painting of the same name, which hangs in the Metropolitan Museum of Art) is one of the most valuable items in the auction. It is certainly the largest and finest artwork of its genre for sale. Measuring 6-feet by 3-1/2-feet, the circa 1870, oil-on-canvas work is perhaps second only to Eastman Johnson's "Washington Crossing the Delaware," which is currently on loan at the White House and values at million dollars on the open market. Howell (1848-1924) was an acclaimed landscape artist out of Reading, Pennsylvania. This monumental, stirring and patriotic piece is certainly his life's masterpiece. It is the classic counterpart to the other related works that currently grace the White House and the MET. The minimum bid is $50,000.00.
George Washington 1776 Two-Page Signed Letter Written to Colonel Samuel Miles, Officer Taken Prisoner by the British
General George Washington wrote this letter on November 25, 1776. The single-page relic, penned in the hand of his aide, Tench Tilghman, addresses the concerns of a fellow patriot, Col. Miles, who was taken prisoner by the British on August 27, 1776. Washington acknowledges the captive's wish to be traded for a Tory, and references Lord Stirling and Lord Howe. He also alludes to the "miserable" circumstances under which the prisoners are being kept. The signature "G. Washington," grades a "9." LOAs from James Spence & Steve Grad and John Reznikoff/PSA DNA. Minimum bid $25,000.00.
July 20, 1777 John Adams 2-1/2 Page Completely Handwritten Letter with Incredible "Patriotism" and Revolutionary War Content
Just over a year after signing the Declaration of Independence, John Adams demonstrates why he is one of our nation's most revered forefathers. This letter epitomizes our 2nd U.S. President's lifelong devotion to our young country and its democratic ideals. The offered 2-1/2 page letter, scripted from Philadelphia on July 20, 1777 and signed "John Adams," also references the heightened fervor against British oppression, avows Adams' selfless love of public service, and finishes with his strategy for winning the War for Independence. The unframed letter is in Excellent condition. The entire letter's script, including the signature grades a "6". LOAs from James Spence & Steve Grad and John Reznikoff/PSA DNA. Minimum bid $10,000.00.
Extremely Rare and Desirable Thomas Paine Three-Page Handwritten Letter
Thomas Paine did as much for the cause of American Independence as many of our greatest generals, patriots, and lawmakers. His short treatise Common Sense, published on January 10, 1776 (just over a year after Paine's emigration to America), set the world reeling. The clarity, simplicity, and logic with which Paine articulated Common Sense is exemplified in the offered three-page handwritten letter which pleas for a soldier's amnesty. The completely handwritten, entirely intact letter also directly references the American Revolution, George Washington and the French Revolution. Paine's handwriting and signature ("Thomas Paine") grade a "10." LOAs from James Spence & Steve Grad and John Reznikoff/PSA DNA. Minimum bid $5,000.00.
HOUDINI HIGHLIGHTS
Nearly 80 years after his death, Harry Houdini is still recognized as the most famous magician in history. Houdini perfected the "escape artist" act to the delight of the world. MastroNet's August auction will offer some astounding artifacts from Houdini's storied career. A few are listed here.
Houdini Escape-Used Straight Jacket and Signed Photo
Houdini was born Erich Weiss in Budapest, Hungary on March 24,1874. His family moved to the U. S. when he was 4 years old. By 1898, Houdini had become the handcuff king and would escape from any handcuffs brought to a performance. During the 1910s, he perfected his straight jacket escape which was usually accomplished while dangling upside down from a building by his ankles. Few jackets actually used by Houdini in his act survive today. This example is perhaps the most dramatic looking. The garment reflects Houdini's flair for the theatrical. The jacket is offered with a 5" x 7" original NM photograph of Houdini in his formal attire which has been signed "Good Luck, Houdini". The signature grades "9". LOA from James Spence & Steve Grad/PSA DNA. Minimum bid $10,000.00.
Houdini's Master Keys with Signed Photo Postcard
Houdini first gained fame by becoming a master at escaping from handcuffs. This is the original collection of master keys and picks that were the property of Harry Houdini. The keys' nature and history are explained in a letter from the wife of the locksmith who forged copies for Houdini as he needed them. Minimum bid $10,000.00.
Huge 20" x 36" Houdini Inscribed Photograph
This spectacular oversized original studio photograph measures 20" x 36" and bears the name of Kohler, the studio that produced it. It features a smiling Houdini and is actually inscribed twice. The inscription reads, "To my good friend Hattie Mooser, 'My brain is the key that sets me free' Houdini, 3/23/23." Born in 1878, Hattie Mooser was the owner and proprietor of the Aladdin Studio Tiffin Room, a "supper club" and nightclub, popular with San Francisco's theatre community. The photo is Near Mint and the inscription and signature grade "10". LOAs from James Spence & Steve Grad and John Reznikoff/PSA DNA. Minimum bid $2,500.00.
Signed Cabinet Photograph of Houdini Flying
In Hamburg, Germany in 1909, Houdini bought a Voisin biplane for $5,000. He practiced flying it over an army parade ground in Hamburg, dismantled it, and then packed it for a trip to Australia. On March 16, 1910, in Diggers Rest, Australia, Houdini made the first sustained, controlled flight of a powered, heavier-than-air plane on the Australian continent. This is a rare original mounted photo (cabinet style) of Houdini at the controls of his biplane over Hamburg in1909. The plane bears the name, Houdini, on both the wings and the tail. The crowning touch for this amazing original 8 1/2" x 6 1/4" photograph is the "10" inscription in the upper left corner that reads, "Good Luck, Houdini." LOAs from James Spence & Steve Grad and John Reznikoff/PSA DNA. Minimum bid $1,500.00.
PRESIDENTIAL IN NATURE
Tremendous George Washington 1796 Two-Page ALS with "Federal City" Content
The "city" of Washington D.C. began with an idea - a "Federal City" that would be under the jurisdiction of the U.S. Congress, on territory ceded from Virginia and Maryland. The 100-square-mile tract, situated at the confluence of the Potomac and Eastern Branch Rivers, would include a residence for the President and a meeting place for Congress. In this handwritten letter from Philadelphia in the sixth year of the new capital city project, President George Washington references "lands to be rented in the vicinity of the Federal City, or to be sold." The two-page letter, dated February 20, 1796, is scripted in dark-brown ink and signed "G Washington" (grading "9-10"). LOAs from James Spence & Steve Grad and John Reznikoff/PSA DNA. Minimum bid $10,000.00.
President John F. Kennedy Cigars Gifted by the President of the Philippines
After seeing an April 1961 newspaper photo of President Kennedy enjoying a cigar, President Carlos Garcia of the Philippines sent the U.S. leader a few boxes of what he described as the best cigars in the world. Offered is the only known complete set of these cigars, housed in a presentation box that has "President Kennedy" engraved on the lid. The twenty-five Alhambra cigars are still in the original wax wrapping with the tax stamp seal. Each cigar is also individually wrapped and features gold lettering that reads, "Specially Made For President Kennedy." Minimum bid $5,000.00.
SERIOUS FUN - COMICS/PULP MAGAZINES
Large Assortment of 75 Early Issues of "Weird Tales," from Mid-1925 to Early 1941
The period of 1924 to 1940 is considered to be this magazine's absolute best (particularly 1930 to 1940), and it is this period that is best represented in the outstanding grouping of issues that is being offered. This run is unusually even, both in look and in technical grades, with only a few of the 75 issues grading as low or incomplete, and the vast majority averaging VG+, which is a high grade for a pulp magazine. There are some in near File Copy condition. Minimum bid $2,000.00.
A Complete Run of "Astounding Stories/Analog's" First 48 Years - The Greatest Science Fiction Magazine of All Time - 1930 to 1977 (565)
If Hugo Gernsback birthed American science fiction, John W. Campbell was the one who would take it into adulthood. He would use Astounding Stories to do it. Offering higher pay scales than the rest of the industry, Campbell drew all the best talents. Astounding would change its name to Analog after 350 issues, after a cover title transition that would start in the late 1950s and be made official in February of 1960. This lot contains the first 565 issues! Minimum bid $1,500.00.
HOLLYWOOD, TV & ROCK N' ROLL
Early 1962 Autographed Beatles Handbill with Pete Best
This is one of the earliest signed Beatles items to ever be auctioned. The Beatles were the headliners on Saturday, February 10, 1962 at St. Paul's Presbyterian Church. At the time, the Beatles were still playing small venues and honing the sound that would shake the music world. The handbill is amazing because it has been signed by all four Beatles when their drummer was Pete Best. Pete Best would be fired from the group in September 1962. The signatures grade "9" and "10." LOA from Beatle autograph expert Frank Calazzo and Tracks out of England. Minimum bid $2,500.00.
Elvis and Priscilla Presley Yearbook Duo
This is a fantastic yearbook duo signed by Elvis Presley and his wife to be, Priscilla. The first yearbook is from Elvis' 1953 senior year from Humes Senior High School in Memphis, Tennessee, "The Herald." Elvis has inscribed the book in blue ink (grading "9") directly to the right of his photo, "Best of luck to a cute girl - Elvis." The second trip down memory lane is a1959 yearbook from Del Valle Jr-Sr. High School in Austin, Texas, "The Cardinal." Priscilla Bealieu (Presley) is pictured in the book as a member of the eighth grade class. She has signed the book "Priscilla" atop her photo in blue ink (grading "9"). She has also penned the name "Cil" above her photo in the "Junior High Pep Squad." In the back of the book she has filled an entire page with a message to "Donna," her best friend. LOAs from James Spence & Steve Grad and John Reznikoff/PSA DNA. Minimum bid $1,000.00.
Marliyn Monroe Signed Advertising Contract
Gentlemen Prefer Blondes is thought by many to be Marilyn Monroe's most associative work. Presented is a phenomenal endorsement contract, signed by Marilyn Monroe, directly relating to that famous film. The one-page advertising release, between 20th Century-Fox and a number of cosmetic companies, is dated February 3, 1953 and allows companies to use Marilyn Monroe's name and likeness in promotion of Lustre Creme Lotion. The contract has been signed in blue ink ("8") by "Marilyn Monroe" along the bottom. LOAs from James Spence & Steve Grad and John Reznikoff/PSA DNA. Minimum bid $900.00.
Magnificent Humphrey Bogart Signed Photo
This is a magnificent posed studio photograph of screen legend Humphrey Bogart from the 1940s, the peak of his noteworthy career. This 7-1/2" x 9-1/2" photo is signed in blue ink, "Humphrey Bogart." The signature grades "9". LOAs from James Spence & Steve Grad and John Reznikoff/PSA DNA. Minimum bid $500.00.
Significant "All in the Family" Script - Signed by the Four Original Cast
The offered script is for the final show of the seventh season, the last season to feature the original four cast members. Mike and Gloria finally moved out of the Bunker household in this episode, "The Stivics Go West." The complete final script has been autographed by all four of the principal cast members and personalized with short messages in black ink. The signatures of Carroll O'Connor, Jean Stapleton, Rob Reiner, and Sally Struthers all grade a "10". LOA from James Spence & Steve Grad/PSA DNA. Minimum bid $200.00.
COINS
$10 Gold Assay Office Ingot
A federal Assay Office was established in San Francisco in 1850 that was allowed to issue ingots. Logically it should have been allowed to produce small denominations ($5 - $20), but banks and gold dealers, who charged for "making change," pressured federal authorities to forbid the issuance of any ingots below $50. The shortage led to a decline in business in late 1851. Pressure from Congress and the outcry from the public led to the making of ingots in $10 and $20 denominations by the San Francisco Assay Office in1852.The offered item is an 1852 $10 ingot from the San Francisco Assay Office. It features the U.S. "Eagle" obverse and the reverse showing a rectangular "target" design with the inscriptions "887 THOUs." Minimum bid $10,000.00.
1793 Ameri Chain Cent
The 1793 Chain Cent is widely recognized as the first coin produced at the U.S. Mint for general use and distribution in the United States. Although the design was simple it became very controversial. The obverse figure of Liberty with flowing hair was said to resemble a disheveled lunatic more than a symbol of the country's new freedom. The reverse design of 15 interlocking chain links was criticized as being a reminder of slavery and bondage. The outcry over the Chain Cent led to a production run of only 12 days. There were two major design variations made of this short lived issue. The first of these, the offered coin, is the scarcer and most sought of the two. Minimum bid $8,000.00.
For More Information
To register for the MastroNet August auction and receive an auction catalog, call 630-472-1200 or go to www.mastronet.com. Bidding for the auction begins July 26, 2004.