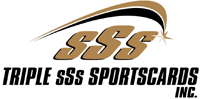 TRIPLE sSs SPORTSCARDS, INC. LAUNCHES NEW WEB SITE
With over 25 years of experience and an impeccable reputation for high end graded sportscards, Triple sSs Sportscards, Inc. opens their web site. Please visit their new web site at WWW.TRIPLESSSINC.COM to view their incredible inventory of high end sports cards.
Announcement: Memory Lane; one of the nation's leading PSA Authorized Dealers, announces it is now accepting consignments for its Fall 2004 Auction. The company announced it will pay top dollar for sports cards and memorabilia. If you are interested in selling or consigning your sports collectibles, call them at 877-606-5263. Memory Lane specializes in filling collectors' "want lists," especially the hard-to-find cards. Memory Lane is a leading buyer of cards and collections at top record-setting prices.
Making Our Bid
Let's face it. As hobbyists, we seemingly all share a similar genetic makeup. Some call it a sickness but we call it collecting. We all have that drive to collect, to complete, to compete, to share, to build, to trade, to upgrade, to buy, to sell and, perhaps most of all, to bid. We want to be part of the action. We have the need to be active and part of the hobby machine.
With nearly $20 million worth of quality sports collectibles auctioned off this spring season, in traditional printed catalogue style, there is no question that collectors love auctions. No matter how many auctions appear within a short period of time, if the right material becomes available, the prices are generally strong.
That $20 million number doesn't, of course, include the millions of dollars worth of collectibles auctioned off via the "Internet only" route during the same time frame. It is interesting to note that about 4-5 years ago, very few high-end pieces were able to sell on the Internet. Whether it was due to unfounded fear or because high-end collectors preferred the traditional auction venues, it's hard to say.
In any event, that has changed today because you do tend to see more and more high-end pieces being sold each week online. As more collectors become comfortable with the online process and the seller, they become more involved. I have to admit, however, that there is something appealing about finding that auction catalogue in your mailbox and sifting through the incredible items that you may or may not be able to afford. Not only are they fun to read but they also provide an excellent source for hobby information. You can learn a lot by saving your catalogues and keeping track of the market.
It will be interesting to see what the auction scene will look like in three, five or ten years. There seems to be room for all types. Whether you are of the monstrous type like MastroNet, which regularly records $9-$12 million in bidding per auction or of the somewhat smaller variety like Mile High, the key is the same -- quality. If you have the right items, the bidders will come. Collectors want to hunt for the items; it is part of what makes collecting so enjoyable. It's the appeal of the chase.
There are some new faces on the auction block and some old ones making a comeback. Add those to an already solid group of auctions and the collectors have more to choose from today than ever before. At no time in hobby history has so much great material been so accessible for the collector. It's a great time to be active.
I can remember that finding quality items was so frustrating in the 1980s because all mail order was so dominant with no accepted authentication or grading body. It was a true crapshoot. You may have ordered a "Mint" card by mail but as Forest Gump once said about life and chocolates, you never really knew what you were going to get. Today, the items are presented to us each and every year, allowing us to be part of the action.
Now all we have to do is bid (and find a second or third job so we can afford all the stuff we want to own).