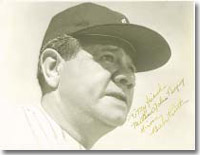 An SMR reader wants to know who in this golden era of baseball stands out as the "must have, Babe Ruth-type" of autograph. You know, the shut-up-and-pay-up autograph that one day will be worth a lot in the future? Of course, collectors and everyone else understand this question. They're cringing at the underlying motive for asking such a question. The reader wants to take the risks of investing in autograph futures. The question is a common one, but not always couched in the context of Babe Ruth.
The answer to the financial part of the question is the same as the historic angle.
Historically, no player will ever be in the Babe's class. While the sultanic stats and prowess are in evidence, he etched 60 and 714 in the memories of millions, the Babe's real impact is his persona. His marks were light years ahead of his predecessors, with Ruth being the first hero of the live ball, post-Black Sox era.
Heck, in a time when talking films were still a fairly fresh medium, Ruth had movies made about his life... and he was still alive. This is not "Behind the Lines" cable productions stuff. We're talkin' the Silver Screen, Hollywood.
Babe Ruth, unlike any player in the history of the game, meets the "larger than life" test. No further explanation is needed. And no player, no matter what race, ethnicity or nationality will supplant Ruth, even if they break his records.
That said, there are three "must have" autographs from players who are or will get dangerously close to the "larger than life" comparison. Barry Bonds, Roger Clemens and Alex Rodriguez. A-Rod is still a work in progress but his 400-plus home runs and two league MVPs for losing teams before the age of 30, not to mention his play at short, are enough to make one shudder.
Barry Bonds has won more MVPs than anyone in the game. The Giants slugger may be right. He is may be better than Ruth, but he won't make people forget Ruth. The fact that he was judged as the best player in the league, relative to all other players in the league, a total of six times is almost beyond comprehension. Sure, he may be taking "designer" pills. (I love that term. What designer? Gucci? Hilfiger? Pierre Cardin? Countess Mara?). And, oh yeah, he's using the maple bat. And the balls may be different. Fact is he's being judged against the players of his generation and he's been voted the best six times, and he has influenced those voters without winning them as friends.
Bonds has taken full control of his autographs and memorabilia business. He'll have to watch the marketplace, instead of relinquishing that chore to others. He'll have to guage frequently in the future how much the market will bear. One thing's for sure. He's a "must have" autograph. He owns one number "73" and he may own others before he's finished.
Roger Clemens lacks the crown for strikeouts or wins, but he's won a sick number of Cy Young Awards and championship rings. That's dominance, more than Nolan Ryan's or Walter Johnson's unreachable totals for strikeouts and wins, respectively. Again, while there have been periods of weak play, Clemens has been the best in good pure baseball times. History will judge him accordingly. He's a "must have."
Bonds, Clemens and Rodriguez also meet the aesthetics test for their autographs, like the Babe. They have style and the signatures are legible. Believe me, there are too many players whose autographs are just a waste of ink. But that is a subject for another time.
There is another era of players that, frankly, is dying off. Of course, I'm referring to Negro Leaguers. Lordy, Double Duty Radcliffe, who maybe hit 500 home runs and won 500 games pitching over almost 30 years, is 101. Buck O'Neil, a very solid player and manager and the first Negro Leaguer to coach in the Major Leagues, is 92.
Other players in black baseball dot the American landscape and periodically meet for reunions. Regardless of what period of time you recognize to mark the Negro Leagues, fact is about 250 known players, including only about 40 who played before 1947, are still alive.
Which brings me to one ponderous point. Why are there no autographed items by living Negro Leaguers, maybe even deceased players, in the Negro League Baseball Museum in Kansas City? The museum offers a wonderful exhibit, with text, images and video, to tell the story of black baseball. It even has a promotion in which new members can receive a signed photo of Buck O'Neil for a $10 museum membership.
Yet, the museum is missing a wonderful opportunity to do something very positive for players and the museum by not selling autographs of Negro League players. Very inexpensive autographs would give collectors a great piece of history and possibly inspire them to learn more about this slice of baseball life, and it would deliver some spending money to players who played for the love of the game and many of whom had no access to a pension.
A significant number of show promoters have done a significant job in making Negro Leaguers available to the public. The several dozen players who played in 1947 and before, including Monte Irvin, and those who subsequently were woven into the fabric of major league life, are well worth studying. And their autographs are well worth collecting.