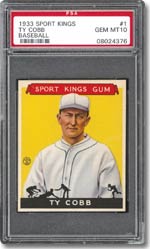 If you're looking for a once-in-a-lifetime collecting opportunity, you won't want to miss MastroNet's April auction. MastroNet, Inc., the leading source for Sports and Americana memorabilia will offer over 100 lots of unopened wax boxes representing some of the most sought after sports and non-sports card issues in history.
"We are thrilled to bring this 'find' to the collecting public," said William Mastro, CEO of MastroNet. "The significance of these boxes is substantial. Who knows what unknown treasures they hold under wraps?"
The auction event, scheduled for April 21, 22 and 23 will feature a total of over 1,800 lots of high-end sports and Americana collectibles. In addition to the unopened wax boxes, MastroNet will auction:

A significant George Washington letter never before sold at public auction
A collection of hair from a variety of celebrities from sports, historical figures and celebrities
Horseshoes from two of the greatest racehorses that ever lived - Seabiscuit and Secretariat
One of the largest offerings of high-end sports cards ever offered
There will also be wide array of desirable items from baseball, football, hockey, presidential campaigns, the numismatic world, U.S. history, rock 'n roll and the movies. Bidding begins on April 5. Specific details and highlights include:
EXCELLENCE OUT OF THE BOX - UNOPENED WAX BOXES
Over 100 lots of unopened wax boxes are included in MastroNet's April auction. Tucked away for years, these boxes have recently surfaced to what is sure to be the delight of many a collector. A few examples of the boxes include:
SPORTS CARDS
1952 Topps Baseball Five-Cent Wax Box (24 Packs)
It is perhaps, the most widely collected and coveted set of baseball cards ever produced. The new big sized 1952 Topps cards took the country by storm and have yet to release their hold over 50 years later. From the 1952 Topps come some of the most revered and valuable cards in existence - Mantles, Robinsons, Mathews and Campanellas. And the possibility of these high number beauties hiding in the midst of these packs is likely.
1953 Topps Unopened Five-Cent Wax Packs (15)
The observer could easily indulge in a flight of fancy! Here are the elements that made rushing to see the candy counter, so many years ago, the priceless memory it is today. This offering features 15 fresh, unopened 5¢ wax packs of 1953 Topps Baseball cards which might contain such sought-after stars as #'s 1 Robinson, 27 Campanella, 54 Feller, 82 Mantle, 104 Berra, 147 Spahn and 220 Paige, in never-touched Mint condition.
1959 Fleer Ted Williams Unopened Five-Cent Wax Box (24 Packs)
In 1959, the Topps monopoly kept Fleer from doing a current, multi-player set, so the company sidestepped the issue by putting together a commemorative series to honor Ted Williams. The offered 24-Count wax box with fresh, unopened packs is a fabulous unopened relic of that universally admired release. The box's appearance has almost no evidence of handling.
1960 Topps Baseball Wax Box (24 Packs)
The colorful relic managed to retain its exciting contents until just recently, when each of the unmistakable, bright-yellow packs was removed for grading and encapsulation by Global Authentication. The high-grade packs, untouched for more than 40 years, are almost evenly divided between the issue's 2nd and 4th Series cards (13 packs and 11 packs, respectively).
1959 Topps Baseball Five-Cent Wax Box with 33 Packs
Who can remember seeing even one superb, unopened pack of 1959 Topps baseball cards graded GAI Gem Mint 9.5? Incredibly, this lot has 17! Offered is a display box that once contained untouched cards, just as they came off the production line, along with 33 unopened 5¢ wax packs. All of the tightly sealed packs have been graded and encapsulated by Global Authentication. The 8" x 3-3/4" x 2", 24-Count box displays a faint, "36 Count," lid overprint indicating that its contents (printed in the U.S.A.) were once destined for Canadian distribution.
1954 Bowman Baseball Wax Box (24 Packs)
Each of these tantalizing collectibles could contain Mint copies of such 1954 Bowman star cards as #'s 1 Rizzuto, 45 Kiner, 58 Reese, 64 Mathews, 65 Mantle, 89 Mays, 132 Feller, 161 Berra and 177 Ford. Or, might the legendary, short-printed #66, picturing Ted Williams, be hiding inside?
Non-Sports Cards
1956 Topps Elvis Presley Five-Cent Wax Box with 24 Packs possibly onlyh known 5cent full box
These Elvis cards became true classics, and the items' movie scenes, performance stills and "Ask Elvis" card backs are universally cherished nearly a half-century after their production. This original 24-Count display box for Topps' Elvis Presley cards, along with 24 unopened, beautifully sealed 5-card wax packs is a true treasure. The 8" x 3-3/4" x 2" bears the "36 Count" top overprint indicating that its contents were marketed in Canada.
1963 Topps "Astronauts" Five-Cent Wax Box and 36 Packs
Topps has produced some exceptionally attractive graphics during the company's long existence, but few issues can match the simple majesty of their beautiful Astronaut Pictures packaging. This offering includes a high-grade example of the display box and all 36 of the packs it has held for the last four decades!
1967 Topps "Wacky Packages" Die-Cut Five-Cent Wax Box, Unopened Packs (22), Wrappers (2) and PSA Graded Cards (10)
This is the ultimate collection of fresh pack Wacky Die-Cut cards. It includes: 1967 Topps Wacky Packages Die-Cut 5¢ Display Box - EX/MT; 1967 Topps Wacky Packages Die-Cut 5¢ Wrappers (2)
REVOLUTIONARY RELIC
George Washington Three-Page Letter - Raising Troops for the First Major Battle of the Revolutionary War!
"Museum quality piece" is an understatement of the highest degree! This highly significant, never before sold at public auction, George Washington letter functions as a time machine, transporting anyone who reads it back to the beginning of the U.S. Revolutionary War.
On August 8, 1776, just one month after signing the Declaration of Independence, General Washington sent this very letter to request immediate assistance from the battalions of Colonel Samuel Miles. At the time, Washington's Continental Army was garrisoned on New York's Long Island. British Generals William Howe and Henry Clinton had left Boston and Charleston, respectively, to converge on nearby Staten Island-their forces amounting to 20,000 troops. The first major battle of the Revolutionary War could come at any moment. Washington knew he needed reinforcements.
Washington's letter reveals the severity of an imminent British attack. Toward the end of the letter, after referencing a correspondence with Brigadier General Hugh Mercer, Washington gives his opinion of the current British strategy and again emphasizes the importance of reinforcements in New York. His letter concludes with, "I am, Sir, with much Truth & Esteem, Your most obed. & very Hubl. Servt. G. Washington."
Washington would raise an army of 23,000 troops for the ill-fated Battle of Long Island, thanks in large part to this letter and others of its kind-nearly all of which have since perished or are currently held in public collections. A number of General Washington's correspondences with Colonel Miles belong to the U.S. Library of Congress's "George Washington Papers 1741-1799" collection. None of these, however, rival this extraordinary three-page example in size, scope, and significance. Furthermore, of those listed, this is the earliest known survivor. According to a recent owner, the letter was traded by the Mount Vernon Ladies' Association for another item in its revered collection during the early 1950s.
Due to the time constraints and pressures of commanding the New Nation's army, Washington did not write letters in his own hand during the Revolutionary War. Instead, he would dictate them to his personal secretaries. Alexander Contee Hanson, who served General Washington in this capacity for several months beginning in June 1776, most likely scripted this letter. As this was standard procedure, this fact does not materially affect the value. These are Washington's valiant, immensely powerful words, recorded verbatim as he spoke them at the Long Island encampment. His immortal signature, "Gº: Washington," is beautifully quilled with elaborate, accentuated strokes. LOA from James Spence & Steve Grad and John Reznikoff/PSA DNA. Minimum bid $50,000.00.
HAIR-RAISING MEMENTOES
The tradition of saving a lock of hair as a keepsake has a long and distinguished history dating back hundreds of years. In fact, it predates autograph collecting. In Victorian times, when a famous or well-known person would pass through town, it was much more common to ask for a lock of his or her hair than an autograph. The tradition has actually been kept alive to some degree to this day, as many parents still save locks of their child's hair as a special keepsake. Although a very specialized field today, hair collecting has become increasingly popular, perhaps in part because of DNA testing. For many, the knowledge that one holds not just a strand of hair from a favorite celebrity, but the notable figure's inherent genetic makeup suggests an association much more personal than that of a simple autograph. Hair locks of the famous are included in the Library of Congress and are occasionally sold by Christie's and Sotheby's.
All of the hair in MastroNet's April 2004 auction and all of the pertinent documents have been examined in person by John Reznikoff of University Archives. Mr. Reznikoff is not only one of the nation's foremost collectors of hair, but also one of the most respected authorities within that specialized field. Having examined all of the available evidence, he has stated, unequivocally, that he believes this hair; short of being positively certified by DNA testing, is authentic.
George Washington's Hair - Accompanied by Original Figural Presentation Box and His Personal Wooden Ring
It is quite likely the largest lock of George Washington hair known to exist. Thousands of individual strands are contained within a 2"-diameter, silver snuff-type box. A bas-relief bust of Washington and raised lettering of "General Washington" appear on the lid. This figural presentation box and its contents, which also include Washington's personal two-toned wooden ring (evidently carved with his family crest), were given to Ann Caroline Bayard from First Lady Martha Washington. Ann Caroline Bayard was a woman from the prominent Bayard family who, as a young girl, had sat on Washington's lap and endeared herself to the General. The Bayards were frequent guests at the Washington home, and five members of the family, including Washington's contemporary, James Ashton Bayard (Ann Caroline's husband), would ultimately serve as U.S. Senators in the state of Delaware.
Included are copies of letters from the famous Bayard family, which trace how revered and coveted this item was throughout the years. Also accompanying Washington's hair are several additional pieces of provenance including related newspaper articles and tags handwritten by Martha Washington. LOA from John Reznikoff/PSA DNA. Minimum bid $10,000.00.
Abraham and Mary Lincoln's Hair with Additional Hair Samples of William H. Seward, Charles Sumner, and Schuyler Colfax
This collection was obtained by Caroline R. Wright, wife of Joseph A. Wright (1810-1867), Civil War Governor of Indiana, later Minister to Prussia. Caroline was quite friendly with the Lincolns. She was in Washington at the time of Lincoln's 1865 inauguration. Caroline had previously presented Mary with hair jewelry delicately woven from clipped lengths of hair (this common Victorian pastime, which incorporated beads, shells, and colored ribbons, often had a memorial or funerary purpose, but sometimes honored a living friend or loved one). In a letter to Mrs. Wright on 15 February 1865, Mary thanked Mrs. Wright for "the beautiful wreath of hair" that "has been very much admired & will always be retained in our family, almost as a sacred relic..." It appears likely that Caroline Wright collected the hair of the President , First Lady and other political notables in order to use them in an elaborate piece of hair jewelry. The locks were probably obtained in February or March 1865.
Abraham and Mary's respective locks comprise hundreds of strands, with the former measuring 2" in length and the latter 4" in length, looped. Both locks are carefully folded in a sheet of old lined paper to form a small packet (1" x 4-1/4"). This packet is labeled on the outside in ink "President & Mrs. Lincoln's Hair." The three additional clipped locks of hair, each neatly wrapped in a sheet of lined paper, labeled in ink, are as follows: William H. Seward (Lincoln's Secretary of State); Schuyler Colfax (seven-term U.S. Congressman, Lincoln's close friend and ally, later Vice President under Ulysses Grant); and Charles Sumner (American Congressman and abolitionist with the dubious distinction of having been beaten unconscious by fellow Congressman Preston Brooks after delivering an anti-slavery lecture in Kansas in 1856). LOA from John Reznikoff/PSA DNA. Minimum bid $5,000.00.
Large Quantity of Elvis Presley's Hair
Over the past two years MastroNet has sold two offerings of Elvis Presley's hair. What made those past offerings so special was the sheer quantity of hair offered in each sale. Although separate individuals consigned those two prior auction lots each had a common origin for the hair: Homer M. Gilleland, Elvis Presley's personal hair stylist. Prior to Mr. Gilleland's death in 1995 he presented a few of his close friends with small bags of Elvis' hair as gifts. One of the largest quantities of Elvis hair given out by "Gil" was to his good friend Tom Morgan, who was also a close friend of Elvis and his family. This Elvis hair is consigned directly by Tom Morgan. The small clump of hair, containing thousands of strands, is accompanied by a notarized letter of authenticity from Tom Morgan, as well as a letter from John Reznikoff of University Archives. Minimum bid $5,000.00.
Ted Williams's Hair
It's the perfect memento of a person who declared posthumously that he wanted his physical remains to be preserved forever. This lot consists of a series of items accumulated by Ted's former barber. The lot includes a large quantity of Ted's hair, cut by his barber of Lakeworth, Florida on January 22, 1996. In addition to the hair, the barber, includes other items he received personally from Williams including three autographed baseballs ("9"), a signed 4" x 6" photo, a signed paper sheet, several magazines and three unmailed postal covers with the museum on them directly from Ted's museum. The collected hair appears to contain thousands of individual strands. LOA from noted celebrity hair expert John Reznikoff. Minimum bid $1,000.00.
SEABISCUIT VS. SECRETARIAT - A MATCH RACE OF FAMOUS HORSESHOES
Seabiscuit's Race-Worn Victory Horseshoes (2) from the War Admiral Match Race and Santa Anita Handicap!
Seabiscuit wore these historic horseshoes in his two most significant races. The first comes from Seabiscuit's 1938 match race with War Admiral. Seabiscuit was the emotional favorite, but the Admiral was a tried-and-true Triple Crown winner. The 'Biscuit galloped into overdrive, powering to a four-length lead and finishing in near-record time. His offered horseshoe from the legendary match-race victory was made into a presentation piece, its ends connected by an engraved plaque reading, "WORN BY SEA BISCUIT DEFEATING WAR ADMIRAL - PIMLICO SPECIAL - NOVEMBER 1, 1938 - 1 3/16 M. TIME 1.56 3/5 - NEW TRACK RECORD."
Seabiscuit wore the second horseshoe in his very last race, when the 7-year-old finally captured the elusive Santa Anita Handicap. If ever there was an underdog in the world of sports, it was the team of Seabiscuit and his jockey, Johnny Pollard, at the 1940 Santa Anita 'Cap. But together they brought the victory home with the second-fastest mile and a quarter in American racing history. Seabiscuit's owner, Charles Howard, had a tradition of fashioning his miracle horse's shoes into engraved ashtrays. He would then give them as gifts to members of Seabiscuit's team. Such was the case with this treasured example, engraved in the center of the silver basin, "WORN BY SEABISCUIT WINNING SANTA ANITA HANDICAP 1940 - 1 1/4 M. TIME 2.01 1/5 - NEW TRACK RECORD." The shoe itself is engraved, "SEABISCUIT - GREATEST MONEY WINNER OF ALL TIME." This extraordinary pair of Seabiscuit's race-worn horseshoes originates directly from Charles Howard's personal secretary, Caroline Schmidli. During the late 1950s, Schmidli presented the shoes to our Southern California consignor, with whom she had a long-standing friendship. Minimum bid $5,000.00.
Secretariat Horseshoe from His First Two Races, Including His First Win
This is one of the actual horseshoes worn by the equine locomotive in his two maiden races at New York's Aqueduct Race Course. Secretariat's debut took place on July 4, 1972. Jostled out of the gate, the powerful two-year-old muscled his way along the inside to finish fourth. Had the race been any longer, Secretariat undoubtedly would have won. Those who witnessed the disrupted start and miraculous recovery could see they had a champion in their midst.
Eleven days later, Secretariat and his Meadow Stable crew tasted the thrill of victory. That second maiden race saw jockey Paul Feliciano and his thoroughbred sixth out of the gate. They caught up to the leaders mid-stretch, then burst ahead, crossing the finish line a full four lengths ahead of their competitors.
From there, Secretariat would go on to become Horse of the Year as a two-year-old, break track records and win the hearts of millions worldwide. Secretariat was the first Triple Crown in a quarter century. His Crown-clinching victory at the Belmont Stakes was one of the finest performances in the entire history of American sports. Secretariat finished an incredible 31 lengths ahead of the pack, with the world-record time of 2:24.
James Gaffney, exercise rider on the Meadow Stable team, mounted the front horseshoe, which led Secretariat's enormous stride in each of his first two races, on its vintage, wood-backed plaque. Penned and engraved on the reverse is Gaffney's notation, "Made By Jim Gaffney - Secretariat Maiden Race - #678903 - Front Shoe." Minimum bid $5,000.00.
BASEBALL GRADED CARDS
1909-11 T206 White Border Honus Wagner - PSA PR-FR 1
A 1909-11 T206 Honus Wagner baseball card needs no introduction. It is an item that has inspired the world of collecting from its earliest days. This card is one of just 21examples in existence to merit fully graded authentication. Rather than being concerned by an assessment that might be perceived as negative, this card celebrates its existence as a new hobby find. Through the years, Wagner's gaze has remained solid and direct. The reverse's advertisement marks the card's long-ago purpose as a Sweet Caporal promotional giveaway. This special card represents the heart and soul of card collecting. Minimum bid $10,000.00.
1915 M101-5 Sporting News Babe Ruth #151 - PSA NM-MT 8
It's the ultimate rookie card! This card is the only one of its kind graded at this level, with none graded higher. There is no way to imagine that a 1-5/8" x 3" piece of cardboard could symbolize more history, more of the essence of American sport, than this Sporting News card depicting Babe Ruth as a slender young pitcher with the Boston Red Sox. Obtaining the rookie card of Babe Ruth in this condition represents one of the peak achievements in card collecting. The card's corners are sharp and centering is satisfying. Minimum bid $10,000.00.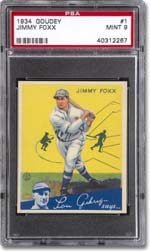 1934 Goudey #1 Jimmy Foxx - PSA MINT 9 - ONLY ONE GRADED at this level
The crowd-pleasing slugger, Jimmy Foxx wasn't a Yankee, but he still commanded due respect in 1934 by scoring a #1 card! This, one of the few cards on earth that credibly relegates the immortal Lou Gehrig to footnote status, is the only example ever placed at this tier with none graded higher. The stride of Foxx is captured by the card's artistry, and his facial features are well focused. Line-drawn game activity behind the slugger enhances the period "feel" of the piece. The card features four never-touched corners, and, of course, the smiling lower-edge endorsement by Lou Gehrig. Minimum bid $10,000.00.
1948 Leaf #3 Babe Ruth Baseball Card - PSA Mint 9
More than a half-century after its production, the aura of this immortal card remains intact. No example of this spectacular commemorative has ever been graded higher, and just four copies exist at this tier. It is a commonly accepted notion that America recognized this dazzling collectible as a memorial to the great Ruth. The nation had watched reports of the Babe's health deteriorating during the summer of 1948. His passing, announced with heartfelt sadness in August of that year, left a void in the sport's spirit that Leaf Gum Co. addressed with dignity. Ruth took his place with Williams and DiMaggio, Musial and Robinson, and thus continued, for that one, additional season, to be a focal point for the country's builders of sets. The card has benefited from decades of careful preservation. Its colors flow with lavish intensity, and its white centered borders accommodate marvelous contrast and integrity in Ruth's portrait. Minimum bid $10,000.00.
Gem Mint 10 1933 Goudey Sport Kings #1 Ty Cobb
Although more than 3,500 Sport Kings cards have been graded by PSA, a mere two have ever attained Gem Mint 10 status. One copy of card number 37, featuring swimmer Helene Madison, was hidden in a private collection. The second, this card, was a "number one" card depicting baseball Hall of Famer Ty Cobb. This exceptional specimen, unlike almost all "number ones" that introduce a set, was never called upon to protect higher-number cards stacked beneath it. The image of Cobb is perfectly focused, and his figure's yellow background is brilliant. Centering is impeccable and the corners are flawless. Minimum bid $10,000.00.
1951 Bowman #253 Mickey Mantle Rookie Card - PSA Mint 9
Only a single example of this cherished collectible has ever been graded higher. Advanced collectors are well aware that there are fewer high grade 1951 Bowman Mantle "high number" rookies available than there are of the double-printed 1952 Topps version. This card is crisp and clean, with four square corners and exceptional printing registration. Vivid hues project brilliantly in highlighting Mantle's image on the card front. This example is free of any of the issue's vexatious gum staining. Perhaps most importantly, this example has none of the stigmatizing horizontal print lines in the background (caused by flaws in Bowman's printing process. Minimum bid $7,500.00.
1952 Topps #311 Mickey Mantle Rookie - PSA NM-MT 8
The '52 Topps Mantle is desired by all, and sought-after by virtually every collector, but quality examples can be possessed only by very few. In terms of percentage, this splendid showpiece is among the 7% most-elite Mantle rookies in the hobby. The offered card delivers Mantle's crisp portrait likeness on a pure blue background. The four corners are nicely pointed. The card's reverse is solidly printed and blemish-free. Minimum bid $7,500.00.
1915 Cracker Jack #30 Ty Cobb - NM-MT PSA 8
This Cobb card is one of the best examples in existence. There are only three unqualified examples that have ever been graded higher by PSA. Consequently it is hard to imagine a better representative of this extraordinary Cracker Jack. The razor sharp corners of this card are only surpassed in crispness by the clean detailing of Cobb's image. The absence of pronounced age toning reveals the stark contrast that its designers intended. The brilliant red background, framed by its off-white border, causes the Georgia Peach to leap at the viewer. Minimum bid $5,000.00.
1915 Cracker Jack #103 Joe Jackson - PSA NM-MT 8
There are very few cards that seem to transcend our hobby. This one does. The card possesses every feature that inspires collectors of vintage cards. Besides a strip card, a few black-and-white issues and a caramel card from his early days with the Athletics, there are very few period mementos of the Joe Jackson's career. This piece is simply beautiful card. Its colors are perfect, totally unsullied by any contact with the sticky treat to which we're forever obligated for the card's existence. Registration of detail is exemplary. Centering is of exceptionally high quality, particularly for this notoriously alignment-challenged issue. The corners conform to the Near Mint to Mint grade. Minimum bid $5,000.00.
1909-11 T206 White Border Eddie Plank - PSA EX-MT 6
It can be stated definitively that the white-bordered tobacco insert card of Eddie Plank is the second most valuable baseball card in our hobby. As far as condition, only one other T206 Plank grades higher than this one. The offered example delivers outstanding, radiant quality in its blue-backgrounded portrait illustration. This scarcer-backed version of the sought-after card (with a "Sweet Caporal - 350 subjects" advertisement on the reverse instead of the more routine "150" variety) boasts wonderful clarity. Minimum bid $5,000.00.
1888 N172 Old Judge Cap Anson - PSA NM-MT 8
Although Anson was included in virtually every 19th Century sports-themed issue, this particular card is universally regarded as one of his most splendid. The offered specimen is the highest graded example known to exist. Anson's image is perfectly focused, a seldom-seen attribute in this sepia-colored release. The card exhibits outstanding focus and all four corners are sharp. Minimum bid $5,000.00.
BASEBALL CARD SETS
1948-55 Bowman Complete Set Run (9)
Exceptionally pack fresh cards are scattered throughout this complete run of all the Bowman baseball sets, including both 1953 issues. Special note should be made of the 1955 set which is highlighted by numerous high-grade cards. Includes - 1948: complete set of 48 cards. Grades 15% EX or better, 35% VG to VG/EX, 50% FR to GD. 1949: complete master set of 252 cards (including all name variations). Grades 25% EX or better, 40% VG to VG/EX, 35% FR to GD. 1950: complete set of 252 cards. Grades 15% NM, 40% EX to EX/MT, 30% VG to VG/EX, 15% lesser. 1951: complete set of 324 cards. 1952: complete set of 252 cards. Grades 30% EX or better, 45% VG to VG/EX, 25% FR to GD. 1953 B&W: complete set of 64 cards. Grades 25% EX or better, 65% VG to VG/EX, 10% lesser. 1953 Color: complete set of 160 cards. Grades 35% EX or better, 45% VG to VG/EX, 20% lesser. 1954: complete set of 224 cards. Grades 35% NM or better, 50% EX to EX/MT, 15% lesser. 1955: complete set of 320 cards. Grades 40% NM or better, 45% EX to EX/MT, 15% lesser. Minimum bid $7,500.00.
1968 Topps 3-D Test Complete Set (12)
Among the very few releases deserving to be classified as modern classics, the 1968 Topps 3-D series stands on its own quite comfortably with the most significant and noteworthy sets from all eras. The fact that these exceptional examples exist in this state of preservation, with none of them grading less than NM/MT, is incredible. The innovative 1968 Topps 3-D cards were produced in scant numbers as a test issue and the only known distribution was to a few Brooklyn candy stores. Today, there are very few sets known and virtually none contain high-grade cards of this caliber. The cards' grades include: Graded PSA GEM MT 10: 3 cards w/Davis, Powell and Swoboda; PSA MINT 9: 7 cards w/Fairly, Flood, Lonborg, Maloney, Perez, Robinson and Staub; PSA NM-MT 8: 2 cards w/Clemente and Stottlemyre. (No specimen of Staub has ever been graded higher, and two cards (Powell and Swoboda) each share the PSA GEM MT 10 tier with one other copy in the world. Minimum bid $5,000.00.
1933 R319 Goudey Set (239)
It is considered the king of the 1930s gum issues. This colorful set of 239 cards not only boasts tremendous artwork and colors, but also includes a bevy of Hall of Famers, including four different cards of Babe Ruth plus multiples of Gehrig, Foxx, Hornsby, Hubbell, and Ott. Grades 15% EX or better, 70% VG to VG/EX, 15% GD to GD/VG. Minimum bid $2,500.00.
BATTING WELL ABOVE AVERAGE - BASEBALL BATS
Ted Williams Mid-1950s H&B Game Used Bat
"Teddy Ballgame" was one of the greatest scientific hitters in the history of baseball. An iconic figure in the world of sports, Williams still holds the distinction as the last man to hit over .400. Naturally, the tool of his trade would be the most appropriate keepsake for any collector to display. Offered is a spectacular 35", 33-oz. H&B game bat that Williams used in the mid-1950s. The signature model "W166" bat is crafted in top quality white ash and features deep and distinct manufacturer's stampings throughout. "33" (the bat's weight) is written on the knob in vintage black ink. The nature of the use displayed on this bat testifies to Williams' remarkable hitting ability. Minimum bid $2,500.00.
Roberto Clemente 1969-72 H&B Signed Game Used Bat
This is simply a picture-perfect Clemente gamer in all respects. The offered Roberto Clemente H&B signed game-used bat (36", 37-oz.) dates from the 1969-72 manufacturing period. The signature-model "U1" bat is composed of top-quality white ash and features deep, distinct manufacturer's stampings throughout, especially with regard to Clemente's facsimile signature on the barrel. Clemente's uniform number ("21") appears in vintage black marker on the knob and then in red ink on the top of the barrel. The bat has been inscribed in faded blue ink ("3") along the barrel, "With Best Wishes - Roberto Clemente." Game use is evident. James Spence & Steve Grad/PSA DNA. Minimum bid $1,500.00.
1931 Arky Vaughan H&B Side Written Bat - Earliest Known Example
Prior to joining the Pittsburgh Pirates in 1932, Hall of Fame shortstop Arky Vaughan paid his dues in the Western League as a member of the Wichita Aviators. Vaughan batted .338 with 21 home runs, 81 RBI and a League leading 145 runs in 132 games with the club that summer. That offensive production not only helped lead Wichita to the League championship series, but also resulted in Vaughan's promotion to "the show" in 1932. Presented is the earliest known Arky Vaughan game bat. It is a rare H&B model used by Vaughan during his 1931 season with Wichita. This singular 35", 38 oz. "flat barrel" style bat is composed of top grade white ash and features no manufacturer's stamps or markings of any kind along its length. The factory side written notations on the barrel attests to the unique provenance of this bat. The bat, which features lathe marks along each end, displays ample evidence of game use. There are approximately six Arky Vaughan game bats known to exist, none of which pre-dates this extraordinary find. Minimum bid $1,500.00.
Eddie Collins 1923-25 H&B Game Used Bat
This 33", 34-oz., H&B game bat was used by Hall of Fame second baseman Eddie Collins during the early 1920s and bears ample evidence of his legendary hitting prowess. The signature-model bat (pre-dating model numbers) is composed of top-quality white ash. Collins' facsimile signature is deeply stamped along the barrel. The uncracked bat displays heavy game use, including cleat marks. Minimum bid $1,500.00.
SUITED UP FOR AUCTION - BASEBALL UNIFORMS/JERSEYS
Leo Durocher 1943 Brooklyn Dodgers Satin Manager's Road Uniform
This rare Brooklyn Dodgers satin road uniform was worn by manager Leo Durocher in 1943. These unique satin uniforms were created for use during night games. They proved too hot for the players and were only used on a limited basis. The Dodgers, along with the Cardinals and Braves, are believed to be the only Major League clubs that actually used satin uniforms in regular-season games. This may be the only Brooklyn road satin uniform to ever appear at public auction. This uniform originates from the personal estate of former Dodgers team President and Hall of Famer Larry MacPhail. The blue satin jersey is lettered "Brooklyn" across the front and features the number "2" on the reverse. All letters and numbers are white. "Durocher" is chain-stitched in blue upon a white-felt strip tag in the collar. The jersey and pants displays heavy game wear. Minimum bid $4,000.00
Sammy Sosa 2003 Chicago Cubs 501st Home Run Signed Home Jersey
There are two kinds of milestone collectibles in this hobby: the pristine garment, cleats or cap donned solely for the big event, and their well-worn counterparts. This jersey represents the latter. Sammy Sosa wore this pinstriped Chicago Cubs jersey when he smacked home run number 501. The jersey displays a full gamut of duty - from laborious grime to legendary glory. A size "48," it is soiled from the chest down to the waistline, as well as lightly on the sleeves. It has "SOSA" across the shoulder blades, the uniform number "21" on the back, Cubs' logos on the left breast and left sleeve, and a Captain's "C" on the right sleeve. Manufactured by Majestic, the jersey features Sosa's blue Sharpie "10" signature on the reverse, along with the notation, "Game Used 2003 - HR 501 - APR 15." Inside the collar is an embroidered label that reads, "21 48 03 S2." LOAs from Authentic Sports Investments (letter signed by Sosa), from James Spence & Steve Grad/PSA. Minimum bid $2,500.00.
Rare Clyde Manion 1921-22 Detroit Tigers Home Jersey
Clyde Manion wore this rare Detroit Tigers jersey during the era of Ty Cobb's managerial debut. This white flannel pinstripe jersey dates to either the 1921 or 1922 season and features an Old English style "D", appliquéd in blue felt, on the left breast. Adding to the attractiveness of the garment is the fact that the original "sun collar" remains completely intact. The name "Manion" is stitched in blue along the edge of the right rear tail. A black "Spalding" label is located in the collar, below which is the stitch outline of a former rectangular tag since removed. Aside from a removed tag, the garment is original and unaltered. It displays normal game wear. Minimum bid $2,500.00.
BASEBALLS
Superb Mel Ott Single Signed Ball
The quest for a complete collection of single signed baseballs of all the members of the 500 HR Club, usually reaches a dead-end when it comes to Mel Ott. This fact is not just a matter of money. Mel Ott's is the rarest single signed ball among the members of the exclusive 500 HR Club, and he is considered the "key" to putting together a full set of those distinguished athletes. The offered Mel Ott signature, rendered in the perfect size and form and inscribed, "Good Luck" grades "9-10". The scripting rests on the clean surface of a cream-colored ONL (Frick) baseball. LOA from James Spence & Steve Grad/PSA DNA. Minimum bid $10,000.00.
Magnificent Sweet Spot Single Signed Roberto Clemente Ball!
Clemente's signature on the sweet spot is extremely rare. That's why this creamy-toned Eastern Airlines ball signed by the legendary Hall of Famer in aqua ballpoint pen across the sweet spot is so extraordinary. The large bold strokes of his magnificent "9-10" signature contrast beautifully against the soft hue of the ball to create a truly splendid display piece. LOA from James Spence & Steve Grad/PSA DNA. Minimum bid $2,500.00.
1926 "Babe" Ruth in Quotes Single Signed Ball
The year 1925 was not a banner one for Babe Ruth. Laid up until June by the famous "bellyache heard 'round the world," he would later be suspended in September for insubordination and slapped with a $5,000 fine, the largest on record at the time. Consequently, the Yankees tumbled to seventh place that year. All of New York rejoiced in the spring of 1926 when Ruth appeared in training camp with a new attitude minus a few extra pounds. Buoyed by Ruth's triumphant return, the team was en route to another American League pennant. Ruth was again the toast of New York and everyone wanted his autograph. This spectacular signed Ruth ball originates from that era. Ruth has signed this medium-toned Young brand "American League" ball in black ink on a side panel ("8-9"), with the "Babe" portion of his signature bracketed by his familiar quotation marks. The ball was originally distributed as a party souvenir by a local newspaper, as revealed by the stamping on a side panel that reads, "Dispatch-Pioneer Press - Babe Ruth Party - June 16, 1926." LOA from James Spence & Steve Grad/PSA DNA. Minimum bid $2,500.00.
BASEBALL PHOTOS
New York Yankees World Champions Signed 8" x 10" Photo
Signed items by this most dominant of baseball teams usually contain 18 to 24 signatures and frequently are lacking one or more of the scarcest signatures of Joe Giard, Urban Shocker and Manager Miller Huggins. This gem was originally given to our consignor's mother, who dated Henry W. Johnson. Johnson appears in the back row and has encircled his head with a heart for his girl.
The 9-1/2" x 7-1/2" original photograph pictures the team at St. Petersburg, Florida during spring training and is dated Mar. 24, 1927. The person who collected the autographs was relentless and even obtained the signatures of owner Jacob Ruppert and General manager Ed Barrow, who is not in the photo. In all, there are 45 signatures on this fantastic photo. Those who played or are otherwise recognizable include:
Earle Combs, Lou Gehrig, Joe Giard, Waite Hoyt, Miller Huggins, Tony Lazzeri, Babe Ruth, Urban Shocker,
and
Ed Barrow
. The photograph itself grades a solid EX/MT and the amazing array of signatures grade an average "8". LOA from James Spence & Steve Grad/PSA DNA. Minimum bid $5,000.00.
1927 Babe Ruth and Lou Gehrig Signed Barnstorming Photo
The offered photograph captures the friendly rivalry between Babe Ruth and teammate Lou Gehrig displayed on their barnstorming tour of 1927. During the early 1920s, Ruth was fined and suspended for participating in a post-season tour. By 1927, however, Christie Walsh, agent for both Ruth and Gehrig, had arranged a League-approved circuit for the game's two most prominent stars. When the "Babes" came Bustin' into town and the "Lous" began Larrupin', star-struck fans' dreams became a reality. Walsh made sure souvenirs were available. One of those items was this fabulous photograph of Babe and Lou posed together in their tour uniforms. The crystal-clear, 8" x 10" photo carries BOTH the facsimile autographs of the two immortals and their actual autographs. The signature of Ruth is a bold, consistently penned "8". The autograph of Gehrig (with the added inscription, "Oct 23 1927," in his hand) merits at least a "6-7." LOA from James Spence & Steve Grad/PSA DNA. Minimum bid $5,000.00.
Incredible Babe Ruth Original Wire photo Hoard (154)
Babe Ruth was one of the most photographed individuals of all time. His massive frame and endearing personality made him the sports photographer's favorite from the very beginning of his career to the very end. This may be the largest collection of Babe Ruth wire photos ever sold publicly. The 154 mostly different photos range in size from 7" x 9" to 8" x 10" (a few are somewhat smaller). The diverse images include: 13 Game Action Shots; 28 Stadium Shots; 7 shots of Ruth Signing Autographs; 11 shots of Ruth On The Links; 47 images of Ruth at Public Appearances; and 48 Candid Shots. Minimum bid $2,500.00.
MORE BASEBALL MEMORABILIA
1903 World Series Program
This original "Souvenir Card" program is from the first showdown of its kind, the 1903 World Series played between Boston of the American League and Pittsburgh of the Senior Circuit. This superb artifact features portrait ovals of the Boston and Pittsburgh managers (Jimmy Collins and Fred Clarke, respectively) on its tan, outside cover. It measures 5-3/8" x 7-7/8" in its natural, closed state. Inside, the actual "score card" lists the rosters of both teams beneath the penciled-in date of Game 3 at Boston, "Oct. 3," 1903. The program has been meticulously scored for that contest, providing a compelling physical record of a day on which history was made. The events of that game, as documented by a forever-anonymous scorekeeper, are highlighted by Phillippe's second complete-game Series victory and reliever Cy Young's uncharacteristic error. Pittsburgh defeated Boston in this game, 4-2. The number, 18,801 in pencil on the program's cover concurs with published records of the game's attendance. Excellent display quality. Minimum bid $10,000.00.
Harry Wright's Personal Multi-Signed 1883 Providence National League Scorebook
If any one man truly deserves the title "Father of Baseball" it would be Hall of Famer Harry Wright. In 1869, Wright's formation of the first all-professional baseball team, the Cincinnati Red Stockings, led to a new era in baseball history, one that ultimately resulted in the formation of the National Association in 1871, baseball's first Major League. During Wright's 19-year Major League managerial career he introduced a number of innovative concepts to the game. One of his most important was statistics. Wright devised his own detailed box scores. His total dedication to keeping an exact record of each and every game is wonderfully illustrated in this unique treasure: Harry Wright's 1883 Providence Grays scorebook. This custom bound leather book, featuring a gilt stamped spine reading "1883", is comprised of six individual "Harry Wright's Pocket Base Ball Scorebooks" and records every game played by Providence in 1883. Each game in the volume has been recorded in manager Wright's exacting hand, with 24 of the score sheets bearing his full name signature in the space marked "Scorer." Another four sheets bear the signature "H. Wright" offering the collector an amazing 28 separate Wright autographs throughout the book. Overall the books' pages are in Excellent to Mint condition. LOA from James Spence & Steve Grad/PSA DNA. Minimum bid $5,000.00.
FOOTBALL - TOUCHDOWN TREASURES!
1935 National Chicle #34 Bronko Nagurski - PSA NM-MT 8
Here is the undisputed key card from the foundation issue of the football collecting hobby. The 1935 National Chicle Bronko Nagurski is the most valuable and avidly pursued of all football cards. This is one of only six specimens graded at this level with none graded higher. The Minnesota native and eventual Hall of Famer starred for the Chicago Bears and was one of the earliest true superstars of his sport. Nagurski's card, number 34, is among the extremely scarce "high number" segment of the issue. This card is very difficult to obtain under any circumstances, and especially so in admirable condition. It has been spared toning from age and the corners are well formed. Minimum bid $5,000.00.
Lynn Swann 1975 Pittsburgh Steelers Road Jersey
Lynn Swann is considered one of the greatest wide receivers in the history of the NFL. This rare Pittsburgh Steelers road jersey was worn by Lynn Swann during his "break out" season in 1975, when the second-year starter caught 49 passes for 781 yards and a League-high 11 touchdown receptions. The white dureen jersey features the number "88" on the front, reverse and each shoulder. "Swann" is lettered on the reverse above the number. Original and unaltered, the jersey displays heavy game use. Minimum bid $2,500.00.
BASKETBALL - NET QUALITY
NBA 50 Greatest Players Signed Lithograph
In 1966, the NBA celebrated its 50th Anniversary. This lithograph was produced to commemorate that event. It is one of an extremely limited number signed during that season's All-Star Game festivities. The majestic 25" x 39" piece displays the likenesses of all 50 NBA legends. Remarkably, it includes 49 of the 50 signatures (Pete Maravich, deceased at the time of printing, is the only missing autograph). This fantastic lithograph was limited to just 250 pieces worldwide, of which 50 numbered "Field of Dreams" editions were offered to the public. The Near Mint example ("47/50") is signed in pencil. It is accompanied by an official leather-bound Certificate of Authenticity signed by NBA Commissioner David Stern. Included among the autographs are: George Mikan, Kareem Abdul Jabbar, Bill Russell, Pete Maravich (unsigned - d. 1988), Wilt Chamberlain, Larry Bird, Shaq O'Neal, Julius Erving, Magic Johnson, Michael Jordan, and Isiah Thomas. LOA from James Spence & Steve Grad/PSA DNA. Minimum bid $5,000.00.
MORE AMERICANA ITEMS
Other impressive Americana collectibles available include: a 1790 Thomas Jefferson One-Page ALS from Monticello, min. bid $5,000.00; a rare 1864 Lincoln Johnson Campaign Jugate, min. bid $7,500.00; a John Adams Liverpool pitcher, min. bid $5,000.00; a 1794 Cent Head, min. bid $10,.000.00; a 1799 Draped Bust Dollar, min. bid $7,500.00; Marilyn Monroe's script for "Something's Got to Give" min. bid $5,000.00; and the last lost Lennon tape, min. bid $5,000.00.
FOR MORE INFORMATION
For a preview of other auction highlights or to pre-register for an auction catalog and to bid go to www.mastronet.com or call 630-472-1200.