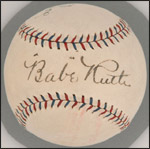 Robert Edward Auctions Presents "The Origins of Baseball"
Watchung, New Jersey -- On Saturday May 1, 2004, Robert Edward Auctions will be holding one of the largest and most important auctions of baseball cards, memorabilia, and Americana in its 33-year history. The auction will be highlighted by extraordinary newly discovered documents relating to The Origins of Baseball. The entire auction will include over 800 quality lots with a value in excess of $2,000,000. The auction will be presented on Robert Edward Auctions' Internet site and also presented on eBay to ensure maximum exposure for one of the highest quality, most carefully assembled and important baseball and memorabilia auctions in the history of collecting. Some of the highlights include:
Extraordinary Newly Discovered Documents relating to The Origins of Baseball.
Baseball Card Rarities Dating Back to 1869.
The Jeff Eastland Baseball Negro League Collection.
Daguerreotype and Ambrotype of Alexander Cartwright, "The Father of Baseball," both from the collection of Queen Liloukalani of Hawaii.
Numerous Babe Ruth Autographed Baseballs and Signed Ruth Items.
Early advertising displays including Colgan's Chips sign with Honus Wagner.
Henry Chadwick single-signed Knickerbocker ball.
Joe Jackson signed document.
Dizzy Dean's 1936 Uniform.
Hank Aaron's 534th Home Run Bat.
Ted Williams's 517th Home Run bat.
Leroy Nieman Original Painting of Lou Gehrig.
Mickey Mantle 1961 Bat.
Tobacco, Gum and Candy Cards From Every Era.
Three 1933 Goudey Complete Sets.
1941 Play Ball Uncut Sheet.
100's of Pre-1900 Baseball Cards.
Complete Sets of Virtually Every Major Baseball Card Issue from 1948 through 1975.
1952 Bowman Mickey Mantle graded GEM MINT 10 by PSA.
Original Card Artwork from 1930s to 1950s.
Rare 1930s Non-Sport Cards and Uncut Sheets.
Early Photos, Buttons, Advertising Pieces, Etc.
The Americana Section of the auction includes:
1928 Notre Dame Football "Win One For The Gipper" Signed Game Ball.
Bob Dylan 22-page 1958 High School Essay on "The Grapes of Wrath" (signed "Robert Zimmerman").
1961 Original Beatles Signed Payment Receipt -- their first lineup including Pete Best and Stuart Suttcliffe.
1924 John Dillinger Signed Prison Document from his first arrest.
1893 Sigmund Freud Signed Prescription for a "white powder."
Elvis Presley's first employment agreement signed.
Albert Einstein Handwritten and Signed Formula.
The entire auction will be presented in a brand new auction format in partnership with eBay Live Auctions. All lots will appear both on eBay and on RobertEdwardAuctions.com simultaneously. Bidders will be able to place their bids at eBayLiveAuctions.com or at www.RobertEdwardAuctions.com. A special 256-page full-color premium catalogue is available and will be ready for shipping on April 10, 2004. It is not necessary to have a catalog to view or participate in the auction. Catalogs can be requested online at www.RobertEdwardAuctions.com. For further information contact: Robert Edward Auctions, PO Box 7256, Watchung, NJ 07069 or call (908)-226-9900.
Auction Highlights
Circa 1927 Babe Ruth Single-Signed Baseball
Absolutely stunning circa 1927 Babe Ruth single-signed ball features a virtually flawless Ruth signature ("9") in bold, crisp black fountain pen on a gorgeous ultra high-grade red and blue stitched Official American League (Barnard) baseball. The signature style, quotes surrounding "Babe" and the type of ball all identify this ball as being signed between the years 1927 and 1930. Not only is the signature an extremely large and virtually perfect example that can literally be read "across the room," the ball itself is in strong Near Mint condition. All manufacturer's stampings are absolutely perfect, crisp and bold, giving this ball an even more extraordinary visual appeal. On the panel above Ruth's signature, well away from the Ruth signature is a vintage notation, which has been added reading, "Lou Pearl Babe's 2nd." The added notation does not in the least affect the ball's spectacular aesthetic display value, though will to some extent no doubt affect its market value. In a world where forgeries are rampant…where Ruth balls which sell for many tens of thousands of dollars seem to appear out of nowhere… where authenticators, armed with more experience and information, sometimes (admirably) are forced to reverse opinions on Ruth signatures…in a world where, at least in this office, we sometimes joke that Ruth is still signing, or may soon be doing a show, a virtually perfect unquestionably authentic single-signed Ruth ball, with the single flaw of a period notation, is possibly a more desirable alternative. Maybe we are too conservative in our approach to autographed items, and Babe Ruth signatures in particular, but that is by design. We would rather be safe than sorry. This ball may not cost as much as some of the $50,000 gems which have hit the market in recent years. Nevertheless, it looks just as good. Or better. And it's real. What else can we say? We like this ball! The ball is in Near Mint condition and is virtually unimprovable. If you were looking for a spectacular Ruth single-signed ball, it would be difficult to imagine a more magnificent example for display. The original box that accompanies is held together with clear tape and grades only Fair. Reserve $5,000. Estimate $10,000/$15,000.
1909 Honus Wagner Colgan's Chip Display
The 1909 Honus Wagner Colgan's Chip advertising display is one of the most extraordinary and beautiful of all baseball display pieces. Measuring 20 inches wide and 26 inches tall, this extremely large and colorful store display advertises the popular E254 Colgan's Chip cards of 1909 and features a huge portrait of Honus Wagner about to chew a piece of Colgan's Chip gum (Wagner was very happy to endorse many products - just not tobacco). To the left is pictured a giant Colgan's Chip card of Wagner and a Colgan's Chip container. This advertising display was designed to fit in the corner of the window of the candy store, facing out to the streets for all passersby to see, and hopefully find inviting enough to come in and buy Colgan's Chips ("The Gum That's Round") and perhaps other goods as well. The unique design and gorgeous colors of this sign make it one of the very best advertising display pieces in the hobby. This is one of only approximately five examples known to exist. This piece is especially familiar to card collectors as it has appeared in many books, and even graces the cover of The Encyclopedia of Baseball Cards Volume 2 (which is devoted to Early Gum and Candy cards such as E254 Colgan's Chips). This Colgan's display is one of the earliest advertising signs associated with any set of cards, and is the very earliest which features a single particular player. This is one piece that "has it all" - rarity, beauty, size, graphics, association with a popular card issue, and featuring one of the greatest and most popular players of all time, Honus Wagner. The last example offered at auction appeared as lot #489 in Robert Edward Auctions July 2000 sale, where it sold for a record $32,816. Beautifully custom framed (frame measures 36 inches tall). This is one of the finest of the very few known examples of this early advertising treasure, which by any measure is universally recognized as one of the most striking and desirable of all baseball advertising pieces. Extremely close examination reveals two insignificant tiny border tears (one in lower right, another in the top corner) and a tiny chip in left corner, of absolutely no consequence to display value, but mentioned strictly for the sake of extreme accuracy. Excellent to Mint condition. Reserve $5,000. Estimate $10,000/$20,000.
1855 Alexander Cartwright "The Father of Baseball" Daguerreotype Photo
Quarter-plate Daguerreotype photograph of Alexander Joy Cartwright (1820-1892), measuring approximately 3.5 x 4.5 inches and housed in a period thermoplastic photographic case, is one of the most significant baseball photographs in existence. The photograph pictures Alexander Cartwright, circa 1855, with an unidentified gentleman, who has been tentatively identified by the Cartwright Family as prominent businessman Mr. Kerr of Honolulu. Alexander Joy Cartwright was one of the original Knickerbockers. He is widely recognized as the individual who can most truly lay claim to being "The Man Who Invented Baseball." In recognition of his great contributions to the game, Cartwright was elected to the Hall of Fame in 1939. Any photograph of Cartwright is extremely significant. A Daguerreotype, of which this is one of only three known, is by far the earliest and most important type of photograph of Cartwright, which could possibly exist. Daguerreotypes were the very earliest type of photographic process. Most daguerreotypes date from the mid-1840s to the 1850s, at which time they were largely replaced by the more economical Ambrotype photographic process, which in turn was soon replaced by the tintype and albumen carte-de-visite photograph. Daguerreotypes present a reverse image produced on a silver-coated copper plate. They are extremely easy to identify, in large part because the image is printed on a silver surface, giving it an almost magical mirror-like quality. This is one of only three Daguerreotypes of Cartwright known to exist, and all three (as well as the Ambrotype of Cartwright which follows this lot) share the same extraordinary provenience. In 1849, shortly following Cartwright's great contributions to the formation of the Knickerbockers BBC and the earliest formal rules of baseball, Cartwright traveled cross country from New York to California, drawn by a taste for adventure and the lure of the Gold Rush. Shortly after his arrival in California, Cartwright sailed to Hawaii, where he remained for the rest of his life as one of Hawaii's most prominent citizens. In the early to mid-1850s, he sat with a friend for this quarter-plate daguerreotype photograph. When Cartwright had the honor of meeting the Queen of Hawaii, he presented several photographs to her, including this daguerreotype. They remained with the Royal Family until 1915, when Cartwright's grandson, Bruce Cartwright, traveled to Hawaii to document and popularize his grandfather's great accomplishments. The Cartwright Family was incensed by the Mills Commissions' total lack of recognition of Alexander Cartwright's significant contributions to baseball, in favor of "The Doubleday Myth." When Bruce Cartwright met with then queen Liloukalani, she presented to him the photographs that Alexander Cartwright had long ago given to the Royal Family. The back of the copper mat of the daguerreotype photograph has the following period inscription, in the hand of Bruce Cartwright: "Presented to Bruce Cartwright, Jr. by Queen Liloukalani Dec 14, 1915 A.J. Cartwright, Jr. near left side facing picture with velvet coat collar." These photographs remained with the Cartwright Family until 1991, when their archive of family material was sold privately. To put into perspective the significance of this early daguerreotype photograph, the offered photograph is not just one of only three Cartwright daguerreotypes known to exist; it is one of only three daguerreotypes known to exist of any subject which can verifiably be identified as a baseball subject. The fact that the subject is the true Father of Baseball, original Knickerbocker Alexander Joy Cartwright, taken just a few years following his most important contributions to the origins of the game of baseball, makes this one of the most historically significant baseball images in existence. The fact that its provenance can be traced directly to the Cartwright Family, and its history of ownership relates so directly to the controversies of the origins of the game, and Cartwright's role in this history, adds an additional dimension to its already extraordinary significance. Of the three Cartwright daguerreotypes in existence, one is the centerpiece of the premier nineteenth-century baseball collection in the world, and will never be sold. The second, a smaller sixth-plate image, was sold at public auction in 1996, at which time it realized $19,250. The offered daguerreotype is a far superior example, both in terms of size (the larger quarter-plate size is more desirable than the smaller sixth-plate size), image quality, and the fact that this example features period hand-coloring accents (primarily to the shirts and watches), a time-consuming artistic process reserved by daguerreotype artists for only their most elaborate and important commissions. This extraordinary original daguerreotype photograph is one of the very few photographic images in existence of Alexander Joy Cartwright, whose place in history as "The Man Who Invented Baseball" is secure among scholars, if not among fans of classic American Folklore. One of the most important baseball photographs in existence, deserving of prominent display in the most advanced collection or museum setting. In Excellent condition, with replaced glass. Accompanied by a signed letter of provenance from Cartwright Family matriarch, Anne Cartwright. Reserve $7,500. Estimate $15,000/$25,000.
1860 "Live Oak Polka" Baseball Sheet Music
The 1860 Live Oak Polka sheet music is the earliest, and is without question the most spectacular, of all color baseball sheet music. It is also universally recognized as one of the most spectacular and revered of all nineteenth century baseball display pieces. The cover depicts a baseball game in progress with a patriotic motif of an American flag draped across the top. A player is pictured in the foreground, leaning on a bat in full period uniform. The detail of the game in progress scene is remarkable, with players in uniforms, spectators in formal dress, and tremendous background detail. There are very few baseball related lithographic art pieces dating from the era of the Civil War. This is one of the few, and perhaps the very finest, with unparalleled design and production values. This is a rare piece, equally at home in a museum setting or most advanced collection devoted to Americana, the Civil War, American lithography, or Baseball. Robert Edward Auctions has always reserved Lot #1 for very special pieces. There may be other items in this sale that will sell for more, but no other single item represents all that we value in terms of aesthetics, and the rich early history of the game of baseball, than this most extraordinary example of The Live Oak Polka. We are aware of fewer than five known examples of The Live Oak Polka. This example was once one of the signature nineteenth-century pieces of the Halper Collection. It appeared in the famous 1999 Halper auction as Lot #3. It sold at that time for $25,300, and has been consigned to this sale directly from the purchaser at that landmark sale. An extraordinary example of the most desirable of all baseball sheet music, and one of the premier nineteenth-century baseball display pieces. Published by Endicott & Co. Lithographers of New York. With extremely strong colors, with only some very minor age spotting, an extremely insignificant small tear on bottom border (no paper loss, mentioned strictly for the sake of accuracy) and the minutest remnants along the bottom edge from removal from a bound book of sheet music, as is always the case with sheet music from this era. Interior sheet music pages are complete, intact, and very clean. 10 x 13 inches. In superb Excellent condition. Reserve $10,000. Estimate $20,000/$30,000.
1887 N690 Kalamazoo Bats Dorgan, New York's
New York Giants player Kalamazoo Bats are exceedingly rare. We estimate that fewer than 25 examples are known in the entire collecting world. The New York player Kalamazoos all feature portraits, and are considered by advanced collectors to actually be a set unto themselves, distinct from the rare but far more available Athletics series. The offered example of New York's Mike Dorgan is in simply astounding Mint condition. In 1987 there was a find of Kalamazoo Bats cards in Philadelphia that included about ten New York players. In addition to the excitement generated by the find due to the incredible rarity of the cards (many of which were never before known to even exist), all were in virtually Mint condition. The offered card is one of the New York Kalamazoo Bats from this legendary find. The card eventually found its way into The Jim Copeland Collection and in 1991 was sold in the famous Copeland Auction, which will always be regarded as one of the true landmark events in hobby history. The card has not seen the light of day since. It has been consigned to this auction directly from the buyer at the Copeland auction. This is a miracle of a card, both in terms of rarity and condition. Bright, crisp, and perfectly clean. Mint condition. Reserve $2,000. Estimate $4,000/$7,000.
1912 Boston Garter Christy Mathewson
The 1912 Boston Garter set is one of the most beautiful card issues ever produced. It is also one of the rarest. In fact, as duly noted in the Standard Catalog, they are so rare that if it were not for the checklist which appears on the back of each card, we would not even know what players comprise the set, let alone that there are 16 cards to the set (one player is represented from each team). It is a privilege for Robert Edward Auctions to offer the key Hall of Famer, Christy Mathewson, from this extraordinary set. To the best of our knowledge, there are exactly two examples of Christy Mathewson known to exist. This is the better of the two. We estimate that there are fewer than 25 examples of 1912 Boston Garters known to exist in the entire collecting world. This example of Mathewson is the prize of them all. Their great rarity is no doubt in part due to the fact that only one card was issued with each box of 12 garters. 1912 Boston Garters are quite unique in that each features a player in the dugout, without pants, in the midst of getting dressed, proudly displaying their Boston-brand garters. In the background are beautiful stadium scenes, featuring ballplayers warming up. On this magnificent example, Matty appears to be taking a break, resting his arm on his traveling suitcase. The unparalleled quality of the lithography and the unique concept of the set both contribute to making 1912 Boston Garters one of the most distinctive and noteworthy baseball card sets ever issued. The large format card measures 4 x 8.25 inches. Extremely bright and clean, both front and back. There is some very minor light vertical creasing in the lower right corner, as well as a very light corner crease in the upper left corner which is visible upon close inspection from the reverse only, therefore technically VG-Ex but certainly displays as Excellent. Reserve $5,000. Estimate $10,000/$15,000.
Rare 1961 Mickey Mantle and Roger Maris Pinback
The premier Mickey Mantle/Roger Maris pinback from the 1961 Home Run race. Measuring an impressive 3.5 inches in diameter, this magnificently designed souvenir pinback is the rarest of all celluloid pins issued relating to the historic 1961 home run race. Several different style pins were sold by venders in 1961 commemorating, and cheering on, Mantle's and Maris' race for Ruth's record of 60 home runs in a single season. This style pin is the rarest of all. We have never before even had an example of this significant baseball pin rarity to offer, though we have long been aware of its existence. An extraordinary 1961 Mantle/Maris souvenir item, and one of the most classic and desirable baseball pinbacks of the era. Near Mint condition. Reserve $1,000. Estimate $2,000/$4,000.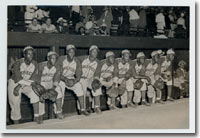 The Jeff Eastland Negro League Collection
Pictured is an original photograph (9 x 6.25 inches) of the 1942 Negro League Champion Kansas City Monarchs team including Satchel Paige and Buck O'Neill, one of the lots of The Jeff Eastland Negro League Collection featured in the auction. Reserve $400. Estimate $800/$1,200.
Robert Edward Auctions is honored to have been chosen to document, and present at auction to the collecting world, the extraordinary Negro League collection of Jeff Eastland. This collection represents the single largest and most important selection of vintage Negro League materials ever presented at one time for public auction. Jeff is well known to many serious hobbyists as a "collector's collector," one of the hobby's true historians, and as much a scholar as a collector. Jeff has spent the last 15 years studying and collecting photographs and artifacts from the Negro Leagues. An active member of the Negro League Committee of the Society for American Baseball Research, he sought to assemble a concise collection that told the history of professional black baseball during the period of time in that black players were shamefully denied access to the major leagues. Jeff was a pioneer in this field. He obtained items from many sources, both within and outside of the organized hobby, including many items directly from family members of the players.
The collection which follows presents a chronological history of the evolution of the Negro Leagues, spanning a 50-year period from just after the turn of the century through integration. Being mostly photographic in nature, this collection is literally a window into the past, capturing the spirit of a lost world inhabited by legends such as Oscar Charleston, Josh Gibson, Willie Wells and Pop Lloyd, as well as many great players who will never be recognized for their exceptional level of play, players almost forgotten to the world, but for the few records and images which survive. These are some of those images. As one scans the following pages, a visual history unfolds which documents not just an important period of baseball history, but an important period of American history. If not for the efforts of researchers and collectors such as Jeff Eastland, much of this history might have been lost to the winds of time. There are few areas of collecting in which the efforts of a few dedicated collectors and scholars have made such a significant contribution to the preservation of early twentieth century American history. To us, this is what collecting is all about. There are larger collections. There are more valuable collections. But it will be a long time before we see a more important collection of Negro League material assembled in one place and offered at a single time. This material is not like similar materials relating to white baseball. It was not created in the same numbers. It was not saved with the same frequency. Saving old photos and memorabilia is a luxury, encouraged by attics in old houses in which families stay for generations. Players who barnstormed across the country year after year, living out of suitcases, moving frequently, and who were usually very poor, were rarely in a position to be savers. Every surviving Negro League item, every surviving photograph, is a rarity.
All of the key stars of the Negro Leagues are included in the Jeff Eastland Collection. Each of the 18 players currently enshrined in the Baseball Hall of Fame, based on their careers in the Negro Leagues, is represented. Many of these legends are included several times, as the players changed teams, and played baseball outside the U.S. in the various Latin American leagues. Virtually all of the most significant legendary "dynasty" teams are represented in one form or another, including the Philadelphia Giants, New York Lincoln Giants, American Giants, Hilldale, Kansas City Monarchs, Homestead Grays, Pittsburg Crawfords, and Ciudad Trujillo. Also included are many of the significant team owners and league executives, as well as some star major league performers whose careers began in the Negro Leagues. Finally, most of the additional Negro League stars, including all players currently under consideration for induction into the Hall of Fame, are also included.
The assembling of this collection was a labor of love -- for the subject matter, for history, and for collecting. Many will recognize these images as the very photographs which appear as the illustrations of the most important reference books ever published regarding the history of the Negro Leagues. Some have never before been published. Robert Edward Auctions is honored to play a small role in the preserving these images, for collectors, and for future generations, to learn from, enjoy, and appreciate.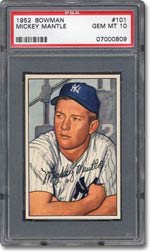 1952 Bowman Mickey Mantle PSA GEM MINT 10
Graded GEM MINT 10 by PSA. The finest example in the world of one of collecting's most classic cards, the 1952 Bowman #101 Mickey Mantle. Only two examples of 1952 Bowman Mickey Mantle have ever been graded PSA 10 GEM MINT. It is very rare for any card of this vintage to be in such perfect condition as to warrant this ultimate grade. The corners are perfect and razor-sharp. The colors are bright, crisp, and absolutely flawless. The card is perfectly clean, front and back, with snow-white borders. The registration is flawless. The centering is virtually perfect, perhaps 49/51 left to right, which is extraordinary for 1952 Bowman, and the reverse also has virtually perfect centering. This card is one of the few elite examples of early Mantle cards graded GEM MINT 10 by PSA. Among the early key Mantle cards, there are only one 1951 Bowman, two 1952 Bowman, three 1952 Topps, one 1953 Topps, and one 1953 Bowman Mickey Mantle which have ever been graded GEM MINT 10 by PSA. A worthy centerpiece to even the most advanced collection, this is a simply incredible example in all respects of one of Mickey Mantle's most important cards, and one of the most recognizable cards in all of card collecting. Reserve $10,000. Estimate $40,000/$60,000.
1936 Dizzy Dean St. Louis Cardinals Home Jersey
One of the finest baseball jerseys to ever come to the marketplace, let alone as a new find to the collecting world. Circa 1936 Dizzy Dean St. Louis Cardinals white four button home flannel pullover jersey is embroidered "Cardinals" across the chest in red with blue trim, with the team's famous logo (a black bat with a cardinal on either end) embroidered directly above. "D. Dean" is stitched in red on the left front tail. Dean's number "17" appears on the reverse in red felt with black trim. A "42" size tag is in the collar, below the red silk Rawlings manufacturer's label. Red with blue piping runs around the neckline, down the button front, and also appears at the end of the sleeves. The red colors of the stitching and embroidery are unparalleled in their boldness. The jersey is in essentially Mint condition, exhibiting only the most minor wear, and looks exactly as it did when Dizzy Dean wore it in 1936.
This jersey has for decades been a keepsake of a family who has no connection to the world of organized collecting. Pepper Martin originally gave the jersey as a gift to a close friend of the family, who in turn gave it as a gift to the consignor's family, who had two young boys. The boys considered the jersey to be their most prized possession, and kept it wrapped in tissue and stored inside a box, to keep it safe from damage and even exposure to light. As the years have passed, the brothers have become aware that the jersey has substantial value to collectors. After caring for it for decades, the time has finally come for the brothers to sell the jersey. As far as baseball uniforms of the era of the 1930s are concerned, only those of Ruth, Gehrig, and DiMaggio would be considered by most advanced collectors to be more desirable than that of Dizzy Dean. It is also the case that there are more examples of Ruth and Gehrig jerseys, and many more examples of DiMaggio jerseys, than that of Dizzy Dean. To the best of our knowledge there are only 3 Dizzy Dean jerseys known to exist (one road and two homes), and the offered example is the only 1936 Dizzy Dean St. Louis Cardinals home jersey known to exist. A letter accompanies the jersey from the family, detailing its history. This is an extremely rare style jersey, which was worn by the Cardinals only during the 1936 and possibly the 1937 seasons.
Dean's pitching career began in 1932, and was brief but spectacular. Between 1932 and 1936 he won 120 games, including thirty in 1934. He was also one of the game's most popular and irrepressible characters, and the central figure of St. Louis' legendary "Gas House Gang" of the 1930s. Turning to the radio booth after his playing days, he delighted thousands of listeners with his homespun humor and unique take on the English language. Dizzy Dean earned his place in baseball history and the Hall of Fame on the diamond, but also made a lasting and powerful impression on popular American culture with his personality. Armed with the wisdom of Will Rogers, the communication skills of Yogi Berra, and possessed by the rowdy spirit of the Gas House Gang, Dizzy Dean is one of baseball's few larger-than-life personalities whose popularity and legend transcends the game.
This Dizzy Dean jersey is an extraordinary find. It is one of the collecting world's most desirable baseball jerseys, and one of the greatest treasures of baseball memorabilia of any kind that could possibly exist from the 1930s. It is an honor for Robert Edward Auctions to present this exciting and fresh to the organized collecting world find. Reserve $25,000. Estimate $50,000/$75,000.
Ted Williams HR # 517 Bat
This is the actual bat that Ted Williams used to hit home run # 517 on Sept. 2, 1960 against Washington at Fenway Park. This bat was once a part of the famed Harry Carlson Collection. It was presented personally by Ted Williams to Harry Carlson at home plate on Ted Williams Day, which was held on Ted Williams' final home game at Fenway Park, as part of the ceremonies immediately following the game. Carlson was the Chairman of the Greater Boston Chamber of Commerce, and was chosen to preside over the ceremonies of the day. Carlson was a well-known figure in New England's sporting world for decades. His involvement in the world of sports primarily revolved around charitable causes and community activism and service. He served as the chairman of many committees relating to sporting events in the New England area, including Ted Williams' Days, Bob Cousy Night, Bobby Doerr Day, Jimmy Fund Days, etc., as well as serving on the Board of Directors of Ted Williams' favorite charity, The Jimmy Fund, for over 20 years. The bat is accompanied by a letter from Harry Carlson detailing the presentation of the bat, which reads in part: "In September of 1960, the Red Sox contacted the Greater Boston Chamber of Commerce to have them handle the ceremonies at a planned Ted Williams Day in conjunction with his last baseball game to be played at Fenway Park. As Chairman of the Chamber's Sports Committee, I was chosen to preside over the program for that day. Ted met with the committee and decided he would only agree if the Program was short and all proceeds go to The Jimmy Fund (research for cancer in children) and a minimum of people were on the field. As a result, Mayor John Collins, Curt Gowdy, Ted and myself (were on the field). After the ceremony Haywood Sullivan and Ted Williams called me to home plate and presented me with his 517th Home Run bat in appreciation for the work I did for the Day." Also included is an additional letter from Curt Gowdy, who writes "The final home game of Ted Williams for 1960 at Fenway Park was one of my all time great memories. I'm sure you'll recall that I was the Emcee for the ceremony…I also remember that you were the Chairman of Ted Williams Day and also the Greater Boston Chamber of Commerce Sports Committee. That afternoon Ted Williams and Haywood Sullivan presented you with the bat which was used to hit Ted Williams' 517th Home Run." Harry Carlson (who is now deceased) personally consigned this bat to Robert Edward Auctions June 1995 sale, where it appeared as Lot #568, and sold for $8,161. The bat has been consigned to this sale directly from the winning bidder at the 1995 sale. Articles on Carlson also accompany the bat; including one which features a photograph of Hank Aaron personally presenting Carlson with his home run bat #521, which was also sold by Robert Edward Auctions in 1995. Also accompanying the bat is Harry Carlson's original contract with REA, in which he is consigning his bat collection, dated December 8, 1994. This Hillerich & Bradsby model U1 is 36 inches in length and weighs 35 ounces. Williams' player number "9" appears in vintage black marker on both the knob and barrel end. The numbers have faded over time but are clearly legible. There has been professional restoration to a very slight crack in the handle and to several vertical holes which were neatly drilled by Harry Carlson for display purposes. This minor restoration has been executed flawlessly and is literally undetectable. The bat exhibits tremendous game use. According to Hillerich & Bradsby's shipping records, this bat was part of Ted Williams' second to last order of bats ever. This is one of exactly six U1 model bats that were shipped to Ted Williams by Hillerich and Bradsby on August 31st, 1960. This is an extremely significant Ted Williams home-run bat, with extensive documentation of a quality and detail that is rarely encountered with any bat for any player, let alone a player of Ted Williams' great stature. SCD Authentic Grade: A10. LOAs from John Taube & Vince Malta/PSA DNA. Reserve $5,000. Estimate $10,000/$20,000.
1941 Gum Inc. Play Ball Full Uncut Production Sheet (24 cards)
Offered is one of card collecting's rarest uncut sheets: a complete 24-card uncut production sheet of Gum Inc.'s 1941 Play Ball. Sheets of 1941 Play Ball are so rare that, to the best of our knowledge, this is the very first 1941 Play Ball uncut sheet to ever come to auction. The sheet features the first series of 24 cards of the set (#'s 1-24), including the following nine Hall of Famers: #6 Carl Hubbell, #8 Mel Ott, #10 Arky Vaughan, #13 Jimmie Foxx, #14 Ted Williams, #15 Joe Cronin, #18 Hank Greenberg, #19 Charlie Gehringer, and #20 Red Ruffing. This is an extraordinary sheet in all respects. Perfectly bright and clean, both front and back, and with flawless color, the sheet has obviously been stored under ideal conditions since 1941. This is one of only four 1941 Play Ball 24-card production sheets (not to be confused with the scarce 12-card 1941 Play Ball paper issue card sheets) known to exist. To the best of our knowledge, there is only one other example of this first series sheet in existence. Aside from a tiny pen mark near #23 McQuinn's foot, a blemish the size of a couple of pin heads on #24 Dutch Leonard, and the lightest, virtually undetectable small blemish in the background of #18 Greenberg, all of which are faults of no consequence and which are mentioned strictly for the sake of extreme accuracy, the sheet is in extraordinary Near Mint condition, with almost all of the individual cards on the sheet technically grading Mint condition. This pristine sheet, presented at auction for the first time ever, is one of the best and rarest sheets in the hobby. Play Ball sheets are of a far greater rarity than Goudey and other museum-quality uncut gum-card sheets of this era. It is interesting to note that Play Balls were printed in vertical 24-card sheets, as opposed to the horizontal format of Goudey sheets. To the best of our knowledge, this is the first time a photograph of a Play Ball uncut sheet has ever even been published. The sheet measures 10 x 18.75 inches, and is beautifully and very expensively framed (with double-sided Plexiglas to allow viewing of the reverse) to total dimensions of 16 x 25 inches. Reserve $10,000. Estimate $20,000/$30,000.
1884 Climax Tobacco Baseball Advertising Display
Exceptionally rare 1884 Climax Tobacco advertising poster. This poster, entitled "Representatives of Professional Base Ball in America," is one of the most impressive of all nineteenth-century baseball display pieces. The sepia-toned lithograph features portraits of many of the game's most noteworthy pioneers. Included are A.G. Mills, N.E. Young, Al Spalding, Harry Wright, Cap Anson, Joe Start, Pop Snyder, Buck Ewing, Whitney, Morrill, Bennett, Dan Brouthers, Tim Keefe, Deasley, Hecker and Harry Stovey. All the images are photo-like portraits executed with extraordinary detail. Publishing credit appears in lower right ("Root & Tinker, Tribune Building N.Y. 1884"). The poster has some light staining and several vertical creases which break the surface of the paper. These condition flaws allow a technical grade of only Very Good but do not detract from the extraordinary presentation and impact of this museum-caliber advertising display. This is one of nineteenth-century baseball's premier display pieces. We estimate that fewer than ten examples of this significant rarity are known to exist. The poster measures 19.5 x 26 inches and has been beautifully framed and matted to total dimensions of 26 x 32 inches. Reserve $1,000. Estimate $2,000/$4,000.
1869 Cincinnati Red Stockings Team Card - Baseball's First Professional Team
The Cincinnati Reds were the very first professional baseball team. Led by Harry and George Wright, they toured the nation and went undefeated for ninety-two consecutive games. In the process, they paved the way for baseball as a professional sport. This carte-de-visite photograph of the 1869 team is one of collecting's most classic and historically significant baseball cards. There are actually several different styles of 1869 Red Stockings team cards, all with the same photograph but with slightly different mounts. This is a very unusual variety, with the team name and players identified on the reverse in purple. When this card was issued, the new technologies allowing for the mass production of photographs were in their infancy. Various popular subjects were candidates for such cards, especially famous political figures, entertainers, and famous geographical and architectural sites from far away places. These carte-de-visite photographs were intended to be saved and stored in albums. In an age without television and little travel, these cards were a revolutionary tool allowing people to learn about the world around them. It is not surprising that photographs of the 1869 Red Stockings were a popular subject purchased and saved by fans. The team was a legend in its own day, though at the time, of course, no one could have imagined that the game of baseball would soon evolve into The National Pastime that we know today. This example is fresh to the hobby, saved in an original album since 1869 along with many other CDVs. It was the only baseball-related CDV in the album. We will never know whether the original owner saw the Reds play, or was given the card as a gift, or purchased it because of an interest sparked by reading about the famous club. Being stored in an album all these years, the card has been very well protected from light and has survived with exceptional contrast. The photo quality of 1869 CDVs is often very poor, and many times the contrast does not even allow for the reading of the "C" logos on players' shirts. The photo contrast on this example is simply outstanding. It is really about as good as it gets for this card. The mount exhibits very little wear. The slight clipping in the extreme corners of the mount appears to be as issued by the card manufacturer. We say this because, while clipped corners are not uncommon for 1860s CDVs (relating to their storage in specially designed CDV albums), the corners of the actual photograph on the mount are also clipped in the identical manner, and this design element had to be done by the card manufacturer prior to being placed on the mount. A horizontal crease is can be seen upon very close examination from the reverse but is virtually undetectable from the front. Overall in Very Good to Excellent condition. Reserve $1,000. Estimate $3,000/$5,000.