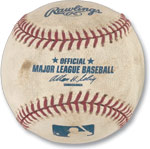 MastroNet's $10.2 Million Sale Smashes All-Time Auction Record
The combination of high-end Sports and Americana collectibles drives bidding and sales to new industry heights.
This time, MastroNet has really outdone itself. On December 17, 18 and 19, MastroNet, Inc. the Chicago-based collectibles powerhouse closed the most successful multi-consignment Sports and Americana auction in history. At $10.2 million, the MastroNet event eclipsed the previous auction record of just under $9.2 million set by MastroNet in November 2000. Not surprisingly, the holder of the new record, the old record, and in fact, the top five multi-consignment auctions of its type is one in the same -- MastroNet, Inc.
William Mastro, CEO of MastroNet, Inc. credits his company's continued success and growth to a number of related factors. "There can be no doubt left that MastroNet offers the best collectibles available in the industry, period. We have refined the auction process to an art form and work effortlessly to improve results, service and the overall experience for both buyers and sellers. There simply is no better place for consignors and collectors to meet than in a MastroNet auction."
Mastro provides further evidence of the company's success at all levels. "While our final auction number is impressive, other auction numbers indicate our clear position as THE industry leader," said Mastro. The figures Mastro points to from the December 2003 auction include:
Number of unopened lots in the auction -- only 1 out of 2242.
Average number of bids PER item -- 14 -- double that of the closest competitor.
Average price realized per item -- $4,550.00 -- almost double the closest competitor.
"Our reputation in Americana collectibles is quickly approaching the level for which we are known for Sports," added Mastro. "It is obvious from the quality of the consignments and the prices realized that we have developed a winning combination that appeals to a wide variety of collectors."
Specific highlights of the auction include:
The Infamous Chicago Cubs Foul Ball
The dispute continues whether this baseball, tipped off the hands of Cubs' fan Steve Bartman, really caused the Cubs 2003 season to head south. However, the fate of the fabled ball is no longer questioned. In case you've been in a cave and haven't heard, a Chicago restaurant purchased the baseball for promotional purposes after a bidding war with two other parties. The restaurant plans to destroy the baseball along with the notorious Cubs "curse" in late February 2004. The final price for this unique piece of sports history was $106,600.00.
Emmitt Smith Record Breaking Rushing Ball Carried to Surpass Walter Payton as the All-Time Leading Rusher in NFL History! (tied for third top sports lot)
On October 26, 2002 Emmitt Smith surpassed Walter Payton's NFL rushing record. A year later, Smith decided to auction the football he carried on this historic run. The football known for breaking one record, set another record -- the highest price paid for a game used football -- $58,139.00. Smith will donate 100% of the net proceeds from the sale to charity.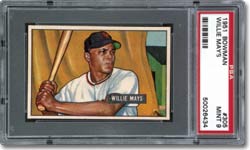 1951 Bowman #305 Willie Mays Rookie Baseball Card -- PSA Mint 9 (tied for third top sports lot)
This gem is among only five copies assessed by the company at this spectacular grade level, and none have ever been graded higher. Its spectacular condition generated robust bidding resulting in a final price of $58,139.00.
1934 Goudey Low Number Uncut Sheet with Foxx and 12 Additional Hall of Famers!
This complete, 24-card uncut final production sheet of 1934 Goudey baseball cards features an incomparable lineup of stars, including the set's first card, picturing Jimmy Foxx. Of the twenty-four cards on the sheet, an unbelievable 13 men are Hall of Famers. The sheet sold for $56,671.00.
Ted Williams 1960 Final Season Boston Red Sox Home Flannel Jersey
Ted Williams wore this Boston Red Sox home jersey in 1960 during his final season in baseball. There are probably few Ted Williams game jerseys which could equal this particular garment in historical significance -- a fact reflected in its final price tag - $52,854.00.
NBA "50 Greatest Player" Autographed Lithograph (#9/50)
The "50 Greatest Players" autographed lithograph reigns as the finest print created in any sport -- bar none. This majestic 25" x 39" piece displays the likenesses of all 50 NBA legends and, remarkably, 49 of the 50 signatures. Pete Maravich, deceased at the time of printing, is the only missing autograph. The lithograph commanded $51,519.00.
1937 Rock-Ola World Series Arcade Game
A nickel brings the players to life in this arcade classic. The buyer had to put in a bit more to purchase what is generally considered the finest baseball arcade of all time. The mini-stadium sold for $46,835.00.
Sandy Koufax 1960 Los Angeles Dodgers Road Jersey
This jersey was worn by Koufax during the 1960 season and represented a unique opportunity to obtain one of the cornerstone pieces to a significant Hall of Fame jersey collection. A number of collectors were obviously up to the challenge and one secured the jersey with a final price of $43,679.00.
Seabiscuit's Blanket -- A National Treasure
The legend of the most celebrated equestrian underdog lives on. If the recent movie and book weren't proof of that, the interest and bidding in this Seabiscuit blanket provide additional evidence. The final price was $41,515.00.
Cardboard Jewels -- Baseball Cards
A 1909-11 T206 White Border Ty Cobb Portrait with green background (PSA NM-MT 8) sold for $38,706.00; a 1954 Wilson Franks Ted Williams (PSA NM-MT 8) also commanded $38,706.00; a 1952 Topps #311 Mickey Mantle (PSA NM-MT 8) went for $36,043.00; a 1940 Play Ball #1 Joe DiMaggio (PSA MINT 9) sold for $35,187.00; an enormous 1940s to early 1970s Superstar baseball card collection went for $29,815.00; a 1952 Topps complete set with variations went for $25,775.00; a 1952 Topps Complete set with variations sold for $25,775.00; a 1930s Baseball Gum Card collection commanded $24,335.00; a 1966 Topps unopened Cello Box sold for $22,660.00; a 1933 Goudey #181 Babe Ruth (PSA NM-MT 8) commanded $21,300.00; a 1933 Goudey #52 Andy Cohen (PSA NM-MT 8) realized a final price of $19,923,00; a complete set of high grade 1953 Topps cards sold for $17,603.00; a 1904 Fan Craze American League PSA graded complete set went for $16,002.00; a 1954 Bowman high grade complete set plus all variations sold for $16,002.00; a 1909-11 high grade E90-1 American Caramel near set commanded $15,474.00; a 1916 M101-4 Sporting News/Gimbels #151 Babe Ruth (PSA EX 5) went for $15,128.00; a 1934 Goudey Lou Gehrig (PSA NM-MT 8) went for $14,548.00; a 1957 Topps High Grade complete set plus "Bakep" variation and first series checklist sold for $14,067.00; a 1952 Topps #243 Larry Doby (PSA MINT 9 - the only mint copy) commanded $13,477.00; a 1915 Cracker Jack #88 Christy Mathewson (PSA NM-MT 8) went for $13,225.00; a 1911 T3 Turkey Red #9 Ty Cobb (PSA EX-MT 8) sold for $12,788.00; and a 1909 E92 Dockman & Sons Cy Young (PSA NM-MT 8) went for $12,502.00.
Batting Above Average -- Bats
An extremely rare 1910s Louisville Slugger Bat Rack sold for $25,775.00; a Tris Speaker 1921-28 H&B game used bat went for $20,599.00; a Duke Snider 1950-60 H&B signed game used bat commanded $18,752.00; a Ted Williams 1950-60 H&B game used bat went for $17,603.00; a historic Pete Rose 1970 H&B signed All-Star Game used bat went for $16,002.00; an Eddie Collins 1921-31 H&B game used bat sold for $15,128.00; a Jimmie Foxx late 1930s H&B game used bat went for $14,920.00; a Mickey Mantle 1959 Adirondack All-Star game used bat went for $13,906.00; an exceptional Gabby Hartnett 1934-44 H&B game used bat sold for $9,935.00; an Al Simmons 1937 H&B sidewritten game used bat commanded $9,607.00; a Yogi Berra 1951-57 game used signed bat sold for $9,607.00; a collection of 1969 Chicago Cubs game used bats went for $9,031.00; an early Eddie Mathews 1951-53 H&B game used bat went for $8,348.00; an unused 1917-1920 Joe Jackson full-sized decal bat sold for $7,938.00; a Bill Dickey 1941 H&B game used bat had a final price realized of $7,216.00; and an Earl Averill 1937-39 H&B game used bat sold for $6,981.00.
Something to Write Home About -- PSA/DNA Baseball Autographs
Lou Gehrig's 1936 New York Yankees signed contract -- his MVP season -- sold for $38,706.00; a collection of signed black and white Hall of Fame Plaques went for $16,413.00; a Mickey Mantle signed note card hoard sold for $15,474.00; a 1934 Tour of Japan program signed by Ruth, Gehrig and others sold for $11,364.00; a 1948 hardcover first edition of "The Babe Ruth Story" inscribed by Babe Ruth to Roy Del Ruth commanded $11,364.00; a huge (10,000+) autographed index card collection sold for $11,364.00; Ned Hanlon's signed 1897 Baltimore Orioles BBC Player's contract went for $8,536.00; a giant collection of signed baseball cards realized a final price of $8,536.00; a Ty Cobb multi-signed page with 21 signatures went for $8,348.00; a Jackie Robinson circa 1954 four-page signed handwritten letter with significant baseball content sold for $6,346.00; and a collection of vintage autographed index cards and cuts sold for $6,271.00.
Leather Spheres -- PSA/DNA Baseballs
The finest Jackie Robinson single signed baseball in existence sold for $26,435.00; a 1931 Japan Tour signed baseball with Lou Gehrig sold for $14,967.00; Roger Clemens 300th win/4000th strikeout signed game used baseball went for $14,792.00; a Roger Maris "61 Home Runs 1961" inscribed single signed baseball went for $14,548.00; a 1935 New York Yankees team signed ball with a phenomenal Lou Gehrig signature sold for $13,753.00; a John J. McGraw single signed baseball commanded $13,753.00; a Cy Young single signed baseball sold for $12,368.00; a Babe Ruth single signed baseball went for $12,022.00; a 1960 New York Yankees American League Champions Team signed baseball went for $10,793.00; a 1934 World Tour team signed baseball including Ruth and Gehrig sold for $9,607.00; a Roberto Clemente signed baseball sold for $9,183.00; a 1941 New York Yankees World Champions team signed baseball sold for $9,183.00; Mickey Mantle's 381st Home Run signed baseball sold for $8,536.00; a collection of over 400 single signed baseballs sold for $8,536.00; a hoard of single signed baseballs with Mantle, DiMaggio and Williams went for $8,447.00; a Perfect Game Pitchers signed baseball sold for $6,899.00; Barry Bonds "2002 World Series single signed baseballs (36) sold for $6,899.00; a 1969 New York Mets World Champions team signed baseball commanded $6,700.00; a 1927 New York Yankees World Champions team signed baseball commanded $5,768.00; a 500 Home Run Club ball with 15 signatures including Bonds, Sosa and Palmeiro commanded $5,536.00; a collection of Cal Ripken, Jr. signed baseballs went for $5,244.00.
A Phenomenal Collection -- Other Baseball Memorabilia
An 1888 Hastings "Galaxy of the National League" team composite went for $25,775.00; a 1921 document establishing the "Office of Commissioner" in Major League Baseball and signed by all the team owners went for $13,225.00; an 1868 "The Game of Baseball" by Henry Chadwick sold for $11,625.00; 1926 World Series Media Scoreboards (2) with a pair of original tickets went for $11,112.00; a 1927 Babe Ruth Spalding advertising sign commanded $10,569.00; the first known 1895 Temple Cup Championship Program at Baltimore sold for $9,607.00; an 1871 "Olympic Nine" composite photo went for $9,292.00; a copy of the 1907 "History of Colored Baseball" by Sol White sold for $9,262.00; a full unused ticket from Babe Ruth's last appearance at Yankee stadium went for $9,183.00; an 1894 Temple Cup World's Championship Program went for $8,733.00; "Shoeless Joe Jackson" original artwork by Intoy Ginez commanded $8,348.00; a 1930s -- 1960s Word Series ticket collection went for $7,679.00; and a 1950s "P.F. Flyers" die-cut advertising sign with Williams, Mays and Musial realized a final price of $5,829.00.
Football
Emmitt's Ultimate Auction
In total, the items Emmitt Smith donated for auction in this MastroNet event generated over $100,000 for charity. In addition to the record-breaking football noted in the top lots, other items sold included:
A 1990s Emmitt Smith Dallas Cowboys game used home jersey sold for $9,292.00; an Emmitt Smith Super Bowl XXX touchdown football went for $6,981.00; an Emmitt Smith 1993 Mackey Award for NFC Leading Rusher commanded $5,768.00; an Emmitt Smith Super Bowl XXVIII touchdown football went for $5,244.00; a 2003 Emmitt Smith Arizona Cardinals game used home jersey sold for $4,767.00; a 2002 Emmitt Smith Dallas Cowboys game used home jersey sold for $3,939.00; and Emmitt Smith's first post season rushing touchdown football went for $3,580.00.
Other Football Items
The finest 1969 Topps Football PSA graded complete set sold for $26,210.00; Larry Brown's Super Bowl XXVII Ring sold for $24,640.00; a 1935 National Chicle #34 Bronko Nagurski football card sold for $24,032.00; Larry Brown's Super Bowl XXVII Lombardi Trophy commanded $18,512.00; a 1959 Topps Football unopened Cello Box went for $18,307.00; a rare 1916 Rose Bowl Program - the second Rose Bowl played went for $10,928.00; an early 1970s Sonny Jurgensen Washington Redskins signed home jersey went for $10,569.00; a College Football Bowl Ticket collection (194) went for $10,212.00; an extremely rare Super Bowl XII ticket went for $10,212.00; a 1966/67 World Champion Green Bay Packer Super Bowl I team signed football commanded $9,292.00; a Super Bowl XXI New York Giants Vince Lombardi Trophy went for $8,733.00; a Jerry Rice San Francisco 49er's signed rookie era jersey commanded $7,464.00; Knute Rockne's wristwatch worn in the fatal plane crash commanded $7,464.00; and a huge football collection of autographed cards, photos and commemorative issues with 700+ signatures sold for $6,981.00.
There were literally hundreds of other highlights in this fantastic sale. From game-used jerseys and equipment to memorabilia from the world of basketball, boxing, hockey, golf and beyond. For a complete listing, you can contact MastroNet directly at the phone number or address below.
For More Information
MastroNet's next auction is scheduled for April 2004. Consignments are currently being accepted. For more information or for consignment details, call 630-472-1200 or visit www.mastronet.com.
---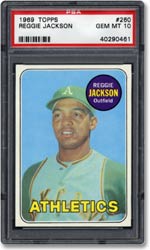 PSA Grades its First Gem Mint 10 Reggie Jackson Rookie
It has been over 12 years but, finally, PSA has certified the first Gem Mint 10 1969 Topps Reggie Jackson rookie card. Traditionally, this card has been deceptively tough in the Mint 9 and higher grades. Usually plagued with poor centering, annoying print defects or a major lack of eye-appeal due to faint color and poor clarity, this card is on the high-demand list. With PSA Mint 9's consistently selling for strong prices over the past 2-3 years, this Gem Mint 10's value -- while not certain -- is surely tremendous. Oh, but there is one piece of bad news for hungry collectors out there. This card was submitted by a private collector -- a collector who has no intention of selling it for a long, long time. What a card!
---
Willie Mays "Silver Bat" for His Only Batting Title Brings $120,096 in Final Day of Lelands.com Auction
Two-date total is a record $5.1 million.
A photo signed by Ruth & Cobb brings $62,301. "Atlantic City Honus Wagner Card" goes for $63,939. Ray Berry '58 TD football $48,038.
Chamberlain's HS jersey $51,487; Podres WS ring $50,932; vintage Cubs teddy bear by Steiff brings $19,850; Ruth signed bat $69,000.
The final day of December's Lelands.com auction of Sports and Americana Cards & Memorabilia produced a remarkable flurry of deadline bidding, leading to the biggest auction total in the company's history: $5.1 million.
Leading the way was a winning bid of $120,096 (prices include the buyer's 15% premium), for the only Silver Bat ever won by Willie Mays, for his 1954 National League batting title and $67,231 was paid for the hand-written lyrics to Abbey Road's "Because," penned by John Lennon.
Full results of the auction, item-by-item, can be found at the Lelands.com web site. Please call 516-409-9700 if you would like a full list of prices realized faxed or mailed.
Meriting special attention was the $63,939 paid for a newly revealed PSA Authenticated T-206 Honus Wagner card, brought to the National Sports Collectors Convention in Atlantic City last summer by a family that had owned it since the 1920s. The family appeared with Lelands.com founder Josh Evans on NBC's Today Show Thursday morning, and the price was extremely high for a card in very poor condition.
A 6"x 8" photo of Babe Ruth and Ty Cobb, taken in 1927 or 1928 at Yankee Stadium, boldly signed by both in purple ink, went for $62,301, a remarkably strong price.
Johnny Podres's 1955 Brooklyn Dodgers World Series ring -- he was the winning pitcher in Game Seven for Brooklyn's only world title -- brought $50,932. A touchdown football caught by Baltimore's Raymond Berry in the 1958 NFL title game -- "The Greatest Game Ever Played" -- brought $48,038. Wilt Chamberlain's high school jersey from Overbrook H.S. in Philadelphia brought $51,487. A jersey worn by the recently deceased Warren Spahn brought $23,210.
Card highlights include a 1969 Topps Baseball Full Uncut Sheet with Mantle sold for $5,284; a T206 Dutch Jordan Atlanta PSA 9 (1/1) sold for $3,197; a 1911 Sporting Life Addie Joss PSA 9 sold for $1,641; an 1887 Old Judge King Kelly PSA 7 $5,284; a low-grade 1909-11 T206 Complete Set (525) less the big three sold for $16,405; a 1916 M101-4 Sporting News Babe Ruth PSA 2 brought $6,394; a low-grade 1933 Goudey Complete Set sold for 12,326; a 1949 Bowman Satchel Paige #224 PSA 8 sold for $2,712; a Near Mint 1963 Topps Baseball Set sold for $8,135; a 1948 Bowman George Mikan PSA 8 sold for $8,149.
Unopened pack highlights include a 1961 Topps Cello Pack with Musial on Top sold for $2,110; 1960-1978 Topps Baseball Cello Packs Collection (10) sold for $7,940; a Tom Seaver Cello Pack Collection of 3 ('68, '69, & '71) with him on top sold for $5,284; a 1963 Fleer Baseball Pack w/ Maury Wills on bottom sold for $1,918; a 1973 Topps Baseball Rack Pack w/ Mays, Bench, McCovey on top sold for $2,321; a 1973 Topps Baseball Wax Box (All Series) sold for $8,238; a 1961 Fleer Football Series 2 Wax Box sold for $5,966.
A much-publicized Steiff teddy bear from 1907 -- rare because it is a Steiff, special because it was given to Chicago Cubs wives (this one from Mrs. Del Howard's estate), went for $19,850. George Howard's 1907 World Series medallion, the equal to a World Series ring, went for $22,960. From the same collection, a 1908 World Series program with a full ticket went for $23,403.
A Babe Ruth autographed game-used bat brought $69,000. A handsome, Babe Ruth signed baseball brought $23,862.
From the world of boxing, Sonny Liston's championship belt from Ring Magazine brought $43,670; the robe worn by Muhammad Ali for his fight vs. Bonavena brought $28,317. Mike Tyson's prison sneakers during his rape imprisonment sold for $765.
From hockey, a Brad Park New York Rangers jersey brought $23,203, while a Gordie Howe Red Wings sweater sold for $22,410.
Lelands.com is currently accepting consignments for its next May 2004 Auction.
Lelands.com was founded in 1987 and is a leading auction house for Sports and Americana cards & memorabilia. Joshua Leland Evans is Founder and Chairman; Michael Heffner is President. Leighton Sheldon is Director of Sports Cards Acquisitions. Simeon Lipman is Director of Americana Acquisitions.