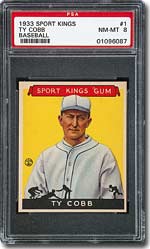 The college and professional basketball seasons are in full swing, the college and pro football seasons are wrapping up with bowl games and playoffs on the agenda and hockey is burning up the ice. What time could be better for a little baseball trivia? Baseball? Of, course, because it's the one game that's never out of season!
Ready? The answers are at the bottom of the page, so no peeking!
We all know that Ty Cobb had the highest lifetime batting average and Rogers Hornsby is second, but who is third on the all-time list? You need to look at a star who played most of his career in the 19th century.


Barry Bonds is fourth on the all-time home run list. How many round-trippers does he need to move up to third? Hint: It's less than ten.


Only three players have more than 2,000 career RBI. Hank Aaron and Babe Ruth occupy the first two slots, but who is number three? This star played his entire career in the 19th century.


Hank Aaron and Babe Ruth scored a lot of runs in their careers, but which one of the two scored more, finishing just ahead of Pete Rose and just behind Ty Cobb and Rickey Henderson?


Pete Rose and Ty Cobb are the only players in history with more than 4,000 hits, but who is fourth on the all-time hit parade? Hint: Carl Erskine said he knew how to pitch him: "I just throw him my very best stuff and then run and back up third."


Rickey You-know-who has the most career stolen bases, but who is second on the all-time list? No, it's not Ty Cobb!


He's fourth in all-time batting average, fifth in career hits and first in the most doubles in a lifetime. Who is this mega-star?


Triples are pretty rare, but Sam Crawford had more than 300 of them and Ty Cobb nearly as many. Who is third on the all-time list? Hint: Think baseball cards.


Babe Ruth has the highest slugging percentage in history by a wide margin with Ted Williams second. Who is third on the list, just ahead of Jimmie Foxx?


Here's the final question, and even if you're batting 1.000 so far you may find this one to be a challenge. Who is the only player in history to hit home runs in his first two major league at-bats? Hint: He played for the St. Louis Browns and the St. Louis Cardinals.
Answers:
Ed Delahanty
Bonds needs two to tie Willie Mays and three to take over third place by himself.
Cap Anson
Hank and the Babe are tied (!) with 2,174 runs each.
Stan Musial
Lou Brock
Tris Speaker
Honus Wagner
Lou Gehrig
Bob Nieman