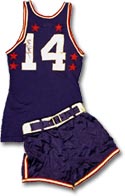 Laguna Niguel, CA - "The Houdini of the Hardwood." "Mr. Basketball." "The Cooz." Bob Cousy, one of the greatest passers and playmakers in NBA history, was flashy before flashy was cool. He was the original "Human Highlight Film." Cousy revolutionized the pro game, bringing showmanship and style to a league that had previously been the domain of bruising post play and methodical set-shooters. But the "razzle-dazzle" stuff alone is not what made Bob Cousy a legend. Winning is the stuff of legends. In his thirteen-year career, Bob Cousy helped build the Boston Celtics of the 1950s and 1960s into basketball's most enduring dynasty. It was a dynasty that would produce 11 championships in 13 years.
Bob Cousy has selected SportsCards Plus of Laguna Niguel, Ca. to handle the sale of his sizeable personal collection of basketball memorabilia as part of their November 20th, 2003 Auction. The Bob Cousy Collection, billed as the largest personal player collection ever offered, includes an incredible array of awards, game used items, and personal effects gathered throughout his prolific career. Among the 150 plus Cousy lots, are some of the most important basketball artifacts ever to be offered publicly. Some of the highlights include Cousy's 1952 NBA All-Star uniform, 1957 league MVP trophy, 1957 Celtics championship ring, the game ball used to garner his 5000th career assist, a John F. Kennedy signed photo (to Bob Cousy), his last game ball used versus the Lakers in the 1963 championship game, and his Hall of Fame induction ring. Other highlights include a selection of items related to his 1996 selection as one of the NBA's 50 Greatest Players, including his personal (#Cousy 1/1) 50 Greatest signed lithograph, custom Hamilton leather jacket, and 50 Greatest Players ring. Numerous mementos from his memorable 1963 "Bob Cousy Day" retirement ceremony will be featured such as his engraved cigar humidor from Celtics teammates, his original 4-Page farewell speech, and a Set of 15 custom presentation plaques received from the Celtics.

SportsCards Plus Auction Director Dan Imler raves about the quality and diversity of the collection. According to Imler, "What makes this collection so special is not only Bob Cousy's status among the elite figures in basketball history, but also the fact that the material covers every phase of his career. Collectors and fans will be amazed to find a comprehensive selection of items from as far back as Cousy's High School and College (Holy Cross) years, through his great Celtics career, coaching career, and beyond."
SCP's November 20th Auction will also feature significant memorabilia collections directly from the estates of other Hall of Fame legends such as Tony Lazzeri, and a follow-up offering of items from the Honus Wagner Collection that was part of their previous August '03 auction. New York Yankees legendary Hall of Fame second baseman, "Poosh 'em Up" Tony Lazzeri, is represented by over 40 items that include his personal collection of team signed baseballs, signed photo collection, and game used equipment. The highlights include high-grade Yankees team balls from 1927 (World Champs!), 1932 (World Champs!), 1936 (World Champs!), 1937 (World Champs!), and 1955 (NL Champs!). Among the incredible selection of signed photos are examples personalized to Lazzeri from Babe Ruth, Lou Gehrig, Ty Cobb, Jimmie Foxx, Bill Dickey, Lefty Gomez, Red Ruffing, Al Simmons, and many more. Game used equipment from the famed member of the Yankees' revered "Murderer's Row" lineup includes his cap, fielder's glove, pants, and cleats.
The second offering of items from the estate of Honus Wagner is headlined by what Imler describes as, "One of the most historic pieces of baseball jewelry ever offered." The piece is no less than Honus Wagner's 1909 World Series Pin. The gold pin, symbolizing The Flying Dutchman's ultimate achievement, is the era's equivalent to a World Series ring. According to the Wagner family, as well as accompanying original photographs, Honus proudly wore this pin with great regularity. Another marquis Wagner item included in the auction is a magnificent 10 ½" tall sterling silver "Honus Wagner Day" Loving Cup presented to Wagner from the city of Pittsburgh. It is engraved on the front with the words, "Presented to John P. Wagner - Friday June 22, 1917 - Wagner Day."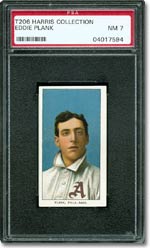 The balance of the memorabilia portion of the auction includes some Hall of Fame caliber items including a Christy Mathewson game used glove from the Mathewson Estate, a 1950 Ted Williams game worn Red Sox road jersey, a supremely rare 1902 (first) Rose Bowl program, and a 1922-25 Babe Ruth game used bat. Another item related to the Bambino that is sure to get plenty of attention is an incredible 1922 Babe Ruth multi-signed contract amendment. The five-page amendment was drawn by Yankees owner Jacob Ruppert in an attempt to curb Ruth's notorious carousing. It outlines an amended pay schedule based on defined "regulations" which Ruth must abide by, including a curfew and abstaining from the use of intoxicating liquors. Ruth has initialed and signed the document in four different places.
The card portion of the November 20th SportsCards Plus Auction will provide collectors with plenty of quality material to pore over. Topping the list of high-end cards is a remarkable 1909-11 T206 Eddie Plank graded PSA 7 NM. The offered Plank card is one of two examples graded 7 NM by PSA with none higher. Other notable offerings include a 1914 Cracker Jack #30 Ty Cobb PSA 8 NM-MT, a rare 1916 M101-4 Gimbels #151 Babe Ruth PSA 2 GD, and a 1954 Topps #250 Ted Williams PSA 9 MINT. Among the selection of complete sets is a 1909-11 T206 White Border set (517) minus rarities, and a spectacular 1951 Bowman Baseball complete PSA graded set (NM - NM-MT).
The items mentioned here, along with hundreds of other lots of fine memorabilia and quality sports cards, will be featured in SportsCards Plus's full color catalog as well as on the company's web site at www.sportscardsplus.com. The auction will be open to registered bidders beginning on November 1st and will culminate on November 20th, 2003. Bids will be accepted by phone or online through the company's real time Internet auction program. Call (800) 350-2273 for more information on how to participate in this extraordinary auction event.