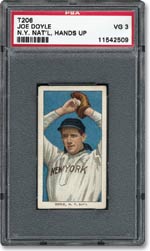 OAK BROOK, IL - Get ready to start your collective engines. MastroNet, Inc., the premier source for sports and Americana collectibles is revving up for another massive auction event. The three-day auction scheduled for August 27, 28 and 29 will feature over 1,900 lots of high-end sports and Americana collectibles from virtually every collecting genre including -- sports, political, historical, coins, comics, art, Hollywood and music.
The items being auctioned will include some of the most significant material to be publicly offered in recent years. The Americana sale will close on August 27, the sports section of the auction will end on August 28 and 29. Specific highlights include:
Glorious American History
"Experiments and Observations in Soaring Flight" - Enormously Significant Wilbur Wright Pamphlet
A century ago the Wright brothers gave mankind flight AND this breathtaking item from the world-shaping tradition of aviation history. This incredible book entitled Experiments and Observations in Soaring Flight, and authored by, "Mr. Wilbur Wright - Dayton, Ohio," is an offprint, first edition pamphlet that was separately published in advance of The Journal of the Western Society of Engineers, Vol III, #4, August 1903. The pamphlet contains the text of a lecture read by Wright on June 24, 1903, in which he had discoursed about experiments with gliding and the machines with which these trials were accomplished.
This 6" x 9", 20-page booklet is illustrated with marvelous black-and-white photos. The private library stamp of Orville Wright, signed by the executor of his estate, H.S. Miller, appears inside the front cover. Only six institutions have a copy of this pamphlet. They include the U.S. Air Force Academy, the Smithsonian Institute, Embry-Riddle Aeronautical University, and the University of Colorado at Denver, the Library of Congress and the Denver Public Library. A very small, unknown number of copies may remain in private hands, but no other known copies have retained this extraordinary level of condition. Auction records covering the past three decades reveal that only two other copies of this piece have been offered and sold. One at Christie's East (11/17/99, $19,000) and one at Christie's NY (10/29/98, $26,000). Minimum bid $5,000.00.
1779 George Washington Revolutionary War Handwritten Letter
This 1779 letter completely written by George Washington is a historical artifact of the highest pedigree, scripted during the height of the Revolutionary War for Independence. Washington wrote the letter on February 26, 1779, from his headquarters at the Continental Army's encampment in Middlebrook, New Jersey. The one-page handwritten letter accepts the resignation of Colonel Edward Wigglesworth. Wigglesworth, who took part in the Battle of Monmouth, was third in command of the American fleet at Lake Champlain under General Benedict Arnold and General Horatio Gates. According to Washington's later writings, Congress ultimately fulfilled his request for resignation.
The 8-1/8" x 13-3/8" parchment displays radiantly in Excellent condition and appears to have possibly received very minor professional restoration. Washington's black-ink script grades an extremely bold and readable "8" in strength. LOAs from John Reznikoff/University Archives and from James Spence & Steve Grad/PSA DNA. Minimum bid $5,000.00.
1789 George Washington Wine Glass (One of Only Three Known!)
The Inaugural Party for George Washington may have witnessed the sight of a glass just like this one (or this very item!) being hoisted by Franklin, Adams or Jefferson to honor this important occasion in America's creation. This incredible piece is one of only three of its type in existence. Its counterparts are permanently housed in the Smithsonian Institution and in the Mount Vernon Museum at President Washington's former homestead. This glass, made in Philadelphia for George Washington, claims a provenance that is traceable from its origins to the Jerome family (the lineage of Winston Churchill) and subsequently to five generations of its most recent owner. Minimum bid $2,500.00.
Abraham Lincoln 1858 Handwritten and Signed Legal Opinion
On the cusp of greatness, lawyer Abraham Lincoln scripted this legal opinion to one of his clients in December 1858. He had recently lost his bid for a seat in the Senate, but his record in the Illinois legislature, combined with his debating prowess during the senatorial campaign, would soon earn him the Republican nomination for President in 1860. This one-page, two-sided document contains, first, an account of his client's property and liabilities (written in the client's hand), followed by Lincoln's handwritten response. All of the writing is remarkably bold and easily readable, grading a solid "10" in strength. As for the 8" x 10" parchment, it displays radiantly, with almost no apparent brittleness or discoloration. LOAs from John Reznikoff/University Archives and from James Spence & Steve Grad/PSA DNA. Minimum bid $2,500.00.
1952 Albert Einstein Signed Typewritten Letter with "Theory of Relativity" Content
Albert Einstein expanded on his General Theory of Relativity throughout the first half of the 20th Century, turning the scientific world on its end with each successive installation. In this typewritten letter, dated January 16th 1952, Albert Einstein responds to two US naval officers' questions regarding the "Theory of Relativity." Not only does Einstein mention the Theory explicitly, but he also provides an astrophysical example to support it. The hand-signed letter is addressed to two men stationed on the USS Princeton in San Francisco, California. The letter is accompanied by the following: 1) a hard-bound copy of the book to which Einstein refers in the letter; 2) the letter's original envelope (EX) with the Princeton return address typewritten at top left; and 3) a 4-1/2" x 6-1/4" sepia photo of Einstein in his study. LOAs from John Reznikoff/University Archives and from James Spence & Steve Grad/PSA DNA. Minimum bid $2,500.00.
A Sporting Event!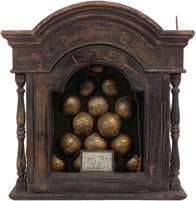 1869 Cincinnati Red Stockings Trophy Ball Collection
The 1869 Red Stockings were baseball's first all professional team and their inaugural Eastern tour, which took place in June of that year, represents one of the most important series of games in baseball history. This original 1869 Cincinnati Red Stockings trophy ball case still houses 17 gold painted trophy balls commemorating that legendary tour.
The Red Stockings would win all 21 games of the tour. Their unprecedented success established them as the best team in the land and fostered both support and validity for professionalism within the sport and public acceptance, which led to the formation of the National Association (the first Major League) in 1871.
The 19" x 10" x 21" wooden display piece features a glass paneled front door, an arch shaped frieze and a pair of decorative columns carved along each side. "Red Stocking" and "18 - 69" appear, respectively, along the top arch and door panel below. Mounted along the bottom of the interior door panel is a small composite photo of the 1869 Red Stockings, which bears the printed identification "The Red Stocking Nine, of Cincinnati." Featured within the display case are 17 gilt coated trophy balls commemorating 16 (one ball records a rained out game) of the team's 21 wins during that trip, each of which has been mounted to either the back wall or base by means of a metal rod.
The balls in this case represent all but five of the club's 21 wins on that important four-week Eastern tour. MastroNet auctioned one of the missing five balls in August 2002 for over $62,000. It is also a known that two of those five "missing" trophy balls were offered at public sale many years ago. The Red Stockings sold them in the early 1870s to raise money for clubhouse improvements. Each sold for the princely sum of $5.00 apiece. Minimum bid $100,000.
Sammy Sosa's 500 Home Run Ball
Zach Kirk, the 22-year old college student who nabbed Sosa's historic hit was visiting his girlfriend in Cincinnati on April 4 when they decided to take in a ball game. Kirk's girlfriend, a die-hard Reds fan, suggested they sit in right field to catch a Reds homer. Kirk said they joked about catching Sosa's 500th homer. No one was more surprised than Kirk when in the seventh inning, Sosa's milestone baseball landed at his feet.
Sammy Sosa became the 18th player to join the 500 home run club and the first Latin player to earn the honor. Sosa is on the verge of cracking the Chicago Cubs home run record set by Ernie Banks at 512. Sosa is also the first major league player to have three 60 home run seasons. Minimum bid $20.000.00.
1903 World Series Program
This phenomenal survivor is an artful reminder that the year 2003 witnesses the Centennial of baseball's World Series. Offered is an original "Souvenir Card" program for the first showdown of its kind, the 1903 World Series played between Boston of the American League and Pittsburgh of the Senior Circuit.
This program features portrait ovals of the Boston and Pittsburgh managers (Jimmy Collins and Fred Clarke, respectively) on its tan, outside cover. The item measures 5-3/8" x 8" in its natural, closed configuration. Inside, the actual "score card" lists the rosters of both teams beneath the date of Game 1 at Boston, October 1, 1903. This example, however, has been meticulously scored for that city's Game 2 played the next day on October 2. Moderate professional restoration has discreetly enhanced the appearance and physical integrity of this very rare keepsake. Condition is apparent Excellent to Mint. Minimum bid $10,000.00.
Babe Ruth 1921-31 H&B Game Used Bat
The 1921-1931 era would be defined by the introduction of the live ball and Babe Ruth's exploitation of it. Ruth would lead the league in home runs during nine of those eleven years, amassing 508 of his 714 round trippers (an astonishing 71%) within that highly productive period. The legendary "Sultan of Swat" used this exceptional Babe Ruth game bat during this time period - the height of his illustrious career with New York Yankees. The 36" and 42 oz. H&B signature model bat features an exceptionally well-defined "George 'Babe' Ruth" facsimile signature stamped upon the barrel, with all of the remaining manufacturer's stampings being deep and distinct as well. The bat, composed of top quality white ash, displays heavy game use throughout its entire length including cleat marks along the barrel and a slight chip in the knob. LOA from Dan Knoll and Dave Bushing/GAI. Minimum bid $9,000.00.
Larry Brown Super Bowl XXX Ring
This enormous 14K gold ring, presented to Larry Brown following his MVP performance in Super Bowl XXX, is truly a sight to behold. The size "12" ring is a sparkling tribute to the fifth NFL Championship in Cowboys' franchise history. Atop the ring shines a glistening design consisting of a five-pointed diamond star (one of the stones having been replaced by a CZ), five diamond footballs (one slightly chipped) and a shimmering field of small diamond stones. The perimeter is framed on two sides by panels of diamond baguettes, with the top and bottom borders proclaiming "DALLAS COWBOYS" in raised lettering. The shanks are equally ornate. Minimum bid $5,000.00.
A Flair for the Artistic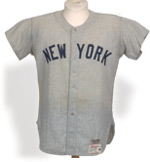 Original N. C. Wyeth "Embracing Couple" Cover Painting for "Anthony Adverse" - 1934
Being referred to as "the dean of American illustrators" is an incredible tribute, both to the artist's skill and marketability. But it was a title that probably would have caused Newell Convers Wyeth (1882-1945) more than a little anxiety. Wyeth always felt a failure as a "real" painter in the world of fine art -- a mystifying claim to those who are familiar with his achievements.
Wyeth's career began at a time where the division between fine and illustrative art was very thin. Narrative painting was enjoying a new recognition in the fine arts because people wanted their paintings to tell a story. No artist was better known for that capability than Wyeth's greatest teacher, Howard Pyle.
Pyle opened a small school for young artists - which became known as the Brandywine School in Wilmington, Delaware. Wyeth joined the school in 1902. After leaving the school, Wyeth's body of work and his excellent reputation grew rapidly.
The offered work N. C. Wyeth's slip and book cover painting for the two-volume, 1934 publication of Hervey Allen's Anthony Adverse. Like the majority of Wyeth's works, it is a period piece. The ornate design of the work is reminiscent of the furniture and architecture from the time, and the costuming is magnificent. The painted lettering, scroll work, the decorative detailings, and the flowering plant borders all add an incredible level of detail to the otherwise simplistic and attractive image of a man and woman embracing. The painting is in an ornate, gold detailed wooden frame that measures 33" x 41" in size. The actual oil on masonite painting measures 27-3/4" x 36". Wyeth signed the work with his initials "NCW." Minimum bid $40.000.00.
Extraordinary 16" x 20" Original Karsh Portrait Autographed by President John F. Kennedy
During a career that spanned over 60 years, portrait photographer Yousuf Karsh captured the greatest figures of his generation: Albert Einstein, Pablo Picasso, Eleanor Roosevelt, Ernest Hemingway and Hellen Keller. Karsh, born in Turkish Armenia, was sent by his family to live with a relative in Nova Scotia at the age of 16. He ultimately made Ottawa his home and it was during a visit to the region in 1941 that Winston Churchill agreed to a sitting. With his shadow-laden depiction of a stodgy, grizzled Churchill, Karsh was catapulted to fame.
The presented Karsh original portrait is certainly among the most famous photographs ever taken of John Fitzgerald Kennedy, catching the Massachusetts Senator during a solemn moment in his 1960 presidential campaign. The oversized satin-finish example (16" x 20") was mounted on its art-board backing by Karsh and is autographed by Kennedy in bold black fountain pen ("10") against the light backdrop of his clasped hands. The inscription reads, "To Mr. William Perkins, Jr., My Very Best Regards, John Kennedy." .LOAs from John Reznikoff/University Archives and from James Spence & Steve Grad/PSA DNA. Minimum bid $5,000.00.
Original Artwork to "Charlie Chan at Monte Carlo" One Sheet Poster and Original Poster
This is one of the finest examples of early 20th Century poster art ever discovered. The incredible original oil painting used to produce the one sheet poster for the classic movie "Charlie Chan at Monte Carlo" features the imposing face of Warner Oland as Charlie Chan and life-like portraits of Virginia Field, Sidney Blackmer and Robert Kent over a spinning roulette wheel and the silhouette of a revolver. What makes the painting so remarkable is that except for the small 20th Century Fox logo in the lower right; the entire lettering on the painting was done by hand. The painting is rendered on stretched canvas, measures 16" x 24" and has survived in remarkable NM condition. The companion poster is linen-backed and is EX with light to moderate restoration, primarily to the borders and corners. Minimum bid $5,000.00.
Original Artwork for the Second "Johnny Comet" Sunday Page by Frank Frazetta (Triple-Signed!) - 2/10/52
Frank Frazetta is considered today to be the maestro in the field of heroic illustration. He began his professional career in comic books in 1944, at the age of 16. In 1952, Frazetta published his own strip featuring a northern California racecar driver named Johnny. While the strip did achieve syndication, it received little distribution, despite its artistic brilliance. It only lasted 372 days. The offered work is the original art for the second Sunday installment that Frazetta produced for his earliest syndicated work (2/10/52). It has been signed three times by the artist: once as his normal panel signature, and two more times with accompanying personal inscriptions to his friend Al Williamson. Minimum bid $2,500.00.
Entertaining Items From Music and Television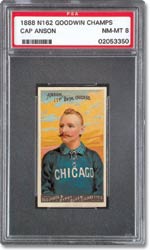 Captain Kirk's "Alternate Universe" Hero Tunic and Sash From the Famous Star Trek Episode "Mirror, Mirror"
On October 6, 1967, the 39th episode of the original Star Trek's series aired. The episode detailed the ultimate role reversal storyline, "What if Kirk and the crew members of the Enterprise were evil?" The episode, written by Jerome Bixby and directed by Marc Daniels, tells a tale of alternate and opposite universes, a tale entitled "Mirror, Mirror." It consistently ranks as one of the best 10 Star Trek episodes ever created.
The most recognizable item from the famous episode is undoubtedly the Kirk's alternate universe tunic. This is it, the complete, one hundred percent, and fully unaltered original. Minimum bid $10,000.00.
John Lennon Ink Drawing of Kyoko
In January, 1970, while his Beatle band mates were working on the group's final recording sessions, John Lennon was holed up in the rural Denmark farmhouse of Yoko Ono's ex-husband Tony Cox, bonding with his stepdaughter, Kyoko. John and Yoko had arrived at the farmhouse unannounced, but ended up spending several weeks there with Tony, Kyoko and Tony's wife Melinda. Little did John and Yoko know at the time, it would be their final gathering with the young girl. A bitter custody battle ensued in the 1970s, and Tony succeeded in his efforts to keep Kyoko estranged from her mother and stepfather. John never saw Kyoko again, and Yoko did not have any contact with her until five years after John's 1980 death.
Presented here is a magnificent portrait of Kyoko, rendered by John Lennon during that seminal Denmark retreat. The work showcases Lennon's trademark line-drawing style, while depicting a visibly saddened Kyoko. Accompanying the drawing, which is beautifully matted and framed to measure 14-1/2" x 17-1/2", is a notarized LOA (dated July 1, 1995) from Tony Cox. Minimum bid $2,500.00.
John Lennon Watercolor Done with Kyoko
An intriguing companion piece to the presented Kyoko portrait, this water color painting was a collaboration between John Lennon and his stepdaughter Kyoko during John's stay in Denmark. Accompanying the artwork, which is elegantly matted and framed to measure 14-1/2" x 17-1/2", is a notarized LOA (dated August 17, 1995) from Tony Cox. Not only was their Denmark retreat the final and most significant block of time John and Kyoko ever spent with each other, but it was also a critical watershed period in the lives and careers of John and Yoko. They started the New Year by cropping their hair short for the first time in years, declaring 1970 "Year One for Peace" and attempting to help organize a Toronto Peace Festival. Soon after arriving back in London, John also wrote and cut the single, "Instant Karma," in the span of one day on January 26th. Just three months later, the Beatles would officially announce that they were breaking up for good. Minimum bid $2,500.00.
Comic Adventures
Detective Comics #27 - The Classic First Appearance of Batman - 1939
Detective Comics #27 (5/39) - CGC grade FN- 5.5, Universal Grade (Unrestored blue label), with off-white pages. Very minor amount of color touch on cover. First appearances of Batman and Commissioner Gordon. Bob Kane art. At the time of this writing, the CGC Census reports that this is the fourth highest graded copy of all the unrestored examples they have reviewed.
Turning up less often than the scarce Action Comics #1, Detective Comics #27 has become the key book that most advanced collectors still need, and like most key books, it's almost impossible to find one that has not had some level of restorative work done to it. This copy remains almost completely unaffected, with only a tiny bit of color touch to a spot on the cover. The amount of color present has been judged by the CGC graders to be so miniscule that it doesn't qualify the book for anything less than the standard Universal Grade's blue label. Minimum bid $15,000.00.
Wonder Woman #1 - Origin Retold - The Highest Graded Copy - 1942

Wonder Woman #1 (Summer 1942) - CGC Grade VF/NM 9.0, Unrestored, with white pages. Origin retold. H. G. Peter cover and art. At the time of this writing, the CGC Census reports that this is the highest graded unrestored copy they have ever reviewed.
Making her debut as an inauspicious backup feature in All Star Comics #8 (December, 1941), the Amazon Princess known as Wonder Woman became the first super heroine of record. She was also the only one to survive the death of the superhero comics in the late 1940s. Dr. William Moulton Marston, who wrote under the pen name "Charles Moulton," created her.
The comic book that is offered here is the first issue of the Amazon's first solo book, a book that unquestionably demonstrates her worth to her publishers. This is an investment grade copy, phenomenally attractive, with outstanding page quality. Minimum bid $6,000.00.
All-Star Comics #4 - Rockford Copy - Tied as the Highest Graded Unrestored Copy - 1941
All Star Comics #4 (3-4/41) - CGC grade NM- 9.2, Unrestored, with off-white to white pages. Rockford Copy. First combined adventure of the Justice Society of America (JSA). Baily and Moldoff art. At the time of this writing, the CGC Census reports that this is tied with one other as the highest graded unrestored copy they have reviewed.
To today's comic fans, a crossover or super team storyline is a natural. But there was a time when such ideas didn't exist. It wasn't until 1938 that superheroes were born, and before the Shield and the Wizard started making cameo appearances in each other's stories. In the latter half of 1940 the first super team was created. They were called the Justice Society of America (JSA), and they first appeared in All Star Comics #3 (winter, 1940).
The storyline for this superhero milestone involved the membership sitting around a table, swapping tales of their latest adventures. It wasn't until All Star Comics #4 that the ball really got rolling. That issue, the one offered here, is the true start for the JSA's shared adventures. Minimum bid $3,500.00.
For More Information
To pre-register for auction catalogs, call 630-472-1200 or visit www.mastronet.com. There will be one catalog for the Americana segment of the auction and one catalog for the sports collectibles portion.