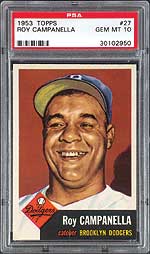 OAKBROOK, IL - There really is something for every collector in MastroNet's upcoming April auction. That's because for the first time, the premier memorabilia source will offer its sports and Americana auctions back-to-back to form an unprecedented three-day collecting fest. The three-day event, scheduled for April 23, 24 and 25 will feature over 2,000 lots of high-end items including impressive artifacts from every sporting arena and a huge selection of top quality political, historical, music, Hollywood memorabilia, as well as comic books and original artwork. The Americana sale will close on April 23, the sports section of the auction will end on April 24 and 25. Specific highlights include:
Baseball Cards
1887 N28 Allen & Ginter PSA 8 Graded Near Set of Baseball Cards
The Civil War was more than 20 years behind us and the Wild West beckoned before us. Who would of thought to preserve these baseball cards for future generations to enjoy? And yet, someone did. Nine breathtaking cards, each one graded NM-MT 8 by PSA, represent the baseball greats from the classic 50-card multi-sport set. The nine cards are: Adrian C. Anson, Chas. W. Bennett, R.L. Caruthers, John Clarkson, Charles Comiskey, Capt. Jack Glasscock, Mike Kelly, Timothy Keefe and Joseph Mulvey. Five members of the individuals represented eventually found their place in the Baseball Hall of Fame
No N28, in any sport, has ever attained Gem Mint status. Only four cards - in total - have been graded PSA MINT 9. No higher graded example of Bennett, Caruthers, Clarkson, Comiskey, Keefe or Mulvey exists. The Bennett card is one of only two PSA NM-MT 8's ever graded, and the Comiskey card is one of a mere three. Without question, this is an incomparable line-up! Minimum bid $7,500.00.
Significant Collection of 1952 Topps High Numbers Including Thomson, Labine, Adcock, Dark, Lavagetto, Groat, Dressen, Wilhelm and Crosetti (57 Different)
The 1952 Topps high numbers are every collector's dream. Here is a remarkable collection of 57 different cards from the 1952 Topps high number series, those cards from 311 through 407. Each of these difficult to locate cards has been graded and encapsulated by PSA NM-MT 8. While none of the more notable high numbers are present, many highly respected name players, including HOFer #392 Hoyt Wilhelm are included. Highlights include: #313 Thomson, 342 Labine, 344 Blackwell, 347 Adcock, 351 Dark, 365 Lavagetto, 369 Groat, 373 Turner, 377 Dressen, 384 Crosetti, 385 Franks, 392 Wilhelm, and 396 Dick Williams. Minimum bid $10,000.00.
1953 Topps #27 Roy Campanella PSA 10 Gem Mint
This card stands alone. There simply are no other samples at this level known. For Brooklyn Dodgers catcher, Roy Campanella, 1953 was a signature year. It is in this year that the former Negro Leaguer, three-time Most Valuable Player, clubhouse leader, and all-around superstar raised the bar for all ballplayers. Campanella set new offensive records for catchers in 1953 by clubbing 41 homers and driving in 142 runs. Naturally, he was his League's Most Valuable Player (for the second time).
From a collecting point of view this is THE Campanella card to have! This unique and spectacular example of card number 27 from the 1953 Topps set, features the smiling portrait of the legendary Dodgers' Hall of Famer. The portrait of Campy is radiant, and every detail is perfect and bright. Impossibly white borders surround Campanella's fabulously centered picture, and distinct corners complete this immaculate card's front presentation. This jet-black caption block on front is perfect. Period. This card is a true hobby treasure! Minimum bid $5,000.00.
1933 Goudey #181 Babe Ruth PSA Mint 9
Of the four Babe Ruth cards included in the 1933 Goudey set, number 181 offers the largest center image of the Bambino. And there is only one known specimen graded higher than this Goudey masterpiece. In the detailed casting of Ruth's face, seen only on number 181, the observer is allowed to actually view the components of the legend's unique persona. Determination tempered by kindness, and flamboyance justified by confidence, are visible in the perfectly textured face of Ruth as displayed on this superb collectible.
This is one of the hobby's favorite career-contemporary cards of the immortal ballplayer due to its the bold, vibrant palette of colors. Clean white borders frame a vivid, perfectly focused image. All four corners are solid and nicely pointed. The card displays unusually good symmetry for the 1933 Goudey issue. Minimum bid $10.000.00.
Gorgeous 1952 Topps High Number - #311 Mickey Mantle Rookie PSA NM-MT 8
Even during the mid-1960s, at the very beginning of the organized hobby, the '52 Mantle card carried a premium. Building a Near Mint to Mint set of 1952 Topps is a mission for a lifetime. The location of a suitable Mantle is the pivotal issue in such a quest, and a singularly satisfying example is presented here. The offered card will immediately assume its place as the cornerstone of the winning bidder's collection. This is an extremely high-end example, with tremendous visual appeal, and it is one of the finest "8's" in existence. Superb Near Mint to Mint condition. Minimum bid $10,000.00.
1939 Play Ball #92 Ted Williams PSA Mint 9
Only one other example of this coveted card has ever been graded higher! This superlative Ted Williams rookie card captures the great player before he became a national treasure and sports icon. Other memorabilia pieces are available to recall Ted's rookie year, but no other baseball cards picture Ted in 1939. In this black and white Gum, Incorporated creation, the viewer is treated to Williams' sweet swing, a clear view of his famous number "9," and a glimpse of the centennial arm patch on his left sleeve. The card's and back surfaces are free of the print lines, which are so common in this issue. The image is well focused, displays amazing contrast, and immaculate white borders on every side. Minimum bid $7,500.00.
Engravers' Uncut Proof Sheet of the 1933 R333 Delong Gum Complete Set
The offered item is absolutely one of the finest and most magnificent uncut sheets of baseball cards in our entire hobby. The 12" x 13" brilliantly colored, blank-backed proof embodies the original renderings of the highly coveted 1933 Delong card issue, including all 24 of the images which comprise the set. To date, there has been no discovery of a standard uncut production sheet of Delongs. Instead, we're able to gaze at this remarkable, singular printer's proof, which has survived the ages under the care of its engraver. Several years ago, this anonymous gentleman yielded the piece to an eager audience. His report testified that it had been his task to create the color template for the Delong issue, which has itself become legendary. Flush with satisfaction in the results of his assignment, he produced this single sheet simply as a non-commercial memento of his labor. The quality of this museum-caliber sheet is Near Mint to Mint. It is housed in a custom-made 18" x 19" archival frame. Minimum bid $7,500.00.
1948 Leaf #79 Jackie Robinson PSA Mint 9
This card is one of only six examples graded at this level with none graded higher. It is a spectacular representation of Jackie Robinson's coveted large portrait card. The card was produced during Robinson's second year with the Brooklyn Dodgers, and occupies a position of honor in all comprehensive collections. This specimen is splendid in every way. The perfectly sized card has bright borders that surround a bold image with flawless registration. Minimum bid $5,000.00.
1952 Topps High Number #407 Ed Mathews PSA NM-MT 8
A Gem Mint example of this card does not exist and there are only two cards that have been graded higher. As a condition rarity, the scarce Mathews high number is second in demand only to the number one card of Andy Pafko in the quest to assemble an advanced 1952 Topps set. The offered card is centered just a few degrees toward the lower aspect, and its attractively rough-cut borders do not affect the integrity of the corners. Minimum bid $5,000.00.
Trophies and Awards
1853 New York Knickerbockers Trophy Ball Presented to Henry Chadwick
This remarkable item has remained hidden from the collecting world for over a century and a half. The offered ball represents one of the single most important historical relics dating from the very dawn of the National Pastime. This incredible trophy ball commemorates the game played between the Knickerbockers Baseball Club (baseball's first organized team) and the Gotham Club of New York on July 5, 1853. It also has the distinction of being the earliest known game-used trophy ball in existence.
The ball remained in the care of the Knickerbockers Baseball Club until 1903, and was then presented to Henry Chadwick on the occasion of the 50th Anniversary of the 1853 Knickerbockers game. His contemporaries often refer to Chadwick, a journalist and writer, as the "Father of Baseball."
Prior to the discovery of this relic, the oldest known trophy ball on record was from the September 2, 1854 grand match between the Knickerbockers and Gothams, which was offered at public sale in 1996. That ball sold for $72,050. The purchaser of that ball donated it to the National Baseball Hall of Fame, where it now resides on permanent display as a highlight of their collection. Very Good to Excellent condition overall. Base: 8-1/4" in diameter. Height: 10-1/2" Minimum bid $10,000.00.
Orlando Cepeda's 1967 National League MVP Award
In 1965, Orlando Cepeda sat out most of the season recuperating from knee surgery. Although Cepeda had seven consecutive 20-plus HR seasons, a consistent .300 batting average and the 1958 NL Rookie of the Year Award to his credit, the cards suddenly seemed stacked against him. Rehabilitation from surgery wasn't progressing as well as expected and, teammate Willie McCovey was amply filling Cepeda's shoes at first base. By 1966, the ballplayer who had been the darling of San Francisco's newly relocated Giants' franchise found himself with the St. Louis Cardinals. Skeptics thought it was the beginning of the end for Cepeda, but, in fact, it merely set the stage for his rebirth.
The 1967 season saw "Cha Cha" (so nicknamed for the Latin music Cepeda played in the Cards' clubhouse) hit .325 with 25 HR's and 111 RBI. Not only did these numbers help lead his squad to a World Championship, but Cepeda also earned National League MVP honors.
Presented here is Orlando Cepeda's actual 1967 NL MVP Award. It was the first National
League unanimous selection since Carl Hubbell in 1936. The elegant circular showpiece is comprised of a 16" diameter black wooden backing, atop which gleams an inlaid Dieges & Clust sterling silver plaque with 10K gold components. In addition to its historical significance, this regal showpiece also offers magnificent visual appeal. It is beautifully preserved, with almost no evidence of handling. In terms of aesthetics, any ardent trophy collector, even the most advanced, will find this incredible award an impressive addition to their cache. Minimum bid $7,500.00.
1998 New York Yankees World Champions Full-Size Salesman's Sample Trophy
This 1998 New York Yankees championship trophy suits the magnificence of the team that earned it. Its manufacturer, Balfour, originally used the very large and stunning trophy, measuring 25" tall and approximately 13" in diameter, as a salesman's sample. It is nearly twice the size of player's trophies from the 1998 championship season and gives the appearance of being identical to the actual trophy that was bestowed upon the Yankees franchise. The commanding showpiece is in Near Mint to Mint condition. Minimum bid $5,000.00.
Baseballs
Cal Ripken Jr. Last Home Run Baseball
On September 23, 2001, Cal Ripken Jr. circled the bases on one swing of his bat for the final time in his career. It was lifetime home run number 431, earning baseball's "Iron Man" 30th place on the all-time home run list. Robert Oler, was the lucky Baltimore Orioles fan that caught the fifth-inning blast.
"I got my glove up and it came down on a perfect plane right to me," said Oler. Born and raised in Baltimore, Oler had toted his trusty Wilson A2000 infielder's glove to games at Camden Yards for years.
Presented is the actual Official Major League (Selig) baseball that was pounded over Camden Yards' outfield wall for Cal Ripken's 431st and final Major League home run. Accompanying the ball is Oler's ticket to the game, a videotape of the catch, a taped news station interview with Oler, an article from the The Sun, signed affidavits from two witnesses to his catch, and documentation from the year the baseball was displayed at Baltimore's "Babe Ruth Birthplace and Museum." Also included is the glove in which Oler caught the home run ball! This historic baseball is one of the finest game mementos from Cal Ripken, Jr.'s last season in the Majors. Minimum bid $5,000.00.
Impressive Babe Ruth Single Signature Ball
It's a perfect "10." This visually compelling signature of Ruth, placed in jet black fountain pen ink on a medium-toned, lightly handled OAL (Harridge) baseball is extraordinary. Ruth's name, comprised of distinct characters, resides perfectly in the dead-center, sweet spot position. All of the cursive characters culminate, where appropriate, in delicate flourishes and personify Babe Ruth almost as surely as any photograph. This signature of Ruth is unbelievably steady and true, and it is simply a timeless masterpiece. James Spence & Steve Grad/PSA DNA. Minimum bid $5,000.00.
Jimmie Foxx Single Signed Ball
Jimmie Foxx is one of the most difficult signatures to acquire in a 500 home run hitters collection. A fan favorite, "The Beast", was one of baseball's high profile hitters in the 1930s. This single-signed OAL (Cronin) baseball, bearing the autograph of Jimmie Foxx on the sweet spot is a fantastic showpiece. Foxx's signature, in green ballpoint script, grades "9-10." Foxx took the time to attach an enduring note to this ball for one of his fans. The lightly toned, unused ball reads, "Base Ball Hall of Fame Great Jimmy Foxx 6/11/60," and exhibits Official American League stampings. James Spence & Steve Grad/PSA DNA. Minimum bid $5,000.00.
Bats
Joe Jackson Barnstorming Game Used Bat with Conclusive Lineage Directly To Joe Jackson
There are many myths regarding what happened to "Shoeless" Joe Jackson after he was banned from professional baseball. Contrary to popular belief, Jackson did not disappear into baseball's shadows. In fact, he continued to play ball regularly and was one of the most popular barnstorming players of the 1920s. Jackson drew sold-out crowds wherever he took the field, and many who saw him play said he hadn't lost a step. This game-used bat is from Jackson's barnstorming days of the 1920s. In 1951, Shoeless Joe bestowed this very bat, which features "JACKSON" emblazoned on its barrel, to the current owner's father. The owner's father was the business manager of the Fort Smith Giants during the 1940s and 1950s, a team that was part of the New York Giants' farm system. Minimum bid $10,000.00.
Babe Ruth Mid-1920s H&B Game Used Bat
The offered bat dates from the mid 1920s, which was a significant time in Ruth's career. It was a period when the slugger was setting his own records and then breaking them just as quickly. This hand turned bat is composed of well-preserved, top-quality white ash with a beautiful dark finish. Its exceptional wood surface displays strong manufacturer's stampings including an outstanding "George 'Babe' Ruth" facsimile The 35" long bat is uncracked and displays light evidence of game use. Minimum bid $9,000.00.
Mel Ott circa 1940 H&B Game Used Bat
Mel Ott game bats are by far the scarcest of all the 500 home run club members. This offered example is especially desirable as it dates from the peak of his career. The H&B signature model is composed of top quality white ash, with all of the manufacturer's stampings deep and well defined. The bat, a standard 35", 31-oz. example listed throughout the late 1930s through the 1940s and exhibits tremendous game use including ball, cleat and rack marks as well as a 5-inch crack in the back of the handle. This bat was originally acquired by the consignor's father (who was an official with one of the Giants' farm teams during the era) and is accompanied by a notarized letter detailing the circumstances of how his father came to acquire it. Minimum bid $5,000.00.
Joe DiMaggio 1948-49 H&B Game Used Bat
In 1946, Joe DiMaggio rejoined his New York Yankees for spring training after coming home from his military service in 1945. Baseball fans rejoiced but wondered if DiMaggio's prime years were behind him. Fans soon realized their fears were baseless. The "Yankee Clipper" roared back to baseball by hitting home runs and maintaining a high batting average. As a result, DiMaggio won his third MVP Award in 1947.
The offered DiMaggio game used bat dates from 1948-49, as established by the distinct "D29" stamping on the knob and factory shipping records showing the first shipment of 35" D29 bats sent on 3-19-48. This provides conclusive evidence this bat was used during DiMaggio's post-service career when he reclaimed his baseball superstar status. The H&B 125 model features the large facsimile signature of DiMaggio burned deeply into the barrel. The 35", 34-oz. bat exhibits considerable evidence of use, including an 11" "H" type crack in the handle. Minimum bid $5,000.00.
More Baseball Hits
"Red" Faber 1910s Chicago White Sox Uniform
"Red" Faber spent two decades in the Major Leagues, all with the Chicago White Sox. The Hall of Fame right-hander is perhaps best known as one of the classic "legal" spitballers, who was grand fathered in to continue throwing the pitch after its use was banned among new players starting in 1920. Faber was with the White Sox during the 1919 World Series, but he was bench ridden with recurring arm trouble (and the flu) and was not associated with the Black Sox Scandal. Faber (1888-1976) was selected for Hall of Fame enshrinement in 1964. This Chicago White Sox Major League uniform worn by Red Faber early in his career is extraordinarily rare. Top quality game worn dating to the mid-teens is seldom found. The uniform includes jersey, pants and socks. Minimum bid $10,000.00.
Proof Set of 19th Century Baseball Fans (4)
John Ward. Charles Comiskey. Curtis Welch. Adrian "Cap" Anson. These four names are synonymous with baseball greatness, and with the foundations of the sport's long history. Here are the ultimate artifacts of four extraordinary athletes, produced during their own time and bearing their incredibly detailed likenesses. Discovered about two decades ago in a cache of notebooks from a 19th Century printer, these superb fans never realized their originally intended purpose, that being to carry advertising on their reverse sides, which remain blank.
The 7-1/2" diameter pieces exhibit high-quality lithography, in the admired portrait style employed in contemporary 19th Century tobacco issues such as the Allen & Ginter and Goodwin round album premiums. The appearance of the players, and what we know of their circumstances, both suggest that the fans were manufactured in 1887. The offered quartet is recognized as a complete set of four, and no other comparable examples have ever been seen. In fact, no other copy of Comiskey is known to exist. The set was first offered publicly through Sotheby's in April 1994, at which time the set sold for nearly $30,000. The fans exhibit absolutely no wear and are in NM/MT to MT condition. Minimum bid $5,000.00.
Emmitt Smith's Auction For Charity
MastroNet has again been selected to auction items from Emmitt Smith's personal memorabilia collection to benefit The Open Doors Foundation, a non-profit organization Smith created to provide academic assistance for underserved youth. Smith will donate 100% of his proceeds from the sale to the charity. This auction will include 22 lots of Emmitt Smith collectibles including:
150th Career Touchdown Football scored same day as he passed Payton's rushing record
On October 27, 2002, the very day that he surpassed Walter Payton to become the NFL's all-time leading rusher, Emmitt Smith scored an additional landmark achievement: his 150th career touchdown. Here is the actual football that Emmitt Smith carried into the end zone for his 150th career touchdown. The significance of this extraordinarily historic ball is two-fold: not only is it his most significant milestone touchdown football, but it is also one of the only publicly offered game balls from the day Smith became the leading rusher in NFL history. Acknowledging the double-achievement, Smith has signed the brown leather Official ball in "perfect 10" silver Sharpie, "Emmitt Smith - 150th TD Ball 10-27-2002 - Game I Broke Walter Payton's Record." LOA from Emmitt Smith and authenticated by We-Trak. Minimum bid $2,500.00.
Music and Movies
1957 Graceland Purchase Agreement Signed by Elvis
On March 26, 1957, at the love-me-tender age of 25, Elvis purchased Graceland house and property. Today, more than 25 years after his death, Graceland remains a Mecca for Presley's legion of fans. This lot features two original signed copies of the Graceland property purchase agreement. Elvis moved to the 19-acre property with his mother, his father and his paternal grandmother, all of whom had previously lived with Elvis in the first house he bought for them, located not far from Graceland at #1034 Audubon Drive in Memphis. This Audubon Drive house formed part of the Graceland transaction, as Elvis and his parents traded their former ranch-style home to Ruth Brown Moore, the Graceland property owner, at an appraised value of $55,000.00.
Both original, fully executed copies of the purchase agreement are signed by Elvis Presley, his father Vernon Presley and his mother Gladys Presley. One of the two is an original Bond paper copy, while the second is an original carbon copy. Elvis has signed each document in blue fountain pen, "Elvis Aaron Presley," with one of the two signatures appearing to have had the "Aaron" added in the hand of someone else, most likely a lawyer. His father's signature, "Vernon E. Presley" appears two times in black fountain pen, while his mother has penned her name "Gladys Presley" on each copy in blue ink. All six of the signatures are extremely bold and grade "10" in strength. The appearance of Gladys Presley's signature is significant because less than 20 examples of her autograph are known to exist. Minimum bid $5,000.00
Incredible 1955-56 Handwritten Marilyn Monroe Letter (with Sinatra Content) and a Signed Photo of Her with Her Dog!
Marilyn Monroe has written this note, covering both sides of a 6" x 9" sheet of her personal embossed beige stationery, to her friend Lois. Enclosed, and referenced in the letter, is a signed and inscribed 8" x 10" glossy photograph of Monroe holding her endearingly shaggy white dog. The note is signed simply, "Marilyn." The content of the letter references Frank Sinatra, specifically commenting about Lois' status as a huge Sinatra fan. Film lore has it that Monroe and Sinatra were romantically involved during the period this letter was written. LOAs from John Reznikoff/University Archives and from James Spence & Steve Grad/PSA DNA. Minimum bid $5,000.00.
" Hair We Go Again " - Enormous Quantity of Elvis Presley Hair
In November 2002, MastroNet sold the largest quantity of hair from the head of the "King," Elvis Presley known to exist. That enormous hair sample went for $115,120.00. The hair was originally obtained by the consignor as a gift from Homer "Gill" Gilleland, who was Elvis Presley's personal hair stylist for over twenty years.
Immediately after that sale, another close friend of Gill's who had also received a quantity of Elvis' hair as a gift contacted MastroNet. Authentication by John Reznikoff of University Archives was secured after he compared this new hair sample to the one just sold in MastroNet's November 2002 auction. Reznikoff confirmed the two hair samples were a match. In addition, the new consignor also produced considerable provenance regarding the hair's origin. Minimum bid $5,000.00
History in the Making
1864 21st Infantry of Colored Troops Banner
In 1863, President Abraham Lincoln's Emancipation Proclamation not only decreed that all slaves held in Southern states were "forever free"; it also officially approved the enlistment of black soldiers in the Union Army. During the next four years, more than 180,000 men of color would join the fight against the South. Despite their bravery and patriotism, most were subject to despicable treatment and abuse from their white officers, dismal support, and poor to non-existent pay. By the end of the war, one-third of the soldiers in the United Stated Colored Troops (USCT) had lost their lives. This banner pays tribute to the 21st Regiment of the USCT. Consolidating the former 3rd and 4th Regiments of the USCT created the 21st Regiment. The 21st Regiment participated in key operations against Charleston, including the July 2, 1864 fighting on James Island.
Used in Civil War processions, the astonishingly ornate banner is well preserved. Originally procured through the Regiment chaplain, the banner has been meticulously preserved, documented and displayed periodically over the years. Minimum bid $20,000.00.
Franklin D. Roosevelt " Infamy" Quote
"Yesterday, Dec. 7, 1941 - a date which will live in infamy - the United States of America was suddenly and deliberately attacked by naval and air forces of the Empire of Japan."
This was the opening sentence of President Franklin Roosevelt's compelling Pearl Harbor address to the American people, in which he spelled out the events of the previous day and alluded to the challenges ahead. Offered is a calligraphic rendering of the first line in Roosevelt's address. The quote appears beneath the Presidential Seal and title, and the actual signature of the President, "Franklin D. Roosevelt," is seen above the statement's date, December 8, 1941. Roosevelt's carefully placed autograph, scripted in flowing black fountain pen, grades "10". The 10-1/4" x 13-3/4" off-white page has been graced with deep black writing and print, and is accented with a large, gold "Y" to launch the immortal quote. Condition is minimally Excellent to Mint. James Spence & Steve Grad/PSA DNA. Minimum bid $5,000.00.
1868 Andrew Johnson Signed Alaska Purchase
Next to the Louisiana Purchase, this was the most important acquisition of land in U.S. history. Johnson (1808-1875) was the nation's 17th President, and served in office from 1865-1869. Johnson became president upon the assassination of Lincoln. During his presidency, Johnson continued Lincoln's Reconstruction policies and purchased Alaska. This partially printed; 8" x 10" single page document is dated January 25, 1868 from Washington, D.C. In October of 1867, Russia formally transferred the territory of Alaska to the United States for $7.2 million - less than 2 cents per acre. The clear and distinct Presidential signature of Johnson grades "9". James Spence & Steve Grad/PSA DNA. Minimum bid $5,000.00.
Works of Art
Bride of Frankenstein Cover Artwork
There are very few illustration artworks from this era recognized as museum-caliber classics. This is a rare exception. The Bride of Frankenstein Famous Monsters original cover art is one of the most famous and instantly recognizable of all movie images. It is also one of the most reproduced of all Famous Monsters magazine cover art, and is considered by many to be the single greatest masterpiece ever produced by the legendary Basil Gogos. Gogos was the most important of all Famous Monsters cover artists. The condition is virtually flawless. The painting is accompanied by an original copy of the December, 1974 edition of Famous Monsters #112 that features the first appearance of this artwork on the cover. Minimum bid $10,000.00.
Frankenstein Mad Cover Artwork
Norman Mingo's September 1964 cover, featuring Frankenstein assembling an Aurora model of Alfred E. Neuman, is one of the greatest, most easily recognized, and most significant of all Mad cover artworks. Many collectors consider this to be the ultimate Mad cover. This cover's original painting was first sold decades ago, when Russ Cochran auctioned Bill Gaines' Mad archive material. Of all the Mad cover paintings auctioned by Cochran, this is the Mad cover painting which sold for more than any other. The $8,000 it realized in 1990 may seem like quite a bargain today, but at the time, it was a shocking and record-shattering sum. The original cover's image dates from the peak period of the Monster Craze of the early 1960s, a period of enormous popularity for the Aurora Monster Models that were the most successful byproduct of that craze. The colorful mixed media on board original measures 16-3/4" x 22" in size, with a flawless image area that measures 14-1/4" x 19-3/4". It is strongly signed towards the lower left corner. The lots is accompanied by a copy of the September 1964 edition of Mad magazine on which this artwork originally appeared. Minimum bid $10,000.00.
Steven Dohanos 1947 Saturday Evening Post Original Artwork
Steven Dohanos is universally recognized as one of the Post's premier cover artists, in the same company as Norman Rockwell and J.C. Leyendecker. Dohanos' work is instantly recognizable, and in the tradition of great Post covers of the 1940s and 1950s, this extraordinary example presents a slice of middle American life. In this classic cover art, Dohanos captures youngsters leaving for camp at a train station. Dohanos' realistic style is ideal for capturing the pandemonium of this annual summer ritual. The lot is accompanied by an original copy of the June 21,1947 edition of The Saturday Evening Post, which features the first appearance of this work on the cover. Minimum bid $7,500.00.
Tony Piet's Monumental Original Oil Paintings
After his baseball career ended, utility infielder Tony Piet opened a Pontiac car dealership in the greater Chicagoland area. In 1963, Piet commissioned artist and sculptor Carl Tolpa to create a series of massive oil paintings for display in the dealership's showroom. At the time, Tolpa was primarily known for his portraits and bust sculptures of American political figures. Tolpa painted 25 matching oil-on-board artworks of Piet's favorites ballplayers.
Presented here is Piet's entire collection of larger-than-life original portraits, including baseball legends: Babe Ruth, Lou Gehrig, Satchel Paige, Ted Williams, Stan Musial, Joe DiMaggio, Christy Mathewson,Honus Wagner, Jimmie Foxx, Tris Speaker, Ty Cobb, and Willie Mays. Each painting is framed within a black wood border and measures 6-feet x 3-1/2-feet. The designs are identical, as every player is depicted within a baseball diamond, above lifetime statistics and a brief biography. Minimum bid $5,000.00.
No Laughing Matter - Comics
Action Comics #1 (June, 1938)-CGC grade VG 4.0, Unrestored, with cream to off-white pages. Origin and first appearance of Superman. Siegel and Schuster story/art.
This copy has been out of circulation since its first owner acquired it in 1938. The existence of this comic book is a direct result of a mother's love. The owner's mother, in a careful act of preserving her son's favorite things, put all of his comics into a box and stored them away for almost fifty years. The books were only rediscovered after her passing, almost fifteen years ago.
The find included 60+ comics, of which only five were still complete. A copy of Action Comics #1 rarely turns up in original collections anymore. Most existing copies have been available to the hobby for some time. The discovery of a new, unrestored example rarely occurs and any new find is cause for celebration! Minimum bid $10,000.00.
The First Appearance of Marvel's Man Without Fear - Daredevil #1 - CGC NM 9.4 - 1964
At the time of this writing, the CGC Census reports that this copy is tied with twelve others as being the third highest graded copy (2 copies at 9.6 and 13 copies at 9.4) of the 314 unrestored examples graded to date.
As the basis for this year's big-budget superhero movie, starring Ben Affleck, Daredevil has finally made it to the big time. But to the oldest of the Marvel fans in the audience, he is still a new kid on the block. Daredevil was the last of Marvel's initial group of heroes to be published. Marvel started revamping their tiny line of books in 1961. During the next two years, The Fantastic Four. Ant-Man, the Hulk, Thor, Spider-Man, Iron Man, Sgt. Fury, the Avengers team title, and the X-Men would all make their first appearances. The initial expansion actually stopped with the introduction of Daredevil in 1964.
Daredevil was created by writer/editor Stan Lee, with artistic assistance by Golden Age great Bill Everett. Initially well received, Daredevil suffered over the years as a result of an overworked staff and several artistic changes. When artist Frank Miller took over the art and writing assignment on the book in 1979, the title and character immediately started to garner a large fan following, making Daredevil one of the company's best sellers. Other talented creators have since given the character a quality of handling that is comparable to Miller's, and the title still flourishes. After 39 years of adventures, the "new kid on the block" has really made his mark. Minimum bid $5,000.00.
For More Information
To pre-register for auction catalogs, call 630-472-1200 or visit www.mastronet.com. There will be one catalog for the Americana segment of the auction and one catalog for the sports collectibles portion.