By Joe Orlando

hen the PSA Set Registry first started about 16 months ago, we anticipated growth in the obvious area – complete sets produced by the manufacturer. What we did not anticipate was the steady but unquestioned interest in completing player runs. From Mantle to Jordan, for some collectors, the player is where the fun begins.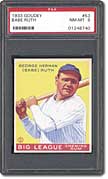 1933 Goudey Babe Ruth – Photo courtesy of the Brian Seigel Collection
As a young collector, I had my share of favorite teams that I followed throughout the season. When the game of baseball changed, however, so did I as a collector. What am I referring to? Well, it became difficult to keep my team loyalty when my favorite players seemed to move each and every year to a new team. For me, the focus became player loyalty. Even though my collection was mainly comprised of vintage items, I still had my modern favorites.
Speaking of vintage items, many pre-1980 collectors didn't have to worry so much about players jumping from team to team throughout their career. Many of the most popular players of all-time performed for one team and one team only. Mickey Mantle, Ted Williams, Sandy Koufax and Roberto Clemente all played for one team their entire careers. These four legends just happen to be four extremely popular choices on the Registry.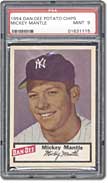 1954 Dan Dee Mickey Mantle – Photo courtesy of the John Branca Collection
There were others, in the vintage era, that played for a few different teams but the frequency was low overall compared to today. Willie Mays, Nolan Ryan, Jimmie Foxx and even Babe Ruth moved around a bit during their careers. Does that fact hinder their great popularity in any way? The answer is absolutely not.
Getting back to the Registry, like some fans who tended to follow a particular player instead of a team, some collectors choose to collect individual players as opposed to the complete sets that come from the manufacturer each year. These collectors do not want to be bothered with the commons; they just want to own the stars.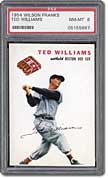 1954 Wilson Franks Ted Williams – Photo courtesy of the Don Louchios Collection
For other collectors, the interest in collecting player runs may be in addition to collecting full, annual sets. Take, for instance, the collector who won the PSA Set Registry award for Best Overall Collection of the Year in 2002 – Marshall Fogel. Fogel really enjoys the chase of the complete set and the difficulty in finding tough commons. Fogel also enjoys collecting cards of his boyhood idol, Mickey Mantle. For Fogel, a 1952 Topps set is a challenge and no doubt fun to assemble but a 1952 Topps Mantle is special all on its own.
For those of you who are either new to the Registry or for you veterans who may be thinking about completing a player set, there are two choices available for each player. The Registry offers a Basic Set and a Master Player Set for each player. The Basic Set will only include the mainstream/basic cards manufactured during their career. Now there are some exceptions, like the 1948 Leaf Babe Ruth card (produced after his playing days). Certain cards, based on their popularity and mainstream acceptance, are included by popular demand.
While the Basic Sets will usually satisfy most collectors, featuring many of the most popular cards of the featured player, the Master Set is where the advanced collectors will find a huge challenge. The Master Sets include a checklist of every card, not just the mainstream ones, for that particular player. The Master Set includes cards such as league leaders, combo cards (ones featuring more than one player) and, really, any card featuring that player. If PSA grades it, it's part of the set and this is where the competition on the Registry is taken up a notch.
For example, finding a nice 1954 Bowman Mantle or Williams is hard enough but now the registrant will need a Dan Dee Mantle or a Wilson Franks Williams to complete the Master Player run. Many of the regional or specialty cards are extremely difficult but, if you really like that player, then the chase can be very rewarding – that is if you can find that elusive card.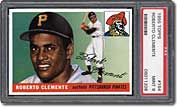 1955 Topps Roberto Clemente - Photo courtesy of the Don Louchios Collection
Now, as we talked about, we know how tough some of those regional or specialty vintage cards are. Some of them are nearly impossible but, when it comes to modern Master Sets, it's volume that overwhelms the collector. For you Mantle collectors, consider yourselves lucky. To complete a Mantle run, even the Master Set, there are still a limited amount of cards needed for completion.
Yes, you may need a 1964 Topps Stand-Up or a very elusive Stahl Meyer example but at least your checklist doesn't look like a small novel! Imagine completing a Kobe Bryant or Cal Ripken Jr. player set – yikes! There are so many cards needed in the post-1980 era, especially for the really popular players. In some cases, there are more rookie cards of some modern players than total cards of some vintage-era players.
For those of you who choose to collect player runs and compete on the Registry, this can be very fun and rewarding. Many collectors tell me that they learn quite a bit from assembling player runs. Again, most collectors have seen the mainstream cards produced by Topps, Bowman, Fleer, etc. but how many of you have ever seen or heard about a 1961 Topps Dice Game Willie Mays? The Master Sets force the collector to learn more about EVERY card that features their favorite player, not just the well-known ones.
It will be interesting to see how the player sets develop over time. We are constantly adding cards to the existing sets and creating brand new players sets altogether. While the crux of the PSA Set Registry will no doubt be the manufactured sets from Topps, Bowman, Play Ball, etc., Player Sets provide a nice alternative to the collector whose loyalties lie with the players they love to watch or read about. Good luck with all your player runs.
The Leader Board
Vintage Baseball
1887 Allen & Ginter (N28) - Stonegate
1888 Allen & Ginter (N29) - T-206 King
1888 Goodwin Champions (N162) - Michael Olenick
1909 Dockman & Sons Gum (E92) - Robert J. Utley
1909 Philadelphia Caramel (E95) - T-206 King
1909-11 T206 White Border - Don Louchios
1910 Contentnea First Series (T209) - T-206 King
1910 E93 Standard Caramel - Jim's E93
1911 T201 Mecca Double Folder - Mike Murray
1911 T205 Gold Border - The Smith T205 Gold Border Collection
1911 Williams Baking (D359) - Frank's D359 Set
1912 C46 - T-206 King
1912 Plows Candy (E300) - John Branca
1913 National Game - Charles M Merkel
1913 T200 Fatima Team Cards - Michael Steven Nicolaou
1913 Tom Barker Game - Charles M Merkel
1914 Cracker Jack - Peter Garcia
1914 Polo Grounds Game - Jeff's Polo Ground Perfection
1915 Cracker Jack - Charles Merkel
1916 Tango Eggs - SW
1928 Fro-joy Babe Ruth - John Branca
1933 Delong - Don Louchios
1933 Goudey - Charles Merkel
1934 Goudey - Don Louchios
1934-36 Diamond Stars - Charles M Merkel
1935 Goudey - 707Sportscards - LTD - 1935 Goudey #1 Set
1936 Goudey - Splonge's 1936 Goudeys
1936 S & S Game Set - SW
1938 Goudey - Marshall Fogel
1939 Play Ball - Don Louchios
1940 Play Ball - Bernie Carlen
1941 Play Ball - Don Louchios
1948 Bowman - Charles Merkel
1948-49 Leaf - Charles M Merkel
1949 Bowman - Charles M. Merkel
1949 Bowman PCL - John Rumierz
1950 Bowman - Charles M. Merkel
1951 Bowman - John Branca
1951 Topps Blue Back - Charles Merkel
1951 Topps Red Back - Charles Merkel
1952 Bowman - Charles M. Merkel
1952 Red Man Tobacco - RGOLD
1952 Topps - Charles Merkel
1953 Bowman Black & White - Marshall Fogel
1953 Bowman Color - Andrew Kaplan
1953 Glendale Hot Dogs - All Marty's Stuff
1953 Johnston Cookies - Mrichards 1953 Johnston Cookies Set
1953 Red Man Tobacco - RGOLD
1953 Topps - Anthony Fioto
1954 Bowman - Barry Bilder
1954 Dan-Dee Potato Chips - Charles M Merkel
1954 Johnston Cookies - Old Man
1954 Red Heart - Stonegate
1954 Red Man Tobacco - RGOLD
1954 Topps - Marshall Fogel
1954 Wilson Franks - John Branca
1955 Bowman - Midnight Cowboy's 1955 Bowman Set
1955 Red Man Tobacco - RGOLD
1955 Topps - Marshall Fogel
1955 Topps Doubleheaders - Ron Hobbs Family Collection
1956 Topps - Marshall Fogel
1957 Topps - K Romano
1958 Dodgers Bell Brand - Griffins
1958 Topps - Marshall Fogel
1959 Fleer Ted Williams - JH 1959 Fleer Ted Williams Set
1959 Topps - JTM's 1959 Topps
1960 Dodgers Bell Brand - KHT
1960 Fleer - 707 Sportscards - LTD - HOF Set
1960 Leaf - Davalillo
1960 Leaf Large Portrait - 707 Sportscards - LTD - The Big Head Set
1960 Morrell Meats - KHT
1960 Nu-Card Hi-Lites - Phil Messmore
1960 Topps - The 1960 Meilander Collection
1961 Chemstrand Iron-On Patches - 707 Sportscards - LTD Cloth Patch Set
1961 Dodgers Bell Brand - KHT
1961 Golden Press - The Harrington Collection
1961 Morrell Meats - KHT
1961 Nu-Card Scoops - Phil Messmore
1961 Topps - The McBride Gold Collection
1961-62 Fleer - The Harrington Collection - All Time Greats
1962 Topps - Howard Tiss / Superior
1963 Bazooka ATG - Steve Lucas
1963 Fleer - Stonegate
1963 Topps - The Duke of Mint
1964 Topps - JH
1964 Topps Giants - thegemmintman
1964 Topps Stand Up - Don Louchios
1965 Topps - MastroNet
1966 Topps - Baseball - Vintage Corvette - 1966 topps
1967 Topps - jwmerrill's 67's
1967 Topps Who Am I? - 707 Sportscards - LTD
1968 Topps - Revere's Finest '68 Set
1968 Topps 3-D - Charles Merkel
1968 Topps Game - World's Best
1969 Topps - Basic - Ron Hobbs Family Collection
1969 Topps - Master - Ron Hobbs Family Collection
1969 Topps Decal - Jeff's Sticker Shock
1969 Topps Supers - Robert L. Earhart Collection
1970 Kelloggs - thegemmintman
1970 Milton Bradley - Robert L. Earhart 1970 Milton Bradley Collection
1970 Rold Gold Pretzels - Herb Watson tied with Alfred W. Thomson - Rold Gold Pretzels
1970 Topps - Chris Renaud's 1970 Topps Baseball Set
1971 Kelloggs - Mick's 1971 Kelloggs Baseball Cards
1971 Topps - RGD98's Baseball
1971 Topps Greatest Moments - The Shane Leonard Collection
1971 Topps Supers - Robert L. Earhart 1971 Topps Supers
Modern Baseball
1972 Kelloggs - 3-D Dreamer
1972 Kelloggs All Time Greats - Mick's 1972 Kellogg's All Time Greats
1972 Topps - FB - 1972 Topps Collection
1973 Kelloggs - King Kellogg '73
1973 Topps - The Wetzel Collection
1973 Topps 53 Reprint - A&J Collection
1974 Fleer Baseball Firsts - 707 Sportscards - LTD - The Finest
1974 Kelloggs - Where's Yaz??
1974 Topps - The Dogs 74 Set
1974 Topps Deckle Edge - TC collection
1974 Topps Traded - Wetzel's 1974 Traded Set
1975 Topps - Frank's Funky 75's
1975 Topps Mini - Chris Renaud's 1975 Topps Mini Set
1976 Kelloggs - Spirit of 76
1976 Topps - John Bouffard's 1976 Topps set
1976 Topps Traded - Wetzel's 1976 Traded Set
1977 Kelloggs - King Kellogg '77
1977 Topps - Montgomery Collection-PSA
1977 Topps Cloth stickers - Luke's 77 Cloth
1978 Kelloggs - King Kellogg '78
1978 Topps - Guy's 78 Topps Set
1979 Kelloggs - King Kellogg '79
1980 Kelloggs - King Kellogg '80
1980 Topps - The 1980 Topps PSA Baseball Set
1981 Kelloggs - King Kellogg '81
1982 Kelloggs - King Kellogg '82
1983 Kelloggs - King Kellogg '83
1984 Donruss - DAF Collection
1984 Fleer Update - The Alderman Collection
1992 Kelloggs - Qualitycards
1993 Finest Refractor - Lucky 13's 1993 Finest Refractor PSA 9 Set
1994 Fanfest Roberto Clemente Commemorative - Michael Disfarmer's 1994 Clemente Fan Fest
1994 Flair Hot Gloves - seinbigd
1997 Bowmans Best Atomic Refractor - The Francis Collection
2001 SP Legendary Cuts - The Dalton Ventures Collection- 2001 Legendary Cuts
Bob Griese Basic Set - Jeff Barker's Bob Griese Basic PSA Set
Specialty Baseball
1909-11 T-206 White Border HOF Players - Honus & Friends
1933 Goudey HOF Players - Don Louchios
1940 Play Ball HOF Players - Davalillo
Hall of Fame Managers - Pawlus Collection
Hall of Fame Players - Pawlus Collection
Hall of Fame Players - Post War Rookies - Ken Matteson
Hall of Fame Yankees - Pawlus Collection
Al Kaline Basic Set - Melissa and Dad's Kaline Set
Al Kaline Master Set - Melissa and Dads Master Al Kaline Player set
Babe Ruth Player Set - John Branca
Billy Williams Player Set - KP's Billy Williams Collection
Brooks Robinson Player Set - Kurt Coltrane Collection
Carl Yastrzemski Basic Set - Doug Rivard - Yaz Collection
George Brett Basic Set - pebblyjack's Basic George Brett Collection
Gil Hodges Player Set - Block Sportscards, Inc. — Lawrence Block
Hank Aaron Player Set - Doug Rivard - Aaron Collection
Harmon Killebrew Player Set - Larry Hess Killer Collection
Jackie Robinson Player Set - Don Louchios
Jim Palmer Player Set - Robert's Jim Palmer Collection
Joe DiMaggio Player Set - Don Louchios
Johnny Bench Basic Set - Jasper's JB Memorial
Lou Gehrig Player Set - Don Louchios
Mickey Mantle Basic Set - Marshall Fogel
Mickey Mantle Master Set - Marshall Fogel
Mike Schmidt Basic Set - Phillies Phan's Run of Mike Schmidt Cards
Mike Schmidt Master Set - Phillies Phan's Run of Mike Schmidt Cards
Nolan Ryan Topps Player Set - The Conforti Collection
Pete Rose Basic Set - Oil's 4192
Roberto Clemente Player Set - Marshall Fogel
Robin Roberts Player Set - Roy's Roberts Player Set
Rocky Colavito Player Set - Tagbr's Colavito cards
Roger Maris Player Set - Marshall Fogel
Sandy Koufax Basic Set - Marshall Fogel
Sandy Koufax Master Set - Marshall Fogel
Stan Musial Player Set - Marshall Fogel
Steve Carlton Basic Set - onlyme_63
Steve Carlton Master Set - onlyme_63
Ted Williams Player Set - John Branca
Thurman Munson Player Set - D, J. Walla
Ty Cobb Basic Set - Don Louchios
Willie Mays Player Set - Marshall Fogel
Willie Stargell Player Set - Steve's Excellent Willie Stargell PSA Collection
1909-11 T206 Ty Cobbs - Marshall Fogel tied with Honus's 1909 WS Foe - Ty,Old Man
1933 Goudey Babe Ruths - Don Louchios tied with Jays Babes
1933-34 Goudey Lou Gehrigs - Don Louchios
1951-Present MVPs - JM Linnens's MVP's
1955 Brooklyn Dodgers - Marshall Fogel
1956-Present Cy Winners - J.M. Linnens Cy Young Winners
1959 Topps Los Angeles Dodgers - Tagbr's 1959 Dodgers
1961 Topps All-Stars - McBride 61 All Star
1961 Topps New York Yankees - Robert McBride
1963 Topps Los Angeles Dodgers - Marshall Fogel
1965 Topps Los Angeles Dodgers - Tagbr's 1965 Dodgers
1968 Topps Detroit Tigers - Dave Jacobs 1968 Tigers
1975 Topps Cincinnati Reds - Emmet's Big Red Machine
300 Great Baseball Cards by Mike Payne - John Branca