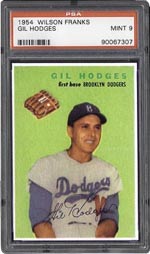 One of the collecting tools that PSA is most proud of and concerned with is the Population Report. Now most of you know what I am referring to but, for those who do not know, the PSA Population Report is a tally of every single card we have ever graded and encapsulated. The Report breaks down the card by set, player and grade. In other words, you can find out how many 1956 Topps baseball cards we have graded NM-MT 8 and find out how many 1956 Topps Mickey Mantle cards we have graded NM-MT 8. It really is an outstanding reference.
So, what's the concern?
The PSA Population Report, while an excellent reference, needs to be taken in context, just like any other fact or statistic. For instance, a baseball player might hit 40 home runs this year but did he play at Coors Field where the ball travels further? I think you get the picture; all numbers need background and further information in order to be truly understood.
Let's get back to the Pop Report. As you might have noticed, we did add a "Note About Pricing" section to the pricing area in order to answer some pricing questions and one subsection does pertain to the Pop Report. I just want to reiterate that each population number needs to analyzed in full. For example, for many of the high-grade pre-war cards, the population numbers are meaningful in terms of understanding the rarity of the card in that particular grade. The numbers really mean something because pre-war cards are truly tough.
Here's another example, this time it's a modern card. This past summer, PSA graded its first Gem Mint 10 Wayne Gretzky 1979 O-Pee-Chee rookie card. Now, of course, here's a card that has been frequently submitted over the past several years. In other words, there have been plenty of chances for us to grade a Gem Mint example, but we have only seen one in 11 years. That means something because collectors and dealers have been submitting the cream of the crop during that entire time. Could another "10" be graded? Sure, it's possible but not probable (at least in any real quantity) if you know how tough that issue is.
Here's the flipside. One collector brought a "Pop 4" Mint 9 (only four graded Mint by PSA according to the Pop) and proceeded to tell me how great the deal was. Here's the problem. In this case, the reason the card was so "low pop" was because very few people had even bothered to submit the card over the past 11 years due to its extremely low value. The card was worth grading, don't get me wrong, but it was not a frequently submitted card. The collector paid about $500 for a card that was probably worth 10 bucks. This is the problem.
Here's another common misunderstanding. The population numbers do not represent ALL CARDS IN EXISTENCE, they merely represent the ones that have been graded by PSA. The numbers also do not include all the cards that have been rejected for evidence of alteration, restoration or questionable authenticity. In addition, many lower quality cards never make it to PSA for grading at all so the numbers will sometimes seem skewed. For example, there may be a situation where 60% of the Pop Report numbers for a card reflects Near Mint 7's or higher. You need to keep in mind that most people do not traditionally submit lower grade cards for grading (although that's changing) and the vast majority of existing cards are lower grade. If all vintage cards were graded, the lower grade Pop numbers would explode -- not the high-grade section.
Please, ask questions, talk to other dealers and do any research you can before taking the PSA Population Report as the gospel. It can be a phenomenal tool if used properly. New rarities are being discovered and old rarities are being exposed as more common than previously thought. If you take the population numbers in context, the Pop Report can assist you in building a better collection and it can make your collecting experience more enjoyable overall.
Never get cheated.