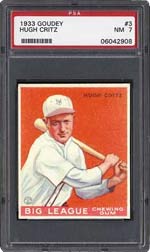 Superior Bidding on Superior Cards
Superior Sports Auctions brought the final gavel down on their latest auction on September 12, 2002 by realizing continued strong showings on "sure thing" offerings.
The 1934 Goudey Chas Gehringer card in all of its blazing red background glory sold for $10,063 in a PSA 9 grade. The centering and color on this specimen made it a "must have" for the discriminating collector, hence its stout realized price. This is a true beauty, but not for the faint of wallet.
With the 1952 Bowman set gaining popularity every day, lots 7 and 8 in the Superior Auction reflected just how desirable these cards have become in a high grade. The Joe Hatten card is one of the tougher examples to find in an 8 grade (only 6 currently exist), and with a realized price of $1,783, my guess is that one of our PSA set registrants simply "had" to have it. And it's not as if we expected the '52 Bowman Mays to be had for a song, but drumming up a high bid of $15,698 must have made the consignor VERY happy. It's tough enough to find an example of this Mays card in an '8' grade, let alone a centered and perfectly focused '9'. It will be a while before we see another in this kind of condition.
At first glance, one might think that the presence of a floating pack of hotdogs might detract from the popularity of a card set, but this obviously isn't the case with the 1954 Wilson Franks cards. With a "pop" of only two, the PSA '8' Ray Jablonski sold for an amazing $4,370, with the Roy Mcmillan ($2,415), and Andy Pafko ($2,415) running a close second and third. This set continues to gather steam as collectors realize how visually appealing and scarce this issue truly is.
Other noteworthy sales include:
1955 Bowman Enos Slaughter PSA '9' sold for $633. Enos passed away recently and this one is tough.
1956 Topps Dodgers team card PSA '9' sold for $4,600.
1957 Topps "Campy" PSA '10' sold for $5,750. Roy is still a hobby favorite after all these years.
1958 Topps Al Kaline PSA '9' Yellow name variation sold for $3,565.
1958 Topps Hank Aaron PSA '9' sold for $6,728. 1958 Topps cards still a condition rarity in Mint 9.
1966 Topps Sandy Koufax PSA '9' sold for $4,830. The last regular issue card of the Dodger great.
1959 Topps Harmon Killebrew PSA '9' sold for $2,128. High # and HOF'er equals big $.
1960 Topps Willie McCovey PSA '9' sold for $1,668.
1962 Topps Duke Snider PSA '9' sold for $2415.
1965 Topps Bob Gibson PSA '9' sold for $949.
1966 Topps Jim Palmer PSA '9' sold for $1380. High-grade for the RC of this HOF'er.
One of the true stunners of this Superior Sports Auction was the realized price of $4,715 for the 1933 Goudey Hugh Critz in a PSA '7' grade. With only two specimens known, it appears that there were a number of Goudey collectors who couldn't wait to add this gem to their collection. As the PSA Set Registry continues to grow, it's cards like this one that can separate the #1 set from the rest of the pack.
Grey Flannel Auctions Scores With "Pistol" Pete Maravich/Coach Dale Brown Foundation Auction
Great Neck, NY. - Grey Flannel Auctions, Inc., "The Standard of the Industry," a premier sports auction house is proud to announce their Fall Classic 2002 auction scheduled for November 13th 2002.
Highlighting an incredible array of one-of-a-kind sports memorabilia will be historically significant items from the "Pistol" Pete Maravich estate. A portion of the proceeds will be donated to the Coach Dale Brown Foundation, to help build a Boys Town-like facility in New Orleans. The Foundation is a non-profit organization established in 1985, which donates 100% of collected funds to help those in need of assistance.
The Maravich family will be auctioning "Pistol" Pete's most historical memorabilia, including his very first basketball, the actual game ball used to break the all-time NCAA scoring record and inscribed by him as such, his Hall of Fame induction ring, his LSU home game-used jersey as well as a treasure trove of other exceptional Maravich items.
This spectacular event will also include non-sports memorabilia such as the Rolling Stones' concert and movie used 1882 Bosendorfer grand piano as well as Keith Richard's stage used guitar. John Gotti will also be featured with a fascinating handwritten letter filled with his thoughts from behind bars and his prison number.
All the Pete Maravich items in this auction have been authenticated by PSA/DNA, the leading authenticator in the hobby, and a division of Collectors Universe.
Grey Flannel Auctions, Inc. is the largest auctioneer of game-used jerseys in the world, and is known as the industry leader in sports authentication. In 1994, Grey Flannel was selected to be the official Appraisers and Authenticators for the Naismith Memorial Basketball Hall of Fame. In 1998, the renowned auction house, Sotheby's, hired Grey Flannel to authenticate Barry Halper's extensive uniform collection.
The catalog will be available online at greyflannelauctions.com for viewing and bidding as of early October and a printed catalog will follow later in the month. The final day for bidding on this auction will take place on November 13, 2002, and can be done online, over the telephone, or via facsimile.
For all press inquiries: Contact Jill Goldstein (917) 991-2934 or Allison Fells (516) 459-6888.
Madec Offerings Gavel Beyond Expectations
Andy Madec, president of Andy Madec Sportscards of Camarillo, CA closed his latest auction of September 17, 2002 with a big smile on his face. The company's fifteenth telephone auction offered some of the hobby's highest quality sportcards and attentive care was taken to ensure strict and accurate descriptions on the premium lots.
"We were very pleased with the results," said Madec, who went on to call the bidding "hot and heavy with many lots going beyond our expectations".
Among the auction's highlights were an 1887 N28 Allen & Ginter Adrian C. Anson PSA 9 Mint that realized a selling price of $17,690. "This is a legendary card in incredible mint condition," said Madec. "It will be the centerpiece in the buyer's collection."
Other Allen & Ginter cards offered in the auction were a 1887 N28 John Clarkson PSA 8 NM-MT that went for a lower than expected $5,360 and a 1887 N28 Tim Keefe PSA 8 NM-MT that garnered a closing bid of $5,707.
Another major highlight of the Madec auction was the offering of a T205 Gold Border Christy Mathewson PSA 8 NM-MT. The card, which Madec touted as "an absolute dream," pulled in a final bid of over $21,000. "We expected this card to do well but it did even better than we thought."
Also exceeding expectations was a 1950 Bowman #98 Ted Williams PSA 9 Mint that was purchased for $10,648. "That's a very strong price for that card," said Madec who further opined that he did not believe Williams's death the month prior had much to do with the strong showing. "As serious collectors know, a player's death does not do much to impact cards such as this. They are just important cards -- period. But I didn't think this card would go as high as it did."
An offering of Topps cards also surpassed expectations with a 1952 #173 Roy Smalley PSA 8 NM-MT that brought the gavel down at $2,200, and a 1953 #154 Dick Groat PSA 8 NM-MT that garnered just under $3,000.
Three 1959 Topps cards that proved to have great surprise showings were a #270 Gil Hodges PSA 9 Mint that went for $667, a #320 Don Mossi PSA 9 Mint that brought in $888, and a #479 Lindy McDaniel PSA 9 Mint that sold for $560. "All three of those cards showed surprisingly strong interest," said Madec. "But the biggest surprise was the McDaniel, which went way beyond what we had imagined."
Another rare Topps offering was a 1957 #400 Dodgers Sluggers PSA 9 with a crisp clean image of Furillo, Hodges, Campanella and Snider leaning on their lumber. As one of only five known to exist in this grade, Madec was not surprised to see the card go for $8,858.
Other noteworthy Topps purchases in the auction were a 1956 #33 Roberto Clemente PSA 9 that garnered $3,894, a 1960 #200 Willie Mays PSA 9 Mint that went for $2,593, a 1963 #200 Mickey Mantle PSA 9 Mint that brought in $6,827, and a 1963 Topps #50 Mickey Mantle PSA 8 NM-MT that finished at $690, a good $200 over its usual retail price.
The biggest Topps surprise was seen with a 1958 #351 Braves Fence Busters PSA 9. The highly appealing card that caries a photo of Del Crandall, Ed Mathews, Hank Aaron and Joe Adcock sold for a world record price of $4,710. "That was exciting," said Madec. "No one has ever paid that much for that card."
A delighted post-auction Madec said he knew going in that this was going to be a strong lot, but even he was knocked out to realize that the auction totaled over $294,000. "That had a lot to do with the fact that this was a premium offer that also included some great sets. Set are very hot right now and I believe PSA's Set Registry has a lot to do with that."
It's Hunt for Treasures
Hunt Auctions Inc. of Exton, PA closed their most recent auction with a strong showing and a final tally of $1.1 million dollars.
"I was pleasantly surprised with the results," said company president David Hunt. "We saw very strong item performance, had twenty-five percent more bidders than we've ever had before, and were fifteen percent over high estimates overall."
By virtue of the fact that the auction included only a limited amount of reserve and minimum price items, it may serve as a good barometer as to the current values of the wide array of material that was offered in the 1,205 lots.
A highlighted item in the auction was Jake Pitler's 1955 Brooklyn Dodgers World Series ring. The ring, which came directly from the Pitler estate, showed only the slightest of wear and was accompanied by a letter of provenance from the family. Estimated at between $20,000 to $30,000 the ring garnered $19,800. "I thought it could have done better," said Hunt. "The '55 Series was Brooklyn's first championship and it is still talked about today. But most of the experts I've spoken with said they thought it did what would be expected for a coach's ring. Most of the '55 Dodger rings have gone in the $16,000 to $28,000 range so, while it was right in line, I still hoped it could have done a bit better."
Another important piece offered was a superb Babe Ruth and Lou Gehrig signed ball. The provenance of the ball states that it was obtained at Chicago's Comiskey Park on August 18, 1947. On that day, Ruth and Gehrig were tied for the lead in the season's home run race, that Ruth would ultimately win. Offered as an EX-EX/MT ball with NM signatures that rated 9-9.5 out of 10 with an excellent retention of color and boldness, the ball brought the gavel down at $24,200.
Other items pertaining to Ruth that had strong showings were magnificent original photos of The Bambino taken in the 1920s. Included in the images were shots of Ruth signing autographs, playing golf, smoking a pipe, wearing a fake beard and visiting a young girl at St. Vincent Hospital.
An extremely interesting set of three original photos taken by Paul Thompson showed The Babe in profile, his wife Claire cheering in the stands, and Ruth in the on deck circled. The set went for $2,200. A beautiful Thompson original of Ruth kneeling on deck went for $3,000, a two picture set of Ruth hitting went for $3,850, and a shot of the slugger heading toward the plate brought a final bid of$6,600. "Those original Thompson shots of Ruth were fabulous, and while we knew they would do well, the fact was that they did great," said Hunt.
Basketball material was also strong both in offerings and sales in the Hunt auction. A Syracuse Nats warm-up jacket from the 1950s went for $4,950. A Hal Greer game worn Philadelphia 76ers road jersey brought in $4,070, and a Billy Cunningham rookie uniform gaveled in at $5,775.
Two basketball items that saw the highest interest were a Wilt Chamberlain game worn Philadelphia Warriors jersey from the 1967-68 season that went for $22,000 and a Chamberlain home jersey from the same season that garnered $23,100.
Another Chamberlain lot that did very well was a grouping of three items pertaining to his 100th point game on March 2, 1962. The lot included a signed program, a ticket stub and a signed photo of Chamberlain holding a sign that read "100." The lot went for $17,600, more than double of what a similar ticket and program once sold for. Hunt was pleased, but not surprised by the interest in that lot. "Items related to that historic game are scarce due to the fact that there was only a paid attendance of 4,124," he said.
The auction also showed a very strong interest in a magnificent offering of panoramic team photos. "We are known for offering panoramics and have always done well with them," said Hunt. "But in this auction the interest in them was solid or above what we've seen in the past."
The next Hunt auction, which will include a treasure trove of game-used equipment and uniforms and a Babe Ruth game worn cap, will take place in February of 2003. For a catalogue or further information call (610) 524-0822 or log on to www.huntauctions.com
All-American Deals at American Memorabilia
Bill "Beans" Koryak, sales and consignment consultant for American Memorabilia, is busy putting together items for the company's next online auction that will end in early December.
Among the offerings that will be available are a Willie Mays game used bat, a bat signed by all of the 1964 Hall of Fame inductees and a Barry Bonds game used bat.
"We will have hundreds of fantastic lots and I think it's going to be a great offering of very strong items," said Beans.
The company's most recent auction, which closed in late September, also had its share of All-American treasures. Among the items that came up on the virtual block was a Mark McGwire game used Oakland A's cap that brought in a final bid of $1,723. "We were very pleased to see that cap do as well as it did," said Beans. "And we were even more pleasantly surprised by the fact that a Ken Griffey Jr. game used cap brought in $1,565 which was much higher than we had expected."
One item that Beans had expected to do better was a game used glove that had been worn by none other then the newest Cooperstown inductee -- Ozzie Smith. The glove brought the gavel down at $4,200 and while the company brass felt that the final bid was in line, Beans felt a glove from one of the game's greatest fielders should have done better. "With Ozzie's recent induction into the Hall of Fame coupled with the fact that you don't see too many Smith game used gloves, I expected the glove to go higher," Beans said. "But the president of the company was satisfied with what it brought in, so I'm satisfied."
Original Babe Ruth photographs have had very strong showings in recent auctions, and American Memorabilia's Ruth offerings were no different. An original print of the Nat Fine Pulitzer Prize wining photo of Ruth, taken on June 13, 1948, garnered a whopping $12,000. A Ruth game used bat also did extremely well by adding $99,281 to the company's coffers.
One other game used bat that saw a tremendous amount of biding action was a piece of lumber that was once swung by the late Yankee catcher, Thurman Munson. Due to his untimely death in a plane crash, Munson game used material has always been desirable, and that was certainly the case with this lot that went for $39,000.
For further information on American Memorabilia's next auction you can either call (800) 430-0667 or log onto their web site at www.americanmemorabilia.com.