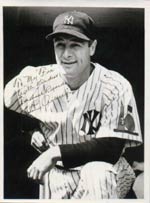 A collector of vintage baseball cards called me recently and asked me a great question. He was putting together a run of Hall of Famer rookie cards but was having trouble finding rookie cards of great players like Jimmie Foxx, Lou Gehrig and Christy Mathewson. In fact, there are several Hall of Famers who do not technically have an official rookie card.
Why?
The most apparent reason seems to be that, with several vintage players, there were no mainstream cards issued during their rookie campaigns. You might say, "So what? There are other players who didn't have a rookie card produced until a year or two later and their first official cards are labeled as rookie cards. For instance, take Stan Musial. Musial made his debut in 1941 yet his official rookie cards are his 1948 Bowman and Leaf issues, seven years after his debut.
Why doesn't Lou Gehrig have a rookie card then?
Gehrig debuted in 1923 but he has popular cards in the 1932 U.S. Caramel set. It seems to be very similar to the Stan Musial scenario -- Gehrig's first widely accepted card was produced several years after his debut. Now, it could be argued that Bowman is certainly considered more mainstream than the U.S. Caramels but who is in charge of making that determination? Was the determination made by some old, irrelevant price guide that merely said so? Maybe, no one really thought to question the rookie card designations but it's about time that collectors look closely at this dilemma.
Recently, I posed this question to some of the top vintage dealers in the country and I couldn't get one clear answer as to why some cards do and why some cards don't receive the official rookie card designation. Some of the dealers argued that, perhaps, some of the early players might have an obscure candy issue or regional card that was produced before a truly mainstream card became available.
Others argued that, even if there was an obscure regional, tobacco or candy issue produced, the first mainstream card should be considered the true rookie card. Take Hank Aaron. Everyone knows that his true rookie card is his 1954 Topps card even though a Johnston Cookies card was produced that very same year. The Johnston Cookies card is a great card but not really accepted as his true rookie card. So, even if there was an obscure Gehrig produced in the 1920s (like an Exhibit), it was argued that it shouldn't matter.
We are going to take a very close look at this issue because it is very important to collectors and it should be addressed with all the apparent inconsistencies over the years. I guess it just dawned on me, as it did the dealers and some vintage collectors, that we should question what we have accepted all these years. Stay tuned for an update. If it seems logical and justifiable, we are going to add some rookie card designations to some major sportscards but ONLY, after further research, if it clearly is the right thing to do.
What current non-rookie cards do you think should be designated as rookie cards today?
Rare PSA-8 T206 Wagner Makes Appearance!
$1.265 Million Card to be Displayed at Upcoming UCI Baseball Game
On Sunday, May 26th, at 1:00 p.m., the "Mona Lisa" of baseball cards will be displayed at the UC Irvine/UC Riverside baseball game to be played at UCI's Anteater Ballpark. Brian Seigel, owner of the Wagner card, will also be displaying other classic vintage cards from his collection. Included with the Wagner and also in PSA-8 condition will be T206 Mathewson and Johnson Portraits, a T205 Cobb Gold Border, 1933 Goudey #53 and Sport Kings Ruth, a 1934 #37 Goudey Gehrig and maybe a couple of other surprises. All will be included with the price of admission to an important game.
The UCI squad is currently battling for the Big West Conference Championship and a berth in the upcoming NCAA tournament. As the final regular season game, it should be exciting. In addition, this is a rare opportunity for vintage sportscard fans, collectors and sports fans of all ages to see the most valuable and legendary sportscard in person. To find UCI, Anteater Ballpark and for directions, go to: http://www.uci.edu/campusmap