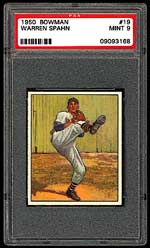 The MastroNet April 11-12 Auction was a huge success with a $6 million dollar total for the sale.
Below are some highlights of the auction. The prices prices shown here include a 15% buyer's premium:
A Barry Bonds 2001 "SAM" Signed 68th Home Run Bat...$32,766
A Willie Mays' 620th Home Run Bat and Ball...$21,147
A 1920's Babe Ruth "Notched" Home Run Bat...$82,599
A 1966 Paul Hornung's Green Bay Packers Super Bowl I Championship Ring...$39,708
Muhammad Ali's Fight Worn Trunks for Ali/Frazier I...$99,445
Muhammad Ali Fight Worn Robe from the Thrilla in Manilla...$81,812
A Hank Greenberg Signed Baseball...$3,043
A 1959 Fleer Three Stooges Complete PSA Graded Set...$7,949
A Significant Collection of Old Judge Baseball Cards (310 Different Players)...$92,407
A 1910-1915 Joe Jackson Original Conlon Photo...$15,496
A T204 1909 Ramly Complete PSA Graded Set (121)...$61,047
A Frank Greenberg Side Written Game Used Bat...$10,928
A 1961-64 Rookie Era Lou Brock Game Used Bat...$9,391
A 1916-20 Ty Cobb Game Used Bat...$64,100
A T206 Ty Cobb with Ty Cobb Back...$18,055
A 1910 E93 Standard Caramel Christy Mathewson...$11,625
A 1950 Bowman #19 Warren Spahn...$8,348
A Splendorous 1952 Topps #311 Mickey Mantle...$32,816
A "Mickey Mantle" Original Painting by LeRoy Neiman...$56,671
A set of Hank Greenberg Autographed Display Pieces (4 pieces)...$2,514
A 1952 "Stealing Home" Jackie Robinson Autographed Photograph...$8,918
A Massive Sports Autograph 8" x 10" Photo Collection (537 photos)...$7,370
A Baseball Hall of Fame Collection - 532 Total Pieces/133 Different Hall of Famers...$11,112
An Early 1980's George Brett Louisville Slugger Signed Game Used Bat...$5,701
A spectacular Willie Mays Game Used Glove...$26,805
A 1957 Ted Williams Home Jersey with LOA from Williams...$81,812
This sale was a clear indication that high quality items continue to remain a hot ticket with collectors. Many of the lots set records for prices realized, and across the board the prices were solid. Items such as the 2001 Barry Bonds Home Run Game-Used Bat raised the bar for items of that nature. Prior to the sale, Barry Bonds Home Run Bats were commanding approximately $10,000 to $12,000 on the retail market. After the sale, you will be lucky to find one for under $20,000.