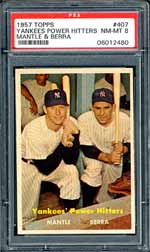 I can still remember, years ago, when the centering of a card was not really a major issue with most collectors. In fact, as long as the card was attractive and sharp, most collectors ignored any centering dilemmas. Today, centering has become increasingly important to some and a noticeable price premium, in some cases, will be added to those cards that are notoriously off the mark.
Where do we stand today?
Let me ask you this. Would you rather own a 1963 Topps Mickey Mantle that exhibits all the attributes of a Mint 9 except centering (a PSA Mint 9oc, maybe 75/25 both ways) or a well-centered PSA NM-MT 8? According to the market over the last few years, collectors seem to be more willing to pay for the well-centered NM-MT cards despite the fact that the Mint 9oc is actually a tougher card to find by definition (it's actually a Mint card with a centering qualifier, a higher grade by pure number). In fact, in some rare cases, collectors will pay just as much for a Near Mint 7 if the 9oc is drastically off the mark.
Why is there such a discrepancy in price?
Eye-appeal, eye-appeal, eye-appeal. Anytime you are looking to buy a PSA graded card, or any card for that matter, pure condition is of the utmost importance. The next step, for many collectors, is determining whether or not the card, regardless of the actual grade, exhibits the visual appeal that they personally desire. For some, centering is the focus of that desire and it is very apparent that, at this point in the market, certain centered copies are bringing premiums at auction and retail levels.
For example, 1948 Leaf and 1957 Topps baseball cards (both traditionally found with poor centering and/or tilts), are selling for outstanding money if the cards are well-centered. Keep in mind that we are not talking about cards that are perfectly centered, we are talking about cards that are merely well-centered for the issue in question. Most 1948 Leaf Babe Ruth cards or 1957 Mickey Mantle cards are seen with poor centering so the well-centered examples seem to have no problem finding a home, and those homeowners are paying more to acquire them.
For other collectors, eye-appeal may fall on the strength of the color or gloss; maybe the overall sharpness of the card. For instance, I know many collectors who actually prefer rough-cuts because some cards were manufactured in that fashion. The rough-cut is simply the way in which the card was produced. Other collectors despise rough-cuts because, once again, it just bothers them on a personal level. It may not technically affect the condition but, if it bothers you, then you shouldn't by it. Ultimately, the collectors have to decide for themselves as to what attributes they like or dislike in a card after a technical grade has been rendered.
Obviously, when a collector spends a large sum of money on a sportscard, they do have some thought of investment on their mind. It's hard to say whether or not this centering trend will continue. On some level, it seems as if the high-grade off-center cards might be undervalued at this point considering the price levels they are currently moving at, especially in Mint 9oc.
One argument, in favor of off-center cards, would be that a grade is based on the preservation of the card. In other words, if the card is Mint in all other respects, then the card is still Mint. The counter argument would be that print lines, staining, chipping, etc. are all condition obstacles that can be found on freshly manufactured cards, before a collector even opens the pack. In other words, why should centering be approached any different? Once again, we are left with a very debatable topic.
Regardless of what I may think, there's one piece of advice that I think everyone should consider.
In the words of Digital Underground, "Do what ya like." It's the only true way to achieve collector satisfaction.