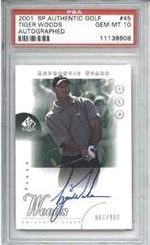 It's not that new. In fact, it's almost two months old now. But it's one of the hottest, newest products on the market in the last two months. SP Authentic GOLF is hard to pass up when talking about new products on the market. If you've been following this product, then you already know how popular it is, especially since Tiger Woods' SP Rookie Card is in it. This one single card of perhaps the hottest athlete in sports today has lit up the eBay selling boards in recent days. PSA 10 graded versions of his autographed rookie card have sold for $5,000 plus. It is arguably the single hottest Rookie Card in the market today among current athletes. And it's just one single card. And it's the last chance for Tiger's Rookie Card.
SP Authentic Golf, which was released in December, is the much-anticipated follow-up to the premiere of 2001 Upper Deck Golf that was issued earlier in 2001. The 136-card SP Authentic Golf set chronicles today's top golfers. Two subsets in particular offer collectors individually numbered and numbered-autographed issues. Plus, limited parallels offer ultra-rare versions of these cards that pack even more value into 2001 SP Authentic Golf. Signed Authentic Stars (Numbered to 900) includes autographed regular issues of Tiger Woods, David Duval, Jesper Parnevik, Sergio Garcia, and David Toms.
Tiger's Autographed Rookie Card, factory numbered to 900, isn't the only Tiger card in the product. Tiger's Tour threads card and various other inserts are also selling for strong dollars on eBay as well. The complete 136-card set highlights many of the biggest hitters and clutch players on tour today. The set includes 44 regular cards, 18 Fairway Greats, 18 Major Players, 10 Ambassadors of Golf, 40 Authentic Stars (Numbered to 2,999) and 6 Signed Authentic Stars (Numbered to 900). A complete parallel gives hobbyists a more limited version of each regular card and subset. Each card is numbered to 500 with the exception of the Authentic Stars and Signed Authentic Stars subsets, which are numbered to just 100.
Signing session
Laying your hands on an authentic golf autograph was never so easy. Thanks to the ink-laden 2001 SP Authentic Golf lineup, collectors have several opportunities to pull a golf 'graph. Sign of the Times (1:12) offers authentic signatures from the likes of Arnold Palmer, Byron Nelson, Fred Couples and Jack Nicklaus. A limited Sign of the Times Parallel features ultra-rare versions that are numbered to just 25. The ultimate in golf autographs was saved for Ultimate Foursome, a one-of-one card that features the cut signatures of Payne Stewart, Ben Hogan, Bobby Jones and Gene Sarazen.
Shirt Cuts
Tournament-used golf shirts are the order of the day for Tour Swatch (1:23), the memorabilia insert that displays pieces of golf shirts from some of the biggest names on Tour. David Duval, Sergio Garcia, Tiger Woods and many others are featured in this collectible insert. For those who prefer their shirts in one piece, SP Authentics delivers. The redemption card insert (75 total cards) is good for a complete golf shirt from either Tiger Woods or Jack Nicklaus. Four tiers of parallel sets will also be in existence. Sets will be numbered to 500, 250, 100 and 50.
Player Spotlights
Several of the remaining inserts highlight the game's top hitters including Tiger Woods in Focus on a Champion (1:10), clutch performers like Tom Lehman and David Duval in Shotmakers (1:10), and Arnold Palmer and Raymond Floyd in Honor Roll (1:4). 2001 SP Authentic Golf offers memorabilia cards, autographs, redemption cards for golf shirts as well as tournament-used golf shirt swatches. The set's complete breakdown is as follows:
Regular Cards

44 regular cards
18 Fairway Greats
18 Major Players
10 Ambassadors of Golf
40 Authentic Stars (Numbered to 2,999)
6 Signed Authentic Stars (Numbered to 900)

Insert Cards

Honor roll (24 cards): This insert is a who's who of golfing greats. Inserted 1:4 packs.
Shotmakers (9 cards): These players have the perfect shot for any occasion. Inserted 1:10 packs.
Focus on a Champion: Take an in-depth look at what makes Tiger Woods a champion. 1:10 packs.
SP Authentic Parallel (136 cards): This limited parallel features individual serial numbers. Numbered to 500; Authentic Stars and Signed Authentic Stars subsets are Numbered to 100.
Sign of the Times: Collect authentic autographs from a host of top golfers. Inserted 1:12 packs.
Sign of the Times Parallel: Collect a more limited version of the Sign of the Times insert. Numbered to 25.
Tour Swatch: Authentic swatches of tournament-worn golf shirts are the main attraction here. Inserted 1:23 packs.
Tour Swatch Parallel: Parallel of the game-worn shirt set. Cards numbered to 500, 250, 100 and 50.
SP Ultimate Foursome: A rare one-of-one that features the cut signatures of four golfing legends. 1 total card.