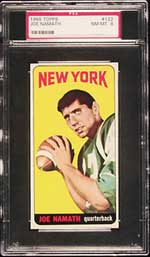 No, this card did not sell in an auction but, recently, a PSA Mint 9 example of the tremendously popular 1965 Topps Joe Namath rookie card sold for $20,000. Believed to be the highest price ever recorded for a Namath rookie, this card is rarely offered in the Mint grade.
Rick Snyder, seller of the record-breaking card, was very pleased to announce the news. "There are four copies of this condition-sensitive 'Tall Boy' issue that have been graded Mint by PSA but, to the best of my knowledge, this is the single highest graded example of the rare 'butterfly' variation," explained Snyder. "The Namath rookie has long been considered one of the most valuable post-war football cards ever issued, but the extraordinary value of this particular copy is attributed to the PSA authentication and assigned grade. Not only does this sale reflect the overall strength of the PSA graded card market, it's another example that collectors realize football cards are undervalued and more scarce, in the highest grades, compared to their baseball counterparts."
Game-Used and Autographed Items Highlight American Memorabilia Auction
During their October auction, American Memorabilia featured some very desirable and rare sports items, which sparked interest with bidders. What was, perhaps, the most interesting sports item in the auction was a 1950's game-used and autographed Willie Mays bat. The bat, which was authenticated by the two most respected bat experts in the country (David Busing and Vince Malta), closed with a final bid of $13,181. The final bid was one of the highest prices ever recorded for a Mays gamer. Here's a quick look at some other highlights:


| | |
| --- | --- |
| Item | Price Realized |
| Martin Dihigo single signed baseball | $4,836 |
| Elston Howard single signed baseball | $2,300 |
| Ted Williams singed ball to Ozzie Smith | $1.673 |
| Michael "Jeffery" Jordan signed UDA ball | $5,000 |
| 1960's Roberto Clemente game-used cap | $5,327 |
| Mark McGwire game-used batting helmet (Cards) | $1,950 |
| Mark McGwire game-used spring training cap | $1,129 |
| 1950's Willie Mays game-used/signed H&B bat | $13,181 |
| Cal Ripken game-used rookie LS bat (1982) | $4,621 |
| Mark McGwire game-used/signed rookie bat | (1987) |
| Barry Bonds game-used rookie bat (1986) | $4,192 |
| 1977-79 Pete Rose game-used H&B bat | $1,761 |
| 1986-89 Don Mattingly game-used/signed bat | $1,212 |
| 2001 Bernie Williams game-used bat | $1,006 |
| Vince Carter game-used UNC complete uniform | $12,668 |
| 1987 Dale Murphy game-used jersey | $2,018 |
| 1979 Lynn Swann game-used AFC Pro Bowl jersey | $2,800 |
| 1988 Gary Anderson Steelers game-used/signed jersey | $2,822 |
| Steve Young game-used SF 49ers jersey | $2,543 |
| 1994 Wayne Gretzky game-used NHL AS Game jersey | $8,951 |
There were some very interesting prices in the auction and some of them have been a result of current trends. First of all, in regards to the Mays bat, all Mays gamers have seen increased demand in the last two years. Just two years ago, a collector could obtain an authentic Mays gamer for around $2,000, but that has changed dramatically. Today, if you are lucky, you might be able to acquire a Mays bat from late in his career for $4,000 or so. The earlier in his career you go, the more the bats seem to be selling for and 1950's gamers are very tough to acquire. In fact, I have only seen a handful of 1950's examples surface to auction in the last 5-7 years.
With the Hall of Fame voting process under a new set of rules, prices for borderline candidates have been rising in recent months. Items related to players such as Ron Santo, Gil Hodges, and the like, have all seen an increase. While it's true that most of these borderline players have strong collector followings to begin with, the chance at induction may have sparked interest to another level. Dale Murphy is one of those borderline guys. After being one of the more dominating players of the 1980s, he may have a shot.
Don Mattingly, on the other hand, is one of those players who seems to have a lower chance of making it, but his huge support from the New York fans keeps his items rising in value. This is not the first time I have seen a Mattingly gamer sell in excess of $1,000. In fact, I have seen 3-5 examples sell for that much or more in the last year. Mattingly just has an incredible collector base and, with the current members now voting, the Hall might give him a closer look.
On the Verge: Jordan's Comeback
The wait is almost over, Jordan is returning to the NBA. Now how will his comeback affect the collectibles market? The assumption is that Jordan-related items are surging in price, but is that really the case?
In the current market, the truth is that collectors are a bit hesitant right now. There's no question that Jordan's comeback is good for the game and fans are lining up to see him, but collectors are not necessarily lining up to buy his cards or autographs.
Why?
First of all, Jordan has already done so much for the game and is widely considered one of, if not the, greatest player in history. In other words, what could Jordan possibly do to improve his own status as a legend? In many people's opinion, there's nothing he can do. The fact that we can now watch him perform again will create excitement, but the expectations are high.
Second, fans and collectors are a bit worried that Jordan might tarnish his glorious image. All the readers out there are probably familiar with the horror stories surrounding the last days of Muhammad Ali and Willie Mays. Ali took some major beatings at the end of his career because he refused to retire and Mays was merely a shadow of himself by the time he joined the Mets in the early 1970s. Collectors do not want to see that happen to Jordan. They don't want to see Jordan lose a step; they are used to high-flying dunks and game winning shots.
It's interesting because the support is there for a comeback. Our country could sure use it right now with all the negativity in the world, but the key for collectors is that Jordan doesn't need to do anything more to enhance his image in the minds of his adoring fans. We know he's great, he will always be great - he's Michael Jordan.
Knowing Jordan, he will probably surprise everyone and score 40 points per night and, somehow, make the Washington Wizards champs but, if he doesn't, there's no need to worry. No one can take away from his accomplishments; they are set in stone. Let him play if he wants to play. The desire is still there and, most likely, the skill is as well. Otherwise, he would have never laced up his shoes again.
Collectors are keeping a close watch.