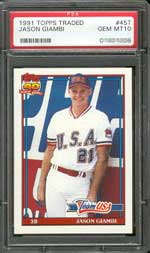 What is it about professional athletes that stir such awe, emotion, passion and fascination within us?
There are numerous answers to that question.
We revere athletes for their display of skill, both instilled as natural ability via genes and learned through years of disciplined practice. We look up to them as heroes because, just like the gladiators of ancient Rome, they perform feats that challenge their physical strengths in ways that are beyond what we believe are the capabilities of mere mortals.
They are larger than life because they have become what each of us, at some point in our lives, dreamed of becoming. They know what it's like to hear a crowd roar when they win a game by scoring a last second touchdown, hit a grand slam homer in the bottom of the ninth, or swoosh a basketball cleanly through the net as time elapses in the fourth quarter.
Beyond their skill, we have also come to love professional athletes for their arrogant brashness, their graceful humbleness, their style and their flair but, perhaps, the thing we love the most about an athlete is when he or she just simply exudes love for what they are doing - for their God-given talent, for the one-in-a-million chance they've been given and for the pure fun they're having.
A heck of a lot of fun is clearly what is being had by Oakland Athletics' first baseman Jason Giambi.
"I love this game," Giambi told writer Alan Schwarz as the A's 2001 season got under way. "When I step into the batters box and the tension is crackling and the crowd's cheering, heck, it's awesome!"
Jason Giambi, who decided to pursue a living as a professional athlete at the ripe old age of 5, went on to tell Schwarz that he has never taken his dream-come-true career either too serious or for granted.
"A lot of guys today get spoiled by the big leagues, but I never forget how lucky I am, I mean, it's not like I'm on the Mensa mailing list. If I wasn't playing ball, I'd probably be checking under your hood or supersizing your fries."
So just who is this Giambi guy who has been embraced by a cult-like following of die-hard fans?
Well, the best way to find out who Giambi is, is to point out who he very clearly isn't. He isn't a snooty, ego-inflated, Armani suit wearing sports god who believes the world revolves around him. Heck, forget the $3 thousand suits, you'd be hard pressed to find Giambi in anything more formal than a T-shirt.
"I'm still the same guy I've always been," said Giambi. "I eat greasy burgers. I shave when I damn well feel like it. I ride motorcycles (despite the fact that his contract forbids such activity). I shoot pool in bars. I'm gonna buy a boat just so I can light my hair on fire and drink Margaritas at 110 miles an hour. That's me."
And you want to know why we love athletes!
So, you may ask, just where did this wild child, obviously raised by a pack of rabid wolves, come from?
It may surprise you to learn that there were no wilds, but rather the modest Southern California City of West Covina and there were no wolves, but rather an all-American mom and a dad who was the president of a chain of small banks.
Giambi, along with his younger brother, Jeremy (who now also plays for the A's) grew up in a very typical middle class neighborhood where they played football, basketball, and baseball at South Hills High School. Upon graduation, Giambi matriculated at Long Beach State College where he honed his baseball skills so well that he grabbed the attention of the pro scouts and was chosen for the 1992 U.S. Olympic baseball team. The summer of that same year also saw him selected by the A's in the second round of the draft.
From the first day of training camp, it was evident to his teammates that Giambi was not going to be either a shrinking violet of a rookie nor the clean-cut, all-American boy. Their first clue was the fact that he looked more like a member of the Hells' Angels than the Oakland Athletics. Sporting long hair, tattoos, and a brisk but non-threatening attitude, anyone who spent more than a minute with Giambi knew that, besides baseball, he harbored a testosterone-fueled passion for professional wrestling, custom motorcycles, and scantly clad babes.
It was also clear that Giambi was determined to enjoy every minute of his professional career.
"(I) don't take the game too seriously that (everything has) to be perfect," Giambi said. "Guys who step out of the box every two seconds to adjust their wristbands, their stirrups, their jocks - that (stuff) drives me nuts. Just swing hard and get over yourself." Giambi says that while some players concentrate on tuning out the crowds, he revels in them. He especially enjoys reading the banners fans display, chatting with fans while he's in the on-deck circle, and just overall having a blast by being out on the field as a part of a major league team, having fun and getting paid for it.
Giambi also reveals that he has a fairly wide masochistic streak by saying he loves playing in the cities that are less than visiting-team-friendly.
"My favorite city has to be New York," he proudly states. "(The fans say) 'Hey, Giambi, sign my ball.' Then I'll sign it and they'll go 'You still suck!' That's awesome!"
Again, do you have to ask why we love these guys?
Now, while there's no getting away from the fact that, despite the whole all-American, West Covina neighborhood, bank president daddy upbringing, Giambi is baseball's wild child, but this bad boy of baseball has also done an awful lot of good.
As a hands-on volunteer for the National Kidney Foundation, he works with kids suffering from bladder control problems. Last season, he arranged for kids suffering with bladder problems to join him at ballparks around the country to talk about baseball, medication, or what ever they had on their mind. He is also a spokesman for CAP Cure that helps raise money and awareness in the fight against prostate cancer. He has sponsored the Oakland Special Olympics soccer team and is actively involved with Big Brothers/Big Sisters.
Giambi stresses that his commitment to these causes is as strong as his commitment to having fun on the field and he is adamant that his involvement will always be more than just lending "my mug and some jack."
It's equally important to note that while Giambi tries hard to conceal it with his easy-going and fun-loving style, you only have to go slightly below the surface to see that he knows there's a time to take what he does seriously.
"You're teammates are depending on you. (And) it's your livelihood too," he fesses up in a brief moment of seriousness.
A down-to-earth renegade who can perform on the field, actively embraces the causes he is associated with and keeps everybody around him laughing - no wonder Giambi has become a popular favorite with collectors. His Topps Traded Tiffany rookie card (PSA GEM-MT 10) is currently going in the $300-$400 neighborhood and his game-used bats are extremely hot items that are fetching between $400 and $550.
Always an accommodating signer (even for those Yankee fans), Giambi's autograph isn't exactly commending big bucks. That has much to do with the fact that he is so willing to affix his signature to a ball or a program.
Whether or not Giambi will ever sport a World Series ring or get inducted into the hallowed halls of Cooperstown is yet to be seen. For any player, those are the hoped for peaks of a career. In the meantime, he's doing just what he set out to do and that's have a heck of a good time playing baseball.
"Maybe we won't win the World Series," he says. "But I guarantee that we'll be having the best time of any team out there."