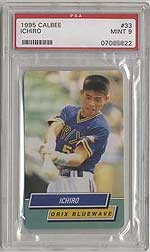 A Look at Ichiro Suzuki's Japanese Rookie Cards
Ichiromania has become a phenomenon on two continents. Long before his much-publicized journey across the Pacific Ocean to U.S. Major League Baseball and the Seattle Mariners, Ichiro Suzuki had already captured the Japanese public's imagination like no other player before him. Only 27 years old, he has been the reigning king of Japanese baseball for nearly a decade. As a member of the Pacific League's Orix Blue Wave, he rose from obscurity in 1994 (at age 20), to break Japan's all-time single season hit record with 210. He also came within 3 points of establishing an all-time batting record with a .385 average. Subsequently he led Japan's Pacific League in batting seven times, and repeatedly took home MVP honors. He was the highest paid player in Japanese history, the Michael Jordan of Japan, a matinee type idol who is known simply by his first name (like Cher, Elvis, and Madonna).
Last year he disappointed his legion of Japanese female fans by marrying a famous Japanese show business personality in a wedding ceremony held in Los Angeles to escape media scrutiny. If he had married this year, a secret U.S. wedding location would have been impossible. Now he has a throng of U.S. admirers to go along with the Japanese contingent. In short-everyone loves Ichiro!
The 27-year-old wunderkind is now patrolling right field for the Seattle Mariners, leading his club to one of the greatest seasons in modern baseball history. The Mariners' daring (at the time) $13 million dollar payment to the Blue Wave (Ichiro's team in Japan) for negotiating rights followed by their three year $15 million contract offer now seems like pocket change compared to Ichiro's value to the team. Not only has he made Mariners fans forget about losing Rodriguez, Griffey, and Johnson in the past few years, but the deafening I-CHI-RO chants coming from the stands at Safeco Field are a testament to a heightened level of fan enthusiasm never before seen in the Emerald City. With his spectacular catches, awe-inspiring throws, daring baserunning, and superb bat control, Ichiro has certainly made a huge impact on the baseball world.
It's hard to believe that as recently as late March, many of the best baseball minds in America doubted that Ichiro could succeed in this country. They criticized his batting style; "anemic" swing and lack of hustle. Most players and managers who opposed him in spring training felt that Ichiro appeared to be overmatched by American baseball. Even Lou Pinella, his own manager, thought that he would be "lucky to hit .280." Now that he's amongst the league leaders in hitting and steals, all of the earlier dire prognostications are forgotten. American Ichiromania is definitely in full swing.
As with all popular baseball stars, interest in Ichiro's baseball cards is growing by leaps and bounds. Ebay auction prices for Ichiro cards seem to rise on a daily basis, not unlike the stock market of the late 1990's. Collectors are now scrambling to get their hands on anything Ichiro, and thanks to the forward thinking of Upper Deck, Topps, and other U.S. manufacturers, many have the opportunity to do so. Many collectors, however, are fascinated by the rarity and variety of Ichiro's early Japanese cards. That's right! Unbeknownst to most Americans, hundreds of different Ichiro baseball cards were produced in Japan during the years 1993 to 2000! This article will attempt to highlight Ichiro's true rookie cards-the Japanese rookies, and in the process, shed light on the fast approaching Japanese baseball card tidal wave that's about to hit the United States!
Ichiro was a standout in high school, in a country where high school baseball is taken just as seriously, as the NCAA basketball Tournament in the United States. Drafted by the Orix Blue Wave in 1991, he made his Japan League debut in 1992, batting an inconspicuous .253 as a part time player. The next year, his image appeared on three cards, from three very different companies.
The first and most commonly seen Ichiro rookie is the 1993 BBM issue. BBM is the Japanese equivalent to Upper Deck. They began producing cards in 1991 that are sold in packs, and from 1991 to 1993 were also sold in factory sets. In the last several years, BBM has begun producing inserts for distribution in their packs, but back in 1993, it was still a straight 500-card base set with just a few, undistinguished team hologram inserts. At 2 3/8" x 3 3/8", these cards are slightly smaller than traditional American baseball cards. A certain young Blue Wave outfielder is featured on card #239 of this set.
One important fact to keep in mind is that card collecting in Japan is not the long established, mature hobby that exists in the U.S. Back in 1993, Japanese card collecting was in its infancy. Generally, it is thought that at the time there were fewer than 10,000 card collectors in the entire country of over 100 million people. BBM's production run of somewhere between 10,000 and 50,000 of each card flooded the market to the point of over-saturation. Despite the fact that these Ichiro rookies were easy for Japanese collectors to obtain at the time, the total number produced is only a very small fraction of a typical U.S. press run from a major manufacturer. As a result, even this "most common" of the Japanese Ichiro rookies is quite scarce today.
Color borders and a common factory miscut make high-grade examples of this card quite difficult to find. Nearly all cards tend to be "tilted," with the width of the upper border being greater at upper left than at upper right. While this card is by no means plentiful (no Japanese cards really are), it is the most popular true rookie card of Ichiro on the market. Recent PSA sales support this claim.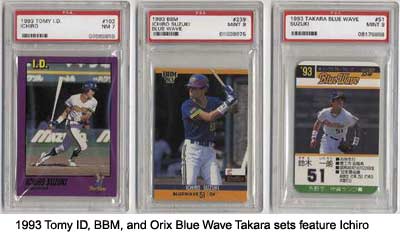 Tomy ID was a fledgling card manufacturer in 1993. Their 1993 effort was their first foray into the baseball card market-a 410 card set with a desperately short print-run. Card #102 features a purple-bordered image of Ichiro Suzuki. Despite Tomy's good intentions, initial consumer interest was quite low, even though these cards were among the first 2 ½" x 3 ½" American sized baseball cards ever printed in Japan. Unfortunately for Tomy, their second (1994) offering was their last. Now that card collecting has hit the big time in Japan, the 1993 Tomy I.D. set has been elevated to near mythic proportions. Cards were released in two series, with the first series being more common.
Unlike most U.S. issues, the second series included all the cards from the first series, with the addition of about 100 new cards. The first series is rare, and the second series is nearly impossible. Interestingly, all first series cards found in second series packs, including Ichiro's rookie cards, can be differentiated by a serial number on the back. First series cards are marked "I.D. 69 - 001", and second series cards "I.D. 69 - 002." Not only are Ichiro's first and second series Tomy cards both incredibly scarce, but they are also ultra condition sensitive. The deep purple borders and manufacturing process make the card extremely prone to chipping at the corners. As a result, the Tomy I.D. Ichiro rookie is much scarcer than its BBM counterpart, especially in high grade. Series II Tomy Ichiro's generally sell for about 50% more than the Series 1 cards. The authors have never sold a PSA 10 Tomy ID Ichiro rookie, nor have they seen one advertised for sale.
Ichiro's final 1993 appearance on a Japanese card was in the Orix Blue Wave Takara set. Ichiro is card #51 (his uniform number) in this team set. Takara team sets consist of thirty cards, each representing a different player on a given team. Sets for the six Central League teams, or all 12 Japanese pro teams, were produced each year from 1978 to 1998. The 1993 Orix Blue Wave Takara set and all others from that year were sold at both toy stores and card shops. These small, 2 1/8" x 3 3/8" cards with rounded corners are a uniquely Japanese concept in design and are quite difficult to find. Each team set was sold in a sealed plastic case packed inside a small cardboard box. Takara cards were originally designed in 1978 to be used as part of a dice game, and dice and a paper "board" are included in the box. However, Japanese baseball card collectors began snapping them up long ago, and by 1993 Takara cards were classified by Japanese collectors as true baseball cards, just like BBM and Tomy ID. The Takara game is very similar to Stratomatic and was very popular in Japan during the 1980's. Most of the few cards sold recently have been PSA 10's, which have fetched prices of up to $2,500. Ungraded cards in original unopened boxes generally sell for anywhere from $500-$1,000. PSA 9's should be valued in this same area.
Before leaving 1993, there is one more rookie surprise that awaits the Ichiro card collector. Believe it or not, there were several fully licensed cards produced in the U.S. featuring Ichiro in 1993! In the fall of 1993, Ichiro was one of several Japanese players selected to play in the inaugural season of the Hawaii Winter Baseball League. This league was managed under the auspices of U.S. Major League Baseball. It was designed for players at about the High Class A level. Each major league team provided several players from their farm systems to take part in the four-team league. In addition, about 15-20 Japanese pro players also participated.
The HWBL featured many players who would later achieve stardom in the Major Leagues, including Jason Giambi and Ichiro Suzuki! The league was plagued by poor attendance and disbanded after the 1996 season, but during the HWBL's existence fully licensed HWBL team sets were produced each year that were sold at the ballparks. As the league had few fans, only 500 sets were printed in 1993 by the licensee, Pacific Sports Promotions. Cards #1 and #5 in the Hilo Stars team set depict a very young Ichiro Suzuki. These blue flecked border beauties are the only known cards of Ichiro in his Hilo Stars uniform.
Before you get excited about fully licensed 1993 American Ichiro rookie cards printed in a quantity of only 500, consider the fact that a good portion of these cards no longer exist. The Hilo Stars set was in such little demand that fewer than 300 sets were actually sold at the stadiums in 1993. The remaining sets sat in the producer's inventory for several years until his warehouse was robbed. Among the thousands upon thousands of cards stolen were the remaining 1993 Ichiro HWBL cards! Eventually, the thieves were apprehended, but not until they had burned their stash of Ichiro cards and most others in an attempt to destroy the evidence upon hearing the police were closing in on them! This means that approximately 300 of card #1 and card #5 have survived to the present day.
Even more intriguing is the verified existence of gold, facsimile signed insert cards of Ichiro from this set. These cards were intended to be insert cards, put randomly into sets at a 1:10 ratio. In anticipation of ultimately selling 2,000 sets, Pacific Sports promotions printed 200 of these cards. Approximately 30 were inserted into Hilo Stars sets sold at the ballparks. It is unknown whether more than a few of the never-inserted cards survived.
At the time of this writing, no PSA 10 HWBL Ichiro cards have been graded. The few PSA 9's of card #1 that have been sold have changed hands in private transactions, so exact prices are unknown. However, it is thought that sale prices well into the thousands of dollars have been attained.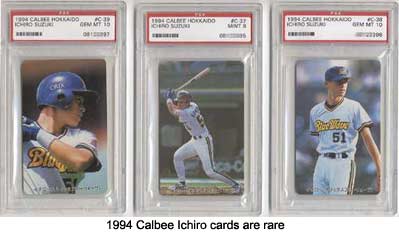 In 1994, Ichiro made his first appearance on a Calbee card. Calbee is the dean of card manufacturers in Japan. The company has produced a baseball card set in every year since 1973. Like Topps in the U.S., the longevity of the brand and its longtime popularity makes Calbee product the foundation of the Japanese card collecting hobby.
Like Frito-Lay here in the States, Calbee produces snack food, potato chips, popcorn, etc. Beginning in the mid-1970s, Calbee began distributing one baseball card per package of snacks in a paper wrapper attached to the outside of the bag. Throughout the 70s, 80s and 90s, these cards were avidly collected one at a time, by astute Japanese hobbyists. Production was at its peak in the mid- to late 70s, with a sharp decline in the 80s and early 90s. Literally thousands of different cards exist, a few of which are still undocumented today. Calbee cards went through a metamorphosis of various styles, shapes and sizes over the years. The first Calbee cards of the Ichiro era, produced in the early to mid-1990's have rounded corners and are 2 1/8" x 3 3/8", roughly the size of a credit card, or a Japanese telephone card.
Calbee neglected to add Ichiro to its 1993 set, or its regular 144 card 1994 edition, but made up for it later in the year, by including him in their 1994 Hokkaido, Sanyo and Kyushu set. For reasons unknown, Calbee produced a special set to be distributed in packs of potato chips only in these few, far flung areas of Japan. This uncharacteristic promotion lasted a week or two at most, and was quickly scrapped. Originally, the set was thought to consist of only 36 cards. However, later in the distribution cycle, cards, #'s C-37, C-38, and C-39, all depicting Ichiro were added. These cards immediately became the most highly sought after cards in Japan. They are among the rarest of any Ichiro cards from any year, with perhaps a few dozen or so examples of each card known. These 1994 Calbee Ichiro cards are generally considered to be his Calbee rookies, much as the 1952 Topps Mickey Mantle card is considered to be his Topps rookie card, even though Bowman had already produced a Mantle card in 1951. While a few examples have been graded by PSA, no known sales of graded cards have occurred.
The next year, Ichiro was included in Calbee's 1995 regular edition. Those collectors who consider only a regular issue set as a source of rookie cards would label these as his Calbee rookies. Released in two series during the year, Ichiro appeared on four cards altogether. Two cards were released with the first series (#'s 33, 34), and two more were issued with the second series (#'s 153, 154). Just prior to the second series release, a potato famine struck Japan, seriously curtailing the production of potato chips, and therefore making Ichiro's second series cards very difficult to obtain. These too, among the rarest and most desirable of all Ichiro cards. PSA 9 examples of 1995 Ichiro Calbee cards have sold for as much as $500 depending on type.
Interestingly, the first Ichiro card manufactured by a major U.S. company is a 1995 Upper Deck Collectors Choice card. The history of this card may be the most intriguing of all the Ichiro card sagas. Is it a rookie card? Please read the following story and decide for yourself:
After Ichiro's historic 1994 season, he immediately became a household name in Japan. His face was plastered everywhere, from soft drinks to junk food to Nissan cars! When the NBA opened its 1995 season in Japan, it invited Ichiro to the festivities. Apparently, at the opening, Ichiro met a representative of the Upper Deck Company who pitched him an idea. Why not pose for an Upper Deck photographer and the company would produce a few cards for Ichiro's own collection. Ichiro accepted and posed with basketball in hand.
A few weeks later, he was sent approximately one hundred 1995 Collectors Choice "Media" cards. The card (#59) features Ichiro on the front and back, listing him as "Ichiro Suzuki, Baseball Player". The back features a "Media Cards Questionnaire" with vital information such as date of birth, height, weight, high school, etc. Under hobbies, it lists "Music." The card also has both NBA and Upper Deck logos, and is copyrighted 1995. Ichiro then presented a handful of the cards to close friends, business associates and his agent. What happened to the rest is a mystery. Ungraded examples of this card have sold for $800 and up. Thus far, no PSA graded examples exist.
Japanese baseball card collecting is full of fascinating adventures and the quest for early Ichiro rookie cards is among the most fulfilling. Armed with the information in this article, it is hoped that you will now be able to participate in Ichiromania in a more enlightened manner.